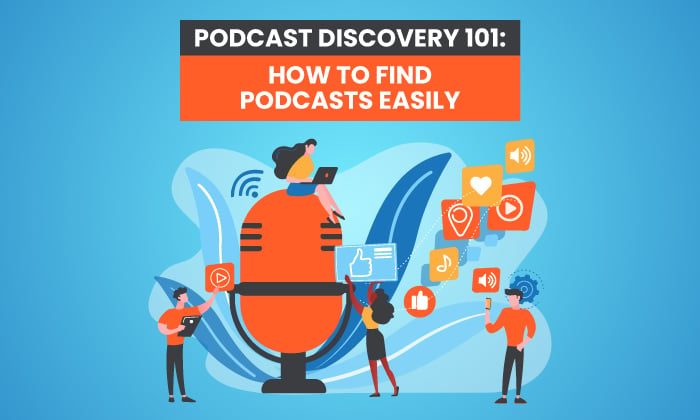 The growth in podcasts is significant for listeners looking for a show that appeals to their individual interests. Plus, it's great for marketers and business owners looking for new platforms to advertise on and new audiences to reach.
While you won't find any lack of podcasts, the sheer volume out there makes it time-consuming to slim down your choices and find appealing podcasts.
In this guide, we explore both how to find podcasts as well as how to get your own podcast discovered.
How to Find Podcasts That Interest You
If you're overwhelmed by the number of podcasts out there, it's not surprising. How many podcasts are there exactly? The latest research shows there are over 47 million episodes available, and the number is growing.
As an article on Pacific Content states, there are "Too many podcasts. Not enough time."
Keeping up with new episodes and freshly-launched podcasts are tough enough, and that's before finding time to read the backlog of podcasts we've got lined up.
Even if we don't listen to a podcast, 75 percent of U.S. adults are at least aware of them, and with mobile devices, I think it's safe to assume this number will keep growing.
With so many podcasts available, how do you find the ones you want to listen to?
1: How to Find Podcasts by Performing a Discovery Google Search
The quickest and easiest way to find podcasts is Google. Just choose your niche, and type in "business podcasts," "health podcasts," "relationship podcasts," or whichever topic interests you the most. Google isn't your only choice, though.
2: How to Find Podcasts Using the Search Bar in the Main Podcast Host Sites
There's no shortage of podcast hosting sites. With a quick search on Google, you'll find:
Buzzsprout
Podbean
Anchor
Riverside
Spreaker
There isn't space to talk you through all of them, so I'll use Spreaker as an example.
On Spreaker, go to the "listen" option at the top of the page and click. You'll then get a list of subheads, including "staff picks," "crime," and "featured," where you'll find plenty of podcasts to browse through.
3: How to Find Podcasts Using New and Emerging Podcast Discovery Tools
Regular podcast listeners may well be familiar with some of the newer discovery tools. These tools take the effort out of finding podcasts.
Below, I will outline some of the most prominent tools, explain how to use them, their advantages, and their main features, starting with Listen Notes.
Listen Notes
If you're trying to find a podcast, Listen Notes calls itself "the best podcast search engine," but it does a lot more than purely serve as a discovery tool.
To give you a better idea, you could:
spot cross-promotion opportunities with other podcasters and use them for networking
build podcast apps with Listen Notes API
find information about topics for content ideas
The site is packed with features, too:
"listen later," where you create your playlists
a "submit your podcast" option
a discover tab for finding new podcasts
the podcast academy, which provides tutorials and articles
hot, best, curated, and "find similar podcasts" search functions
classified ads, where you'll find guest spots and cross-promotion opportunities
Listennotes.com takes you straight to the main search engine, so you can just type in "business growth" or "digital marketing," or whatever interests you. Doing this will bring up a list of podcasts so you can dive in and see which ones appeal to you most.
It's also worth typing in "trending" to see what's happening and what's capturing other users' imaginations.
Another way to find podcasts is to go to the "discover" link at the top of the page. Here, you'll find a drop-down list to select from.
Listen Notes is free, but you can sign up for a paid membership to access the "super" search engine and other features.
The site's main advantages are its ease of use and navigation, and if you're just looking for podcasts in your niche, you shouldn't find any real disadvantages.
Pod Hunt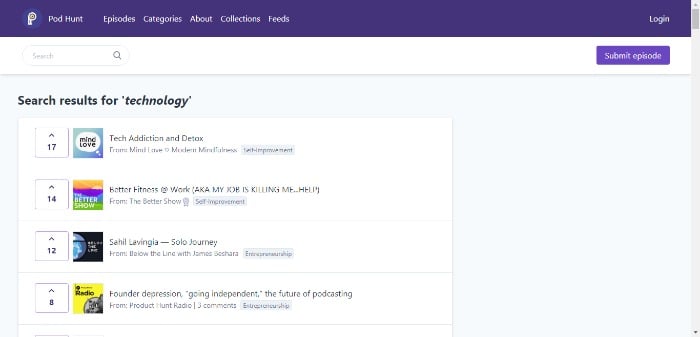 Pod Hunt promises "the best podcasts daily." When you visit the site, you'll go straight to the main search engine, where you can start your search.
In the example above, the search term is "technolog." Once you've got a list of podcasts, you can click through to whichever one grabs your attention.
Along the top of the page, you'll also find:
episodes, for a list of recent episodes
categories, which show an extensive range of A-Z topics
collections, where you'll discover curated podcasts
feeds, where you can find the top podcast episodes
You can also sign up for the site's newsletter or submit an episode from the main search engine page.
You might find Pod Hunt is not quite as sophisticated as Listen Notes, and there are fewer features. However, it's a good site if you want to do a quick search.
Podchaser
Podchaser lets you find podcasts, curated lists, ratings, reviews, and guest appearances. The search page brings up a list of the latest episodes, or you can use the white search box at the top of the page to find podcasts in your preferred niche.
The right side of the page shows you the most popular categories, where you'll find easy access to business, comedy, true crime, and news podcasts, among others. You'll also find trending creators with well-known names like Barack Obama, Trevor Noah, and Joe Rogan.
It's free, but if you want to "supercharge your broadcast planning and outreach," you can request further details.
There are no apparent drawbacks. It's a simply structured, easy-to-use search site.
Spreaker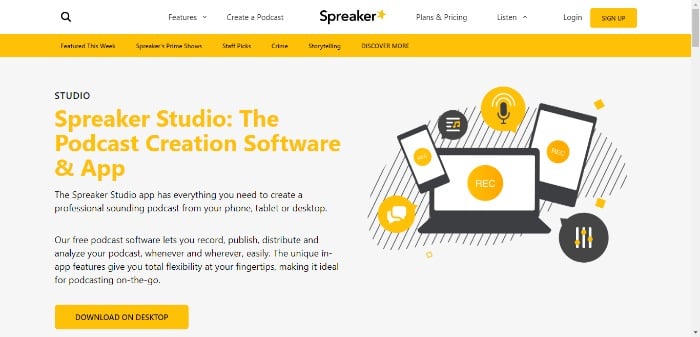 Spreaker is podcast creation software and app. It organizes, curates, and delivers content through live audio feeds, simplifying everything and making it straightforward to find podcasts and import your podcast library.
Spreaker is also favorable to creators by using RSS feeds for direct distribution and monetization. It's compatible with the iPhone and the iPad, and you just need to download the app to begin.
Its key features include:
short-form audio highlights, enabling you to find podcasts of interest for you
a personalized audio feed, which features recommendations
a live playlist showing you the latest content
nine categories, including "true crime" and "self-improvement"
The app's biggest advantages are the time it saves looking for the content you want and how easy it is to find podcasts.
Castro
Castro is another podcast app you can download from the Apple App Store. It provides a single playlist known as the "Queue."
Through Castro, you can manage large numbers of podcasts and choose whether you want to listen to the podcasts straight away or if you want them sent to your inbox for later.
Main features include:
enhanced audio options
push notifications for immediate listening
customized playback speeds and reduced listening times
podcast sharing
To use it, just download the app for free, or pay $18.99 a year to unlock advanced features.
Podible
Podible promises "more time listening and less time digging." Download the free app from the iTunes store, and you'll find podcasts and discover similar shows.
Other features include:
listening to classics
podcast recommendations
playlist creation
Using the app needs little description: Just install it, and you'll soon find your way around.
The most significant advantage is the ease of finding podcasts that match your niche, and it gets positive feedback for its user interface.
The recommendations feature needs some work on the downside, and it's been some time since Podible has updated its social media content.
4: How to Find Podcasts Using Niche Podcast Discovery Apps
Another way to find podcasts is through niche apps. These further refine your search by narrowing it down to niche topics it's true crime, business, comedy, or tech.
These apps are growing in popularity due to their time-saving abilities. To give you an idea of what's offered, I've highlighted a few below.
Laughable
You've probably guessed the Laughable app is the place to go to find comedy shows, but it acts as a gateway to other genres as well. For example, you can discover Oprah's and Barack Obama's podcast through the app.
It's regularly updated, so there's always fresh podcast content available. Other features worth exploring are:
curated episodes and download options for offline listening
finding comedians when they're hosting or appearing as a guest.
different playback speeds and the "subscribe" button for listening to actors, musicians, and athletes
Laughable is extremely popular and often rated among the best. Its top feature is the easy search function, where you'll find podcasts, episodes, and series.
As for negatives, some users would like to see a playlist, and a reviewer felt downloading podcasts was more complicated than necessary.
Pinna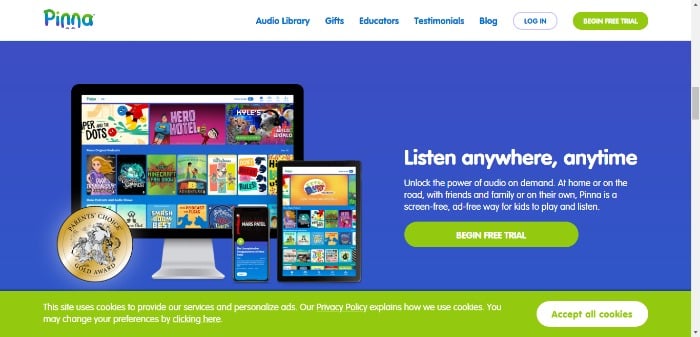 On Pinna, you'll find a host of resources to keep children entertained. Pinna doesn't just limit its content to apps. It's an ad-free service that offers audiobooks and music.
A yearly fee gives you yearlong access to the shows, and Pinna provides a month's free trial to begin with.
Once you get on the Pinna website, choose the subheading that most interests you and get exploring.
You'll find shows like:
Hero Hotel
The Totally Unauthorized Minecraft Fan Show
Opal Watson: Private Eye
Click on whichever show grabs your attention or your child's imagination, and sign up for the free trial to start listening.
They have various categories of content for different age groups, where you'll find:
bedtime stories
car trip stories
play along with content
learning content
Leela Kids
Leela Kids searches the internet for audio content suitable for children. You can download the app from the App Store or Google Play, and there are three steps to accessing content:
Choose the age group and area of interest.
Check through the results to find suitable content.
Then, click and listen.
You can also opt into emails to get recommendations a couple of times a month.
Like other niche-specific sites, Leela Kids takes the effort to find podcasts online, and its ease of use is by far its biggest advantage.
How to Get Your Podcast Discovered
Maybe you're a podcaster trying to get your show discovered, or perhaps you're just thinking about starting one up, and you want to make it easier for others to find your podcast.
It might seem intimidating if you're not sure where to start, but don't worry. These next steps will help you promote your show.
Use keywords: You use SEO to get your other content discovered, and there's no reason you shouldn't make your podcasts SEO-friendly as well. You can research keywords with free tools like Ubersuggest, the Ubersuggest Chrome Extension, or Google Keyword planner.
When you've got your list of keywords ready, include them in titles and descriptions and add them to podcast directories for organic traffic.
Get social: That doesn't mean just using prominent platforms like Facebook and Twitter. Instead, take advantage of the networking opportunities you'll find on podcast directories.
Some directories listed in the article have a networking section so you can build relationships with fellow podcasters and get the word out.
Use your mailing list: Existing marketers have a ready audience thanks to their mailing lists. Share snippets and links in your newsletters and other marketing materials to help them find your podcasts.
Start marketing: Don't just use your existing customer base. Start marketing to a broader audience. Finding guest post opportunities, issuing press releases when you're doing something newsworthy, and writing guest blogs for your niche are a few ways you can spread the word.
Repurpose your content: The more places you share your podcast content, the better chance people will find the content you've created. For example, you could:
share part of a transcript in your newsletter with a link to the whole show
create short YouTube videos or get your podcast listed on apps
make an infographic or meme to share on social media
Conclusion
Podcasts are growing in popularity, and successful shows like the Marketing School give absorbable content for listeners on the move.
However, the sheer volume of podcasts can sometimes make it hard to find the podcasts you're searching for, which is where podcast directories and niche apps come in; they simplify your search to make it easier to find podcasts that match your interests. You can use similar methods to get your own podcast discovered.
If you want to advertise on podcasts or make one of your own but aren't sure how. to get started, reach out to our agency. We can help!
Do you listen to podcasts? How do you find podcasts that capture your attention? Tell us below.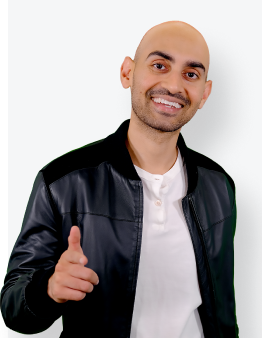 See How My Agency Can Drive More Traffic to Your Website
SEO - unlock more SEO traffic. See real results.
Content Marketing - our team creates epic content that will get shared, get links, and attract traffic.
Paid Media - effective paid strategies with clear ROI.
Are You Using Google Ads? Try Our FREE Ads Grader!
Stop wasting money and unlock the hidden potential of your advertising.
Discover the power of intentional advertising.
Reach your ideal target audience.
Maximize ad spend efficiency.