If you haven't started personalizing your website, you should start as soon as possible!
If you're wondering what personalization is, the answer is simple.
Personalization is changing the way your website looks in a way that appeals to customers' unique interests.
This is one of the most frequently occurring topics in regards to data and marketing trends, according to NewCo.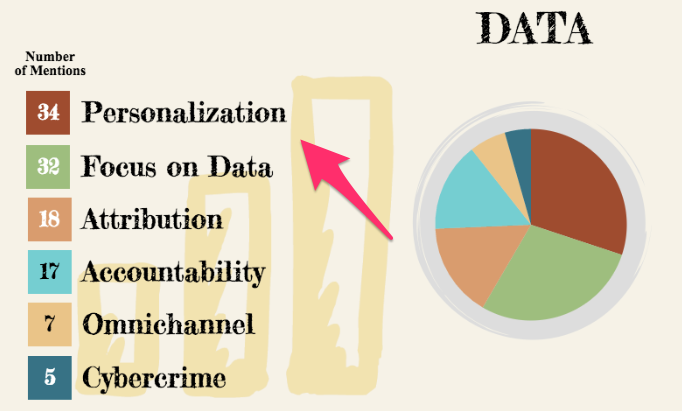 It's a critical method to use the data you collect about each of your customers. In fact, 68% of firms have made personalized experiences a business priority.

This is a great way to tap into the data that you have about your customers. By using personalization, you'll sell more and increase revenue and profits.
But how exactly can personalization help?
In this article, I'll give you specific details for increasing sales using personalization. These will work no matter what your industry is or what you're selling.
By implementing these strategies, you can skyrocket the number of people who are interested in your content and willing to buy what you have to sell.
Let's get started! 
Display your most tempting products
The first and most important way to use personalization is to start promoting your most tempting products to your customers.
The truth is that no product has "universal appeal."
Everything you offer appeals most to a particular demographic, and targeting this demographic more aggressively will produce results.
Even better, you'll impress the customers who visit your site with the option you're presenting.
According to data published by Invesp, 59% of online shoppers believe it's easier to find more interesting products when personalization is used.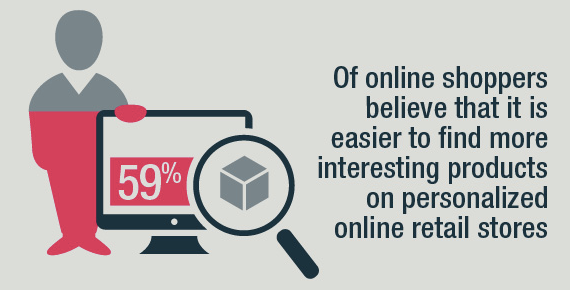 But how do you go about doing making personalization work for you? The answer is simpler than you might expect.
Encourage repeat purchases.
If your customers tend to buy the same kinds of products over and over again, you should use this to your advantage.
Look for products commonly purchased in a series, such as a monthly subscription or a product that people will need to be refilled on a regular basis.
By showing these products at regular intervals to visitors who go to your site, you can drive repeat purchases.
Amazon frequently markets products that customers can purchase again.
This personalization is a strategy that has paid off well for Amazon, according to data published by OneSpot.
Amazon has a roughly 60% conversion rate for products it recommends!
But it isn't only for repeat purchases that you can make this work. You can also recommend new products to customers.
Recommend new products.
One of the best way ways to market better to your customers, especially for ecommerce stores, is through the use of recommendations of new products.
This is a great way to show specific selections for one customer based on their previous buying history.
In the example below, this online store includes a "brand selections for you" category on their homepage.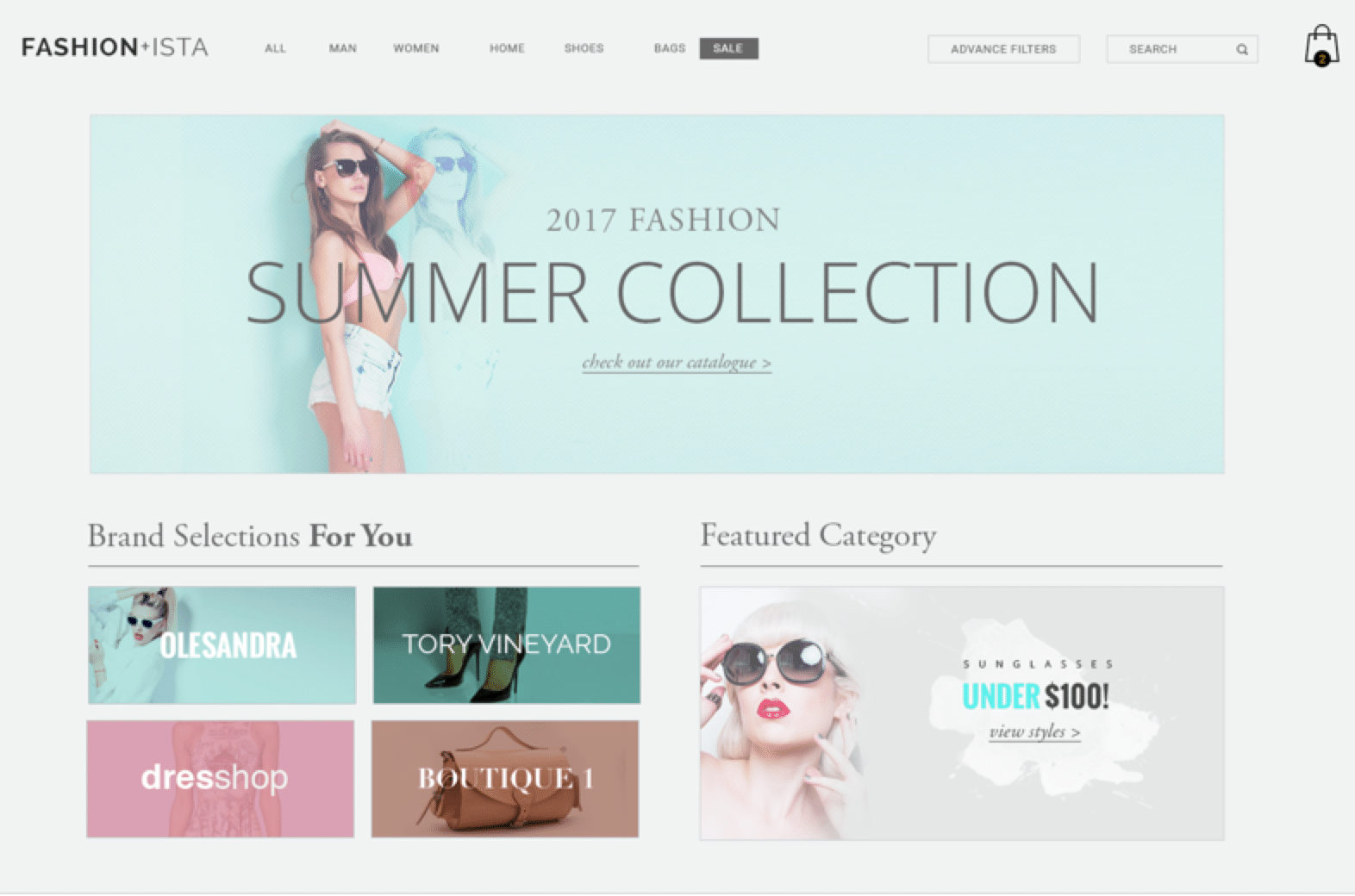 These are selections from each of their categories based on a user's data with the company, previous orders, and browsing history.
This is used masterfully by Amazon, which provides recommendations based on what you've already purchased, what you're interested in, and what others buy.
This is a staggeringly effective way to drive more shoppers to your site to make more purchases.
In fact, as many as 56% of online shoppers are more likely to return to your site when you recommend products.
This is a great way to appeal to your customer and drive sales at the same time!
Show a custom product display.
If you're going to make serious use of personalization, you need to start using some adaptive content in your marketing strategy.
This is used by showing different types of content to different customers based on their location, history, or personalization information.
This isn't just a sidebar with recommendations. It's a completely different experience!
Barilliance has a great case study of this type of content in action. On sunny days, this ecommerce store shows a summer outfit.
But when the weather shifts in the user's location, the category page image actually changes.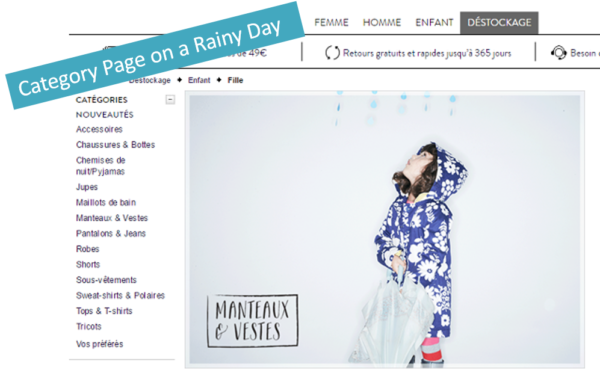 This type of personalization is sure to drive more sales by appealing to the customer's needs based on the weather in that customer's location.
While changes like this are bigger than the smaller adjustments most companies try, they don't require an extensive amount of work.
Carefully consider ways you could show different content to different customers and adapt it to improve your sales.
Promote upsells and cross-sells.
If you want to create a positive buying experience for your customers, you need to increase smart upsells and cross-sells that encourage more buying in each transaction.
With 66% of marketers listing improved business performance and customer experience as the main driver of personalization, you have a good chance of seeing results with this method.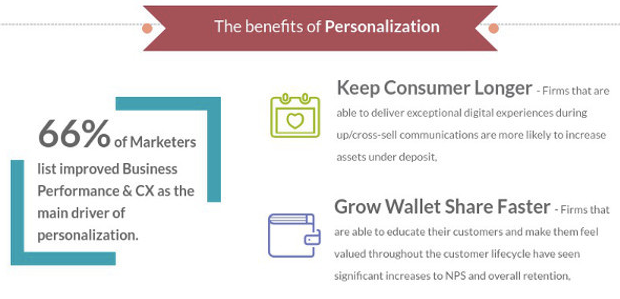 To make this work for you, look carefully at the data you've acquired about which products sell well in combination with others.
Look to previous cart data and start analyzing your related products and market them to customers.
This type of customized cross-sell is a great way to increase the total money spent per transaction, which can be one of the easiest ways to increase your sales and profits.
Close the sale
One of the largest challenges of ecommerce stores is closing the sale.
While carts are often filled with products, a huge number of those digital baskets are abandoned before the customer actually makes the sale.
This results in an effect not different from window shopping in the physical world.
Today's online shoppers often use carts just to choose products they're interested in with no intent to buy.
The goal of your personalization should be to close as many sales as possible and drive increased revenue and profits to your company.
Reducing the number of abandoned carts is one of the best ways to improve your ecommerce store.
Here's how you can implement personalization into this effort.
Save carts and show them when customers return.
While most ecommerce sites already save the cart, there's an extra way to add personalization to the mix that will drive more sales.
To do this, you need to have a popup that displays to returning customers, marketing the cart he or she already filled.
By showing the cart again to the customer in this way, you can drive the buying mindset as soon as a customer lands on your site.
This is a way to encourage that customer to complete the purchase with the previous cart.
Offer discounts for adding more to the cart.
Sometimes, you can actually increase the number of products that a customer includes in his or her cart by offering a personal discount or offer.
To make this work for you, find the most common problem customers face when they're ready to check out in your ecommerce store.
This is often shipping.
Gardeners.com uses a free shipping label at the top of the page when the cart is under $100.
By encouraging customers to add more items to the cart until they hit the $100 mark, Gardener's Supply makes great use of personalization to increase the value of each cart.
Use an exit-intent popup.
If you're serious about improving sales on your site, you need to start using more proactive ways to get visitors to do business with you.
One of the most effective ways to do this is by providing an exit-intent popup depending on the action this customer has taken on your site.
This could be a final call to action, an additional coupon, or even an ask for the user's email address. Samsung has a great exit-intent popup featured on RewardStream.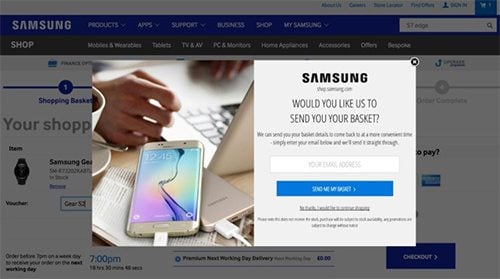 They make a request for the user's email address by asking to send the user his or her online cart (which they refer to as a basket).
This is a great way to start driving more sales from customers right before they leave your site.
Reduce friction in the buying process
Along the buying process, you have a number of areas where customers are more likely to leave.
By targeting these specific elements, you can improve the number of sales you make and reduce the bounce rate on your sites.
Since personalization increases marketing ROI by up to 20%, this is a no-brainer to start working on.
Even better, 78% of consumers are more likely to be a repeat customer if you provide targeted and personalized offers.
Here are a few ways to make the sales process easier and promote more sales on your website.
Auto populate forms.
When a user first stumbles upon your website, he or she will need to enter some information to find products that are most relevant.
To improve your ability to sell to him or her, you can make this process automatic.
A great example of using personalization to drive customer interaction from the moment a user finds your site is Groupon.
As soon as you go to Groupon, it auto populates the location form with your current location.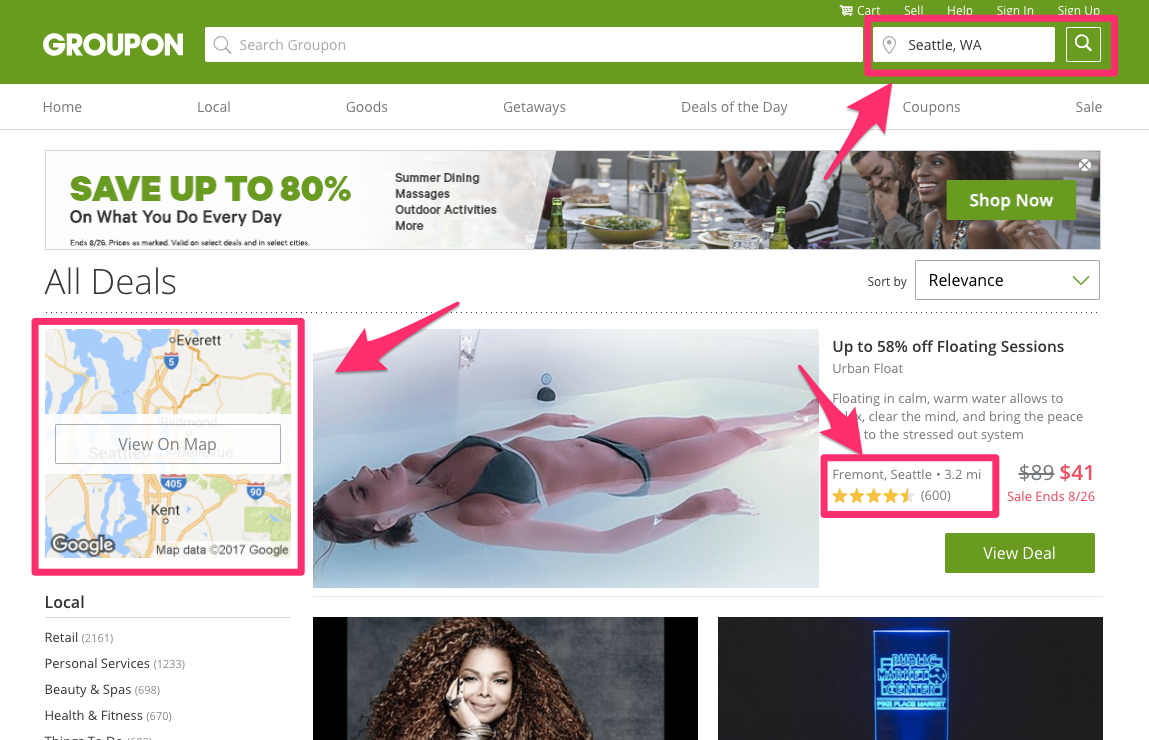 Even better, it uses that data to change all the offers presented on the page. This is a perfect way to find relevant offers and encourage users to purchase as soon as they land on the page.
To use this yourself, consider what forms you can populate automatically.
If you're using an email promotional campaign to drive sales, you can even include information on the links in your emails to increase the number of sales you make.
By providing a user's email address and name in the form they click to, you can increase sales and drive more traffic.
Use self-segmentation to give users relevant content.
Sometimes, the best way to find out about your customer is by having them segment themselves.
This tends to be a great way to change the sales process and shape what the consumer sees.
Instead of requiring a visitor to click around to find relevant information, you can deliver it straight to him or her.
Legion Athletics uses a popup with some basic personalization information.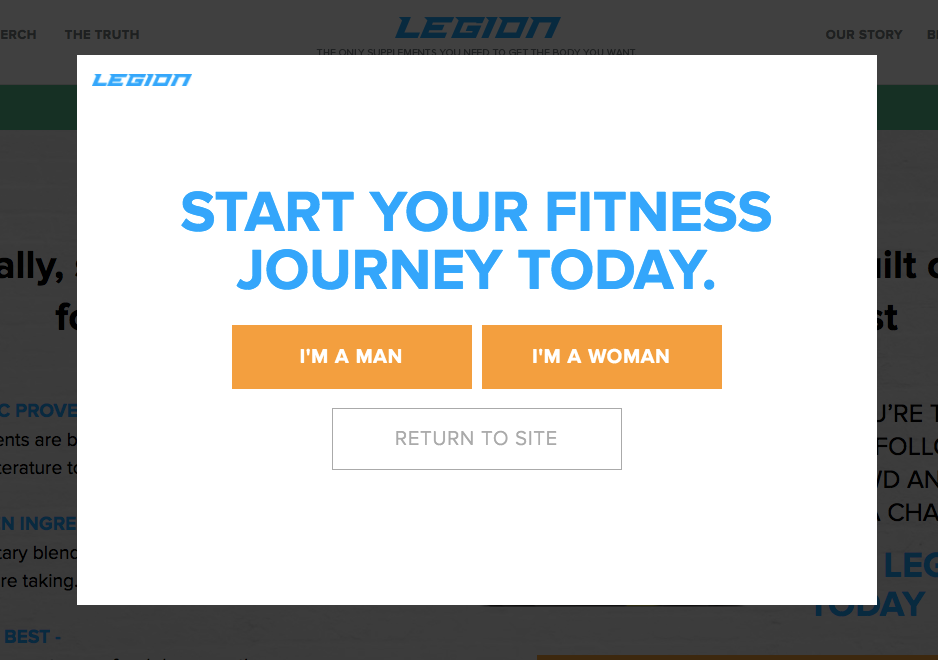 If you select "I'm a man," you get another set of questions.
This bit of data helps craft the types of offers and discounts the site can use to promote their products.
Promote your shipping policies early.
I mentioned before that shipping prices are usually a deterrent for a lot of ecommerce customers.
But there's a secret way to prevent this from being a problem using personalization.
First, you'll need to have clear shipping policies in place. Understand what your offers are, and understand how they relate to where your different customer groups are based.
With that in mind, you can then use customization from the user's location to advertise the shipping policy you have for him or her.
This can be a great way to encourage purchases before a customer has a chance to leave your site.
Toolstoday uses a popup when a visitor from Japan arrives at their site.
They explain their free shipping policy for customers based in Japan and provide information about their first-time customer 10% discount.
This is an effective way to get customers in a buying mindset and reduce the friction in the buying process before a customer has to search for the shipping policies you have in place.
Make your site more relevant
One of the keys to improving your bounce rate is to make more relevant content on your site.
There are a handful of ways to do this, but almost all of them can be improved with a smart personalization strategy.
Thankfully, this is one of the easiest ways to add personalization to your website.
Since 53% of firms lack the right technology to personalize experiences, this is a great way to start with minimal technology and cost.
Here's how you can improve the relevance of your site without the expense usually associated with the big data and advanced analytics larger brands use.
Replace landing page copy with ad text.
One of the best ways to make your content more relevant is by replacing the copy of your landing page with the copy you used in the ads themselves.
This is a classic example of dynamic text replacement, and it's a great way to build trust with your landing page by using a close message match.
Since personalized display ads have a 10x higher click-through rate compared to their non-personalized counterparts, this is a great way to increase your ad effectiveness.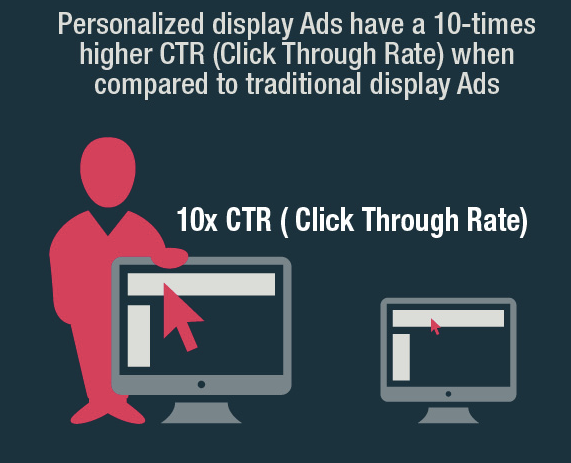 When you're driving sales from a landing page, this kind of attention to detail can make a huge difference in how many people follow through with their purchases.
A great example of this kind of copy changing was featured on Autogrow.co.
California Closets ran two different ads with different copy and directed both to the same landing page.
The ad that read "You've Arrived" directed to a landing page with the same text.
And the ad that read "Clean. Bright. Organized." led to the same landing page, with the text dynamically changed.
They had a large boost in conversion rate using this strategy. You can apply the same concept to the ads you run for increased sales.
Change the focus of your page based on geolocation.
When Hertz was looking to improve sales, it worked to create different homepages depending on the location of the visitor.
The landing page for Singapore focused on "Driving from Singapore into Malaysia" and featured a specific headline and background image.
On its landing page for Chile, the copy and images were different. Again, this was the same landing page, just with the content changed based on location.
The Chile landing page focused on a trip to Brazil and included different styles and images.
Nationwide used a similar strategy in their ads' landing pages. Based on user location, they were able to increase insurance leads.
For one group, they showed this landing page with a generic background.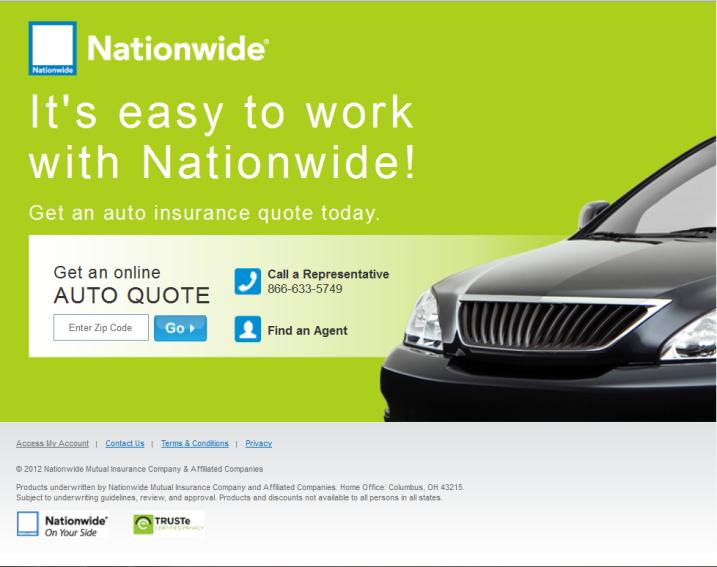 But for another group, Nationwide showed a landing page with targeted imagery based on geolocation.
By changing the content like this on your landing page, you can increase the effectiveness of each one and improve your sales through ads.
Provide new content based on user preferences.
Similar to the recommended products feature of Amazon and other retailers, you can customize your content marketing depending on what a customer is most interested.
Evergage does a great job with this on their blog. They offer new posts to read based on the current content the user is viewing.
Of course, the champion of this kind of customized content selection is Netflix.
With an annual budget of $150 million just for recommendations, Netflix has managed to save $1 billion each year by increasing their retention rate.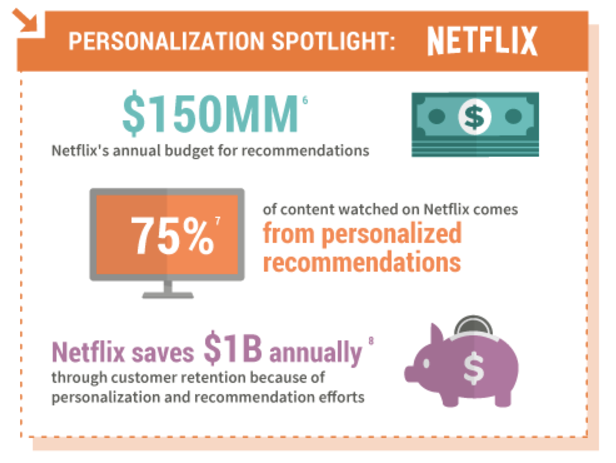 This is a great way to skyrocket the effectiveness of your content marketing and drive more sales.
Make your customer feel special
The final way to personalize your content is to simply make the customer feel special.
Unfortunately, most customers are wary about companies that target them too directly. It feels unnatural and slightly creepy.
But by making customers feel special, you can personalize without all the bad side effects.
According to data published by Boomtrain, 86% of customers said that personalization has at least some impact on what they purchase.
You can make great use of personalization to make your users feel appreciated and special with your offers, which you can use to sell more.
Offer discounts for loyal buyers.
One of the most important features of using personalization on your website is the ability to track customers across multiple purchases.
By including tracking cookies and other methods of matching carts to customers, you can effectively run analytics to determine how much each customer is worth to you.
While there are lots of ways to handle that data, one of the most effective is to offer targeted marketing efforts to customers who are about to stop spending.
Nearly all marketers using website personalization have seen a lift of at least 5% in their most important metrics, and 39% have seen increases of at least 20%.
With statistics like this, you need to make good use of your customer history data.
This data is critical to selling more through your site, whether you're selling digital products, SaaS, or items through ecommerce.
To make this work, you'll need to calculate the value of each customer and use that data to find the price at which you can afford to offer targeted discounts.
Create a custom profile that encourages buying.
In a case study featured on MarketingSherpa, one of the most incredible examples of personalized website usage comes from Doggyloot, a site dedicated to providing toys, treats, and other accessories for dogs.
When customers joined the site, they were asked to fill out a profile about their dogs, including name, breed, size, and birthday.
Using this information, Doggyloot was able to target customers on each dog's birthday, promoting new features and special offers.
These happy birthday emails resulted in a 750% higher CTR.
If you look carefully at your business, you'll find a unique opportunity like this that can make a huge difference in how you market.
Personalization can create massive impact if you use it wisely!
Include the name of the customer around your site.
The simplest way to increase sales on your website through personalization is by using a simple technique to make your customers feel special.
If your site currently says "account" or "my information," switch this to a more user-friendly expression that uses the customer's name.
Since 57% of online shoppers are OK with providing personal information as long as it is for their benefit, this is a great way to use customer-provided information in a natural way.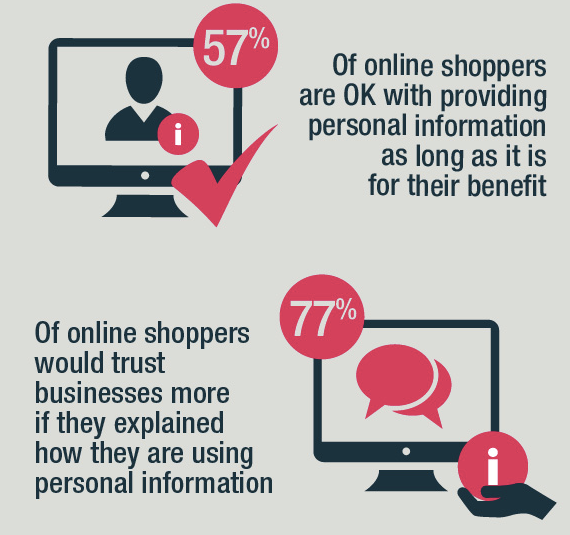 Amazon does a great job of subtly using your name on the site. This is a simple way to make the customer feel special without feeling too salesy or over-the-top.
Look for creative and unobtrusive ways to include customer names on your site to boost conversions and increase your sales.
Conclusion
Now that you have a good idea of how to use personalization on your website, how will you implement it?
I recommend starting with a few basic methods using information you already have. Don't worry about fancy technicalities or methods beyond the scope of your current data.
Once you've tested this and found it to be successful, you can move on to more advanced technology and strategies that will drive more sales than you've ever thought possible.
Look to create custom content that pushes the boundaries of the technology you have access to, and remember to always test your results.
The more personalized your content, the more you'll stay ahead of the curve and impress customers with the content you're delivering just to them.
What personalizations will you use to increase sales on your website?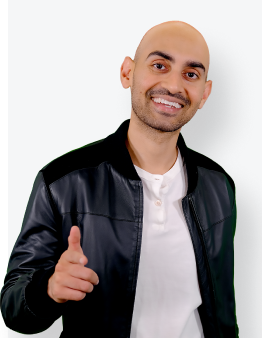 See How My Agency Can Drive More Traffic to Your Website
SEO - unlock more SEO traffic. See real results.
Content Marketing - our team creates epic content that will get shared, get links, and attract traffic.
Paid Media - effective paid strategies with clear ROI.
Are You Using Google Ads? Try Our FREE Ads Grader!
Stop wasting money and unlock the hidden potential of your advertising.
Discover the power of intentional advertising.
Reach your ideal target audience.
Maximize ad spend efficiency.