It has 2.89 billion monthly active users, a global presence, and a massive influence on consumer buying decisions.
What am I talking about? Facebook, of course!
Given its broad audience, marketers and businesses can't afford to ignore Facebook if they want a fresh pool of prospects to target.
However, there's another reason why you should use Facebook: they provide many innovative tools to help anyone drive more attention to their products and services by targeting specific audiences.
One of those tools is Facebook lead ads.
What Are Facebook Lead Ads?
Facebook lead ads allow marketers to generate leads on Facebook among users who might be looking to buy your product or services.
Rather than the traditional landing page, these ads keep users on social media while the prospect fills out a simple lead form with basic details such as their name, email address, and other contact information.
When a prospect completes an "Instant Form", they get added to the company's email list where they receive updates and offers (if you have an active mailing list).
Alternatively, you can customize Facebook Instant Forms—making it easier to target your audience (and filter out non-relevant customers).
With Facebook lead ads, you can choose from several campaign types, including:
demos
downloads, like PDFs
discounts
event advertising
Facebook users will then see lead ads in different site areas, including news feeds, Messenger, and even articles.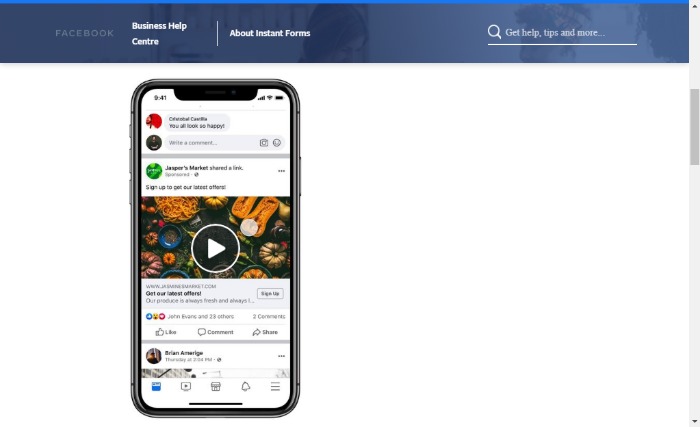 How Facebook Lead Ads Work
Facebook lead ads work in much the same way as other advertising. You can create your adverts by going to Facebook's Ads Manager.
Once there, you establish your budget while adding your descriptions, images/videos, and other design elements for a successful ad. You can also customize your ad by using specified interests or demographics to target your ideal audience.
Ads then get shown in users' feeds, where they can respond to your offer, helping your ability to generate more leads.
From a user's perspective, Facebook Lead Ads don't look different from other link ads. Once clicked, they take the Facebook user to a form rather than a website, like in the example below.
When creating the Facebook lead ad form, you get to decide what information you'd like to ask for. Aside from the pre-filled data, you can also select from a list of custom questions types such as:
multiple choice
short answer
store locator
conditional
appointment request
Benefits of Facebook Lead Ads
The most obvious benefit of Facebook lead ads is that they give prospects an easy way to provide their information—especially if you choose the pre-fill option—allowing you to collect leads in a more efficient and straightforward way.
As for marketer and small business owner benefits, you can customize questions for your forms, have a better chance at increasing conversions, and access a mix of new lead generation campaigns.
Some other significant benefits of Facebook lead ads are:
targeted audience segmentation
easy data collection
mobile responsiveness
a better understanding of your customers
As you can see, you've got plenty of reasons to explore these ads and get to know how they may work for you in your business.
Why Should Marketers and Small Businesses Use Facebook Lead Ads?
The reality is marketers and small business owners are busy and can't be everywhere at once, even if you might want to be.
That means you need to focus your marketing efforts on maximizing success.
That's why it makes sense to use tools like form-driven ads to capture leads efficiently and dynamically (without too much effort and time commitment on your part).
You can use Facebook lead ads in any number of ways, including:
finding prospects for your products/services
gathering subscriber details for newsletters
gaining insights into consumers behaviors
encouraging people to sign up for courses and events
Facebook Lead Ads Best Practices
There are plenty of ways to make the most of your Facebook lead ads. Let's start with the basics.
A few best practices include:
ensure your ads are in line with your business goals
make sure your ad messaging is consistent with your brand
create a clear and effective call to action (CTA)
use CTAs that speak to your specific audience
keep the ads simple
spell out the benefits
Facebook has a heap of helpful suggestions too. These include:
Decide on the right budget and use ad scheduling.
Create lookalike audiences to help find your ideal customers.
Reach previous prospects with the Engagement Custom Audience feature.
Run ads on both Facebook and Instagram.
Add an engaging image/video.
Just a quick note: it's definitely worth reading up on Facebook-published articles for a wealth of tips on increasing conversions from Instant Forms.
Before moving on, here are a few more things to consider:
Find the right leads: By pairing Facebook lead ads with the platform's audience selection and optimization tools, you can reach the right audience at the right time every time.
Ask the right questions: Only you know what information you're looking for from your audience. Ask the most important questions up top to ensure that you get the information you're angling for.
Integrate your CRM: Rather than losing your leads, you can integrate Facebook lead ads directly with your CRM, allowing your system to immediately reach out to interested parties.
Now you know what makes a great ad, let us look at some examples.
Examples of Great Facebook Lead Ads

Many brands in different niches are using Facebook lead ads to their advantage and, as you can see from the following examples, there's a ton you can learn from them.
Let's start with the Wealth Factory.
The Wealth Factory
Let's face it. If someone is going to click on a link, they want to know what's in it for them. When the benefits are clear, and they can see what they gain from clicking through, they are more likely to take that extra step.
That's what The Wealth Factory does so well with its Facebook lead ads. The free PDF details the IRS's tax benefits and lists 32 jobs that your child can do to help you in your business.
As you can see from the ad, the benefits include a sizable tax-free income for your child and a tax deduction for you as a business owner.
To find out more, Facebook users complete the super-short form and click send. It doesn't get much easier than that.
This is an approach you can adapt for your campaigns.
Make the benefits clear and bullet point them, so people see at a glance what they're set to gain, and you can encourage Facebook users to click through with a clear CTA.
Boux Avenue
Another proven technique guaranteed to inspire consumers to spring into action is offering a discount. After all, who doesn't love a bargain?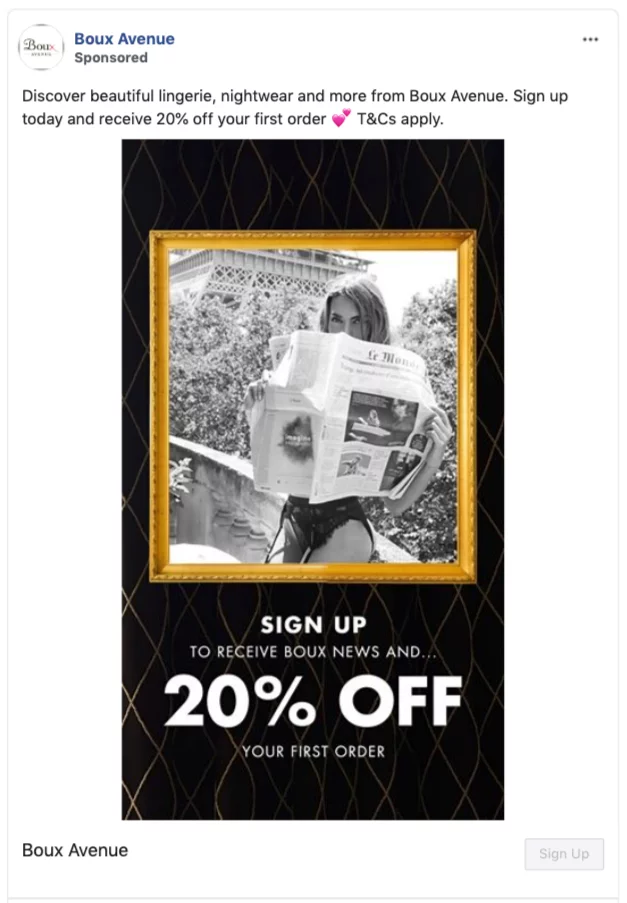 That's what Boux Avenue does with its Facebook lead ads form. Like the Wealth Factory, it's very clear about the benefits of signing up (a 20 percent discount and a regular newsletter).
To make the decision even easier, Boux Avenue makes signing up a snap with pre-filled information and a CTA button.
Offering a discount is something most businesses can do, and by simplifying form completion, you're increasing the chances of prospects clicking. Bear that in mind with your ads, and add a time limitation to discounts to create urgency.
How to Set Up Facebook Lead Ads
Creating Facebook lead ads involves some basic preparation.
First, Facebook advises businesses to familiarize themselves with the terms of service and its advertising policies. If you want to list some questions on your form, Facebook suggests you ask your legal team to look them over first.
Then there's just one more bit of prep: you need the link for your privacy policy as it will appear on the form.
With all that done, you're ready to start creating your first ad. It's simple to do. Just follow these steps:
Creating a Successful Facebook Lead Ad
Log into your Facebook business account and click on "Publishing Tools."
Go to the "Forms Library" on the left-hand side of the page and click.
Next, click "+Create".
Select "New Form" or "Duplicate" if you already have a form.
Go to the "Create Form" window and fill out the "Form Name" box.
Now, go to the "Form Type" field and select which form you'd like. There are two choices: Selecting "More Volume" lets you make accessible fillable forms suitable for mobile users. While setting "Higher Intent" allows users to review and confirm their details first.
Next, go to the "Intro" section and create an introduction screen. Facebook has details on how to complete this stage. Here, you can add your images, headlines, and descriptions about your products/services.
Go to "Questions" and choose + "Add Question." Facebook lets you list up to 15.
Next, move to the "Prefill Questions Section." Fill out the description and explain how you intend to use or share the information people give you. Remember, you can't use the info you gather for any other purpose other than the one you state.
Select any pre-filled information you want for your form. Select categories by clicking "+ Add Category."
Go to "Privacy" and include your link text and the URL to the "Privacy Policy" box. You can also add a custom disclaimer by clicking "+Add Custom Disclaimer."
Move to "Completion." Put in your headline, descriptions, CTA button, and add a link. You can include up to 60 characters for Headlines and CTAs.
Click on the arrows on the top of "Form Preview."
Select "Publish" or "Save Draft" if you want to edit later. Ensure all your details are as you want them because you cannot edit your Instant Form once you've published it.
Choose "Boost" to send out your form as an ad. Select your image/video, text, audience, length of publication, and budget.
Click "Promote."
Congratulations! You've just created your first Facebook lead ad.
Frequently Asked Questions About Facebook Lead Ads
How much do Facebook lead ads cost?
Compared to other platforms, Facebook ads are not wildly expensive. On average, Facebook advertising costs $0.97 per click and $7.19 per 1000 impressions. These low numbers make advertising on Facebook extremely attractive to marketers across industries, with over seven million advertisers actively trying to engage consumers on the platform.
What are dynamic Facebook lead ads?
Dynamic Facebook lead ads are a cost-effective way to create and test ad variations and choose which one performs best. They allow advertisers to show different offers, images, and CTAs to each individual. Dynamic Facebook lead ads offer greater personalization and let you create locally relevant ads to enhance lead quality and increase sales.
What is the format of Facebook lead ads?
Ads come in-text links and carousels, and appear on different areas of the site, like feeds. Users see them labeled as "sponsored."
Are there any tools for testing Facebook lead ads?
Marketo has a Facebook lead ads testing tool for checking functionality and Hevo Data has a similar tool. You can also measure parameters by adding them to your lead form.
Don't forget to do some A/B testing as well to see which ads work best for your ideal audience.
Conclusion: Facebook Lead Ads
Facebook has a massive reach, which is why it makes sense for marketers and business owners to explore the available tools to get your products and services in front of a considerable audience. One of those tools is Facebook lead ads.
With the ability to create custom leads, Facebook lead ads provide significant advantages to advertisers.
Marketers can customize form fields, capture more prospect information, and target more relevant audiences while making the experience as simple as possible for users.
Aside from customization, Facebook lead ads offer many other advantages including increased conversions and getting a better understanding of your customers—making them an important part of any lead generation strategy.
Do you use Facebook lead ads? How are they working for you?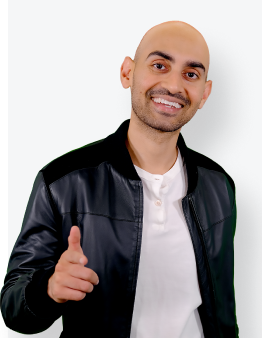 See How My Agency Can Drive More Traffic to Your Website
SEO - unlock more SEO traffic. See real results.
Content Marketing - our team creates epic content that will get shared, get links, and attract traffic.
Paid Media - effective paid strategies with clear ROI.
Are You Using Google Ads? Try Our FREE Ads Grader!
Stop wasting money and unlock the hidden potential of your advertising.
Discover the power of intentional advertising.
Reach your ideal target audience.
Maximize ad spend efficiency.