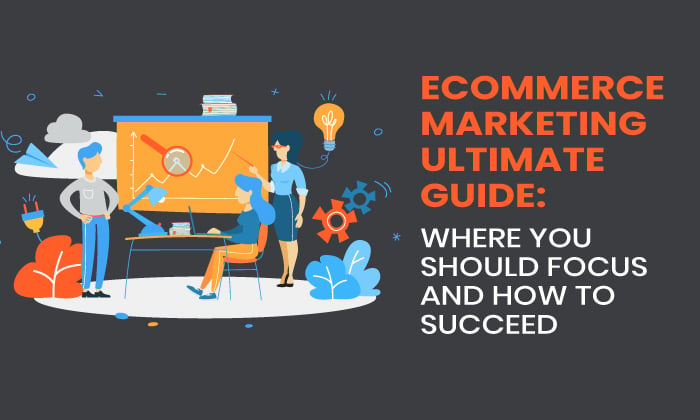 There are an estimated 12 to 24 million e-commerce stores. Online retailers can sell just about anything—from shoes or baked goods to software and coaching sessions.
However, with so much competition, standing out can feel like an impossible task.
Most e-commerce store owners have no idea how to effectively market their business. They either try to use the same strategies they use for their brick and mortar store (which will fail) or use strategies meant for blogs: not e-commerce stores.
Selling products or services online requires a special touch. The same strategies local businesses use just aren't as effective.
If you're looking to drive traffic (and sales) for your e-commerce business, this guide is for you.

I'll walk you through why e-commerce marketing is different, what strategies to use, and we'll even explore a few e-commerce businesses that are getting marketing right.
What Is E-commerce Marketing?
E-commerce marketing is the act of using marketing strategies to drive awareness and conversions for a business that sells products or services online.
E-commerce marketing can have a variety of goals, from building brand awareness to driving sales, and use a variety of approaches including SEO, paid ads, social media, and affiliate marketing.
E-commerce Marketing Vs. E-commerce Advertising
Aren't marketing and advertising the same thing? Not quite.
E-commerce marketing covers every aspect of driving engagement and awareness of your brand. You want people to get to know who you are and what you offer. Advertising comes into play once they actually recognize your brand.
E-commerce advertising is the part of e-commerce marketing that focuses on increasing conversions by promoting specific products and driving sales. This can include display ads, banner ads, even dynamic ads.
Types of E-commerce Marketing
It's easy to get overwhelmed when trying to learn about digital marketing. I get it because I've been there.
The next few sections outline the different ways you can market your e-commerce business.
Don't assume you need to tackle all of these strategies right off the bat. Read through this guide, soak up all the information, then start with one or two strategies.
Here are the main types of e-commerce marketing we'll cover in the next sections:
paid search
SEO
content marketing
email marketing
social media for ecommerce
influencer marketing
affiliate marketing
It's a long list, but I promise to keep it simple. I'll explain what each type is, give a quick rundown of how it works, then mention a few strategies you can use to get real results.
Paid Search Marketing for E-commerce
Paid search marketing, also called paid ads or search engine marketing, leverages paid ads on platforms like Google or Bing to drive awareness (and later sales.)
Here's how it works:
You choose a platform to market on, such as Google Ads.
Sign up for their platform and create an account.
Create a campaign, which will keep similar ads together.
Upload an image and add a copy to create your ad.
Select your target audience. Targeting varies by platform but can include demographics, location, and user behavior.
Set your budget.
Publish your ad.
Paid search ads can show up at the top of the search results, like this: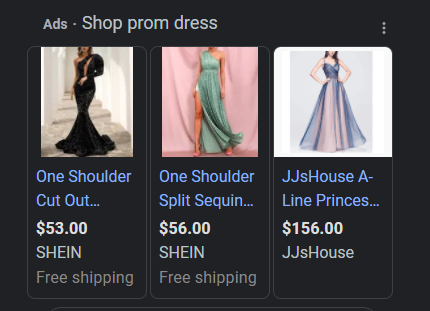 They can also show up in banner ads and on other websites (called display ads.)
Paid Search for E-commerce Strategies
Paid search ads are a really effective way to build brand awareness and drive sales for e-commerce businesses. However, they often feel overwhelming when you're getting started.
Here are a few strategies to help you leverage paid ads:
Sign up for Google Shopping Ads: These ads show up for high-intent keyword searches (like buy a prom dress, for example) and can be free. Sign up for the Merchant Center and upload your inventory.
Use retargeting: Retargeting ads allow you to reach people who have already interacted with you on social media, your website, or even through email. These ads have a much higher conversion rate.
Target your audiences carefully: With paid ads, you'll generally pay for each click, so use targeting to limit your audience as much as possible. Use negative keywords to keep your ads from showing for unrelated searches.
If you need more help, there are plenty of other paid marketing strategies you can leverage.
Search Engine Marketing for E-commerce
Search engine marketing for e-commerce is a strategy focused on driving traffic from search engines to your e-commerce site. It includes paid ads, which we covered in the previous section, as well as SEO, (or "search engine optimization").
Since we've already covered paid ads, this section will primarily focus on ranking in search engines organically.
Start by performing keyword research to understand what terms users type into search engines when looking for the products you sell. My tool Ubersuggest can help by showing you search volumes (how many people search for a specific term), competition, and related keywords to consider using.
Additionally, there are a lot of direct e-commerce SEO strategies you can leverage. I have listed a few of them below.
Search Engine Marketing for E-commerce Strategies
Gaining organic traffic isn't just about keywords, though that is the main component. You also want to ensure your website follows Google (and Bing) best practices so you can enjoy that sweet free organic traffic.
Here are a few search engine marketing strategies to try:
Add original content to product pages: Don't reuse content from other websites or suppliers. Create new, original content that describes your product or offering in the same language searchers use.
Check your site speed: Slow site speed can impact user experience and your search ranking. Use Google's PageSpeed insight tool to see where your site stands.
Use unique metas for every page: It might be tempting to use the same or similar meta descriptions on pages for similar products—say a red pair of running shoes and a blue pair. This can show up as duplicate content, which won't do you any favors with Google. Make sure all your content (including metas) is unique.
Brush up on some additional e-commerce SEO tips to get everything working right for your store.
Content Marketing for E-commerce
Content marketing is the strategic approach to creating, publishing, and promoting content for the purposes of driving traffic, building brand awareness, and increasing e-commerce sales.
Content marketing can refer to publishing content on your own website, guest posting on other blogs, creating videos, hosting webinars, and writing ebooks. Content marketing can be highly effective, but many e-commerce businesses struggle to create high-quality content.
That's because many e-commerce brands dive straight into pushing for conversions.
Content marketing takes a more roundabout approach. Instead of writing why your product is the best, e-commerce businesses should focus on providing value to their audience.
For example, a fashion company might write an ebook about how to find the right prom dress, while a mattress company might write a blog post about why it's important to replace your mattress regularly.
By focusing on topics your audiences care about, you build trust and brand awareness.
Content Marketing in E-commerce Marketing Strategies
Content marketing should be centered on providing value. For e-commerce companies, this can be challenging. Here are a few ways to leverage content marketing to grow your e-commerce brand.
Publish gift guides: If you sell consumer products that might be purchased as gifts, consider creating gift guides around the holidays. Don't just share your products, though. Make sure to share a variety of options to add value!
Create product videos: One of the biggest challenges for e-commerce companies is overcoming hesitation. While online shopping continues to grow, many people prefer to be able to touch an item. Product videos are the next best thing! Show all sides of items, what it looks like on different body types (if you sell clothing), or how specific features work.
Share frequently asked questions: An FAQ page can enhance the user experience by providing information your potential customers need quickly. It can also decrease support requests for your companies. FAQ pages are even great for an SEO boost, making them a win all around.
There are lots of ways you can get started with content marketing for e-commerce. You just need to find the right fit for your brand.
Email Marketing for E-commerce
Email marketing is one of the most effective channels for e-commerce websites. In fact, you can expect an average ROI of around $42 per dollar spent on email.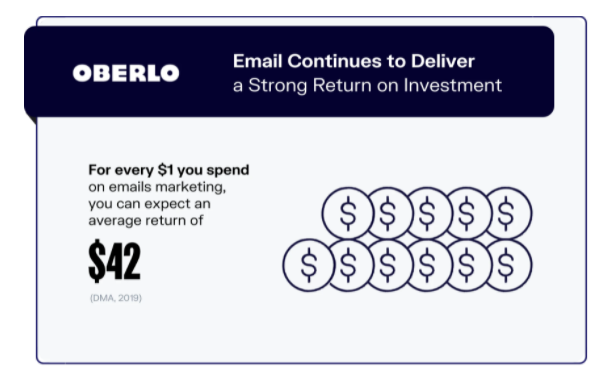 That's because nearly everyone uses email—and there are no algorithms to deal with like in social media. Every email you send reaches potential customers (as long as you follow the rules to avoid landing in spam folders.)
Email can build brand awareness, promote sales, launch new products, even host giveaways, or recover abandoned carts.
Start by building your email list. Offering site visitors a small discount or free shipping is a simple way to build your list.
Email Marketing for E-commerce Strategies
Out of all the e-commerce marketing strategies on this list, email may be the most effective. It's also one of the more versatile strategies. Here's how to leverage email marketing for e-commerce.
Use personalization to send more relevant emails: Segment your emails or leverage personalization to send users emails that are relevant to their interests or actions.
Send cart reminders to encourage conversions: One study found e-commerce businesses that send cart abandonment emails generate more than $60 million in extra sales.
Make sure your emails are mobile responsive: The majority of email users check their email on their phones. Avoid using too many images and test your emails on mobile devices.
I found this great additional resource by Opt-In Monster which may help you: 13 Simple E-commerce Email Marketing Tips to Skyrocket Your Sales.
E-commerce Marketing on Social Media
The average internet user spends nearly two and a half hours on social media per day. Even better, one in three consumers use social media specifically to learn about new products and brands.
That makes it an ideal place to promote your e-commerce business.
There are two main ways to market on social media—paid ads and organic posts. Organic posts include posts like this post from an e-commerce clothing brand: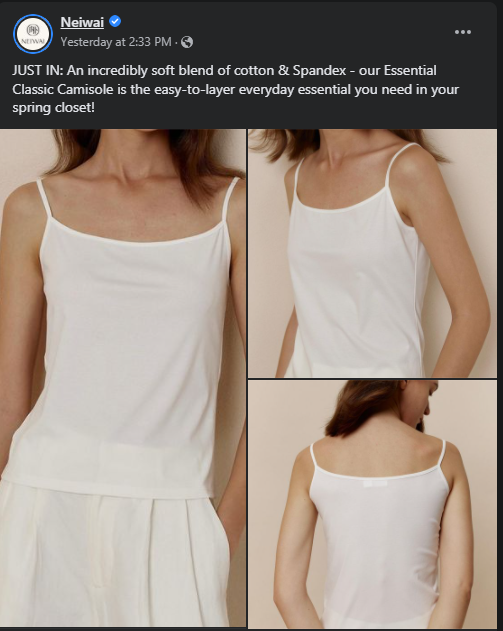 Just keep in mind that organic posts, like the one above, don't get as much reach as they used to. Unless your brand is very popular or quirky, you might not get much traction with organic.
However, paid ads can be very effective. For a few dollars a day, you can promote posts and reach thousands of potential customers. Like paid search ads, they can be targeted so you can choose to reach people who are interested in a specific show, sports team, live in a certain area, and so on.
Start by finding out where your users hang out. Do they prefer short videos on TikTok or long-form content on YouTube? Are they Facebook users?
The most popular social media platforms include:
Facebook
Instagram
Snapchat
YouTube
TikTok
Look at the demographics for each platform and see where your audience is likely to be. I recommend choosing one or two platforms to get started.
If you use paid social ads, start off with a small budget (less than $10 a day) and test copy, images, and tone. Once you find out what works, you can invest more of your budget.
To promote your e-commerce business organically through social media, share a mix of content. It's fine to post your own content, of course. However, you may get more traction from posting content from other creators your audience will find interesting.
E-commerce Social Marketing Strategies
Social media can be a gold mine for e-commerce brands. These three strategies will get you started.
Choose the platform where your users hang out: There are dozens of social platforms, don't try to do them all. Instead, find out where your users hang out and get active on those platforms.
Remember the rule of thirds: Social media is about building relationships, so don't just post your own products. One-third of your content should be about you, one-third about your industry or content your users will find interesting, and one-third about personal interactions and brand building.
Use paid ads to retarget site visitors: Retargeting can be a highly effective way to drive users back to your website.
Discover more ways to use social media to your advantage here: The Ultimate Guide to Social Media for E-commerce.
Influencer E-commerce Marketing
Influencer marketing is a strategy where brands partner with well-known online creators, called influencers, to promote their products or services. It's common on social media, with celebrities like Dwayne Johnson raking in millions by promoting products.
That might seem out of reach, but influencer marketing works for brands of any size. If you have a smaller budget, consider partnering with micro-influencers, who have smaller (and often more dedicated) audiences.
Start by searching popular hashtags in your industry on sites like Instagram and TikTok. Follow users who post about your industry often and get to know them. Pay attention to how much engagement they get from followers as low engagement can indicate most of their followers are bots.
You can also use an influencer marketing platform to find influencers in your industry. These platforms also help track the impact of your campaign and handle payments.
Influencer E-commerce Marketing Strategies
Influencer marketing campaigns build trust by leveraging people your audience already interacts with. Here are a few strategies to build an effective influencer marketing campaign.
Establish your social channels before diving into influencer marketing: Before you begin working with an influencer, take the time to build your own followers and create an effective social media posting schedule.
Find influencers who match your brand tone and style: Partner with influencers who already interact with your target audience and make sure they fit your brand.
Pay attention to their current engagement rate: Anyone can buy followers, so don't assume an influencer will be effective just because they have millions of followers. Pay attention to the number of likes and comments they get.
If you want more insight before you get started, this blog post of mine will give you some guidance: Influencer Marketing: Examples and Strategies.
Affiliate E-commerce Marketing
Affiliate marketing is a type of performance-based marketing where a site or influencer promotes a brand in exchange for a small percentage of sales. It's a common strategy used by bloggers who promote Amazon products or websites that write about software, like hosting services or SEO tools.
It's extremely effective and affordable for e-commerce sites because you only pay when you get sales.
To get started, you'll need an affiliate link to track sales from each affiliate partner. G2 has a list of the best affiliate software solutions. There are also several WP plugins that generate codes and track sales.
Affiliate Marketing for E-commerce Strategies
Affiliate marketing is a common strategy used by e-commerce businesses. You can set up a full-fledged program using the tools above, or offer customers a custom coupon code to pass on to their friends and connections.
Here are three strategies for building an effective affiliate marketing campaign:
Research affiliate percentages in your industry: If your incentive is too small, no one will participate. On the other hand, too high of an incentive will cut into your bottom line. See what other affiliate programs offer and calculate your cost-per-acquisition before deciding how much to offer.
Get tracking in place: To know how much affiliates help you sell, you'll need to track their sales. Coupon codes and UTM codes can help. Most affiliate marketing platforms handle the tracking for you.
Create an affiliate page on your site: Create a landing page with all the information potential affiliates need, including how to become an affiliate, commissions, and any rules or restrictions.
Here's another additional resource for you: How to Set Up an Affiliate Program for Your Shopify Theme.
Examples of Great E-commerce Marketing Campaigns
Need some inspiration before launching your e-commerce marketing campaign? Let's look at a few examples and explore why they work.
Google Shopping Ads Example
Google Shopping ads show up in the search results for high-intent keywords. For example, I searched for an Instant Pot and these are the ads that showed up at the top: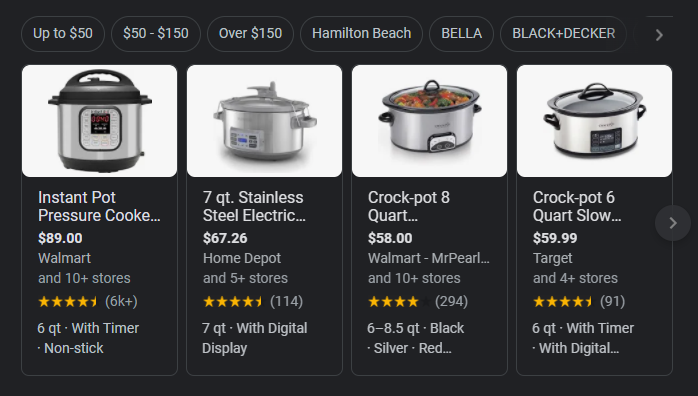 These ads are highly effective because they show up when users are ready to buy and show pricing, images, top features, and reviews.
While you can pay for Google Shopping Ads, they can also be free if you have your site set up correctly.
Paid Social Media E-commerce Example
Paid social ads come in a variety of formats. For example, you can post ads like these in the sidebar on Facebook: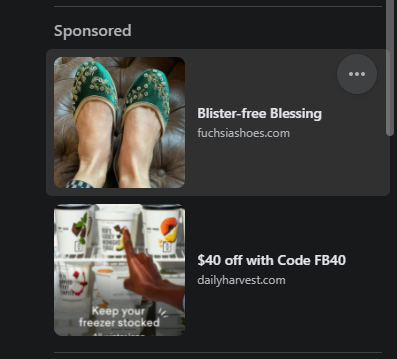 These ads feature images and short, snappy copy that grab users' attention. The bright colors stand out and the offer is enticing.
Boosted posts on Facebook and Instagram Stories also tend to perform well for e-commerce companies.
Email Marketing E-commerce Example
With email marketing, you're in control—which makes it highly valuable for e-commerce brands looking to build brand awareness and drive sales.
This email from Osmo uses bright colors, engaging language, and an offer to draw in users who haven't made a purchase yet.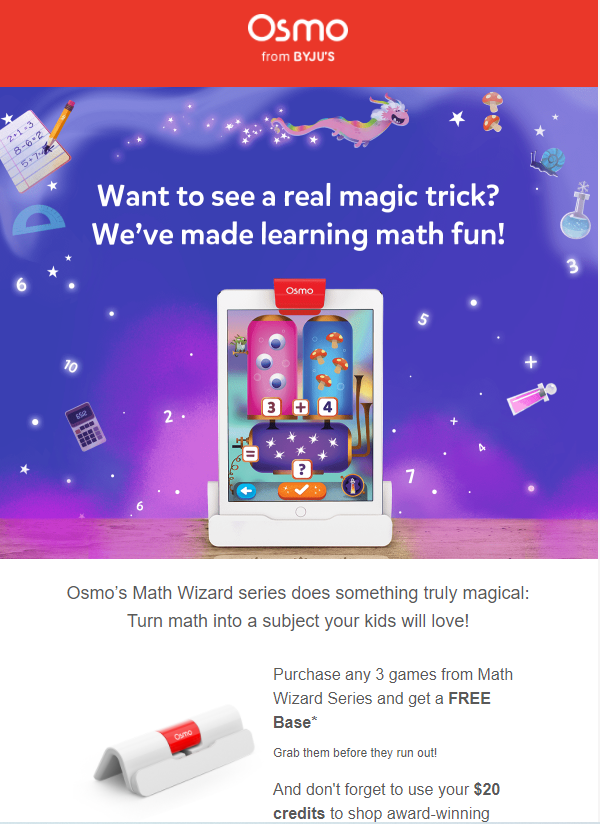 Email marketing can also help launch new products, educate your audience, and win back those abandoned carts.
Content Marketing for E-commerce Example
This article is from Flexjobs, a platform that helps remote and contractors find jobs in their field. Notice the blog doesn't promote their platform directly.
Instead, it offers tips and strategies freelancers can use to be more effective at finding work.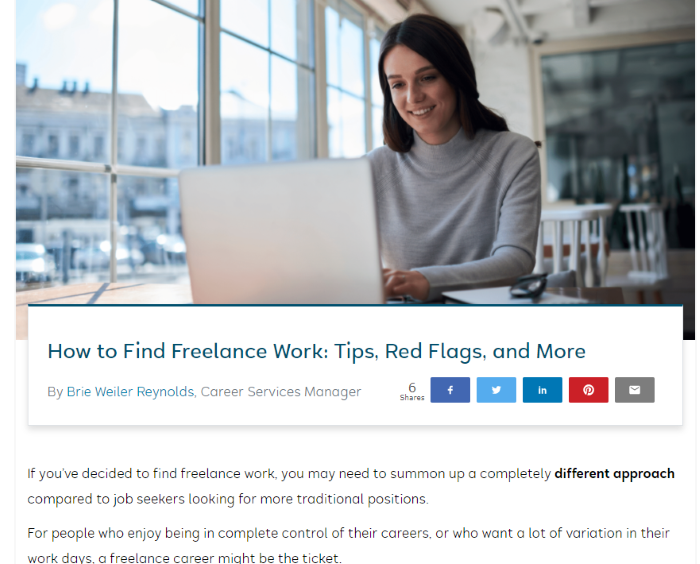 Audiences will begin to trust a brand that is providing them with extremely valuable content, and are more likely to look into the services you offer as a result. However, if you are wanting to write about or feature specific products—comparison posts tend to do best.
Affiliate Marketing for E-commerce Example
Here's a great affiliate marketing example from Good Housekeeping. On the surface, it might seem like it's content marketing.
It is about a topic their readers are likely to care about and provides in-depth research, including expert interviews.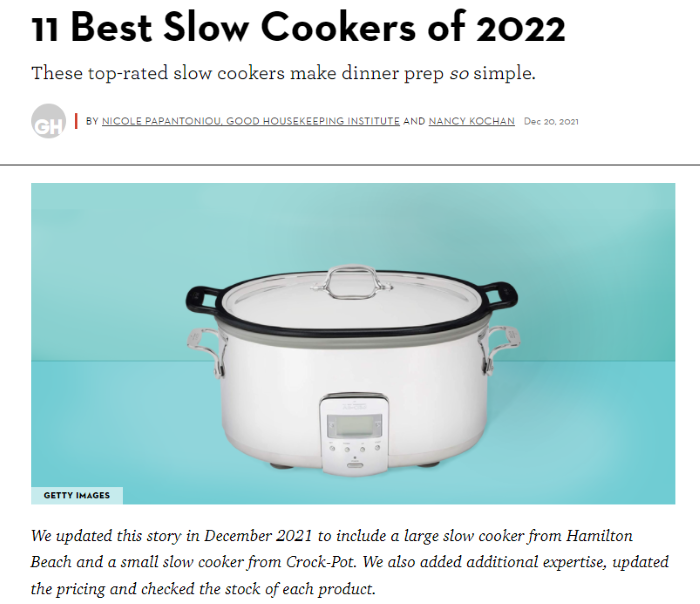 In fact, it's actually affiliate marketing. Each slow cooker on the list links to an affiliate link, and Good Housekeeping gets a small percentage of the sales.
All of this is something you can incorporate on your own e-commerce site.
Frequently Asked Questions About E-commerce Marketing
What is the difference between e-commerce and digital marketing?
Digital marketing refers to any marketing that occurs online, rather than in person. E-commerce marketing refers to any type of marketing used by businesses that sell products or services online. E-commerce marketing can include both digital marketing or in-person marketing strategies, such as direct mail, television ads, or billboards.
What is the best type of marketing for e-commerce businesses?
The most effective types of marketing for e-commerce businesses tend to be social media and email marketing. However, the best type of marketing for your business is the one that drives sales.
What is an example of e-commerce marketing?
An example of e-commerce marketing might include a social media post about a new product, an email welcoming campaign, or a paid ad in the search results.
What is the role of digital marketing in e-commerce?
The role of digital marketing is to build brand awareness and drive sales. The specific goal of a digital marketing campaign can vary by business or even campaign. For example, you might use paid ads to drive sales and social media to increase brand awareness.
Conclusion: E-commerce Marketing
Building a successful e-commerce website isn't easy, but these e-commerce marketing strategies will guide you to reach a wider audience and drive sales. While every business is different, I suggest starting with email marketing or social media. These strategies have the greatest reach and are easier to get started.
Once you start driving traffic, choose a few other strategies and focus on increasing your sales.
Which e-commerce marketing strategy will you try first?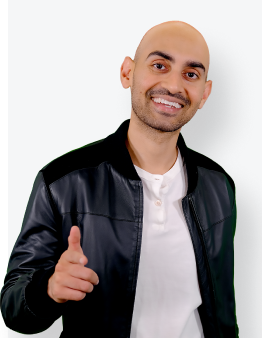 See How My Agency Can Drive More Traffic to Your Website
SEO - unlock more SEO traffic. See real results.
Content Marketing - our team creates epic content that will get shared, get links, and attract traffic.
Paid Media - effective paid strategies with clear ROI.
Are You Using Google Ads? Try Our FREE Ads Grader!
Stop wasting money and unlock the hidden potential of your advertising.
Discover the power of intentional advertising.
Reach your ideal target audience.
Maximize ad spend efficiency.