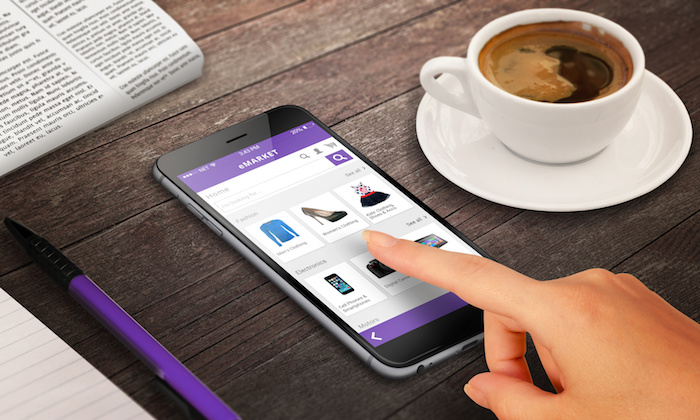 Everyone dreams of passive income.
That's the dream, right? To be able to sit back, relax, and watch as your business rakes in the dough.
It's exactly like the cover of The Four Hour Workweek by Tim Ferriss:
Unfortunately, that's rarely how it happens.
I don't know about you, but I sometimes feel like a workaholic.
Don't get me wrong. For me, work is like play. I love it.
That's why a 15-hour workday is fun. If I were on the cover of 4-Hour Workweek laying on a hammock between two palm trees, I would go crazy!
And the fact of life is this — work takes a lot of time!
I've heard from so many entrepreneurs who were surprised at how much time it takes to run a business and get it off the ground.
I think that's because the Internet has made it easy to start a business. But it hasn't made it easier to sustain a business.
That being said, it is true that you can spend just a little time on a business that brings in a nice, consistent income.
In fact, it's possible to spend just an hour a day and build a successful business.
That's right: One hour.
But you have to do the right things. Otherwise, you'll waste your time.
I've been doing online marketing for over a decade, and unfortunately, I've wasted a lot of time over the years.
I had to learn almost everything on my own, including how to spend less time doing marketing and administrative tasks.
Today, I want to share with you some of my best tips to help you do super effective marketing, and it just takes an hour a day. (Seriously!)
It won't be easy, and it'll require dedication, but I'm confident you can use it right away to improve your business and spend less time on marketing.
Learn how to generate traffic to your ecommerce site without spending a dollar on ads.
Create and share content (20 minutes)
This step comes with a little bit of a caveat.
If you read my blog, you know that I always recommend creating long form content. It just works better. Readers and search engines love it.
The problem is that long form content takes longer than 20 minutes to create. If you can write a high-quality 3,000-word article in 20 minutes, then do it! But for most of you, that won't be the case.
So the caveat: You likely won't create an entire piece of content in a day. But if you spend 20 minutes out of your day doing nothing but creating content, you'll have a finished piece in 3-5 days.
I know that seems like a long time, but don't worry––there's a secret.
You want to always have a backlog of content and use an editorial calendar to manage it.
First, set up your editorial calendar. Trello is a great service for this.
With Trello, you can set up an editorial calendar that goes from left to right. Basically, you make different lists so that the content flow goes to the right, from start to finished.
Here's a great example from ReadWrite:
Notice how everything flows from left to right. It's a super simple system that works like a charm.
On the far left, there's a list of unassigned articles:
On the next list, writers get assigned to articles:
Once the writers are done, they move the article to the "Ready for Edit" list to signal the editors.
When editors take articles, they move the cards into the "In Edit" list.
Finally, when a post is finished and goes live, it gets moved to the "Published" list.
This is my personal favorite option when it comes to creating an editorial calendar. There are tons of other ways of doing it, but in my opinion, none are as simple or as intuitive as Trello.
Second, create your backlog of content.
This is going to be a long-term process, so make sure you work that into your overall content strategy.
The idea here is to always be ahead of yourself and have more content than you need. For reference, I like to have about a month's worth of content ready at any given point in time.
That way, you'll always have new content ready to go. If you keep this process up and spend time every day writing new material, you'll never run out of content.
You'll create a backlog of content simply by writing articles. (Let's use my example of a month's worth of content.)
I like to use Google Drive and Google Docs for all of my article writing.
First, go to your Google Drive and create a new folder by clicking on "New" in the upper left corner and then choosing "New folder…"
Give your folder a name.
Once you've created your folder, double-click on it to enter. Next, go to New > Google Docs.
A new window will open with a blank Google Doc ready for you to edit.
Once you're in the Doc, start writing! I know that's a little intimidating, so here are some tips that I published in Quick Sprout's Advanced Guide to Content Marketing.
Always research. If you stay in research mode all the time, you can easily develop your ideas and turn them into full-fledged articles.
Learn to browse sites in your niche to find supplementary information and material you can reference in your own articles.
Use tools like Google and Evernote to organize your research. You can also add relevant notes on your Trello cards.
Write in simple plain English. You're not trying to become the next great novelist. You're trying to create content that will help people and win them over.
In most cases, think "short and simple." If you're concerned your writing might not be the best it can be, try making it shorter and simpler.
You can actually grade the readability of your content by using a widely acclaimed test called the Flesch-Kincaid reading test.
Readabilityformulas.com has a free readability evaluator:
Paste your text into the box, click the checkmark for anti-spam purposes and click "Check Text Readability."
I'll use some text from one of my latest blog posts.
On the next page, you'll see scores from various readability tests. We're only concerned with the Flesch-Kincaid scores.
You want to have an average score of 70 to 90. The closer to 90, the better. (In fact, you can even have a score higher than 90, which means it's easily understood by 5th-grade students.)
That's an average grade level of 6th to 7th grade, and that's where you want to be.
My text scored an 80.2, which means it could be understood by a 6th-grade student.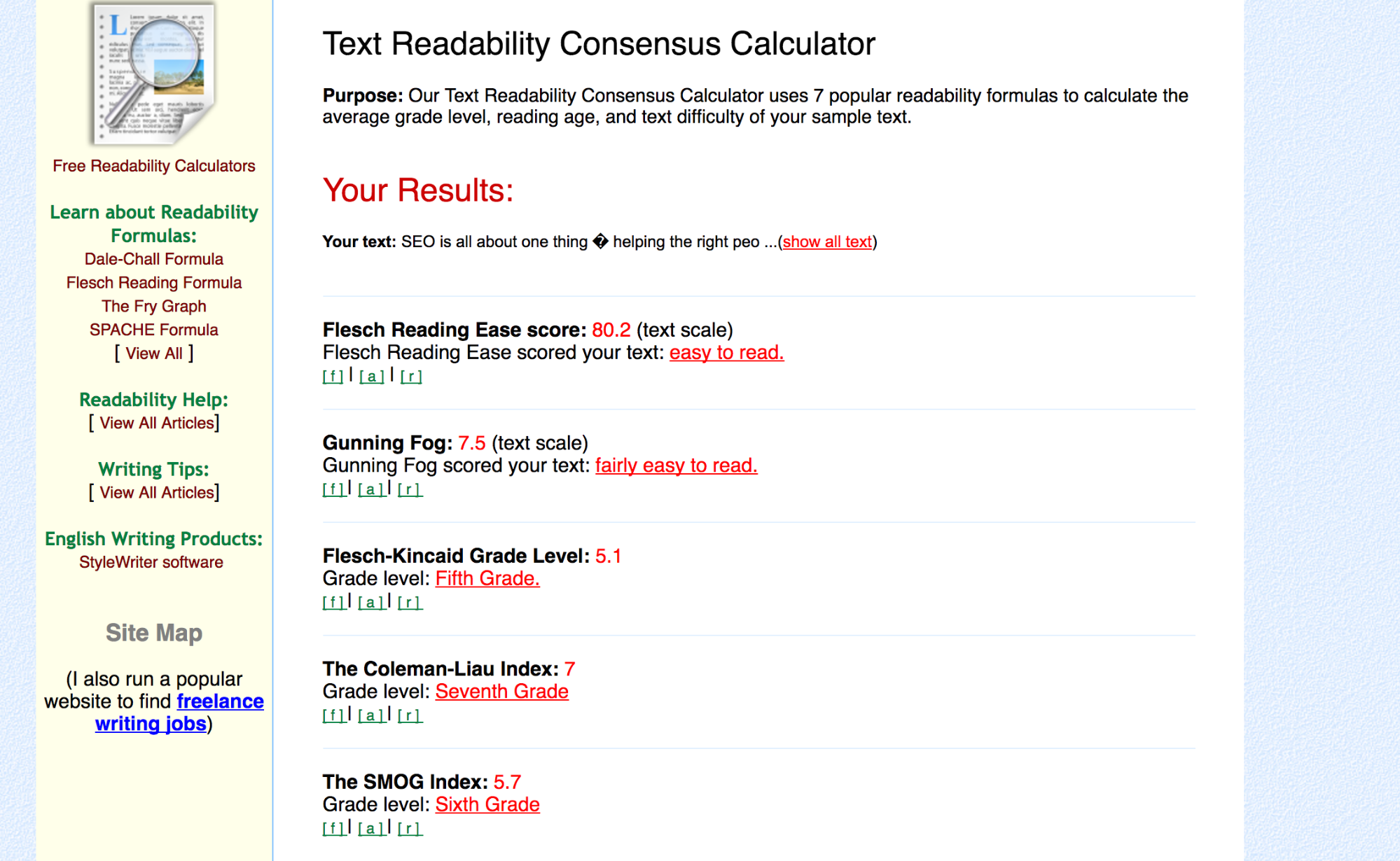 (Note: The grading levels from the Readabilityformulas.com is a bit different from what's listed on Wikipedia.)
If your writing gets a score lower than 70, rewrite it until you get a score higher than 70.
Rewrite, rewrite, rewrite. In her book Bird By Bird, Anne Lamott talks about what she calls "shitty first drafts."
You can't create a perfect first draft, and you shouldn't try. Great writing is the product of lots of rewriting and editing.
It helps to get another pair of eyes to look over your work and give you some opinions. I recommend finding a fellow blogger or writer to give you feedback.
Finally, share your content. This is where some handy tools come into play.
If you're sharing anything on social media networks, you need Buffer. Buffer allows you to quickly and easily schedule all of your social posts:
And if you're sharing content on WordPress, you can use the Drafts Scheduler plugin.
Once you have your content saved as drafts, go to Posts > Drafts Scheduler.
Make sure Post type to schedule is set to Posts.
Next, choose the date your posts will start going live. For example, if you want to schedule your posts to go live on the week of the 12th, you could choose a start date of that Monday.
Under Posting order, you can either publish the drafts randomly or sequentially. I prefer the sequential option because I can schedule drafts in the order I want.
Next, choose your post interval. This is the amount of time that will pass between posts being published. You can make the post interval a few hours, a day, or several days.
Finally, hit Schedule Drafts, and you're done!
I know this all sounds like a lot to pack into 20 minutes a day. Take it step by step and do what you can every day.
This process works. Believe me.
At first, the whole process might take you longer — forty minutes or so. You have to learn the process, figure out where to click, etc.
But after you've done it a few times, it becomes second nature. Through routine and muscle memory, you're able to successfully perform these tasks rapidly.
For the 20 minutes that you spend on content creation, work nonstop and do as much as you can. Over the course of a few days, you'll see your efforts add up to a fantastic final product.
20 minutes a day doesn't seem like a lot. But over time, those 20 minutes add up!
You should also consider spending a little more time on content creation. An extra 5–10 minutes can help you get a lot more done. (This will take you a little over the one hour mark.)
Get the word out with link building (15 minutes)
Here's where you're going to do some more hands-on marketing with the promotion of your content.
The goal is to share your product or service and communicate your value to millions of potential customers.
But how do you reach these millions of potential customers?
I'll talk about two methods: backlinks and social outreach.
Backlinks are the bread and butter of any good SEO strategy. But for marketing your ecommerce store, you'll want to create a more targeted backlink strategy.
One of the best ways to create an optimized backlink strategy is to copy what other people are doing.
So let's look at a super successful product: the Fitbit.
(Although we'll use the Fitbit for our example, you should research products or services in your own niche.)
To analyze Fitbit's backlink structure, we'll use Moz's Open Site Explorer.
Head to the Open Site Explorer site and input fitbit.com into the search bar:
You'll see this page:
On the right-hand side, you can see that it has 4,924 root domains and 28,491 total links, which is really good.
In the box below, you can see the specific backlinks:
This is really useful because you can see exactly what kind of sites are responsible for these powerful backlinks.
One of the juiciest backlinks comes from Venture Beat. It has a PA of 72 and a DA of 89, both of which are good figures.
You can click on the article URL (in blue) to visit it and check it out.
For this particular article, the valuable information is that A) it appeared on Venture Beat (a site with a lot of readers) and B) it had to do with breaking news (in this case, a buyout).
This gives you a few important pieces of information:
The size of the blog––in this case, over 8 million unique monthly users––matters.
The story was relevant to Venture Beat's readers and became very popular.
News about the business performed as well as news about the product itself.
This isn't a formula for success, but it provides you with some intel on what other companies in your niche are doing.
Let's take a look at a product with a different approach: CoSchedule.
Enter https://coschedule.com into the Open Search Explorer search bar. Here are the stats:
CoSchedule has 1,054 root domains and 11,110 total links. Not bad at all. Let's check out where their links are coming from.
All of these sites are related to marketing, so it's safe to assume that a large part of CoSchedule's traffic is coming from other blogs in the industry.
Since CoSchedule is a SaaS product, it's mostly getting on lists of must-have marketing tools. In fact, that's what the majority of these backlinks are.
Overall, CoSchedule's backlinks have different characteristics:
Quantity and quality both play a role here.
The domain authority (DA) of the backlinks matters.
Being featured in lists can drive a ton of traffic.
That's how to find all the information you need to form your own backlink strategy.
You can repeat this exact process over and over again to scope out what different companies are doing. You'll see how they're getting their press, and you can take a page from their book to use it for yourself.
When you're building backlinks, you'll want to try to get links onto sites with high PageRank. You can use any PageRank checker you want.
I like using the Quick SEO extension for Google Chrome. With one click, you can instantly see a site's PR along with several other metrics:
It might surprise you which sites have good PageRank and which don't. 0 is the worst and 10 is the best, so look for sites with PRs of 5 or higher.
Bonus: If you use the Quick SEO extension, you can see other stats by clicking on any of the metrics in the drop-down.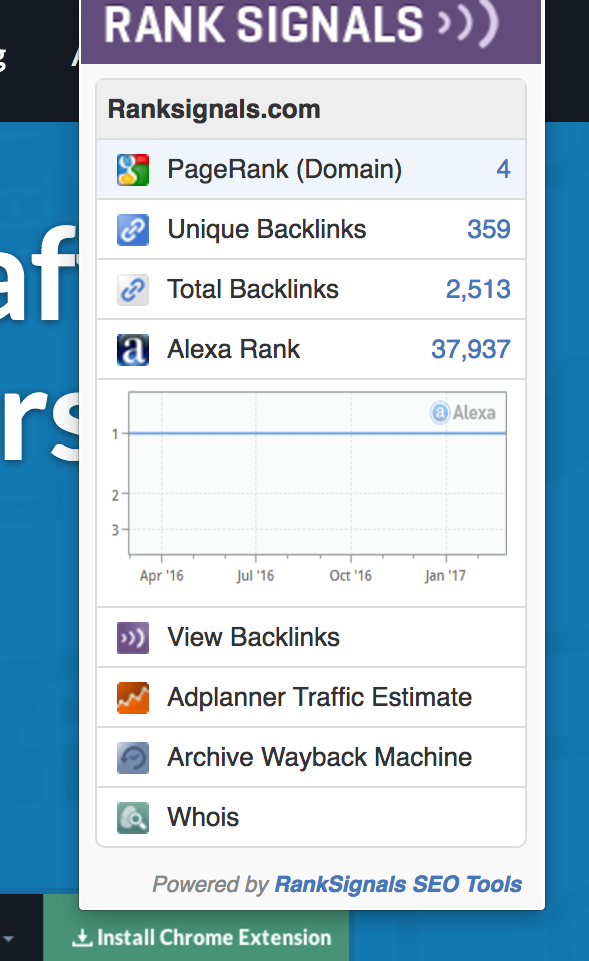 It'll take you to the full site where you can see PageRank, Alexa rank, and so much more.
Building healthy backlinks is a super important part of marketing your store, but you also need to integrate some social media marketing.
Strategic social marketing (15 minutes)
If you've been doing any kind of online marketing for more than a week, you've most likely worked with the big social networks like Facebook, Twitter, and Instagram.
This is actually where I see lots of businesses fail. They don't optimize their social marketing strategies, so they end up getting a low ROI.
In this section, I'll show you how to do social marketing the right way (and how to do it quickly).
First, make sure you have pages on all the big networks. In addition to the big three (Facebook, Twitter, and Instagram), consider making accounts on some of these social networks:
YouTube
Pinterest
Reddit
Snapchat
LinkedIn
Google+
Periscope
Don't go overboard. Think quality over quantity here. (Not to mention that managing multiple social media sites is a pain without a dedicated team.)
Before you create your campaigns and dominate the social sphere, keep a few things in mind.
You've probably heard of the Pareto Principle (also known as the 80/20 rule) before. It states that 80% of your results come from 20% of your effort.
Source: interaction-design.org
Nick Whitmore of Sellbrite found that something similar happens with social media marketing. Nick's key to success: Spend 80% of the time sharing industry news or cool stuff and 20% of the time plugging your product.
Why does this work? According to Nick, "If you just plug your site or products in every status update or tweet, you'll find it very hard to engage fans and stoke interaction, which is the ultimate goal of social media."
You can think of the rule like this:
80% of your social media marketing should interact with your users and share news/cool stuff.
20% of your social media marketing should showcase your product.
A great example of this strategy, perhaps surprisingly, is General Electric. Their Facebook page is full of cool videos and industry news:
There's definitely talk about their products, but not a lot.
That's the kind of balance you should achieve in your social media campaigns.
Target PR (10 minutes)
Lots of people think that getting PR is a mystical thing, but it's really not. And no, you don't have to be a PR expert to do it right.
Here are some ideas to get you started:
Learn to write a good press release. You don't have to be an expert writer to create an eye-catching press release.
To start with, you can see what other companies are doing and copy them. Over time, you'll find your own style.
PR Newswire is one of the most popular press release hosts:
Click "News" at the top to see new releases.
Send your product out for reviews. Getting good reviews on your product or service can boost your social proof (and your sales).
Don't take the low road and buy cheap, nondescript reviews from Fiverr.
Instead, send your product or service to flesh-and-blood people who are experts in your niche. Ask them for a fair and unbiased review.
Conclusion
You can market your ecommerce store in just an hour a day. I know it sounds crazy, but it's the whole truth and nothing but the truth.
The goal here isn't just to spend less time. That's a byproduct of a deeper strategy.
The deeper strategy is one of leverage.
You spend less time doing stuff that has big potential.
A five-minute outreach email can generate ten thousand social shares when an influencer tweets your content.
A two-minute effort on link building yields a massively powerful backlink that boosts your site's authority and gives you higher rankings in the SERPs for years.
Twenty minutes a day for a week produces a 2,000-word article that builds site authority, social sharing, backlinks, and search results.
There's a cliché saying that I love: "Work smarter, not harder."
That is exactly what you're doing here. You're building systems and leveraging their power.
Ever wonder why so many businesses fail? Why so many entrepreneurs get burned out? It's because they hustle too hard. It's the equivalent to sprinting at the beginning of a marathon.
Remember, you own your business. Your business doesn't own you.
If you apply these rules, you can start working less today. Give it a try. I think you'll be pleasantly surprised.
How do you market your ecommerce store? Can you do it in an hour a day?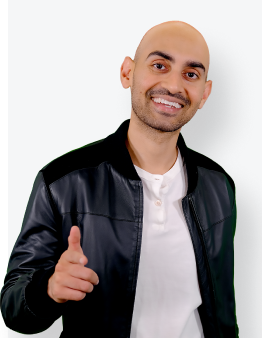 See How My Agency Can Drive Massive Amounts of Traffic to Your Website
SEO - unlock massive amounts of SEO traffic. See real results.
Content Marketing - our team creates epic content that will get shared, get links, and attract traffic.
Paid Media - effective paid strategies with clear ROI.