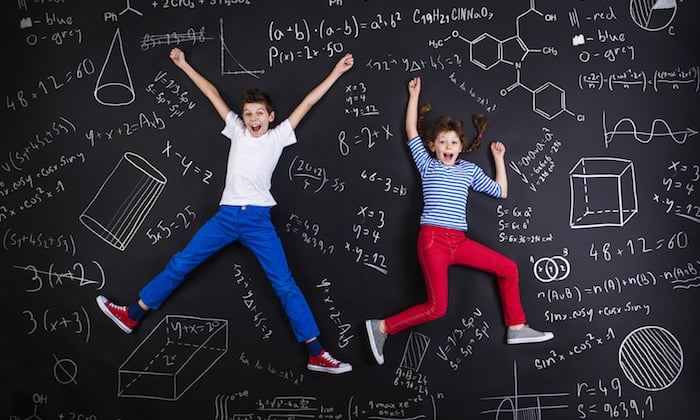 Almost every day, your users create invaluable content for you. This unique, trustworthy content can get you more traffic, leads and sales, but only if you use it right.
Yes, I'm talking about user-generated content.
eMarketer says:
"Every day, user-generated content (UGC) is part of the online experience of millions of US Internet users. From entertainment to communications to e-commerce, consumers are taking charge of the creation, distribution and consumption of digital content."
Companies are increasingly understanding the importance of user-generated content as fundamental in content marketing strategies. In fact, in 2016, 35% of B2C marketers plan to work on leveraging user or fan-generated content.

Let's begin with a primer on what user-generated content is and then see how you can use it to boost sales.
The simplest definition of user-generated content comes from Michael, at SproutSocial. He says:
User-generated content is exactly that: content created by a brand's user. The content can be anything from images to videos to blog posts. The user could be a brand's customer, site visitor or social follower.
As you can get from the definition, user-generated content can take many forms. For example: reviews, testimonials, comments, social posts, forums and more.  
User-generated content works, because, more than anything else, it's content created by a user offering you social proof of your content.
So:
It's not the product copy that a company pays a copywriter to create.
It's also not the product description that the product team writes.
It's content that's contributed by a real user. And, therefore, when potential customers read it, they feel that the content is unbiased, because one of "them" has written it and they trust it. We are generally not referring to "copyright owner"material already published elsewhere.
How UGC fits in the inbound marketing cycle
Attract, convert, close, and delight — User-generated content plays an important role in all of these inbound marketing stages. When users make buying decisions during these stages, they typically do the following actions:
Discover
Explore
Buy
Use
Ask
Engage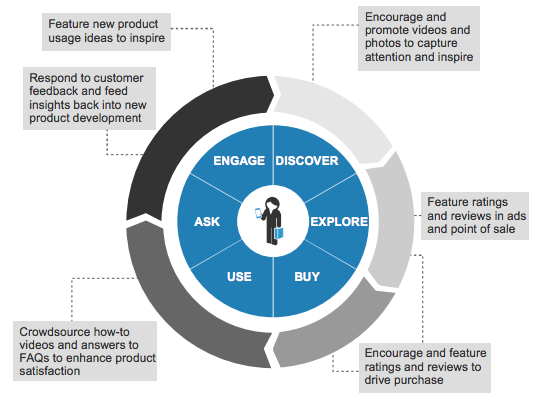 As you can see from the above image, during these typical actions, users access different types of UGC at different points.
User generated content is most often seen in social media as social proof of how excited or happy the consumer is.
For example, a person who has shortlisted an option (and is in the exploring stage) will look for a product's reviews. An existing customer, on the other hand, will participate in the product forums for issue resolution or for general post-sale queries.
The above scenarios are ones where UGC is visibly in action. There are more instances where UGC works in the background, like the one for getting you higher SERPs in your content marketing campaign.
As I said above, users create (and access) UGC all of the time and you must factor it in your sales strategy. Let's look at the best UGC formats that you can use at the different buying stages.
Creating brand awareness using UGC
During inbound marketing's awareness stage, potential buyers discover a product. Or, they realize that they have a problem that needs solving.
Maybe they find your blog post through search engine results or see a social network ad.
If you look at how people discover brands, you'll see that a big chunk of brand discovery happens via search engines, social networks, customer review sites and a brand's online community.
As you can tell, all of these channels primarily feed on user-generated content.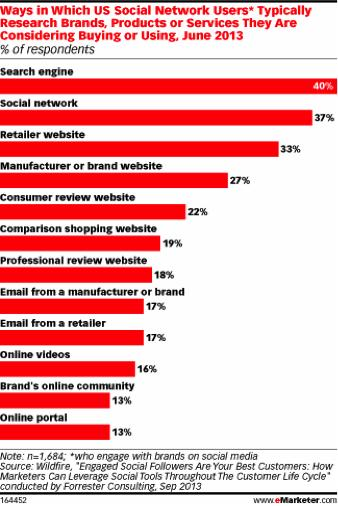 First comes SEO.
Everyone heads to Google, as soon as they need help with something, making Google the first battlefield for brands. The higher your product's SERP position, the more clicks it gets.
Moz research showed that 71.33% of clicks go to the top search result; the second and third pages get just 5.59%.
Since most clicks go to the top search results, brands constantly try to outrank each other.  Marketers try longform content that's optimized for longtail key phrases, to get higher ranks.
What these marketers forget is that the secret sauce to getting ranked in the top is some great UGC. Stats show that 25% of search results for the world's top 20 brands are links to user-generated content.
And, it's not just search engine results that get influenced by UGC, performance on sites, like Youtube, does, too.
Octoly states: "… on average, user-generated videos about a brand ("earned media"), were viewed 10 times more often than official brand videos ("owned media") on YouTube."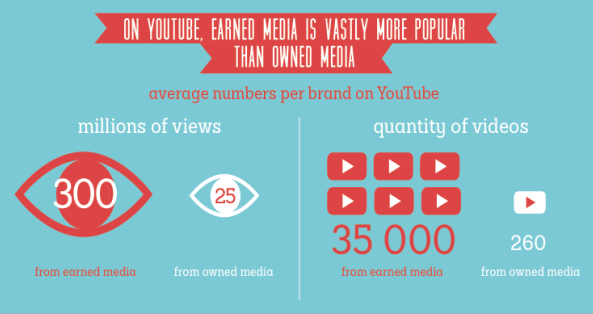 User-­generated YouTube product videos are now part of the buying process. 52% of consumers say that watching product videos makes them more confident in their purchase decisions. So, it's crucial for brands to monitor earned media to track reputation, uncover consumer insights and identify advertising opportunities, said Thomas Owadenko, Founder and CEO, Octoly.
The connection between UGC and SEO is pretty clear. And, so is the connection between the top search engine results positions and brand awareness.
After SEO, another powerful driver for brand awareness is social media channels.
As the above chart shows, 37% of consumers rely on social networks for their pre-purchase research. Social content, too, in most cases, is contributed by a brand's community, rather than the brand.
You should try to build social signals with user-generated content on social networks. (You can find step-by-step instructions to building a social strategy to rack up powerful social signals here.)
After SEO and social channels, reviews power a big part of the discovery phase. To leverage UGC for your brand exposure, get your existing customers to review your product.
You can add these reviews to your own site, but placing them on third-party sites could be more beneficial, because users tend to perceive them as more trustworthy.
Leveraging UGC to drive engagement
Once marketers get the attention of a prospect, their next step is to engage them. To do so, they create content that resonates with them.
Involving prospects at this stage for developing content helps in two ways:
It gathers unique data and insights for you
It engages the audience
A good example of such UGC is the one created by Social Media Examiner (SME).
SME, the leading resource for social media news, surveys their readers to develop their annual social media marketing industry report.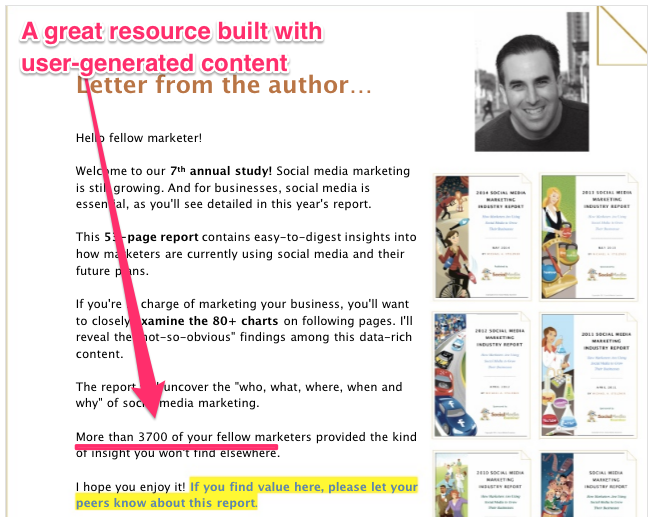 Another example that uses surveys to create some incredible user generated content is Content Marketing Institute (CMI).
CMI surveys their customers to create their annual benchmarks reports:

These content pieces are great for the users, too, because:
They present the opinions of the "fellow" users/audience, thus making them more accurate.
They're a goldmine of insights and so they become popular with the audience. Such content generally enjoys great search volume from targeted traffic.
Along with engagement, UGC driven reports (or other content pieces) also help you to raise your brand awareness as they have the potential to go viral. They get shared and reshared, thus bringing your brand before people who didn't know it existed. It leverages the power of social networks.
Your best means for creating such resources are surveys, because that's how you can collect the data that you need. Here are a few survey tools that you could try:
Google Forms – Not the best surveying solution, but gets the job done if you want to start with something basic.
Typeform – Typeform has a great free plan that lets you create unlimited surveys and monitor unlimited responses. If you are ready to do the analysis part yourself, Typeform is a good option to consider.
SurveyMonkey – This is another helpful survey tool that you can use to create and send surveys to your existing customers. SurveyMonkey's free plan lets you create a survey with up to 10 questions and view up to 100 responses.
You won't always need extensive surveys and data mining to create user generated content. Sometimes, a simple blog post from a user could do the trick, like it does for Evernote.
If you've noticed – Evernote's blog has tons of stories full of unique, user-generated content. It's key to their marketing campaign.
These stories explore how Evernote users use the tool to maximize their lives. Note that these aren't your typical customer success stories. They're just engaging stories of people using Evernote, written for other Evernote users.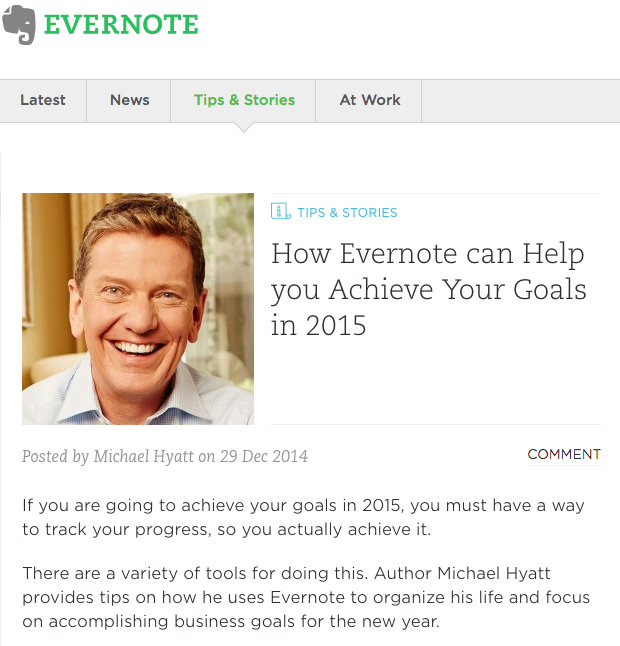 If you can't do surveys, try Evernote-style contributions. To do so, send out personalized emails to your users requesting that they to share their experiences with your product.
Using reviews to get more leads and sales
Once you've managed to engage a user, the next stage you'd want to take them to is the conversion stage, which is where UGC is the most effective.
People trust peer reviews and ratings more than the reviews and ratings given by professionals.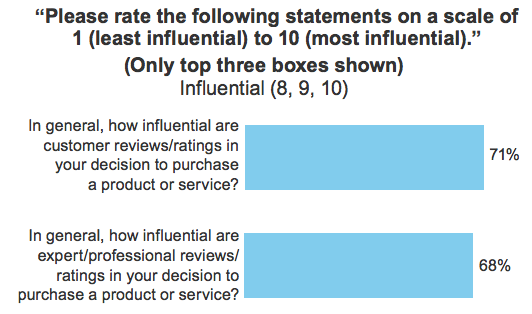 User-generated content is most effective when it comes to growing a business. Moz states that reviews impact of respondents' purchasing decisions.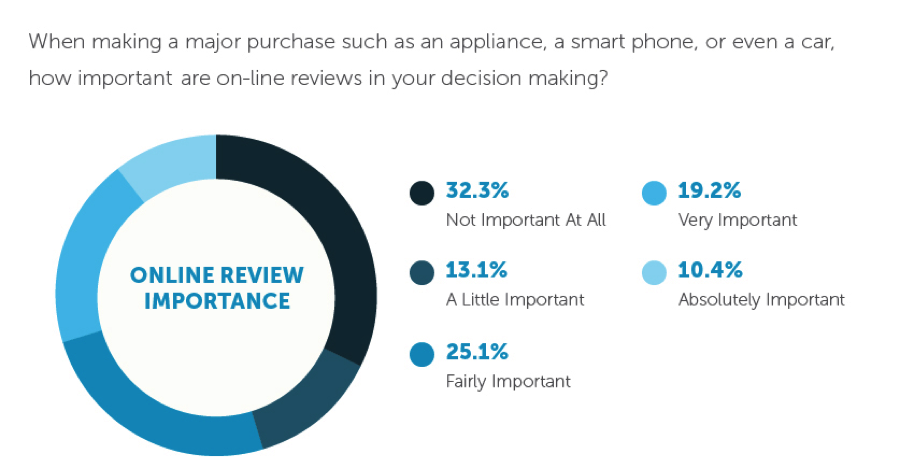 Just the way positive reviews can help get more sales, negative reviews can bring them down. For 21.9% of people looking to buy a product – it takes just one negative article to drop the idea.
So, it's clear: UGC, in the form of customer reviews and ratings, impacts the bottom line.
For creating such UGC, you need to prompt your users to give you reviews (or testimonials).
I've discussed how to get great reviews in an earlier post. Along with some effective tactics, I've also discussed the importance of using third-party sites to host reviews.
Another form of UGC, along similar lines, is customer success stories or case studies.
Businesses have forever used case studies to drive results. You won't classify this as a pure form of user-generated content, but it still works great. It's simple, because it's made with insights from the user.
In a survey, 70% of the respondent content marketers admitted to finding case studies an effective marketing tactic.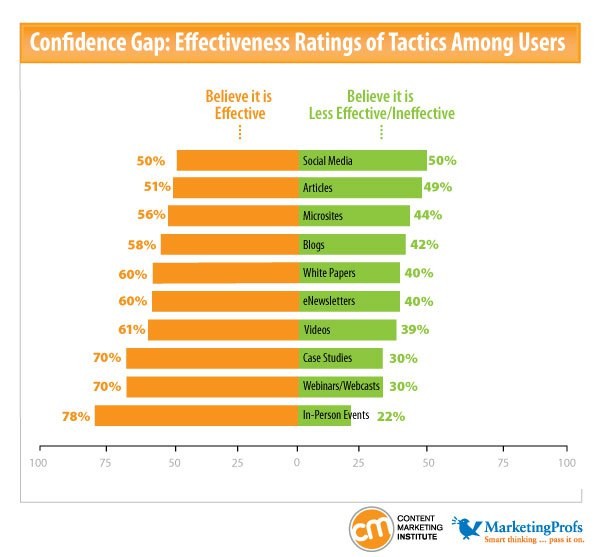 Read this post to see how you can write winning customer stories that get more sales.
Harnessing community-content for delighting customers
The final stage of the inbound marketing cycle is the one where marketers aim to delight the customers.
Typically, at this point, marketers look to ensure that their customers get on board smoothly and start using their product fast.
Since this is the stage where customers start using the product, they create a very specific type of user-generated content. Examples of this type of UGC are support tickets, forum postings, post-sales questions and bug reports.
Such UGC assists marketers in creating support content, like FAQs and knowledge base articles.
FAQs should interest you, because 41% of millennials read a site's FAQs before contacting support. And, 69% of millennials said that they feel good about a company when they're able to resolve their issues on their own.
These resources don't just solve the purpose of support, but they also help in getting organic social media traffic.
Nielsen, the primary research organization on how people consume web content, suggests that writing FAQs optimized for user queries can help you improve your SEO:
"People don't search for your solution, they search for their problem. If you're careful to use the vocabulary of your users, these very targeted web-search queries will better match your questions, so people can go straight to your best answer from the search-engine results page."
And, it doesn't just have to be passive content, like FAQs or knowledge base articles. You can also hold sessions in which users can actively participate in a social network environment.
Take Google's Office Hours from Google Webmaster Help, for example.
Google holds hangouts, where they interact with their users and try to answer their queries. This content is available to everyone. If you've looked up help with SEO or Webmasters on YouTube, you'll see that this content ranks at the top.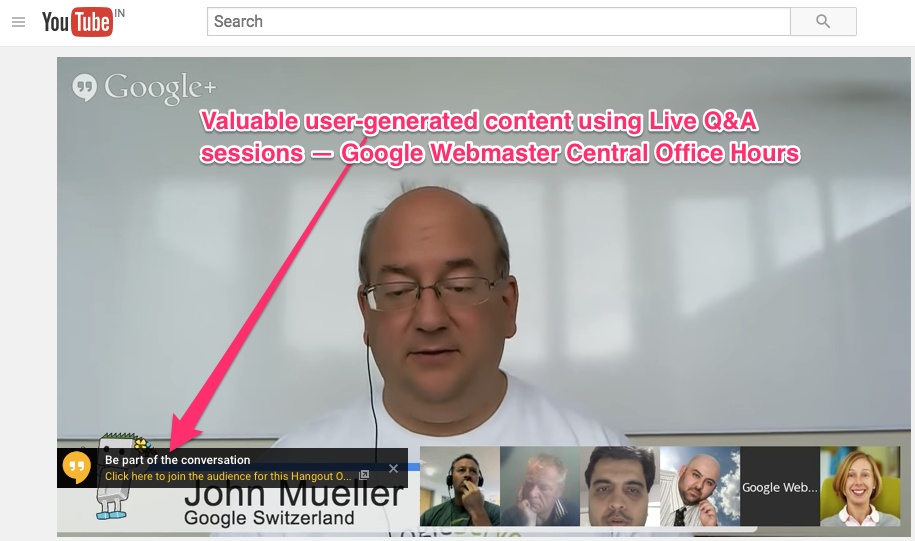 For live Q&As, you can start with Google Plus Hangouts. It's a great free option. Just remember to make the content available to the rest of your users, after the live event is over. You can also explore tools like Periscope.
In addition to FAQs and live sessions, you can also explore forums. Besides support, forums also get you organic traffic. Forums rank well, because users ask their exact question in them. So, they're rich with branded longtail queries.
Also, active forums keep buzzing with fresh content, which keeps bringing the search crawlers to your site.
For example, if you've ever tried to debug an issue with your Mac, you'll see that the first result is almost always from Apple's support forums.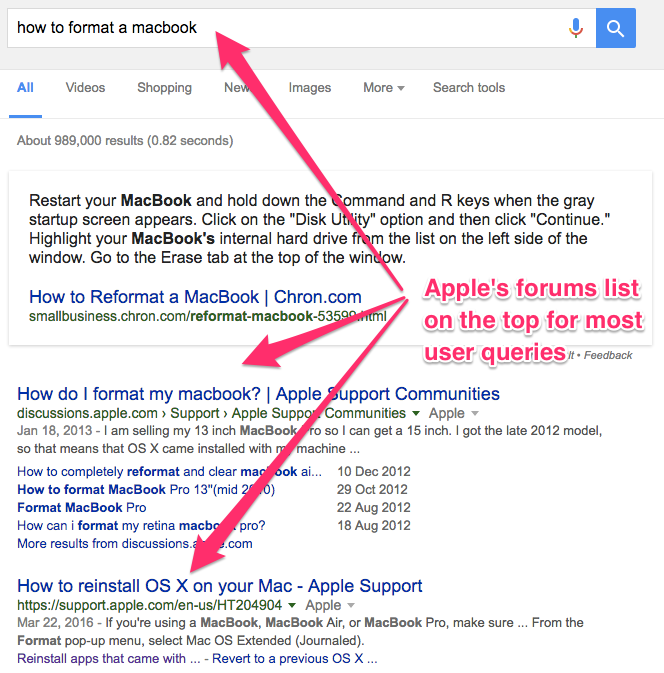 People who try to resolve their issues with your product are obviously your existing customers. Even though this traffic has already converted, you still wouldn't want other sites to rank before this organic traffic for your product queries.
Plus, prospective customers also hang out on forums, so you can use them to answer pre-sales questions with user generated content, the social proof as to why they should buy..
For example, if you sold a to-do app and a potential customer wanted to know if your app integrated with a particular calendar, your forum thread about the same issue could be the first result to appear for the query.
When UGC can cost you sales
As you read above, UGC is a great way to boost sales. However, user generated content can make things ugly, too.
The problem with UGC is that you CAN'T control it.
There are plenty of examples of user-generated content marketing campaigns gone horribly wrong.
If you remember the campaign that McDonald's ran, using the hashtag "#McDStories", you'll know what I'm talking about.
While McDonald's was quick to remove the hashtag from the campaign (within two hours), the damage was done.
Even now, people use the hashtag for their Twitter rant – here's a recent one happening 4 years after the campaign ran!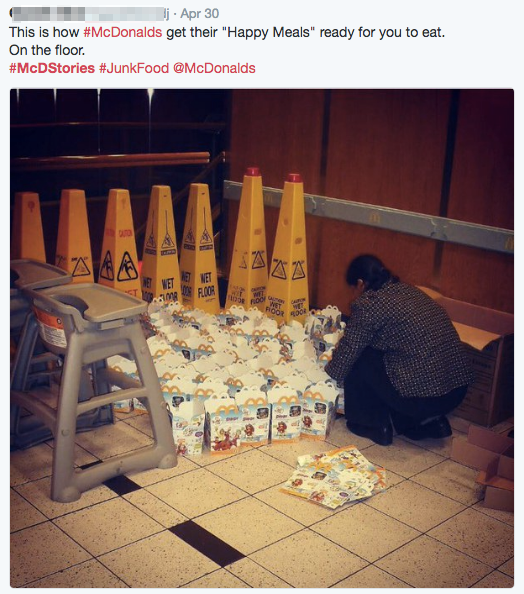 And, there are countless other scary hashtag stories out there. You are not a copyright owner of what people say and nor can you remove negative stories from the permanence of the web.
My point is that once a UGC campaign goes live, there's  little that you can do to steer it. So, you must be careful when designing such content marketing campaigns. Testimonials, reviews, success stories — these are all safe and don't necessarily have the potential to go viral.
But, campaigns involving Youtube videos, hashtags and other "cool" things can go wrong.
An analysis of 4000 user-generated videos showed that 6.6% of the content was found to be problematic (by the respective brands).
Be careful with this type of user generated content.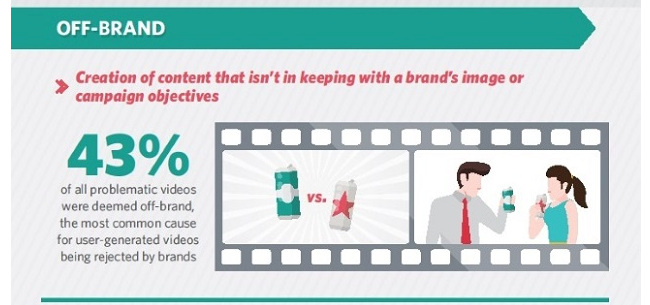 Conclusion
User-generated content works. The number of people consuming UGC is on the rise. US internet users consuming some form of UGC has increased from 116M in 2008 to 155M in 2013.
A good way to pick an area for UGC optimization would be to look at the cracks in your sales funnel – those might be the places where you'd want to add with content from users.
Your first step could be as simple as asking customers for reviews and ratings or starting a conversation on social media for a better social proof footprint.
Do you have a process for developing user-generated content? And how do you streamline your UGC?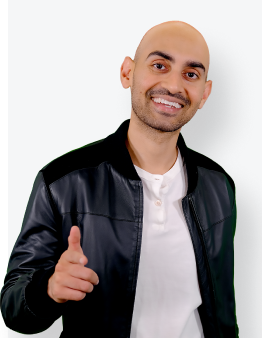 See How My Agency Can Drive More Traffic to Your Website
SEO - unlock more SEO traffic. See real results.
Content Marketing - our team creates epic content that will get shared, get links, and attract traffic.
Paid Media - effective paid strategies with clear ROI.
Are You Using Google Ads? Try Our FREE Ads Grader!
Stop wasting money and unlock the hidden potential of your advertising.
Discover the power of intentional advertising.
Reach your ideal target audience.
Maximize ad spend efficiency.