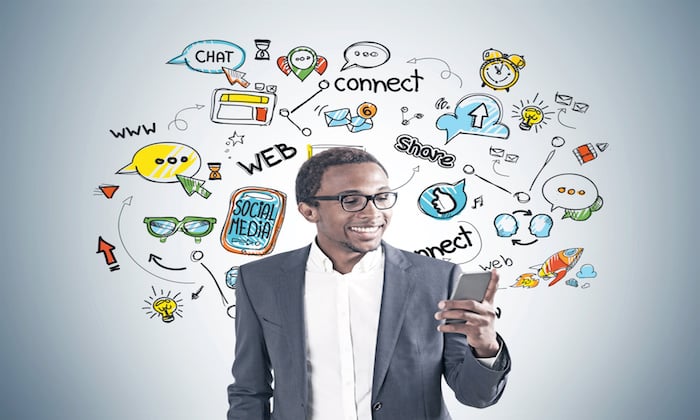 These days, everyone and their dog has a Facebook profile or page… literally.
If a dog can gain a following on social media, so can you.
Whether you're an avid social media expert or a total newcomer to the party, you can still use social media to grow your business.
In this guide, I'll help you understand why social media is so important to your success. Then, I'll walk you through how to use it to drive traffic and to increase sales.
We'll discuss proven social media techniques, and I'll share some tips and tricks that I've found success with.
I'll tell you how to pick which social media channels to use, and I'll even teach you how to measure your return on investment for social media so you can make sure your efforts are paying off.
By the time you finish reading, you'll know everything you need to know when using social media for e-commerce.
Let's start by looking at why social media is so important for e-commerce stores.
Why Is Social Media Important for E-Commerce?
Although search traffic is making a comeback, social media is still a significant driver of traffic for websites.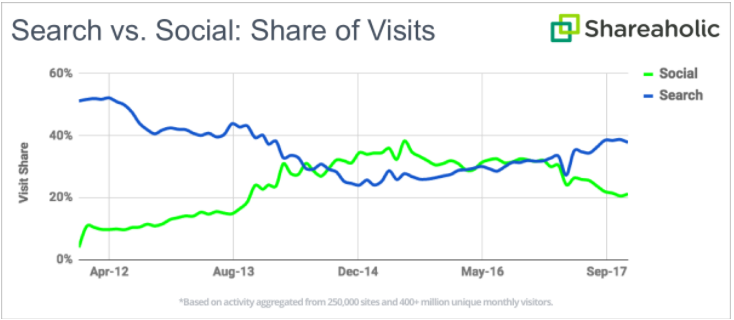 Why have social shares dropped?
Users are now spending less of their time on Facebook and more of their time on video and live streaming content.
This type of content is less likely to link out to other pages.
So just because the number of shares seems to be going down, that doesn't mean that social media is becoming less popular.
If anything, the usage of social media continues to grow.
You can see how the volume of activity on social media sites keeps growing year over year.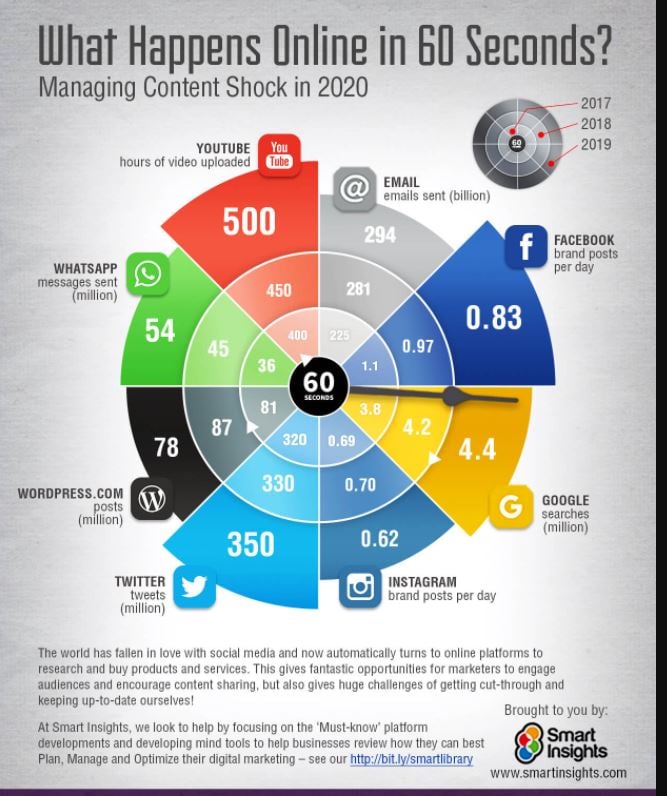 This means the opportunity to drive traffic from social is alive and well.
By 2025, there will be 4.1 billion active users on social media networks.
According to current projections, 90% of businesses will be using some form of social media for customer service in just two years.
If you're in the other 10% two years from now, you'll risk losing customers.
Why?
Well, customers spend 20-40% more with companies that they have social media engagement with.
Last year, there were 2.46 billion social media users. This year, projections show that the number will rise to 2.62 billion. And just three years from now, there will be over 3 billion people using social media!
You can't ignore a market that huge.
In the past, companies assumed that if their target market wasn't teens or twenty-somethings, then they could ignore social media.
That's no longer the case.
Social media is attracting users of all age ranges.
Ignoring social media is basically handing customers to your competition. If you want to stay in business, you need to adopt social media.
Consumers don't just have social media accounts. They use them a lot.
On average, they use it for 2 hours and 15 minutes per day! That's a third of their total online time. It's also twice as long as any other online activity.
This means that your ideal customer is spending more than twice as much time on social media as they are on shopping or browsing other websites.
Why wouldn't you target them there?
How Do You Drive Traffic from Social Media?
You can use social media for e-commerce in two different ways.
You can use it to simply drive traffic to your website (which I'll focus on here), or you can use it to make sales (which I'll talk about later on).
Social media is all about three things: connections, relationships, and engagement.
Remember that, and you can use it to drive traffic to your business.
Research shows that customers who experience positive interactions with your company on social media are almost three times more likely to recommend your brand.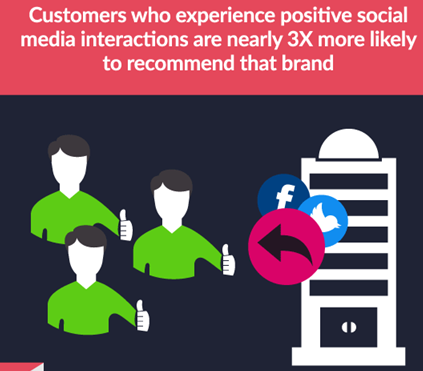 Can you guess where they're going to make those recommendations?
You guessed it: social media!
And when someone says something about your business on social media, it has a much greater reach than if they just tell their coworker at the office.
So, how do you create positive interactions on social media?
Start by making sure you're posting content that resonates with your target market.
People crave human interaction. 78% of customers believe that social media is the future of customer service.
Not only that, but 88% of customers are less likely to buy from you if you leave their social media complaints unanswered. If you don't have a social media presence, how will you answer their complaints?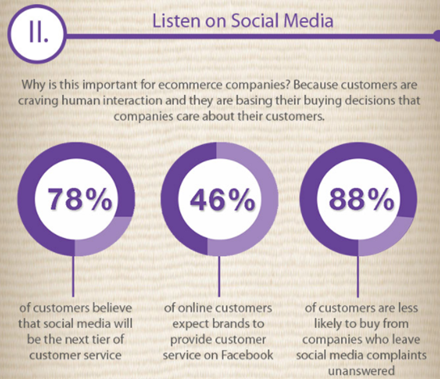 But if you have a social media presence and you answer a complaint, you can turn it into a success.
77% of customers have improved their perceptions of a business after chatting with them online.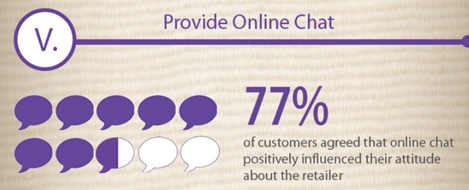 Others will see that communication and resolution on social media. That means that you can improve their perception of you as well.
If you want to increase traffic to your site, you need to make sure that your social media content is timely and engaging.
And in order to be engaging, you need to share images, written content, and links to your website.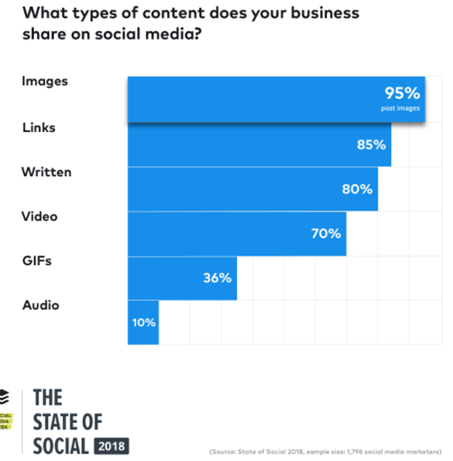 Increasingly, it will be more important to share video content as well.
85% of companies plan on increasing their social media video content this year.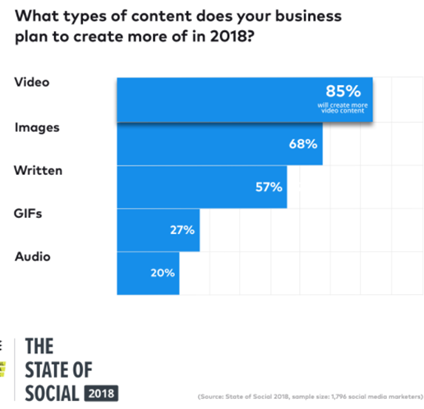 If you want to compete, you will need to do the same.
While organic content can be successful, it can also take a lot more time and effort.
That's why 94% of companies using social media have paid for ads and/or sponsored posts on Facebook.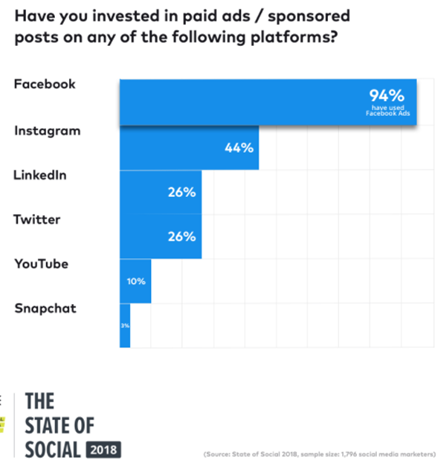 Also, 67% of companies said that they plan on increasing their social media advertising budgets this year.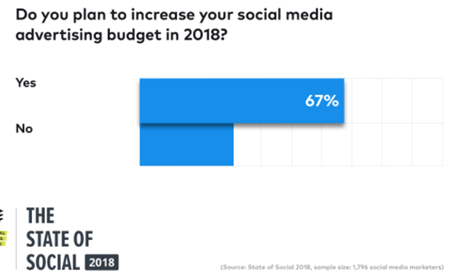 Here's the bottom line: All but 6% of businesses are already paying for Facebook Ads (among other paid social media ads), and two-thirds of them plan on increasing their spending this year.
That should tell you two things:
Social media advertising works.
You're going to have to pay to play.
If all of your competition is investing money into social media to boost their visibility, you need to consider doing it, too.
Companies that have paid for social media ads are over twice as likely to report that social media marketing is very effective for them.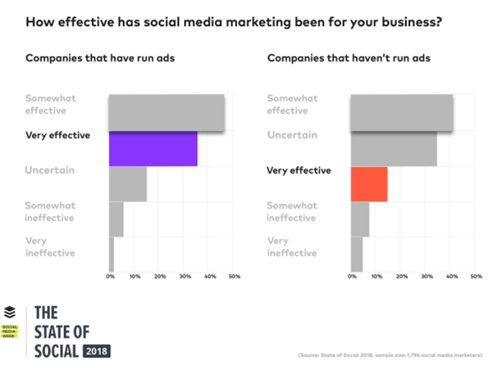 So if you haven't already done it, you should seriously consider paying for ads.
But that isn't the only way to drive traffic through social media. Here are some other avenues you should take advantage of.
Facebook content
Articles that are between 2,000 and 2,500 words in length get more shares on Facebook than articles of any other length.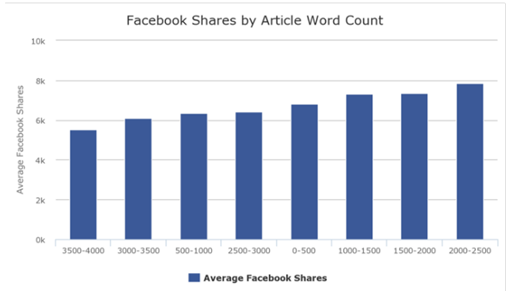 Videos between 4 minutes and 4 minutes, 20 seconds in length get more shares than other videos.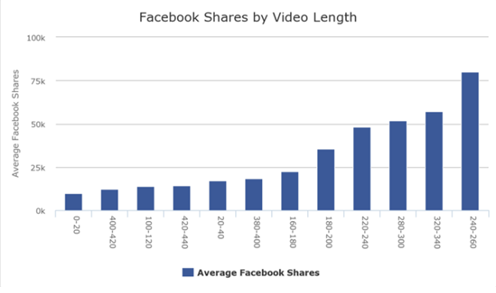 Of course, length isn't everything. You need to produce high-quality content that captivates your audience.
Live streaming videos
Live streaming is a huge (and growing) form of social media.
Currently, users upload over 300 hours of video to YouTube every minute!
YouTube users enjoy a total of 1 billion hours of video content per day.
People clearly love video. But there's something even more exciting than regular video: live video.
People in nearly every age category, from teenagers to those 55 and older, create and watch live video. Overall, 36% of Americans watch it, and 22% create it.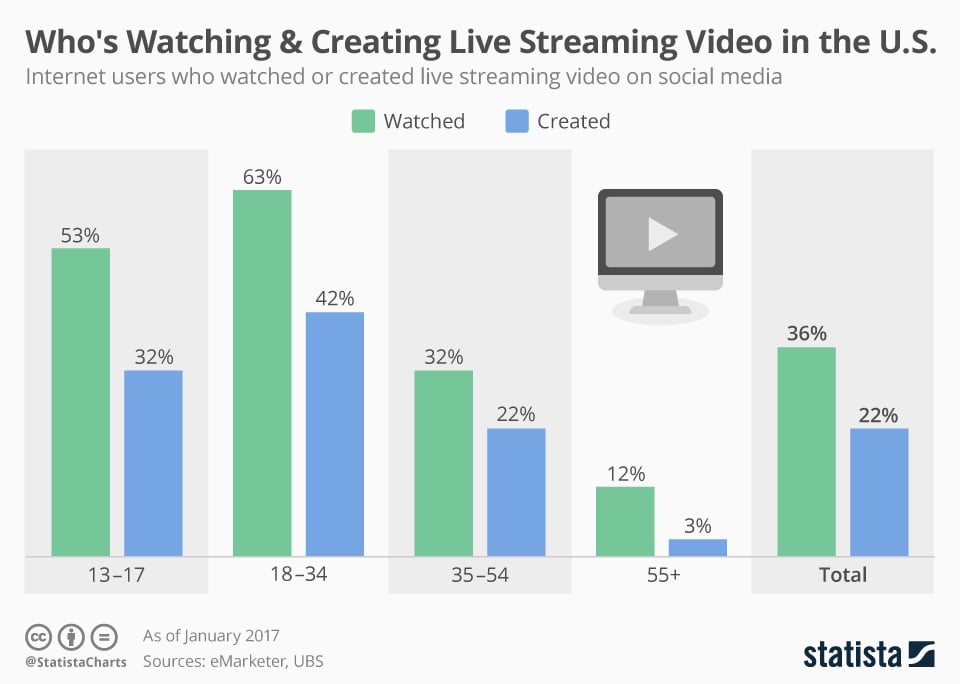 Live videos are good for more than just publicity. They will often lead to conversions, too.
Two-thirds of people are more likely to buy a ticket to an event after watching a live video about it.
Here are some other interesting reasons why you should consider using live video:
Why is live streaming taking the world by storm?
Viewers respond positively because of the immediacy and engagement it creates.
Live video creates an enhanced customer experience.
Most social media platforms now have native live streaming capabilities or easy integration.
Facebook Live, YouTube Live, Periscope, Twitter, Snapchat, Twitch, and Instagram Live are all great platforms for you to try depending on your customer demographic.
Always make sure you let your followers and fans know you'll be live streaming beforehand.
Make sure your videos are authentic and informative.
Remember to breathe.
If you connect and build a relationship with your audience, they'll not only become loyal fans. They'll also become vocal advocates on your behalf.
Instant messaging
The popularity of messaging platforms is exploding.
Here are the three leading platforms and the number of monthly active users they each have:
WhatsApp: 1.3 billion
Facebook Messenger: 1.2 billion
WeChat: 963 million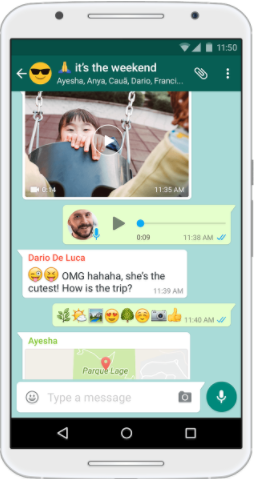 You can use artificial intelligence and chatbots to automatically increase engagement using messaging channels.
54.5% of those who use social media in the U.S. would rather use messaging channels than email, phone, and online chat.
89% of consumers say that they would like to use it to communicate with businesses.
67% of businesses have realized this and already plan to increase their messaging over the next two years.
I can tell you from firsthand experience that you can achieve an 88% open rate and 56% click-through rate using Facebook Messenger.
You can use messaging for the following types of communications:
Automating basic conversations
Creating a sales funnel
Pushing out announcements
Providing resources
Sharing new content
A chatbot can automate your sales, help desk, complaint department, and more.
Messaging can take past social media content and share it for customer service.
Instagram Stories
Instagram Stories has over 250 million daily active users.
It's growth and popularity far outpaces that of its competitor, Snapchat.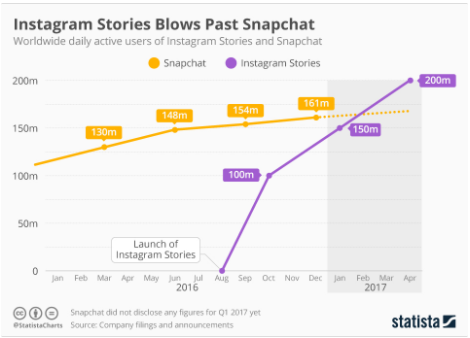 About 50% of businesses on Instagram post at least one Story each month. 20% of those Stories generate at least one direct message.
That's a great engagement rate for social media!
The Story feature allows users to post videos and photos that disappear in 24 hours.
You can even use the Story feature to create simple polls to collect valuable customer data.
It should definitely be part of your social media strategy if your target demographic is on Instagram.
How do you sell via social media?
Are you looking to use social media for selling rather than just raising awareness or increasing brand loyalty?
If that's your plan, you can definitely succeed with it. There are several methods for selling on social media.
Your success partially depends on your target customer and which social media platform you use.
Don't forget that a customer needs to be "ready to buy" before any of these tactics will work. You can use the strategies from the last section to help move customers through to this phase.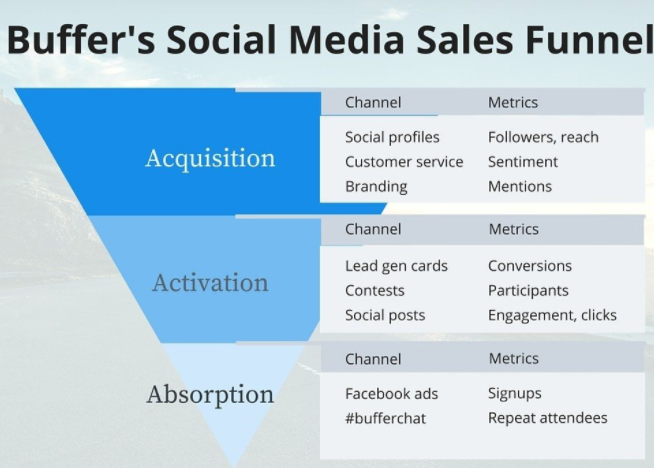 Businesses know that social media is all about being social.
It makes sense to use it for traffic building tasks, such as increasing engagement and brand loyalty like we talked about in the last section.
But, you can certainly use it to sell, too.
You need to start by building engagement. That's why we focused on traffic first.
Once you have begun driving traffic, you can incorporate some of the following strategies to convert traffic to sales.
Paid advertising
Social networks such as Facebook and Instagram have been updating their algorithms to personalize content.
This means that getting your products visible is going to increasingly require the use of paid ads.
If you're setting up your first paid Facebook Ad, then check out my beginner's guide.
Is your target audience on Twitter? I've compiled resources for setting up paid ads on that platform, too.
Paid marketing expert Larry Kim advises you to make sure you only pay to promote your top content for the greatest success.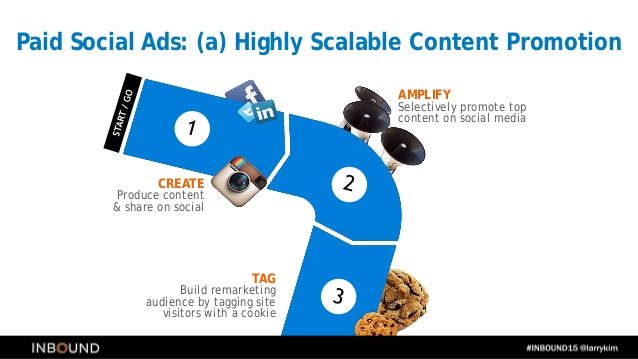 Remarketing
Remarketing is the process of continually targeting a customer over and over across multiple platforms.

You might think that this would creep a consumer out, but it's actually the opposite!
Wordstream found that conversion rates increase with more ad impressions.
I recommend that you filter your remarketing cookie pool of customers even further by their recent browsing history, interests, and demographic data.
But, for now, it's only possible to execute the strategy on Facebook and Twitter.
Remarketing ads receive three times more clicks and are four times more likely to convert new customers.
In-app purchases
There are now "in-app" ads that allow you to purchase without ever leaving the social platform.
You can set up shopping carts on your Facebook page with an app like Ecwid.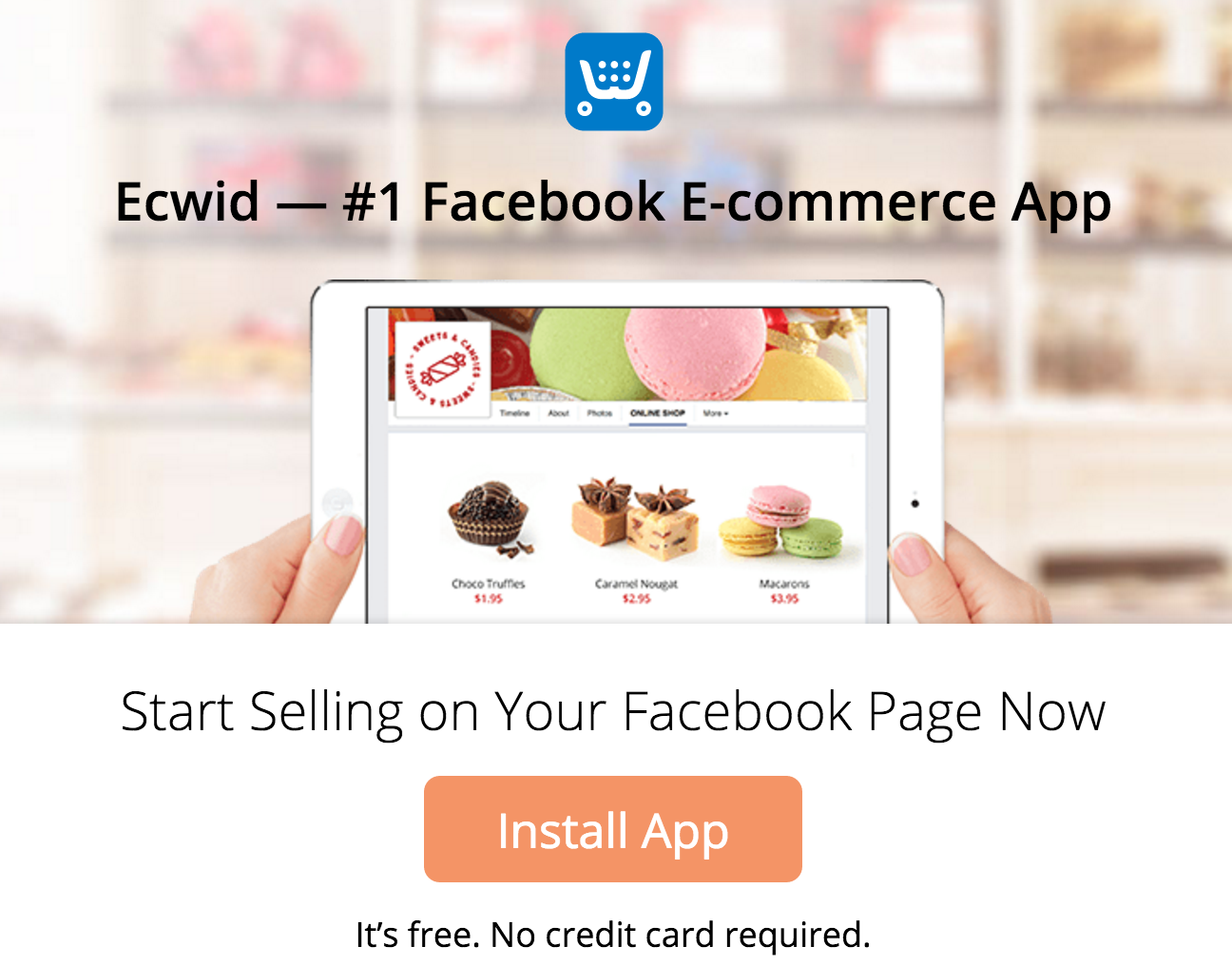 You can then offer a Facebook user the ability to check out without the hassle of leaving the site.
They can even choose to save their credit card information so all future transactions are simply one-click.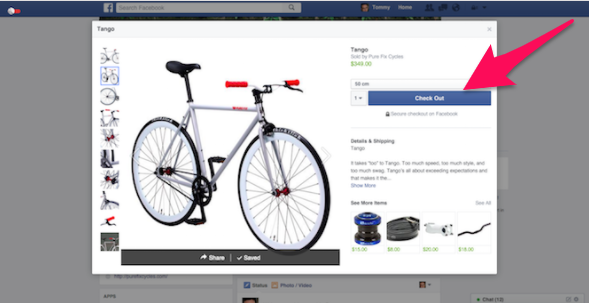 Pinterest also offers a "Buy It" button.
This can be a great tactic to lift your sales because it makes the mobile shopping experience smoother.
It's especially attractive for capturing impulse buyers.
Here's an infographic showing which types of products tend to sell best on the different social media platforms.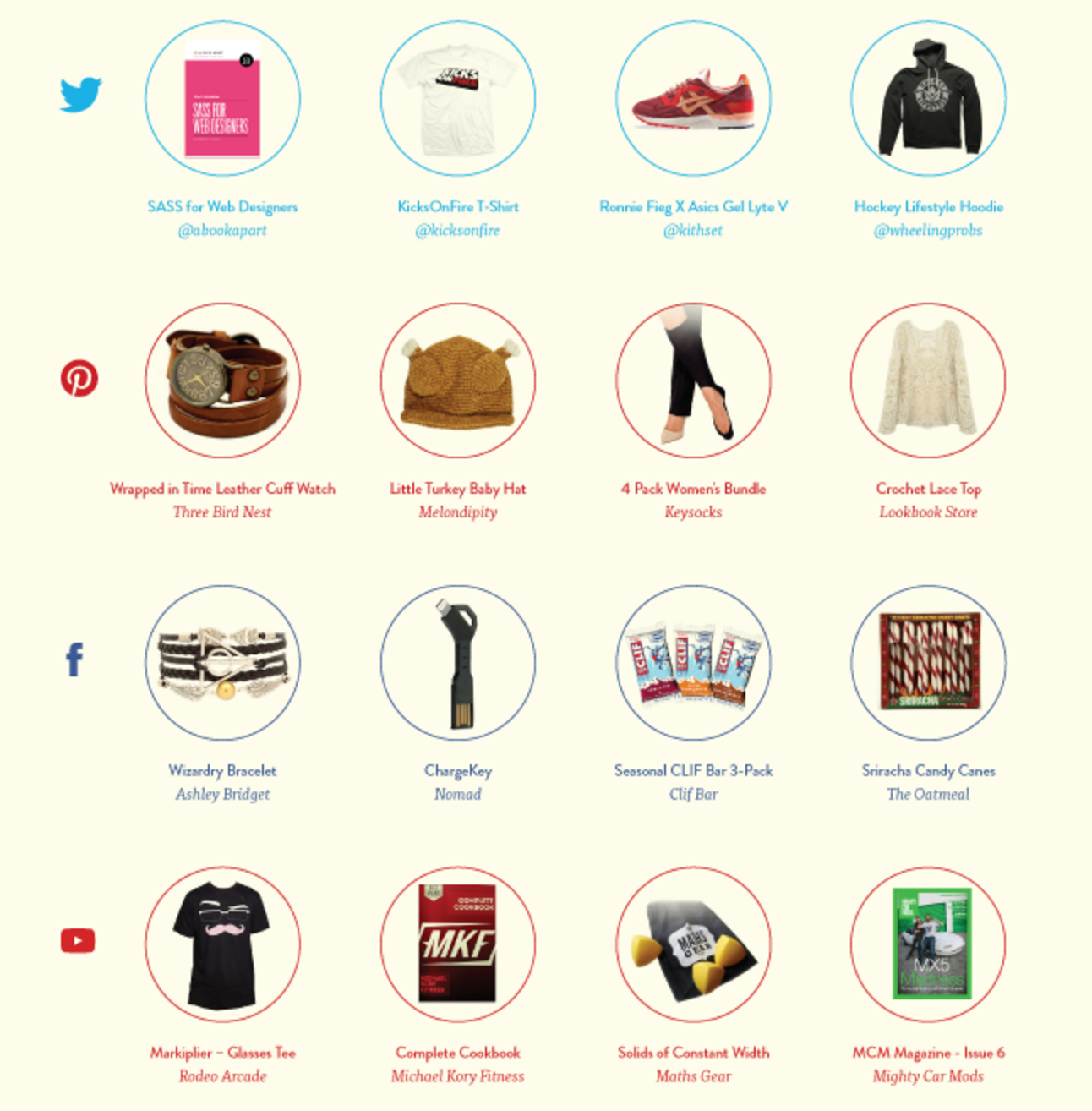 Influencer marketing
Influencer marketing yields an average return of around $7.65 for every $1 you spend.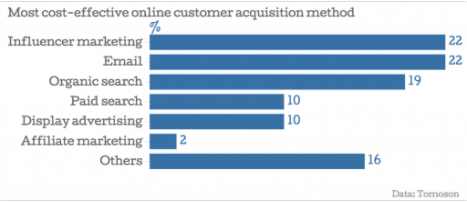 84% of polled marketers describe it as an "effective" strategy.
67% found it so effective that they plan to increase their budget for it.
Influencers created 86% of the most-watched beauty videos on YouTube. This means that the actual beauty brands themselves only created 14% of them!
70% of teenage YouTube users trust influencers more than traditional celebrities.
But the effectiveness of influencer marketing goes beyond videos. On Twitter, there's a 5.2x increase in purchase intent when consumers see tweets from both brands and influencers.
Just under half of Twitter users (49%) say they rely on recommendations from influencers.
40% have made a purchase solely based on a tweet from an influencer.
Influencer marketing is the fastest growing method for gaining customers.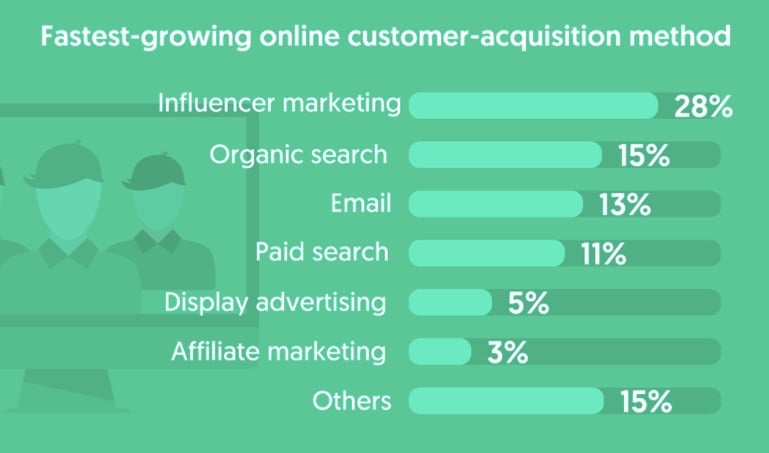 Most consumers readily receive recommendations from those who they view as social media celebrities.
92% of consumers trust recommendations from individuals they don't even know more than they trust recommendations from brands.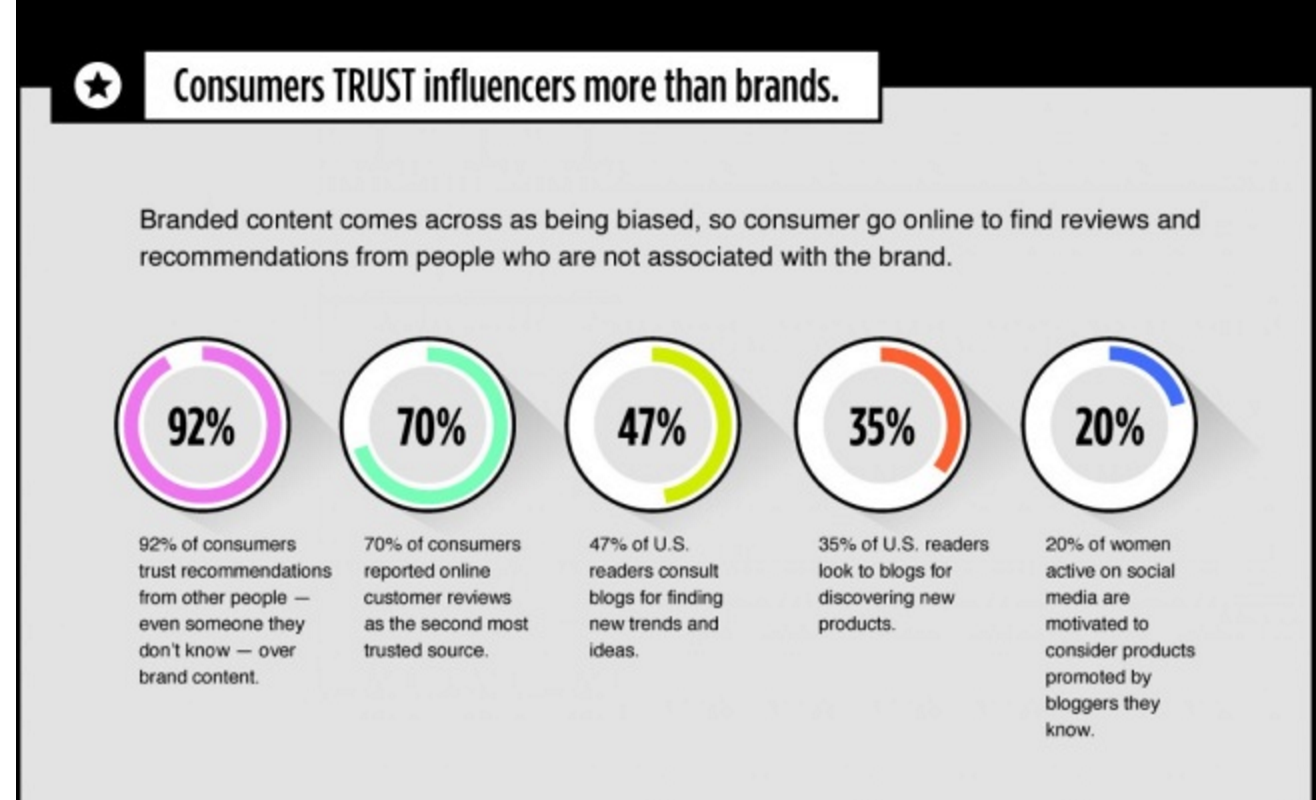 User-generated content
It's important that you make your followers feel special and that you focus on creating engagement.
One way to do this is by using plenty of user-generated content.
You can announce that you will feature your customers in your profile description like bikiniluxe.

Frank Body relies heavily on adding user-generated content to their Instagram feed.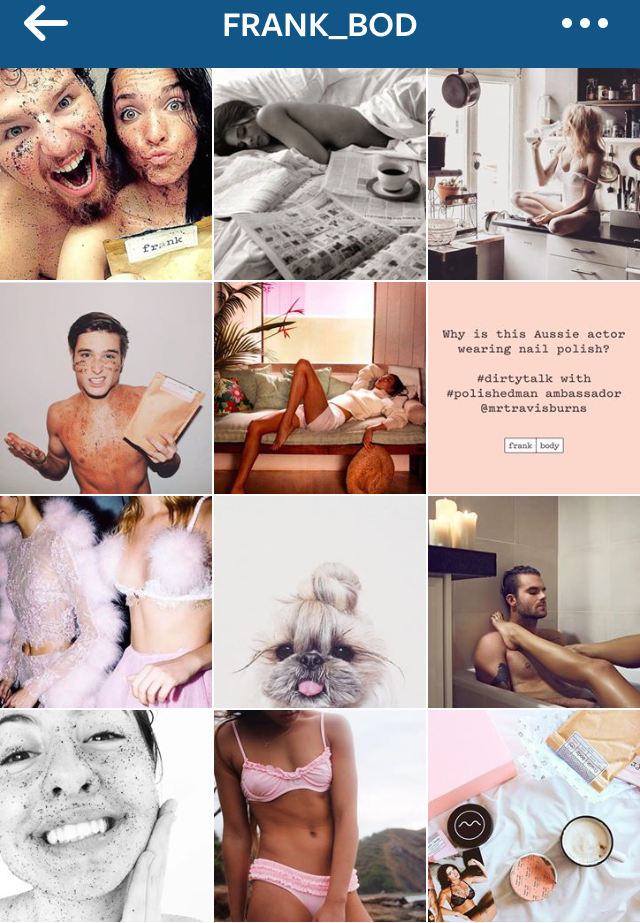 Instagram
68% of users are engaging with brands regularly on Instagram.
According to research from TrackMaven, the engagement ratio (which is interactions per post per 1,000 followers) on Instagram is eight times greater, on average, than it is on any other social media marketing platform.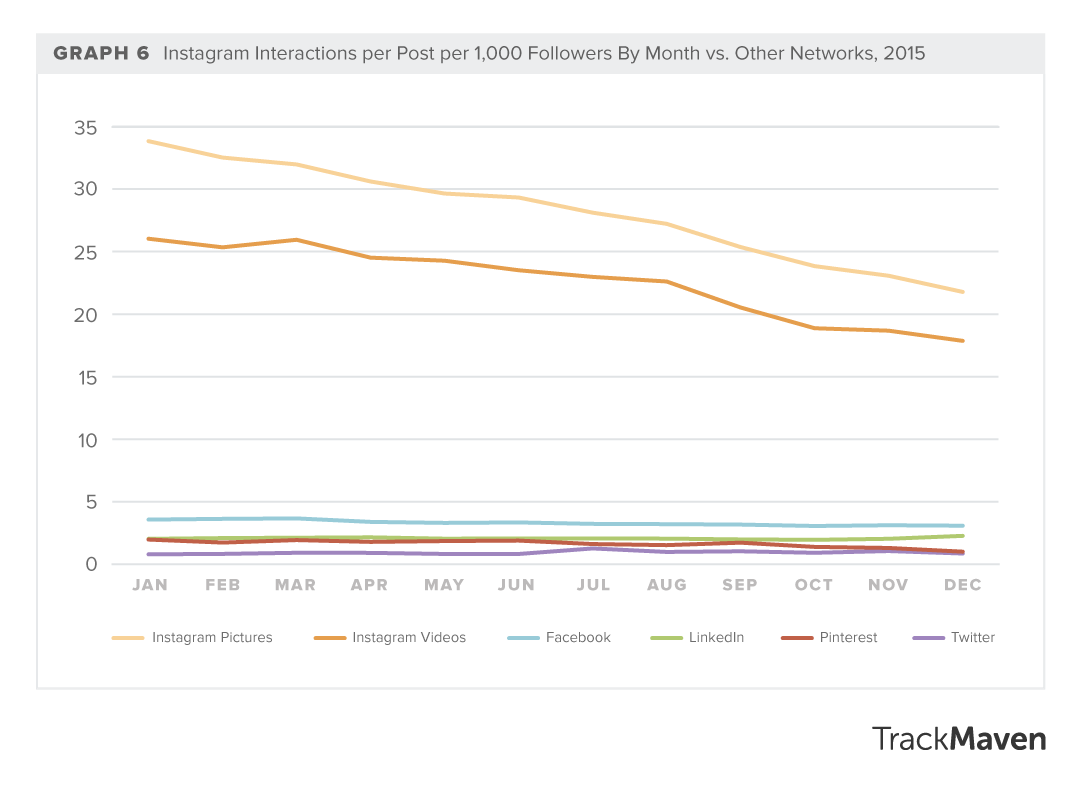 The other huge advantage of Instagram is that it's one of the few social media platforms that marketers haven't yet saturated.
Any followers you get are much more likely to see your unpaid posts than followers on Facebook.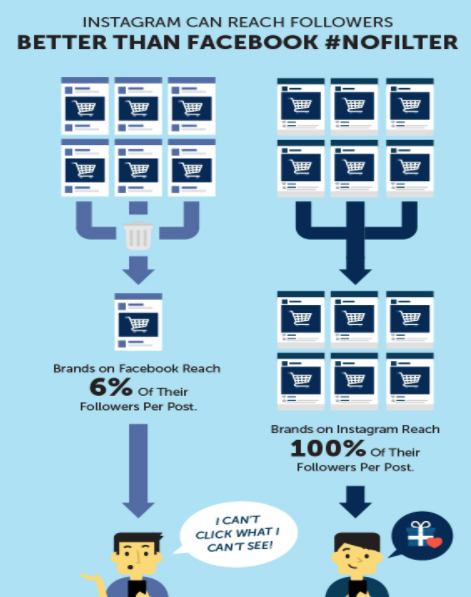 On top of that, an Instagram follower is worth more.
The average order value on Instagram is $65.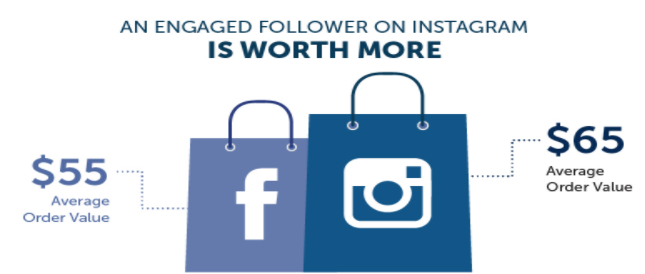 Lilly Pulitzer leverages Instagram's location feature in the post below.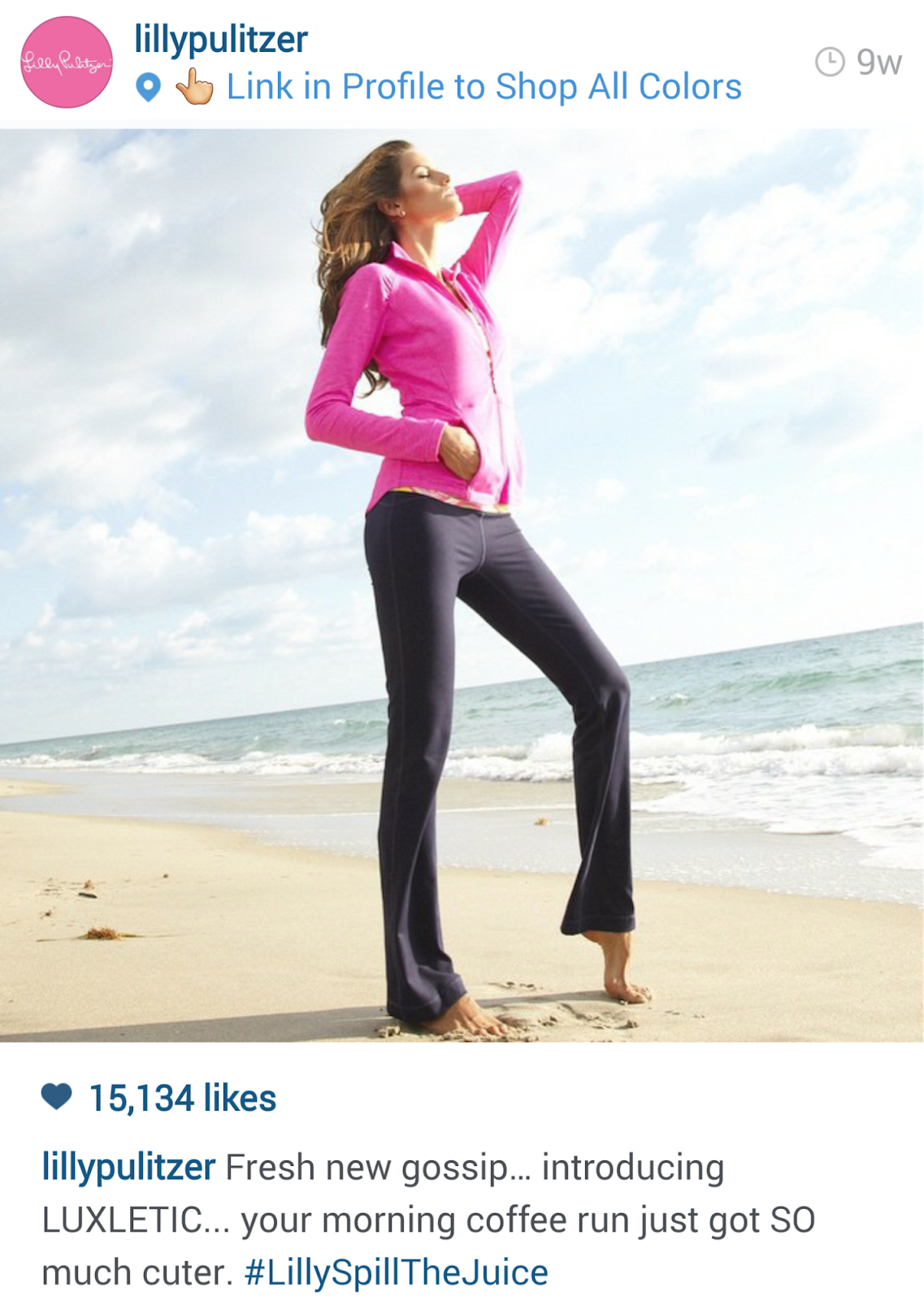 It serves as a soft reminder to navigate to their homepage and follow the link to their e-commerce store.
This is a good way of getting e-commerce sales from Instagram.
You can also use third-party tools, such as Like2Buy, to make your Instagram feed shoppable.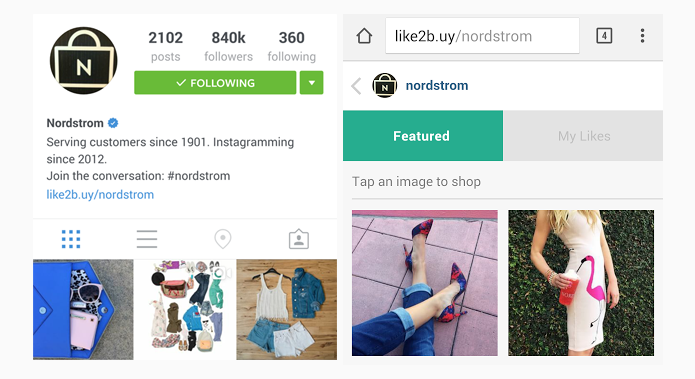 Instagram is especially effective when it comes to selling e-commerce products that are visually appealing.
Instagram storefronts are great for driving sales directly from Instagram without spending money on advertising.
If you want to get started today, you can easily find integrations and plugins for most e-commerce platforms.
For example, Shopify offers a free plugin called Instagram shop by Snapppt.
Just keep in mind that you should never post too many direct product photos in your Instagram feed. It can appear too salesy and ruin your integrity with your audience.
Pinterest
Pinterest is an incredible platform for driving sales, especially for e-commerce products.
The e-commerce brand WallNeedsLove leveraged Pinterest to drive 94% of their social media traffic.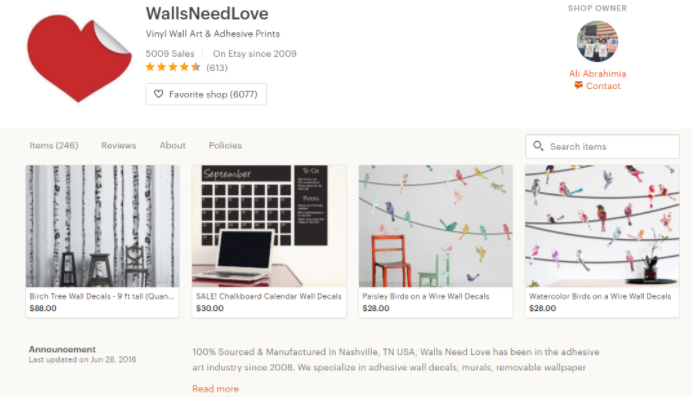 I've used it to drive 328% more sales for one of my e-commerce clients using Buyable Pins.
Buyable Pins allow users on the site to buy your products directly on Pinterest without ever leaving the site.
They work flawlessly on mobile, too.
And it's free to set up Buyable Pins!
Tips and tricks for improving your social media
We covered how to drive traffic and sales on social media.
Now, I'll share tips on how to do it even better than the competition!
Use automation
If you're going to use social media, you need to automate it as much as possible.
Why?
First of all, 60% of customers who complain to you on social media expect a response within one hour.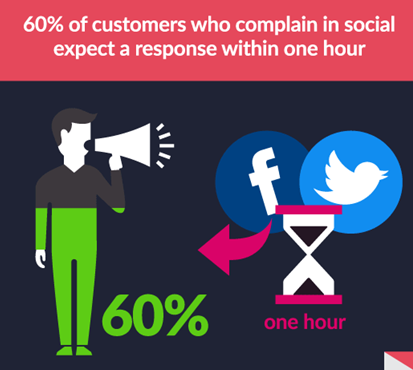 Even worse, 88% of people are less likely to buy from you if you don't respond to their complaints on social media.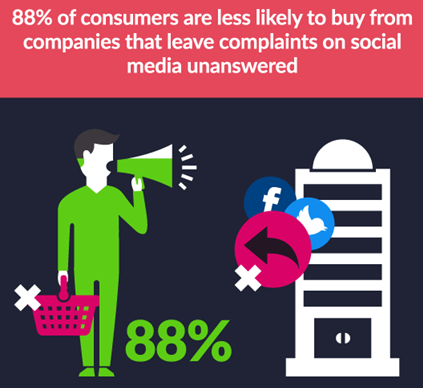 The only way you're going to meet these expectations is by setting up auto-responses or chatbots.
You could try living on social media constantly, but how would you ever have time to run your business? Plus, it would be too easy to miss a compliant if your feed is active. Automation is the only realistic option.
Keep mobile in mind
I told you earlier that video, especially live video, is exploding.
What you should also know is that a huge percentage of people watch videos on their phones.
By 2020, 75% of the world's mobile data traffic will be video! This is a trend you should begin tapping into now.
Facebook advises that creators should provide video in vertical format. According to them, people rarely turn their phones sideways to view videos.
Mobile video viewers seek convenience, community, and relevance.

Keep this information about your viewers in mind as you create content.
Be social
To get the most out of social media, don't just go for the constant hard sell.
Spend 80% of your time sharing industry news or cool stuff. You should only use 20% of your time to plug your product.
Why does this work?
If you just plug your site or products in every status update or tweet, you'll find it very hard to engage fans and create interaction.
You can think of it like this:
80% of your social media marketing should interact with your users and share news, tips, or cool stuff.
20% of your social media marketing should showcase your product.
Other tips
Double down on one or two channels only.
Use thoughtful, conversion-oriented content.
Also, include social sharing buttons on any content you post outside of social media (such as on your blog).
If you want even more ideas, check out these 21 additional tips and tricks.
Choose which social media platforms to use
Each social media platform is different.
You need to understand the sales process of your audience and create a social media strategy tailored to the demographics of each platform.
Here's a quick overview of several social media platform and their specialties.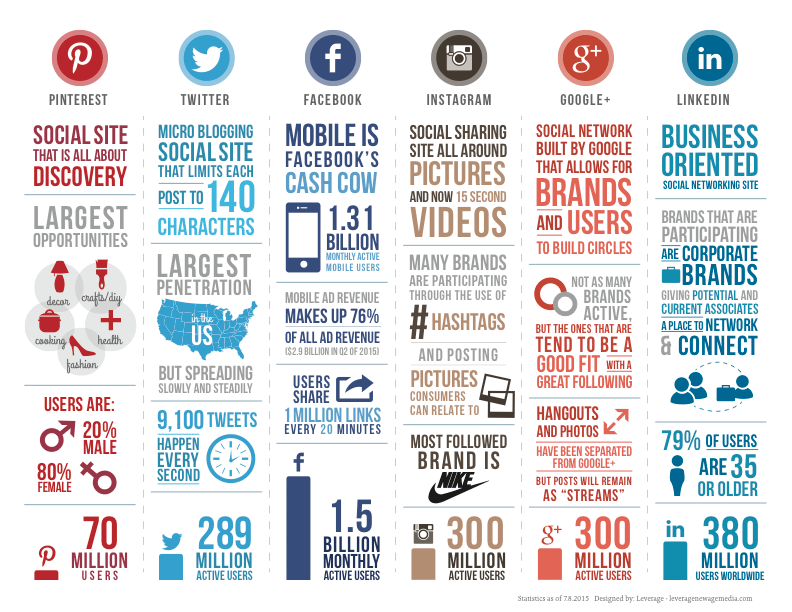 In particular, you should take note of the following:
Pinterest is great if you have a predominantly female audience.
Twitter has the largest penetration in the U.S.
Facebook users primarily access the site on mobile.
Instagram is all about visuals.
Google+ has 300 million active users.
LinkedIn is primarily for B2B.
Make sure you're not wasting your time, money, and effort on a platform that simply doesn't match your business.
Make sure your social media efforts are working
It's critical to understand how well your social media marketing is working.
Without knowing this, you have no idea whether you're throwing away time and money or if your efforts are truly boosting sales.
However, most businesses who use social media struggle to quantitatively measure their effectiveness.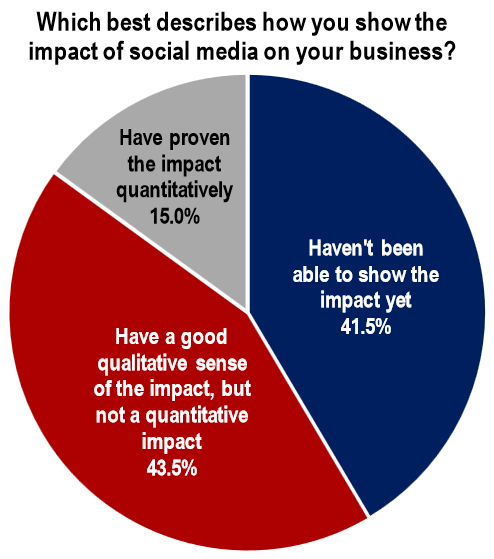 B2C marketers, in particular, seem to be slightly more confident that they've chosen measurable metrics that align with their goals.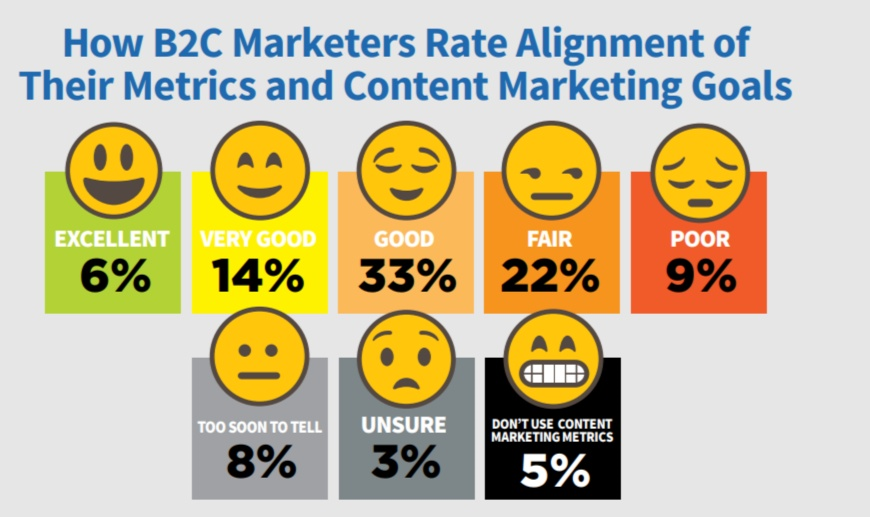 Even still, only 43% know that they're successfully measuring the ROI of their efforts. A shocking 23% seem unsure about what they're measuring.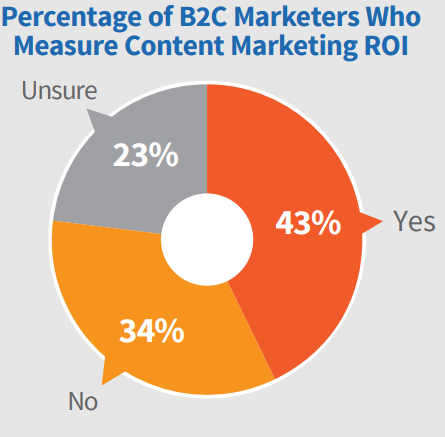 Engagement is the top way that most companies have chosen to measure ROI from social media advertising.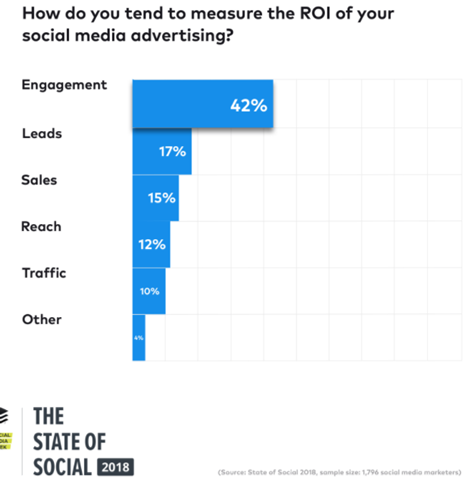 Why don't more companies do this?
It's not always easy to tie your efforts to your results.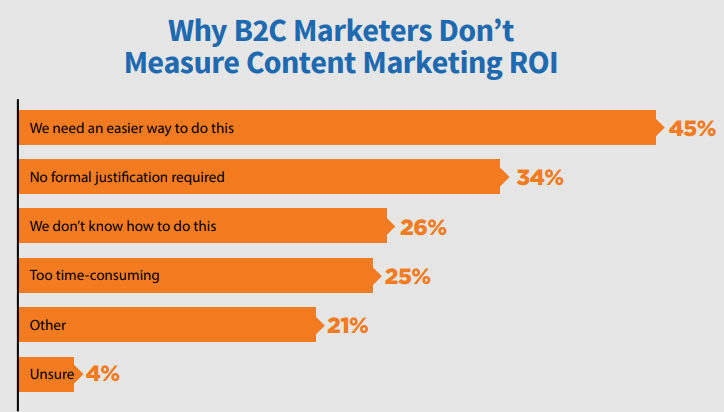 How do you get around this?
Link social media accounts to your website when possible to track results across platforms. One way you can do this is by using a Facebook Pixel.
Pick quantifiable measures, such as the number of shares, comments, retweets, etc.
Track your social media efforts, website traffic, and sales over time to see if they're both trending the same. (For example, does traffic go up when you run an additional ad?)
The third way isn't foolproof. Keep in mind that sales could have jumped for any number of things and the timing could have just been coincidental. But over time, trends are good indicators of how effective your efforts are.
Conclusion
In today's world, social media is a huge part of everyday life for most people. It presents a great opportunity for you to spread your brand's name, make sales, and create loyal followers.
But many e-commerce businesses haven't fully seen the benefits of social media because they haven't fully invested in it. If that's the case for you, it isn't too late to double down on your social media efforts.
I've now shared with you the keys to successful social media for e-commerce.
You now know why it's so important and how to use it to drive traffic and sales.
I've covered the benefits and traits of multiple platforms so that, as long as you understand your ideal customer, you can choose the platforms where they're most likely to hang out.
I've also given you additional tips and tricks to put you ahead of the competition.
Finally, I shared with you how to monitor your ROI to confirm that your efforts are paying off.
You should now have everything you need to build social media into your marketing strategy. It's up to you to put it into practice.
How are you taking advantage of social media for your e-commerce business?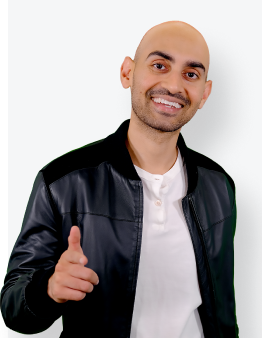 See How My Agency Can Drive Massive Amounts of Traffic to Your Website
SEO - unlock massive amounts of SEO traffic. See real results.
Content Marketing - our team creates epic content that will get shared, get links, and attract traffic.
Paid Media - effective paid strategies with clear ROI.