Social media for e-commerce has become a critical element in sales growth for many businesses. Using social media to boost your marketing offers many benefits to help build your business, so don't wait to explore these valuable channels.
Sprout Social reports that after following a brand on social media, consumers continue to engage in other ways. Ninety-one percent check out the brand's website or app, 89 percent make a purchase, and 85 percent recommend the brand to someone they know.
Let's look at what you can do to promote your e-commerce business with social media and which tools and best practices you should use.
14 Steps for E-Commerce Companies to Find Success Using Social Media
The more people integrate social media platforms into their daily routines, the more it makes sense to market to them here. Consumers spend almost two and a half hours per day on social media channels.
Why not reach them with social posts where you know they spend a significant amount of time? For example, eye-catching posts with appealing visuals like these posts from Sephora are a great way to market products on Instagram.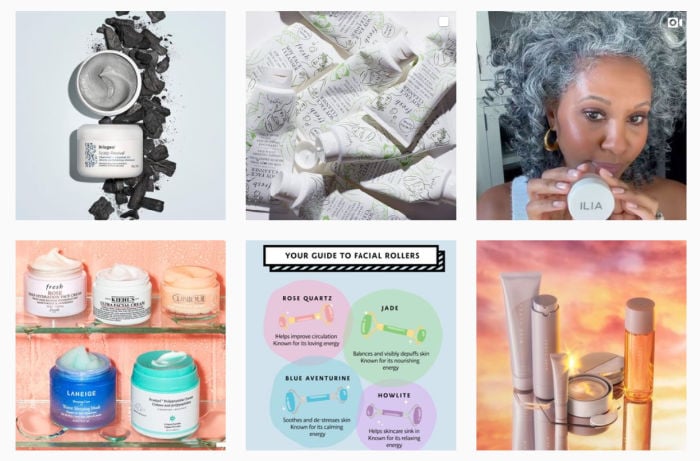 How can you stay on top of new developments and know what you should be doing to serve your customers best? Follow industry leaders in your feeds and keep tabs on trending topics in your industry. You can also discreetly watch what other companies are doing that seems to gain traction.
While social commerce is still relatively new, it's making a significant impact on e-commerce businesses and how they market to customers. As each platform improves its features to help users sell, opportunities grow for businesses to tap into these audiences to boost their marketing.
The steps below can help you develop best practices in your business to optimize your social media for e-commerce.
1. Define Your E-Commerce Company's Social Media Goals
There are two main ways to use social media for e-commerce: to drive traffic to your company website or drive sales. While each can be important in its way, it's essential to identify which you value most so you can effectively plan how to use your resources.
It's essential to establish your goals before investing time into strategy and implementation to ensure you're taking action to move you closer to your goals.
If you don't set goals, you can't measure your success or repeat what works.
2. Decide If You Want to Become a Social Commerce Company
Social commerce is selling directly to your customers on social media platforms. Everything from discovering your product or service, to a buying decision, to the checkout process happens in the app or platform they are already using.
Target's Facebook page, for example, has a shop built right into it where customers can browse and purchase products.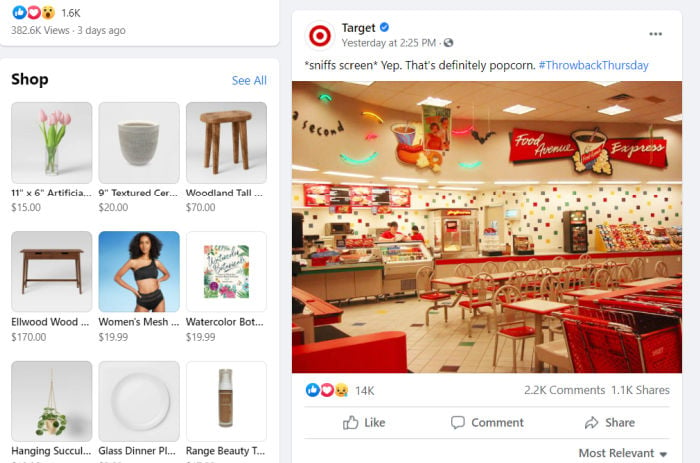 You might find success with social commerce if you sell products that a potential customer can quickly evaluate online from a photo and might buy on impulse. Think lower price points and items that aren't likely to need returning.
An apparel company might successfully sell their clothing and accessories on social media as the process suits how people tend to buy these products.
When is social commerce perhaps not a great fit? If your products or services are higher ticket items where customers want to discern quality in-person. A customer buying an engagement ring will want to spend more time evaluating options and vetting sellers than social commerce might allow.
Start by focusing on the networks your ideal customer and target audience uses the most. Take time to engage your audiences and respond to their comments and questions.
Whether or not you want to pursue social commerce for your business, you should still be investing in social media marketing. Social channels can help boost your visibility, increase website traffic, generate leads, and help you engage with your customers.
3. Create a Social Media Strategy for Your E-Commerce Company
You'll need a social media strategy for your e-commerce company that considers your goals, your resources, and the best platforms that will help you reach your customers. Once you clarify these parts of your strategy, you can expand on each element to create effective campaigns that fit your goals.
When you work from a social media strategy, you're also more likely to use best practices to help you be more effective overall. Get a clear idea of your target audience, where they spend time, and their worries. From here, do some research to check which platforms are most popular with your target demographic.
With this information, you'll be better able to plan where your time and effort will pay off.
4. Determine Which Social Media Channels Your E-Commerce Company Should Target
First, look for established platforms that offer a range of features, different ways to advertise and sell products, and focused targeting. Some may appeal to you because they are an excellent fit for your products.
The apparel brand we mentioned earlier would likely want to use Instagram because it is image-focused, and consumers are already used to discovering and purchasing apparel on the app.
Next, consider which platforms attract your target demographic. You'll want to go where your ideal customers spend time.
What kind of data might inform your decision? With some research, you might discover 60 percent of Pinterest users are women, and 98 percent of Facebook users access the site via mobile devices. From these and other data points, you'll be able to pinpoint which platforms might be best for your business.
5. Optimize Your Social Media Accounts for E-Commerce
One of the first steps you'll need to take is to optimize your social media accounts. Fill out your profiles completely, adding helpful information wherever you can.
Make it easy for people to find the information they need at a glance to understand your business and buy from you. Perform research to identify relevant keywords and hashtags to use so you show up in search results. Make your location obvious.
Be sure to link to pages where customers can find the products they clicked through to see. Use clear CTAs so people know what to do to buy from you.
6. Run Social Media Paid Campaigns Optimized for E-Commerce Companies
Nearly every social platform has a version of paid advertising that can allow you to raise visibility even as organic reach becomes more challenging to achieve.
There are also different ad types on each, so it can be valuable to explore the various options. You may try different types of ads on each platform. You might try retargeting ads on Facebook, but use Shoppable posts on Instagram. Take advantage of audience targeting capabilities on each.
7. Use Automation Tools
If social media is a part of your sales strategy, you'll need to explore automation tools and use what you can. Why is automation so key to social selling? People expect timely and personal interaction on social media networks. To meet their expectations, you're going to need help.
It's simply not possible to run a successful business and spend every waking moment online replying to comments and answering questions. Social media is like a storefront that is open 24 hours a day, seven days a week (plus holidays!), so don't take the chance of turning people away or missing crucial requests or concerns.
8. Consider the Mobile Experience
More people are accessing social media networks and websites via their phones than ever before. When it comes to social media for e-commerce, however, mobile design is just the first step. The whole purchase journey needs to be seamless.
Payment options should be mobile-friendly. Apple Pay, for example, allows you to let users make purchases from their phones. We'll look at more payment options further down the page.
Consider content formats as well. With more than 100 million hours of video consumed on Facebook every day, you'll want to offer videos in vertical format for mobile users. People like convenience, a personalized experience, and to feel like they can easily navigate and engage with your site.
9. Optimize Landing Pages for E-Commerce
Optimizing your landing pages for e-commerce helps create a better user experience by providing people with all the information they need to make a buying decision.
If they click through to your site, you want them to understand quickly they're in the right place. They should be able to move seamlessly to purchasing the item they wanted.
Ensure you have high-quality product images and videos, if appropriate, with well-written product copy outlining features and benefits. Include sizing or specifications on the product page and clear calls to action (CTAs) to help them convert.
10. Create Clear CTAs on Social Media Optimized for E-Commerce
CTAs are what motivate your user to convert to a customer. Take the time to craft these carefully and include them in each interaction you have with potential customers.
You can use different CTAs, like asking questions, including hyperlinks, or simply adding clickable buttons. Your page design might include banners with clear offers, sidebar clickable buttons, or pop-up ads to help customers convert.
11. Ensure Easy Website Navigation
User experience (UX) should be your priority when you launch your e-commerce site. You want shoppers to find products quickly and understand how to move from browsing to purchasing without confusion.
The easier you make it for people to buy from you, the better the chance they'll convert from visitor to customer. Keep your navigation simple to understand and avoid design elements that are too unusual for people to use easily.
Organize your site information with clear labels for product categories and avoid tricky navigation styles that could create confusion.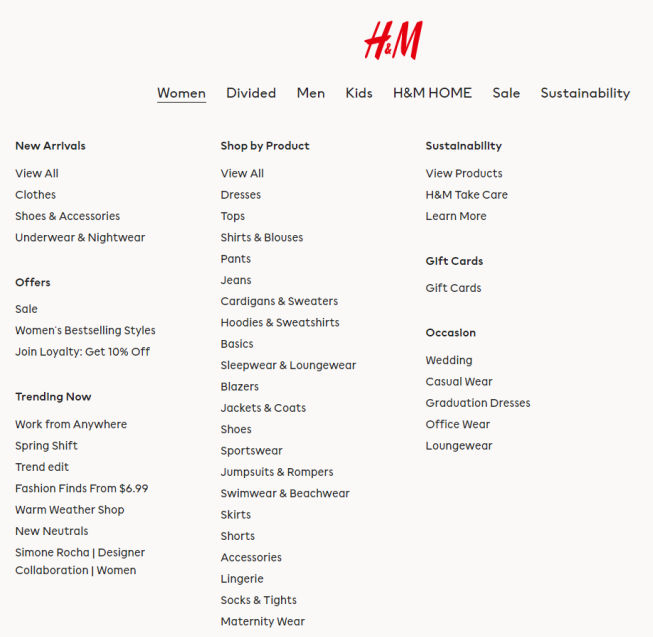 12. Offer Easy Payment Options for Customers
If you're going to run a successful e-commerce site, you need to offer reliable and trustworthy ways for people to pay for your products and services.
You can explore a wide range of payment options for your e-commerce business, each with its features and policies. Options include Square, PayPal, Stripe, Apple Pay, Google Pay, and many others.
Some social media platforms allow customers to purchase directly from the app, depending on what features you choose to use. A few of these options include Facebook (with Facebook stores, Messenger Chatbots, and Ads), Instagram (with Stories, Shopping, Live, IGTV, and Ads), and Pinterest (with Promoted Pins, Rich Pins, and Shop the Look Pins.)
You also can investigate third-party websites as a way to advertise and sell your products. Keep reading to learn more about a few of these that may support your e-commerce business.
13. Advertise and Sell on Third-Party Websites
There are other options for boosting your sales beyond your website. Third-party websites allow you to benefit from established functionality and huge audiences while building your legitimacy and website traffic.
One example of third-party website selling is Amazon. While shoppers on Amazon may realize they're buying from you instead of directly from the retail giant itself, you still benefit from the credibility of their brand and purchasing capabilities. You also get to tap into their vast audience of visitors with a solid intent to buy.
Another option is using sites like Like to Know It, which allows readers to purchase an item or items from an Instagram post by linking the product emailed to them.
RewardStyle is an invitation-only affiliate network focusing on lifestyle, fashion, and beauty products, allowing sellers to earn money through content creation featuring certain products.
14. Track the Success of Your E-Commerce Company's Social Media Strategy
It's essential to track your strategy's results as you implement your ideas, so you can accurately analyze your successes and where you need to improve.
Choose quantifiable metrics representing engagement (such as likes, shares, comments, or retweets). Track your website traffic and how much traffic you are getting from your social media channels. Keep track of sales generated by social media marketing and sales completed online or through your campaigns.
It's not always easy to tie your efforts to your results, but you can try. With specific metrics, you'll be better able to repeat the working tactics and revisit the areas that don't seem to be offering you the same return on investment.
Conclusion
Social media is a big part of everyday life for many people and offers an excellent opportunity to get in front of potential customers and sell your products and services. You can use various platforms to strengthen your brand, increase sales, and develop loyal fans.
If you also sell online, using social media for e-commerce is a natural step for your business as you plan future growth. If you haven't tapped into the benefits of social media marketing yet, start now, so you don't miss out on the opportunity it represents.
With the steps outlined above, you'll be ready to reap the benefits of social media for your e-commerce business. If you haven't explored these options or want some help to make them work for you, reach out for digital marketing support.
Have you invested in social media for e-commerce in your business? Which of the above tips will you try next?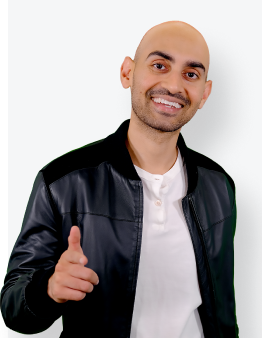 See How My Agency Can Drive More Traffic to Your Website
SEO - unlock more SEO traffic. See real results.
Content Marketing - our team creates epic content that will get shared, get links, and attract traffic.
Paid Media - effective paid strategies with clear ROI.
Are You Using Google Ads? Try Our FREE Ads Grader!
Stop wasting money and unlock the hidden potential of your advertising.
Discover the power of intentional advertising.
Reach your ideal target audience.
Maximize ad spend efficiency.