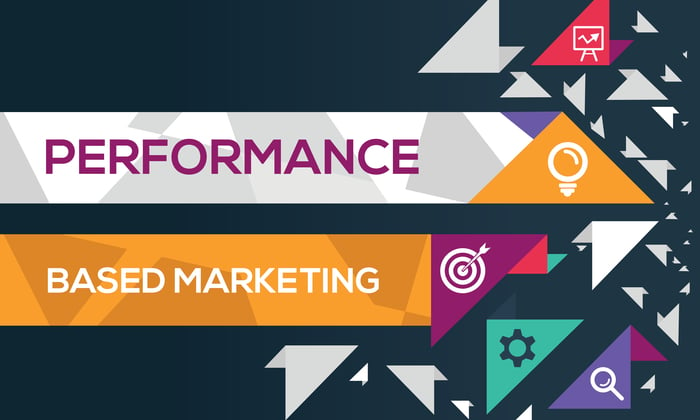 What's the one thing you want from any digital marketing campaign?
Results. Whether it's ad click-throughs or increased sales, every successful marketer has a performance goal in mind.
The problem? You don't always get the results you want. Sometimes, marketing fails, and you're left paying for a campaign that didn't deliver.
Wouldn't it be great if you only paid for successful campaigns? If you only paid when a strategy delivered the results you wanted?
Well, it's possible, if you give performance-based marketing a shot. Let me break down how it works so you can decide if it's a viable way to run your next digital marketing campaign.
What Is Performance-Based Marketing?
Performance marketing is essentially "results-based" marketing. Rather than paying for marketing services monthly or annually, you only pay when you get the results you're looking for.
What kind of results are we talking about, though? Well, the result could be anything measurable, including:
app installs
ad views
page clicks
demo downloads
ad clicks
social media engagement
sales
Marketers can use these results to make quick decisions, whether it means changing a marketing strategy, adjusting keywords, or experimenting with new ad formats.
Ultimately, performance-based marketing helps drive business growth.
Here's an example of how you might use results-based marketing to clear up any confusion.
Let's consider Fahlo, a wildlife-focused company. They use Facebook ads that drive users to take a specific action: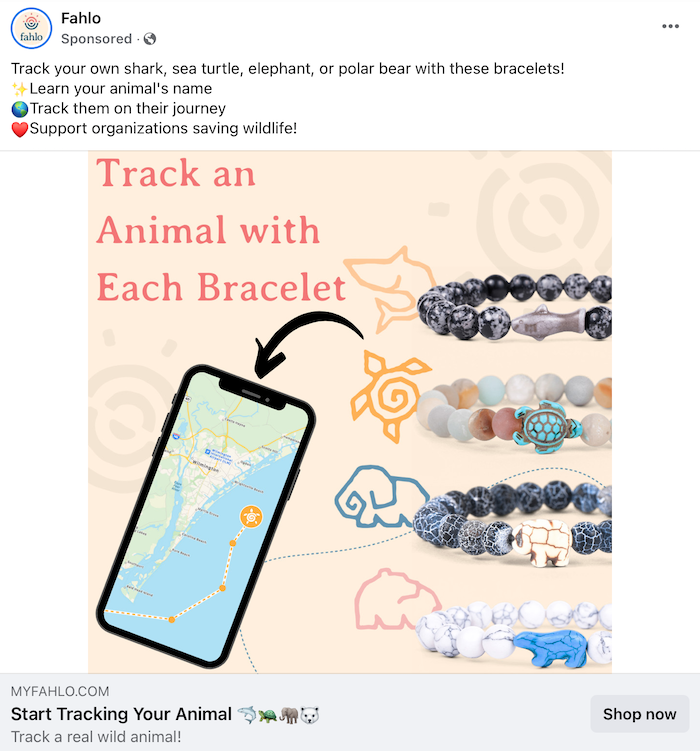 If Fahlo used performance-based marketing, they might pay each time someone clicks through. Or, they could pay whenever someone clicks the "Choose your adventure" option on their homepage: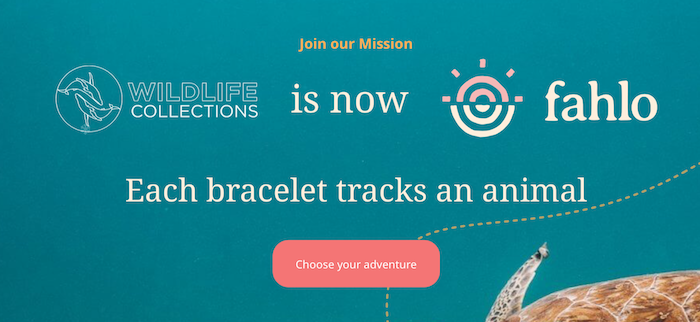 If you're looking for people to take specific actions, and you don't want to pay unless these targets are met, then the performance-based structure might work.
Are there limitations to performance-based marketing? Sure.
For one thing, it's less helpful for more general goals that take a long time to materialize, such as building a brand presence online.
There's a simple reason for this: there's no single metric you can use to track a long-term goal. Success depends on many factors and it takes time to know if your campaigns paid off.
That said, you can use performance marketing for smaller campaigns that provide immediate insights to help you inform long-term marketing strategies. For example, tracking page views and social media followers can show whether you're reaching more people online.
What Are the Benefits of Performance-Based Marketing?
That's how performance-based marketing works. Is it worth exploring, though? Maybe. Here are four ways results-based marketing benefits marketers and businesses.
Simplified Measurements
One of the great things about performance marketing is measurability.
Marketing experts can quickly evaluate key metrics to measure campaign success. They can optimize their strategy based on tangible results.
Business owners, if they know how to interpret the data, can use the results to decide where to focus their marketing efforts.
A performance-based approach can help you directly evaluate your business performance, especially if you review the data regularly and leverage the results to adjust your campaigns.
Improved Insights
Results-based marketing provides a comprehensive view into how your marketing strategies are working at a granular level. For example, you can track:
sales funnel progress
social media ad performance
CTA engagement
The more information you have available, the easier it is for marketers and businesses to make accurate, data-driven decisions to drive growth in the longer term.
Plus, if you use digital marketing tools or software, you can monitor all this data from a single dashboard, which gives you a broader view of overall campaign success.
Lower Risks
From a business perspective, there's less financial risk with performance marketing than other models.
You can make decisions based on accurate data, which improves your chances of running successful campaigns, for one thing. What's more, since you won't waste money on a failing campaign, you can boost your ROI over time.
Increased Transparency
Transparency is one of the major benefits of performance-based marketing—and it goes both ways.
As a marketer, you know your objectives. You know exactly what you must do to get results for your client, so you're more likely to meet their expectations.
If you're a business owner, you benefit from clear, transparent payment terms. Unless you get the desired results, you don't spend a dollar.
What Are the Cons of Performance-Based Marketing?
Clearly, results-based marketing has some great plus points. However, just like any other marketing strategy, there are a few downsides, too.
You Might Forget Your Priorities
Performance marketing is all about fast results. If you're too focused on short-term goals, like more impressions or ad clicks, it's easy to lose sight of your overarching business goals.
Sure, you might get some quick ROI if you run a performance-based campaign effectively. However, it might not translate into long-term business profitability unless you stay focused on your larger goals.
There's a Higher Risk of Fraud
Performance-based marketing sometimes leads to dubious practices which give the illusion of quick results. In other words, there's an increased risk of "ad fraud."
For example, some unethical marketing companies might use bots. These bots perform ad clicks, which generate false traffic or fake impressions.
Ad fraud like this isn't always easy to detect, but it can seriously damage your marketing efforts. You're left paying for fraudulent results that get you no closer to reaching your marketing goals!
Delayed Results Can Cause Problems
The whole point of performance-based marketing is to generate results.
If you're not getting the data you need, then your overall marketing strategy suffers. You might find you're paying for results that aren't available in the desired timeframe, which means you're wasting money.
Should I Use Performance-Based Marketing?
Still not sure if performance-based marketing is right for your company? Well, there are a few ways to tell if this type of strategy aligns with your brand goals.
Let's break them down.
You Can Afford Performance-Based Marketing
Carefully consider your own marketing budget and cash flow limitations before signing up for performance-based marketing.
Although you only pay for results, there's still some economic risk involved, and if you're a new company, free marketing techniques may be a better option.
If you're more established, it might make sense to stick with more traditional pricing structures, like monthly or annual payments, depending on your needs.
Your Company Has a Solid Digital Presence
If you're trying to build a brand presence online, performance-based marketing may not be for you.
Why? Well, you're relying on people taking specific actions. Unless you already have a strong presence online, you might not get enough people to take action, such as app downloads, to make results-based marketing work.
At this point, you'll be better served focusing on tactics that build your brand awareness.
You Understand the Technicalities Involved
You only pay for results. Sounds simple, right? It is, but you need to understand the technicalities involved in getting those results.
Unless you know how to juggle data from different sources, such as influencer marketing, paid ads, and web traffic, you won't know how to effectively use the results.
Ensure you're comfortable interpreting data and brush up on white hat strategies before trying performance-based marketing.
Your Company Needs Results Fast
Do you need quick, measurable results from a single campaign? Then performance-based marketing might work for your company.
For example, say you're trying to run a viral campaign, or you're testing out a few versions of the same ad. Performance-based marketing gives you the accurate, real-time data you need to make efficient business decisions.
Tips for Making the Most of Performance-Based Marketing
Just like any other strategy, performance-based marketing works best if you have a solid plan in place. Here are four tips to help you make the most from performance-based marketing.
Get Clear on Your Goals
Before you start tracking any metrics, set solid goals. Know your goal, create a plan, and set a timeline. Otherwise, you risk paying for results which don't actually serve your objectives.
Performance-based marketing should be part of your overall strategy; it's not a substitute for a well-rounded marketing plan. Ensure your short-term results are moving you closer to your larger business goals.
Define Your Most Important Keywords
Now that you know your goals, choose the best keywords to help you achieve them. Not sure how to pick a keyword? Luckily, there are plenty of tools out there to help. You might start with keyword tools like Ubersuggest:

SEMrush and Moz are other helpful keyword analysis tools you can test out for your next campaign.
Here's an important point to remember: don't worry if you choose suboptimal keywords the first time around! Simply run some more keyword research and try alternatives.
Monitor Your Results
Track your metrics consistently. Here's why.
When you monitor results, you can identify campaign strengths and weaknesses.
Once you know what works, you can test out similar campaigns to drive growth.
Just as crucially, you can often turn a lagging campaign around before it fails.
Use digital marketing tools like HubSpot, Google Analytics, and Uberflip to get started.
Choose a Trusted Marketing Partner
Want to avoid black hat marketing techniques and digital fraud? Choose your marketing partner carefully. Here's how to do that:
First, define your own goals. Choose a partner based on what you need from your marketing strategy.
Next, don't be afraid to ask questions. Ensure you have all the information you need to make a decision.
Finally, check out online reviews and testimonials. Read good (and bad) reviews and look for trends. If anything worries you, steer clear.
Your marketing partner can make or break your campaigns, so don't rush your decision.
Frequently Asked Questions: Performance-Based Marketing
What is performance-based marketing?
In performance-based marketing, a customer, such as a business, only pays a marketing specialist for their services if certain objectives are met. In other words, it doesn't matter how much effort a marketing firm puts into a campaign. Unless the campaign reaches its target, the business won't pay anything.
Is performance-based marketing a scam?
Not at all! It's simply another way to run a marketing campaign. While there is a chance that rogue companies might fabricate campaign results, performance-based marketing is a tried-and-tested way to grow your online presence.
When might marketers use performance-based marketing for a campaign?
You might use performance-based marketing to track, for example, paid ad campaigns. You could also use it for conversion-based campaigns with measurable results e.g., subscriptions or sales.
What are the benefits of performance-based marketing?
You won't waste money on flawed campaigns since you don't pay unless you get results. What's more, it's easy to check if a campaign's working based on the metrics available. If your campaign's failing, you can quickly change your strategy to deliver better results.
Conclusion: Performance-Based Marketing
Performance-based marketing is not for everyone, but it's definitely worth considering if you have a solid online presence and you plan to run ad campaigns in the future.
How do you get started? It's simple. Set a clear marketing goal, identify your target audience, and launch your campaign. Be sure to track your metrics closely, keep testing your campaign elements, and stay alert to potential issues like click fraud.
Most importantly, don't lose sight of your long-term goals. Performance-based marketing has its upsides, but it's easy to lose sight of the big picture if you're too caught up in short-term wins.
If you're still not sure whether performance-based marketing is right for you, check out my consulting services for more advice.
Have you tried performance-based marketing yet? Was it a success?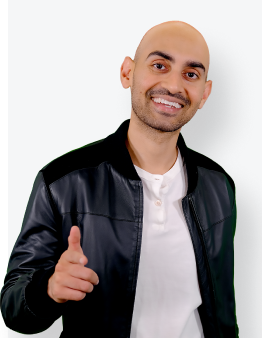 See How My Agency Can Drive More Traffic to Your Website
SEO - unlock more SEO traffic. See real results.
Content Marketing - our team creates epic content that will get shared, get links, and attract traffic.
Paid Media - effective paid strategies with clear ROI.
Are You Using Google Ads? Try Our FREE Ads Grader!
Stop wasting money and unlock the hidden potential of your advertising.
Discover the power of intentional advertising.
Reach your ideal target audience.
Maximize ad spend efficiency.