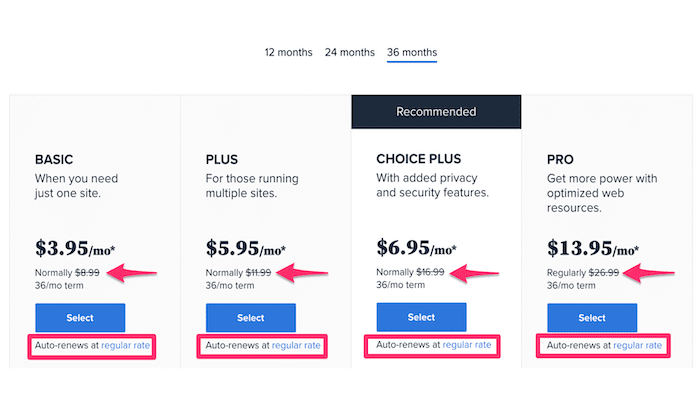 Every website needs a hosting plan.
How much should you pay for web hosting? Are you overpaying for web hosting? How much does web hosting really cost?
Some plans start below $1 per month. Others are over $2,000 per month!
To make matters even more complicated, there are more than 300,000 web hosting providers on the market today. Trying to find the best web hosting plan for your site without overpaying can feel like an impossible task.
Fortunately, I'm going to let you in on a little secret—you don't need to overpay for web hosting.
This guide will teach you the truth about web hosting costs. I've identified the top costs associated with web hosting and how to evaluate those costs as you're shopping around.
By the time you finish this post, you know what you need and what you should pay for a hosting plan that meets your needs.
My Favorite Tool for Keeping Web Hosting Costs Low
Bluehost is my favorite tool for keeping web hosting costs low.
As an industry leader in the web hosting space, more than two million sites worldwide rely on Bluehost for hosting. There are packages for everyone. Whether you're starting a small personal blog or looking for a new provider to host your business site with millions of monthly visits, Bluehost can accommodate your needs.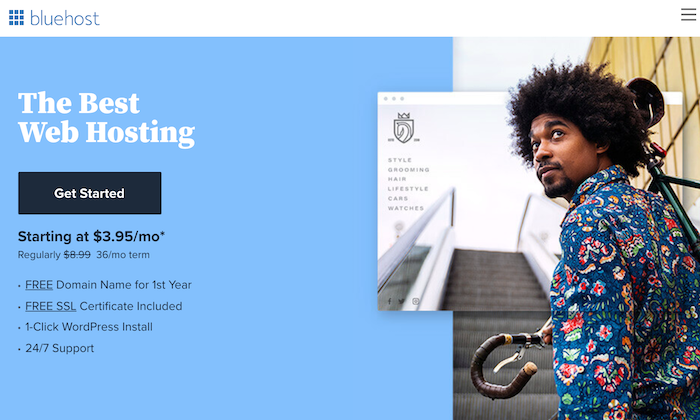 To be clear, Bluehost is not necessarily the cheapest web hosting provider on the market. Some providers offer free web hosting or web hosting for less than a dollar. But you should avoid free web hosting at all costs—there is always a catch.
But Bluehost really delivers in terms of value. They offer low entry-level pricing for new websites, and their web hosting services help keep other costs low over time.
Continue below to learn more about general web hosting costs. I'll even explain how Bluehost can help save you some money in some of these categories.
Cost #1: Web Hosting Type
The type of web hosting plan you select will have the most significant impact on the price. This isn't a hard and fast rule, but generally speaking, here's the order listed from cheapest to most expensive:
Depending on the hosting provider, cloud hosting and VPS hosting might be switched. But the list above is a good rule of thumb.
Check out this pricing page from Bluehost as an example: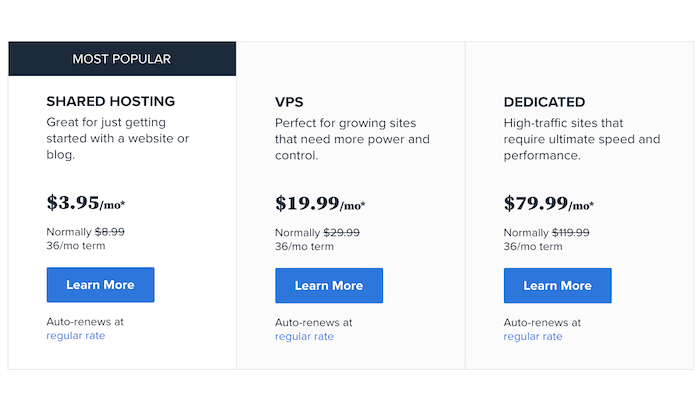 As you can see, there's a significant price gap between each type of web hosting. The starting price of a dedicated server is roughly 20 times higher than the shared starting rate.
Unless you're expecting huge traffic surges out of the gate, the vast majority of new websites should stick to a shared plan. That's the best way to save some money, and you can always upgrade down the road as your site grows.
Most shared plans can accommodate anywhere from 10,000 to 25,000 monthly visits. Once you start getting into the 50,000 monthly visit range, you should consider upgrading to a VPS or cloud package. I wouldn't consider a dedicated server until you eclipse 100,000 monthly visits, and even at that point, it's not 100% necessary.
Cost #2: Contract Length
Generally speaking, you'll need to commit to a longer-term contract to get the lowest possible rate. This is one of the best ways to save money on web hosting costs, especially as a new customer.
Depending on the provider, plans are typically offered in 12, 24, 36, and up to 48-month contract terms. Month-to-month web hosting isn't very common. So expect to commit to a year, at a minimum.
Here's an example of the different prices offered by Bluehost based on contract length: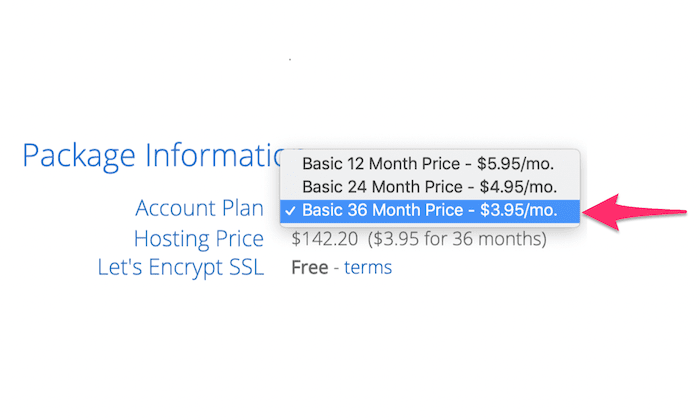 As you can see, there's a $2 per month difference in price between the 36-month contract and the 12-month contract. This isn't life-changing money or anything like that. But it will save you $72 over the course of three years.
Just understand that you'll need to pay upfront for your contract in full when you sign up. In this case, $3.95 per month for 36 months actually means $142.20 today.
Cost #3: Renewal Rates
Locking in a long-term contract also helps you avoid renewal rates. It's standard practice in the web hosting industry for providers to offer low promotional rates and then jack up the prices when your contract renews.
Don't get me wrong. It's not like they aren't upfront about it. But most people don't think about the costs they're going to incur three or four years down the road. Some providers double, triple, or even quadruple your rate upon renewal.
Let's take a closer look at the shared hosting packages from Bluehost. You can clearly see the renewal rates below each introductory price.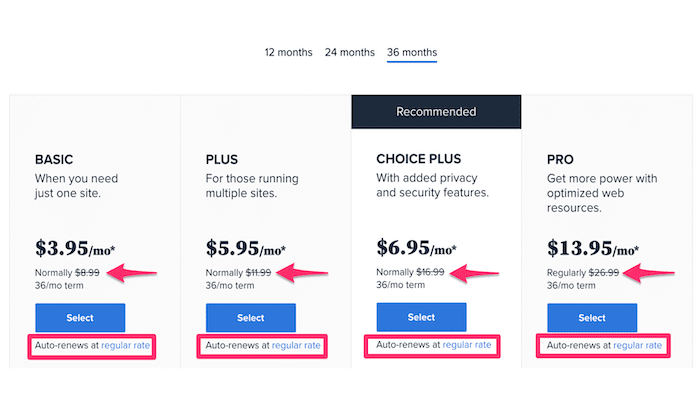 In this case, the renewal rate is more than double the introductory price. Believe it or not, this is actually fairly reasonable compared to some of the other web hosting providers on the market today.
There's not a whole lot that you can do to avoid this increase. Your best bet is to just lock in a long-term introductory contact. That's the best way to save the most money.
Once your website has been up and running for a few years, the extra costs upon renewal shouldn't feel like too much of a burden.
Cost #4: Hosting Resources
Every web hosting plan allocates a certain number of resources to your website. While this might vary slightly from one provider to another, here's a basic overview of what to expect:
Bandwidth — How quickly your server can transfer data.
CPUs — Central processing units to handle all the requests on your site.
RAM — Short-term memory for processing multiple requests simultaneously.
SSD Storage — The maximum allowed size of your website.
Generally speaking, the more resources you have, the higher your hosting costs will be.
Here's a screenshot from Bluehost's VPS pricing table to illustrate my point: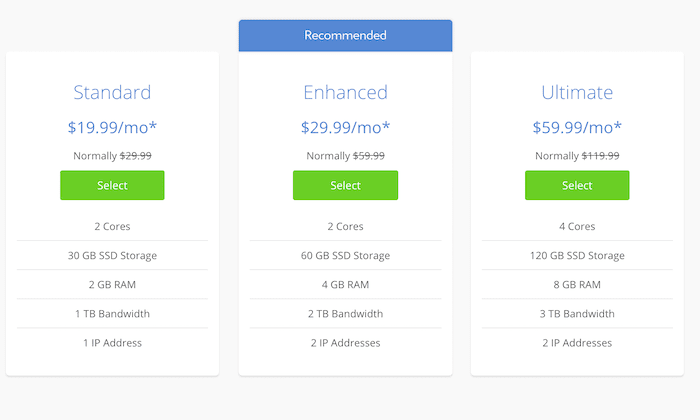 As you can see, the SSD storage, RAM, and bandwidth increase at each tier. The number of CPU cores remains the same from the Standard to Enhanced plan but doubles at the Ultimate package level.
Some providers offer "unlimited" or "unmetered" bandwidth. Just be forewarned that you're not actually getting unlimited bandwidth. Unlimited bandwidth doesn't really exist. Even the best servers have limits. Unlimited bandwidth just means that you can use as much bandwidth within a particular range offered by the provider.
So, how much bandwidth do you need? This isn't an exact science, but generally, 5 GB of bandwidth can accommodate up to 15,000 or 20,000 visitors per month browsing pages with an average size of 50 KB.
Consider a cloud hosting plan if your traffic varies significantly from month to month. These packages typically allow you to scale resources on-demand to accommodate traffic spikes.
Cost #5: Setup Fees and Site Migrations
Most web hosting providers offer free setups. This is especially true with entry-level packages, like shared hosting plans. However, if the provider actually needs to take in-depth steps to get you started, you might incur some setup fees.
Setup fees are more common at the dedicated server level, where providers need to physically add hardware components based on your plan requests.
If you're transferring your website from one hosting provider to another, you might incur a site migration fee as well.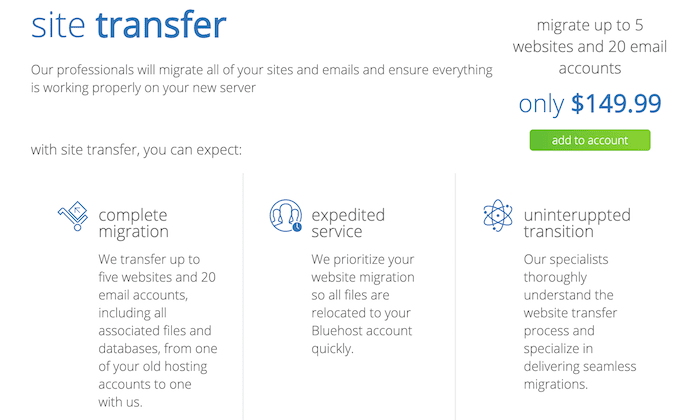 Bluehost charges $149.99 for site transfers. Other providers offer this service for free, but it shouldn't make or break your decision to use one web host over another.
You can justify the cost by having a professional handle this for you. I don't recommend trying to migrate a website on your own. Too much can go wrong, so pay the fee and don't think twice about it.
Cost #6: Domain Registration
Normally, I wouldn't mix domain registration and web hosting. It's usually in your best interest to get your domain name from a domain registrar and your hosting package from a web hosting provider.
That said, new websites can bundle the two, especially through Bluehost. All new Bluehost customers get a free domain for one year with a web hosting subscription.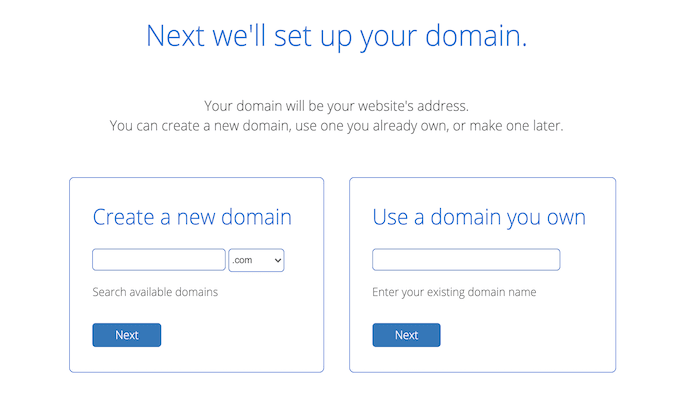 It's cheaper long-term to get your domain directly from a registrar. Bluehost's domain renewal rates will be a bit higher. But overall, the added cost is pretty marginal.
Most new website owners will just find it easier to bundle everything under one roof, as opposed to using different platforms for a domain name and hosting plan.
Cost #7: Security
I don't care what type of website you have; security needs to be a top priority for everyone.
There are a handful of different security measures that should be added to your site. I'm referring to things like network protocols, spam filtering, malware scans, firewalls, and more. But you can get additional security directly from your web hosting provider.
At a minimum, every web host should be offering you a free SSL certificate. That's become an industry standard, and I wouldn't recommend any host that charges an extra SSL fee.
The exact security options vary from provider to provider, but here's an example from Bluehost.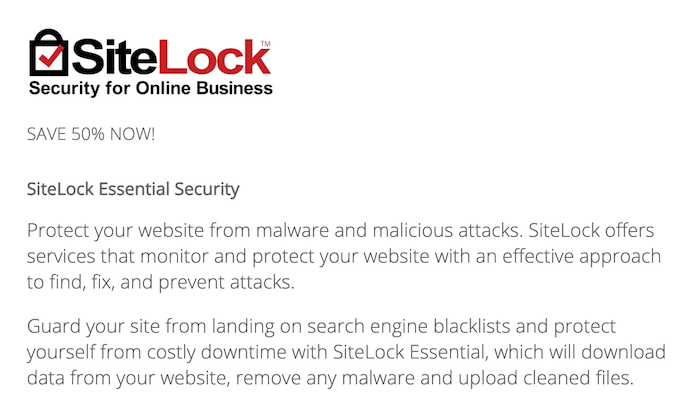 For $2.99 per month, SiteLock Security Essential gives you automated malware detection, unlimited page scans, blacklist monitoring, file-level scanning, automatic malware removal, plugin scanning, weekly reports, and more.
Alternatively, you could always skip this and beef up security on your own. If you're using WordPress, there are plenty of great WordPress security plugins to consider.
Cost #8: Managed Support and Server Maintenance
Managed web hosting has become increasingly popular over the years. The term has different meanings depending on the plan and provider you're using, but in short, a managed web host will take care of all the server operations behind the scenes. This typically includes setup, maintenance, server monitoring, support, updates, and more.
Alternatively, high-traffic websites could consider a managed WordPress plan.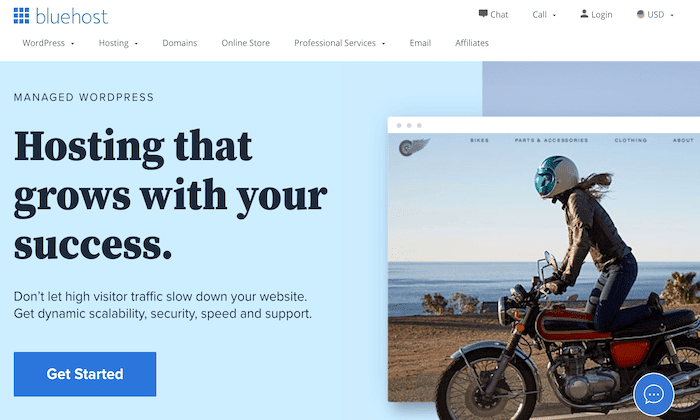 The entry-level managed plan from Bluehost starts at $19.95 per month and can accommodate up to 50,000 visitors per month. These plans scale all the way up to sites with 500,000 monthly visitors.
If you're using a dedicated server, you definitely need to think about the maintenance costs. Dedicated servers are typically offered with managed or unmanaged options.
The unmanaged plans will be cheaper if you're just comparing rates side-by-side. But you'll be responsible for the cost of maintaining and updating the server on your own. Unless you're really technical or have a dedicated IT team, it's generally better to just get a managed plan from your hosting provider. Long-term, it's cheaper than managing a server on your own.
Cost #9: Package Extras
Every web hosting provider makes an effort to sign you up for as many different services as possible. Navigating through upsells is just part of shopping around for web hosting.
With that said, you can skip the vast majority of add-ons and upsells offered by web hosts, especially the ones that aren't directly tied to web hosting.
Here's an example to show you what I mean:
The web hosting costs highlighted above come to $142.20. But if you add-on all of the package extras to your plan, your total becomes $277.83. That's a big jump from an advertised price of $3.95 per month.
Believe it or not, Bluehost actually doesn't even offer that many extras compared to other hosting providers. Some will offer double or even triple this amount.
The key here is knowing what to select and what not to select.
A single domain SSL isn't necessary, as you're already getting a free Let's Encrypt SSL with your plan. You don't need the marketing or SEO tools. SiteLock Security Essential is something we discussed earlier.
If you're not going to get security features elsewhere, adding it on now is a good choice.
Codeguard Basic is another 50/50 option. It includes daily backups, one-click restores, and other helpful tools. But you could always get this later on from other plugins or services.
Cost #10: Downtime
Downtime is an indirect cost of web hosting. It's not something that you'll see on your bill.
But every time your site goes down due to a server crash or network error, it costs you money. The type of website you have and your monetization strategy will dictate exactly how much money you're losing.
You can use uptime monitoring from Pingdom to see how different web hosts stack up with each other. Here's an example showing Bluehost's uptime stats over the last ten months.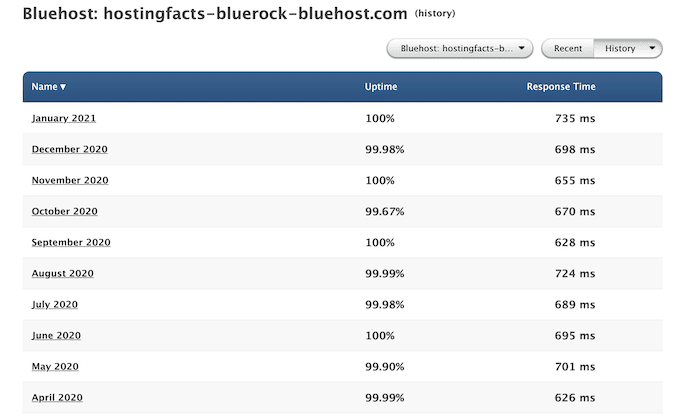 Don't just look at an uptime guarantee from a hosting provider and assume you're in good shape. Those guarantees typically come with all types of contingencies. In the event that they fail to meet the uptime agreement, you'll just get credit off of a future bill.
But that $0.50 or $1.25 credit two years from now isn't worth the cost of losing customers today.
Always look at reviews to see what real people have to say about the uptime reliability of different web hosting providers. Frequent downtime can be costly long-term.
Conclusion
What's the truth about web hosting costs? You don't need to pay a fortune.
Your total cost to host a website will depend on several different factors. I've identified the top ten costs associated with web hosting above. As you can see from this list, it's actually fairly easy to keep hosting costs low if you understand what to look for.
Bluehost is my favorite way to save money on web hosting. So if you sign up with them, you're on the right track. You'll even get a free SSL certificate and free domain name.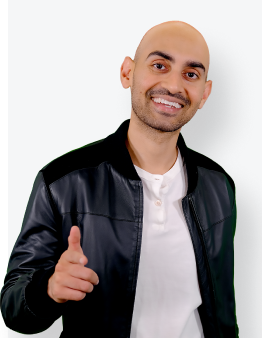 See How My Agency Can Drive More Traffic to Your Website
SEO - unlock more SEO traffic. See real results.
Content Marketing - our team creates epic content that will get shared, get links, and attract traffic.
Paid Media - effective paid strategies with clear ROI.
Are You Using Google Ads? Try Our FREE Ads Grader!
Stop wasting money and unlock the hidden potential of your advertising.
Discover the power of intentional advertising.
Reach your ideal target audience.
Maximize ad spend efficiency.