Would you like to reach out to an international audience and expand your business's Web presence? If so, an international SEO process might offer a scalable and cost-effective way to grow and reach your desired foreign target market.
But, what are the additional elements you need to take into consideration for a successful international SEO process? It's important to understand what it takes in order to effectively plan your resources and actions with the required time and scope.
Let's go through the fundamental phases to start an international SEO process:
1. The Research
An international SEO process should begin with initial research to validate the starting point and the potential for each international market, which will allow you to prioritize and set your target:
Your current international organic search status
The first step is to identify your current international organic search visibility, traffic, conversions, and conversion rate by answering the following questions:
Which other countries and languages are already providing organic search visibility and traffic?
What's the volume and trend over time of the organic search visibility and traffic coming from each country and language?
Which are the keywords and pages that attracted the search visibility and traffic for each of the top identified international markets?
What's the organic search CTR and conversion rate of the visitors coming from each of the top international markets?
What's the conversion volume and trend coming from each of these international markets?
You can answer these questions by analyzing your existing website with Google Analytics, using the "Geo" reports under the "Audience" section: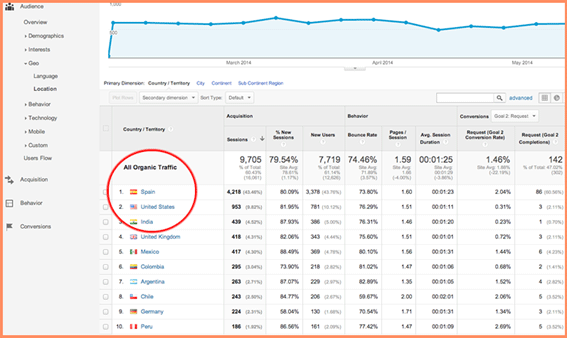 You also can use the Google Webmaster Tools data of your current site by going to the "Search Queries" reports, where you can filter the location:
Answering these questions will allow you to identify your top current international countries and languages markets and the behavior and trend of your current international visitors coming from each one of them.
If you already have a relatively high or medium organic search visibility with a positive trend or above-quality conversions, you might want to prioritize these markets and directly validate each one of them for their organic search potential.
On the other hand, if you determine that you have only minimum organic search visibility and traffic, it doesn't mean that you shouldn't take these markets into consideration for a potential international SEO process. It just means that, if, in the next step, you find that there's enough organic search volume for them, your starting point with them will be lower and you might need more resources and time to earn the desired search visibility.
Your international organic search potential
Now it's time to assess the potential of each of the top country and language markets you're considering targeting (for which you have already identified your current status in the previous step).
Keyword research will help to identify this potential by collecting the following data for each one of them:
Relevant keywords and phrases used as queries by your international audiences to search for your business, products, or services
Organic search volume for these keywords per country
Level of competition of the keywords per country
Your current rankings for these keywords in the target markets
As initial input to identify the relevant keywords, you can use the ones you got before – the ones that are already bringing organic search traffic to your site – and complete the information by using the following tools:
There are many tools you can use to uncover keywords based on those that are already driving traffic to your site, with Ubersuggest one of the best options.
Getting started is as simple as entering your keyword and clicking "search."

From there, click "keyword ideas" in the left sidebar for a long list of keywords:
In addition to the keyword list, the results also display the average monthly search volume, cost per click, paid difficulty, and search difficulty.
Now that you have this, you want a better idea of how each page of your website ranks by country.
Enter your URL into Ubersuggest and scroll down the overview page until you see "Top SEO Pages."
The countries with the most visitors are displayed above the results, but the "more" dropdown gives you access to data for every country.
So, in the example above, you see the top five pages of my website visited by people in India. With this, it's obvious I should target keywords associated with digital marketing, affiliate marketing, and SEO.
As you might have already realized, you will need native language support in order to accurately develop this keyword research, even if it's your own language in a different country, due to localization.
Be aware that although you might be attracted to use tools like the Google Global Market Finder since it relies on automated translation (the Global Market Finder works with Google Translate), the translation is not always accurate and can end up misleading you. Although it's okay to have the support of an online translator, it's fundamental in this case to have the input of someone native.
After selecting the most relevant keywords that target the different types of searches (whether informational or transactional) of your international audience and identifying their organic search volume, it's time to verify how difficult it would be to rank for them.
You can use the Moz Keyword Difficulty tool to identify their competitive level, based on the popularity and relevance of the competitors.
Once you have the level of competition, you can check your current rankings for the selected keywords. (It's not uncommon to have already done this if these are keywords in the same language of your current site but targeting another country).
To verify their rankings for the targeted markets, you can use rank checkers like AuthorityLabs, Advanced Web Ranking, or Unamo SEO.
Now you have the information you need to identify the search potential for each country and language and the best way to target them.
2. The Targeting
Which countries have enough organic search volume of relevant and reasonably competitive keywords that would compensate your SEO efforts? Select these to target and prioritize in your international SEO process.
If you have determined that there's not enough organic search volume to target a specific country, you can start by targeting the language instead.
Although this is not ideal since each version should be as targeted as possible to its audience, if you have seen that the traffic volume is too low when assessing each country independently but much higher when targeting its language (as there can be many countries that speak it and use very similar queries), and if this won't negatively affect your Web business operations, then start by targeting the language.
For example, the location would be a more critical factor to take into consideration for an e-commerce site, like Amazon (that is country targeting with versions for Spain, the UK, etc.), than for service software like Skype (with Spanish or German language versions).
This will allow you to get the desired traffic and conversion traction at the start and later migrate to the ideal country-targeted approach to maximize the site's chances to connect with its audience and succeed.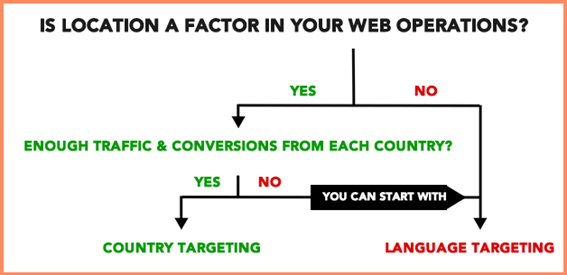 From a Web architecture perspective, a country or language-focused international Web can be implemented in many ways, depending on your characteristics and restrictions.
The viable and recommended alternatives in different situations (which have pros and cons) are:
For Country Targeting
ccTLDs – Country Code Top-Level Domain
Are the ideal structure to geolocate due to the specific country extension, but you will need more efforts to grow their popularity from scratch as new and independent domains.
There are some ccTLDs, though, that are treated by Google like gTLDs (Generic Top Level Domain) and are not associated with a country region, such as .co or .me. You can see the full list here.
TripAdvisor and Amazon use ccTLDs for their country targeting.
Sub-Directories
Might be the best structure to start with if you have, at the moment, a gTLD, since they will inherit its popularity.
The con of this alternative is the complexity of the Web structure that is added by the additional sub-directory.
Spotify and EA are country targeting using sub-directories.
Sub-Domains
These are the most viable option when you have a gTLD and want to avoid adding an additional level of depth to your Web structure. You will be indexing a lot of content and will want to better isolate your different Web versions than with sub-directories.
Nonetheless, this alternative might need additional effort to develop the sub-domains popularity, since they're usually seen more as independent entities.
Shop and Beats by Dre use sub-domains to country target.
For Language Targeting
Sub-Directories
It's the best alternative if you don't have a high volume of content and don't have many resources, as it will be easier to consolidate the popularity as a single entity under the domain.
Skype and Atlassian use sub-directories to language target.
Sub-Domains
It's the best alternative if you need to index more content to avoid adding more depth to your Web structure with the sub-directories and have more resources to grow their popularity.
Wix and WordPress.com are language targeting using sub-domains.
Independently of the alternative you select, what is fundamental is that you're consistent with it, avoiding mixing different types of targeting and structures that could end up cannibalizing and competing with each other, also generating much more management complexity.
Additionally, what is not recommended is to use parameters in the URLs as language or country identifiers, as this will make each international Web version more complex to optimize (and also track).
3. The Optimization
Once you have selected your desired international Web targeting and the type of structure to use, it's time to optimize it to make sure it is crawlable, indexable, and relevant, providing the desired targeting signals in order to avoid search results misalignment issues.
General International Web Optimization
The best practices and recommendations to follow in all cases, whether you're country or language targeting, are:
Crawlability and Indexability
As each of your international Web versions needs to be crawlable and indexable, they need to be featured in their own URLs under their relevant Web structure (the one that you chose before) and not using scripts or cookies that don't allow search engines to correctly index the content.
It's also important to cross-link between your different international Web versions, but be careful to not overdo it, as Matt Cutts mentions in this video.
If you have too many of them, it might be better to link only from the main pages to the most popular international versions and then feature them all in an internal "international Web versions" page, from which they can be crawled and found by the users, as Microsoft does.
Relevance
It's fundamental to translate (if language targeted) or localize (if country targeted) the different elements of the pages of each of your international versions, using the keywords and phrases that you have identified during the initial research:
URLs
The title and meta description
Menu and navigation elements
Headings
Images and ALT descriptions
Main body information
Reviews
Prices, phone, address, etc. should be as targeted as possible, too
Unfortunately, it's not uncommon to see cases of websites (sometimes also due to technical restrictions) that leave the titles and URLs of all the international Web versions in English or that show only some elements of the page in the target language, which is not only not relevant to search engines but also confusing to users.
It's important to remember that beyond any type of literal translation of these elements, each one of them should be optimized to target the queries to be used by your target users in each language and country in order to connect with them and earn their attention and trust so they convert with you.
Language or Country Detection
You can detect the location through the IP of your visitor and language through the browser settings, so you can suggest that they visit the most relevant international Web version for them if they're accessing another one (a user with a Spanish browser entering your English version or a visitor coming from Germany entering your UK version, for example).
Make sure to not implement this through interstitials or pop-ups, though, as these could be seen as intrusive, and it could negatively impact the site crawlability, too.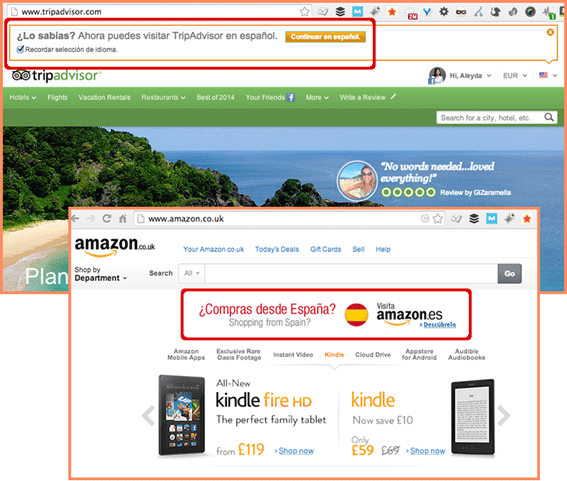 On the other hand, you also can redirect your visitors to the most relevant version based on their IP and browser language settings, using a 302 redirect, as Google specifies here.
This can be seen as more intrusive, though, as you're taking your visitors automatically where they haven't asked to go, and sometimes the assumptions of preferences based on the IP and browser language might not be correct.
In this other scenario, you also should validate that all of your International Web versions are being correctly crawled and indexed by Google and that you're not redirecting search bots to only one of your Web versions.
Language Specification
It's fundamental to correctly declare the appropriate character encoding of your pages as specified here to make sure they are displayed well, especially handling with non-ASCII characters, for which UTF-8 is recommended.
You also should specify the language of each of your pages by making use of:
HTML Lang, Content Language Meta Tags, and HTTP Headers
Although Google doesn't use meta tags or HTML attributes to identify the language of pages, these are used by other search engines and services, such as Bing, so it's recommended to include them, making sure the annotation is correctly set and included with the right language code for each case.

Use this reference to specify the HTML lang attribute and this other to set the "content-language" HTTP header and meta tag.
Hreflang Language Specification
Hreflang annotations are used by Google and Yandex to identify the language (and also country) targeting of a page to make sure they always show the right version to the relevant user. Hreflang uses the ISO 639-1 codes to specify the language.
As Google includes in this document, hreflang can be featured as:
An HTML link element in every page header, which can be the most simple way to implement it
The HTTP header, which can be especially useful for non-HTML files
In XML Sitemaps, which also can be handy when there are too many international Web versions to include
The hreflang annotation also can be used along with the rel=canonical annotations as long as the canonicals are used to fix content duplication issues within the same international Web version.
As I've shared in the past, it's common to use the hreflang annotation incorrectly (where all of the different versions of a page should be cross-referred and a default version can also be specified), which is why I've created this tool that generates the HTML link element, following Google's specification.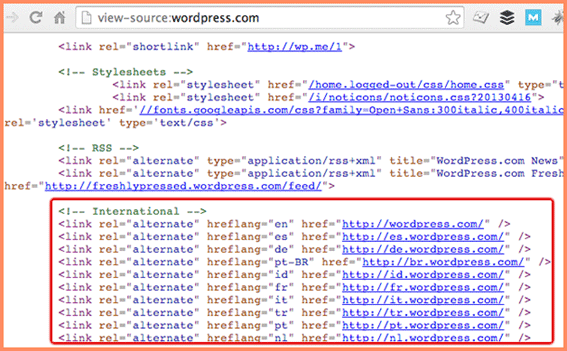 You also can use the flang hreflang validator once you have implemented it or use SEO crawlers like Rob Hammond, ScreamingFrog, or DeepCrawl to check it for many pages much more easily.
Geolocation
If you're country targeting, besides specifying the language of your pages, you also should geotarget each one of your international Web versions. For this, you should use:
Hreflang Country Specification
Hreflang annotations not only serve to indicate the language of a page, but also the country to target, which can be very useful to avoid search results misalignment issues when there are many pages in the same language but targeting different countries. It uses the ISO 3166-1 Alpha 2 codes for the countries.
It's important to note that hreflang annotations, as specified here, don't support featuring only a country code by itself, as they should always include a language code related to the country.
Webmaster Tools Geolocation
In case you're country targeting and not using ccTLDs but sub-directories or sub-domains, you can geolocate each one of them independently to target their specific country in your search engine's Webmaster Tools. Here you can find the options for:

Your Hosting Location
Although it's desirable that the IP of your site be the same rather than the one of the country you wish to geotarget, these days, it's not as important as the other signals that search engines take as more direct geolocation signals, such as the ccTLD usage and the Webmaster Tools Geolocation.
Due to this, just changing your hosting to have a specific country IP when you're already providing additional geolocation signals shouldn't be seen as something as fundamental as it was in the past, especially since in most cases, it is a non-trivial technical change and might be trickier if you're using CDNs.
By taking the previous Web content, language, and technical recommendations into consideration, you will have consistently optimized international Web versions that will allow you to be crawlable, indexable, and relevant for each of the targeted languages and countries.
Wrapping Up the International SEO Fundamentals
As you have seen, the basics of international SEO goes beyond just translating the content of your site.
It's a full SEO process that needs research and analysis to select the best way to target your international audience and then correctly implement the targeting, taking your own business, technical and content characteristics, and restrictions into consideration. Otherwise, it would be difficult to achieve your international SEO goals.
I hope this first encounter allows you to identify the hidden international SEO potential of your site and helps you plan your projects with the right scope, support, and resources. However, remember, these are only the fundamentals. Each one of your international Web versions will need continuous content, technical, and marketing support to refresh and grow its structure, content, and popularity.
Do you have any questions? Let me know in the comments!
About the Author: Aleyda Solis is an international SEO consultant & entrepreneur, with more than 7 years of experience doing SEO for European, American and Latin-American companies. She provides international SEO services through her company Orainti-, and is a frequent SEO speaker at Online Marketing conferences. You can follow her on Twitter or learn more on her Website.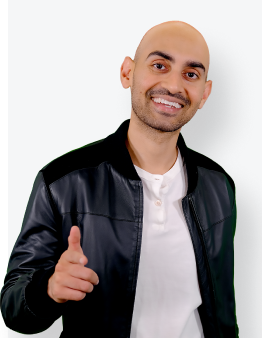 See How My Agency Can Drive Massive Amounts of Traffic to Your Website
SEO - unlock massive amounts of SEO traffic. See real results.
Content Marketing - our team creates epic content that will get shared, get links, and attract traffic.
Paid Media - effective paid strategies with clear ROI.