Every successful business relies on reviews.
In the past, it was word-of-mouth recommendations from friends or family.
If you wanted to go to the movies on the weekend, you'd pick up the local newspaper and read what film critics had to say.
In today's digital world, people turn to online reviews when they need advice on purchasing decisions. By focusing your marketing efforts on acquiring more of the right reviews, you can grow your business without funneling more money toward expenses like paid ads.
The big question is, how do you improve your online reviews or even get customers to leave reviews that lead to more sales in the first place?
Below, you'll find everything you need to whip your online reputation into shape, from which review platforms to focus on to how to get more customer reviews that'll actually make a difference to your bottom line.
Why Are Good Online Reviews Important?
Online reviews play a crucial part in the success of your business. Eighty seven percent of consumers read online reviews to decide what to buy, where to stay, and which restaurant to visit.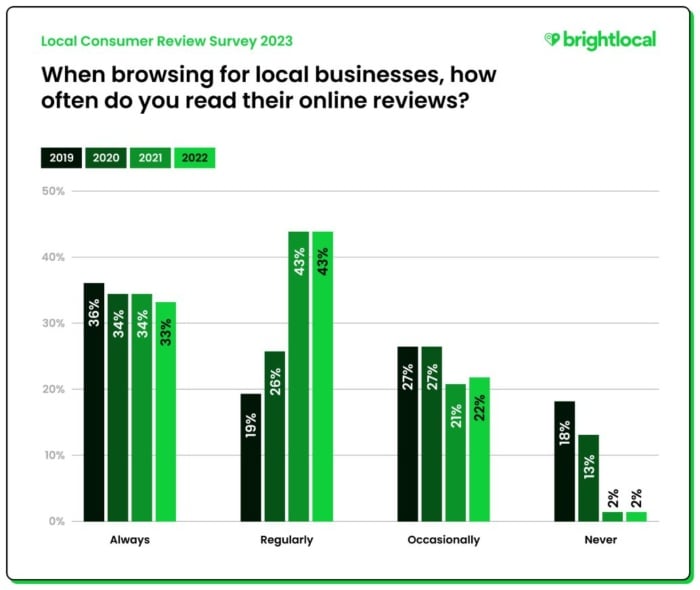 If you're neglecting your reviews, you're operating with a major hindrance.
Here's why:
Reviews influence search engine rankings: According to a Moz study, review signals are one of 8 key ranking factors. The more good reviews you have, the higher up your business will appear on local search results.
Social proof influences purchases and fosters trust: If someone else has had a good experience with a brand, we feel more confident in giving them our money. So much so that 78 percent of consumers say positive reviews make them trust a business more.
Reviews help with decision making: If you're unsure which product to buy from two different brands, online reviews can help take the anxiety out of making the wrong decision.
4 Top Sites for Online Reviews
You need to aim for reviews on the review sites that are going to convert. These sites should be well-known and make it easy to leave reviews.
So, where do the most influential reviews occur?
In most cases, the big four are Google, Amazon, Facebook, and Yelp.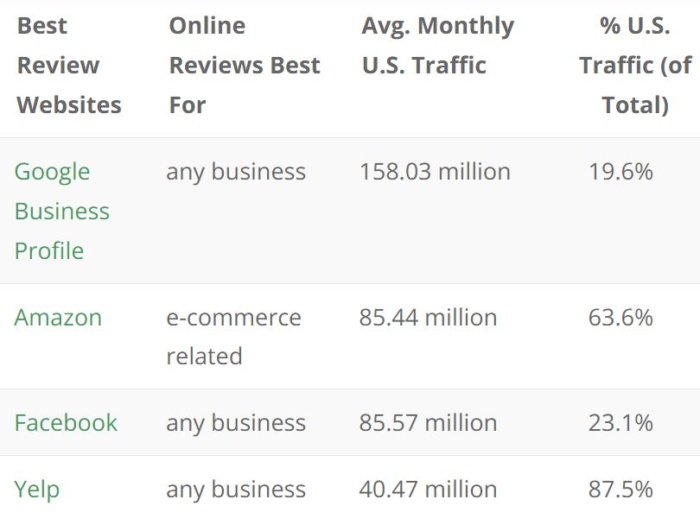 As you can see, these sites have a combined average of just shy of 370 million visitors each month.
They're also suitable for any business (except for Amazon), which makes them one of the digital lifelines of many local businesses.
1. Review for Google Business Profile
If you've ever searched something like:
"Restaurants in New York" or "hairdressers near me," you've seen this pop up in the results.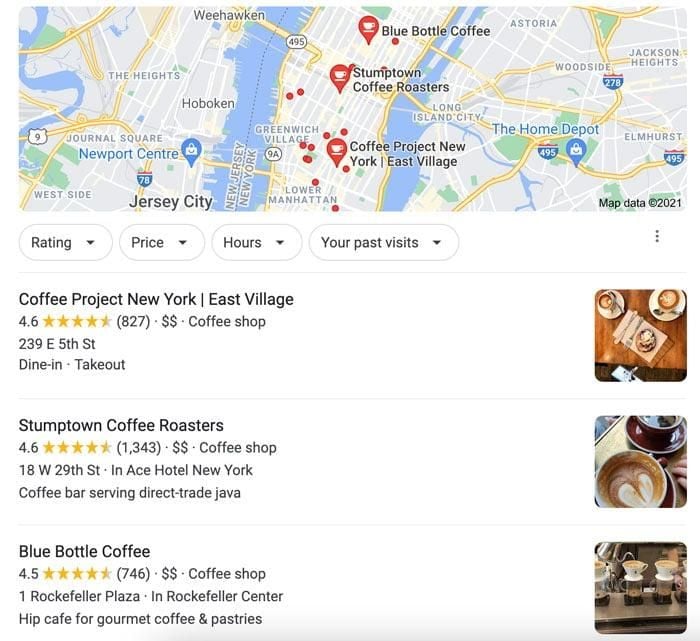 Google uses distance and location ranking to deliver optimized search results. It helps users find the best and nearest solution and shows rankings and reviews to help make a decision.
In other words, getting your business's website optimized for local search is one of the best ways to get more customers without any aggressive marketing campaigns.
How do you optimize for local searches?
You need to create and verify your Business profile. These local business listings are key to performing in local search. Once it's set up, you can control how your business shows up in search, including contact details, opening hours, etc. You'll start appearing in Google's listings for your business category.
Next, you want to work on getting more customer reviews. The more 5-star reviews you have, the higher your business will appear on Google's local search results.
Bonus: I have an in-depth guide on further optimizing your Google Business Profile to increase your sales (including how to avoid the No. 1 mistake businesses make).
2. Reviews on Amazon
Amazon was one of the first online retailers to allow reviews. Starting in 1995, it's become one of the most important places for consumers to validate a purchasing decision.
Imagine you wanted to buy a smartphone tripod, and there are two brands on Amazon. One has multiple one-star ratings, while the other has an average of 4-stars.
Which one would you pick?
You'd most likely pick the latter because you feel more secure in the value of the product.
You're not alone.
A study from Bazaarvoice found 39 percent of U.S. shoppers relied on reviews the most when online shopping to make an informed decision faster.
If you sell products on Amazon, you'll want to get more product reviews. Not only will it help consumers trust your brand, but it will boost your search results rankings with Amazon's A9 algorithm. The higher you appear on search, the more visibility you have, and the more sales you'll make.
3. User Reviews on Yelp
Failing to be on Yelp means you won't be successful, especially if you're a locally-based business.
If you want proof of Yelp's success with local businesses, look no further than the laundry list of Case Studies on their website.
Yelp does require a little more of a hands-on approach than Facebook, though.
That's because it weighs some reviews above others. Yelp is unique as it always tries to display the reviews that it deems "most helpful."
While you may disagree that a one or two-star review could be helpful, Yelp has a fair process in place.
They weigh:
The overall history of the reviewer
The feedback left on each review (e.g., a like on a review)
The quality of the reviews you already have to determine how to incorporate each new review
How does this work for you?
The simple answer is you need to get as many high-quality reviews as possible. Doing so will bring all of those well-reviewed benefits we discussed earlier.
While you can't directly ask for reviews on Yelp, as that breaks their terms of service agreement, you can ask people to "check you out on Yelp." Any format of that works just so long as you don't ask for a review.
Your best bet for positioning on Yelp is actually just personal pushing.
Set up your Yelp profile, claim your business, and display the sticker they send you in a prominent location.
Then, when you're interacting with customers and receive positive feedback, direct them toward Yelp.
You can even include the Yelp badge on your website or email signature. It will encourage new visitors to check out your reviews and possibly even remind them to review you themselves.
4. Facebook Reviews
Facebook marketing is another marketing avenue and platform that works for almost every type of business.
Whether you're offering a service or a physical product, you can leverage the power of Facebook Reviews.
To get more customer reviews, all you need to do is set up a Review Tab on your business page, make sure it's easy to find, and you're good to go.
Here's how to do it:
Go to your Page's Settings tab, scroll down to the Edit Page section to where it says "Reviews," and turn them on.
Not all Facebook's Pages display reviews, so you'll need to look at your Template options.
Just above where you turned on your reviews, you'll see an option to select your Template.
Look through the options to find one that suits the type of business you have. Or, just opt to go with the default "Business" version.
When you've picked a template, scroll down to make sure reviews are supported.
You're now set up to receive and display reviews on Facebook.
What Our Data Shows Us About Online Reviews
We surveyed 1,000 online shoppers in the U.S. about their experiences with online reviews.
We asked, "how likely are you to leave a review after an e-commerce purchase?"
Of our 1,000 respondents, 22.5 percent said they frequently leave reviews — and 30.1 percent said they rarely do.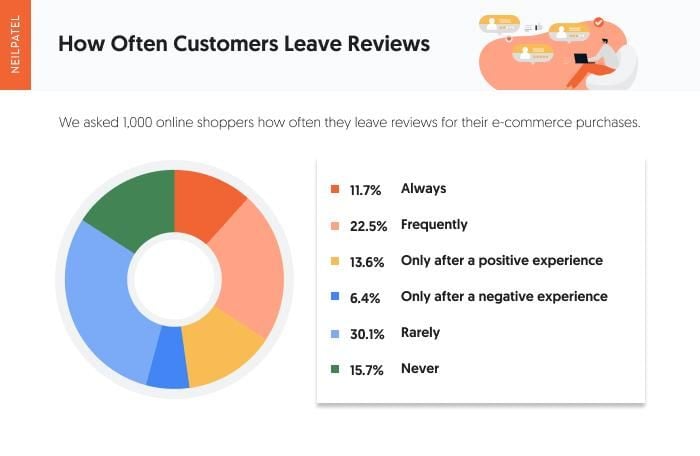 We also asked respondents if they'd ever ever left a review after being given some sort of incentive.
The majority — 56 percent — said yes.
What was the incentive that enticed these reviewers?
Forty-five percent said a future discount cinched their review. This was followed by a free product (28 percent) or a cash offer (21 percent). The remaining respondents cited loyalty points, sweepstakes entries, or gift cards as review incentives.
What We Learned From Our Data
People may feel that reviews are not worth their time. They may also simply forget to leave a review after they use the product.
We know that product reviews are important. They help to net further conversions by providing future customers with social proof.
So what can you do to get more product reviews?
Incentives, like discounts or free products, may encourage your customers to leave product reviews. Of course, you also have to ensure you're reaching out at the "right" time, which will vary for every product.
When we get right down to it, having User Generated Content (UGC), like reviews, should absolutely be a part of your overall marketing strategy. Combine it with tactics like review schema, and you're likely to see even bigger returns.
How to Get High Quality Online Reviews
Now that you're everywhere you need to be to get reviews, let's look at how to get more customer reviews.
Incentivize Online Reviews
As our data supports, people love free stuff. Getting something for virtually nothing feels like a reward. You can tap into this emotion by incentivizing your audience to leave you a review.
Offer a discount code on a future purchase, Amazon gift card, or cold, hard cash. Not only will it boost your brand's positive reviews, but it inspires customer loyalty.
Monitor All Review Platforms
You want to stay on top of your online reviews. It will help you find your raving fans and disgruntled customers before things escalate and damage your reputation.
You can manually monitor your reviews or invest in software like Podium or Birdeye.
Both platforms monitor conversations around your brand and send you instant, daily, or weekly email updates about what your customers are saying about you.
Quickly and Politely Address Negative Feedback
Businesses screw up. It happens to everyone, but how you handle it will define your brand.
Don't ignore bad online reviews. Respond as quickly as possible and focus on solving the problem.
Approach each case Disney's H.E.A.R.D. Technique:
Hear: Let the customer tell you the story and genuinely listen to what they have to say.
Empathize: Show the customer you understand why they are upset. You can use phrases like "I understand why you're frustrated. I would feel like that, too."
Apologize: Give a sincere apology. No business wants its customers to feel upset.
Resolve: Do your best to resolve the problem as quickly as possible. If you're not sure what's the best solution, ask the customer what you need to do to make the situation right.
Diagnose: Figure out what caused the problem and fix it, so the issue doesn't happen again.
By using the H.E.A.R.D. approach, you can potentially save the relationship and prevent losing the customer for good.
With the cost of acquiring a new customer seven times more than retaining one, it's in your best interest financially to address negative reviews as quickly as possible.
Ask the Right Customers to Review Their Experience
You don't need every single customer reviewing your product or service.
You want your top fans. The people who love your products have had incredible results with your business and are getting real value from your service. These customers write powerful reviews that can sway someone on the fence to sign up for your latest offer.
Here's how to identify the right customers for reviews:
Referrers: If someone is sending people to your business, then they've experienced success with your product or service.
High customer feedback scores: If clients rate their experience with you a 9/10 or a 10/10, those are the people you want to write reviews.
Engagement: If a customer is engaged with your offer, it means they're happy. Who is using your product the most? Who is a repeat customer?
Spotlight High Quality Reviews
Don't let your best reviews collect dust in your inbox or on Yelp. Put them to work!
You can use reviews as testimonials and add them to your:
You can go one step further and highlight reviews by sharing them on your:
social media (e.g., create an Instagram Stories highlight)
newsletter
For stellar reviews, you can turn a customer's success into an in-depth case study. Case studies are valuable pieces of content that can help your sales team sell your offering and demonstrate to clients how your service or product can change their lives.
Of course, this doesn't mean bumping your lowest reviews to the bottom just because they're negative. In fact, Google's product review update rewards websites that rank their reviews by "most helpful," as opposed to "highest rated."
So by highlighting your best reviews in ways other than sorting by "highest rated," (i.e. in testimonials or case studies), you can still sort by "most helpful" without hurting your overall bottom line.
Ask for Online Reviews at the Right Time
One of the biggest faux pas you can make is asking for an online review at the wrong time.
For example, if you ask customers weeks or months after their last interaction with you, you'll get a lackluster response (if you get one at all).
The reason? The client has to dig up memories long after it's happened.
Your best reviews come from clients when the experience is fresh in their minds. It will make it easy for them to write a review and recall all the details of what made the experience special.
Here's when it's usually a good time to ask for a review:
Your customer hits a milestone (e.g., subscribed to your service for 12 months).
A day or two after your product is delivered.
After having a positive interaction with your team.
Before leaving an event you have hosted.
How NeilPatel.com went from 3 to 4.7 stars on TrustPilot
What better way to cap off this discussion than to show how me and my team helped improve our online review presence?
Over the course of the last year or so, we went from 3 to 4.7 stars on TrustPilot. The reasoning is pretty basic.
We made some smart improvements to our delivery that improved our output in a big way, and people noticed that. As a result, we opted to encourage our customers to share their experiences.

Not only did increasing our online reviews help us build more credibility off-site, but it allowed us to have something that we could showcase onsite as well.
Recently, we increased the conversion rate of our consulting page by 11%, just by adding our TrustPilot score. We currently have 4.7 stars and a total of 452 reviews, and are still looking to grow those numbers.
Now, I'm going to give you a little bit of a window into how we went about building up those reviews. Take a look at this email template I use to ask for reviews:
PS.: I send this email once every quarter…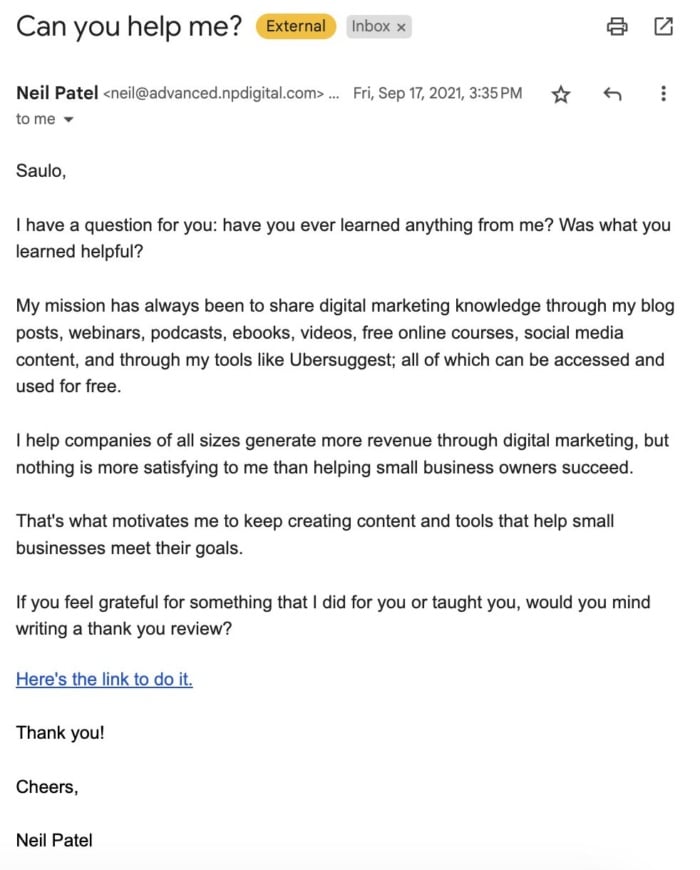 My goal here is to showcase the ways that I try to help my readers before requesting a review at the end. The key is to help show that this is an exchange of support rather than just asking for a review outright. This way, you're more likely to get meaningful engagement from those that really have thoughtful insights to add to their reviews.
Online Reviews: FAQs
What are the best review sites?
The best and most popular review sites are Google My Business, Amazon, Facebook, and Yelp. However, you should investigate review sites within your niche. E.g., authors should focus on GoodReads for book reviews, and companies should look at Glassdoor for employee reviews.
Why are online reviews critical?
Online reviews are critical because it impacts your company's reputation and bottom line. It's also a Google ranking factor, meaning reviews can boost your business up the search engine results and increase site traffic.
How do online reviews influence buying decisions?
If you have too many bad reviews, it can influence people not to buy your products and services. Similarly, good reviews foster trust, help consumers feel confident in their purchasing decisions, and increase sales.
How many people look at online reviews?
According to a Brand Rated study (via GlobeNewswire), 95 percent of consumers read online reviews.
Online Reviews: Conclusion
Online reviews are a vital method of winning new business in every industry. They're seen by almost everyone and play heavily into your success both offline and online.
Prioritize your customer reviews on platforms like Facebook, Yelp, Amazon, and Google. Then be active in your approach to winning more positive and negative reviews.
Successful reviews may not happen overnight. Think of it like any other process in your business. It takes work, but it sure feels good when you finally get there and start seeing the customers roll in from it.
What hacks do you use to get positive online reviews for your business?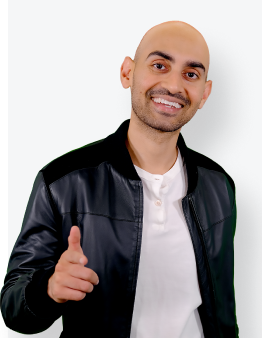 See How My Agency Can Drive More Traffic to Your Website
SEO - unlock more SEO traffic. See real results.
Content Marketing - our team creates epic content that will get shared, get links, and attract traffic.
Paid Media - effective paid strategies with clear ROI.
Are You Using Google Ads? Try Our FREE Ads Grader!
Stop wasting money and unlock the hidden potential of your advertising.
Discover the power of intentional advertising.
Reach your ideal target audience.
Maximize ad spend efficiency.