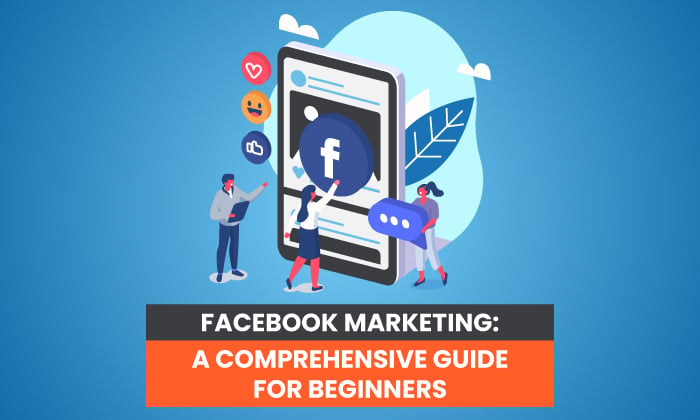 With over 2.74 billion monthly active users, Facebook is the world's most popular social media platform. From a marketing perspective, there are many opportunities to engage with new audiences and expand your company's reach.
How do you capitalize on these opportunities? By devising a Facebook marketing strategy.
For beginners, this can all seem a little daunting but don't worry. If you're new to Facebook marketing, let me walk you through using the tools available to your advantage.
What Is Facebook Marketing?
Facebook marketing is a catch-all term for the different ways you can market your business on Facebook. It includes:
Facebook Ads
Business Pages
Facebook Groups
There's a marketing strategy for every budget, whether you're looking for a free social media marketing solution or you want to set aside a regular sum for paid Facebook Ads.
Why Should You Use Facebook Marketing?
Firstly, over 90 million businesses are already on Facebook. Around 1.88 billion users access Facebook at least once per day, and at least 17 percent of users join Facebook to connect with brands and products.
In other words, businesses are actively pursuing customers across this social media platform, so it makes sense to build your own presence there.
What's more, 45 percent of internet users across the globe turn to platforms like Facebook to find out more about products they want to buy. You can help them discover your brand by advertising effectively on Facebook.
Types of Facebook Ads
Facebook lets you choose from four main ad types.
Image Ads
Static image ads are ideal for driving traffic to your website.
They must be in JPG or PNG format, and the headline shouldn't exceed 40 characters. Since you only have 125 characters for the main message, they're best for clear and concise calls to action (CTAs).
Video Ads
With video ads, you can showcase a product, promote customer testimonials, or boost your brand. Video posts, in general, have a 6.09 percent engagement rate on Facebook, which is impressive, but you'll lose viewers if it's a poor-quality video with an unclear message.
Carousel Ads
With carousel ads, people can scroll through a host of images to see the same product from multiple angles.
While this is great for e-commerce, carousel ads aren't ideal for showcasing different products or listings e.g., properties in real estate marketing.
Collection Ads
Image collections are great for showing products in your e-commerce store, but as with image ads, you're limited to a short headline and a 125-character primary message, so they're not suited for conveying much information.
The ad type you choose depends largely on your campaign goal. For example, an image is great for driving home a visually compelling CTA, whereas videos are useful for engaging audiences.
There's no set cost for Facebook Ads, either. Since you bid on ad slots across the platform, how much the ad costs depends on how much you're willing to pay to secure the slot you want.
Steps to Start Facebook Marketing
To use Facebook Ads, it's best if you set up a Facebook Page for your business if you don't already have one. Set one up by heading here.
Access Ads Manager
First, you need to access Ads Manager.
Ads Manager is the "hub" to create, manage, and track Facebook Ad campaigns. You can log in here.
Choose Your Ad Objective
Next, determine what you want from your campaign by setting your ad objective. There are three categories to choose from:
1. Awareness Goals
2. Consideration Goals
traffic
engagement
app installs
video views
lead generation
messages
3. Conversion Goals
conversions
catalog sales
store traffic
Click the green "Create" button and choose your goal: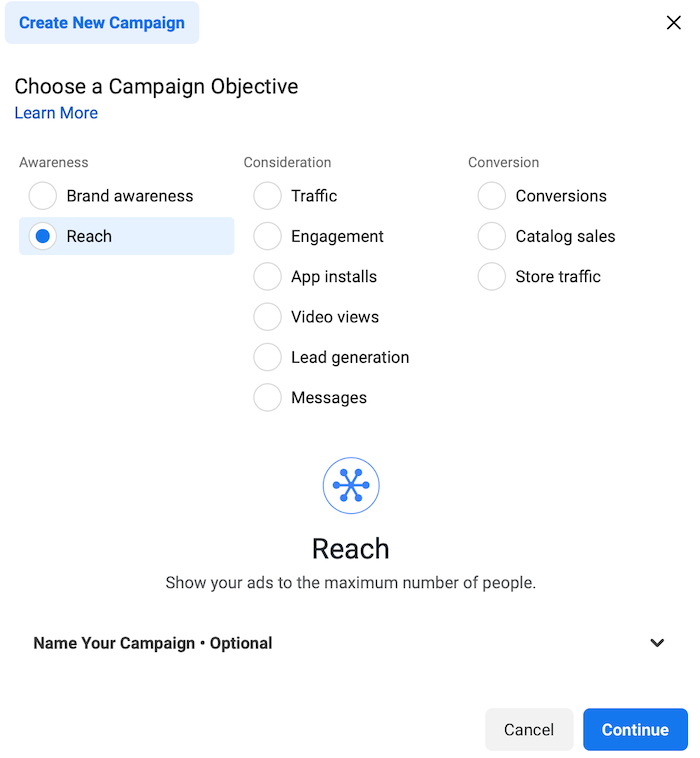 Name Your Campaign
A name helps you keep track of the campaign within Ads Manager.
Once you've chosen a name, confirm if you want to test different versions of the same ad against each other using A/B testing. This is optional, and you can change your mind later.
Move on to the next screen.
Set Your Budget and Schedule
First, choose which Page to promote. This is probably your company's Page.
Then, set either a monthly or daily budget for your Facebook Ad campaign, and determine when you want your campaign to start. You can set an end date, too.
If you want, you can schedule your ad based on time zones to ensure your target audience is most likely to see it. For example, if you're targeting a U.S. audience, you can run your ads during U.S. daytime hours, and so on: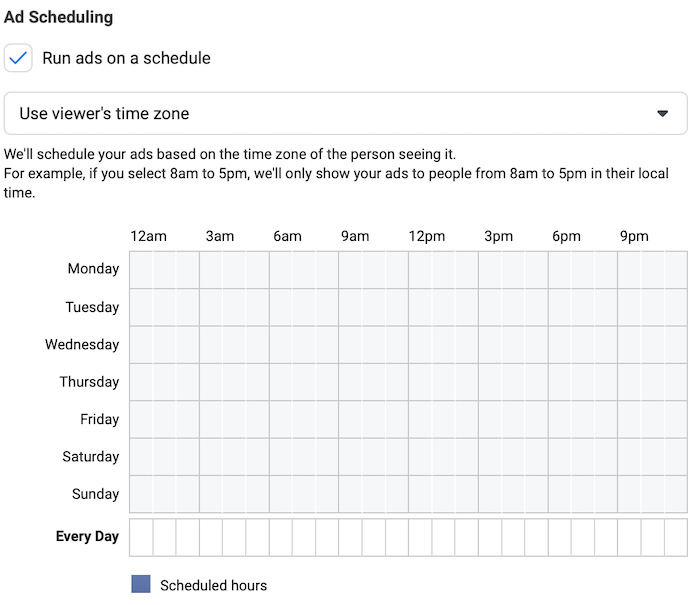 Choose Your Audience
Build your target audience based on gender, age, location, and language. Once you've got a broad sense of your ad reach, you can customize your audience based on user behaviors and interests to improve your chances of reaching the right people.
If you're happy with your ad reach, move on.
Select Your Ad Placements
Decide where your ad should appear. For beginners, you might be best choosing "Automatic Placements" so Facebook can determine where you're likely to get the best traction.
If you're more knowledgeable, you can customize placement based on, for example, device type, social media platform (Facebook or Instagram), and operating system: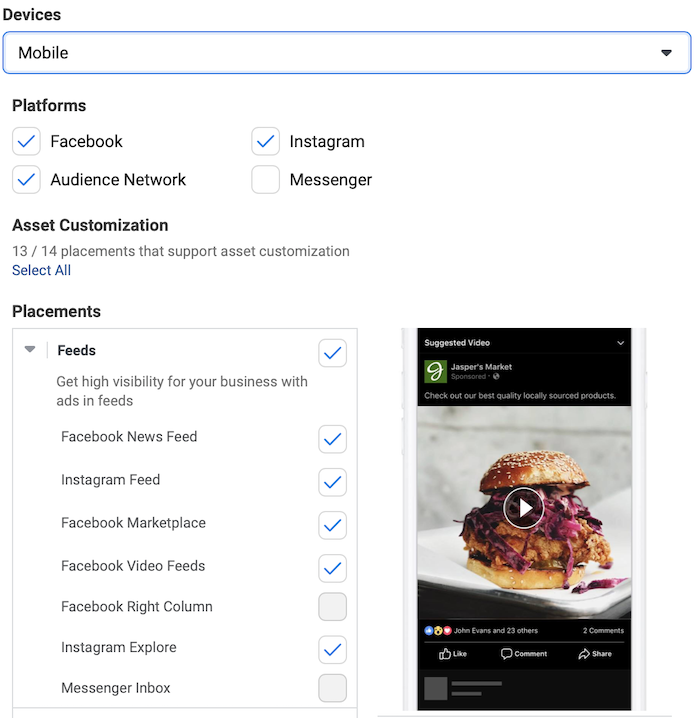 Determine Your Brand Safety Controls
You can specify content you don't want your ad to appear alongside, such as violent, sensitive, or offensive content.
From this screen, you can also customize your bidding strategy a little more. For beginners, though, it's a good idea to stick with the default options at first and make changes later if required.
Create Your Facebook Ad
Finally, choose your ad format, type in the ad copy, and enter your images or videos. Once you're happy with the ad, click the "Publish" button to go live.
Congratulations, you've created your first Facebook Ad!
Tips for Creating Great Facebook Ads
To get the most from your Facebook Ads, here are some tips to bear in mind.
First impressions matter, so use quality, high-resolution images for every ad.
Highlight your value proposition clearly and avoid overly busy, cluttered graphics.
Keep your CTA highly visible and compelling to grab a user's attention.
Bring your products to life by showing people using them in your video ads.
Include user-generated content where appropriate to build a sense of community.
Make your videos and images vertical, so they display properly on mobile devices.
Monitor which version of an ad works best by deploying A/B testing.
Examples of Great Facebook Marketing Campaigns
Want to see how businesses just like yours are making Facebook advertising work? Here are two companies putting some of the tips I've just outlined into action.
The Teaching Company
To advertise its one-month free trial, The Teaching Company, a college-level course provider, ran a variety of image ads to appeal to different demographics:
The value proposition is clear, the CTA is unmistakable, and the company makes it easy for customers to sign up for the trial. As a result, the campaign generated 15,540 new subscriptions, which was 10 times more than its average monthly subscription numbers.
The takeaway? Keep your ad fresh by switching out the images regularly, and always include a clear CTA.
GoPro
To build hype around its HERO9 camera, GoPro ran a contest called the "Million Dollar Challenge." In exchange for sending in raw GoPro footage from a HERO9 camera, people entered a contest to win a share of the $1-million prize pot.
Twenty-nine thousand people entered the contest, over 668,000 Facebook users viewed the video, and 56 winners took home nearly $18,000 each.
The lesson? Use video ads to bring your audience closer to your brand and reach diverse new demographics.
Other Ways to Use Facebook Marketing to Grow Your Brand
As I explained earlier, Facebook Ads are definitely not the only way to grow your brand through the platform. If you're looking to make the most of your Facebook presence, here are some other strategies to try out.
Start a Facebook Group
Give your customers a place to interact by setting up a Facebook Group for your business.
You can use Groups to:
build hype around products.
promote brand events
start conversations about your business
engage with your followers
It's free to start a Facebook Group.
Join the Facebook Marketplace
If you sell products online, check out the Facebook Marketplace. The Marketplace lets you quickly connect with potential customers who are already primed to buy, and you can also reach local buyers more effectively through highly targeted listings.
It's free to list on the Marketplace, too.
Use Your Business Page
Your Facebook Page is essentially a free marketing tool.
At the most basic level, you can use it to share content and engage audiences. However, depending on your business type, you can also use it to:
set up appointments
answer questions
share promotions
nurture people to download an app.
What's more, you can link to your Marketplace listings to help turn Page visitors into loyal paying customers.
How to Track the Success of Your Facebook Marketing Campaign
More Facebook Marketing Resources
Need some extra help with your Facebook marketing? Here are some other resources to read.
Facebook Business Help Center: The Help Center has a range of guides and troubleshooting articles to help you navigate the platform.
Facebook Blueprint: Facebook Blueprint offers online courses and training programs to help you build effective campaigns.
Shopify Blog: Do you run an e-commerce store? This Shopify post can help you tweak your e-commerce ads most effectively.
For even more help, check out my personalized consulting services.
Frequently Asked Questions About Facebook Marketing
Facebook Marketing Conclusion
If your audience is on Facebook, then you should really try out Facebook marketing for your business. Try a variety of Facebook Ads and measure your progress regularly to ensure you're getting the most from your campaigns.
Got a limited budget? You can still utilize Facebook Pages and Groups to draw traffic, nurture leads, and ultimately increase sales long term.
Are you ready to give Facebook marketing a try?