Social proof is a psychological phenomenon.
It's an excellent marketing strategy to validate your products, services, and company.
Generating social proof isn't as easy as other marketing techniques, such as creating a highly effective Facebook cover photo.
To get positive social validation for your company, it takes a little bit more finesse on your end.
What do I mean by this?
Well, you don't have complete control over the social perception of your company.
If you're purchasing a banner advertisement or sending an email campaign, you have 100% control over what's written.
That's not the case with social proof.
Why?
You have to rely on your existing customers to review your company and create a positive influence for prospective customers.
Here's how it works.
The concept is simple.
But how do you achieve it?
The best way to generate social proof is by getting your customers to review your products.
In theory, if you're getting repeat customers and have a high customer retention rate – these people must be happy with your company.
If they weren't happy, they would not keep coming back.
These are the customers who you want to target.
Getting your loyal clientele to review your products will:
Influence others to follow their lead.
Give other consumers reliable facts about your business.
Get your company a higher rank on Google.
Boost your website traffic.
For the most part, this marketing strategy is relatively inexpensive.
But how do you convince your customers to review your business?
First, make sure you focus on the customer experience.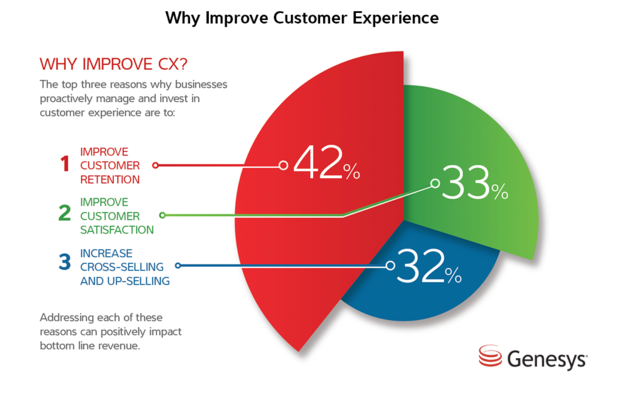 High customer experience is essential.
Happy customers will leave better reviews.
OK, maybe your customers are happy, but you still don't have a large volume of reviews online.
Don't worry.
I'll give you some easy tips to follow that will convince your customers to review your products and services on the Internet.
These reviews will generate a social proof of concept.
Tip #1: Give them lots of options on different platforms
Don't limit your customers.
Expanding their options will increase the chances that they will leave a review.
For example, you can't expect your customers to be on your website every day.
Don't get me wrong – it would be amazing if that were the case, but I'm willing to bet they aren't spending hours each day browsing your site.
That's OK.
Your website should not be the only place where customers can review your products.
Make yourself available on platforms that you know people are using on a daily basis.
Let them review your company on Facebook.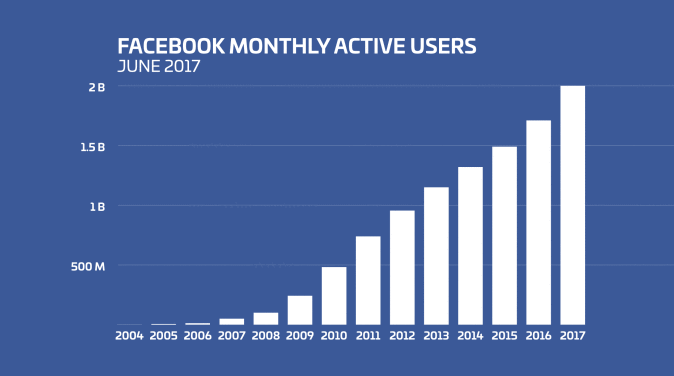 Of the 2 billion monthly active users on Facebook, 66% of the people are active on a daily basis.
It's much more likely that your customers are on Facebook as opposed to your website.
Facebook reviews can give your business added exposure, because of its popularity.
Due to Facebook's metrics, if someone reviews your company, it's likely that the review will appear on the news feed of the reviewer's friends.
This accomplishes two things.
The other Facebook users will see the review.
It may encourage prospective customers to click on your profile.
Getting potential consumers to your page is half the battle.
It required very little work on your part and almost no cost to accomplish this.
Driving more people to your Facebook page can generate more traffic on your website as well.
Ultimately, this can increase your conversions.
Don't limit yourself to just Facebook.
Make sure you have profiles set up on other review websites such as:
Keep in mind – Facebook is still the top place for positive reviews.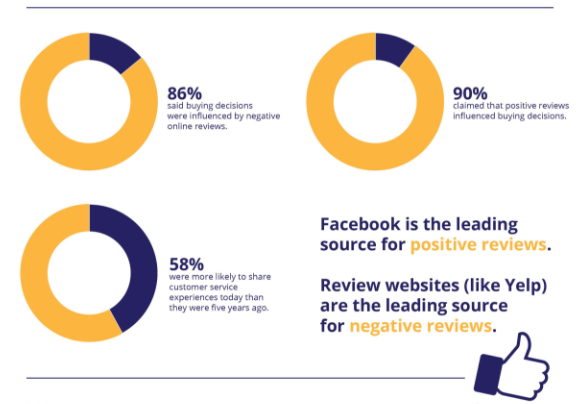 With that said, you still need to have a presence on those other platforms.
Not all of those are relevant to every business.
For example…
If you're a clothing company that strictly uses an e-commerce business model, you won't need a business profile on TripAdvisor.
However, a local restaurant would need a presence on this platform.
Even if your company isn't necessarily located in a tourist attraction, it still needs to be on a website that consumers use to read and write reviews.
Having lots of options for your customers to rate your business on multiple platforms is a great way to increase the number of reviews and to generate some social proof.
Tip #2: Just ask them directly to write a review
Here's a tip that you may have overlooked.
Ask your customers to review your products.
It's simple.
And it works.
Let's look at an example.
Etsy asked their customers to leave a review with a follow-up email or text message.
As a result, 25% of purchases on their website get reviewed.
All they needed to do was just ask.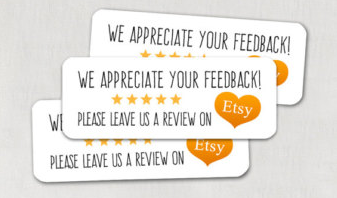 To keep everything relevant, Etsy allows customers to review products within 100 days of their purchase.
That way it's fresh in their minds, and it's a legitimate and verified purchase.
Interestingly enough, 30% of consumers believe that reviews are fake if there aren't any negative comments.
Giving your customers a timeline to make a verified review is a great way to prove the legitimacy of their purchase and opinion.
Amazon does this as well.
Their platform is slightly different.
People can leave reviews for products, even if they haven't purchased the product through Amazon.
However, those reviews won't be verified.
Amazon highlights all of their verified purchases.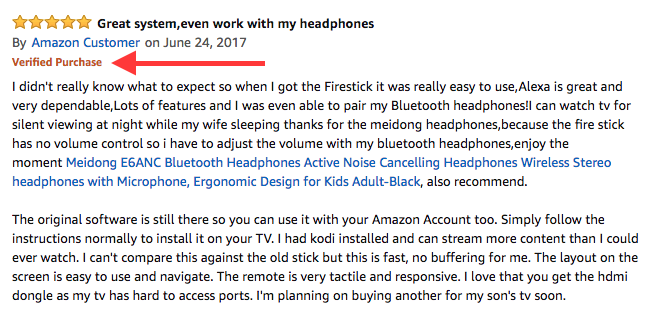 Your customers don't need to make purchases online in order for you to ask them to write reviews.
Ask them directly in your retail location as well.
This is a great strategy for small business owners and restaurants.
When the transaction is complete, verbally ask, "Can you please leave us a review on Yelp? We'd love to hear your feedback!"
It's that simple.
Tip #3: Make it easy for them to leave a review
If a customer has a good experience with your business, they aren't likely to go out of their way and leave a review.
Customers who have had a negative experience are likely to go out of their way to speak their mind.
In fact, bad experiences are two to three times more likely to get reviewed.
So how do you get customers who had good experiences to share their opinions?
You need to make it as easy as possible.
Include a link on your website that brings customers directly to a review platform.
Here's an example from Sheraton Tysons Hotel.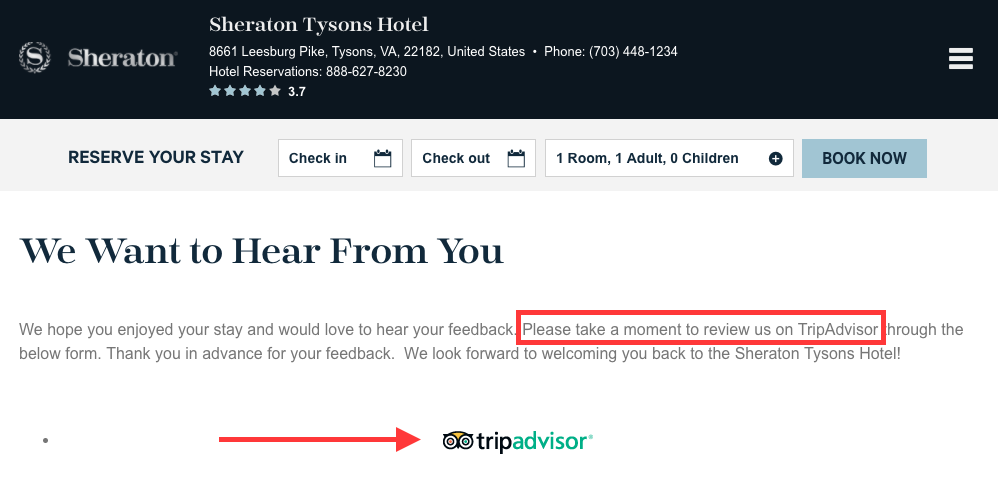 It's one less step for your customers.
They can simply click the link on your website, and it will bring them directly to the review form on another platform, like TripAdvisor.
If you don't do this, it's a much longer process.
Your customer would have to go to the TripAdvisor website in a separate browsing window.
Search for your business.
Find a link to leave a review.
Then write the review.
Putting this link directly on your website saves the customer four steps.
Simplicity is key.
Like we said before, customers won't go out of their way to leave a review unless they had a bad experience.
We want to encourage the customers who had a great experience to write reviews as well.
Positive reviews generate lots of social proof.
Include a link on emails asking for feedback.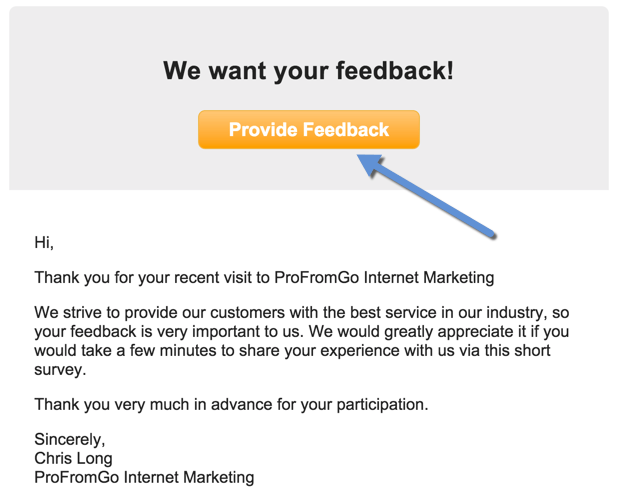 Again, this is simple and easy for your customers.
All they need to do is click one link, and they're able to leave a review.
You just need to make sure the subject line of your email generates a high open rate.
Why?
It may sound obvious, but it's often overlooked.
There is a direct correlation between click rates and open rates.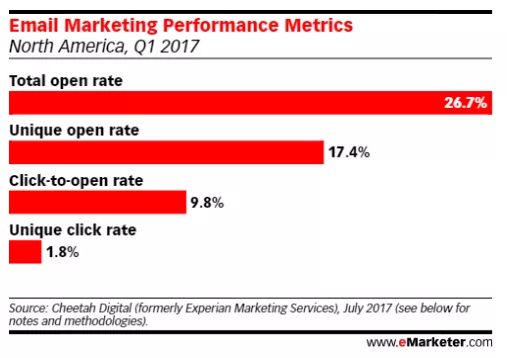 The higher your open rate, the greater chance your customers will click a link within the message.
If the link brings them to a review page, that increases the chances of the customer leaving a review.
Keep it simple.
Tip #4: Give your customers incentives for writing reviews
Give your customers some extra motivation for leaving a review.
Now let me clarify this statement.
You are not bribing customers to leave good reviews.
That's no good.
It's unethical, and it could get messy.
Instead, you're simply giving them an incentive to leave a review.
Read that again.
"A" review.
Not a good review.
Well, you hope that they'll leave a good review, but don't specify that when you're giving them an incentive.
Here's an example.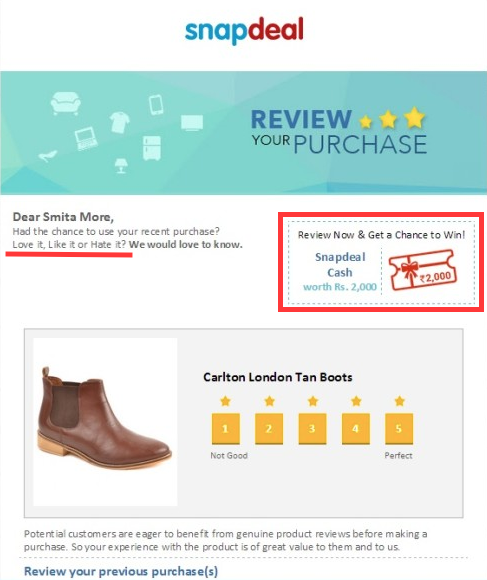 Notice how this example doesn't tell the customer that they need to leave a positive review.
It just states that if you review your purchase, you'll automatically get entered into a drawing for a $2,000 reward.
In fact, if you look closely, the example even brings up the possibility of a negative review.
On the top left of the image, it says, "Love it, like it, or hate it?"
Your customers have options, and they won't feel pressured to leave a good review.
With that in mind, offering an incentive will increase the customer experience.
If your customers are happy, they will be more inclined to leave a positive review.
Tip #5: Say thank you
"Thank you."
These words can go a long way and contribute to the success of your company.
It's an essential phrase for customer service.
I've said it before, that amazing customer service can help double your revenue.
Apply the same concept to your reviews.
Thank your customers directly on each platform where people are leaving feedback.
Thanking reviewers can also improve your SEO.
It's a great chance to include keywords about your business that prospective customers may be searching for.
Here's how you do it.
"Tom – Thank you so much for your feedback of (the name of your business). We strive to be the best (type of business) in (name of your city)."
That way, when someone searches for "best mechanic in Seattle," your company has a greater chance of getting a top hit.
Respond to positive reviews.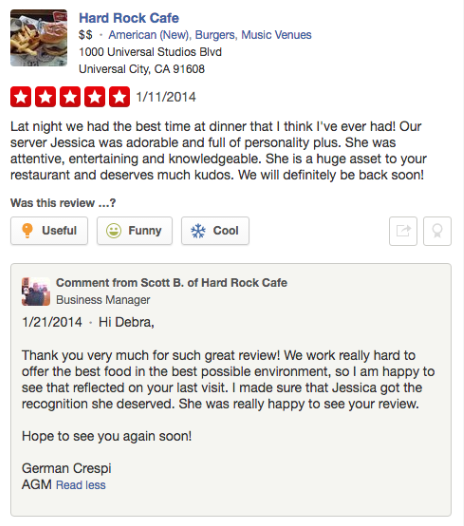 Notice the first words in this reply.
Thank you.
Thanking your customers will make them feel good.
It's a great way to let them know that their opinions are being heard.
Ultimately, it establishes a more personal connection between you and the customer.
In the example above, the reply addressed the reviewer directly, instead of just a generic response.
The manager went as far as saying that he commended the waitress for a job well done.
The positive recognition may even entice this customer to leave reviews on other platforms as well.
And it all started with a simple, "Thank you."
Tip #6: Stress the importance of reviews to your employees and customer service representatives
Make sure that all of your employees know how important customer reviews are.
Your staff should know how to do the things we outlined earlier.
Ask for reviews
Say thank you
Remind customers of the different review platforms
This also holds your employees more accountable for their actions.
Earlier we looked at an example where the reviewer mentioned a positive experience with an employee by name.
If your staff is doing a bad job, they could risk getting blasted online by a disgruntled customer.
Don't underestimate the importance of local business reviews.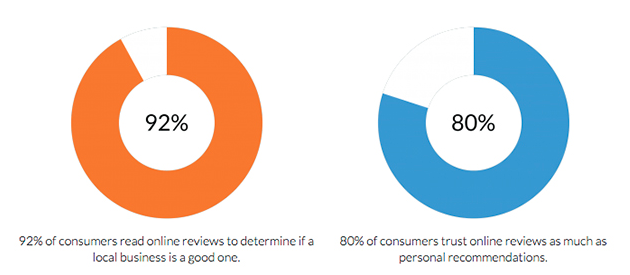 What do these numbers tell you?
Even if a consumer doesn't know the reviewer directly, they still take the recommendation as if it were coming from a personal friend.
Your employees need to understand this.
These reviews are just as important to your staff as they are to you.
If negative reviews hurt your business, it could put your employees out of a job.
Regular conversations with your staff about the goals and mission of your company will keep your employees engaged.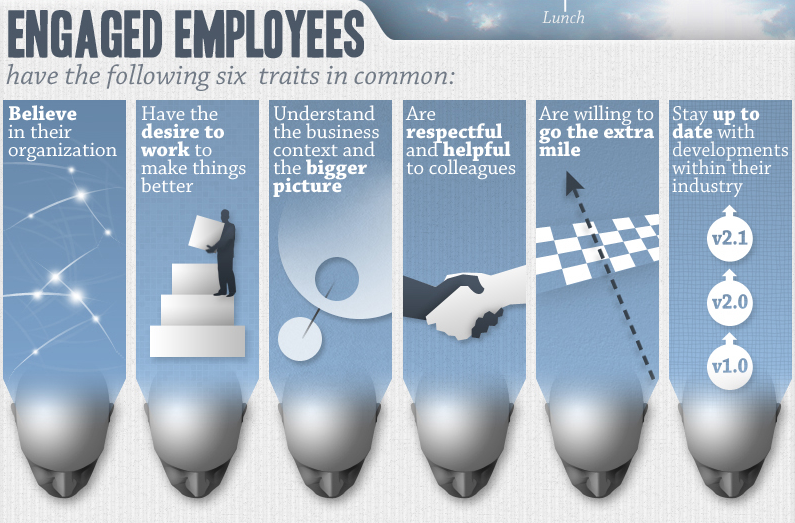 Engaged employees work harder.
Make sure your customer service staff is promoting online reviews to your clientele after each transaction.
Tip #7: Use surveys to get customer responses
Sometimes, customers may be too lazy to leave a review.
Maybe they're not great at typing.
Or sometimes they just don't know what to say.
"It was good."
That's not really an effective or informative review.
There are other ways to engage with your customers to find out how you're doing.
You can display these results on your website or social media platforms as well.
How can you do this?
Ask your customers to fill out a survey.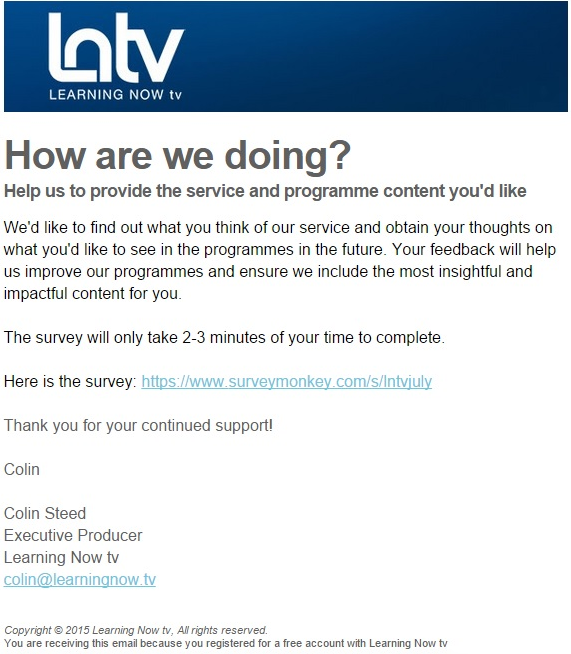 The example above even tells the customer how long it will take them to complete the review.
You can design surveys that are shorter as well.
Here are some popular options to create a survey online:
If you've never built a survey online before, these websites are a great place to start.
I like them because they are simple to use.
They also make it really easy for you to integrate the links with your email campaigns or social media marketing strategies.
Surveys are a great way to get customer feedback in general.
You can learn what you're doing and well and what parts of your business need some improvement.
Using surveys to generate social proof is an added bonus.
Tip #8: Pictures help validate social proof
Pictures help validate that the reviews are coming from real people.
Yelp allows customers to include their name and a photograph for their profile.
Here's a review of a bar in my neighborhood in Seattle.

The reviewer, Chelsea, has a photo to validate who she is.
Her picture even shows her eating food at a restaurant.
Images like this resonate more with consumers.
They can also see that Chelsea has made over 300 reviews on Yelp.
She's a legitimate source of information.
That's another reason why social media pages, like Facebook, are great sources of reviews.
People are using their full names and profile pictures to back up their statements.
Consumers aren't hearing from an anonymous user – they know exactly who is offering an opinion about a particular business, product, or service.
You can do this on your website, as well.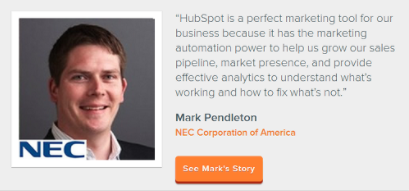 If customers are willing to give your company a testimonial, ask them if you can include a high-quality photo.
On your website – you want to make sure these pictures are professional, like the image above.
Don't use a social media photo of your customer drinking beers on vacation.
Images like that will have a negative effect on their credibility.
Tip #9: Storytelling connects with customers
I've explained this concept before.
You can use storytelling to increase your conversions.
Reviews that tell a story can have the same impact.
It helps the reader connect with another customer's experience.
So, how do you get customers to tell a story?
We discussed this earlier – just ask them to.
"Please write a review and tell the story about your visit."
Encourage your customers to tell a story about their experience.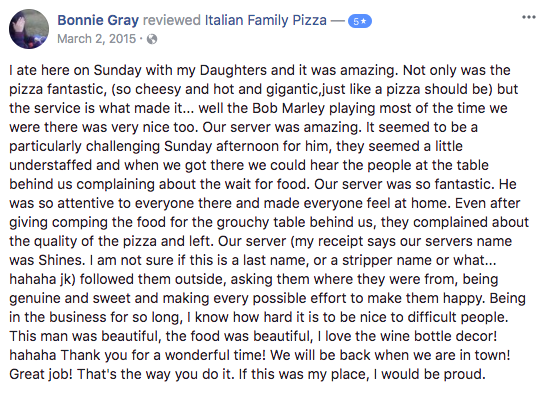 Bonnie reviewed a local pizzeria in Seattle.
Notice how her post wasn't just a vague review.
It was a personal story about her specific experience.
Why was she there?
It was her daughter's birthday.
What type of music was playing?
Lots of Bob Marley.
When did she visit?
Sunday afternoon.
How was the service?
Service was amazing.
All of these points are highlighted in the review.
Prospective customers can really get a glimpse of what to expect if they visit this restaurant, all based on the review above.
Stories create a connection and generate social proof.
Tip #10: Use different types of social proof
For the most part, we've been discussing social proof based on user experience.
However, that's not the only way to generate social proof.
You can also use:
See if you can find an expert in your industry to validate your products.
For example, let's say your business makes chairs.
Find a chiropractor to generate social proof by saying your chairs have enough lumbar support for people with sore backs.
Use crowds to generate social proof as well.
Look how Tesla used crowds to generate social proof.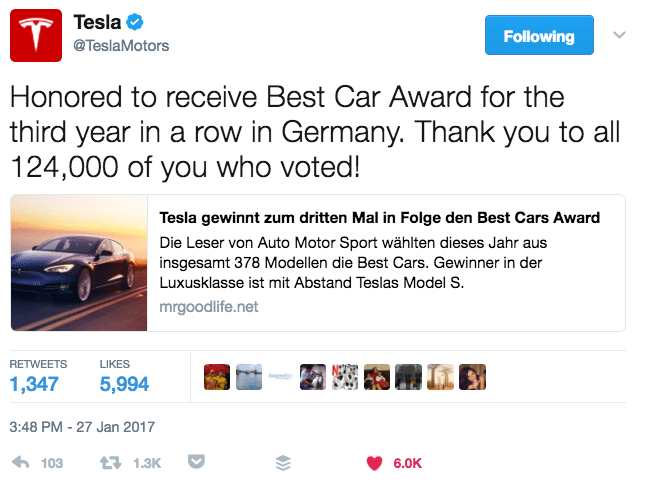 Tesla Motors is explaining that 124,000 people voted for their company to receive this award.
Consumers follow the crowd.
If over 100,000 people think this is the best car – it must be, right?
That's the point of social validation.
Celebrities can help promote your products as well, especially if it's an unpaid endorsement.
Find someone with a large social following who enjoys your products.
Treat them like any other customer and ask them to write a review.
Tips to Get Customer Reviews Frequently Asked Questions
Is it ethical to ask customers to review my products?
Many companies ask customers for feedback.
Should I ask my customers if I can use their reviews to promote my products/services?
Yes, you should always ask before you use customer reviews in ads or promotions.
Where should I ask customers to review my products?
You can ask customers to review your products on social media, Google, Yelp.
What are some easy ways to get customer reviews?
Ask customers to review your products, make leaving reviews easy, and send follow up messaging reminding customers to leave reviews.
Tips to Get Customer Reviews Conclusion
88% of consumers have been influenced by a review they saw online.
You can validate your products, service, and business by getting your customers to write reviews online.
While you don't have control over what your customers say, you can have an influence over how many reviews are posted online by following the tips we've outlined.
A high number of reviews can increase your Google rank and make it easier for customers to find you.
Make sure you have profiles on multiple platforms where customers can write feedback about your company.
Facebook is a great place for reviews because the content is exposed to a large number of people.
But just using Facebook alone is not enough.
Here are the most trusted review sites.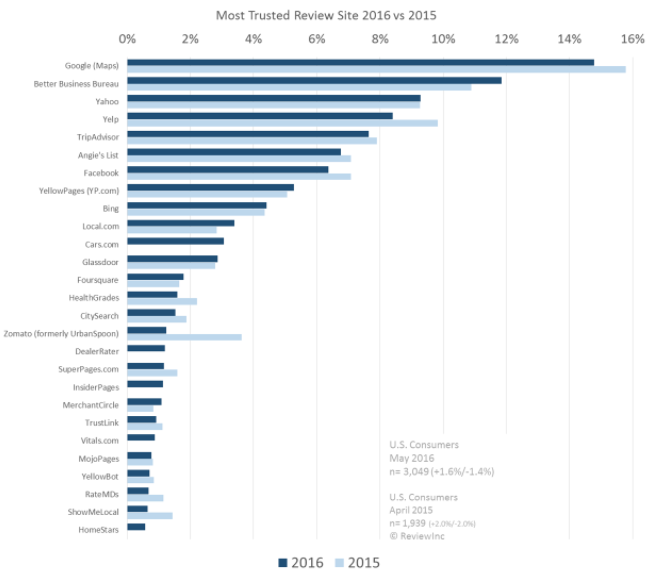 You want to make sure that all of your reviews are verified and legitimate.
Ask your customers to write reviews.
It's simple but effective.
You can ask them verbally when they visit your place of business.
Online platforms such as email campaigns can get a high response rate as well.
It's essential that you make it as easy as possible for your customers to leave reviews.
The more steps they have to take, the less likely they are to complete the review.
Surveys work well too.
You can integrate surveys into your review profiles for customers that don't want to take the time and write open-ended reviews.
For the customers that don't mind some extra writing – encourage them to tell a story.
Reply to your customers' reviews.
Always say, "Thank you."
You can even use your reply to market your business. Add some promotional information about products and services.
Entice your customers to write reviews with giveaways and contests, but don't try to bribe them for a good review.
All of your staff and customer service team need to understand the importance of these reviews.
Follow these tips to start generating social proof with customer reviews instantly.
The reviews will validate your company and improve your bottom line.
How many profiles will you create on different platforms to start generating social proof with customer reviews?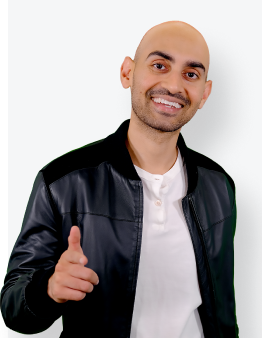 See How My Agency Can Drive More Traffic to Your Website
SEO - unlock more SEO traffic. See real results.
Content Marketing - our team creates epic content that will get shared, get links, and attract traffic.
Paid Media - effective paid strategies with clear ROI.
Are You Using Google Ads? Try Our FREE Ads Grader!
Stop wasting money and unlock the hidden potential of your advertising.
Discover the power of intentional advertising.
Reach your ideal target audience.
Maximize ad spend efficiency.