If you're just tracking big conversions, you're missing out on some key information about your audience.
The "big conversions" are things like product purchases, form submissions, and signups. These are the typical indicators of success.
But they're not the only indicators you should pay attention to.
In fact, tracking smaller conversion can help you see areas of your sales funnel that are falling short as well as areas that you can maximize.
These are known as micro conversions.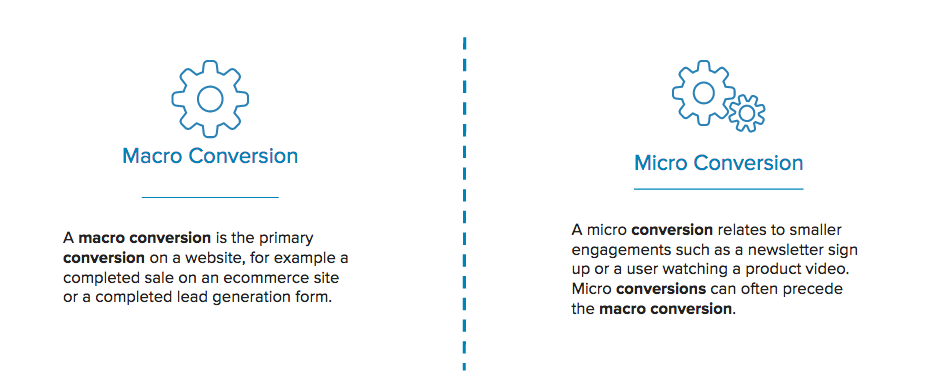 These micro conversions can be anything from a page view, a product added to a cart, a follow on social media, or even a comment on a blog post.
They make up every interaction that someone has with your site before their final conversion.
They can help potential customers overcome hesitations or objections before they arise, even helping someone decide to buy sooner.
They're the initial buy-in and they are hugely important.
If you're not already optimizing your site's micro conversions, you should be.
Here are a few of the best micro conversions to focus on to improve your conversion rate.
1. Give your forms a progress bar and save button
You can consider form submissions either a macro or a micro conversion depending on the outcome.
For example, you might count a final checkout form on an e-commerce site as a macro conversion since there's a purchase involved.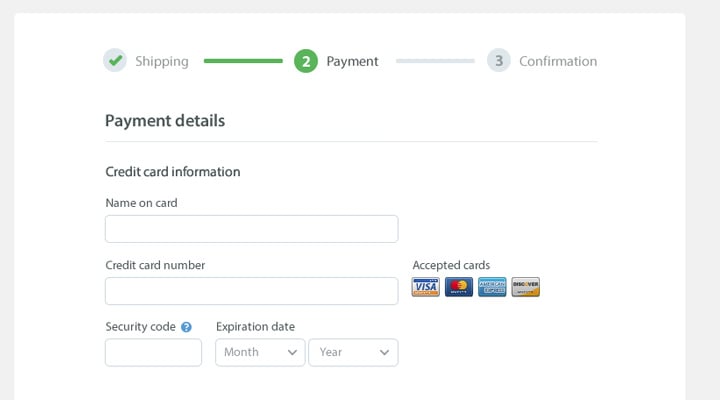 But you might see a newsletter signup as the first stepping stone to a larger conversion later on. In that case, it's a micro conversion.
Getting them to the end of your form is, at the very least, a desirable micro conversion.
One of the best ways to do this is with a progress bar.
Studies show that 75% of people prefer progress bars, which are also known to improve form satisfaction and completion.
Adding a save button is also known to improve completion rates.
A great example of these two features in action is this form from Helix:
I like this form because it's really simple to use.
I don't have to give my information right away if I don't want to. I simply have to click the button.
After choosing a mattress size, I'm led through a series of steps that gather my information.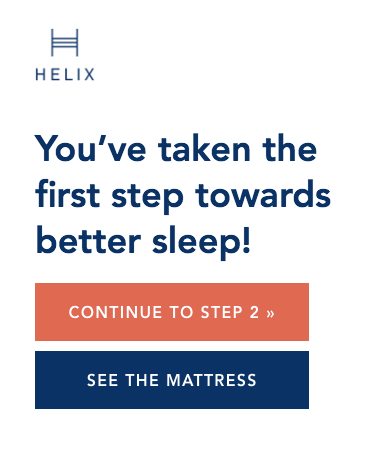 Again, very easy to use, and if I want to "abandon" the form and browse (another micro conversion), there's an option for that too.
It's getting me to micro-convert any which way I go.
From there, I'm led to a customization form that allows me to choose my perfect mattress. The process is fairly intricate, but you'll notice the progress bar at the top:
There's also a save button at the bottom should I decide to come back later.
There's a sense of relief that I don't have to fill out the whole form at one time, and I know how much I have left to do.
That makes it more likely that I'll complete the process if I get interrupted or have trouble deciding on mattress features.
And that entices me to finish the form.
If you have any forms on your site, whether they're for macro or micro conversions, add a progress bar and a save button.
Keep the forms as simple as possible, too.
2. Add explainer videos to your landing pages
Jennifer Cardello from Nielsen Norman Group splits micro conversions into two categories:
Process milestones – Steps toward a macro conversion (viewing a product page, etc.)
Secondary actions – Indications of interest or engagement that aren't macro conversions
Page views and session duration are both micro conversions.
The longer you can keep someone on your site and engaged, the more likely they are to complete a macro conversion.
One of the better ways to keep someone on your site is to use short explainer videos.
Explainer videos are marketing videos you post online to explain the services or products that your company has to offer.
Here's a great example of an explainer video from Unroll.Me.
Studies show that using videos on your landing pages can increase conversions by up to 80%.
Online shoppers who view demo videos are nearly twice as likely to make a purchase, and consumers are 4x more likely to watch a video about a product than read about it.
Videos can be relatively short and still improve conversions and time spent on a page.
According to Animoto, nearly two-thirds of consumers would rather watch a video shorter than 60 seconds anyway.
That goes to show that you don't need to have a long, complicated video to improve your site conversions. You just need something.
The key to a good explainer video is a great script. You want to:
Illustrate a pain point
Introduce a solution (your product or service)
Explain how the solution works
Close with a convincing call to action
If you're trying to create an explainer video, you can always outsource the project to a freelancer (there are plenty of video makers on Fiverr).
Or you can use companies like Animaker or Animoto to do one for you.
3. Share more content on Facebook
Social interactions also count as micro conversions.
You should enable sharing on most social sites whenever possible. However, optimizing your Facebook sharing should be a priority.
Facebook continues to be the most popular social media platform.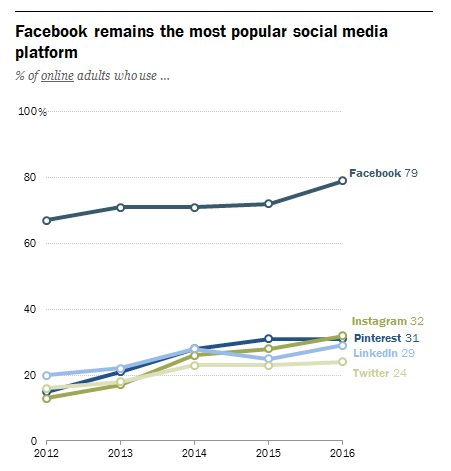 There are a few ways you can optimize your Facebook sharing to boost micro conversions.
For starters, if you use Facebook Ads, you want to ensure that your ads are targeting the right audience.
Use Facebook's Custom Audiences feature to retarget people who have already visited your site.
If they've already engaged with your site in one way, they might be more willing to re-engage in other ways later on.
It could be through a like, follow, or other micro conversion on Facebook or your site.
You can also optimize your web content by incentivizing social sharing.
If you provide a useful guide, for example, you can add the option for them to download and share it on Facebook.
If they choose the "download with Facebook" button, they might see something like this: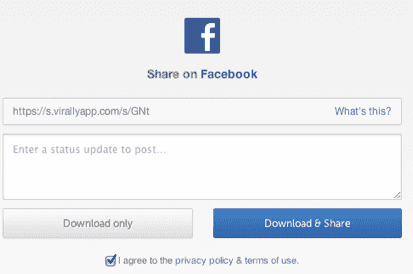 If you're on WordPress, you can use a plugin like Social Viral Downloader for this.
Otherwise, you can use a tool like UpViral for a more interactive sharing experience.
The goal here is simply to engage users in a variety of ways, both on your site and on social media.
4. Create a downloadable lead magnet
Speaking of incentivizing downloads, you should create some downloadable content.
It's important to track downloads because they show interest from a potential future customer.
They're not only a step toward a macro conversion, but they're also a great way to showcase your knowledge and offer something of tangible value.
E-books, in particular, are highly effective as lead magnets.
The easiest way to create an e-book is to republish or repackage older content.
Use Google Analytics to pinpoint your top performing blog posts.
Bundle them together based on subject matter and see if you have enough words for an e-book among your top posts. The average length of an ebook is around 10,000 words.
AdEspresso suggests bundling related posts with a high number of unique page views and time spent on page.
And you can use tools like MyE-bookMaker or Canva's free e-book creator to create shorter, more design-focused e-books.
A short e-book can be more effective than a longer one in some cases.
If you don't want to go with an e-book as your lead magnet, there are plenty of other options to choose from.
You could do a one-page downloadable checklist: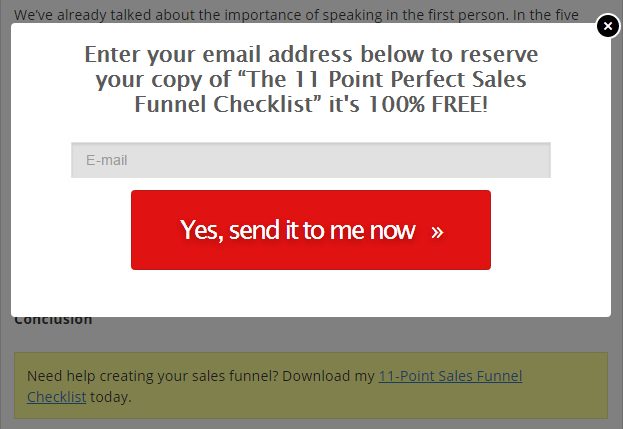 Or even a quiz:
The goal here is to create something that captures an email (the micro conversion), adds value, and creates a sense of purpose.
A free trial, webinar, or other type of lead magnet will do this too, but I like the idea of a downloadable lead magnet.
It's nice to give them something tangible (and shareable) to remember you by.
5. Include a live-chat option on your site
Your site is attempting to sell to someone 24/7.
But that doesn't mean you're around 24/7 to answer questions or help people through a potential conversion.
That's where something like live chat can help.
According to one survey, 63% of customers said they would be more likely to return to a site that had a live-chat option as opposed to one without it.
Customers are also 3x more likely to buy from a site with live chat.

And live chat is a relatively easy feature to add to your site. There are plenty of chat companies that can integrate with your offering.
LiveChat, for example, is a relatively inexpensive and automated option for adding this feature.
It can be added to a B2B site just as easily as a B2C site, too.
If you wanted to take a more interactive approach, though, you could use a free service like Tawk.to instead.
You can even start conversations with customers and respond via a text message-like service in real time.
Whether you decide to automate the process or take a larger role, live chat is a great way to increase micro conversions that lead to macro conversions.
It gives your visitors a way to connect with you directly and get their questions answered.
It also gives you a chance to talk them into a conversion they might not have otherwise made.
Really, it's a win-win for everyone.
6. Include product or user reviews
Customer reviews are another way to keep people on your site longer while still providing them with a tangible benefit.
So to start, if you don't have any reviews on your site, you need to add them.
In a recent study, 88% of customers reported that online reviews of a business influence their buying decision.
If you do have them already, then there are a few ways you can optimize them for better micro conversions.
Adding images to your testimonials, for example, has been shown to increase trust. Here's an excellent example:
That might include product images if you're an e-commerce or B2C site, or actual photos of customers who are leaving testimonials or reviews (for B2B sites).
You can also include logos in some situations.
Just be sure that the image is recognizable and relatable in some way.
Image quality will be an important factor here, so be sure to get high-quality images.
You might make an exception for user-generated reviews, though.
Another way to optimize these is by using both positive and negative reviews, depending on the circumstance.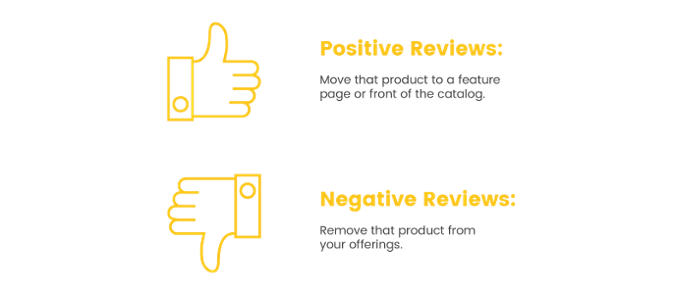 You can also add as many reviews as you need.
At least one review can improve your conversions by up to 10%, while more reviews or testimonials have been shown to have a much larger impact.
Include action-oriented testimonials that include specific uses of your product or service.
Consider something like this: "I loved using this product to balance our budget. It made everything easy."  It will work better than something like, "I love this."
That's because testimonials and reviews are a form of social proof.
If someone can see why and how a product works, they're more likely to buy it.
If you can't find real testimonials or reviews, you can add other forms of social proof if necessary.
HubSpot, for example, shows supported communities and followers.
But if you can get testimonials and reviews, it will be better for conversions.
Of course, having something is always better than having nothing.
How to track your micro conversions
There are hundreds of micro conversions that you can optimize to boost your macro conversions.
But unless you're tracking your micro conversions, you'll never know if they're really working.
The average (macro) conversion rate hovers around 3-4%.
That means that, for every 100 visitors you have, only 3 of them might convert.
But that doesn't mean that 97 other people aren't converting at all. They might just be micro converting.
If you ignore the 97%, you'll be limiting your chances for better conversion rates.
So you want to be tracking all your conversions, no matter how small.
To set up tracking in Google Analytics, start by choosing your top micro conversions.
1. Track email signups.
Sign in and go to Conversions and then Goals.
Create a URL Destination goal. Be sure to define your "Thank you for signing up" (or registration page) as the goal page.
Establish a value for this goal, which you can use to calculate the Average Session Value in your reports.
For example, let's say that 10% of email signups eventually result in a sale. If your average transaction is $50, you might assign $5 to your goal.
That will show you how many macro conversions you might expect from your email signups.
2. Track created account signups.
Create a URL Destination goal. Then define the "Account setup completed" page as the goal page.
Then create a funnel for the goal.
You will be able to track your funnels under Conversions and Funnel Visualization.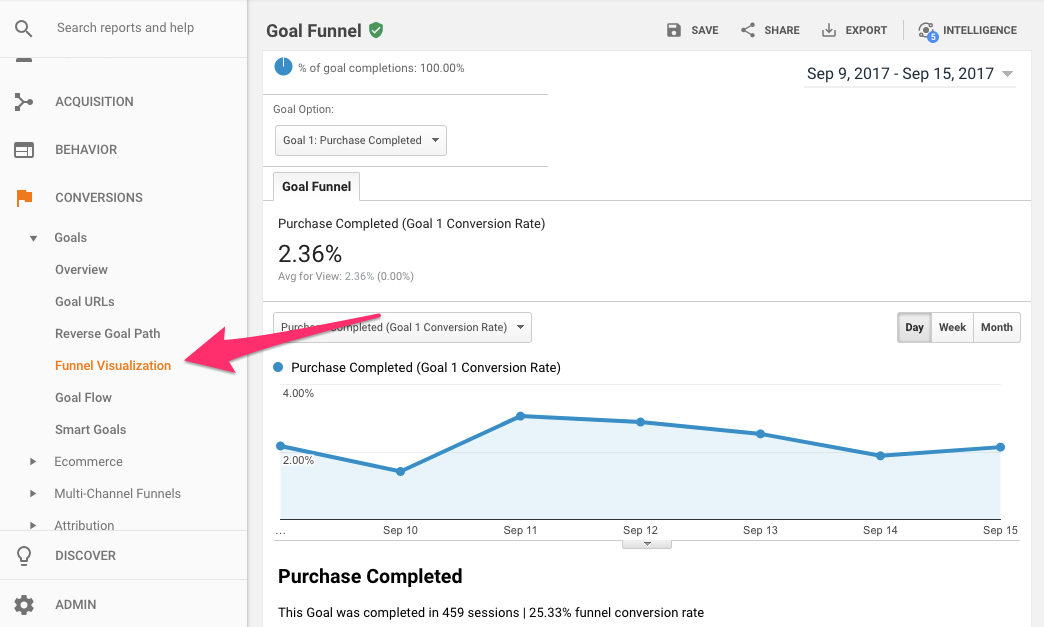 Add a funnel step for every step in the account creation process.
Think of each step as a micro conversion, even if you consider your account signup to be a macro conversion.
3. Track page goals and session duration.

You will be able to track your events under Behavior and  Events. From there go to Top Events (or Overview).
The number of pages you set for this goal will depend on your site and what you consider to be "extensive browsing."
A micro conversion for a page view could be 2 pages or 10 pages.
For session duration, it could be at least a minute, for example, or it might be more than 5 minutes.
It's up to you to decide what counts as a micro conversion for these metrics.
You can track any other micro conversion by using either goals or events in Google Analytics.
For a more thorough walkthrough of tracking micro-conversions, check out this guide.
Conclusion
Micro conversions are just as important as macro conversions.
In fact, most of your target audience will be making micro conversions without you even knowing it.
If you're not aware of how to optimize your site for them, or how to track them, you could be missing out on a huge opportunity to convert more.
A few of the key areas to watch for when optimizing your micro conversions are forms and downloads.
Whether it's a lead magnet download, a newsletter signup, or a product purchase form, make sure that it's easy to use and come back to if necessary.
You should also do whatever you can to keep people on your site longer.
The longer they're around, the higher their chances of converting.
Make use of explainer videos and live chat. These can make all of their questions are getting answered.
These will also increase their time researching the solution you offer. You want this to happen before the ultimate buy-in.
And don't forget social proof. Whether it's a product review, testimonials or some other type of social proof, these build trust and increase your conversions.
Finally, track your conversions. You won't know what's happening with your micro conversions unless you track them.
And, hey, you may just figure out some other areas you can optimize to keep people coming back for more.
What micro conversions do you see occurring on your site most often?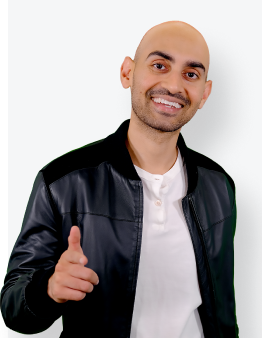 See How My Agency Can Drive More Traffic to Your Website
SEO - unlock more SEO traffic. See real results.
Content Marketing - our team creates epic content that will get shared, get links, and attract traffic.
Paid Media - effective paid strategies with clear ROI.