Disclosure: This content is reader-supported, which means if you click on some of our links that we may earn a commission.
I've had days where I made ten thousand dollars on my blog. It's not even out of the ordinary.
Now it took a ton of hard work and dedication to reach millions of readers. You need serious traffic to make that kind of money. It's not something you should expect to achieve overnight.
That said, all that stands between you and this kind of success is your time and effort.
Plus, there are way more ways to make money blogging today than when I first started. Making an extra few hundred dollars a month is not that far off, if you are willing to put in the work.
In this guide, I'll show you the exact way to make money from blogging by avoiding the mistakes I've made in my 10-year journey.
Sound good? Let's begin.
Your 2-Minute Cheat Sheet
The very first thing you need to start making money is to come up with an idea and the name for your blog. Think through the topics you'd want to write about often.
After that, sign up for the WordPress Starter plan with Hostinger. Even if you don't have much of a budget, you can lock in an affordable rate of $3.99 per month for four years.
After you select your hosting plan and create your account, Hostinger's setup wizard will help with much of the rest.
Enter some details about your site and your site building experience level, then select WordPress as your platform of choice. Hostinger will install WordPress for you once setup is completed, so you don't have to do a thing.
After that, you can select a template for your site or start designing it from scratch.
The last step is to select a domain name. With Hostinger's WordPress Starter hosting plan (and higher plans, as well), a free domain is included. Just make sure to add on WHOIS privacy. A few extra dollars for better privacy and security can be well worth it.
And with this, you'll have your blog site up and running. Hurrah!
The next step will be finally writing and publishing your first blog post.
Once you've got a few posts up and have started to attract some traffic, you can work on monetizing your blog to make your first dollars.
For this, you'll have to sign up for a Google AdSense and Amazon Associates account to make money through ads and affiliate marketing, respectively. You can also sell your own products and services after successfully driving high traffic to your site.
That was the basics. Let's get into the details now.
Step 1: Figure Out Your Blog's Niche
The first on the agenda is to decide what your blog is going to be about. Whether you want to talk about marketing, CBD, veganism, or just random life stories, figure it out.
Remember, your idea doesn't have to be revolutionary, but you do need a unique voice.
Here are two tips for deciding on a blog niche:
Choose Something That You Enjoy
I know that this sounds like a cliche, but it makes no sense to blog about it if you don't love the topic.
Never start blogging about something that you don't love—it will show in your writing and your readers will know. Moreover, you won't be able to consistently produce top-notch content to build your audience and later monetize from it.
Make a list of things that get you naturally curious and that you enjoy learning about. Or think about what your friends and family come to you when seeking advice.
Find Out Whether a Prospective Niche Has a Readership
The only way you can earn money through your blog is if you have enough site visitors.
Let's assume you've already figured out your blog niche and want to write about arts and crafts.
You make a smart decision to niche down further and develop a blog exclusively dedicated to either paper art or scrapbooking. While you enjoy writing about both topics, you prefer to focus on one primarily.
But how do you choose between the two options?
Answer: Do a quick Google search.
As you can see, there are far more results related to paper art as opposed to scrapbooking. Therefore, it makes more sense to write about paper art, which is what audiences are searching for.
I would also like to add that it's better to avoid broad or generic topics. Don't be afraid to get specific as long as you have takers for it.
For instance, if you want to create a food blog, don't use words like "food." Instead, use "barbecue" or "vegan."
Get my point?
Step 2: Name Your Blog
Once an idea is in place, you need to work on naming your blog.
Does the name Stefani Joanne Angelina Germanotta ring a bell? Thought so.
But I bet Lady Gaga does.
Stefani Joanne Angelina Germanotta is Lady Gaga's real name. She decided to go with a catchier and easier-to-remember alternative that aligns better with her music.
That's the power of the right name.
Choosing a blog name is equal parts exciting and daunting. After all, this will be your brand name and dictate how people will remember you.
Don't overthink it, and don't name your blog something random or offensive.
Keep in mind the following questions when deciding on a name:
Does it reflect what your blog is going to be about?
Would your target audience like it?
Is the name easy to say and spell?
Is it short and concise?
I chose my own name as my domain (NeilPatel.com) simply because Neil Patel is who I am, and it's also my brand. You could do what I did or come up with something entirely different.
I'd recommend opting for a .com whenever possible. But they can get expensive, I know.
If all the good .coms are taken, don't stress. think about your main URL keywords.
If you were aiming for talkCBDtome.com but somebody else got there first, try talkCBDto.me for something cheaper and every bit as easy to remember.
Don't buy an available domain at this point. I have something up my sleeve to help you get it for free.
Step 3: Sign up with a Web Host Like Hostinger
You need to sign up for a web hosting service to get your blog live, along with a registered domain name that will serve as your blog's address.
I recommend Hostinger, as its hands down one of the best web hosting companies—not to mention, it's affordable. Head over to Hostinger's website and click Start Now to see their hosting plans.
I recommend the WordPress Starter plan, because it's the cheapest plan (just $3.99 per month) that also includes a free domain name.
If you have a domain, you can save even more and get the $1.99/month rate of Single WordPress. It has lower limits on site storage and monthly visits, but you don't have to worry about exceeding those while you're starting out. You can always upgrade later.
After you click Select, you'll enter payment information and make your Hostinger account. Once the payment processes, you'll be guided by Hostinger's setup wizard.
It asks you three questions to start in order to give you the most helpful setup process: who you are creating the website for, what kind of website it will be, and your experience level with building a website.
I'm pretty experienced with creating sites, but the rest of this walkthrough reflects choosing the path for beginners with some experience.
The next screen is where you'll select WordPress as your blogging platform. If you don't already have a WordPress account, Hostinger supplies a handy field to create one without leaving the setup wizard.
After that, Hostinger gives you the choice of picking a template or starting with a blank canvas of a site.
Then, you'll secure that free domain included in your Hostinger plan. If you've already looked into the availability of your preferred domain, you'll be able to quickly find it and checkout in one step.
The key, though, is to add on WHOIS privacy for an extra $10 per year. It's not too much to pay to make sure your private information as a domain purchaser is not publicly visible or searchable.
Once you've checked out, Hostinger will take a couple minutes to complete the setup and install WordPress.
This is the point where you'll have your blog!
Once the wizard is complete, you'll be taken to Hostinger's control panel, hPanel. Since WordPress is already installed for you, you can now start designing your blog to suit your style.
Step 4: Design Your WordPress Blog
To design a blog, you need to select an attractive and affordable WordPress theme.
Why do you need this? Well, after signing up for WordPress, your blog will look something like this:
Not exactly what you'd call sleek and welcoming, right? The way your website looks can help drive more website traffic, which, in turn, will enable you to make more money.
Luckily, WordPress has thousands and thousands of themes for you to choose from. I've even done a roundup of some of the best ones. Here's how you can select a WordPress theme:
Log into your WordPress account.
Click on Appearance in the sidebar menu on your dashboard.
From the drop-down options, select Themes.
Go to Add New, located at the very top of the screen, to gain access to thousands of fancy WordPress themes. You can also click on Feature Filter to filter your search to see options more suited to your tastes.
You should choose a theme that fits your personal style, but at the same time, it should also be in sync with your blog niche.
Preview the theme to see what it will look like.
If you like the sneak peek of a specific theme, click on Install and then Activate.
With a nice new theme, your website will get a much-needed upgrade that makes it look appealing to visitors.
Step 5: Come Up With Interesting Blog Topics
If you want to be successful blogging, you need to keep doing what you can to attract more website traffic or encourage more email signups. The best way to do that is through what you're already doing on your blog posts: offering your readers interesting content.
But what if you've exhausted your best ideas already on previous blog posts?
My tip is to make a list of questions you get often.
Trust me, within just 30 minutes, you'll be able to come up with a bunch of new potential blog topics. Your priority should be to look at things from your reader's viewpoint.
You can also focus on higher-level questions. The five below are ones I suggest you ask yourself to get in your readers' minds.
Suppose you want to start a parenting blog for stay-at-home moms. Let's go through those five questions with that example in mind:
Q1) What could be an intriguing or exciting talking point for your readers?
For stay-at-home moms, topics related to sleep training, family activities, and budget-friendly meal ideas could be a great place to start.
Q2) What are your reader's pain points and challenges?
Common household challenges for stay-at-home moms could be meal planning, understanding developmental milestones, and so on.
Q3) What are your readers' character traits?
Moms are typically patient and caring and appreciate a sense of humor about the hard work of raising children.
Q4) What niche topics would appeal the most to your readers?
A child's mental, physical, and emotional development could be effective talking points for stay-at-home moms.
Q5) What topics would your readers hate about the niche?
Stay-at-home moms don't like to be looked down on by others. So, you could write blogs about how society views them and their impact.
Similarly, you can use the above questions to come up with ideas according to your niche. While you're at it, don't forget to work out a catchy headline that will make the reader instantly click on your blog.
Step 6: Optimize Your Blogs for SEO
Search engine optimization or SEO is a crucial step to earn money via blogging. Here, you will optimize your website to rank higher in search engines for specific keywords and phrases.
If you've been following me for a long time, you may already know how SEO is my trump card.
By incorporating particular keywords and phrases, I've successfully driven more than 30 million visitors to my website. Shocked?
That's the power of SEO.
On WordPress, you can optimize your content and blog by downloading a plugin called Yoast SEO.
Go to the Plugins menu, and click on Add New. Search for Yoast SEO in the search bar, and then install the plugin.
Don't forget to activate it to complete the installation process.
You'll find that this plugin will give you all kinds of improvement tips and suggestions based on the keyword you select to help you optimize your content. I'd recommend incorporating as many suggestions as you can to improve SEO and content readability.
Step 7: Sign up for Google AdSense
Setting up ads is the best way to monetize your blog. But you need to be smart about it.
The biggest mistake people make is to bombard their sites with blinking ads. Avoid this at all costs.
Instead, focus on using targeted ads that appeal to your customers without annoying them.
To start earning money through ads, you need a Google AdSense account. Head over to the AdSense page, and click on Sign Up Now. If you don't have an existing Google account, you have to set up a new one. If you already have a Google account, simply sign in.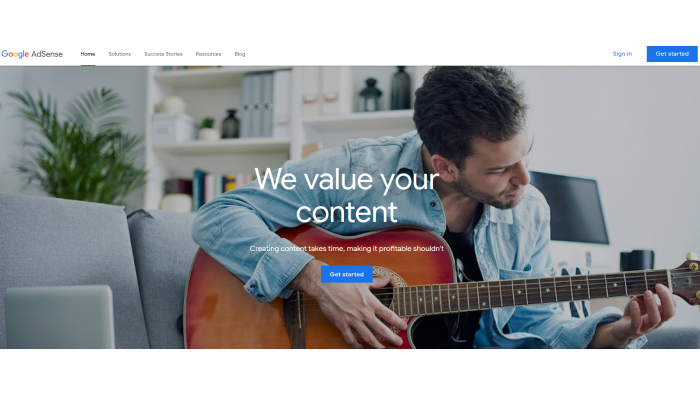 Fill out all the relevant information before submitting your application. The AdSense team reviews every application, and if everything goes well, you'll be in!
Next, follow the below steps to set up your account:
Go to your AdSense dashboard and click on My Ads > New ad unit.
Select the size of your ad and the type of ad. Once you're done, select Save and get code.
You'll get a bit of code that you'll then have to copy and paste between your page's <body> tags. Here's how it'll look.
Once you've pasted the code, your ad will be live. Your AdSense dashboard will have all information about your earnings, so check it regularly.
While you can use ads on as many as you want, I would recommend starting with just one–maybe two max–to get an idea of how your audience responds to them.
If you see a higher bounce rate on your dashboard, you should consider repositioning your current ads for better results.
Step 8: Create an Amazon Associates Account
You might have already heard of affiliate marketing. If your goal is to earn passive income, leveraging the power of affiliates is your best bet.
You can start by signing up for Amazon Associates, which allows you to start earning right away through referral links, display ads, or Amazon-based shopping carts.
If your visitors decide to use your referral link or click on the display ads, you'll get a small commission.
To sign up for Amazon Associates, all you need to do is visit the website and click on Join Now for Free.
This can be pretty effective. Just check out these earnings of Brendan Mace for definitive proof.
Amazon Associates isn't the only affiliate program.
You'll be happy to know that there are plenty of companies with their own affiliate programs, some of which pay higher commissions than Amazon. Just make sure to research before signing up to be an affiliate for a brand.
That said, I'd also like to emphasize the importance of advertising only those products or services that you've used yourself or genuinely believe can help your audience.
Step 9: Offer a Product or Service for Sale (Optional)
Many people think that advertisements are the only source of income for bloggers. This might be true for a few, but you'll also find many bloggers make quite a bit of money by selling a product or service.
Of course, this will only work when you already have a loyal readership with steady website traffic like Nomadic Matt. Once you're at this stage, you shouldn't be afraid to take the leap.
Here are a few things that you can consider selling:
Training courses
Books
Video courses/webinars
Coaching services
Consulting services
Next, you have to figure out how you want to sell your product. Services like Shopify or WooCommerce plugins on WordPress, Amazon, or Etsy are great options for digital products. If you're selling a physical product (like phone cases or clothes), you'll have to set up a more comprehensive ecommerce store.
Finally, let your audience know about your product or service by sending them emails. You can also consider developing lead magnets like pre-recorded webinars, PDFs, and whitepapers to build your email list.
How to Make Money Blogging Frequently Asked Questions
Can you make money blogging?
Yes, there are a variety of ways to make money blogging; such as running ads, doing paid partnership posts, including affiliate links, etc.
What's the first step to creating a successful blog?
The first step in creating a successful blog is picking a niche topic for your blog. Do market research and see what other blogs are already out there; you don't want your blog to cover an area that is already dense with similar blogs. Also, try to pick a topic that has natural ties to money-making blog techniques, like a partnership or sponsored posts, or affiliate links.
How much do successful bloggers make?
As of 2020, successful bloggers can make up to 7 figures per year. But that's only the very top bloggers in successful and popular industries, like marketing or parenting.
How long can I expect it to take for my blog to start making money?
Your blog may be able to earn money in as little as six months from when you start it.
How to Make Money Blogging Conclusion
There's a difference between simply having a blog and monetizing a blog. To make this transition successful, you'll need to adopt a more proactive and focused approach.
You've got this!
Start with my guide for setting yours up. Get reliable hosting from Hostinger and it'll take no time at all to get your blog up and running so you can start blogging.
Just remain focused and work consistently to keep improving your blog and build trust between you and your audience. And follow my steps above to get things started on the right track.
Remember to stick with what works, and you'll have a successful formula.
Have you tried blogging yet? Let me know about your experience.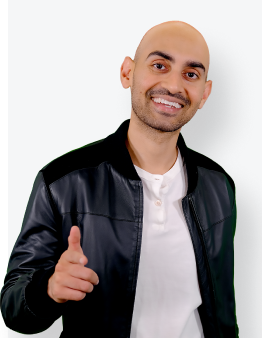 See How My Agency Can Drive Massive Amounts of Traffic to Your Website
SEO - unlock massive amounts of SEO traffic. See real results.
Content Marketing - our team creates epic content that will get shared, get links, and attract traffic.
Paid Media - effective paid strategies with clear ROI.