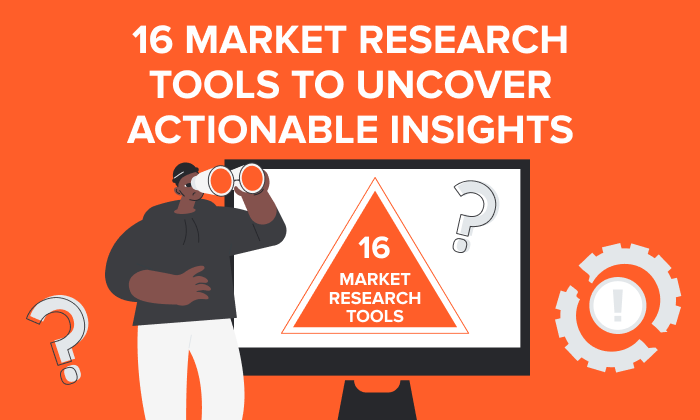 In a world of increasing competition, understanding your target market is vital.
Conducting thorough research of past, current, and prospective customers helps you uncover insights to improve your product or create more effective marketing messages.
Those insights don't have to be hard-won, either. Thanks to new tools and data sources, businesses no longer have to rely on traditional methods like surveys and focus groups.
Ready to learn what your audience really wants? These are the 15 best market research tools to use.
Benefits of Leveraging Marketing Research
There's a reason the global revenue of the market research industry has more than doubled since 2008 and is now valued in excess of $76.4 billion. It comes with a heap of benefits. Any business wanting to improve its product or launch a new marketing campaign will be at a significant disadvantage without market research.
If you're asking yourself "what is market research?," look no further. Market research keeps your target audience at the center of every decision. By understanding their needs and desires, you can tailor everything from your product to your marketing to your customer. In doing so, you'll reduce the number of bad customer experiences—one or two of which are enough to make 64% of customers switch to a competitor.
Market research tools can also help you discover new business opportunities and threats. New markets become obvious when speaking to customers and understanding their behavior. The same applies with competitors and external threats that could threaten your business if you don't act. It can also be used to help create customer personas, which only add to the effectiveness of your marketing. Customer personas are fictional takes on your ideal consumer created by your team to describe the characteristics and buying motives of specific customer categories.
Ultimately, using market research will give you a huge competitive advantage. That's because of the benefits above and because 6 out of 10 marketers are using consumer research to drive decisions. Do you really want to be on the outside looking in?
As a start, you can use these tools to spy on the competition and see where your brand stands against them. There are also tools to help you collect that all-important market research data.
How to Use Marketing Research Data in Your Marketing
You can leverage market research data in several ways, but using it to inform and optimize your marketing strategy, from campaign creation to execution, is one of the most powerful.
For instance, market research can ensure your new product launch goes off without a hitch. Almost half of all product launches are delayed, and 20% fail to meet targets. By understanding exactly what customers want, a successful product launch simply becomes a case of delivering it.
Market research can also help you focus your marketing efforts on areas where you have a competitive advantage. By understanding what customers are really searching for, you could identify untapped markets with very little competition in terms of paid ads or SEO. Focusing your efforts here, rather than on saturated verticals, will send your ROI soaring.
Finally, you can use market research data to optimize your marketing efforts after launch. Analyzing social media and other types of user engagement data can highlight how effective each message is so you can do more of what works and less of what doesn't.
Combine this with techniques to understand your customers and you fully understand what your content needs to accomplish to reach them.
5 Best Free Marketing Research Tools
You don't have to spend a dime to get the benefits of marketing research. There are plenty of free market research tools out there. I've highlighted five of my favorites below.
1. Google Trends
Google Trends shows you what people are searching for on Google. It was introduced in 2006 and tracks the popularity of topics over time by location. You can see exactly how popular searches are for Taylor Swift in the U.S. this year. Or how searches for Brexit have declined in the U.K. since 2019.
At the time of writing, Google processes 99,000 searches every second. That's over 85 billion searches every day, making it the largest and most valuable search data source in existence. Google Trends gives you access to that data in a categorized and aggregated way.
Enter a trend and Google will show you how trendy that term is with a line graph and give you a score out of 100. You can also compare different terms.
Pros
easy to use
visually appealing
huge amount of data
Cons
doesn't show the exact search volume
related topics aren't always relevant
2. Facebook Page Insights
Facebook Page Insights is a fantastic and free market research option if you use Facebook to market your business. If you don't use Facebook for marketing yet, you probably should. With 2.9 billion monthly active users, it's one of the best social media platforms for marketing.
The tool provides insights into your audience, post performance, and the health of your pages. You can use the tool to see who likes your page and why, which posts get the most engagement, and learn how to increase the reach of your content.
If you're struggling to get started, Facebook offers two courses: one on how to generate insights and make data-driven recommendations and one on how to make the most of marketing insights.
Pros
unparalleled insight into your Facebook audience
easy to use
courses available
Cons
limited to your Facebook pages
not as comprehensive as it once was
3. Think With Google
Think With Google is one of the search giant's lesser-known tools, but that doesn't make it any less powerful. It's a free-to-use resource library of facts and figures based on Google's own data and other research that can supercharge your marketing efforts.
If you want a broad understanding of what's going on in the world, Think With Google is a great starting point. Search the platform, and you can uncover marketing trends, understand the latest consumer behavior and find the insights you need to drive your marketing strategy.
The site is split into four areas (Consumer Insights, Marketing Strategies, Future of Marketing, and Tools) which you can use to find the insights you're looking for.
Pros
huge resource of statistics and studies
easy to use
great for marketing research
Cons
limited to marketing studies
4. Answer The Public
See a familiar face? Answer The Public is now part of the NP family, and makes a great free asset for your market research needs. It's one of the simplest options out there for getting a deeper understanding of what people are talking about.
Simply enter in the topic you want to research, the region you are looking at, and you'll get a whole set of adjacent topics and questions that people are searching for about the subject. On top of that, Answer the Public puts these in flat data sets or handy data visualizations for you to share with your teams.
Struggling to come up with content ideas? Answer The Public gives you a bunch of baseline ideas, pulled right from the minds (and searches) of your audience.
Pros
Easy interface to get you insights fast
Data visualization to make sharing insights easier
Incredible insights on how a subject is approached in search.
Cons
Limited users and searches with free plan — but upgrading gives you that and a variety of other features, including comparing data over time and search listening alerts.
Price
Free with limited uses, paid plans range from $79 to $199 per month.
5. U.S. Census Bureau
The U.S. Census Bureau website lets you search U.S. census data for free. The Bureau of the Census conducts over 130 surveys a year (which are used to allocate billions of dollars in federal funds), making it an in-depth source of reliable data.
You can filter by several variables, including age, location, and income. It also provides visualization of some data sets. One interesting way to use this data set is to filter the results using your business' NAICS code to see where and with whom your industry is most popular. This is a great way to discover new target markets.
Pros
one of the biggest demographic resources online
easy to search through reports
Cons
limited to the U.S.
older census reports can become outdated quickly
Price
Free.
11 Best Paid Marketing Research Tools
Free market research tools are a great way to dip your toes into the industry. However, there will always be limitations when you don't pay for the data. If you're serious about market research, you're going to want to pay for premium access. These are the best paid market research tools to use.
1. QuestionPro
So far, we've only discussed secondary data sources. A primary data source would involve gathering results directly from people through surveys.
QuestionPro is a great option, with over a billion questions answered, offering a range of free plans and professional research licenses.
These plans are great for making, distributing, and analyzing surveys. Importantly, all users can get 24/7 LiveChat support, which is a huge asset. Surveys can be sent through a variety of means including email, links, social media, embedded text, etc. Analysis can be done in-app or through an export.
Pros
easy to start using, especially with built-in templates
a generous free plan
24/7 LiveChat support for all
Cons
mastering the software takes time
user interface prioritizes function over aesthetics
Price
The Basic plan is free, while the Advanced plan costs $99 per month.
2. SurveyMonkey
SurveyMonkey is one of the best and most popular tools to use, with over 20 million questions answered using the platform each day.
The company's enterprise-grade platform makes it easy to create, send out, and analyze surveys. Surveys can be sent via a link, email, social media, or embedded into a web page. You can browse through individual responses or use the tool's custom reports and charts to visualize data.
Pros
easy to use
good template selection
great free plan
Cons
analytics could be improved
lack of customer support
Price
Basic plan is free. Standard plan costs $99 per month.
3. Statista
Statista is a hub of visual data, market research reports, and statistics. It collates data from several reputable sources, turning most of them into graphs and charts that are easy to digest. Because Statista's data is continually updated, you can keep coming back to the same chart year after year to see how trends are changing.
The site has data on almost any topic you can imagine, making it a great way to discover consumer behavior and market trends, no matter your business.
Getting started with Statista is as easy as searching for a particular topic. The site's search functionality is excellent and will return hundreds of reports and dashboards that you can use to influence or support your marketing efforts.
Pros
one of the best statistical resources online
great UX
easy to search for data
Cons
free plan is limited
visuals aren't the best
Price
Basic account is free. Premium account costs $59 per month.
4. Typeform
Typeform is another survey-based market research tool and an alternative to SurveyMonkey. It benefits from a more user-friendly design with a bunch of pre-made templates, making it easy to create forms and online surveys that you can send to customers. Typeform drives more than 500 million digital interactions every year and integrates with hundreds of other apps.
You can format questions in multiple ways, including multiple-choice, scale ratings, and open-ended answers—perfect for collecting quantitative and qualitative data. You can even use conditional logic to change the structure of your survey based on a respondent's answers.
The respondent experience is also different. Unlike other survey tools, respondents are only shown a single question at a time. This makes for a more user-friendly and less intimidating experience that can increase the number of responses.
Pros
easy to use
respondent-friendly
strong data visualization
mobile-optimized
Cons
lack of customer support
data reporting isn't amazing
Price
Limited free plan available. Premium plans start from $25 per month billed annually.
5. ​​Buzzsumo
Think of Buzzsumo as the content marketing and social media market research tool. It analyzes over 8 billion articles and 300 trillion social engagements, so you can see which topics or types of content receive the most engagement, what's getting shared on social media, and find influencers who can help increase the reach of your content.
This makes Buzzsumo an incredibly effective market research tool for any marketer looking to put together a content marketing strategy. There's no need to second guess what's going to rank well and receive engagement when you can use Buzzsumo to see what's getting traction at the moment.
There are several ways you can use Buzzsumo. The easiest way is to use the tool's Content Analyzer to search for a topic and see which articles have the most engagement. You can also set up alerts to monitor mentions of a particular optic or keywords.
Pros
accurate social share counts
great for competitor research
Cons
doesn't include every social media channel
filtering could be better
Price
Free plan available. Premium plans start from $99 per month.
6. Qualtrics
Qualtrics is an all-in-one market research tool. From creating advanced surveys to segmenting markets and analyzing data, Qualtrics does it all. Create your own survey to gather data or upload an existing data set and Qualtrics will run statistical tests and apply visualizations to help you gather insights.
There's no need to spend time finding respondents for your surveys, either. You can use the platform to find a representative sample of your target audience and have them fill in your survey.
There's even on-demand training to help you get the most from the platform.
Pros
easy to build surveys
excellent data reporting
Cons
software has a steep learning curve
limited customization of surveys
Price
Plans start from $1500 per annum.
7. Qualaroo
Qualaroo is an advanced customer survey tool that helps you ask the right questions at the right times. What separates Qualaroo from other survey tools is that you can embed surveys into your site, allowing you to catch users in real-time, with context. That makes their responses significantly more valuable and insightful.
Creating surveys is easy thanks to a wide range of templates and customization options. Analyzing and reporting results is also a breeze courtesy of the platform's AI-powered analytics tool. There are also tons of other features like dozens of answer types, branching questions, and automatic language translation.
Pros
easy to create and deploy surveys
analytics reduces reporting time
easy to learn
Cons
pre-built templates can be generic
dashboards could be improved
Price
Plans start from $80 per month.
8. BrandMentions
BrandMentions is another social media monitoring platform similar to Buzzsumo but with a greater emphasis on social media. It estimates it currently analyzes billions of social media mentions for over 10,000 companies.
You can use the tool to quickly understand social media users' opinions on practically any topic. Simply search for a keyword, and BrandMentions will display the most recent social posts as well as the context in which it was used. So not only do you see what people are saying, you understand the broader sentiment around the topic.
The tool also shows a range of other metrics, including how many people view the topic each day, how many people engage with the topic, and which days the topic trends on.
Pros
great for social media research
can also be used for brand monitoring
intuitive UX
Cons
can be time-consuming to automate reports
only analyzes social media data
Price
Plans start from $99 per month.
9. Gartner
Global research and advisory firm Gartner is a heavyweight when it comes to market research. The company has three core services (trusted insights, strategic advice, and practical tools). We're only going to focus on its trusted insights offering here.
Trusted insights offer an incredible amount of detailed, verified, and peer-driven research. It's a fantastic way to identify trends in your industry, spot gaps in the market, and discover other insights to power your business.
These reports are at another level compared to other research teams. Gartner boasts over 2,000 research experts and several proprietary research methodologies to deliver objective and unmatched insights.
Pros
unmatched insights
unbiased data
Cons
Price
Plans start at $30,000.
10. Tableau
Tableau is a business intelligence suite centered around data visualization. You can connect to almost any data source and Tableau will transform that data into beautiful visual reports that make it easy to analyze and share with stakeholders.
You don't need to know any code to use Tableau, and the tool makes it easy to be as broad or granular as you like with data analysis. Import data from tons of different data sources, like PDFs, spreadsheets, and Google Analytics.
Tableau is a trusted market research tool for some of the country's biggest companies, including Verizon, Lenovo, and Charles Schwab.
Pros
best visual data reporting tool
acts as a central repository for data
analyzing data is easy
Cons
can be slow to upload large data sources
requires you to source your own data
Price
Tableau Explorer starts at $42.
11. Ubersuggest
Ubersuggest is one of the best tools for doing SEO and PPC-focused market research. Full transparency, this is a tool I created, but I would think it's pretty awesome even if I didn't make it.
Put a phrase into the search bar and it will provide you with a list of other relevant keywords people are searching for, along with search volume and a difficulty score. You can also enter your own domain or that of a competitor to identify areas for improvement.
It's a great tool for identifying the size of a potential market, how competitive that market is and what chance you have of ranking in it. You can also use it to get the low-down on a competitor and find out which audiences they're targeting.
Pros
great UX
one of the best market research tools for digital marketing
wide range of affordable plans
Cons
limited to SEO and PPC data
Price
Ubersuggest has a free plan that allows for 3 keyword searches a day with limited insights.
Paid plans start at $29 per month or $290 for lifetime access.
Market Research Tools Frequently Asked Questions
What are the primary market research techniques?
There are five main techniques for conducting primary research: surveys, one-on-one interviews, observational studies, focus groups, and field trials.
What can I discover with market research?
The best insight from market research is the discovery of a relevant and actionable insight about your target market you can use to improve your offering or influence your marketing efforts.
Are market research tools worth the cost?
If you are on a budget, there are plenty of free market research tools available. However, the best market research tools cost money and provide access to more data and additional capabilities that can increase the effectiveness of your market research.
Why is it important to do market research?
Market research uncovers important information about your business and target market that can highlight opportunities for your business that would otherwise be missed.
Conclusion: Market Research Tools
Market research tools are an invaluable way to find out exactly what your target audience is thinking. Whether you use free market research tools or paid market research tools, you can uncover plenty of insights that can have a transformative effect on your business.
Stop making uninformed decisions and start taking time to understand your customers and use that information to inform your marketing strategy.
What are your favorite market research tools?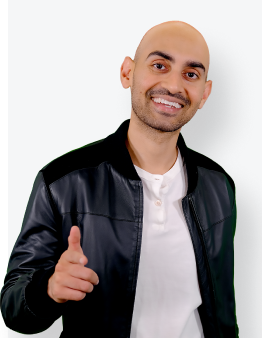 See How My Agency Can Drive More Traffic to Your Website
SEO - unlock more SEO traffic. See real results.
Content Marketing - our team creates epic content that will get shared, get links, and attract traffic.
Paid Media - effective paid strategies with clear ROI.