Blogging has changed over the years.
When I first started blogging, it wasn't that competitive.
You write an article… on pretty much anything… and you get some social shares.
And then you would try to build links, but even if you weren't great at link building you would still naturally generate more backlinks overtime.
Just take a look at one of my first blog posts that I wrote on August 31, 2005. Here are the first few paragraphs…
SEO Made Easy

The hardest thing for any site owner these days is getting the search engines to properly list their website. Making a site search engine friendly is the key to the success of search engine optimization. A site must be written in a language that the search engine will recognize such as HTML. In addition, the site must have defined keywords that are going to be used in classifying the site.

In all actuality, search engine optimization is nothing more than simple common sense. The whole goal of optimizing your site is so that search engines will find your site easily and catalog it within their systems for easy retrieval by consumers. Simple SEO is not hard and requires only basic knowledge of how algorithms work in relation to programming. The two important things to remember for those that are trying to learn the basics are how a search engine spider works and how it figures out what content is relevant to your keywords you have chosen.
I didn't really provide anything actionable in the post. I even went on to discussing how search engine algorithms aren't that complex.
But back then there weren't many blogs. Now there are over a billion. That's roughly 1 for every 7 people in this world.
Which is why it's hard for you to generate backlinks, social shares or even get SEO traffic when you blog.
So, does that mean all hope is lost and that blogging is dealing?
Of course not. It just means you have to adjust your approach to blogging.
And that's what I am going to share today. Here's the new formula to blogging.
Not all content is equal
Before I dive into the formula you should follow, you should first have a better understanding of the type of content that does well.
And it's not the same for all platforms.
Just look at the screenshot below from the NeilPatel.com blog. These are the top blog posts by traffic…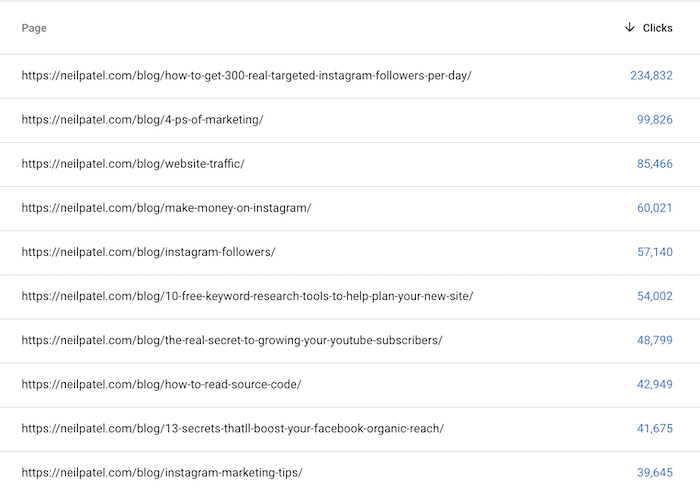 What do you notice?
The first post breaks down how to get Instagram followers.
The second tells you what the 4ps of marketing is.
The third post tells you how to check the traffic of a website.
The fourth breaks down how to make money from Instagram.
Do you see a trend yet?
Here's another hint. Let's look at the keywords that drive traffic to the 4ps post.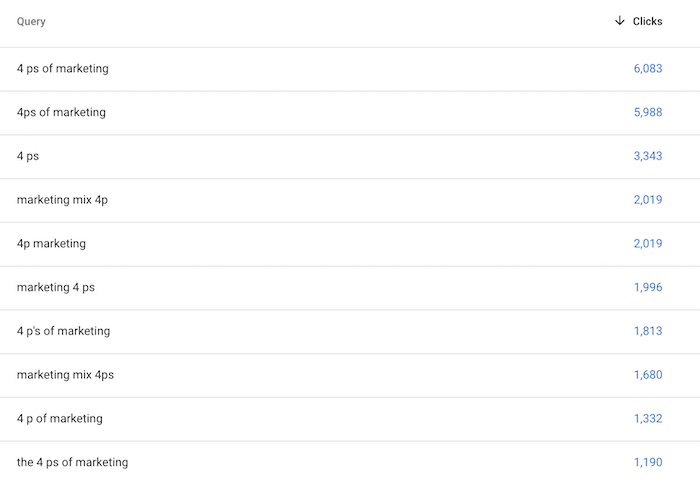 As you can see the keywords that drive traffic to that page are all basic and beginner terms.
But here is what's interesting. I broke down all my beginner content versus advance content.
Beginner content on average gets 3.68x more SEO traffic than advance content.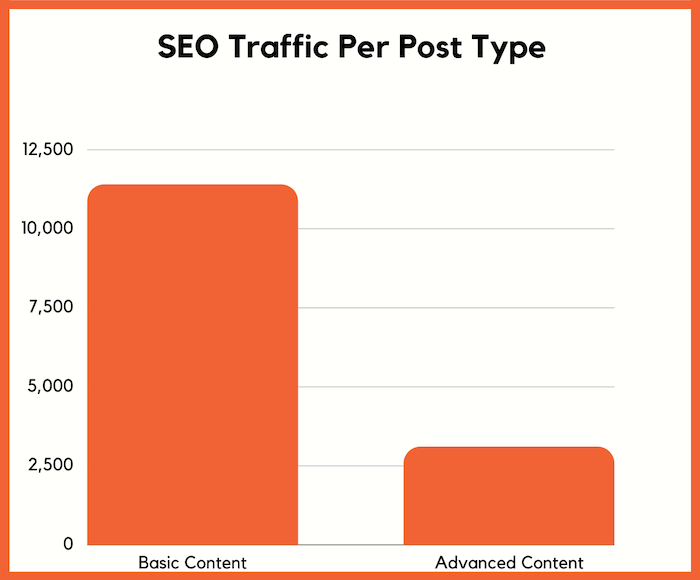 So, at first, I thought it's because beginner content gets shared more on the social web. But that can't be true because I just skip beginner content myself… so I decided to look at the social shares per post on Facebook (I couldn't get Linkedin and Twitter stats due to API limitations).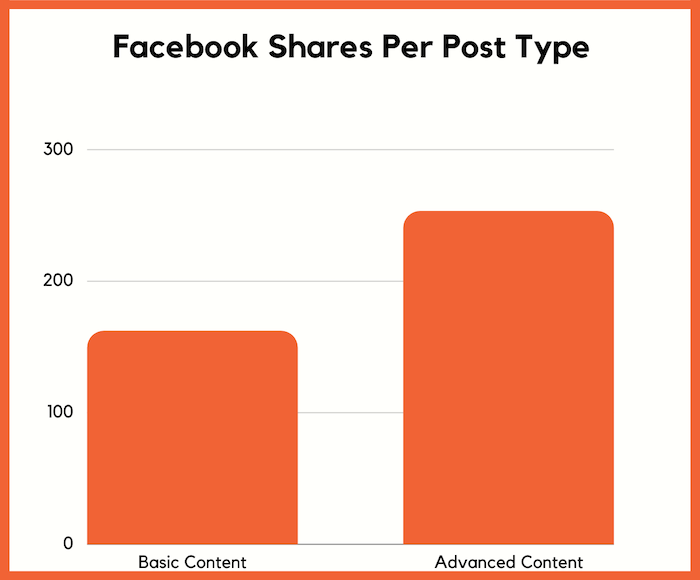 Interestingly enough, advanced content gets 91 more Facebook shares on average and 288 extra visitors from Facebook.
Now let's look at backlinks. (You can check the backlink count for any page here.)
On average my advanced content generated 4.81 times more backlinks on average than my beginner content. (When going through the backlink count numbers, we removed links from scrape sites and RSS feeds as we don't really consider quality links, they are more so spam.)
So, what does this tell you?
Well first off, not all content is equal.
Secondly, advanced content tends to get more backlinks and social shares.
But basic content tends to generate more SEO traffic.
And no, it's not just NeilPatel.com
To make sure we weren't the only ones seeing this, we analyzed 191 blogs using Ubersuggest.
Can you guess what we found?
The results were somewhat similar.
Here's what we saw form a social share perspective.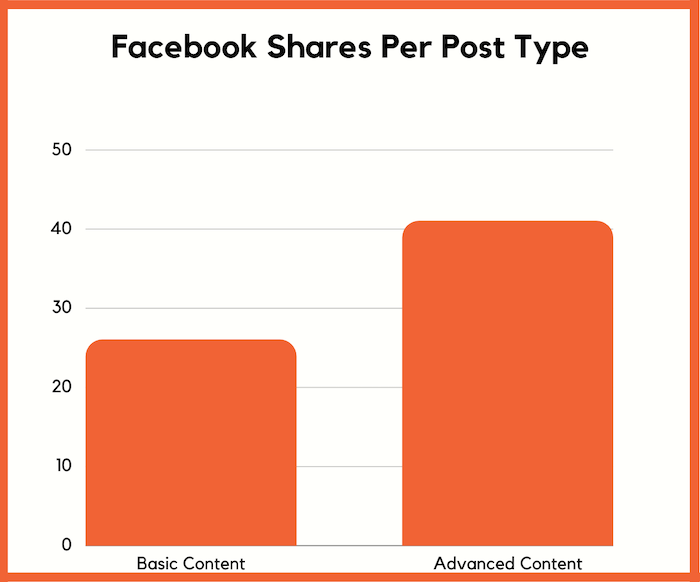 As you can see advanced content generated more social shares. Now we couldn't see people's Facebook traffic stats, but it's a pretty safe assumption to assume posts with more social shares typically generate more social traffic.
And here's backlink data.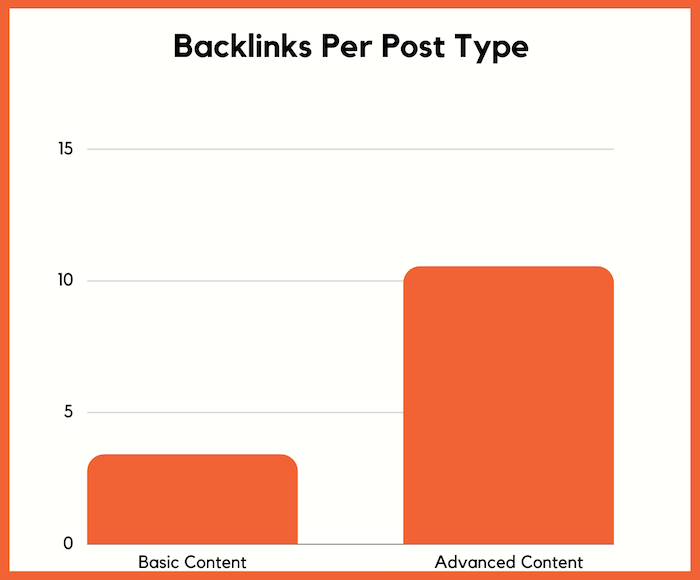 Advanced content generated more backlinks. It wasn't 4.81 times like it was for NeilPatel.com, but it is still a significant difference.
And as for search traffic, based on our Ubersuggest traffic estimation basic content generate more SEO traffic.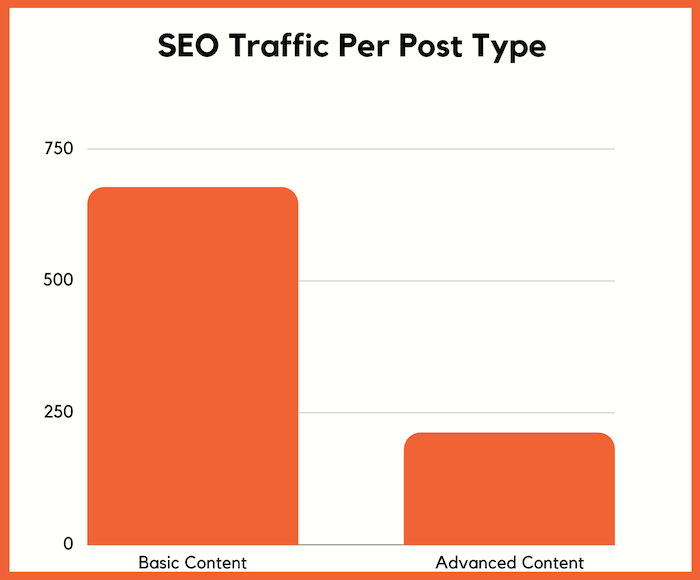 So, what's the new way to blog?
The beautiful part about owning an ad agency is that you see a lot of data, you can spot a lot of trends and figure out what works for all industries.
Globally we have over 700 customers. It allows us to test a lot, so we can figure out how to provide the best results in the long run.
Here's the formula we found to work well.
Spend 40% of your time creating basic content
When thinking about basic content, I want you to keep "how to" in mind.
Anything that is how to that targets beginners typically is considered beginner content.
You can find these keywords in two simple ways…
First off, you can go to Ubersuggest and type in a keyword related to your space.
You'll see an overview of how popular the keyword is.
And then in the left-hand navigation, click on "Keyword Ideas". You will see a big list of keywords and as you click on the tabs or scroll you will see hundreds if not up to a million ideas.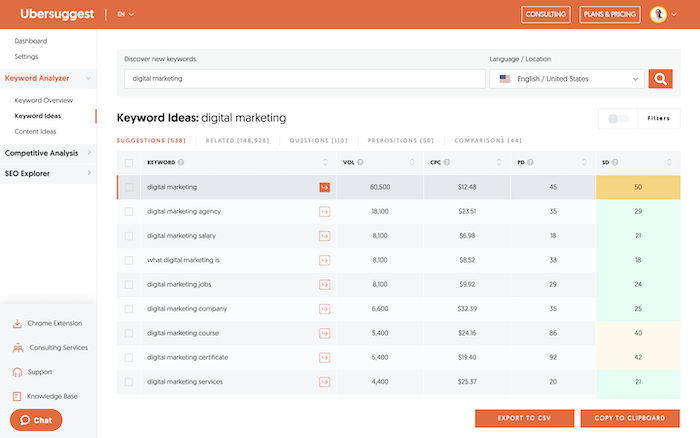 Beginner keywords tend to be searched a lot and, in many cases, have a lower cost per click than advanced keywords as they are more top of the funnel and less likely to convert a visitor to a purchaser right away.
The second way you can find these keywords is to go to Ubersuggest and type in a competitor URL.
In the left-hand navigation click on "Keywords by Traffic" and you will see all of the keywords that your competition ranks for.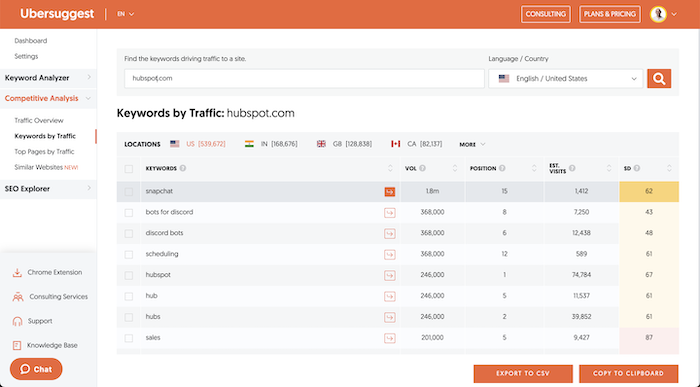 No matter what industry you are in, these how to informational keywords or generic terms can drive brand awareness… doesn't matter if you are an ecommerce store or even a B2B company.
It's great to have this traffic because a portion of those visitors will convert into customers. It won't be at a high percentage (usually a fraction of a percent), but you can get millions of visitors due to the volume so it will still add up to being meaningful.
And if you aren't sure on how to create basic content, follow this. Or you can watch this…
Spend 10% of your time creating advanced content
Think of advanced content as anything that an industry expert, or a speaker would discuss.
Think thought leadership.
Whether you include stats, talking about trends, or what the future beholds… this is the type of content that generates the social shares and backlinks.
And if you want to take it one step further, we've found that if you include charts and graphs it tends to generate more backlinks than if you don't.
Here's my backlink count from posts with charts and graphs versus ones without: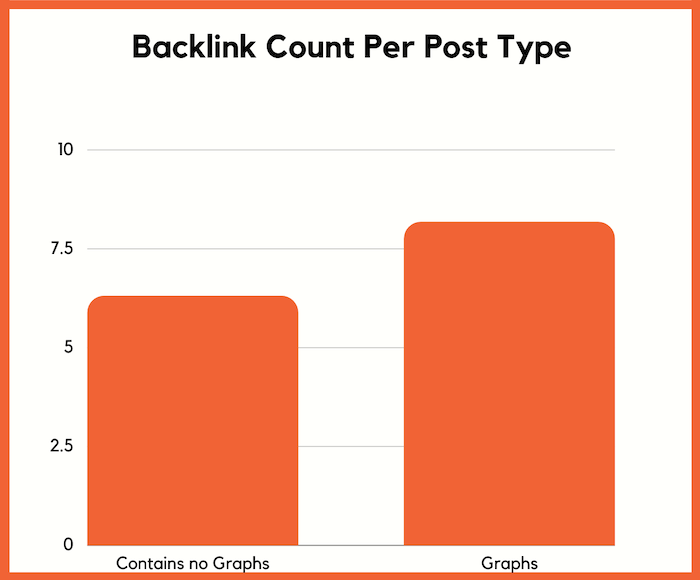 You can use Canva to create them, which is free.
In most cases you probably won't have data like I was able to show you in this post, but you can get it.
From sites like Upwork, you can hire researchers for $5 or $10 who can reach out to companies and help you gather data, or they can search the web to find it.
The big thing to consider with advanced content is, if it is something you would share on the social web, chances are it's good. If you wouldn't, then others probably won't.
Spend 20% of your time refreshing old content
What you will find with blogging is that your old content will get less SEO traffic over time.
The easiest way to see this is to follow this video…
If you spend 20% of your time updating old content you will not only maintain, but you can grow your SEO traffic from your older posts.
It works so well I have a team that just updates old content for me because it's too much work once you have thousands of blog posts.
If your blog is new you won't be refreshing much, but once you have over 100 blog posts you'll find that you will need to spend a good amount of time updating.
Spend 30% of your time marketing your content
I have this saying with my team…
Don't forget the "marketing" in content marketing.
If you write content, whether it is advanced or basic, it doesn't automatically mean it will do well.
If no one sees it, no one is going to share it or link to it.
So how do you ensure your old content gets read? It starts with 3 simple steps.
Internal linking – I want you to add 3 links to the new blog post you just published from your old content. Go into your old blog posts that are relevant and add 3 links to it from relevant old posts (one link per post). And if it is a good fit also link your new post to any old posts that are a good fit or ones that you referenced.
Social shares – follow this process to get social shares (scroll down and read the "ask people to share it" section). It's tedious, but it works and it's how we get social shares to any new blog that doesn't have an audience or a big social following or even a big budget.
Conclusion
Blogging still works. It's not dead!
You just have to change your approach to how you blog.
Copying what people or even I did years ago won't work. You have to take a new approach. And that new approach is outlined above. 🙂
If you follow this for 6 months you will see results. If you follow it for a year, your traffic will be noticeably different. And if you stick with it for 2 to 3 years, the results start compounding.
So, what do you think about the process above?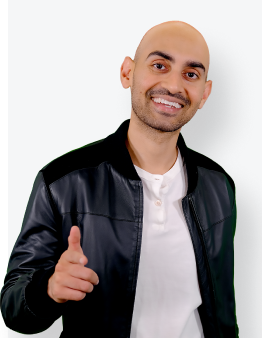 See How My Agency Can Drive More Traffic to Your Website
SEO - unlock more SEO traffic. See real results.
Content Marketing - our team creates epic content that will get shared, get links, and attract traffic.
Paid Media - effective paid strategies with clear ROI.
Are You Using Google Ads? Try Our FREE Ads Grader!
Stop wasting money and unlock the hidden potential of your advertising.
Discover the power of intentional advertising.
Reach your ideal target audience.
Maximize ad spend efficiency.