Headlines are the biggest factor that determines whether someone clicks on your content or your competitor's.
If your headline isn't up to your audience's standards or doesn't pique their attention, you can kiss that click goodbye.
Headlines have the power to drive more traffic to your site and your blog posts.
But they also have to power to take traffic away.
According to Copyblogger, 8 out of 10 searchers will read headline copy before clicking a post, but only 2 out of 10 will actually read the post.
That means that your headline is critical for grabbing attention and keeping it.
Keeping people around to read your content is tough.
If you have a bad headline, you risk losing the precious traffic that you need for your business to grow and seeing it bounce to another site.
Thankfully, there are a few ways to turn your headlines into click magnets that drive tons of traffic.
And you can use specific tools, tricks, tips, and tactics to do it fast, too.
In fact, I used these exact tactics to increase my conversion rate on Kissmetrics by 40%.
Here's the definitive guide to writing a headline that doesn't suck.
Use a headline generator for inspiration
If you lack the inspiration or the willpower that it takes to create dozens upon dozens of headline ideas for content, then look no further.
Tons of headline generators exist online to help content marketers create headline ideas fast.
If you simply don't have enough time or patience for crafting original headlines, these can be great tools for giving inspiration.
Now, I'll say this clearly:
These shouldn't be your one-stop shop for blog headlines.
They just aren't always good enough to take at face value without tweaking.
These should only serve as a first step in generating some ideas that you might have never thought of.
Think of them as inspiration machines.
It's your duty to change these headlines to make them even better and improve upon their weak points.
With that in mind, let's dive into some tools.
My favorite one is the Content Idea Generator by Portent: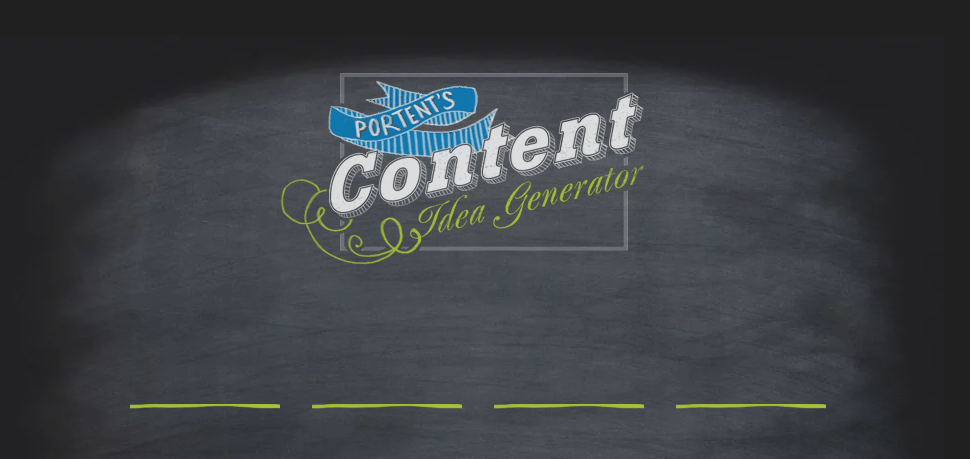 All you do here is type in your keyword and hit the refresh button to start pulling up some ideas.
For example, I typed in "Instagram hacks" and got some pretty decent ideas after a few refreshes of the tool: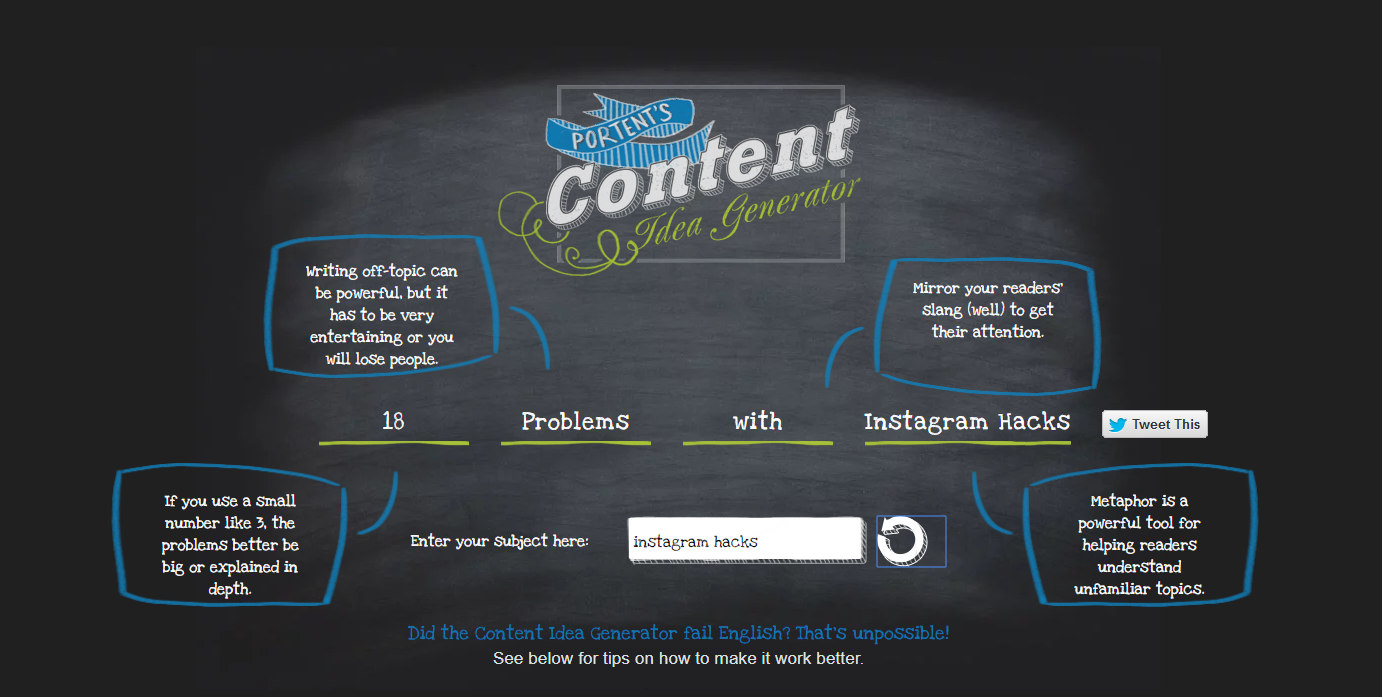 This title above that it generated is pretty good when it comes to headline generators.
18 Problems With Instagram Hacks.
The reason I love this title so much is that it goes against the grain.
You'd normally expect to see a title like this:
XX Instagram Hacks….etc.
Instead, you flip the script, go against the grain, and provide a contrarian viewpoint on the subject.
You make people question what they thought they knew, almost forcing them to click and see more.
This is pretty impressive for a standard idea generator.
Next, I tried to find headlines for "content marketing" as my keyword, and I found a similar style: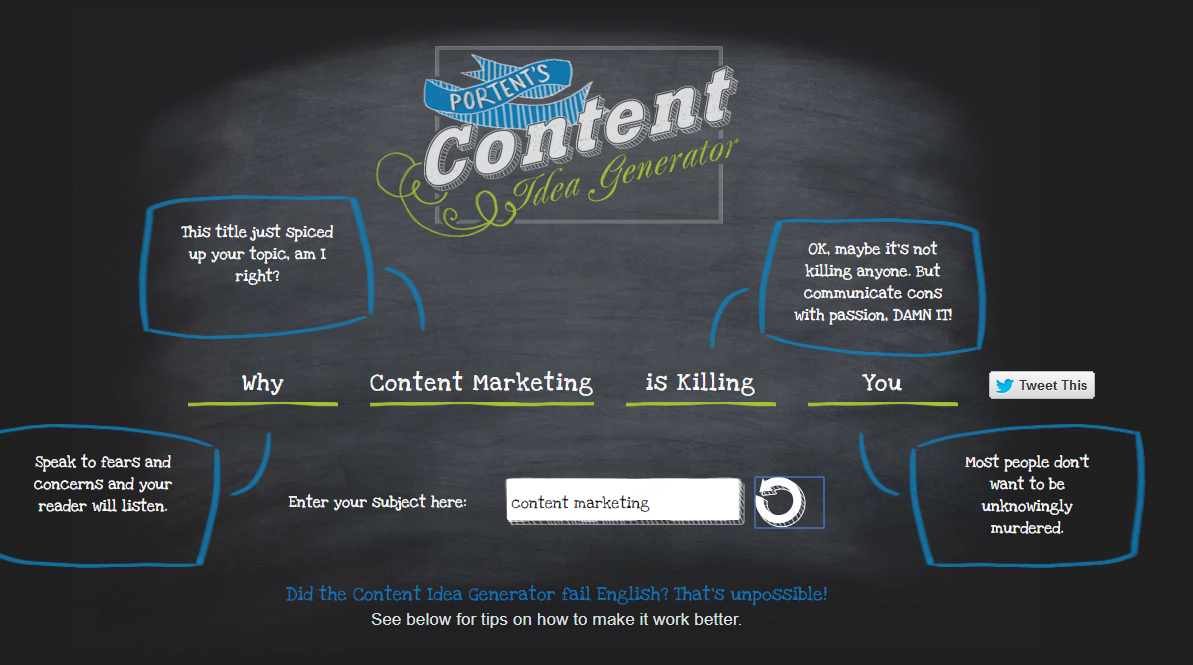 Why Content Marketing is Killing You.
Now, I'd probably adjust this headline a bit to be more specific, like:
Why Content Marketing is Killing Your ROI
But here's the point:
These headlines are amazing for a free tool that you can use in seconds.
Again, it provides a viewpoint that goes against the norm. I mean, content marketing is king in terms of organic traffic, right?
This headline makes people question that.
Another outstanding tool is HubSpot's Topic Idea Generator.
It works in the same fashion as the tool above. Simply type in your keyword and generate new ideas:
Then, you get instant ideas that are pretty solid:

If you don't like them, you can always refresh the list for a fresh set: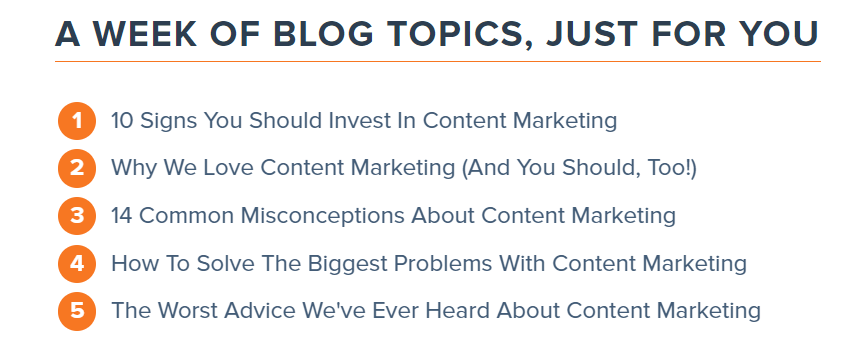 These aren't the most creative or whimsical titles that someone could come up with, but they are a great start.
For example, I love this headline, and it could be very good with a little tweaking:
14 Common Misconceptions About Content Marketing.
This one from the second batch was also great:
10 Signs You Should Invest in Content Marketing
With a few tweaks, that headline could be an evergreen post.
Remember:
When it comes to topic ideas and headline generators, use the base headline and expand on it for maximum effectiveness.
These should serve as your baseline to generate ideas fast, giving you the chance to make them even better.
So, how do you make them better?
One of my favorite tactics is adding a threat to the headline.
For, example let's take this headline from the generator:
The Worst Advice We've Ever Heard About Content Marketing
Now, let's add a threat:
The Worst (Common) Advice We've Ever Heard About Content Marketing and How To Fix It
This new headline version adds a threat and a solution. The threat comes in the form of adding "(Common)" to the headline so that any reader will instantly become threatened and worry that they are doing it wrong.
It provides the solution by using "How To Fix It," too.
Always try to improve upon your headlines for the best success.
Try using "solution selling" to create value
Solution selling is a pretty simple concept:
Focus on the customer's specific problems, wants, and desires rather than focusing on the product itself.
It's a prime sales tactic.
For example, let's say that a user has the problem of weak organic traffic.
They simply can't bring in enough organic traffic to sustain their website growth.
Instead of selling your SEO tool and saying "it's the best tool around, it has XX features, and XX reporting tools," you focus on the solution.
You'd be better off saying something like: "Using this tool, you can create better content in less time and bring in more organic traffic in less than a month."
The idea is to sell the solution to the user's problem — not the product.
You show them how your product is going to result in the preferred outcome.
MarketingProfs actually tested this concept a while back and found a 28% increase in their conversion rates.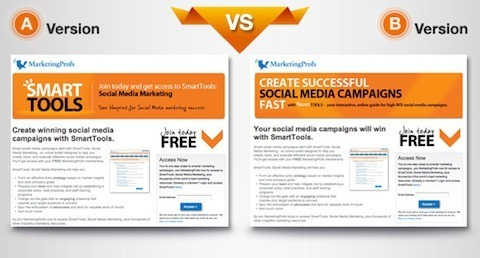 They tapped into the solution that users were craving:
Create Successful Social Media Campaigns Fast.
They understood that their target market was struggling with this exact goal.
You can see another prime example of solution selling in a headline from Dropbox.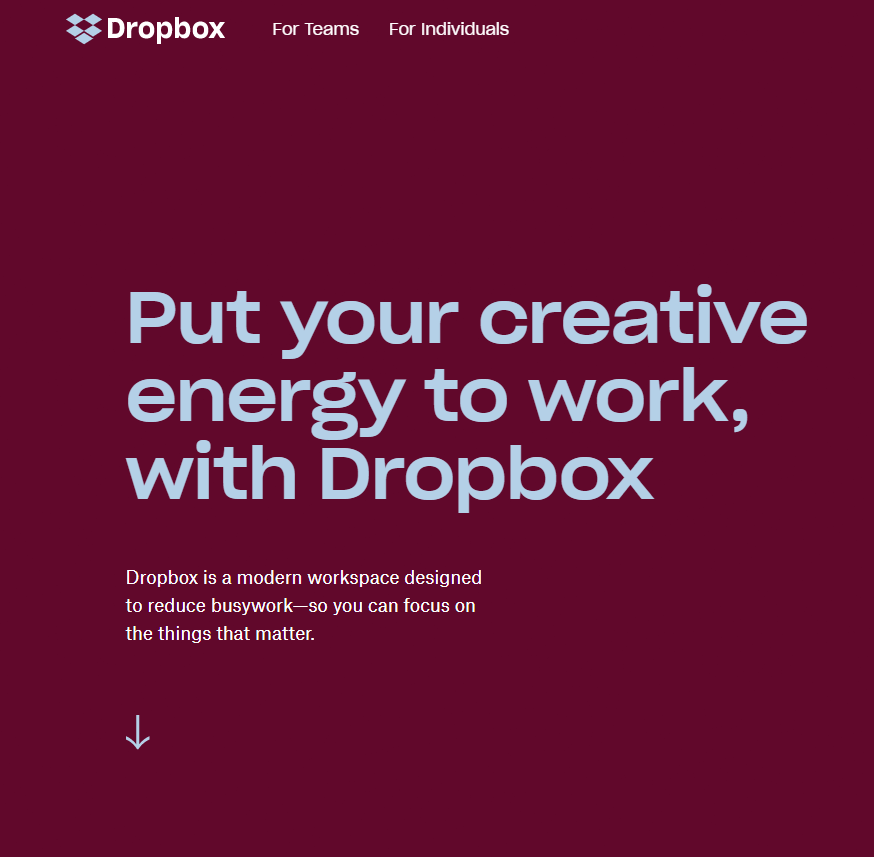 Specifically, take a look at their sub-header:
Designed to reduce busywork.
I personally love this sub-headline because it explains exactly how the user will derive benefit rather than boasting about the product.
The typical Dropbox user is looking to do precisely that.
So, how do you create this kind of headline for your own content?
Sell the solution.
What is your blog post trying to solve for the user? What problem is it addressing? What does your product solve?
Let's say you sell a productivity tool. Your typical user is likely looking to become more efficient, get things done faster, and keep track of everything.
Express these exact desires in your headline to skyrocket conversions.
That's what the top tools, like Evernote, are doing right now:
Notice how their headline and sub-headline provide the exact solution the user is looking for?
Ask yourself what your product solves, and then transform that value into a headline.
Create a burning sense of urgency
Urgency is a powerful tool in the world of online digital marketing.
Don't believe me? If you look just about anywhere, you'll quickly see it.
For example, look at how Amazon uses a subtle form of urgency to drive conversions and close deals that people might normally abandon: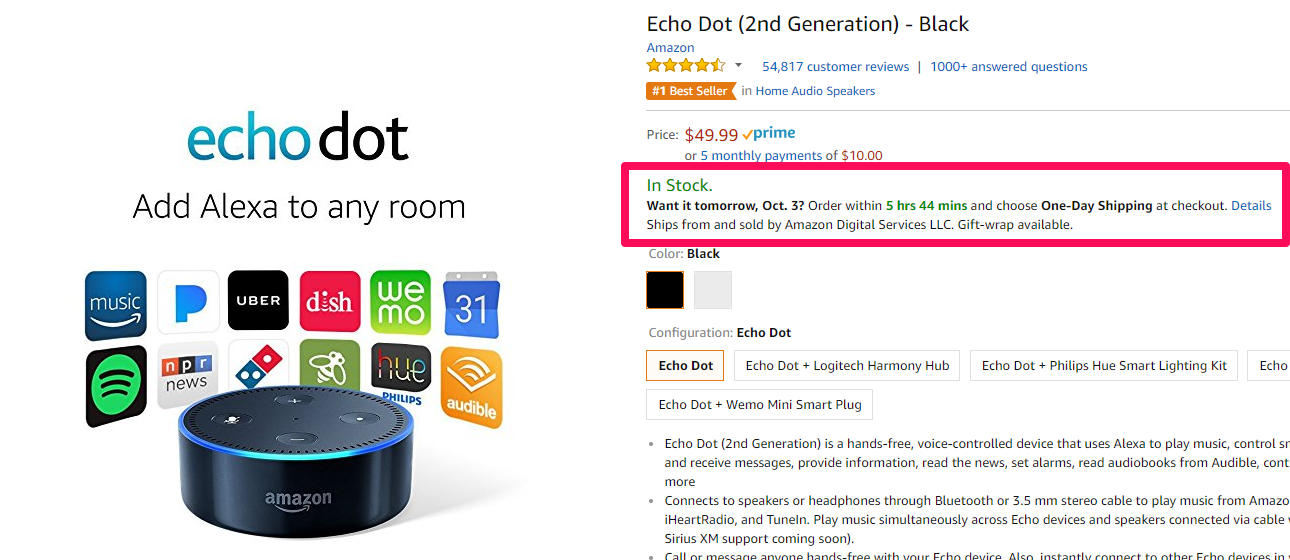 Want it tomorrow? Order it within in the next few hours.
Now that's urgency at its prime.
They even use the same tactic by notifying customers of how many are left  in stock: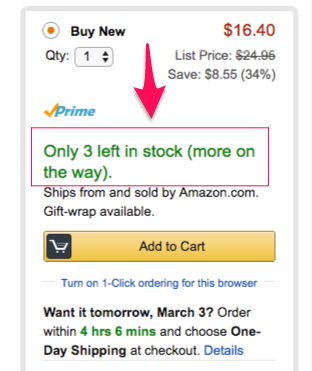 It's genius.
Because cart-abandonment rates for e-commerce are high, telling a customer that they need to buy ASAP due to low stock and shipping is excellent marketing.
Groupon does this all the time, too: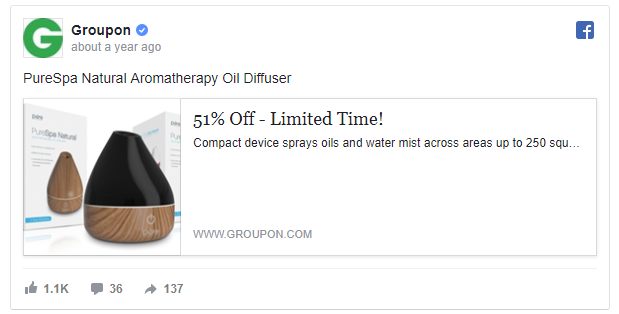 So, how do you translate this type of urgency into a headline that converts?
Use this simple formula:
Do X or risk Y.
Let me show you a full example of this headline in action on one of my latest posts: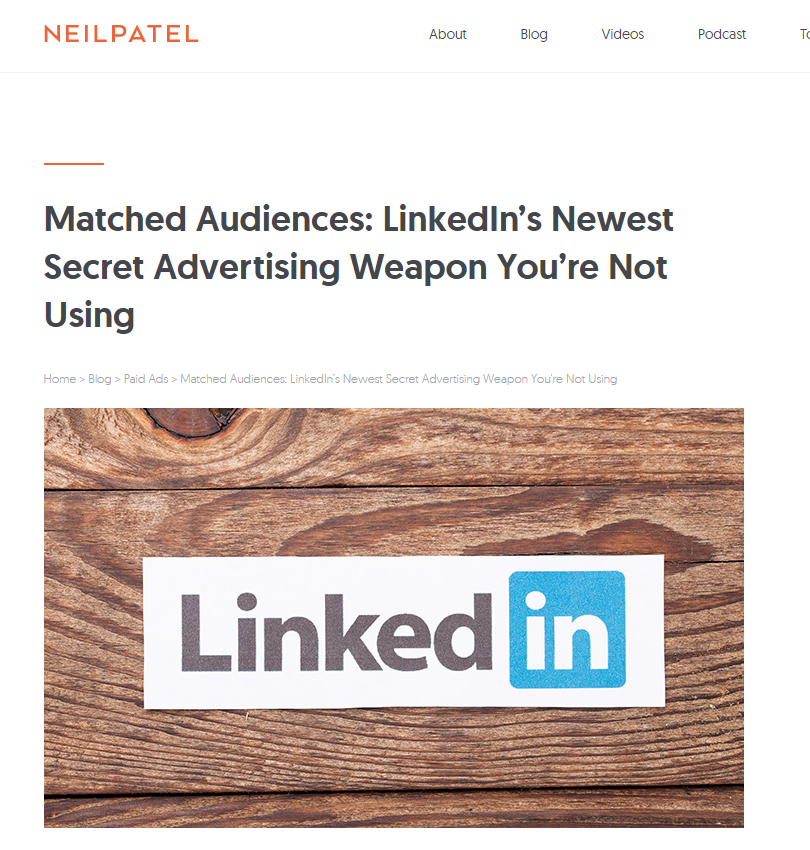 This is an urgency-based headline that introduces a topic, says why you should use it, and gives a risk factor if you don't use it.
In this case, the risk comes in the form of missing out on a huge opportunity.
It evokes the feeling of being late to the party. You're missing the best new tool to drive sales.
Urgency should be your best friend when it comes to writing headlines.
Another way to manufacture urgency with a headline is by accompanying it with a CTA that also induces urgency.
HubSpot tested their call-to-action button on their site and found that a simple change to a red colored button drove a 21% increase in their conversion rate.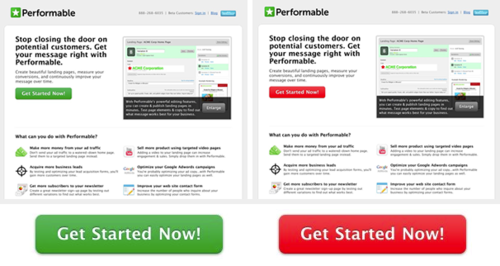 Urgency comes in many forms. Just make sure you tap into it to write a headline that doesn't suck.
Conduct headline A/B testing
Did you know that you only have 2.6 seconds to win over a new visitor?
If you don't get their attention within those 2.6 seconds, you risk losing out on valuable traffic.
So what exactly are these people doing in these few, short seconds?
They're reading your headline.
They're deciding if they want to click it.
They're thinking about how compelling it is.
They're noticing whether or not it drives urgency.
If it isn't compelling and urgency-driving, you aren't getting their click.
Why do you think Buzzfeed is so successful?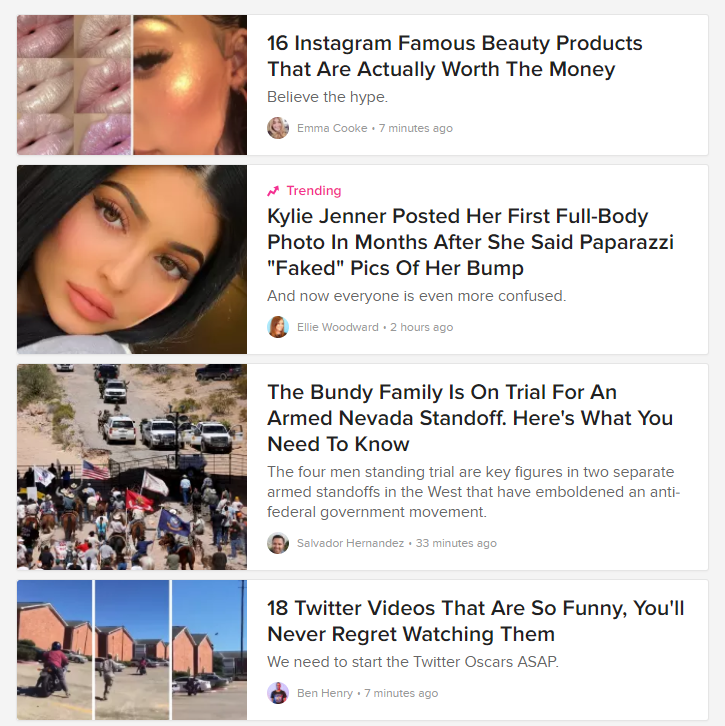 They're successful because they've become the masters of getting people to click on content.
18 Twitter videos that are so funny, you'll never regret watching them.
That might be one of the best headlines I've ever seen.
It includes a listicle-style post (by using the number 18), and it appeals to urgency and fear of missing out.
This brings me to the point of this section:
You need to know what works for your audience.
So when all is said and done, you need to find out which headlines or styles your audience prefers.
A great way to start is by testing your headlines with an A/B-testing tool for free.
Don't worry: You don't need to purchase ads to A/B test a headline.
One of my favorite headline-testing tools to dynamically test headlines automatically is Thrive's Headline Optimizer.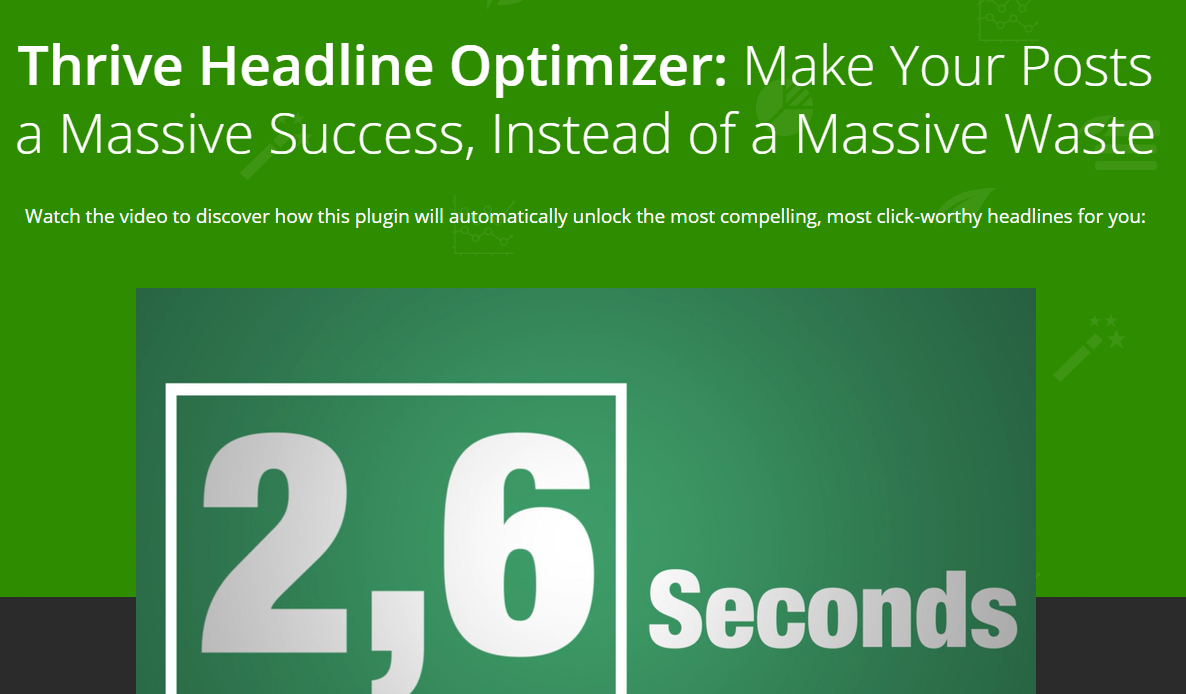 It's a tool that can help you test your headline automatically on each blog post you share on your site.
It then compiles data on engagement and clicks to see which one performs best.
Then, it will select the top-performing headline for you to use.
It has an easy-to-use integration that works directly with sites like WordPress and e-commerce platforms: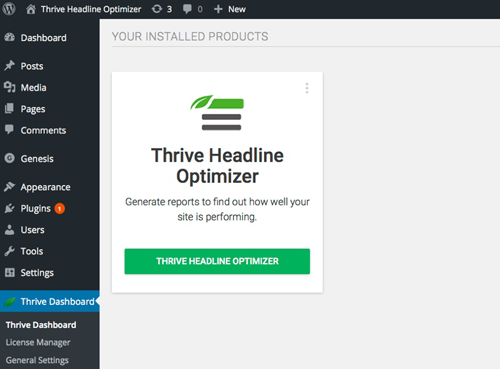 You can create new tests for any new post you publish or even for your old content:

You can start to see engagement data show up directly on each post that you've tested:

For example, you can see views, engagement rates, and more.
Your dashboard also provides more insight and data to inform decisions: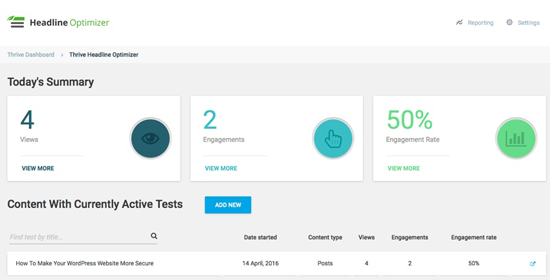 This tool is perfect for anyone looking to maximize their headline impact.
It also helps you automate the process by selecting the top performer.
Try using Thrive's Headline Optimizer if you want to get better results on your headlines today.
Piggyback top headline styles from your competitors
One of my favorite tactics when it comes to digital marketing is to steal data (and especially traffic) from your competitors.
A great way to do this for headlines is by analyzing the content that is performing best for them.
Which blog posts are driving the most clicks and traffic via organic search?
Which posts are getting the most social shares?
If you can find this out, you are on your way to finding huge success with headlines.
Why? You can effectively copy their headlines and make them even better, almost guaranteeing that you get the clicks instead of them.
The key with headlines is to take existing ones and turn them into gold mines.
To start, you can fire up BuzzSumo and search for your competitor's site:

Doing this will allow you to spy on their content and see what is performing best.
For example, when you search my URL, you can see the top-performing posts on my blog: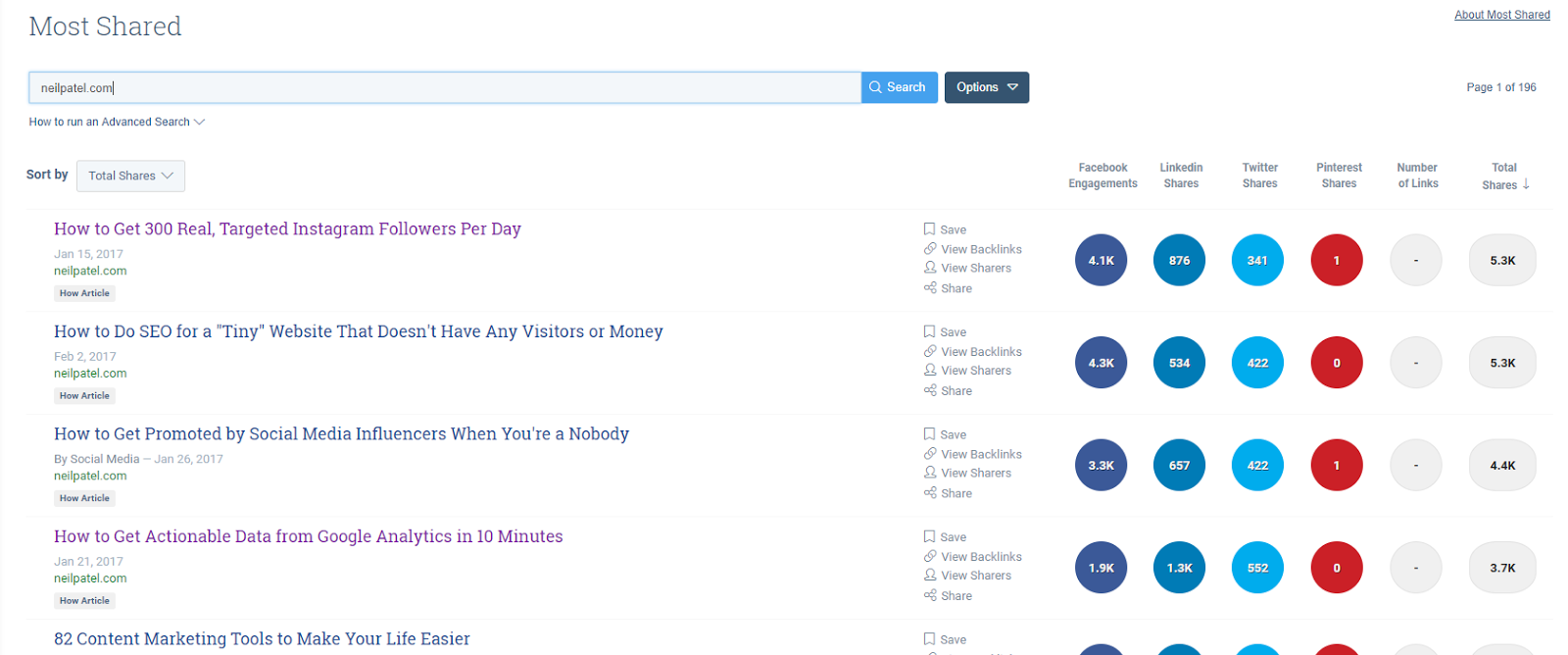 The next step is to look for trends.
Analyze what's performing best and steal it for success.
In my content, "how-to" posts clearly dominate my blog in terms of shares.
And the more shares a post gets, the higher the chances that the headline played a big role.
Headlines serve as first impressions, meaning that they are huge at creating interest and excitement for content.
When analyzing my top posts, you can see that "how-tos" and listicles are my top performers.
But it's time to dig deeper than that.
Look at each headline and see if you can pick up on any underlying trends or commonalities:

My headlines tend to follow a format that speaks to the user personally.
Within my headlines, I try to tell them exactly what they are going to get.
That way, they know what to expect when they click on my content, and I never let them down or disappoint them.
For example, I tell them three things in this headline:
There's a benefit to getting promoted by social media influencers.
I'll show them how to do this.
This is a great article specifically for them. I reassure them of this by mentioning the precise type of audience I have in mind.
I noticed the same trend with my other top-ranking posts:
Using the tutorial-style headline of "how to" with a specific audience mentioned and a detailed goal works well.
You can perform this task for any of your competitors or even top blogs in the industry.
For example, just head to BuzzSumo and type in another website to pull up their data:

Repeat this process with as many websites as you want to gain valuable insight into the top-performing content in the industry.
Conclusion
When someone searches on Google and looks at potential listings, what do you think the first thing they do is?
Likely, they look at the headlines first.
It's the largest font size for each search engine result, meaning it grabs attention fast.
Headlines are the biggest determining factor between someone clicking and not clicking on your content.
If your headline is boring or doesn't capture their attention immediately, you risk losing traffic.
If it's not up to the searcher's standards, your competitors will get the traffic.
Copyblogger found that 8 out of 10 searchers will read the headline copy before clicking on a post.
But, they also found that only 2 out of 10 will read the full post.
Meaning your headline is critical for driving traffic that is interested.
So, how do you write headlines that don't suck?
Start by using a headline generator for inspiration.
It can help you develop topic ideas and different ways to shape your post.
Use solution selling to get the user interested fast, and be sure to create urgency.
Next, try using a headline A/B-testing tool to see what performs best with your audience.
Try piggybacking on the top headline formats of your competitors.
Writing better headlines can be a huge win for your traffic and sales.
What are your best headline hacks, tips, and tools for writing headlines that don't suck?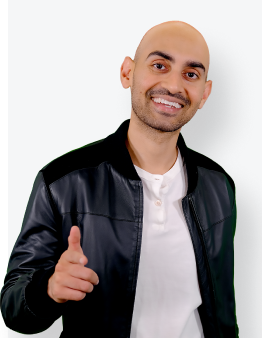 See How My Agency Can Drive More Traffic to Your Website
SEO - unlock more SEO traffic. See real results.
Content Marketing - our team creates epic content that will get shared, get links, and attract traffic.
Paid Media - effective paid strategies with clear ROI.
Are You Using Google Ads? Try Our FREE Ads Grader!
Stop wasting money and unlock the hidden potential of your advertising.
Discover the power of intentional advertising.
Reach your ideal target audience.
Maximize ad spend efficiency.