I spend a lot of money on ads each month.
Now, I'm not perfect, but I also can't afford to make mistakes when so much money is on the line.
But I can't just manage ad campaigns all day, either. There are too many other things that need to get done.
I'm guessing your life probably feels the same. You have a business to run, team members to manage, or other campaigns to keep up with.
You can't spend all day on AdWords and Facebook, memorizing what's happening and why.
The trick isn't to work longer hours than you're already doing. Instead, you want to use awesome tools that will cover your backside, so things don't spin out of control when you least expect it.
Here are 11 of my favorite tools to make sure each ad campaign I run is making me multiple times what I'm spending.
1. SEMrush
Advertising is tricky because you often don't know what's going to work before you start.
And yet you don't want to blow through a ton of your budget on the front end, either, just trying to see what works.
SEMrush can help you avoid such a costly mistake.
For example, long-tail keywords are awesome for SEO. But not so much for paid campaigns, where there's typically not enough search volume to ever net you any clicks.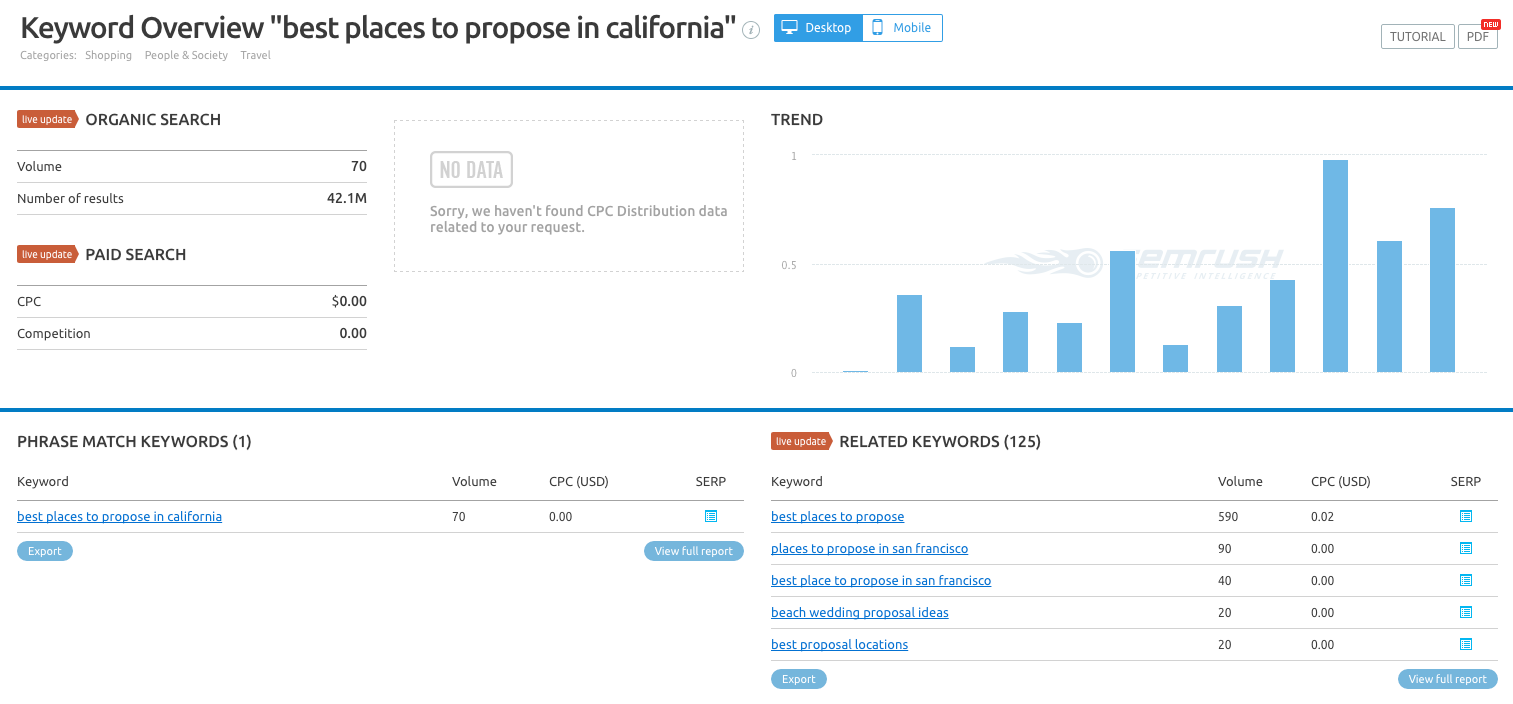 So even if the CPC is OK, there's simply not enough demand to ever make it worth your time.
And you can't invent or create search demand for specific keywords. It either exists, or it doesn't. All you can do is capitalize on it once it's already there.
SEMrush also provides you with competitive insight.
So if you're stumped and unable to find enough keywords to get started with, you can pull up some of your competition who may already be advertising to quickly pull down a list of their keywords and ad copy.
It'll also provide a CPC range for each keyword, too. That way you can start estimating potential results based on a few hypothetical assumptions.
For example:
What's your historical conversion rate?
Determine how much traffic you might need now to see at least one conversion (e.g. 1% = ~100 visits).
Multiply each visit by the CPC to figure out how much that traffic might cost.
Determine the difference from that and your average sale value to quickly see if your campaign might be profitable or not.
That's obviously a simplistic, 30-second assumption we're making, but it at least puts you down the path of connecting some hard data with your ad budget.
If you're entering a new market or working with a client in a new industry, you can also use competitive intelligence on steroids with this next tool.
2. SpyFu
SpyFu and SEMrush have some overlap, helping you quickly figure out who the primary search marketing competitors are in your space at a glance.
But you can then drill down into each of their campaign level performance, receiving insight as to which long-tail keywords contain your best potential ROI. That means less data crunching in Excel and more time to focus on generating profit faster.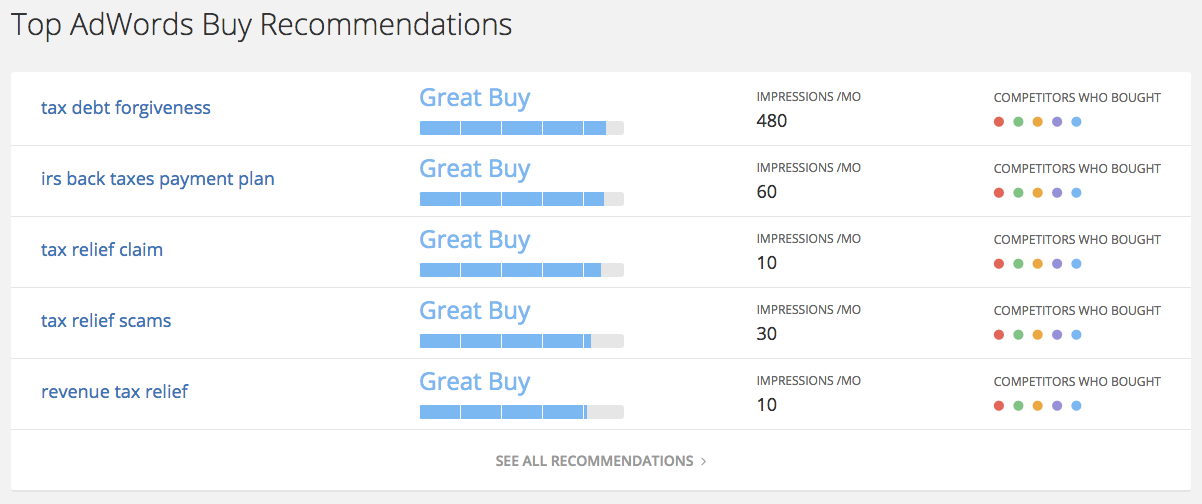 Once again, they'll even let you know how much someone is spending on each individual keyword.
Competitive insights like these are invaluable. It lets you completely forecast what your potential ROI might be without spending a single cent.
Back in the old days, you literally had to just throw down hundred dollar bills every day or so to eventually discover which keywords were even worth pursuing.
And now you can find that same information within seconds for a fraction of the cost.
3. Grammarly
The success of an ad campaign doesn't just come down to the ad or keyword you're bidding on.
Think about it for a second.
Those people click through and eventually compare your landing page to a few alternatives before deciding which to give their information (or hard earned cash).
And at this moment of truth, the last thing you can afford is a stupid mistake sabotaging all of your credibility.
Thankfully, that's where Grammarly comes into play. You can simply copy and paste your page's copy (or even your ad copy) into their tool to immediately get feedback on the subtle nuances of the English language.
If that's too time-consuming for you, Grammarly also has an excellent Chrome Extension.
Install it now to have Grammarly follow you around wherever you browse and compose words.
That means it even works directly inside of WordPress, so there's no need to ever leave when you're creating new pages or tweaking copy to perfection. Simply look in the lower right-hand corner of your page when writing to see how many mistakes you're unknowingly racking up.

Yellow means a minor infraction while Red is a big no-no. Click on those numbers to expand a window that will show you each error in detail.

No more embarrassing errors will come back to haunt you or sacrifice your credibility.
4. Canva
The copy on your landing page is only one of your problems.
The other major one is typically the design.
You could open Photoshop and start cranking away.
But the easier solution is to simply fire up Canva and create a new creative piece within minutes. Simply find layouts from the left-hand side menu, scroll through their pre-designed templates, and tweak some of the finer details for your specific campaign.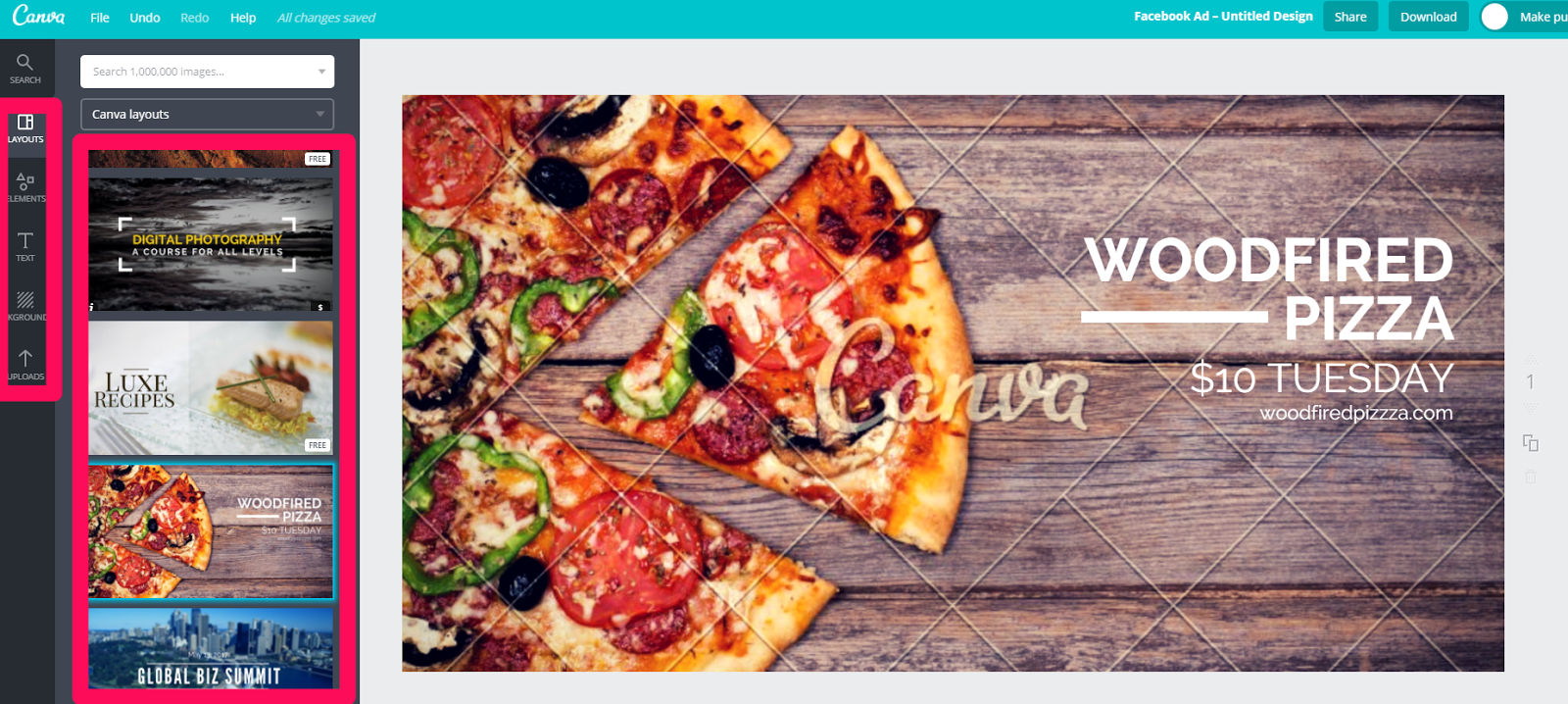 Best of all, they'll even give you pre-built ad creative templates to work with that are already properly scaled to each platform's unique dimensions.

So no more hours wasted spent adjusting layers, filters, or widths. Point, click, and go.
What used to take a few hours can now be accomplished in less than 5 minutes. Especially when you combine the power of Canva with this next tool.
5. Facebook Ads Gallery
How do you know which ad creative will work best?
You don't, of course.
You need to test, refine, and iterate based on some early results.
The Facebook Ad Gallery from AdEspresso (more on them later) can help you shortcut this testing process by displaying different ad creatives from big advertisers across most industries and objectives.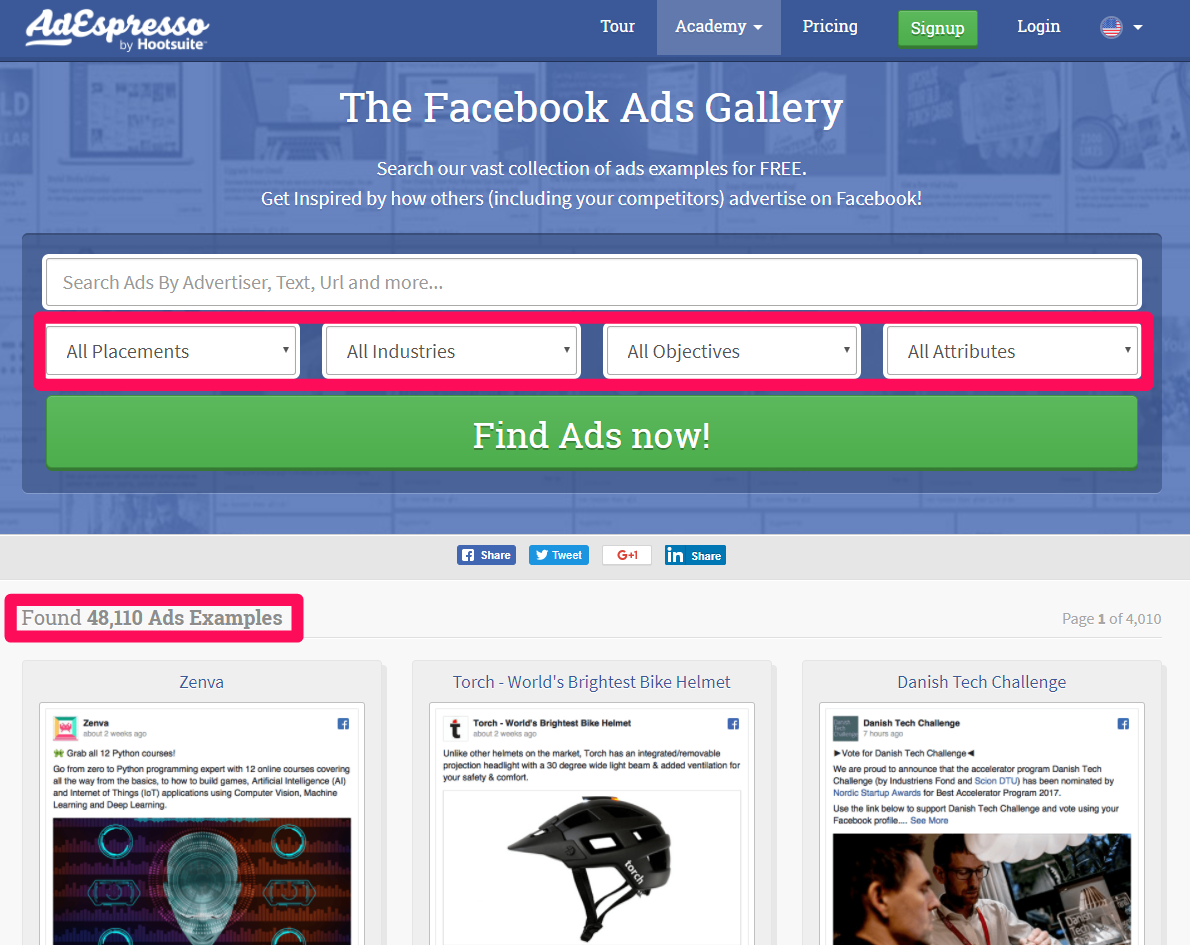 For example, you can filter between Brand Awareness vs. Lead Gen ads to how others are designing for each.
You can benchmark against others in a specific space, like ecommerce or local businesses.
(Pro tip: Click on 'Why am I seeing this?' when you see a newsfeed ad inside Facebook to figure out how that company is targeting you.)
And then you can even see how other advertisers are formatting for desktop ads vs. mobile vs. right-hand column placements.
For example, here's the full details and specs on a camera ad from Amazon: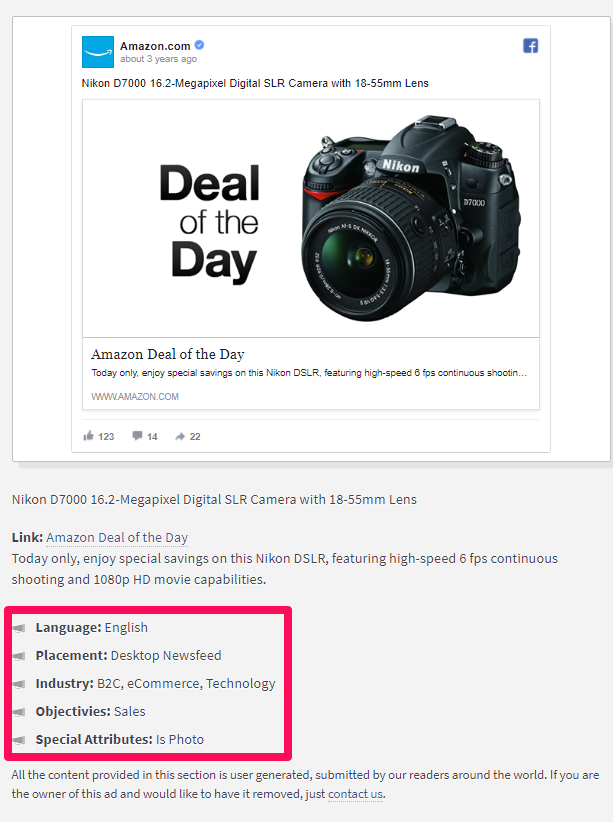 Pretty helpful, right?!  Especially for being a free resource.
You can also use my proven strategies to build your Facebook audience in this video:
It's only right that we thank the creator of this Facebook ad gallery, brought to us courtesy of this next tool.
6. AdEspresso
Facebook advertising is powerful… if you can figure out how to use it.
For starters, it doesn't work like AdWords. So you can't just create a single campaign that all of a sudden results in new leads and customers.
Instead, you need multiple campaigns running simultaneously. Make sure each one is doing a very specific function that assists the others.
Then there's Facebook's Business Manager. It's not the most intuitive interface ever created. So managing all of these complex campaigns can be tricky.
That's where AdEspresso helps.
First, it drastically simplifies the campaign creation process. You're able to build campaigns from scratch or duplicate old ones to modify, saving each as a draft before finally hitting the Publish button when ready.
Second, it adds some new features like the ability to not just split test ads but also split test multiple audience types so you can figure out which personas or segments convert best.

Third, it helps you better interpret your results. One small example is highlighting exactly when (both day of the week and time of day) your campaigns perform best.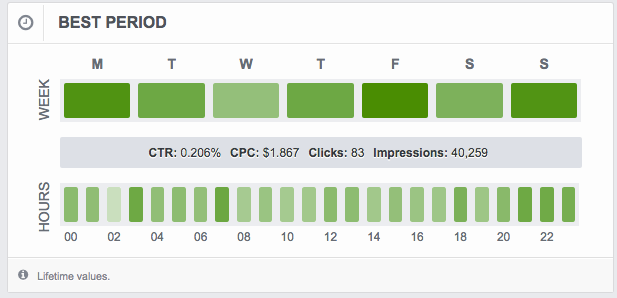 You can use more advanced techniques like dayparting to automatically adjust your ad budget. Spending more in the good times and less in the bad result is a simple way to instantly increase your ROI.
Then there's their free Pixel Caffeine WordPress plugin.
Properly setting up the Facebook pixel can be tricky if you're not technical. (I'll show you how to get around this in the next section.)
But this WordPress plugin allows you to create and manage advanced features like custom audiences or adding new tracking events, all from the backend of WordPress.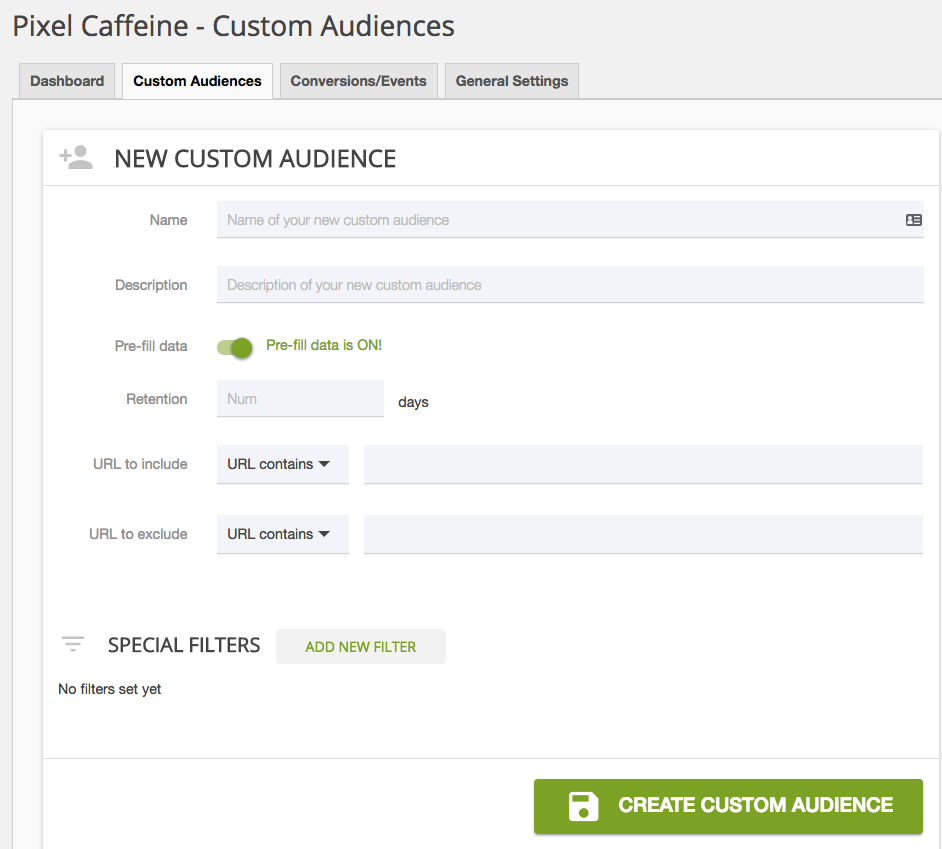 This makes your life easier and more efficient. When you're setting up or tweaking landing pages inside WordPress, you can create new tracking events ASAP without ever navigating away.
7. Zapier
Ecommerce advertising has been largely simplified today when you're selling on platforms like BigCommerce, which go so far as to create and sync your own product catalog for you.
Unfortunately, the same can't be said for B2B.
On the surface, it seems easy and straightforward. But once you consider that you're only able to track leads and not finite sales, things get tricky fast.
Ideally, you should be able to see that someone spent $300 bucks with your company one week after coming through Facebook campaign XYZ.
That's unfortunately impossible if all of your various tools don't play nice together.
For example, to make that happen, you'd need Facebook talking to your landing pages (Gravity Forms, Unbounce, etc.), which then talks to your CRM (Pipedrive, Salesforce, etc.), which then also talks to your payment gateway (Stripe, PayPal, etc.).
See how this escalates?
Thankfully, Zapier connects all of your various tools so you can wrangle them within one streamlined workflow.
So new leads are seamlessly added to your CRM, filtered based on their answers, and then your sales reps instantly receive their 'next steps' to start closing each deal.

Zapier has their own built-in filtering tool as well. That way you can route messages or say that a certain lead only gets passed to your database if they pass your qualifying questions (i.e. exceeding $1 million in sales).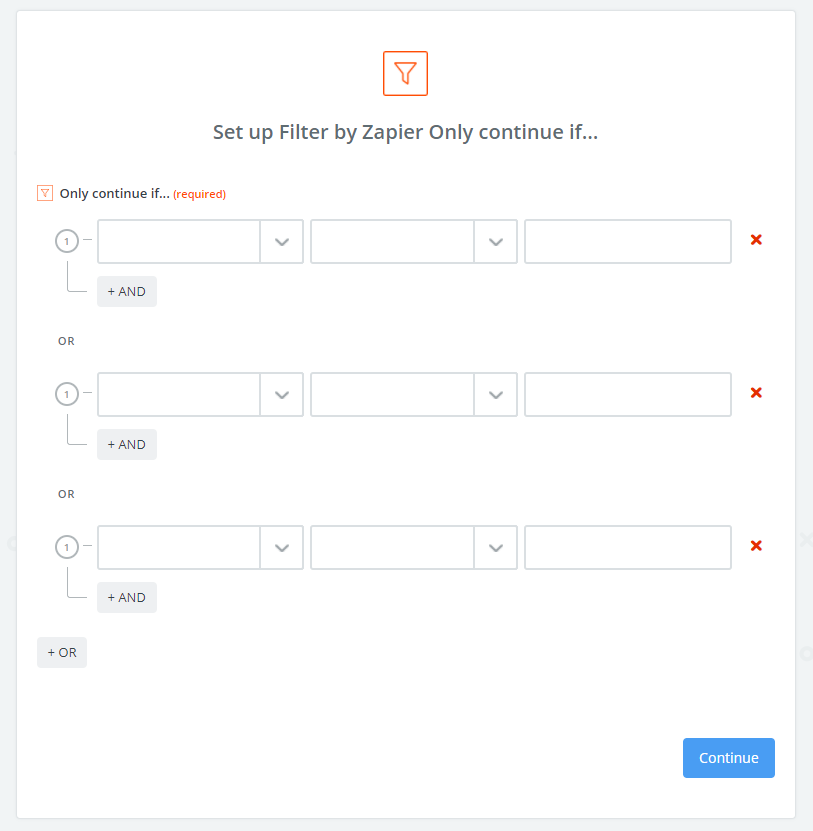 8. Google URL Builder
Dark traffic wrecks havoc on your data.
It's consuming your email, social, and paid campaigns, showing up under 'Direct' instead of where they rightfully belong.
The only way to give yourself a chance to fight back is to make sure each and every campaign link is properly tagged on its way out the door.
The Google URL Builder shortcuts this process so you can rattle off links for custom campaigns within seconds.
Simply input the basics of where you're putting this link and what its purpose is and then Google's URL builder will do the rest for you.
It will automatically generate each new URL with all of the parameters added correctly so you can now copy and paste into place.
9. Google Tag Assistant + Facebook Pixel Helper
The only reason to spend a single dollar on ads is to get some specific outcome in return.
You need to see leads generated, sales made, and new revenue coming in shortly after pushing your campaign live.
Seeing these results inside Google Analytics is a good start, but not enough, unfortunately. You need to be able to track that information back to where you're spending the money (like AdWords or Facebook) so that you can compare apples to apples for dollars spent.
Two Chrome extensions can make this process easier  (we'll combine them here because they largely perform the same function for each channel).
The first is the Facebook Pixel Helper Chrome extension. Simply click "+ Add to Chrome" and you'll be off and running within seconds.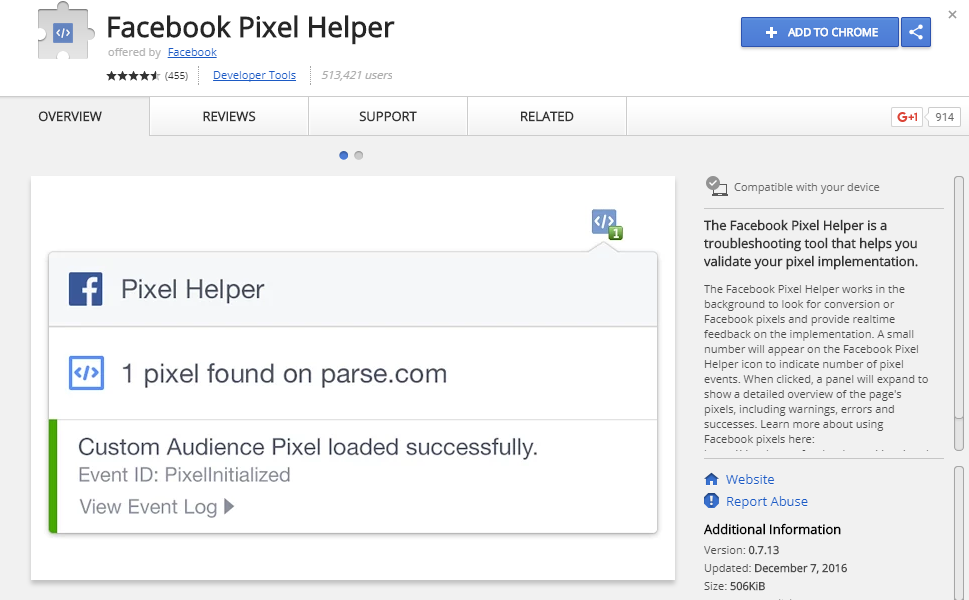 Now pull up your website, click on the Chrome extension icon, and you'll get instant feedback on whether your Pixel (with tracking events) is set up properly or not.
For example, technically there was a Facebook pixel found on ESPNFC.com. If this were your site, you'd probably think you were good to go!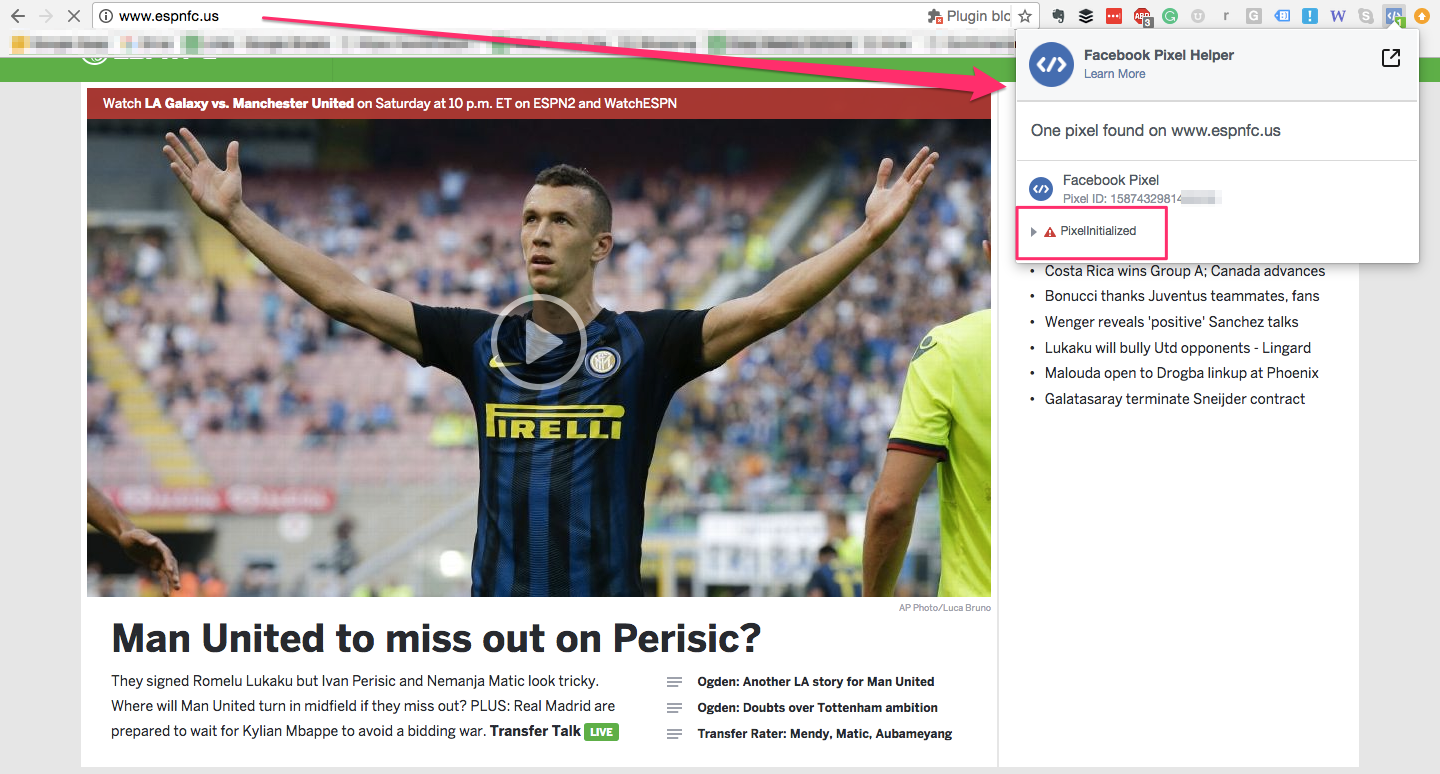 But that wouldn't be the case here. Apparently, there's some sort of error. Let's dig deeper to see what's wrong.
There's a code, but it's not loading properly. That means if you were running ad campaigns, you'd get 0.0% feedback!
The Google Tag Assistant Chrome extension works largely the same way, but this time for Analytics and AdWords. Click on the icon to pull up details on whether this pixel is firing properly.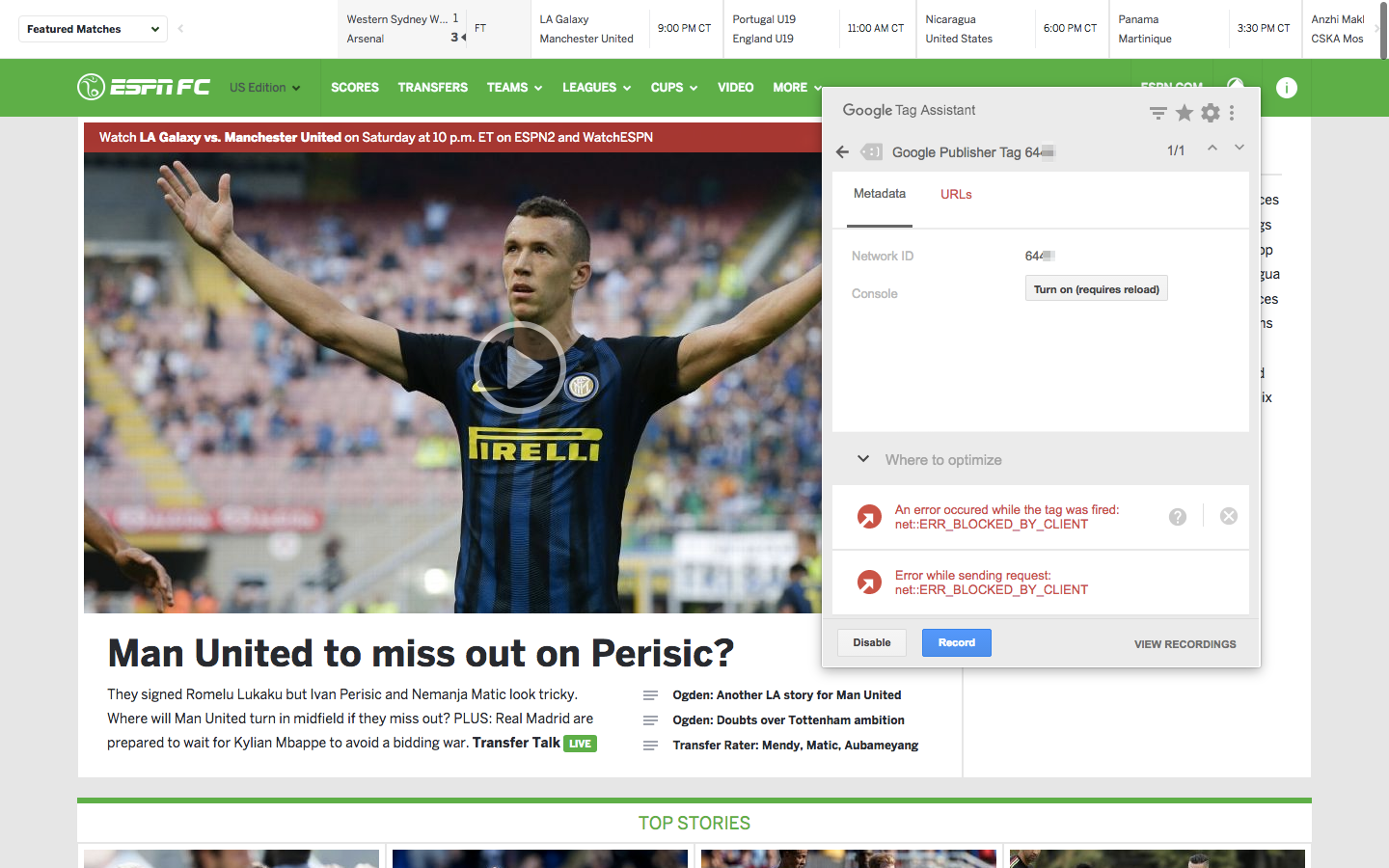 Yikes. ESPNFC.com needs to speak with their developers.
In each case, you could assume that you're safe to start ad campaigns because there's some record of both pixels.
However, when you dig deeper like this, you're able to see that neither is firing properly.
So you won't see any of that data now inside your ad campaigns on either Facebook or AdWords.
10. Unbounce
In an ideal world, each keyword or individual ad campaign would have its own landing page to make sure your messages match.
But that's not always practical.
For example, let's say you use Single Keyword Ad Groups (SKAGs) inside AdWords. That could mean you have ~20 different campaigns if you have 20 keywords.
Which then means you need 20 landing pages, too!
Who's going to create all of those? Especially if you're not using a good CMS and your developers have to create each one by hand.
Unbounce can help by creating custom landing pages quickly, then even allowing you to split test them (without touching a line of code).
But that's not the best part and why I'm featuring it here.
Nope.
The reason it's listed here is because of their Dynamic Text Replacement feature.
This allows you to create sections on each landing page where you can customize the text based on where someone is coming from (or searching).
So you can grab the button copy, for example.
And then edit it to create a few different options to show based on what someone searches for in Google.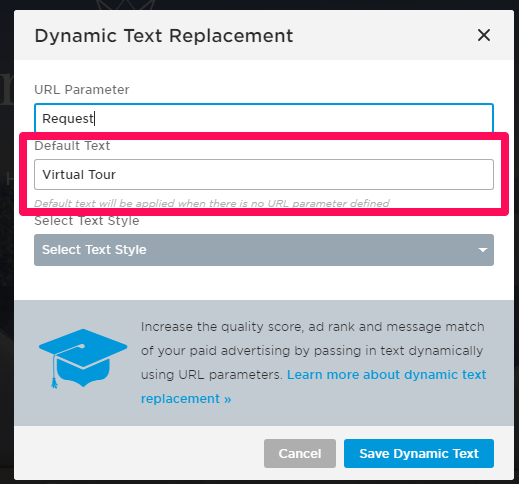 That way you can reduce your workload from 20 different landing pages back down to one template. Then you just customize the text on the single template to display differently for each SKAG setup.
11. Crazy Egg
Ad campaigns don't always perform like you predict.
Sometimes the page doesn't resonate for some reason. The design and copy are on point, but the bounce and exit rates are still through the roof.
What gives?!
That's one of the main reasons I created Crazy Egg.
For example, a simple scroll map would tell you that nobody's going below the fold. So whatever is wrong on this page, it's happening up top before people even get deeper in.
What's a potential reason that might be happening?
Flip over to the heatmap. It will show you where people are interacting with the page. And in this case, the opposite is true (in other words, where people are not interacting).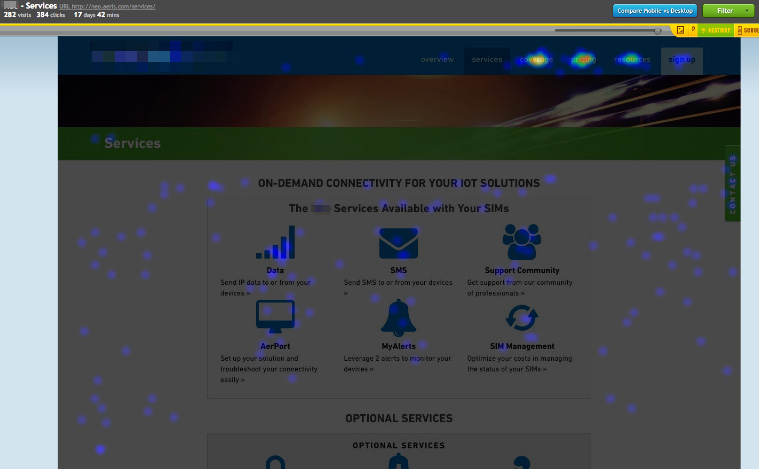 There is no primary CTA that's attracting each visitor's attention and focus. Five minutes of analyzing real user behavior clue you into what's wrong and gives you some ideas for how to fix it.
Conclusion
Running a successful ad campaign isn't easy.
There are so many things that have to be perfect, from the initial pixel install to your creative design, ad copy, landing page design, conversion tracking, and more.
You can't be expected to do it all yourself or have all the answers. Thankfully, that's where good tools come into the mix.
They can help you shortcut the time it takes to get a campaign off the ground.
They can help you double check some of the basics so you don't waste a ton of money on untracked campaigns.
And they can even help you see what your competition is doing (and how to outperform them).
What's your favorite ad tool you use everyday?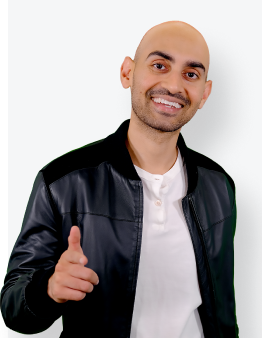 See How My Agency Can Drive More Traffic to Your Website
SEO - unlock more SEO traffic. See real results.
Content Marketing - our team creates epic content that will get shared, get links, and attract traffic.
Paid Media - effective paid strategies with clear ROI.
Are You Using Google Ads? Try Our FREE Ads Grader!
Stop wasting money and unlock the hidden potential of your advertising.
Discover the power of intentional advertising.
Reach your ideal target audience.
Maximize ad spend efficiency.