Some businesses emerge out of nowhere and take off like wildfire.
They capture the world's attention and get everyone talking about them. The buzz never truly dies off.
We saw it happen with Uber.
We saw it again with Airbnb.
Just take a look at this Google Trends graph for the search terms "Uber" and "Airbnb." There's been an exponential increase year over year.
Have you ever wondered how this sudden and rapid growth happens?
Or how these businesses keep their momentum?
I'll let you in on their strategy.
It's called growth hacking.
I'm sure you've heard of the term. It's been thrown around a lot lately.
This is what I used to grow my Instagram account to over 140,000 followers. Even though I don't have an active Instagram account anymore, this article was designed to teach you how to grow yours like I did before.
My results?
My Google rankings surged.
The number of Google searches for my name increased by over 70%.
My branded hashtag was used over 11,000 times.
My Instagram account received double the average engagement on each post.
Insane, right?
I already knew first-hand the impact that social media had on SEO. It's something that I preach about all the time here.
Still, I was amazed by the results I saw.
You don't typically associate Instagram with SEO. It seems unlikely that a photo-sharing social network would increase your search engine capital.
It can, and I'll give you all the details.
With the strategies in this article, you can replicate my success.
But before I jump in, I want to give you a crucial bit of advice.
Have a plan of attack
There's no escaping this.
You need to be ready with a strategy.
You cannot growth hack your way to the top of search engine rankings without knowing what the hack is.
Let's consider the meaning of growth hacking.
Here's the textbook definition:
In short, it's about achieving astronomical growth quickly. This very focused goal should inform every step that you take.
Hacking often means experimenting with inexpensive strategies.
You have to go off the beaten path and come up with ingenious ways to meet your objectives.
Before you get started, get the details down.
What do you want for your Instagram account? We know it's growth, but how much growth?
What exactly does growth mean to you?
In what period would you like to achieve your goal?
What experiments will you try?
How will you put a new spin on an old technique to accelerate the results?
You don't have to go in blindly.
The strategies I share in this article will help you answer the last two questions.
Ready? Let's get started.
1. Play the numbers game
People always recommend "quality over quantity."
I agree. It's something I preach myself.
When it comes to growth-hacking Instagram, though, your strength is in the numbers.
Dropbox demonstrated this well. Its goal was to increase the number of Dropbox users, so it incentivized current users to bring even more people on board.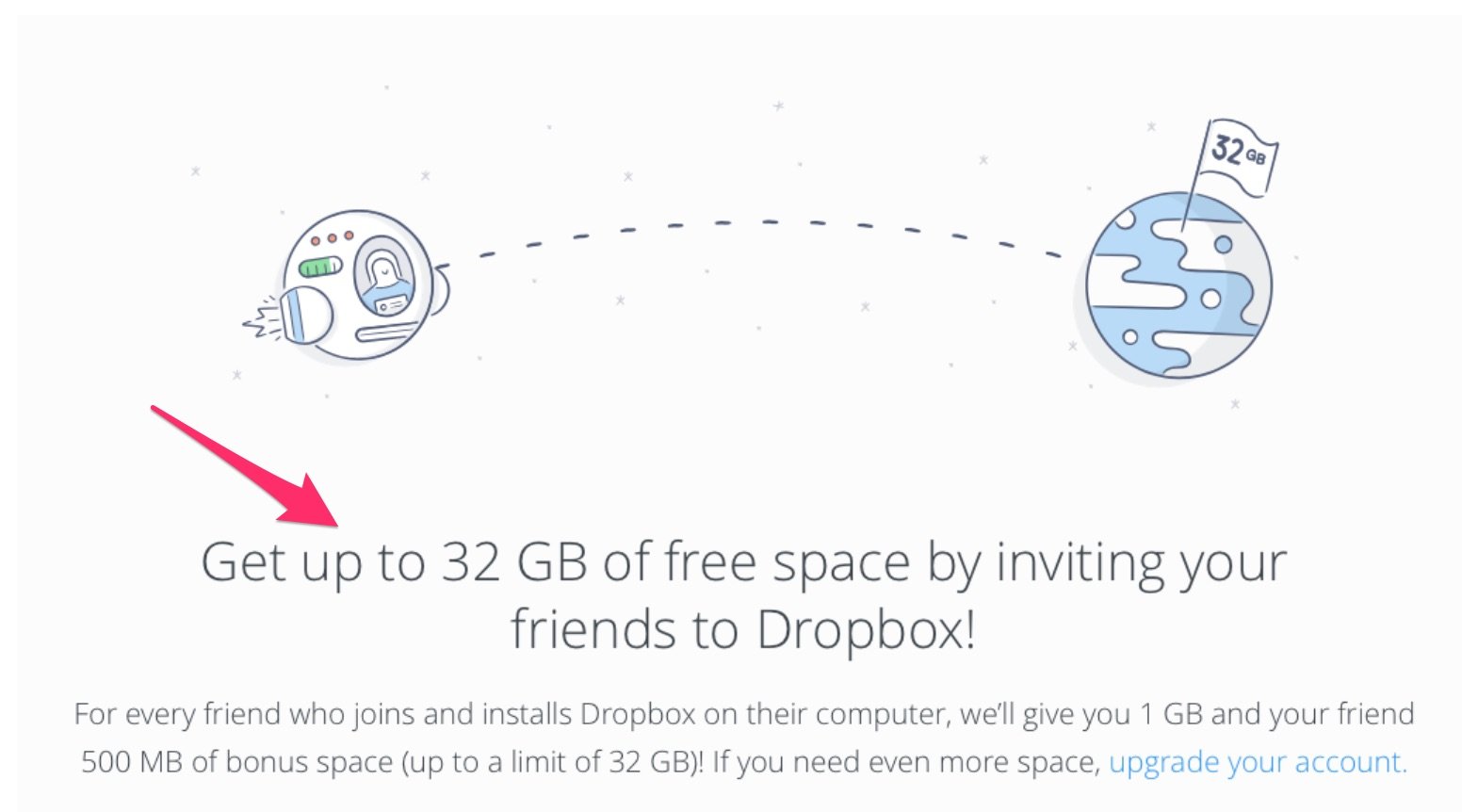 Did that free space cost Dropbox extra money? Most likely.
But when you're focused on growth, the secondary elements don't matter. It's all about growing your numbers.
So, increasing your Instagram followers should be your first objective.
Why?
Growth hacking requires a blitz factor. Everyone needs to be talking about you at the same time.
After you build that momentum, you need to scale it.
The surest way to achieve that is to rally up a large following.
Best of all, it's not difficult to do.
Foundr was able to growth hack its Instagram account to half a million followers in less than a year.
Make no mistake: you can still have a very targeted approach to Instagram.
After all, you want your followers to be genuinely interested in your brand and what you offer.
That's the one prerequisite to sustaining your growth.
But what I'm saying is that you need enough reach to create that viral effect.
So, in the strategies we use from here on out, remember that we're taking a "more is more" approach.
To begin, you need to gain a significant number of the right followers.
Here's how.
Step #1: Piggy-back on the following of influencers or brands in your niche.
If someone follows an account with the same focus as yours, they'll likely follow you as well.
This is ideal for getting targeted followers without having to do the legwork.
Plug in your niche hashtag in the search bar on Instagram. I used #socialmediamarketing for this tutorial.
Select the hashtag with the highest number of posts from the drop down menu.
You'll get the top posts for that hashtag.
Select a few of them to see who posted the photo.
It's more than likely a popular user, like this guy, who has 13k followers: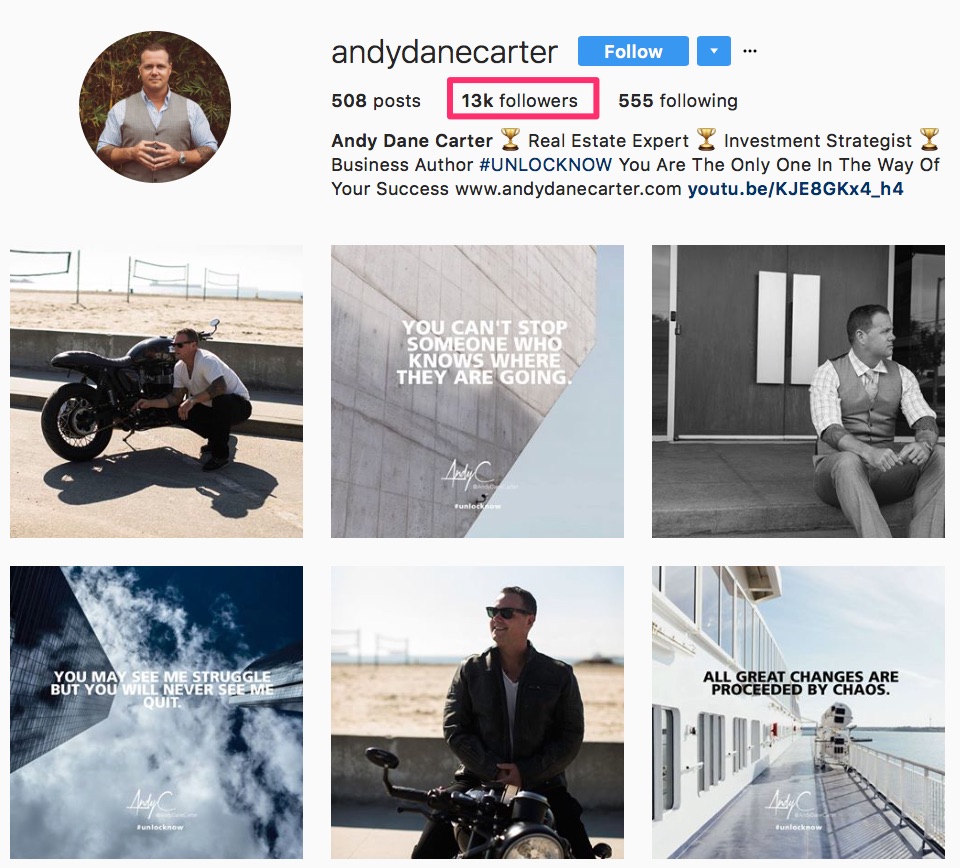 Check out that person's list of followers, then follow them.
Step #2: Go on a photo-liking and commenting spree.
This is an excellent way to get on the radar of potential fans.
Type in a hashtag related to your business in the search bar. Find a few promising accounts, like their content, and leave thoughtful comments.
Make sure you like and comment on multiple photos. Three is a good number.
You can gain followers this way without necessarily having to do the tacky "follow-for-follow" routine.
Step #3: Post every single day at optimal times.
Content is crucial. If you don't post every day, you'll not only lose your current followers, but you won't attract any new ones.
Like most social media channels, there's a right time to post your content on Instagram.
If you've been active on the platform for a while, you can analyze your data to determine what your audience prefers.
If not, here's a general idea of optimal times:
Step #4: Use relevant hashtags.
Hashtags are to Instagram what keywords are to Google.
It's how users find your content, so use lots of them.
Posts that include hashtags have a higher like-to-follower ratio than those that do not.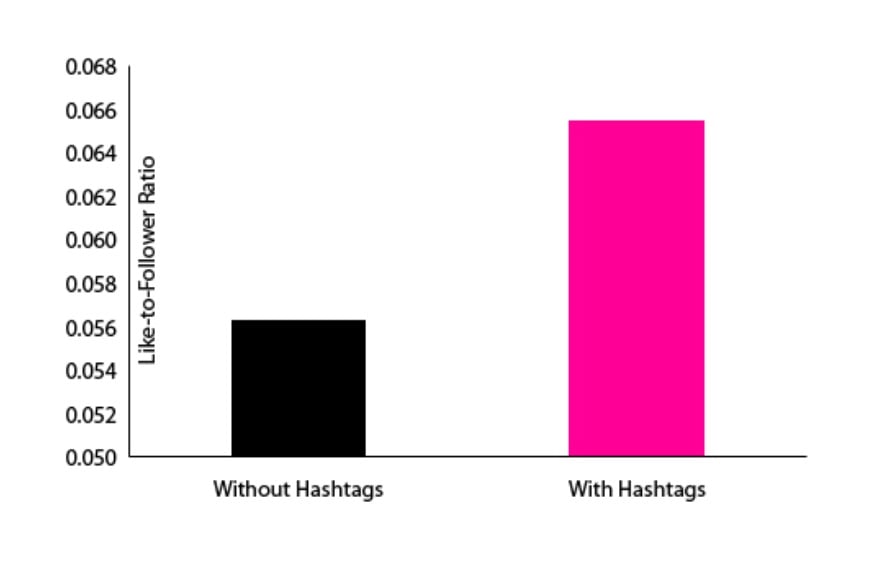 You can use up to 30 hashtags. I don't recommend stuffing your posts with hashtags only, though, so keep your hashtags-to-content ratio balanced.
Including more than 10 hashtags can lead to reduced engagement. It can be perceived as spam.
Using 5-10 hashtags represents a good range.
These are just a few strategies to get your follower count up in the beginning.
As you put your growth hacking campaign into gear, your Instagram following will grow organically.
2. Push a lifestyle specific narrative with your content
Listen carefully.
I'm not concerned about short-term growth.
I'll admit that many people who growth hack achieve results that eventually fizzle out.
Why do they burn out?
There's no focus on sustainability.
That's what this strategy is about. I want you to have long-lasting results.
By pushing a particular narrative with your content, you achieve a few crucial outcomes.
You create something scalable that you can sell your audience on. You do so without the need for a tangible product.
You provide your Instagram audience with an exclusive experience. It won't cost you anything. It's simply the story that you tell.
You build a brand image that is going to advertise itself and keep the momentum going without you doing anything.
You differentiate yourself from the crowd by creating a culture that cannot be replicated or reverse-engineered by competitors.
What do I mean by a lifestyle-specific narrative?
Example:
For my Instagram account, I published content associated with success and prestige.
That lifestyle appealed to a certain crowd of people: entrepreneurs and CEOs.
It gave them a reason to reach out to me personally because the content resonated with their own lives.
They got the message. And it didn't take much besides distributing lots of content with a consistent storyline.
What's your narrative going to be?
Here's how to find out.
Step #1: Hone in on your target audience.
You need to get crystal clear on who you're trying to reach.
I knew that my targets were entrepreneurs. Coming up with a narrative that resonated was a natural progression.
The story that you tell with your content won't have an impact unless you get clear on who that person is.
Consider these questions.
What line of work is your ideal target in?
How old are they?
How do they dress?
Where do they eat and hang out?
What keeps them up at night?
What are their deepest desires?
What items do they splurge on?
What are they conservative about?
Remember that Instagram runs on visuals. Over 80 million photos are shared on the platform each day.
The more specific you can get with the image of your ideal target, the more ideas you'll have for mirroring that image in your content.
Does that make sense?
Step #2: Decide what your narrative will be.
After you've pinpointed who your target followers are, come up with a story that will be attractive to them.
Here's a basic 3-point formula:
What's the backstory? In other words, where did they come from?
Where are they now? What lifestyle are they living now?
Where can they hope to be in the future?
This will help you come up with a lifestyle-specific narrative that is aspirational yet authentic to your audience.
Pro tip: Don't forget to tie this story to your brand. Consider the solutions that your business offers. You can then present your product as an accessory or an avenue that leads to achieving that lifestyle.
For example, Nike pays homage to extraordinary athletes. That's their story, and every piece of content tells it well.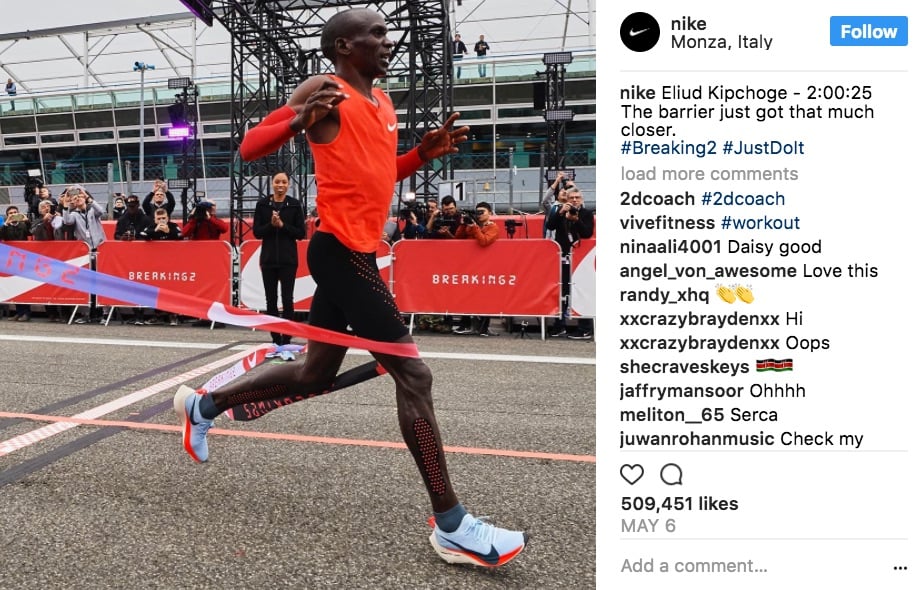 Step #3: Consistently publish content that is aligned with that story.
Finally, you want to create content that tells every aspect of your narrative.
If you do the first two steps, you'll have lots of creative juice. This is the easy part.
Don't forget that your story can evolve. Take note of how your audience engages with your content.
Use their interactions as creative input.
3. Partner with micro-influencers
Influencers dominate Instagram.
The quickest and most efficient way to growth hack your Instagram is to partner with these influencers.
If you can capture the attention of a major influencer and have enough leverage to win them over, that's great. Go for it.
Otherwise, I recommend targeting micro-influencers.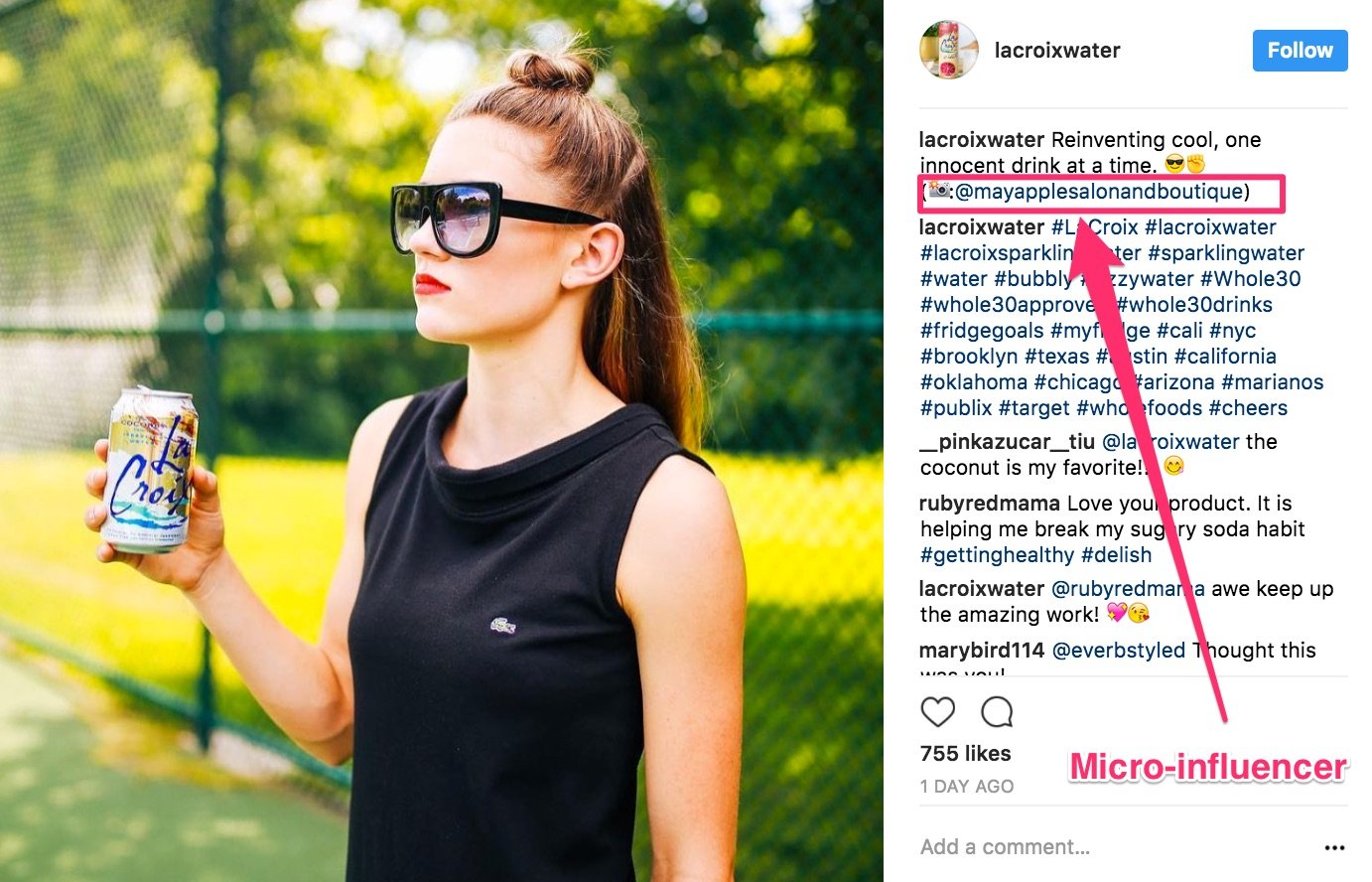 They don't have celebrity status.
They don't have millions of followers.
So what's the point?
There are a few reasons I recommend micro-influencers over the big players.
You can mobilize more of them at a low cost. Many Instagrammers have sizeable accounts that they aren't even monetizing.
Here's the proof:
It means they'll jump at the opportunity for partnership.
You may not even have to pay them.
You can get creative with incentives that don't include money. Even if you do compensate them, it will still be more cost-effective than getting a major influencer.
Micro influencers have hyper-engaged audiences. Accounts with millions of followers see a decline in user engagement.
As followership increases, the comment rates on these accounts decrease drastically.
The same thing goes for Like rates.
You don't want that.
You need people to be sharing and interacting with your content. This way, you can gain more traction.
Micro-influencers have more authority and trust within their networks. Many people don't trust major influencers.
It's because they're aware that these more popular voices get compensated by brands.
On the other hand, the audiences of micro-influencers see them as trusted sources of information.
It means that they would be better able to energize their followers to promote your brand.
What kind of Instagram user makes a great micro-influencer?
I recommend targeting users with anywhere between 1,000 and 100,000 followers.
Local bloggers, models, niche influencers, loyal customers, and fans all make great options.
4. Focus on growing your brand awareness
It doesn't matter if you have a product to sell.
It doesn't matter if your goal is to increase your customer base.
A brand-centric strategy is better than a product-centric one.
First, it's less salesy.
If you're too promotional, users will be turned off, and it will be counterproductive.
Promotional posts are the number one reason why people unfollow a brand on social media.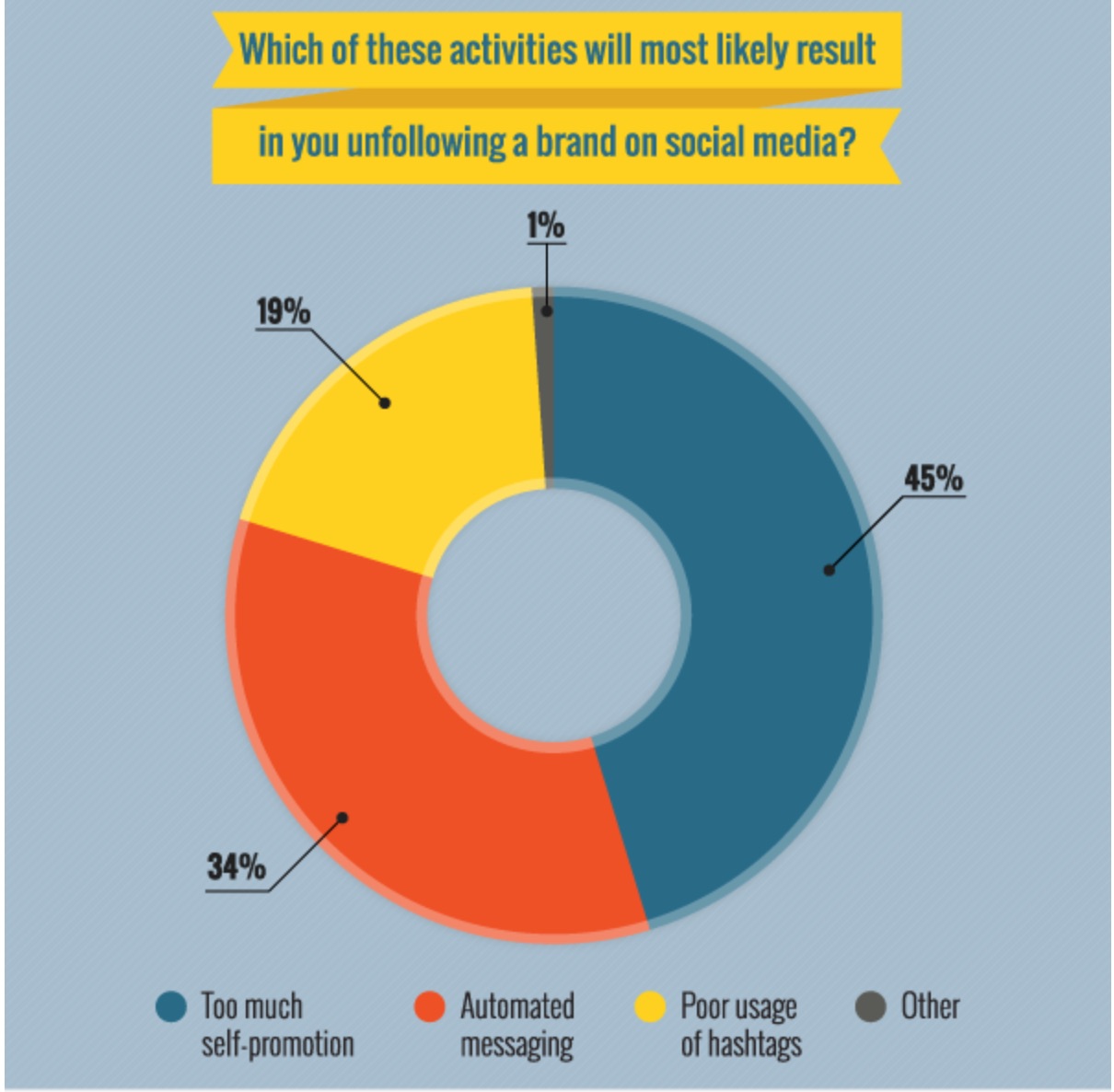 When you increase brand awareness without being too promotional, there are several benefits.
It will elevate your brand position in your market and make you more competitive.
It will influence sales. The more people who know you, the more eyes you get on your products.
It's more authentic. You're cementing your brand image in people's minds and not trying to sell them anything.
Your brand mentions increase across the web, both on social and search. This increases your brand equity on these channels.
The benefits are undeniable.
Focus on building your brand, and everything else will fall into place.
The next step is integral to that mission.
5. Create and promote a branded hashtag
No Instagram strategy is complete without a solid hashtag play.
You can't skip this step.
Why?
For one, a viral hashtag gives your growth hacking more teeth. You get to reach more people and ensure that your brand name sticks in your target audience's minds.
The hashtag also gives your brand permanence on both social media and search. It ensures that you're not just a "here today, gone tomorrow" brand.
Take a look at Nike's branded hashtag. It has almost 59,000,000 posts!
Imagine this: my Instagram account is no longer active. If you were to search for my branded hashtag, though, you'd still get thousands of results.
That's what I mean by lasting power.
Can you imagine if I hadn't created a hashtag?
My growth-hacking campaign would've had less of an impact.
But creating a hashtag is just one part of the equation. You also have to promote it.
Want a simple two-prong strategy?
Combine user-generated content and giveaways.  
Instagram accounts that hold contests grow 70% faster.
You can ask users to create content using your hashtag and distribute it within their networks.
This could be the entry method for a chance to win a relevant prize.
It works great. If you want to know just how well it performs, ensure that you monitor the growth of your branded hashtag.
A simple search on Google or Instagram will give you an idea of the buzz that surrounds it.
6. Optimize your Instagram profile and content for search
The first five strategies will get people talking about you, sharing your content, and promoting your brand.
Your branded searches will increase. You'll get more backlinks. And your social media influence will be amplified.
All these have an impact on your Google rankings.
Here are some of the factors that matter to Google's algorithm:
Engagement, traffic, and links are all a key part of it.
Growth hacking your Instagram will have an impact on all of these metrics.
But you also need to make sure that your profile is optimized for search.
Why is this necessary?
Google indexes some social media profiles and content.
Here are a few ways to optimize your profile so it gets crawled by Google.
Use the geotagging option when appropriate.
Have a complete profile that includes a profile name, username, bio, and links to your other web assets.
Use keywords in your profile information as well as your content.
Promote link building to your profile and your posts.
Encourage social sharing across different channels.
These strategies will give your profile enough visibility.
Conclusion
You don't have to scramble to grow your Instagram account.
You also don't have to get into the technicalities of SEO to improve your Google rankings.
Instead, you can tap into the power of growth hacking. You'll see a surge in both search and Instagram performance.
The best part is, growth hacking isn't some kind of "secret sauce." It's available for you to use for the benefit of your business.
I'll be honest: the "hacks" that work are sometimes difficult to pin down.
I've eliminated that uncertainty for you.
The strategies discussed in this article are exactly what I used.
Take some time to tailor a plan suited to your objectives, then put it to work. Your Instagram follower count will skyrocket — and drive your Google rankings up with it.
I achieved remarkable results.
So can you.
What strategies are you using to grow your Instagram account?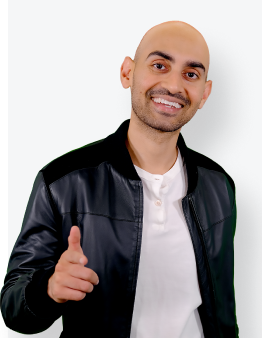 See How My Agency Can Drive More Traffic to Your Website
SEO - unlock more SEO traffic. See real results.
Content Marketing - our team creates epic content that will get shared, get links, and attract traffic.
Paid Media - effective paid strategies with clear ROI.
Are You Using Google Ads? Try Our FREE Ads Grader!
Stop wasting money and unlock the hidden potential of your advertising.
Discover the power of intentional advertising.
Reach your ideal target audience.
Maximize ad spend efficiency.