Will anyone actually click my ad and buy my product?
It's a terrifying question, but an important one. Turns out that everyone (including you) wants to get more conversions from a Twitter ad campaign.
You spent countless hours writing lead magnets, creating landing pages and sales pages, and then later you set up a Twitter ad campaign to get some traffic.
While running ads is a great way to get some quick exposure, Twitter is a different ad platform. If you don't understand the way it works, you might be wasting your money as well.
In today's post I'll be sharing some killer tips and resources to get sky-high conversions from Twitter.
So, would you like to know how to advertise on Twitter?
How about more advanced approaches to getting more followers, more leads, and more customers for your business?
But let me make it clear…
If there are secrets or special formulas that can magically unlock the power of Twitter advertising out there, I don't know them.
What I do know is exactly what the experts are doing — day in and day out.
And now, you will too.
But first let's take a look at why you should invest in Twitter ads.
Why You Should Invest in Paid Twitter Ads
Twitter is a great social media channel for marketers, as it unofficially has 310 million monthly active users. Twitter ads are an incredible way to complement your social media efforts. With Twitter advertising you can reach thousands of targeted customers and followers.
But why do you need to invest in paid twitter ads?
Organic Reach is Declining
Recently, Twitter made changes to their feed. Now, instead of getting all the recent tweets, Twitter only shows the tweets that they think are relevant to you.
Much like what Facebook did with their platform.
And just a few months ago, Twitter launched Engage, which is for celebrities, influencers, and public figures that'll curate the most popular tweets, mentions and replies.
This clearly shows that the reach of social media is plummeting day by day. Considering this scenario, Twitter paid ads is a way to go.
AdWords and Facebook Ad Costs Are Rising With Each Passing Day
Just last year, Search Engine Land reported a 20-25% increase in Google AdwWords CPCs. More and more brands are investing in the same keywords, which, of course, increase the competition and thus, the cost.
While Facebook ads were pretty cheap when they first started offering it, nowadays due to millions of advertisers, its platform is also becoming expensive.
For instance, Forbes reported a 21% increase in Facebook average ad pricing and the cost per thousand impressions (CPM) increased by an incredible 29% rate.
Considering both these reports, Twitter now looks like the promising ad channel. Facebook still beats Twitter on average cost per ad, but with some optimization and targeting options you can lower Twitter ad costs, even lower than Facebook.
Your Customers Spend a Ridiculous Amount of Time on Twitter
With each passing day, we're getting more attracted towards social media. While Facebook is a beast with 1.2 billion monthly active users, Twitter's 310 million monthly active users can't be neglected.
According to DMR stats, 34% of active Twitter users log into it more than once in a day.
Looking at all these points, you'll know that Twitter advertising is the way to go if you're looking to make profits online.
Now let's learn how to set-up the perfect Twitter ad campaign.
How to Setup the Perfect Twitter Ad Campaign
Twitter has a robust advertising platform. However, it is quite difficult to understand if you're just starting out.
But don't worry. Here's how to setup your first Twitter ad campaign.
Step 1: Choose your primary objective
To advertise on Twitter you'll need to log into your Twitter Ads account. For that head over to ads.twitter.com and enter your credentials.
Now, you'll need to choose your primary objective. Whether you want to get more leads, more traffic, or just more followers.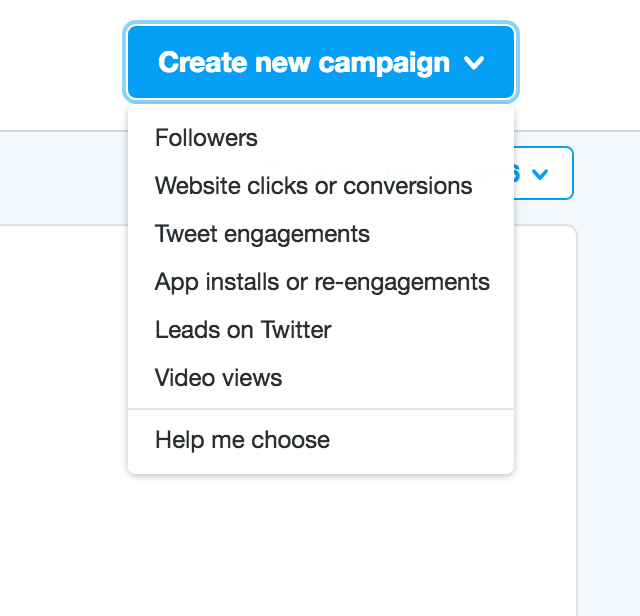 Twitter has 6 types of campaigns to choose from, these are:
Followers
Website clicks or conversions
Tweet engagements
App install or re-engagements
Leads on Twitter
Video views
Choose a relevant campaign type and click on it.
Step 2: Select your targeting options
Once you've determined the campaign type, it's time to set up the rest of the campaign. Name your ad campaign, choose all the relevant options, and select your targeting options.
Targeting is an extremely important feature for you to reach to your ideal customers. Twitter has 11 targeting options. These are:
Location
Gender
Languages
Devices, Platforms, and Carriers
Keywords
Followers
Interests
Tailored Audience
Behaviors
TV Targeting
Event Targeting
I recommend you choose relevant targeting options so you don't end up wasting your time and money marketing to the wrong audience.
Step 3: Adjust your bid to make your campaign profitable
This is the place where most people get Twitter wrong.
Twitter sells its advertising via auction. That means the more you're willing to pay, the more likely your ads will be shown, but if you set the bids too low, you'll get no impressions.
So Twitter provides an option for that. It's called automatic bidding.
This is how it works: you set a daily maximum budget and set the pricing to automatic bid, and Twitter will make sure your budget is spent very quickly. It might help you in winning auctions, but you don't want to or have to win every auction.
So, avoid using automatic bid in most of the cases.
In fact, I recommend you to start with $2, then test with the ads, analyze the results and finally scale the campaign.
After doing all the steps, finally launch your campaign.
How to Make Your Campaign Go Viral
You've setup your first Twitter campaign. You now understand the platform and know its basics. You also know the way it works.
Now it's time to optimize your campaign to make it viral. Here's how:
1. Get High Quality Score to Lower Ad Clicks
First of all, you obviously don't want to pay higher for ad clicks, when it's possible to cut them down. Like Facebook and Google, Twitter also has it's own quality score, which sometimes it refers to as "Quality Adjusted Bids".
Larry Kim, the founder of Wordstream, actually found that the higher your engagement rate will be, the lower your ad will cost.
Here's how Twitter determines a quality-adjusted bid:
Resonance: This is a metric to measure your engagement. Basically, the more likes, retweets, and comments you get, the higher your quality score.
Relevance: It checks whether a user is interested in your tweet.
Recency: This metric checks the freshness of the tweet. If your tweet is fresh, then it's going to get higher priority.
Here's how to get a high quality adjusted bid:
Keep your tweets fresh
Like I already mentioned, Twitter keeps a check on the freshness of your tweet. That means Twitter is less likely to show your older ads. Here's an example: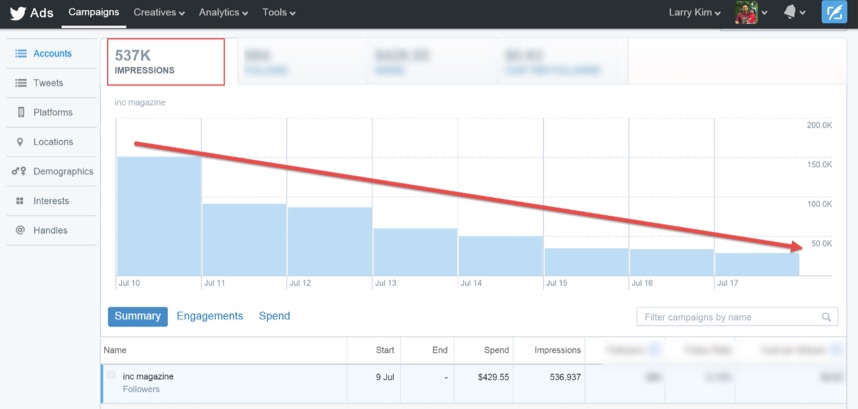 This is a snapshot of Larry Kim's Twitter ad dashboard. Notice how the impressions go down with each passing day.
Twitter wants to show fresh content to its users. So you'll want to test different variations of each ad and consider replacing them with newer ads, instead of running the same ones for lengthy periods.
Promote your best stuff
The best possible way to get a high quality score and lower your ad costs is by promoting your best stuff i.e., the tweets which organically gained more exposure.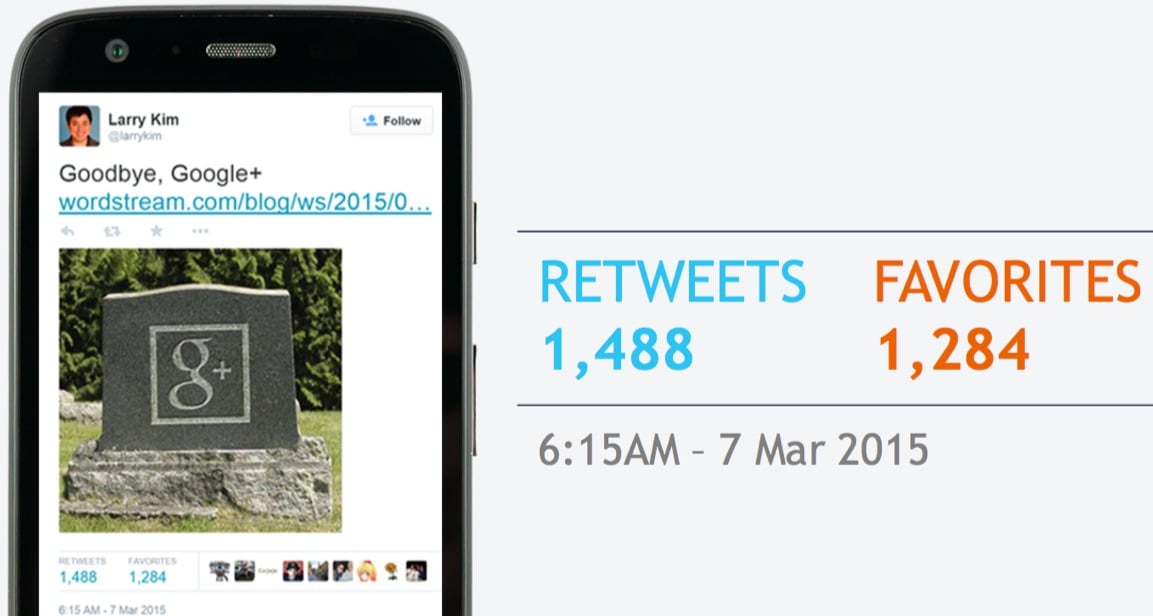 This tweet by Larry Kim resulted in 1488 retweets and 1284 favorites.
Larry got these amazing results because his post was truly epic. So, when you write epic content like this:
Your content has 100x better chance of going viral.
Narrow your audience
Relevance is another important metric in Twitter.
You don't want to promote your content to the audience that shows little or no interest. Instead want to narrow your audience, target a smaller but precise audience who is interested in your content.
This not only helps get high conversions, but also helps you get higher engagement.
2. How to Find Your Best Content to Promote
Tweet engagement is a pretty important metric when it comes to advertising in Twitter. Not only does Twitter determine the pricing based on the tweet engagement but it also decides the exposure it's going to get.
High engagement posts is the way to go in this scenario. Here's how to find high engagement tweets:
Login to Twitter Analytics
Once you're in there, click the tweets tab and then click export to export all your tweets
Twitter will take a few seconds to process it, depending on your account, then it will send a request to download CSV file
Open the file and sort the "Engagement Rate" tab by descending order
Now, the top tweets you get are the ones that are the most engaging. This is where you should spend your dollars
Once you find your top engagement tweets, head back to Twitter and start the advertising campaign for those top tweets.
3. Use Relevant Keywords to Narrow Down Your Audience
Keyword targeting is an amazing feature in Twitter that lets you to find the people based on the words and phrases they've tweeted or searched for on Twitter.
Each keyword has 6 options to match your ideal customer: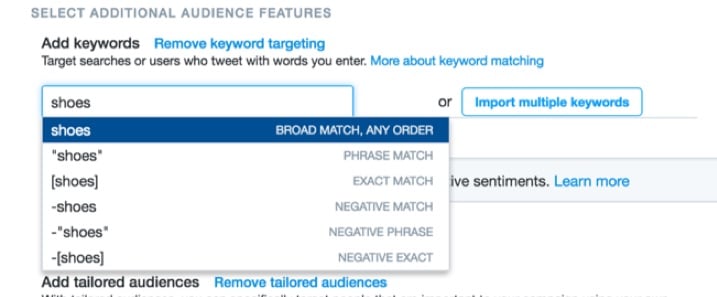 Broad Match: Broad match searches for all the tweets containing that keyword independent of the order.
Phrase Match: When you select phrase match, Twitter will search all the tweets that contains the keywords in exact order plus there may be other keywords present between those tweets.
Exact Match: It searches for the tweets with exact keywords in the exact order without any word in between.
Negative Match: Negative match will remove all the tweets with that keyword in any order.
Negative Phrase: Negative phrase will remove all the tweets that contain the keywords in the exact order.
Negative Exact: It removes all the tweets with exact keywords in the exact order without any keyword in between.
4. Use Behavior and Demographic Targeting Options to Boost Engagement
Like keyword targeting, Twitter offers behavior and demographic targeting which is a strong metric to find the relevant audience.
You can use behaviors and demographic targeting options to target the people who want to, and can afford to buy your products. Here's how:
You can select their behavior like business type, industry, and sales revenue to find the customers who might be interested in your offering. You can then select their demographic options like their income, education, and employment to find the customers who can afford to buy your products.
5. Create Tailored Audience for Each Buying Stage
Twitter also offers website tags, which is similar to the Facebook pixel. With this tag you can track different types of conversions for the customers visiting your audience, like:
Site visit
Purchase
Download
Sign up
Custom
Once you've captured these visitors, you can then advertise to these customers in Twitter. And the best part?
You'll get higher engagement for your tweets, meaning high quality score and low cost of the ads.
6. Leverage Twitter Lists For Best Results
Twitter lists are a great way to organize your followers, clients, influencers, and your team members. Many people know this feature but very few actually utilize it.
In Twitter advertising, Twitter lists are a great way to advertise. Here's a great example of this:
Larry Kim wrote a blog post for WordStream.
He shared the post throughout his social media account, and then promoted the post to the list of influencers using Twitter Ads.
Within 48 hours, the post picked 500+ press mentions and 100K visitors. All of this with just a $50 budget and 10 minutes of campaign setup.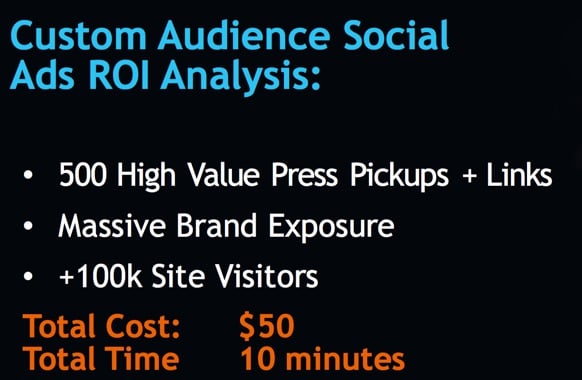 Pretty cool, right?
Your results may vary.
7. Upload Your Email List to Create Your Own Audience
In Twitter, you can upload your email list to create your own list of audiences. With this feature, you can advertise to your email subscribers.
This is a great feature especially when you want to nurture your leads or promote your products. Here's how to get started:
Head over to Twitter ads. Select Tools and click audience manager.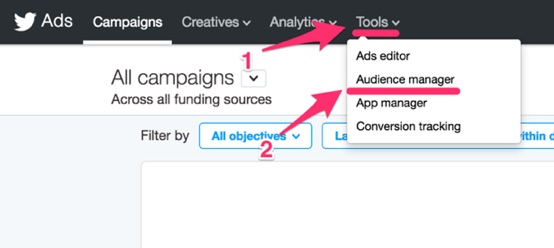 Click create new audience. Then, select upload your own list.
Fill out all the information, upload your email list and click create list audience.
This list audience is extremely beneficial in Twitter. You can promote your blog posts, lead magnets, and promote your products.
8. Use Retargeting to Promote Your Content
Remarketing is an incredible way to advertise to your website visitors or your email subscribers. In Twitter, you can either use promoted tweets, Twitter cards, or promoted tweets.
All of them give you a great option to get more exposure. To use retargeting, here's what you should do:
You must upload your email list to retarget your email subscribers
You must create a website tag and install it in your website
I recommend you set up a website tag and install it. It's buried deep in Twitter, but it's actually the first thing you should do before running any ad. Here's how to generate a Website tag:
Login to Twitter Ads. Then, click tools, followed by conversion tracking.
Next up, agree to the Terms and Conditions and then click generate website tag for conversions.
In the next page you'll get the website tag. Install the tag in your website to setup conversion tracking.
Once done, you can advertise to your website visitors based on their behaviors and their purchase.
Measure your Strategy's Success
You've created your first ad. You've also optimized your ad to get sky-high conversions. Now, finally it's time to analyze your ad's performance and tweak it, if needed.
Let's start…
1. Test With the Different Variations of the Same Ad
Twitter loves fresh tweets and that's the reason it gives high preference to fresh tweets. You don't want to continue running your old ads; instead, you want to create new variations and test with them.
Here are some ideas to test your ads: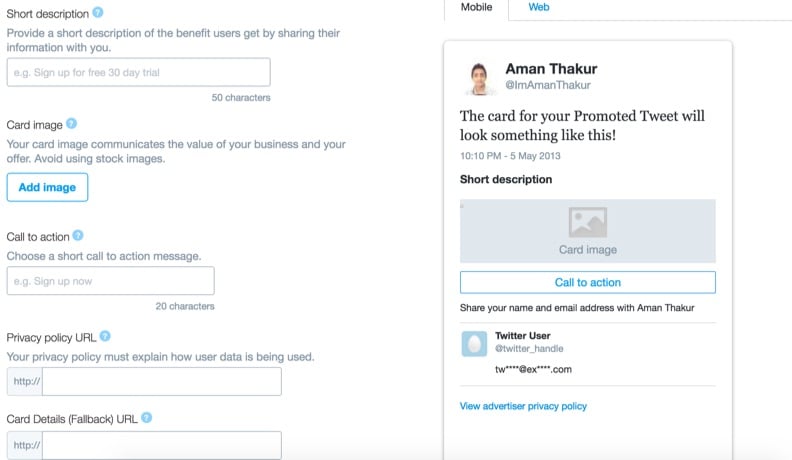 Test changing the headline of your tweet
Test changing the call-to-action button copy
Try moving the URL to the front or in the center of your tweet
Add relevant hashtags to your tweet, to see if it helps
Try adding, removing, or changing the image
2. Use UTM Parameters
UTM parameters are simply the tags to measure your online marketing campaigns inside Google Analytics.
It helps you analyze and measure your online marketing efforts.
For instance, if you're offering an eBook and want to track the number of users who visited the landing page from your Twitter ad campaign, then you simply ad this tag to your URL.
http://yoursite.com/free-ebook/?utm_source=twitterad&utm_medium=social&utm_campaign=ebook
Then, you can track every conversion in Google Analytics. But, it's quite a headache to create URL every time you create a new ad. For this, you can use Google's URL Builder, which does a pretty decent job in generating UTM tags for your URL.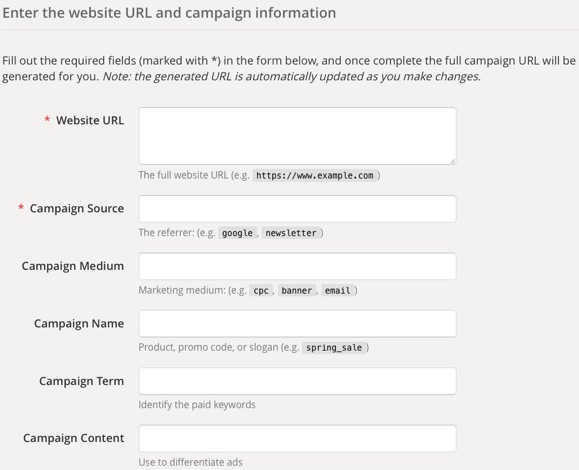 3. Analyze, Tweak, Repeat
Finally, it's time to measure your ad performance.
Pay close attention to your Twitter Ad dashboard, view your engagement rate, clicks, replies and likes.
Make sure to double-check this data with Google Analytics or Kissmetrics (a more robust option). This will help you find the actual number of clicks you're generating.
With these results, check which campaigns are working and which aren't. Delete the campaigns that aren't working and double down on the stuff that's working.
Conclusion
Twitter ads can be profitable; they can help you generate great ROI. But you must allocate your time to test with the platform.
Remember, Twitter can be misleading (hello, automatic bid) and at times their suggestions won't work for you. Forget everything that Twitter told you, forget the best practices they told you.
Instead go by this approach, avoid the major pitfalls that Twitter offers and you'll get incredible ROI from Twitter ads.
About the Author: Aman Thakur shows marketers and bloggers, simple and effective ways to build their mailing list super-fast. A writer by day and a reader by night, he can be found online tweeting about marketing, or watching Cricket matches.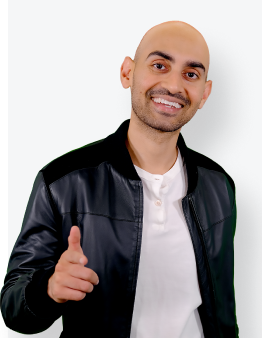 See How My Agency Can Drive Massive Amounts of Traffic to Your Website
SEO - unlock massive amounts of SEO traffic. See real results.
Content Marketing - our team creates epic content that will get shared, get links, and attract traffic.
Paid Media - effective paid strategies with clear ROI.