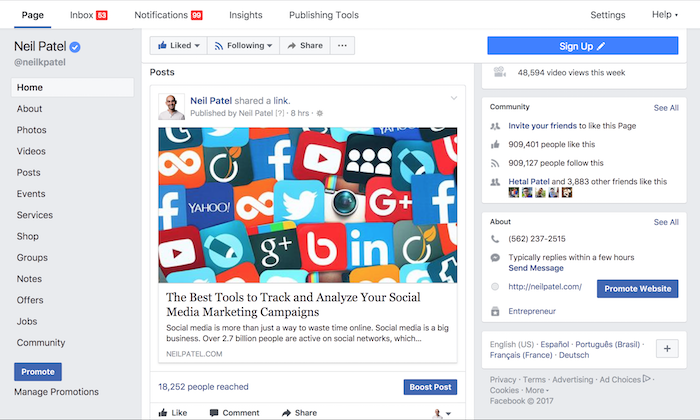 Facebook pages perform differently, just like the businesses they're attached to.
Some do extremely well, while others experience minimal engagement and don't manage to capture their fans' attention.
Getting your Facebook page to attract and convert customers has a lot less to do with your business than about how you set up and manage the content you post and share.
For example, check out FuriousFotog.
This photographer has over 2 million fans with a high level of engagement on a lot of his photo shoot posts.
There's a clear understanding of what the audience wants to see, with a mix of content ranging from model shoots to health and fitness images.
Brands large and small are seeing tremendous growth and engagement on Facebook.
Just look at this data from Socialbakers on the pages with the largest audiences and the fastest-growing pages in the last 30 days (as of July 31st.)
Some of their success can be attributed to brand visibility, but it takes more than being a well-known brand to get people to stick around, follow, and convert.
Like FuriousFotog, it takes a solid understanding of your audience.
Know what they want and how to serve it consistently to keep them coming back.
Here's everything you need to create a Facebook page that actually converts.
Why you should focus on Facebook
According to recent data, Facebook has the largest user base of any social network – far and above Twitter, Instagram, LinkedIn, Snapchat, and others.
In fact, as of June 2017, Facebook has more than 2 billion active monthly users.
That's not to say you shouldn't have a presence on those other social networks.
But you should definitely put time into getting into your audience's stream on Facebook, and creating a winning social strategy will do just that.
After all, Facebook drives 20x more traffic than Twitter.
Know what your fans are looking for
It should come as no surprise that your fans aren't necessarily following you just because you're awesome.
They want to stay connected with you for information. They're always looking for something of value.
They might want information, answers, updates on new products, or just a way to stay connected. They might have service issues and questions.
But many of them are just looking for savings and rewards.
Nearly half of your fans will connect with you specifically to get discounts, offers, and rewards in some form.
Here's the kicker: There's a large percentage of your audience that doesn't like brand pages at all.
Think about it. Would you rather see pictures of your best friend's recent wedding or an advertisement for a company's product? It's obvious.
According to a study from Kentico, 40% of respondents said they don't like business pages at all.
Of those who do follow and engage with brands on Facebook, 39 percent said they only like between 1 and 10 pages.
You'll have to step your game up to get your audience's attention, grab those likes, maintain engagement, and ultimately get your followers to convert.
Especially when you consider that the number of Facebook pages continues to grow.
If you have an established page, start with your insights.
Look at the past content you've shared and posted.
What has the best performance?
Make note of the following:
What time and day was the post made?
What was the format of the post (text, video, image, poll, link share)?
What was the topic of the post?
What were the reactions and overall sentiment? Check the reactions and comments.
If your Facebook insights are lacking, or if there's just not enough data (maybe you just launched your page recently), then use your competitors instead.
You can't access their insights directly, but a stroll through their content, visitor posts, and post reactions can give you some insight into what your audience is looking for.
On the Ben & Jerry's Facebook page, you can see how sentiment can change between comments. You can also read the reactions from fans based on the content being shared.
That research is crucial to getting your fans' attention and holding it with a consistent stream of awesome content.
What makes awesome content?
I have a three-facet approach I use when creating and sharing social content.
This ensures that my content is practical, relevant to my audience, and useful. That way, I get the most engagement out of what I share.
Excite
Educate
Entertain
Excite your fans
Getting people excited about something isn't always easy.
There's a ton of content passing through Facebook every day, fighting to get a spot in the ever-crowded feeds of the average user.
Users are generating and sharing 4 new petabytes of data per day.
To put that into perspective check this comparison chart from Mozy:
If you want to stand out in all of that, you need to excite your audience.
That means crafting compelling headlines for your content and catchy intros for your posts.
Your posts need to be clearly relevant and targeted to the right audience. With a winning headline for all of your shared content, you can influence excitement and make people click.
Entertain your audience
Emotions can drive us to act.
And laughter, joy, humor, and awe are the top driving forces behind content that goes viral.
BuzzSumo analyzed the top 10,000 most-shared pieces of content on the web and mapped them to emotions. You can see the breakdown here.
If you want your social traffic to convert, then entertain your fans. That's how you'll drive clicks to your site. It's also how you'll inspire your fans to share your content and help you grow your audience.
That entertainment will absolutely bring you new connections.
The New York Times did an intensive study into why people share content. Among 2,500 respondents, these were some of the top reasons for sharing on social media:
To bring value and entertainment to each other
To reveal more about who they were and define themselves with connections
To grow and nourish relationships with their connections
To spread the word about things they care about
Simply put: Be entertaining.
Your fans won't stick and click if you bore them.
Hitting on emotion leads to action, and emotions like awe are strong drivers.
Imagine that you've just heard a story that profoundly changes the way you see or understand the world. You naturally want to talk to others about that.
You're driven to share that feeling of awe.
If the person you share it with reads an article and experiences that same sense of awe and wonder, then you naturally feel like you're drawn closer to that person.
It's a strong motivator for sharing.
Educate your audience
Entertainment is an effective engagement tool, but you can't rely on it all the time. Not all of your fans will find the most value in being entertained.
Many of them want to be educated.
Everyone has a problem they're hoping to solve.
Knowing the problems of my audience makes it easy to share helpful content they'll love.
The content you post and share to your Facebook page should provide solutions to those problems. It should educate your audience.
Your research will reveal the most relevant pain points for your audience, which you can chart to improve buyer personas and the content you create for them.
Take that information and use it to create and share content that will act as a solution and garner shares.
Brand your Facebook page
This shouldn't be taken as simply slapping your logo up on your page and calling it good.
Think about your brand as a whole: the personality, characteristics, and traits you portray in all you do.
The most successful Facebook pages project their brand attributes, and they do it at the first opportunity for driving conversions:
The cover photo.
Check out how a few branded pages (both personal and professional) utilize their profiles and cover photos to promote their brands, drive action, and help tell stories:
Tim Ferriss uses his cover image to drive action to the call-to-action button.

Coca-Cola uses imagery to tell a simple story involving its product.
EYStudios features its employees on its cover image, highlighting the people behind the brand.

Like Tim, Michael Hyatt uses his cover image to drive action toward his CTA button and promote his work as well as his personal brand.
Many brands replicate a lot of the same elements between their sites, blogs, or apps on their Facebook page.
The consistency in branding can help create a seamless experience in the customer's journey and make them more comfortable engaging with your content and your business.
Define your goals with a Facebook page
Success can only be found when you're driving toward a specific goal.
Otherwise, you don't know what success looks like.
Set a clear and attainable goal for your Facebook page and focus on it. Consistency is key here.
Your goal is whatever you choose to make it, but make it align with your marketing goals as well as your business goals.
Some of those goals will be similar to those for the ad campaigns you might run.
I should emphasize that your goal should be attainable.
If you have a new page and a limited budget, setting a goal to reach 50,000 fans is lofty. It's not unattainable, but it's not likely to happen quickly.
Reel in your aspirations (just a little) and set smaller goals that are both attainable and measurable.
For example, if you set your goal to be 1,000 new fans for your page, then you can begin crafting a strategy around how to get those eyeballs to your page and get them to convert. That might include:
Boosting specific posts
Creating a free promo offer for opt-ins and likes
A short contest
Highly engaging posts, such as questions or polls that could expand your reach
Sharing targeted and specific topics that are major pain points
Setup your call-to-action to match your goals
Your call-to-action is more than just a button at the top of your Facebook page or a tab in the sidebar.
The calls-to-action you use on your Facebook page within your posts should align with your primary goal.
It doesn't matter what kind of business you run. The right mix of content with a persuasive CTA will help you convert far more fans.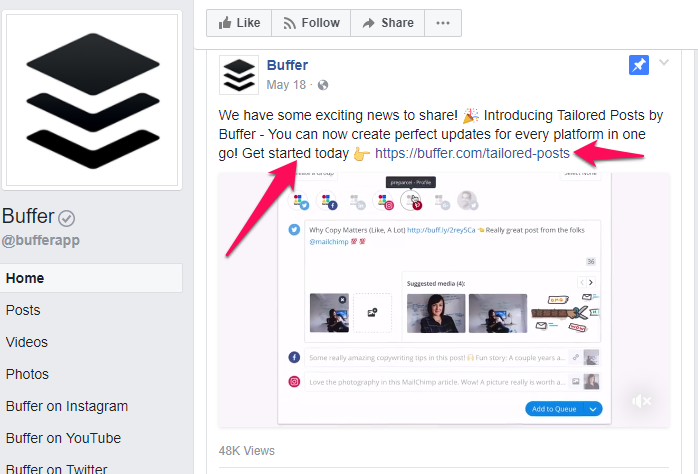 The key is treating your Facebook page like a landing page in your funnel.
It's not the end point in the customer journey.
Get your CTA established at the top of your Facebook page.
Then make sure that the content you post and share also has a suitable CTA.  Don't just share a link or an image to your timeline.
Tell your audience what to do.
But telling them isn't enough.
When creating a CTA, don't just tell your Facebook fans to take action.
Your CTA needs to be relevant as well as compelling. It needs to make sense for your followers' interests and drive them to take action on the content you've shared.
Don't tell your fans to "share your post" when you post a link. They don't even know if it's worth sharing.
Tell them to click, and make sure the CTA states the value at the other end of that click.
Minimize promoting and put your audience first
It's tempting to put out content that you think is relevant to your audience.
And if they're following you, then that must mean they want to know all about you and what you're doing.
Right?
Not quite.
A post like this from Marketo is perfectly fine when balanced with other content and sponsored or boosted.
But promotional content shouldn't make up the bulk of your posts.
You need to focus on making communication go both ways. That's the social aspect that a lot of marketers and business owners neglect.
Facebook isn't there for you to make the occasional hit-and-run promotional post. If you're just sharing a link to a product, you're missing the point.
Put your audience first.
It's okay to promote your business — that's why roughly half of your fans are following you. They want deals, information, and specials.
But you need to maintain a careful balance.
Use the 80/20 rule to share a lot of great content and minimize your promotional posts.
One way to create a Facebook page that draws in customers is to make it an extension of your customer service team.
This is a great way to put your audience first.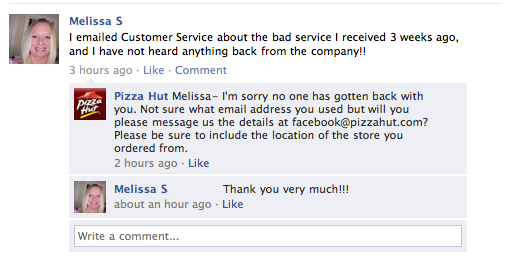 Fast responses to questions, concerns, and issues not only creates a great customer experience, but it also shows other customers that you go above and beyond.
Your fans will see it.
A majority of customers are acutely aware that many companies don't meet the demands of replying quickly and putting customers first.
Take care of them, put them first, and they'll continue to return for more advice.
They'll also be more likely to post positive reviews, engage with you, and share your brand and content with others.
Cultivate communication among fans
If you want to keep the traffic and engagement flowing on your Facebook page to drive conversions, you need to work on building a community.
By itself, social media is not a community.
However, you can work on creating that community element with the type of content you share and the way you engage fans.
While your goal may be to drive action with your posts, you also need to encourage engagement between your fans.
Their engagement, with you and with one another, is what will dramatically amplify the reach and visibility of your posts.
This all goes back to putting your audience first.
How do you do that and get your fans talking?
Ask questions.
Post interesting and funny pictures.
Present "this or that" style options.
Share content and ask opinions.
Share behind-the-scenes information and get personal. Show your human side so fans can relate to you and share their own stories.
Buffer is great at creating and sharing content like this, using Live video on its Facebook page to feature team members and even the product manager and CEO.
 Another way to encourage community development and fan engagement is to link your Facebook page to a group you create.
Facebook groups are an awesome way to generate more traffic, fan interest, and engagement.
Encourage and leverage social proof
While your Facebook page is more of a communication hub, it's still a step in the buyer's journey and part of the conversion process.
That makes every fan interaction, comment, reaction, and visitor post part of your sales funnel.
Social proof carries a lot of weight with getting people to convert.
Seeing the reaction and engagement of others draws interest. It spurs people to take action.
In fact, more than 90 percent of customers trust the recommendations of their peers over any kind of brand advertising.
That's why word of mouth is so powerful.
And it's especially useful when users can see the activity of others in their Facebook ticker.
Think about the impact that can have. It's far more compelling than a brand that's simply promoting itself.
For example, if I tell you that my program to make money while you sleep is a guaranteed success, would you believe me?
What if that same claim came from 25 people, some of whom you knew, who praised the program?
You won't find anything that influences people more than the recommendation of someone they trust and care about.
People influence other people.
Those referrals are like the holy grail of advertising because they carry far more weight.
Even I'll trust the recommendations of my friends, family, and colleagues over direct brand advertising.
Share content for every stage of the buyer's journey
Fans will connect with you at every stage of the buyer's journey.
Some come to you at the top of the funnel, with little information about who you are and what you do.
They haven't heard your story yet.
Many of your fans will fall somewhere in the rest of the funnel.
To make sure your Facebook page is effectively converting your fan base, you need to make sure the content you share and post is varied, taking into considering each stage of the buyer's journey.
Unlike email, where you can create a drip campaign for each person, you can't really segment your Facebook page audience.
The most successful brands create a strategy for their pages that pulls in a mix of content to speak to different buyer personas at different points in their customer journeys.
That content should be strategically tied together to lead fans toward the end of the cycle while building lasting relationships.
Post consistently
There's never enough time in the day to get everything done. It's true that entrepreneurs are often short on time.
If you tack on the need to post consistently to your Facebook page, which includes the time for sourcing creative elements and curated content, you might feel a little overwhelmed.
I don't blame you. Sometimes I feel that way myself.
But how often should you be posting?
Is it still considered "consistent" if you're posting twice a week? Is that okay or is it not enough?
Thankfully, there's data that tells you exactly how often you should be posting.
Coschedule compiled data from 14 studies to come up with the following:
Buffer echoes the above, stating that, according to their research, you can post up to twice a day before you'll start seeing a drop in engagement.
The question is, how do you find time every day for that?
If you can't commit to posting content at specific times and on specific days, then pick a day to handle the content for your page.
Use the scheduling functionality on your page to pre-load your posts, content, and shares so they go live when you need them to.
You can also use Buffer to help schedule curated content for your Facebook page.
Then all you have to worry about is keeping up on responses to the fans who interact with your posts.
Optimize your page with pertinent company details
When looking at your Facebook page as a landing page, another element that's critical to conversion is your company information.
While it may not stick out in strong contrast from the rest of the content of your page, it's still a trust signal.
Your fans are still looking for those details.
Social proof is one kind of trust signal, and with the above tips, you've got that covered.
Having contact information and a completed About section on your Facebook page create cognitive biases.
If a fan is already interested in doing business with you, is considering following you, or is on the edge of converting on a call-to-action you created, those trust signals can help push them over.
Anything that makes them feel better about their decision is a powerful motivator.
It's a "zero-risk bias".
This is a cognitive theory that suggests that you can compel a person to take action by eliminating the potential for risk. 
For example, an ironclad money-back guarantee or a no-obligation free trial takes away any risk potential. It makes the consumer feel safe.
What's amazing is that this cognitive bias can actually prompt someone to make a purchase decision at a higher price even if the desired item is available elsewhere from an established brand that they're familiar with.
If you want people to engage with your Facebook page, you can use these psychological principles as you complete your profile.
Complete your page information in full, including the About tab.
Constantly review your page's performance
You wouldn't take a "set-it-and-forget-it" approach to a landing page or other marketing campaign.
Don't do it with your Facebook page, either.
You need to regularly audit your performance to find opportunities for improvement.
This includes a number of steps you can take at any time (but should be done on a fairly regular basis) to monitor your efforts.
Review your Facebook page insights to see how engagement changes across various types of posts, shares, and interactions.
Manually review post content and comments to check your audience sentiment:
How do they respond based on the length of time it takes for you to reply?
Do they seem satisfied and engaged with your comments?
Is there anything you can do try and improve your comments?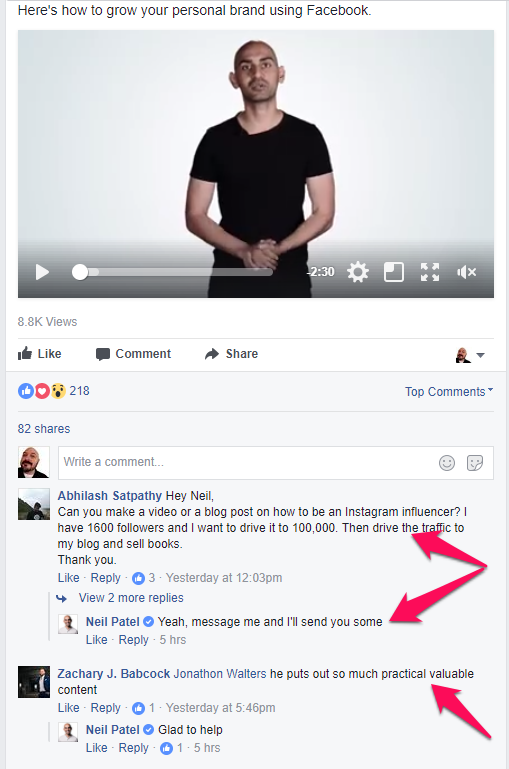 How is your call-to-action button performing?
Are the responses of your audience in line with your goals and the CTA you used in your posts?
If there's a mismatch between fan response and desired response, how can you adjust your CTA to drive them to take the desired action?
What about the available resources Facebook offers?
In your audit, make sure you're staying up-to-date on the new features that become available to you.
For example, with Facebook expanding live video capability and the ability to invite people into your live feed (like picture-in-picture functionality), are you using those features to boost your engagement and fan conversions?
Conclusion
We are long past the point when a Facebook page served as a static, one-way communication tool to connect and share information with fans.
As the largest social network with the widest global user base, it has untold potential to create the richest user experience for your fans.
Use the above tips and recommendations to create a memorable, engaging, entertaining, and educational experience. That is how you'll grow your audience, keep them coming back, and consistently move them toward the end of your sales funnel for that all-important conversion.
What elements do you think are critical for converting fans to customers on your Facebook page?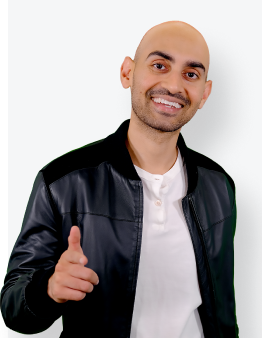 See How My Agency Can Drive More Traffic to Your Website
SEO - unlock more SEO traffic. See real results.
Content Marketing - our team creates epic content that will get shared, get links, and attract traffic.
Paid Media - effective paid strategies with clear ROI.