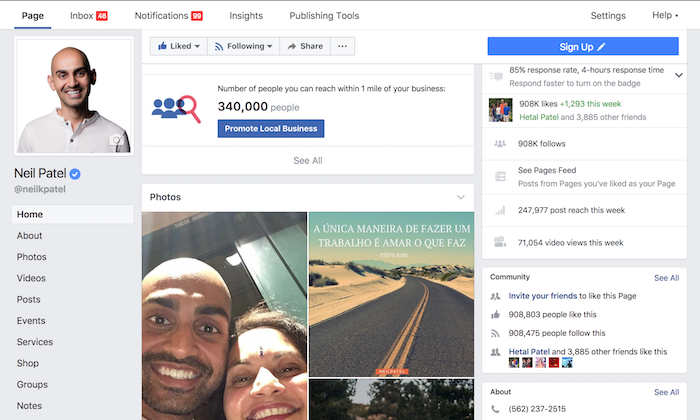 Remember back when Facebook pages were simple places where you could Like a business to follow them?
This is what Facebook pages used to look like: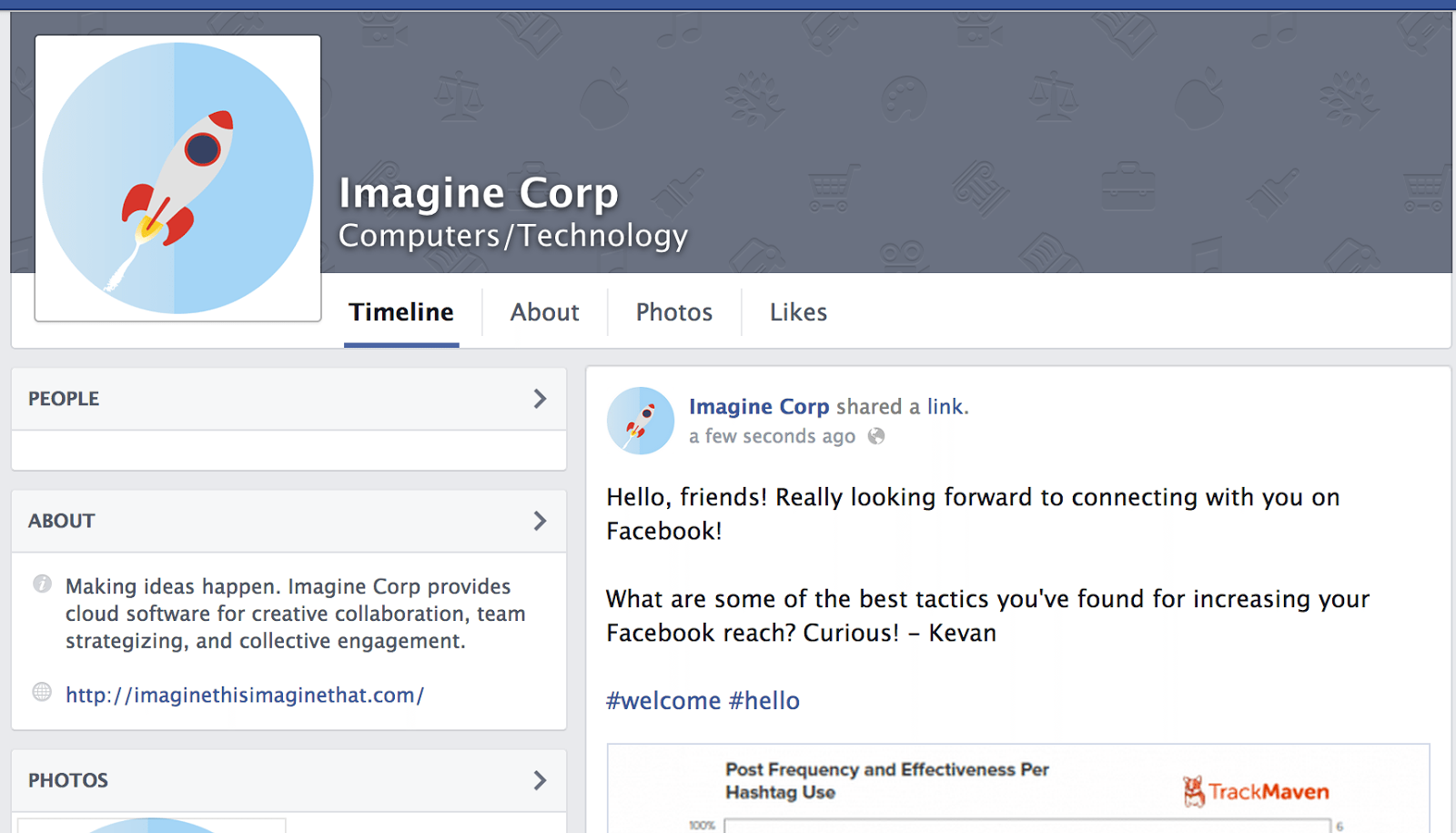 Businesses posted content that was visible on their walls.
There was a link to a website.
That was about it.
It was so easy back then!
Flash forward to mid-2017. This is what a Facebook Business page looks like today: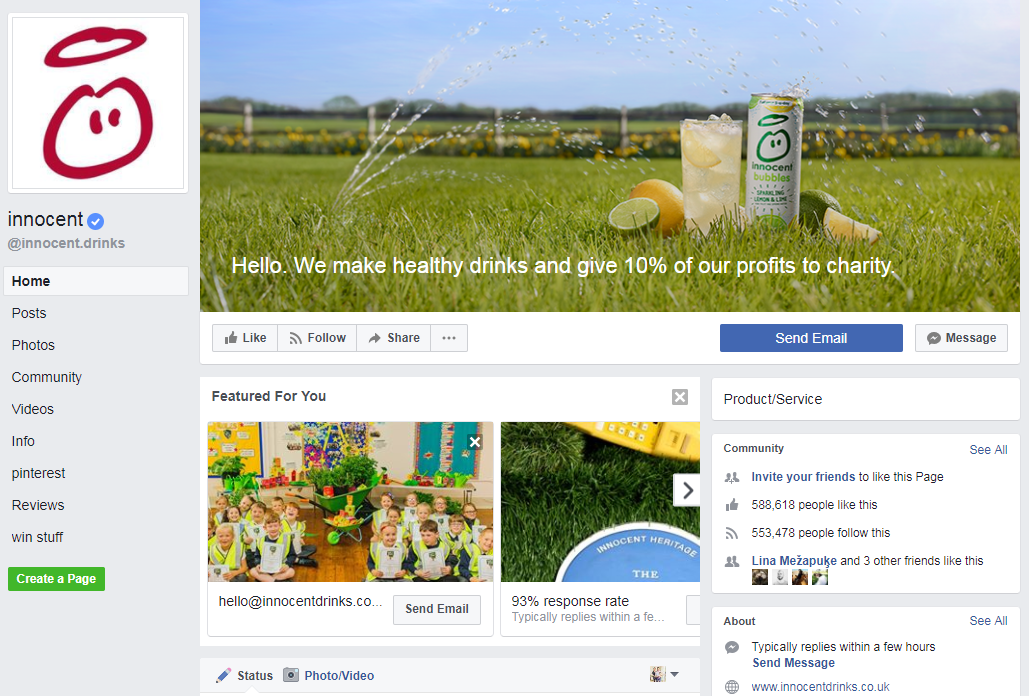 Not only have the features and details developed over time, but any business or brand have gotten on board in a big way.
According to Facebook's statistics, at the end of 2016, over 65 million businesses had created business accounts pages on Facebook.
If you thought that your market or industry was already tough, Facebook can complicate matters even more.
On Facebook, you're not only competing with your direct competitors' business names and their Facebook cover photos, but you're also competing for attention with everyone else.
That's why it's so important to get everything right on your Facebook business page. To create the "perfect Facebook" page, you need to analyze everything, from your profile picture and cover photos to Facebook ads, targeted audience and media planning (types of posts and when it's time to post).
First, Set Everything Up Properly
Mastering your Facebook business page means mastering Facebook Business Manager.

Facebook Business Manager is the backend of Facebook (not to be confused with Facebook for developers), a sort of a Facebook marketer, that allows you to control everything that happens on your Facebook business page both publicly and behind the scenes.
Admins on Facebook business pages will find a link in a box at the top of the page for Facebook Business Manager:
What happens is that you go to the same view of your personal account as before, but with the ability to edit everything. The top menu turns a dark gray instead of the classic blue from the personal Facebook page.
There are tons of features as well as layers upon layers.
I'm going to go step by step through the most important parts, from getting started to the end, while also sharing some marketing tips, to make sure that you aren't missing anything.
You can skip ahead to certain sections depending on what part of your page you are hoping to maximize.
Business Info
About
Company Overview
Story
Contact Info
Products
Store
Settings
Cover Video
Page Roles
If you are just filling out the basics, you are missing out on a bunch of valuable Facebook real estate.
Step 1: Business Info
These might seem deceptively simple steps on the bigger scheme of promoting your Facebook page, but they are the trickiest of them all for business owners and social media marketing managers.
First, not very much information appears on the front of your Facebook business page. Here is an example from Kroger: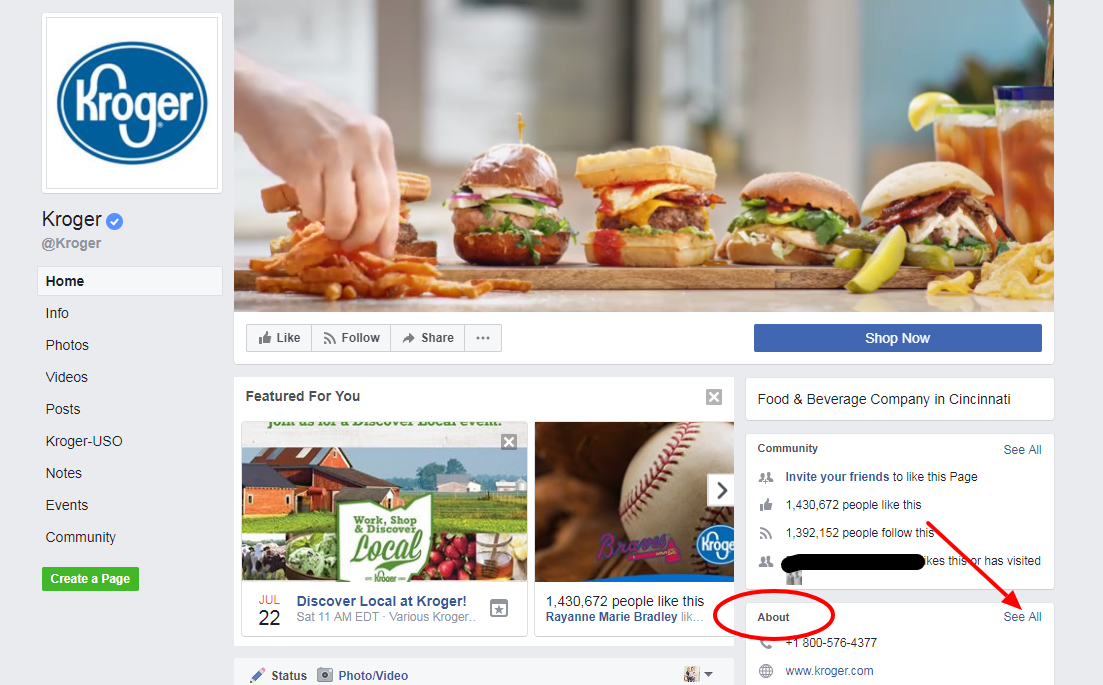 For someone to see your business info, they need to click on the "See All" button.
Or they can click the "Info" button in the side menu: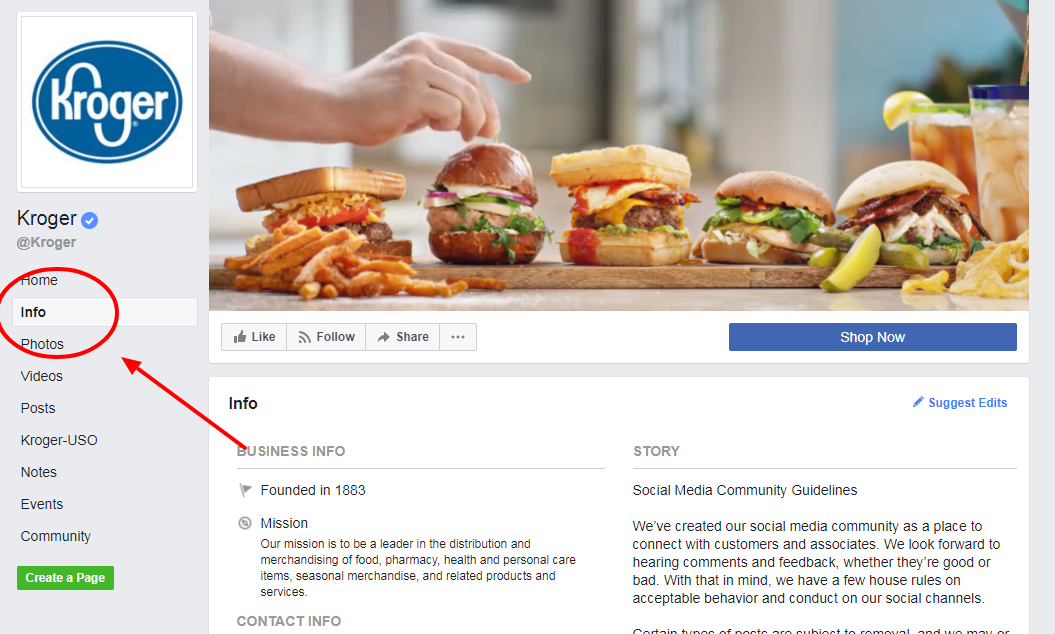 Facebook is a content platform, which means that the business information takes a back seat to the latest content that shows up.
But it's still super important, particularly for your future customers.
They want to know who you are.
The Business Info section asks about your business's mission. It's not what the company does necessarily — that part comes later.
Instead, it's your moment to shine, break out some inspiration, to grow your business and your brand awareness and really sell your mission's concept to grab people's interest.
Let's take a dentist office as an example:
A good mission statement is not, "We clean your teeth efficiently."
A good mission statement is, "Making Marin County smiles world famous."
In the company overview, you can talk about the things that you do. The mission part needs to get people behind you from the very beginning.
Kroger wants to be a leader in food, pharmacy, health, and personal care. Definitely ambitious!
Step 2: About
There are so many overlapping sections on Facebook business pages that it can be hard to know what to put where.
The About section and the Company overview are similar. In a lot of cases, businesses put the same thing in each section.
Popular sunglasses maker Ray-Ban takes a very low-key approach and repeats information:

The best About description is a one-sentence, super-fast description that gets right to the point. CNN has a great example:
An alternative approach — depending on your cause or community — is to add a quote. Think of something that will add a little flair or style to the page and will tell people and your targeted audience who you really are.
Take Chanel, for instance. It's definitely a brand known for flair and style, so it includes a quote in French to inspire its visitors:
Another reason that the About section needs to be a top priority is that, whenever your business is tagged and a Facebook user mouses over the name, a little box pops up to show who it is. Along with the cover image, profile photo, link, and recent photos is — you guessed it —the About phrase!
Use this to its maximum effect. Urban Outfitters uses it to drive people to its e-commerce site. Here's what it looks like when you mouse over the name of the account: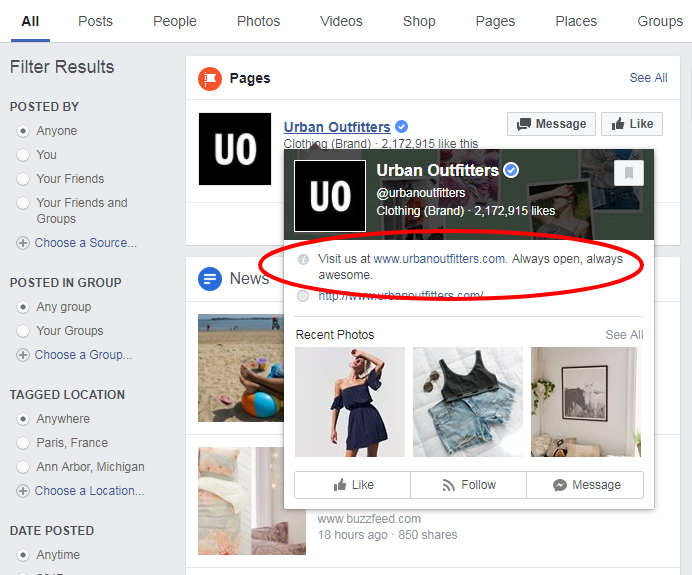 Step 3: Company Overview
The Company Overview section is where you should give as functional a description as possible. Think of something along the lines of the value pitch for your business.
Let's go back to the Kroger example: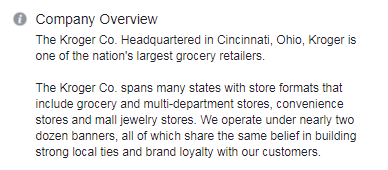 The company overview talks about the company as a business, its subsidiaries, and the different types of stores that it has.
This part can be a little boring depending on your type of business. You want to reassure potential (and current) clients that you are serious, so keep away from humor unless it's in your business DNA.
You should always use clear sentences that don't string together too many ideas. Even if your business niche is very specific, try to break up a description into short phrases.
As a general rule, keep it short. You have the Story to go in-depth. A paragraph or two should be fine.
Step 4: Story
Just like the name implies, this is where you can tell a little bit about who you are and where your business came from.
Were your founders unique?
What are your values and how do you live by them?
Where are you going as a business?
Are there any remarkable features that make your business memorable?
I like to think of the Story section as what a grandfather would say while recounting a story from the old days. You might think of a witty anecdote that portrays the business in a sympathetic way.
A great example is Hudson Whiskey, a New York distillery that really takes the term "Story" literally:
If someone is digging around your Facebook business page enough to read the story, they really want to know more about you, so don't disappoint them!
Step 5: Milestones
Within this section of your business' Facebook profile, you might be tempted to talk about some of your big achievements in your story section, and you definitely can.
But if you need to break up the events and want to go further into detail, you can fill out the milestones section.
If you're wondering about whether or not you should fill this section out, it's not obligatory.
For many businesses, especially start-ups and businesses that are just getting off the ground, you might not have any milestones yet.
If you're looking for different types of milestones, they will be unique to your business but they can fall along the following lines, sort of "business news":
When you passed a certain number of customers or amount of revenue
When you launched a new product
When you started offering a new service
When you had a moment of recognition or built a notable partnership
When you raised funding
When something truly notable happened
Let's go back to the Ray-Ban example. The company has a history of product innovation (it invented the aviators, after all) so it has quite a few product milestones. More recently, the business started counting each time it passes another million fans:
To sum up, if it's something that you mention to people when you talk to them conversationally about your business, you could consider adding it here so you can better optimize your Facebook business page.
Step 6: Contact Info
The holy grail. This is where you start to see some of your ROI from Facebook.
Are people contacting you after seeing your page?
Or are people who are your customers using Facebook to ask you questions?
Now that over 2 billion people are on Facebook, it's safe to say that your customers are there, too.
When they complain, they will come to you on Facebook.

When they want to say thanks

or just send messages

, they will do it on Facebook.

When they don't know you yet but want to, they will check Facebook first.
Your contact information needs to be flawless.
If you're a local business, add your telephone number, address, and all other contact information to show people that you exist and that they can find you in real life.
You should put this information over a map so that people immediately know exactly where you are.
Take a look at this restaurant in Ann Arbor, MI. It nails the contact information section:
Then you must have your website link. Organic traffic coming from Facebook is very valuable. As the social network emerges as a more important search environment, you need to be found, and your page needs to drive people closer to you.
Beauty brand and fashion house Givenchy just lists its website:

Your website is a place that doesn't have content from all of your competitors (plus all of your prospects' friends).
Your website doesn't have notifications that distract users' attention every few seconds.
Your website is one of the best places to convert customers. Get them there and don't put more clicks than necessary between their visit to your Facebook business page and the buy button.
The contact section lets you go further and add your Facebook Messenger handle along with a button to contact you immediately. Here's an example from fashion brand Kenzo:
Step 6: Store
Facebook has become a true e-commerce driver in its own right by adding a big blue button to its Business pages.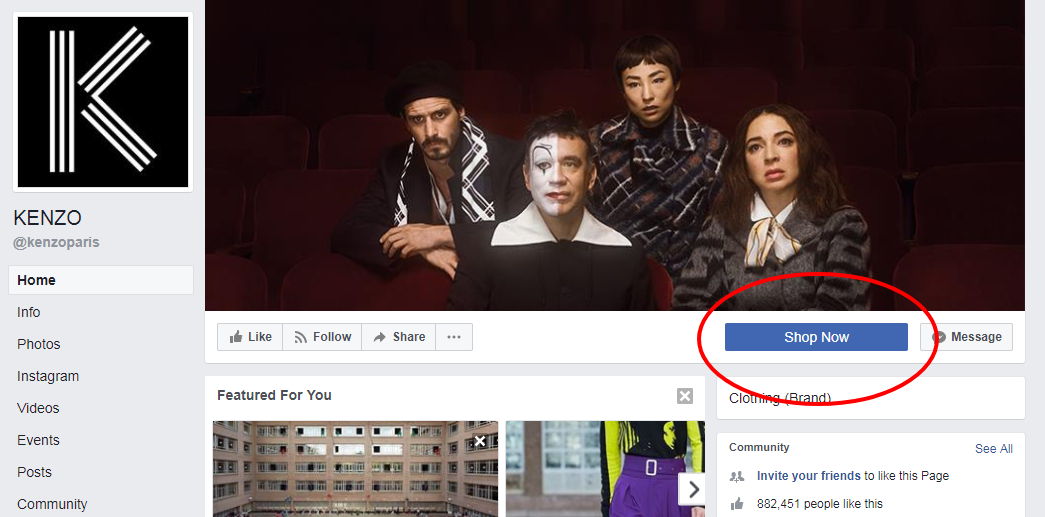 When people click the "Shop Now" button, they are redirected to the e-store link. It's the first signal to people that your products are available to buy online.
But Facebook now lets you go further by adding a Shop feature. Here's what sunglasses brand Hawkers's Shop looks like:
Now businesses can list their products and visitors can shop them directly as if they were on Amazon or Google Shopping.
When someone clicks on the product, they see a product window that contains more details.
To buy, they click the "Check out on Website" button, at which point they're redirected to the e-commerce platform to finish the transaction.
Step 7: Products
The product feature is great since it lets people discover and browse products without leaving Facebook.
The first step is to get all of your products uploaded to Facebook. Then, set the featured products, which are products that people will see as soon as they get to your page. Watch and jewelry brand Paul Hewitt is a great example:
E-commerce on Facebook is beginning to take off, so if e-commerce is part of your sales strategy and you are not creating product pages on Facebook, you will leave money on the table!
Step 8: Locations
Not all businesses are online, of course, and many times services and businesses cater to a specific local area.
In this case, it is crucial to have up-to-date information about your locations, hours of operation, and contact information.
Why?
One major trend: Mobile.
54% of Facebook users access Facebook only on a mobile device.
When you search for a local business, like a plumber and you live in Jacksonville, you don't want to see results for Dan's Plumbing in Denver,
When you search for a plumber and you live in Jacksonville, you don't want to see results for Dan's Plumbing in Denver, even if he is the top-rated plumber on Facebook. He won't do very much good fixing your sink before your house floods.
He won't do very much good fixing your sink before your house floods.
Having addresses makes it more likely that people near you will find you.
If your business is a chain with multiple locations, you should consider creating a Facebook page for each location. Then the pages start to show up as places.
Here is an example when I search for Holiday Inn: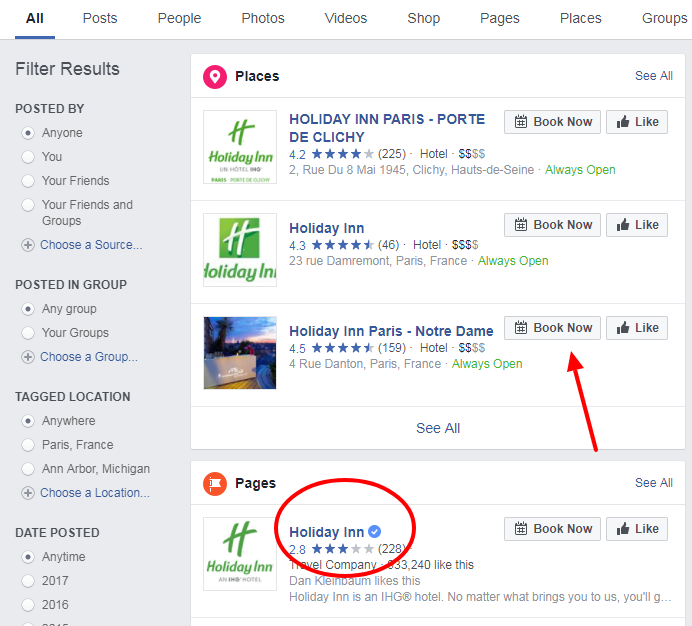 The first results I get are the locations nearest to me.
Further down the page, I see the corporate page.
Note the "Book Now" button as well. Facebook offers more and more functionality for more and more industries, so check to see what types of buttons are available for you.
Like the e-commerce option, when you click the Book Now button you are redirected to Holiday Inn's booking platforms.
Step 9: Settings
There are lots of settings — so many that the font can get really small when sifting through the options!
There are a couple of key settings that you need to make sure are enabled.
First, page visibility. Is your page visible to people on Facebook? Once your changes are modified and your page is ready, make sure it's visible. Otherwise, you're in for a sad surprise!

Second, visitor posts. Do you want people to post to your page in a way that will be visible to others?
In general, the best practice is to have post sharing on but with post moderation enabled, meaning that people can compose a post and propose it to you, but you have the final say whether it's posted or not.
Most of the time, people say nice things that you'd like to share, but there are also probably people who disagree with what you're doing or have had a bad experience.
Instead of giving these people immediate access to your fans, you should be able to prevent that information from getting out.
Third, if your business has an international focus, there are a couple of settings that you should activate.
Country restrictions: Make sure you're visible to all areas that your potential customers might come from. To do that, don't add any countries and select the Hide this Page from viewers in theses countries. If there are no countries, then there is no one to hide it from!
Post in multiple languages: This lets you post in different languages instead of defaulting to one language. It's particularly helpful if you're producing different types of content for different regions.
Translate automatically: This is one particularly nifty feature of Facebook. It automatically translates content when it's seen by people in different cultures. So don't worry if you don't have a Japanese-speaking community manager. Your content will be translated if people in Japan see it!
Fourth, page updates. If you update information on your page, Facebook can turn that into a status update.
For certain types of things, like adding a collection of products, you will want to alert your audience to the change so they come and check it out.
For other things, like updating the contact information or catching up on things you already should have done, you probably don't want to alert people that in 2017, you didn't have the right contact information.
You can check this box off before you make administrative changes and turn it back on when you want to broadcast that you're adding cool stuff.
Step 10: Cover Video
Facebook has really been evolving toward video over the past few years. In 2015 alone, Facebook doubled its number of daily video views from 4 to 8 billion.
That's B, for Billion.
And that was in 2015.
Video is an extraordinarily effective way to get your message across. It's what your customers want. In fact, 4 times as many consumers would rather watch a video about a product or service than read about it.
Check out this infographic full of video stats for perspective:
Facebook is not only a place to post videos. It's also been incorporating video into its different functionalities, like the Facebook cover.
You can now have profile videos, and what is really cool are cover videos. This lets you provide an immersive experience to the people who come to check out your business page.
You should adapt or create specific video content for the horizontal format so that, as soon as people arrive, you can start storytelling.
Take a look at the Facebook page for the popular Netflix series Narcos:
Step 11: Page Roles
As you'll see a little bit later on, community management cannot be done alone. In today's 24-hour world, no single human being can push content, plan campaigns, optimize those campaigns, and respond to every inquiry and message in a short amount of time.
That's why you will certainly end up working with other people to help you achieve those goals. You can grant them different types of access to your Facebook page for business.
Even if they are your BFF, you want to keep a professional page as closed off as possible. With the recent hacks and attacks on the Internet over the past few months, greater access leads to reduced security.
Click on the Page Roles option:
You can retain one person as the admin, and distribute responsibility based on what each person is going to be doing.
The different roles are more and more restrictive as you go down the list:
Page owner: Whoever first set up the page gets complete access and control.
Admin: Someone who has complete control over the page is an admin.
Editor: Anyone who can publish and modify content as well as respond to messages, run campaigns, view insights, see who did what, and make other modifications fall under the Editor category.
Moderator: A Moderator can publish and modify the content, respond to messages and comments, run campaigns, and view insights
Advertiser

: An Advertiser can create ads, view insights and

decide Facebook advertising costs

.

Analyst: These rolls can just view insights.
Live contributor: They can create a Facebook Live stream from your account, but they can't do anything else.
Once you've got your Facebook business page properly set up, it's time to execute.
Even a perfectly set-up page won't generate the online presence, engagement and ROI that you're looking for if it's not supported by a solid content, community management, and optimization strategy.
Second, execute your content and community management strategy, and analyze with Insights
Content Strategy
Facebook's algorithm has been notoriously tough on businesses. After they spent years building up audiences, Facebook put the choke hold on content from pages.
According to Socialbakers, organic reach for brand content is a measly 2%!
Now, for pages to get their content to their audiences, they frequently have to pay. Here's a look at the trend:
But creating highly engaging content is one way to break through the noise and the algorithm.
The better the content, the further it will reach organically.
Another thing you can do is to use Sponsored Posts to bring extra functionality from your business page to your fans' feeds.
Have you seen Facebook Advertise that include the Shop Now button or other calls to action buttons?
This is a great way to incite action at the moment of discovery, which is when your fan (or a targeted customer) is scrolling through his or her feed.
Here's what Holiday Inn serves up in my feed, complete with the Book Now button to make it as convenient for me as possible:
This type of content is only possible when you advertise on Facebook, in Sponsored Posts, so you should test and see which types of functionalities work with your audience and product offerings.
Finally, go Live!
Facebook is trying very hard right now to promote its Live feature. They signed a lot of big media agencies and influencers to promote the service. They even ran an advertising campaign around the world to teach people how it works. Here's an image from AdAge:
If you can create Live events or find something to stream in Live, Facebook will favor that content and send a notification out to your fans.
It's one of the few ways that you can reach out to your audience and promote your business organically, and Live is proving to be a very engaging medium. Users comment 10x as much during Live video than on regular videos.
And it's a trend that's not going away. Today, 1 in 5 videos on Facebook is a Live broadcast.
Community Management
Community Management was essentially born because of Facebook and the way it lets people connect with businesses. Community Management as a profession has changed a lot with the evolution of social media.
Right now, there are some key things to do for your Facebook business page to make sure it's as good as it can be.
First, you have to keep your response rates high.
Try to shoot for "very responsive." It looks like this:
This is very comforting to an existing customer with a problem. You want him or her to know that you'll respond.
It's also very reassuring for a future customer since it shows a dedication to your community that they will benefit from, as well.
The bottom line: Don't leave anyone hanging.
Then, don't just wait for your community to find you. Go to them.
Use your page to like content that people have shared around topics related to you, especially when you are mentioned in a post.
You don't need to comment, and in certain industries like luxury, commenting is considered too informal. But a simple like can go a long way in letting people know that your page exists.
Finally, deliver a consistent brand experience.
Your community management should be harmonious. Your tone of voice should not change between private messages and the captions in posts.
People should know what to expect.
Analyze everything with insights
Facebook's analytics have come a long way, too. In the beginning, it just offered the number of followers and how many people saw your posts.
Now there are all kinds of metrics to measure:
You should use this as much as possible to learn about your audience:
What content is working the best?
What isn't working at all?
Who is viewing my content?
How old are they? Male? Female?
What are they interested in?
Maximize content that's working and stop what isn't.
You can even add Pages to watch so you can see if your competitors are outperforming you. Just scroll down on the Overview tab and click the Add Pages button to search for the pages you want to benchmark.
Conclusion
Executing a content strategy and keeping up with the constant demands of social media requires dedication.
It requires teamwork.
And it requires a long-term strategy to keep you going through all of the ups and downs.
You might feel tempted to take shortcuts. Don't. Instead, focus on creating the best Facebook business page you possibly can.
Fans only matter when they're truly dedicated to your business and interested in what you have to say.
Plus, it's not just about likes and search results on Facebook. It's about breaking through the noise and delivering rock-solid customer service.
You can't know what works best if you aren't analyzing your insights.
Follow these steps and the next great Facebook business page might be yours!
What specific things have you done to boost your Facebook business page?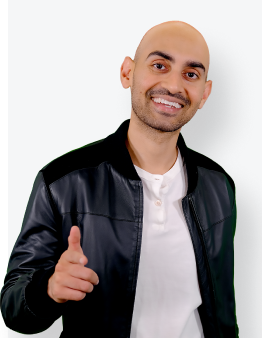 See How My Agency Can Drive Massive Amounts of Traffic to Your Website
SEO - unlock massive amounts of SEO traffic. See real results.
Content Marketing - our team creates epic content that will get shared, get links, and attract traffic.
Paid Media - effective paid strategies with clear ROI.