When I first got started in marketing, people told me that I needed to write 2300-word articles if I wanted to rank on page 1.
Now they didn't have to be exactly 2300 words, but anywhere around that was good.
Let's face it. For certain industries and topics, I don't think people want to read that many words. Just think of someone searching for "how to tie a tie" on Google. Would you want to read 2000 words? Or even 1000?
Probably not. You'd rather just see a few images or a video that teaches you how to tie a tie.
These days Google looks at whether someone clicks on a search result and exits right away. If a lot of people are exiting out of a specific article, that tells Google it probably isn't that great and shouldn't be ranked so high.
But the question is, does word count impact your rankings or overall traffic, and how does it differ per industry?
To answer this question I didn't want to rely on my gut, so my team pulled data from BuzzSumo, Ubersuggest, and Ahrefs to do a proper analysis.
We looked at over 10,000 articles that were popular in the industries below based on social traffic, backlinks, and SEO traffic:
Education
Investment
Entertainment
Travel
Sports
E-Commerce
Retail
Insurance
Economics
Technology
Construction
Automotive
Real Estate
Engineering
Energy
Here's what we learned:
What is the average word count of content types related to each industry?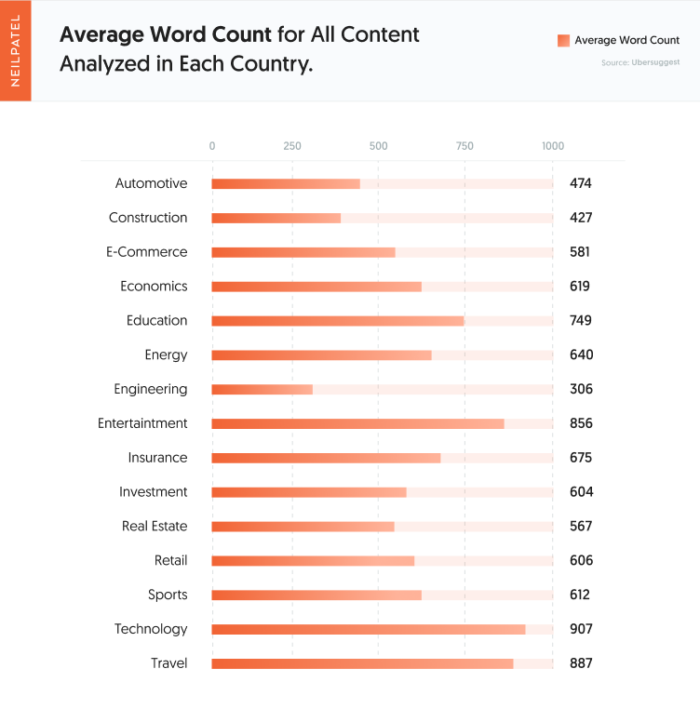 As you can see most people aren't writing 2300-word blog posts. In most industries, it doesn't make sense for all content to be super detailed.
The average for each industry we looked at was around 900 words or less.
Now let's look at what type of content was produced for each industry.
It varied per industry but "How To", "What" posts, and "Why" posts were popular for most industries.
Now let's look at the word count per industry for each content type.
What is the average word count per industry for specific content types?
With this analysis we looked at the 4 most common types of posts:
"How to" posts
"List" posts
"What" posts
"Why" posts
Here is the average word count for each of them per industry.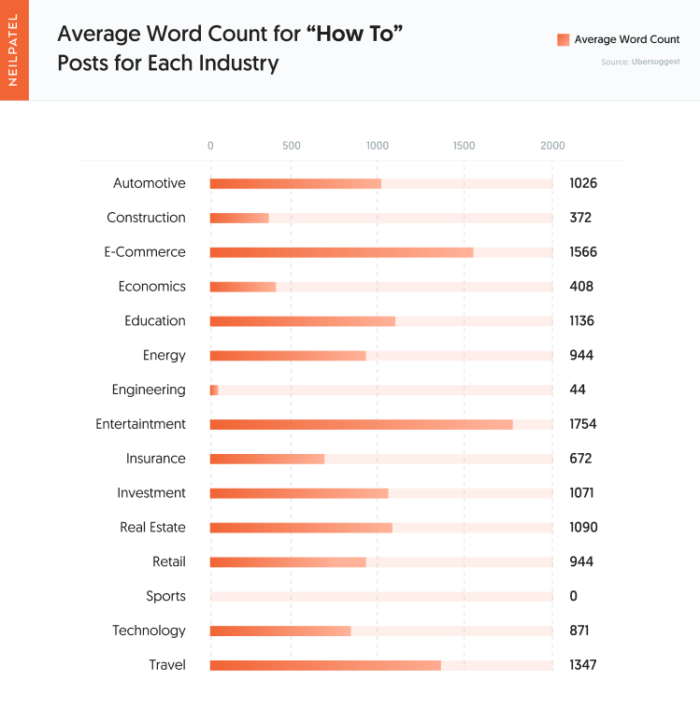 Compared to the average word count per industry graph that was first shown above, you can see "How To" posts tend to be much longer.
Engineering tended to be much lower, but when we dove into why, a lot of the engineering content was skewed more towards videos. That makes sense when you consider that a lot of engineering-based topics can be pretty advanced.
Plus we analyzed a bit more than 10,000 popular articles around the web. So it wasn't the biggest sample size for every industry.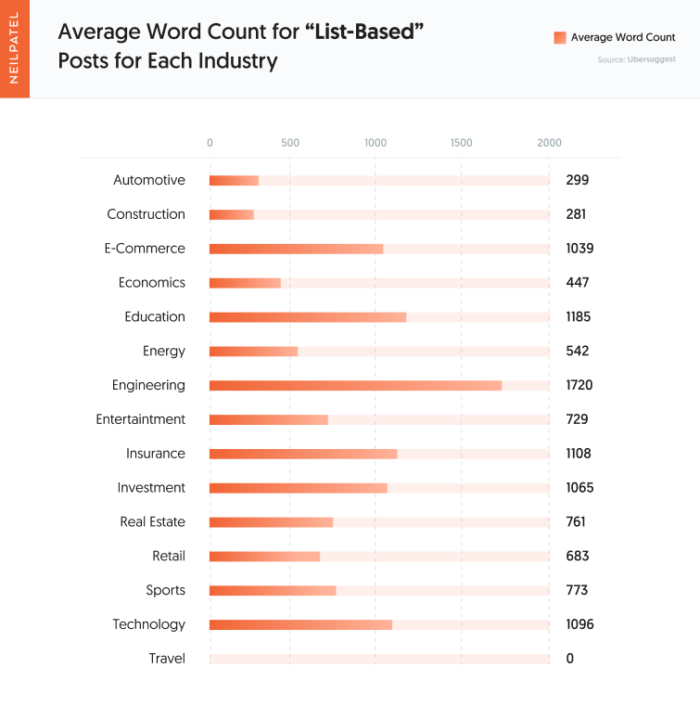 The average word count for "List-Based" posts for most industries was similar in length to "How To" posts.
Although, that wasn't the case for "What" based posts.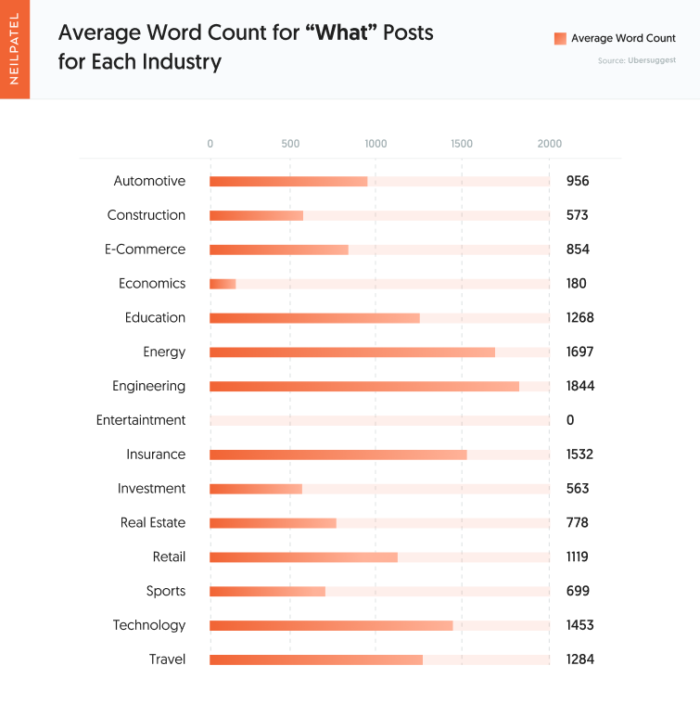 On average "What" based posts were longer than "How To" and "List-Based" posts.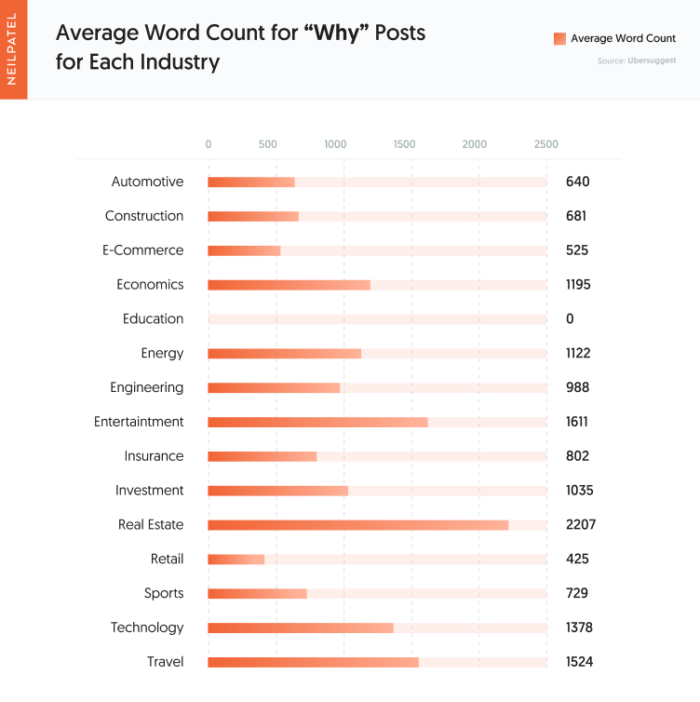 Lastly, the graph above shows the length of "Why" based posts per industry.
Now let's dive into backlinks.
What is the average number of backlinks for posts at each word count threshold?
Here is the backlink count based on the article length.
Keep in mind we are analyzing the results of the more popular articles in each industry. Not all articles get this amount of backlink counts.
As you can see in the graph above, posts with a word length of 1001-1500 or 1501-2000 get over 1700 backlinks. Same with the word count lengths of 3001-3500 words.
From what this graph tells us, aiming for a content length within these 3-word count ranges has the highest likelihood of producing more backlinks… assuming your content is high in quality.
What is the average traffic received for posts at each word count threshold?
Backlinks aren't everything.
Even if you have a ton of backlinks, it doesn't mean you are guaranteed traffic. Here is the average traffic for posts based on word count.
Posts that were 2501-3000 words generated by far the most traffic. It was then followed by posts that were 3001-3500 words and then 3501-4000 word posts.
If you are optimizing for traffic, you can clearly see that sticking in a range of 2501 to 4000 words is the best way to go, but that may not be true for every industry. So let's dive into the data a little bit more.
Here is what the traffic distribution by each word count threshold looks like for each industry.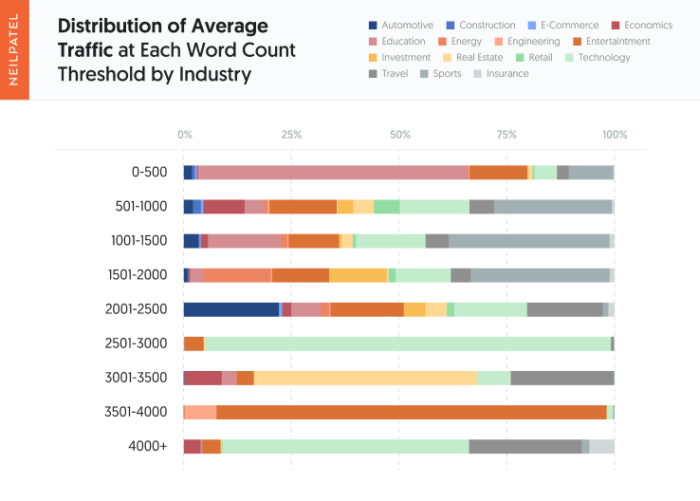 Every industry is different as you can see above.
In the Education space, it's clear that people prefer shorter content that is under 500 words. At the same time, posts that are 3501-4000 words do well in the entertainment industry, and 4,000+ words posts do well for Technology or Travel.
What is the average number of social media shares for word counts in each industry?
Let's see what social media users liked.
For the graph below, we focused on Facebook, Twitter, and Pinterest because not all social networks would give us sharing data.
As you can see, some industries just aren't as sharable as others. For example, I don't think most people care to share articles on Engineering or E-Commerce, or Insurance.
Travel and Technology, on the other hand, did exceptionally well.
To get even more granular, here is the data broken down by industry on Facebook.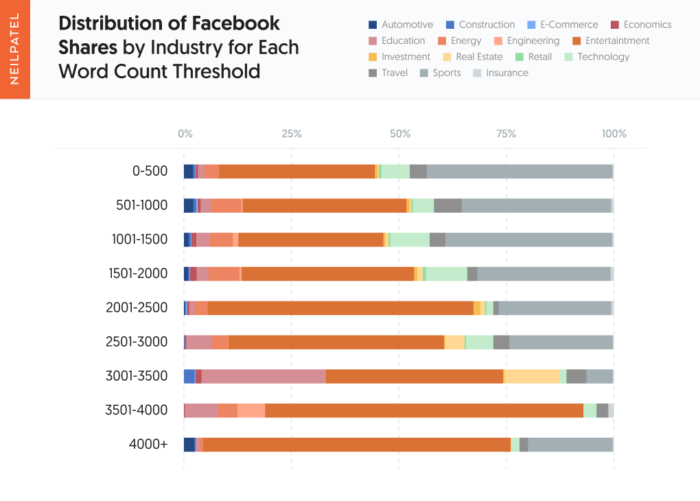 Here is the data for Twitter broken down by industry.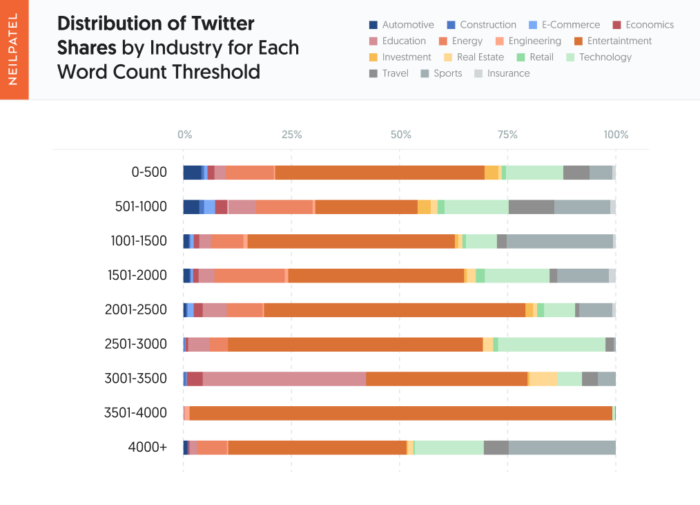 Lastly, here is the Pinterest data.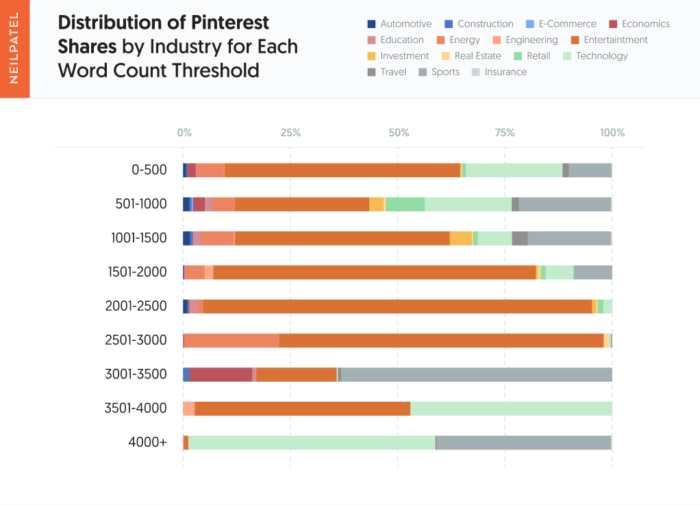 Based on your industry, and the word count you're targeting for your article, the 3 charts above will give you guidance on which social media channels you should focus on to get more shares.
How many keywords are ranking on the 1st page of Google for content with different word counts?
For this analysis, we shortlisted between 80-100 URLs at each word count threshold that was looked at manually to identify the number of keywords in positions 1-10.
Approximately 8.5% of all URLs from the total analysis were used to answer this question.
Articles with 1001-1500 words tended to have a lot more page 1 rankings than shorter articles. Articles within the 2501-3000 word range also did well.
Now, this doesn't mean that if you want more page 1 rankings your articles should be within these specific word count ranges. You should always focus on delivering quality at whatever word count range you end up being in.
The shorter your article means fewer words and less valuable content you are able to include. So, in theory, you would see fewer page 1 rankings on Google.
However, after a certain point such as with 1001-1500 word posts, Google has seen enough "words" to determine what your article should rank for.
What is the average word count of top-performing content for each industry?
For this section, we selected the posts from each industry that received:
the top 10% of traffic
the top 10% of total social media shares (Facebook, Twitter, and Pinterest combined)
the top 10% of backlinks
That way, you could clearly see the average word count for the best performers.
It's clear that if you want to be in the top 10% in your industry the chances are your article will be at least 500 words and probably under 1500.
Conclusion: Does Word Count Impact Performance?
Word count doesn't guarantee success from a social share perspective, backlink perspective, ranking perspective, or traffic perspective.
However, the data above will help guide you on roughly where you should aim for your article to be for your industry. When you pair that with your SEO and paid advertising efforts, you can experience a lot of success.
Generally speaking, you don't want to have "fluff" in your content and you should keep it short and to the point. At the same point, you want your article to be detailed and thorough enough so people can clearly understand all the points you're trying to make.
You'll also want to use subheadings similar to what I did in this article as it makes it easier to skim your content especially if it is long. It can also help to take a look at your sources to see how you can get better data from your content to make better conclusions.
How long is your content and what word lengths do you usually target?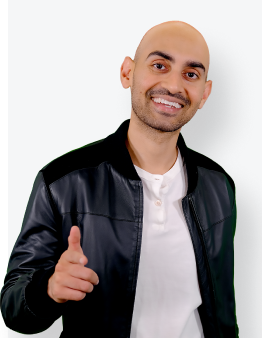 See How My Agency Can Drive More Traffic to Your Website
SEO - unlock more SEO traffic. See real results.
Content Marketing - our team creates epic content that will get shared, get links, and attract traffic.
Paid Media - effective paid strategies with clear ROI.
Are You Using Google Ads? Try Our FREE Ads Grader!
Stop wasting money and unlock the hidden potential of your advertising.
Discover the power of intentional advertising.
Reach your ideal target audience.
Maximize ad spend efficiency.