If you can't stand seeing social share counters stuck on "0," then this post is for you.
Getting massive social shares is something that most content marketers and bloggers want to accomplish. But, how many people achieve this goal?
There was a time when my blog posts earned 10 – 20 social shares and only a handful of comments. But today, it's a different story.
It all depends on the type of content you create and how you promote it.
A recent survey found that Facebook users share 2,460,000 pieces of content per minute. That's a lot of content. You need to stand out – or else you'll get lost in a sea of cute kitten posts.
The way that we create and promote content is constantly evolving. Certain marketing activities catch on and become popular, while others fade away.
I'm sure you've seen some posts that generated thousands of social shares and thought, "but I can write better content." Well, maybe.
But does it really matter? The truth is that you need to learn what makes some posts more successful than others – why some pieces of content survive the test of time, while others quickly fade away.
Let's look at the 4 ingredients that you need to infuse into your next blog post so that it can generate massive social shares: 
1. Create content that evokes curiosity, amazement and surprise.
If you don't want your Facebook and Twitter feed to look like a graveyard, you've got to make the job of sharing and commenting easy for your readers. Evoke curiosity, amazement and surprise in your content.
That's how your content will stand out from the 2 million blog posts that are published each day.  That's enough content to fill TIME Magazine for 770 years!
Social signals are important. Most people who create content don't think social shares matter that much, especially for SEO. Well, we're seeing a lot of attention directed towards social engagement these days. What's more, social signals can benefit SEO – and this impact is only going to increase.
You already know that your perfect audience is out there. But, what can you do to bring them over to your blog? It's simple: Create useful content and amplify its reach through social sharing.
Sharing will expose your content to your current audience's friends, fans, family members, clients, colleagues and customers.
If you look at the chart below, showing the usage rate of various B2C content marketing tactics, you'll notice that social media content is used 93% of the time. This should tell you something.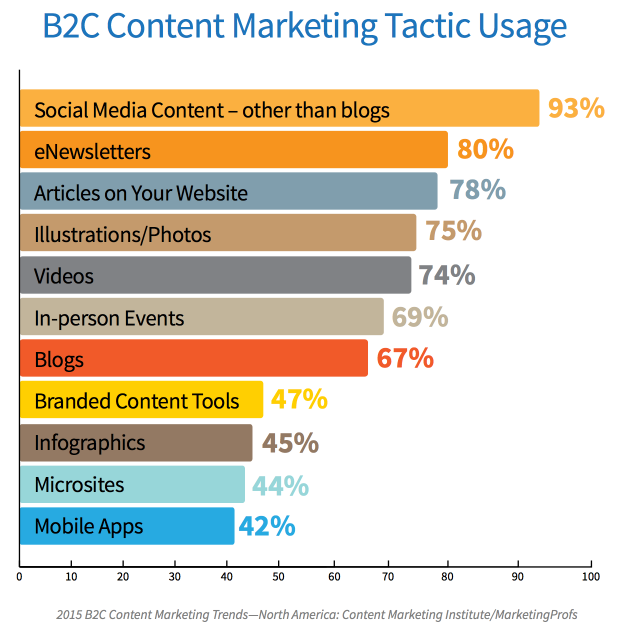 People want to connect, share and communicate with you on their favorite social media networks. It's no longer enough to create content and pray that your audience will magically appear. You have to guide them.
Content that evokes an emotional response always gets massive social shares.
Jonah Berger, in his New York Times bestseller Contagious: Why Things Catch On, simplified sharing to 6 key elements. One of those elements – emotion – is actually THE key factor, because it drives the other 5 elements.
In copywriting, we know that buyers purchase products based on emotional triggers and then justify those purchases with logic. This demonstrates why emotion is such a powerful action driver.
If you want your readers to willingly share your content, your content has to nudge them internally via emotional cues and triggers.
Not all emotions are created equal. For example, emotions of curiosity, amazement and surprise are usually stronger than other emotions.
How do I know? Well, Fractl conducted a really interesting experiment on viral images. They broke down the emotional triggers that made the top images from Imgur (a popular image hosting and sharing site) go viral.
The final results were represented on a modified Plutchik wheel to see which emotions had the strongest impact on viral sharing: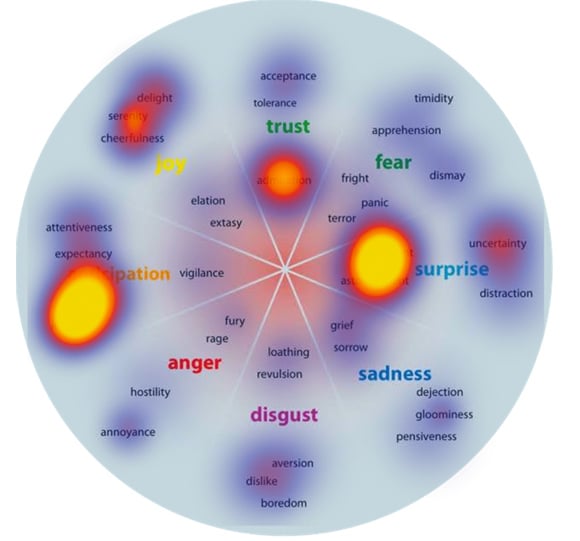 The 5 emotions that prompt people to share content more than others are:
Curiosity

Amazement

Interest

Astonishment

Uncertainty
These emotions have more of a positive feel than negative.
Yes, people are often attracted to negative stories. We see this in the popularity of news sites. Negative news always gets people's attention.
However, people are much more likely to share positive stories. In fact, this study found that good news spreads faster on Twitter and Facebook.
As long as your content evokes positive emotions such as curiosity, people will share it. Here's an example:
You should also try to infuse emotions of amazement in the content you want to be shared widely. I've written a couple of posts like this. Here's an example:
You already know how to create content that converts. Give it a try – aim to evoke positive emotions like curiosity, amazement and surprise in your content and watch the social shares flood in.
Moreover, positive stories create laugher. And, making people laugh is the top motivation for sharing content.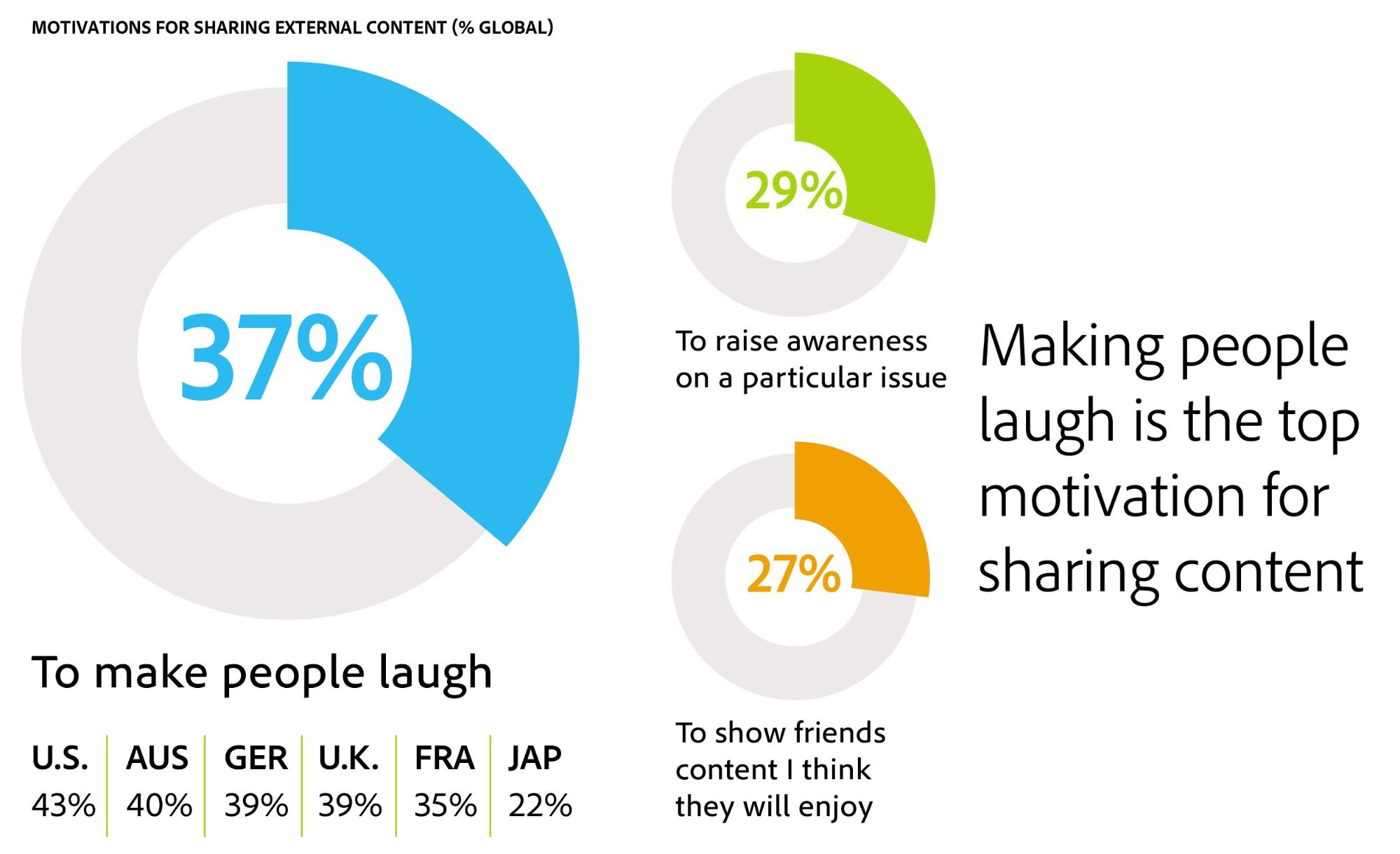 2. Eliminate friction between sharing and engagement.
Friction is a force that keeps two surfaces from moving freely.
When it comes to getting massive social shares, you have to eliminate the friction between sharing and engagement. Better yet, remove every obstacle that stands between sharing and engagement.
A Wharton business study revealed that there are 4 types of social sharers. These sharers can be further divided into sub-types.
You've got to understand that some sharers will read your content and feel excited to share it. But others are apathetic, because it feels like too much work.
In conversion optimization, the general advice is that you should remove the friction behind sharing, by making it as easy as possible for the reader to share your content.
To eliminate the friction and persuade your readers to share your content, make sure that you do the following:
i).  Add social sharing buttons: Generally, adding share buttons may seem like pretty basic advice. Yet, many site owners and bloggers have never done it.
You can't talk about optimizing your share buttons if you don't have them placed near your content.
If you're a WordPress user, some of the more popular plugins for adding social share buttons on your posts and pages are:
ii).  Choose good locations for your buttons: Positioning matters. That's why A/B testing is so vital to your success.
The truth is that most people share content without reading it completely. If you notice this on your site, it'd be ideal to place the social share buttons above your post. Here's an example:
To maximize social shares so that people who like to share content without reading, scanner-types and ardent readers alike can all easily share the post, you should have floating buttons that stay on the side.
iii).   Less is always better: How many social sharing buttons should you use? Well, there's no right or wrong answer to this. As always, you have to test it in order to ascertain what works best with your audience.
In my personal experience, less is always better. Did you notice that I only use 2 networks on QuickSprout? When I increased the buttons to 5, my social sharing went down by 29%.
The following graph shows a breakdown of social shares by network:
At a glance, you can see that Facebook and Twitter are by far the 2 most popular networks for sharing. This means that regardless of your niche or content, you should include both networks.
On a side note, if you use a lot of images on your post, then you should also add Pinterest to your social sharing buttons. Ideally, check the top sites in your industry for guidance.
For example, if I were starting a food & recipe blog, I would go to a popular site like Allrecipes.com, then click on the latest posts to look at the networks they use and the statistics so far: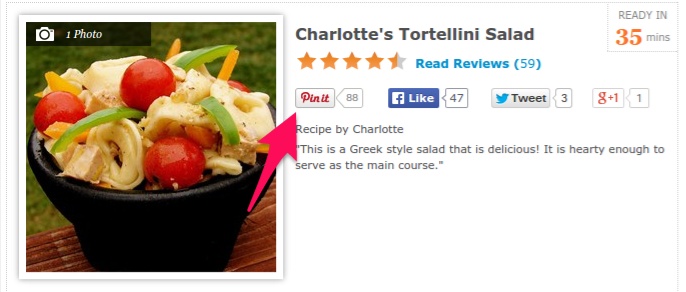 When adding networks to your sharing buttons, focus on the ones that will have the most impact on your conversions.
Derek Halpern, founder of SocialTriggers.com, added Facebook and Twitter networks to his sharing buttons. His shares on Facebook seem to suggest that was a good choice.
3. Don't beg for shares – just ask.
There's a difference between begging and asking.
Begging makes you sound desperate. When you sound desperate when asking people to share your content, they'll most likely ignore it.
Often times, the reason people beg is because they feel that they haven't measured up.
In the context of online marketing, it could mean that your content isn't helpful or inspiring.
Asking for shares makes you responsible, because you're nudging people to take action based on the value that you've delivered.
Dan Zarella conducted a study of retweets to determine why some tweets received more shares than others. It turns out simply asking for retweets (or "RTs") is extremely effective:
When you trust someone, you'll likely share the post whether they asked you to or not.
That's why building relationships with your subscribers is a great way to get your content shared.
There are two ways to ask people to share your content:
i).   Notify your email subscribers: This is simple. When you publish a new post that you're proud of, send an email to your subscribers.
You can include a sentence or two beneath the letter.  Insert something along the lines of: "If you think that your friends/network would benefit from this post, please share it with them – I'd really appreciate it."
ii).   Mention other people in your content: How often do you do this? It's important to mention other influencers and bloggers in your industry (even outside of your industry).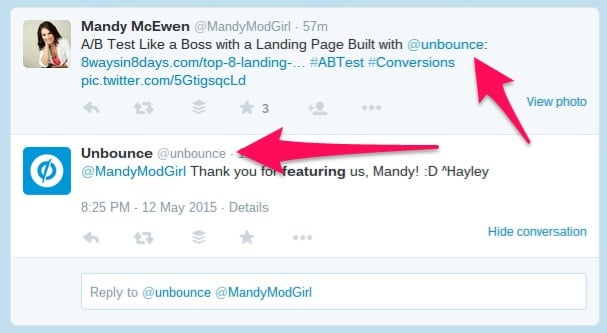 It's a lot easier to get people you've mentioned in your post to share the post with their friends and customers. You can reach out to them via email and notify them.
If you mention other people and promote them, they'll most likely reciprocate by getting your content in front of their audiences.
Don't beg for social shares. It doesn't work. But, if you use the two tactics above to ask for social shares, you'll most assuredly get a lot of them.
4. Get more social impressions with relevant visuals.
I've written extensively on how you can use infographics to drive up to 5,000 visitors to your blog per week.
It's definitely possible, thanks to the power of visual content marketing.
Visual assets such as images, screenshots and infographics attract people more than plain text. It's why posts that include pictures on Facebook get:
104% more comments

84% better click through rate

54% more likes
These massive engagement rates on Facebook could happen because of what images and other visuals do to the human mind.
According to HubSpot, the human brain processes visuals 60,000x faster than plain text. And, 65% of humans are visual learners. That means that they prefer to learn new things through visual content like videos, infographics, etc., and not plain text (e.g., blog posts).
Brands that are integrating visuals into their marketing get massive social media engagement.
As an example, Burberry, a leading fashion and lifestyle brand from the U.K., created an inspiring Lunar New Year campaign that featured Romeo Beckham. The content generated over 100,000 likes and 13,000 shares.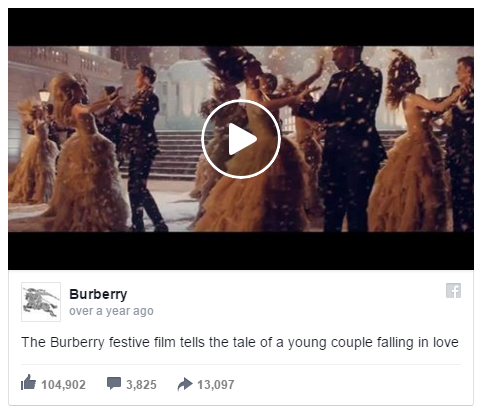 Burberry's exclusive image featuring British artist Jessica May Underwood received over 53,000 likes and 270 comments.
To get more people liking and sharing your content, you need to include data and visuals in your posts.
Buffer analyzed a small sample of 100 tweets and found that tweets with pictures generated 18% more clicks, 150% more retweets and 89% more favorites.
However, not just any image will produce the best results for you.
You really don't need to a be a professional graphic designer, but picking a random image won't work.
To start with, don't use stock photos that are irrelevant to your post:
According to Social Media Examiner, if you want your images to draw attention on social networks, you have to find high-quality images that are relevant to your topic and include some sort of persuasive message.
In addition to that, adding a call-to-action to the image itself can raise click-through rates by another 14%.
Here's a great cheat sheet for the ideal image sizes for each social network:
When you create blog posts, break up chunks of text with relevant images. Here's how I do it:
Conclusion
Keep creating high quality content, because that's the hallmark of every successful social media campaign.
Don't forget to share your best content when your audience members are most active on social media. This will guarantee that you reach the right people at the right time.
On the technical side, you should also customize your social meta tags and your social sharing will soar.
Take social sharing seriously, because it can lead to more traffic, leads, sales and brand visibility for your business. And, in the long-run, it can impact SEO.
Which other tactics or strategies have you used to increase your social media shares?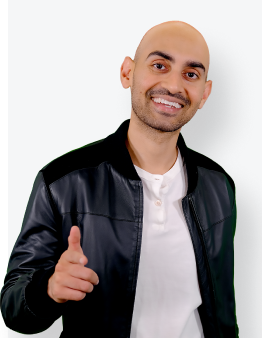 See How My Agency Can Drive More Traffic to Your Website
SEO - unlock more SEO traffic. See real results.
Content Marketing - our team creates epic content that will get shared, get links, and attract traffic.
Paid Media - effective paid strategies with clear ROI.