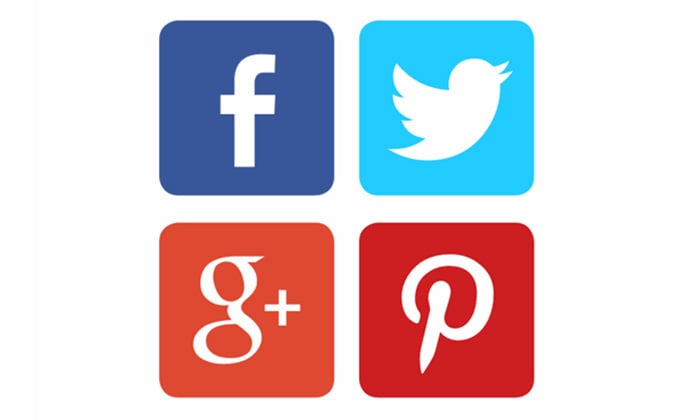 You've just written an amazing 2,500-word, long-form blog post.
It took you all week to write and perfect and it's beautiful.
It has dozens of images and even a step-by-step walkthrough to help users get the most value.
You followed all the rules.
But after checking your analytics, you notice you only have a few social shares.
What about all the promotion you did on Twitter, Facebook, and LinkedIn?
Or all the friends you asked to share it for you?
Even with all your efforts, the post has still only received a couple likes and one or two retweets.
Don't be too hard on yourself. Getting social shares on blog posts is one of the hardest things to do.
There are millions of blog posts published every day, so competing for traffic and attention makes it pretty difficult to get noticed.
But you need those social shares if you want your blog post to drive more inbound traffic.
If you want more customers (and you do), you need to keep blogging.
So what do you do when your blog isn't driving the social shares it needs?
Thankfully, there are a few hacks that will help you get more traction and help you get people to share your content more often — and actually enjoy sharing it.
I've used these same methods and tools with my own content and I've noticed dramatic increases in social shares.
I've even been able to drive thousands of social shares when I had no followers.
So let's take a look at five hacks to quickly boost your blog-post social shares.
1. Add Click-to-Tweet functionality
Social shares are one of the most important factors when it comes to driving traffic with your blog posts.
You need them. Without social shares, you can expect much lower traffic rates and less chance of creating a viral buzz.
One of the best ways to quickly generate social shares is by using Click-to-Tweet functionality.
If you aren't familiar with this technology, let me show you a few examples.
When you're scrolling through a blog post, you might see something like this:
Click-to-Tweet functionality is a great way to remind blog-post readers they can (and should) share your content.
And it comes in many different forms.
If you use a plugin, it might look like this:
The goal of Click to Tweet is to generate more social shares.
If you don't tell people what to do, they won't do it.
Just think about it.
Did you share the last blog you read? If you did, did you share it because you were asked to or because there were prominently displayed social buttons?
If you didn't, was there a CTA to get people to share? Or not.
Most of the time, when there isn't a shareable call to action, people won't share your content.
They might get distracted, or it's not at the top of their mind.
No, they aren't reading your blog and simultaneously thinking about how they can help with your social-share goals.
That's why Click to Tweet performs well. It's a non-invasive way of suggesting a share to a reader.
If you want to get started with Click-to-Tweet technology, you can easily add it to your blog posts in a matter of minutes.
There are a few ways to do this.
First, if you have WordPress, you can install the Click To Tweet plugin:
This plugin will add seamless integration of Click to Tweet functionality into your blog posts.
If you don't like to use plugins or you don't use WordPress, there are a few other ways to add these types of links in just a few minutes.
You can create basic links that look like this post on HubSpot: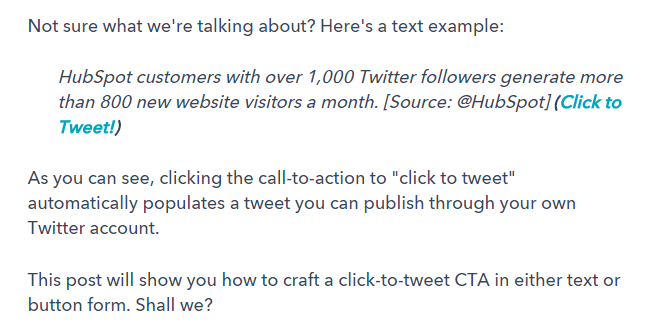 To do this, head to ClickToTweet's Basic application. It's free to use:
Make sure you sign in with your Twitter account to be able to track analytics for the links you create.
From here, you can type the message that will be tweeted if someone clicks the link.
Hit "Generate New Link" to create a unique link for your tweet.
Next, simply hyperlink in your next blog post after a statistic or quote like HubSpot did:
These CTAs are easy to add and they're a great way to boost your social shares.
Always be sure to remind blog readers that they can and should share your content.
If you don't, they might not realize it's okay to share your content or they might simply forget.
Use them to increase your blog-post shares today.
2. Highlight-to-Share buttons
Another amazing way to drive seamless social shares is by using a Highlight-to-Share tool.
If you've never heard of it, it's similar to your typical social-sharing buttons that are static or scrolling on your blog.
But actually, these social-sharing buttons are better.
Here's why.
I don't know about you, but I often read a blog post and find amazing tidbits of information.
I read a lot of different publications, and most posts have great factoids or statements that are inspiring.
When I read them, I usually proceed to highlight pieces of text and then share it or copy it to a notebook on my computer.
So, what if there was a way to take advantage of that common action?
Thankfully, there is.
Just look how HubSpot does this:
When you highlight a piece of text, social-sharing buttons pop up.
Genius, right?
It's yet another way to get people to share your content.
It makes it that much easier to share your blog post.
And trust me, making the life of the customer easy by reducing steps is one of the best ways to delight a potential customer.
Luckily, there's a simple-to-use plugin that makes this all possible.
If you like using WordPress plugins, there's an easy Highlight and Share plugin that works just like HubSpot's.
You can set this up in multiple formats to display different buttons and colors, too.
You can also customize a bunch of different settings for this plugin.
For example, you can choose when to display the buttons and highlighting feature based on content or social profile.
Highlight-to-Share is one of my favorite tools for boosting social shares on a blog post.
Personally, I highlight stuff all the time. And your readers do, too.
Many times, readers will like an entire post, but they'll find one little nugget that really resonates with them, and it becomes a catalyst for them to share.
This gives them the opportunity to do so, and you risk nothing by adding it to your site.
If people don't highlight, they won't get spammed with it.
If they do highlight, you know they liked a piece of your content and would be willing to share.
It's a win-win situation.
Try adding this plugin to your site to generate more social shares on your content.
3. Use scrolling social buttons
This hack might seem a bit obvious, but tons of blogs get it wrong.
Scrolling social buttons are a must when it comes to getting social shares on your blog posts.
I've noticed plenty of blogs that have sharing buttons that don't dynamically scroll with the user, or they're only attached at the top or bottom of the page.
But keeping these options static is a big mistake.
Remember: if you aren't constantly pushing it, users won't do it.
For example, check out how I use these on my blog posts: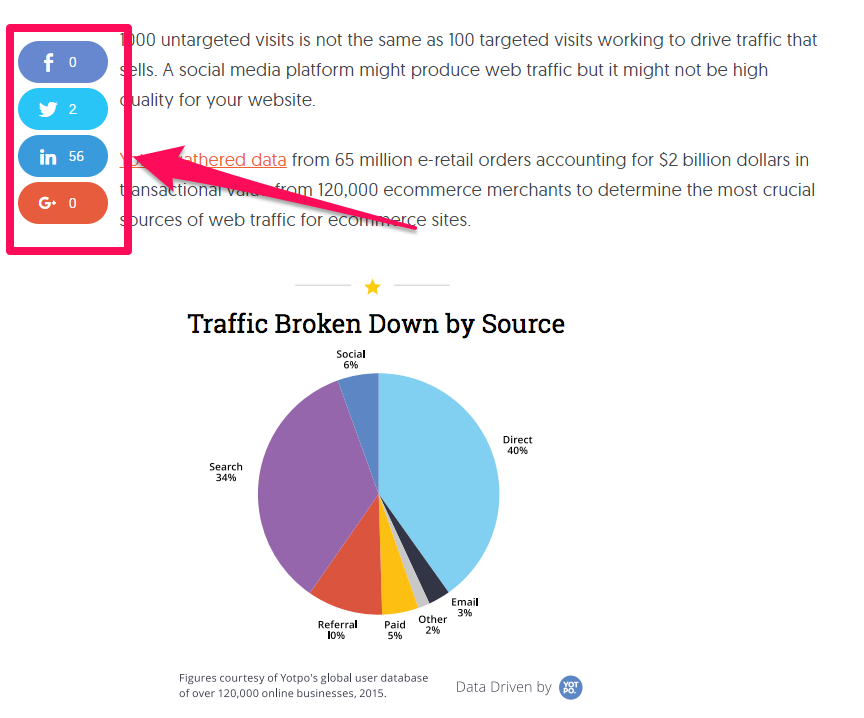 The block follows the user down the page so it's sure to be there when the mood strikes them to share.
Plus, scrolling social buttons are minimalistic, so it won't overwhelm the user.
A great tool to get started using these social-share buttons today is AddThis.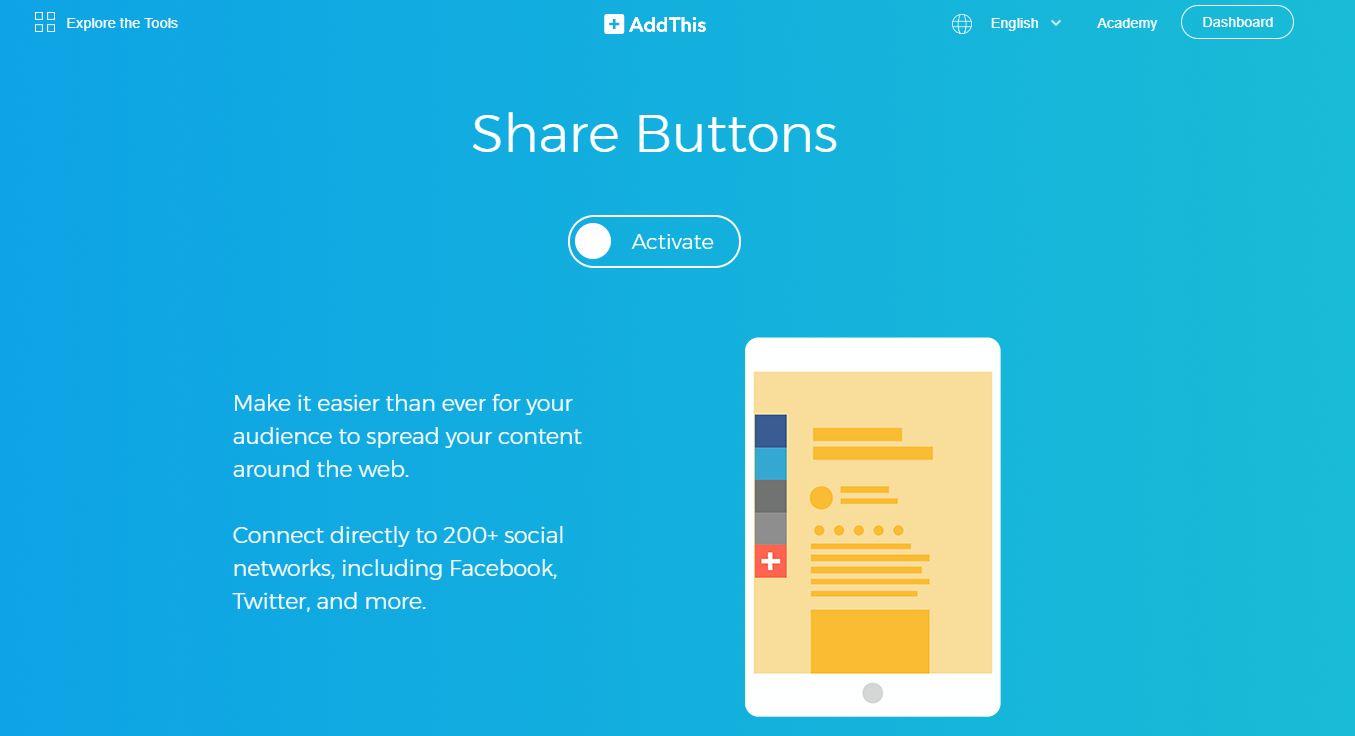 To get started, click the "Activate" button on the homepage and create a free account.
Once you create a free account, select your tool option.
For this, make sure to select the "Share Buttons" tool.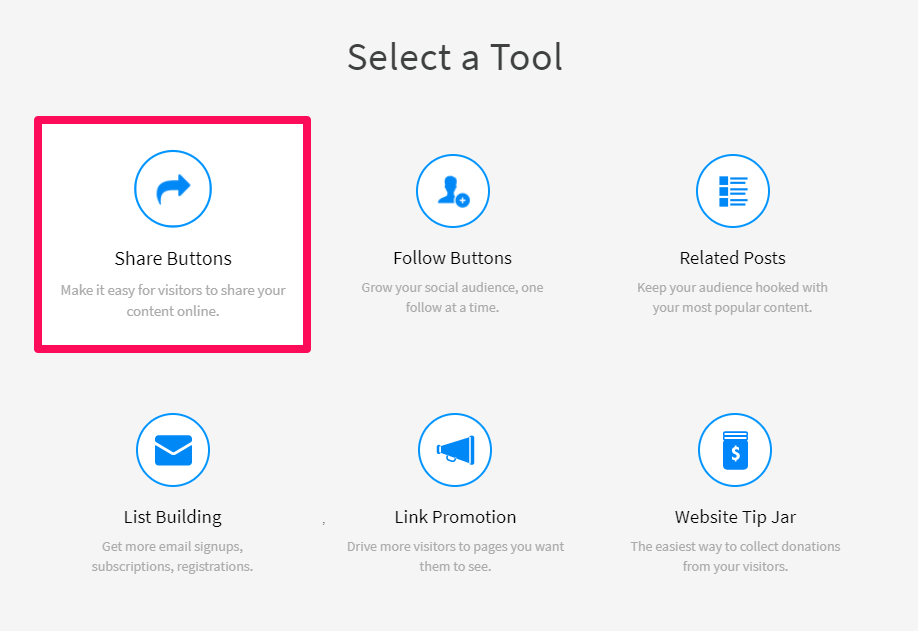 From here, you can select a few different types of buttons.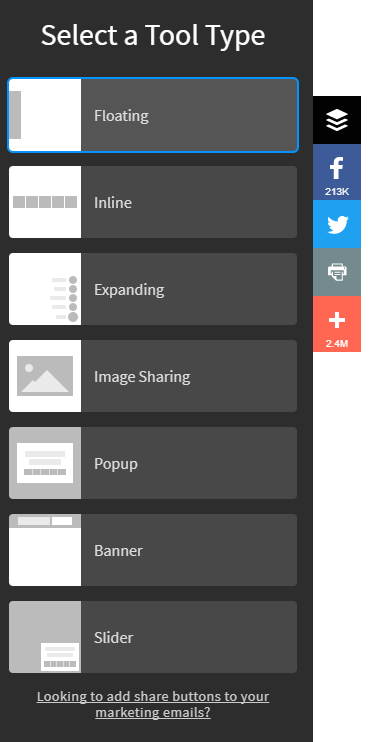 This tool has some of the most diverse options for a free application.
For example, if you want to use a slider when people scroll down your blog post, you can easily select that option.
With this tool, you can also optimize your social-sharing buttons to properly show on your mobile site.
It's one of the best free tools when it comes to driving social shares.
You can set it up in just a few minutes and start driving more shares on your blog posts.
4. Use infographics and charts
In a time of information overload, visuals are an engaging way to not overwhelm viewers with tons of text.
At the top of the high-performing visual list: infographics.
Infographics are great for turning hard-to-digest content into visually appealing information.
For example, instead of simply writing a long paragraph stating facts, you can turn those facts into beautiful, visual data.
And visual content generates more shares.
According to Backlinko, who studied over a million search engine results pages, blog posts with images rank higher.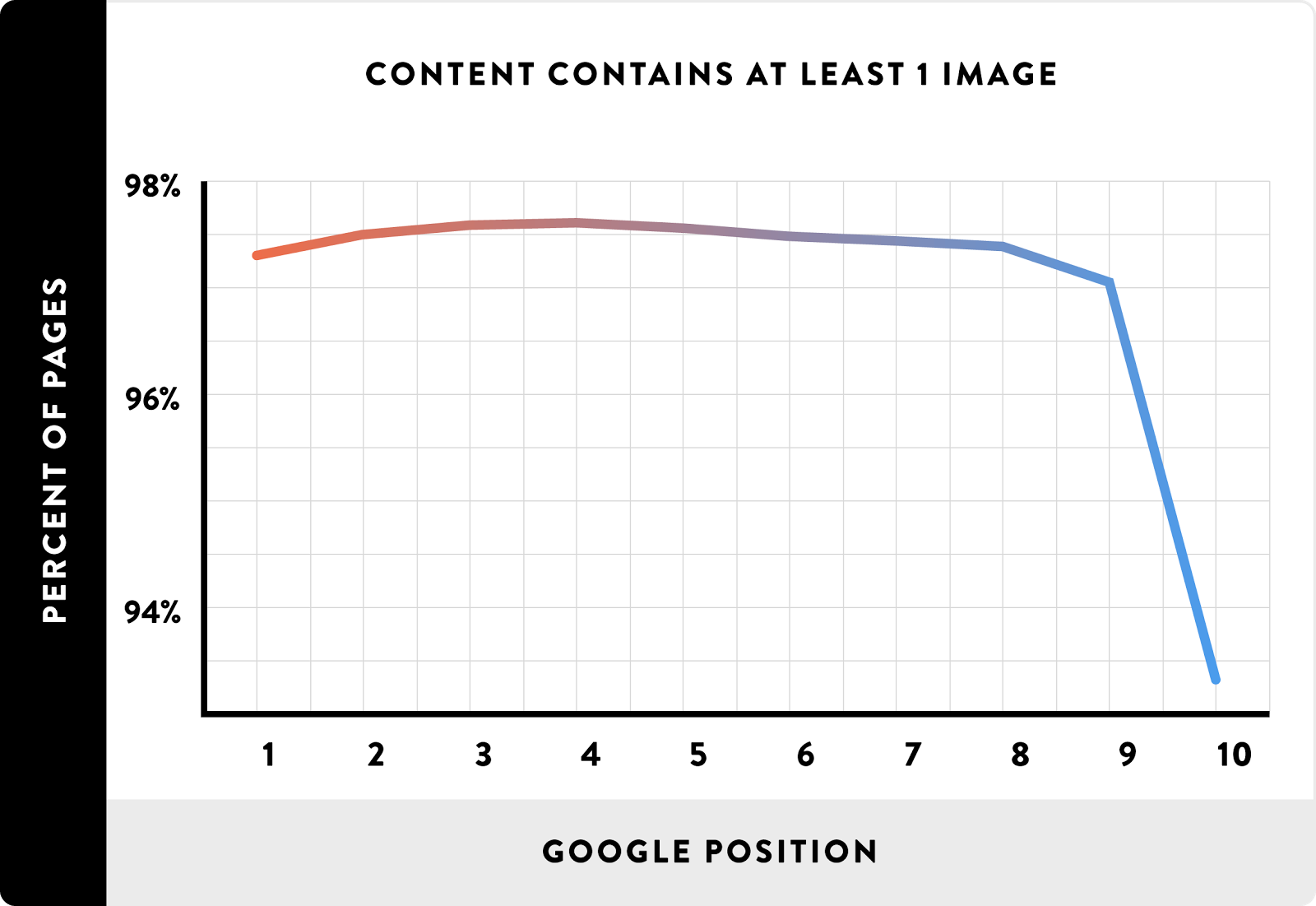 Higher rankings often correlate with more social shares.
If your content is showing up first in Google, you can expect more traffic and more social shares.
And according to HubSpot, marketers are putting a big emphasis on visual content for its shareability.
There are even entire sites dedicated to sharing infographics.
Why? Because people love visual content.
If you want to get more social shares, you need to make more visual content.
That's why I try to create dozens of infographics for my content on QuickSprout.
If you don't want to spend time developing an infographic, you can always hire someone else to do it for you.
For example, you can use a site like Fiverr to hire someone for $5 to make a high-quality infographic.
Luckily though, infographics are pretty easy to make.
If you prefer to create them yourself, you have tons of different options.
Some of my favorite tools include Canva, Venngage, Snappa, and Piktochart.
Any of these can get you started with beautiful infographics today.
If you want to make infographics in just a few minutes for free, try using Canva.
Create a free account and navigate to the templates section.
From there, scroll down to the "Blogging & eBooks" section to select the infographic-style template.
Next, you can choose between a few preset templates to work from, or simply start from scratch.
I love Canva because it's so simple to use.
If you want to create an amazing design, they have all the tools and features for that.
You can instantly add icons, graphics, charts, and data.
And if you want to create an infographic to quickly share on social media, you can do that, too.
The options with Canva are endless.
Try using it to add more visual content to your blog posts.
Add it to data and statistic-heavy sections.
Use it to boost engagement and to add a visual flare to your posts that simple text alone can't accomplish.
I do this often. It helps generate social shares and even backlinks to your new posts.
Remember: people love infographics and visually represented data.
Switch things up a bit by getting rid of some of your text-heavy content, and you'll likely start to see a large increase in the number of social shares on your blog.
5. Research trending topics on Google Trends
Want to know what type of content gets the most social shares?
Relevant, pressing, breaking news.
Tap into content about things that are happening in the world around us at this very moment.
Was it last week's news? Don't even bother.
It's old now, and it won't get the social shares you're looking for.
With such a fast-paced and complicated 24-hour news cycle, stories come and go.
This means viral buzz can only occur when you explore a relevant topic that's trending at that very moment.
If you research a trending topic and take two weeks to write a post about it, you could be spinning your wheels.
But if you can capitalize on trending topics, you'll get more social shares for sure.
That's where Google Trends comes into play.
Google Trends shows you all the current trending topics, news stories, and insights in a given country.
You can take advantage of these trending topics by combing through them to see if you can spin any of the stories or headlines for your own content.
For example, look how Hootsuite has done this.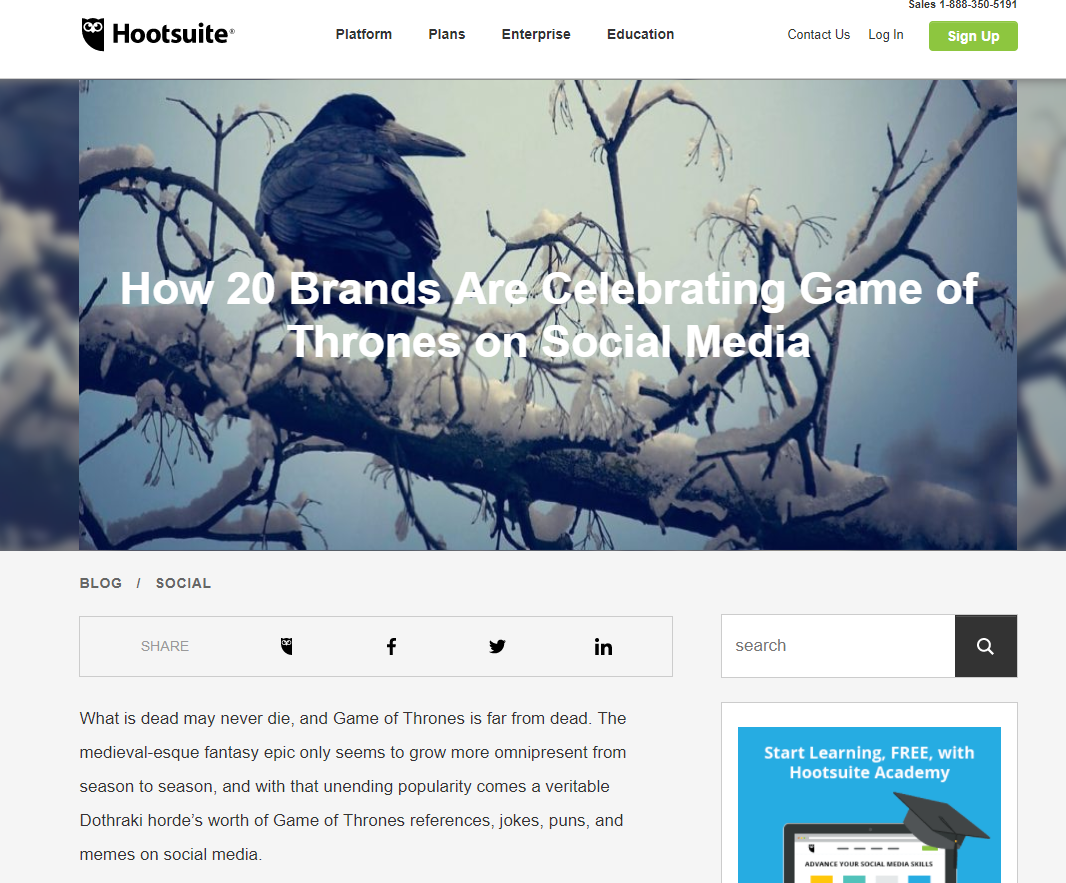 "Game of Thrones" is one of the most popular television shows of all time.
In fact, it gets millions upon millions of viewers every season.
And Hootsuite knew that.
They didn't simply write about "Game of Thrones" and spin it to a marketing post for fun.
And they didn't write it just because it was their favorite TV show.
They picked it because it was trendy and would perform well (read: more shares).
A great way to further investigate this is by searching for the topic or keyword in Google Trends.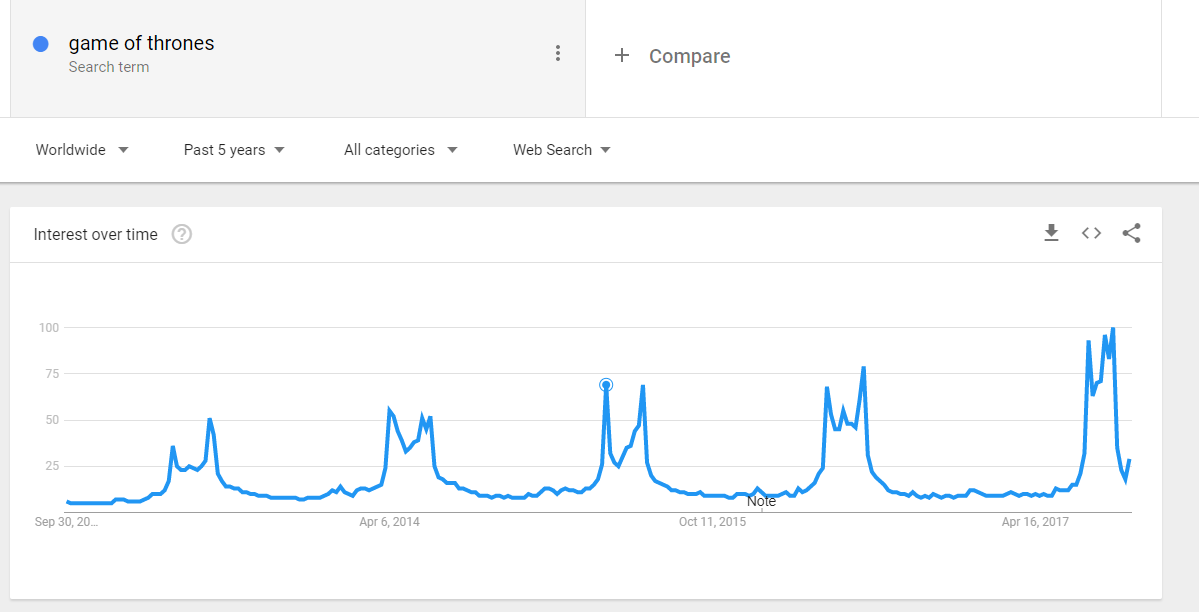 Immediately, you will notice a pattern.
During each start to a new season, there's a massive spike in search traffic for the topic.
Hootsuite took advantage of this by creating themed "Game of Thrones" content during those spikes.
The goal here is to identify trends that can be turned into marketing content and leveraged for traffic and easy social shares.
There's no doubt this post racked up social shares by marketers who love the show.
It's one of the best ways to boost your blog-post shares because people love to talk about the latest thing.
So try researching trending topics, TV shows, or events to tap into and create a buzz around your posts.
Conclusion
Spending your time creating quality content can make you feel like you've done a good job, but does it matter if no one reads it?
In short, no.
Your goal is to give your audience valuable content, but that means the content has to get to the audience.
This means you need those coveted social shares. Likes. Retweets. Forwards.
You can't afford to spend all week on a blog post only to have it fade into obscurity in just a few days.
You need those social shares if you want to drive more organic, inbound traffic.
And you need that traffic if you want to grow your business and land more customers.
So what do you do to get the extra social shares?
Start by adding Click-to-Tweet functionality. This will drive more tweets and shares on your blog posts.
Be sure to incorporate Highlight-to-Share plugins to help people share content they love.
Implement scrolling social buttons instead of static buttons that just sit at the beginning or end of your post.
Try creating beautiful, data-driven infographics and charts that people want to link back to and share on social media.
Visuals are key for driving social shares.
Lastly, research popular, trending topics on Google Trends to get ideas for viral, shareable content.
Social shares don't just happen. You can't sit idly by and expect your content to go viral.
You have to help make it happen.
What are your best methods for getting more shares on your blog posts?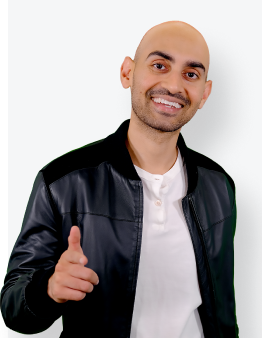 See How My Agency Can Drive More Traffic to Your Website
SEO - unlock more SEO traffic. See real results.
Content Marketing - our team creates epic content that will get shared, get links, and attract traffic.
Paid Media - effective paid strategies with clear ROI.
Are You Using Google Ads? Try Our FREE Ads Grader!
Stop wasting money and unlock the hidden potential of your advertising.
Discover the power of intentional advertising.
Reach your ideal target audience.
Maximize ad spend efficiency.