Below, you will find 13 tools that will help you test various features of your app and obtain real-time feedback.
The tools will help you discover where your users are struggling and, thus, how to improve your app.
Let's get started!
Best feature – Recruiting couldn't be any simpler. You can send an invitation through your database, post it on social media sites, or use any 3rd party for this. There's also a participant panel at Userlytics that you can use.
Features
Userlytics's mobile app user experience testing lets you observe the usability of apps on iOS. The tool provides you with the raw session video file. It has no data on the items clicked, movements, or gestures. Akin to UserTesting.com, it has an ever-growing panel of users who are already equipped with a PC, microphone, and webcam.
The participation segmentation feature runs deep. You can choose from residence, gender, age, education, employment, etc.
When setting up tests, you can set the tasks you want the users to complete and also set the time duration for the test.
Another option is to include a survey at the end of the test that the test takers have to answer.
Works on – iOS / iPhone / iPad
Pricing – Userlytics offers a free trial to get your first participant. They also offer various pricing packages for Custom Projects ($99 per participant),  Enterprise ($69 per participant with a 50 participant minimum), and SaaS Subscriptions (contact them for pricing).
Best feature – The targeted group of survey participants who are handpicked to test your app. What separates Applause from other such services is that you can have a consultation with an expert at Applause, who then chooses the ideal participants based on your consultation.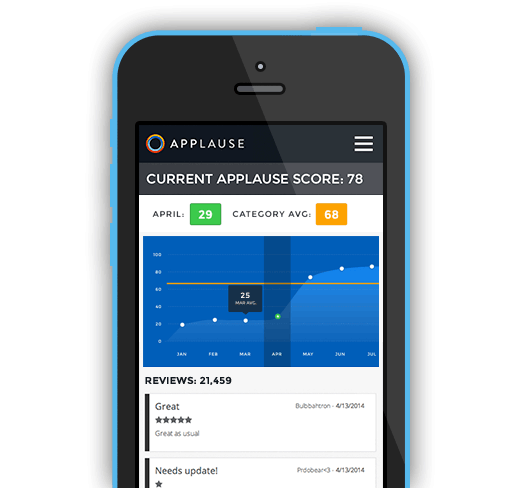 Features
Applause offers lots of cool features, ranging from expert usability surveys and audits to narrated captures.
With Applause's team of usability experts, your app will receive the right feedback to develop high usability for your apps. Detailed reports, consultations, and even mock survey questions are all in the pack.
There are over 100,000 professional testers to assist you in the quest.
Works on – iOS / iPhone / iPad / Android
Pricing – The pricing is not shown on their website, but they do have a pricing estimator through which you can calculate your costs.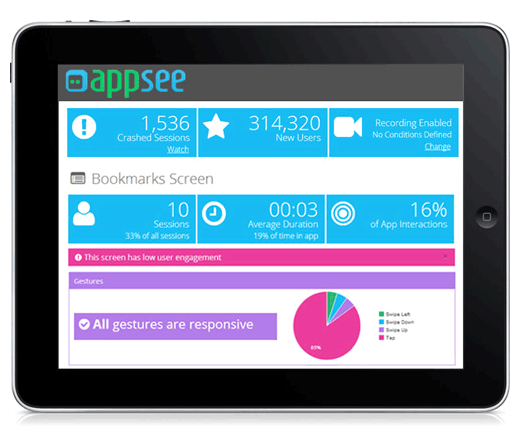 Best feature – The ability to see exactly what users are doing on your app. With session recordings, touch heatmaps, and analytics, you have a window into the mind of the user. This can quickly reveal usability problems with the app.
Features
Appsee's in-app mobile analytics platform tracks each and every interaction of the user with your app.
What makes it different is its ability to let you see what your actual app users are doing. Unlike Userlytics's test panel (where people are paid to test your app), at Appsee, a few lines of code gets you into the shoes of your customers.
With a paid panel of testers, you need to specify what they have to do. Seeing what a user does with the app is an entirely different experience because each person can use it differently, even in ways you wouldn't think of.
Here are the features of Appsee:
User Recordings: The User Recordings feature captures every screen, tap, swipe, and action in a session. You can decide how many user interactions you want to record and segment by demographic and even specific screens (e.g., checkout screens to see what causes cart abandonment).
Touch Heatmaps: All touch gestures — swipe, tap, and pinch — are aggregated into one whole called the touch heatmap. They help you find out which parts of the screen users spend most of their time on. With this knowledge, you can place CTAs in the most optimal manner.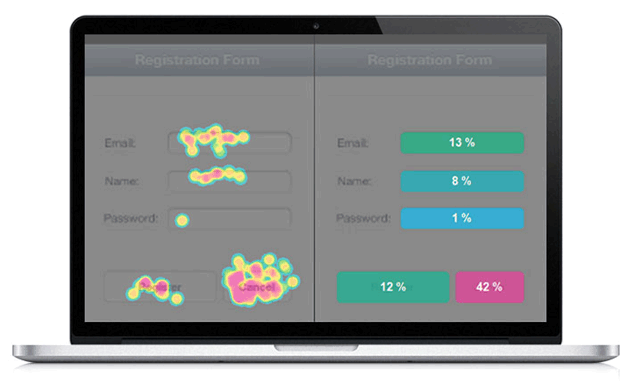 Real time In-app Analytics: In-app analytics show you how users interact with an app's screens. This feature can help you discover which screens have a higher quit rate, which screens are causing confusion, and the top actions by users.
In addition, Appsee can send you crash reports and reports on unresponsive gestures, and it can help you set up a proper conversion funnel.
Works on – iOS / iPhone / iPad
Pricing – Appsee offers a fully functional free trial. However, the pricing plans aren't disclosed on the website. For pricing, you need to contact them.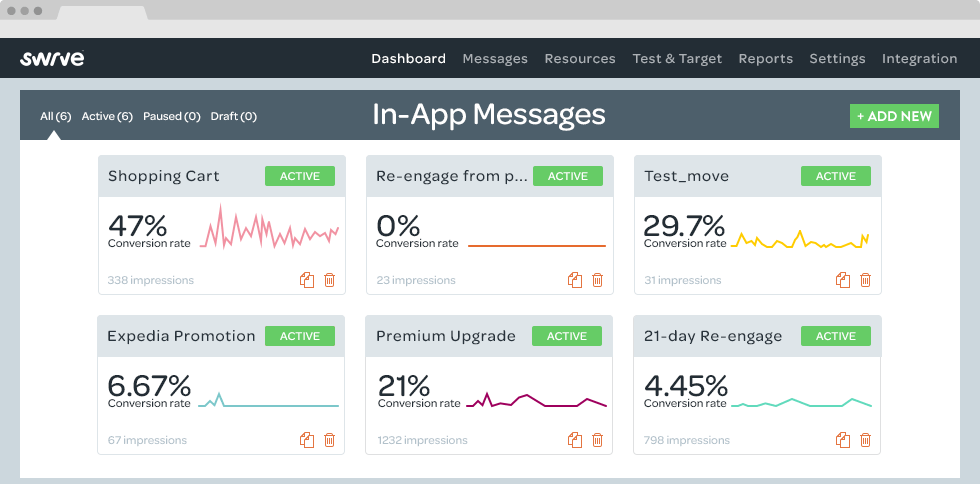 Best feature – In-app campaigns. With these, you can run extremely targeted campaigns — campaigns that can be targeted right down to an individual user and that are customizable and testable. It's marketing automation at its best. Segmentation goes along with this feature, letting you build both small and large segments of users with specific traits.
Features
Swrve calls itself a complete app marketing solution, but its most powerful and unique feature is its A/B testing tool. Swrve was initially developed for game developers, but there's no reason you can't use it, too. As a marketing tool, it offers many features; but for our purposes, we'll focus on three of its powerful features:
A/B Testing: Swrve can handle any number of variants while conducting an A/B test. The control group can be limited to any size you want. If you want 10% of your users to see the variation, that can be done in a few clicks.
Segmentation: It lets you build target groups based on several criteria. User demographics, age group, paying user, device used, gender, and users playing a particular level are just a few examples of those you can choose from. A/B testing can be combined with user segmentation, too.
Analytics: It offers easy-to-understand charts about all Key Performance Indicators (KPIs), such as revenue, conversions, daily average users (DAU), monthly average users (MAU), and retention rates.
Works on – iOS / iPhone / iPad / Android.
Pricing – Swrve offers a fully functional free trial which supports up to 10,000 monthly active users (MAU). The Flex plan supports 20,000 MAU and is priced at $200 per month. The professional edition supports 250,000 MAU and starts at $2,500 per month. If your app's appetite is even bigger, they have custom plans, too.
Features
You can create a remote usability test (e.g., tasks and questions) to determine how users use an app. You can invite participants via social media to perform the tasks. You will get a report with task completion rate, the time spent per task, most common success page, most common fail page, most common first click, and common navigation paths.
Works on – Web based / iPad
Pricing – All plans include a free 14-day trial period. Plans include Rapid Insights ($69/month), Pro ($249/month), and Teams (contact for pricing).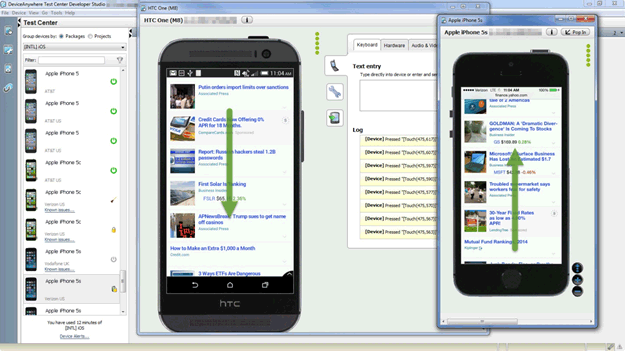 Best feature – Sigos's cloud-based platform called is a one-of-a-kind testing environment for mobile apps.
Below, you can see a small preview of the number of devices, their versions, and the quantities available for conducting tests.
Sigos is constantly adding new devices and features one of the most exhaustive lists of devices ever for testing apps.
Features
With Sigos's Direct to Device testing, users can remotely interact with the testing device including listening to tones, seeing the display, swiping touch screens, and more.
They have a library of tests for your mobile apps.
Works on – iOS / iPhone / iPad / Android
Pricing – Sigos offers a trial to test your app for free. Monthly plans begin at $18 per month. Yearly plans and performance automation pricing are available when you contact them for a quote.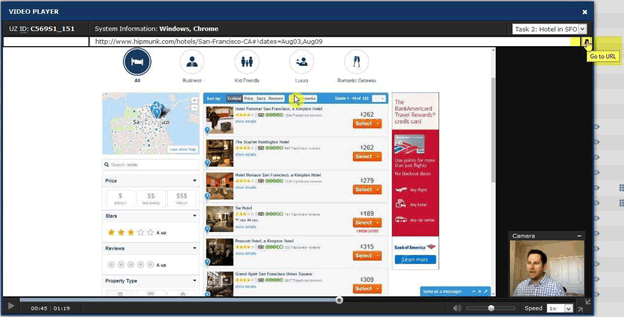 Best feature – UserZoom's greatest feature could be that it provides you with people who test apps in their natural environment. You can see the facial expressions of the users while using each feature, the time taken on tasks, and a lot of other things. With no cue cards or artificial environment, this could be one of the best tools for usability testing.
Features
UserZoom provides a remote unmoderated testing environment for testing mobile apps. Unlike artificial environments created using a panel of people in a lab, UserZoom provides a natural testing environment similar to Userlytics (discussed earlier) where participants test the mobile apps in their own homes with their own devices.
After building the study design via UserZoom, you can invite participants via social media, email, or from a panel provider. Tasks are given to them and their feedback is recorded. You can see real time data, including success ratios, time on task, clickstreams, heatmaps, video, audio, facial expressions, mouse movements, responses to the questionnaires, etc., which can be accessed via the Analytics dashboard and exported to PowerPoint, Word, Excel, or SPSS.
Works on – iOS / iPhone / iPad / Android
Pricing – There doesn't seem to be a free trial available. UserZoom's annual software subscription fees start at $25,000/year, which gives access to an on-demand, web-based research software platform and an in-built, user-friendly manager to design your studies, recruit participants, collect data, conduct analysis, and generate your reports.

Best feature – Apperian's app distribution lets users be an active part of the feedback system by letting them provide feedback through app ratings and comments. This kind of crowdsourcing helps users propose improvements to existing apps or ideas for new apps and drives down the costs for collecting feedback.
Features
Apperian can be used for mobile app testing. Apperian's app distribution takes care of sending the app's link via SMS, email, and chat to a wide audience. This testing community consists of testers outside the company circle like consumers, contractors, etc., allowing you to quickly test out variations of the same app to see which one is popular.
Works on – iOS / iPhone / iPad / Android
Pricing – Apperian offers a 30-day free trial to their mobile management platform AppEase. The pricing details aren't shown on the website.
Best feature – One of the very few physical usability testing kits for testing apps. You can set up your own panel of participants with Mr. Tappy.
Features
Mr. Tappy provides insight into what users are doing with your app. It was originally designed as a filming rig for testing usability on the iPad. Now it can be used for recording user interactions with mobile by serving as a recording kit from the user's point of view.
It's a hardware tool made of aluminum, and the entire thing can be set up by twisting the nuts. No tools are required.
Works on – iPhone / iPad / Android
Pricing – The Mr. Tappy kit costs $349, which includes free shipping.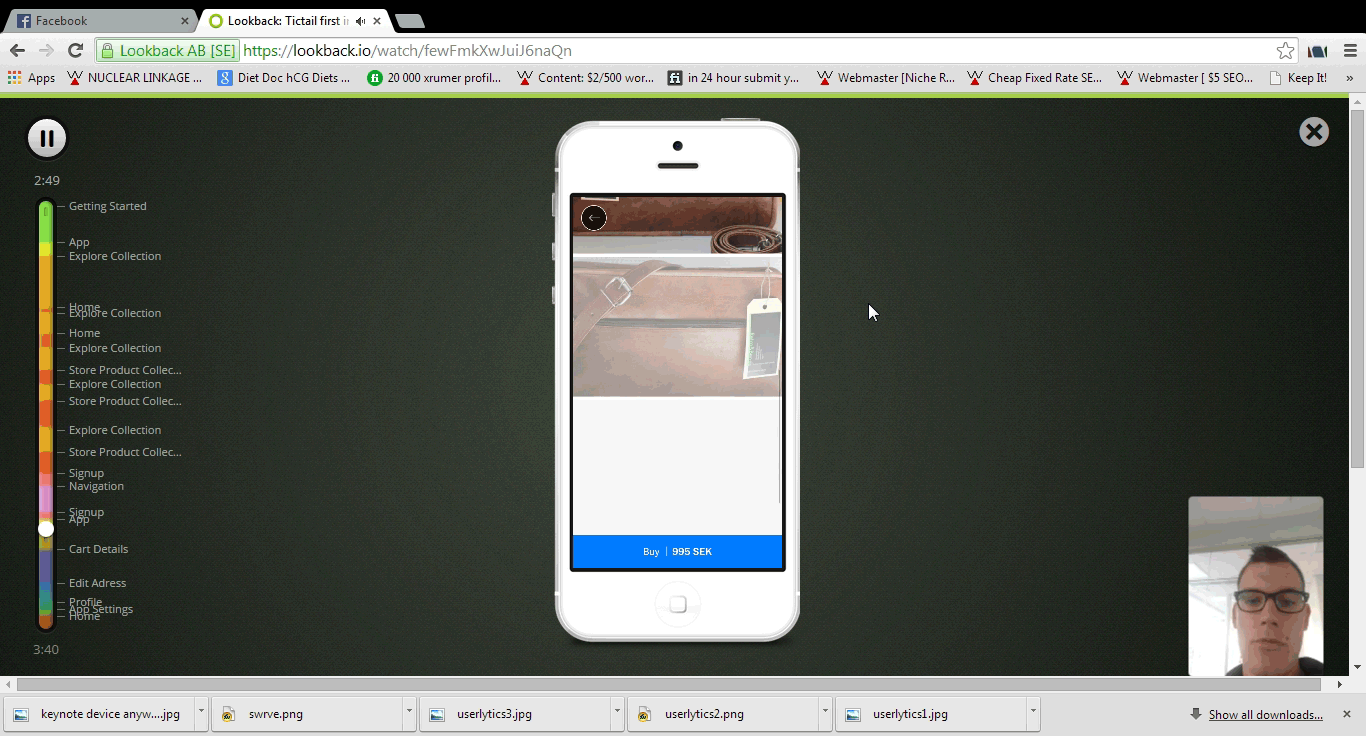 Best feature – It captures user app interactions in their natural environment. The video playback at 60 frames per second is very detailed and clear.
Features
Lookback will record the voice and gestures of users. It also will record the screen and collect experiences. Lookback's essence is in capturing pure customer experiences while they use the app. They are not in a laboratory constrained with tools and wires. The video of the user comes from the corresponding front camera along with a screen recording. You can see the reactions on their faces and understand if they are struggling with the app.
What sets Lookback apart is that not only does it capture pure experiences, it does that in style. At 60 frames per second, Lookback is much better than its competitors at 1 frame per second.
Works on – iOS 8
Pricing – Lookback offers a free trial period. Their Starter package is $49 per collaborator per month, and their Pro package is $99 per collaborator per month. They also offer an Enterprise package (contact them for a quote).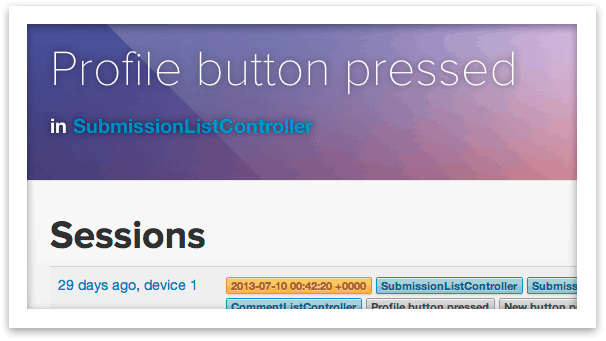 Best feature – What sets Watchsend apart is that you can run usability tests even while your app is in beta or is testing out beta features.
Features
It records what your users do with the app.
The part that interested me is that it offers deeper insights into app beta tests. With Watchsend, you get to know if the new features released are hitting home.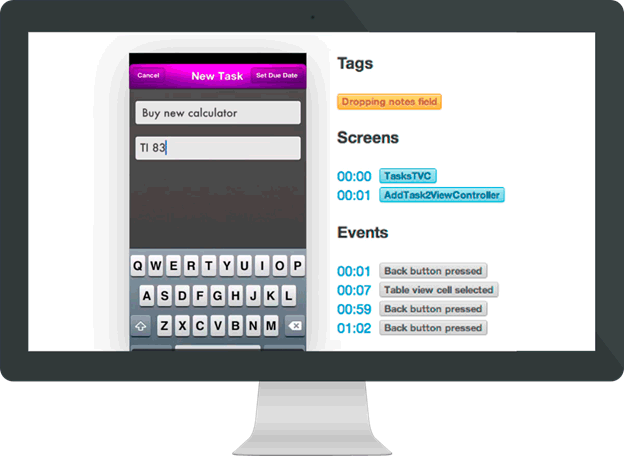 The data consumption is pretty low at 1 Mb per minute of recorded video.
With apps, unlike with PCs where you can see mouse clicks, you are virtually left with nothing. But Watchsend shows you where your users are tapping.
Works on – iPhone
Pricing – They work on a Freemium model, and the prices are shown below:

Features
Apptimize provides a reliable A/B testing platform for testing apps. You can add a few lines of code to your app and voilà there is an interface where you can run changes.
Multiple experiments can be run with Apptimize.
Works on – iOS / iPhone / iPad / Android
Pricing – Apptimize offers a basic version that can support up to 100,000 monthly users and an Enterprise plan that supports more than 100,000 monthly users. Contact them directly for a quote.
Features
Leanplum provides flexible A/B testing for mobile apps. There is no coding whatsoever required to use it. What makes Leanplum stand out is that you can test and push those changes without approval from the App Store.
Leanplum also offers powerful segmentation, and users can be segmented based on demographics, behavior, and device type. You can set custom parameters to segment users.
It comes with cohort analysis, retroactive funnels, comparison graphs, stack graphs, etc.
Works on – iOS / iPhone / iPad / Android
Pricing – The price is dependent on the size of the app and which product solutions customers want to implement.
Conclusion
There you have it! Did we miss anything?
What is your favorite mobile UX testing tool?
About the Author: This article was written by George Mathew.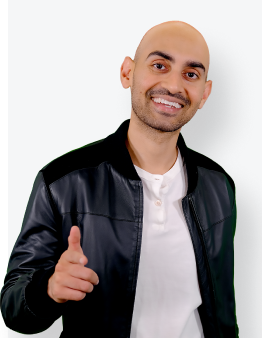 See How My Agency Can Drive More Traffic to Your Website
SEO - unlock more SEO traffic. See real results.
Content Marketing - our team creates epic content that will get shared, get links, and attract traffic.
Paid Media - effective paid strategies with clear ROI.
Are You Using Google Ads? Try Our FREE Ads Grader!
Stop wasting money and unlock the hidden potential of your advertising.
Discover the power of intentional advertising.
Reach your ideal target audience.
Maximize ad spend efficiency.