Link building is the process of collecting or "earning" links for your website from other external web pages.
Building high-quality links is more important now than it's ever been.
According to Moz research, link building accounted for 14.83% of all search ranking factors in 2015. Since then, that number has increased to 17.31%.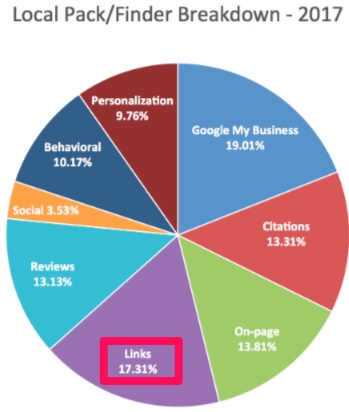 That means that links are vital to ranking high on search engine results pages (SERPs).
In fact, according to Backlinko, the number of external links that you have directly affects your position on Google.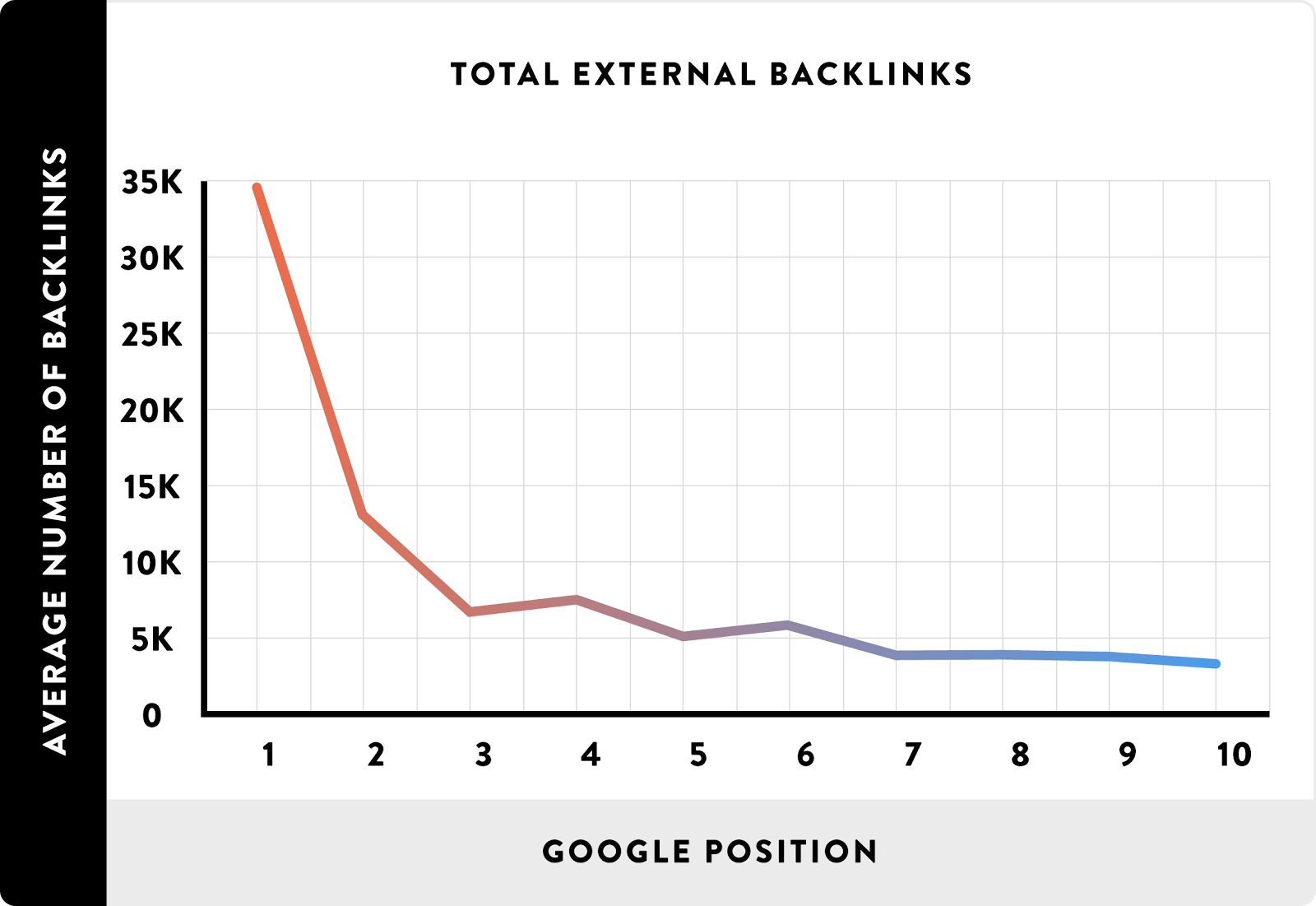 The more backlinks, the better your position. However, the average number of backlinks it takes to reach position number one is 35,000.
That seems like a lot, right? It takes a considerable amount of time and hard work to earn that many links.
But you have a better chance of gaining some revenue-boosting exposure if your brand has a high-ranking position.
Even moving from a position three spot to a position one spot could mean thousands of more clicks.
A higher CTR means more high-value traffic from real visitors who can boost your company, buy from you, or help you achieve your goals.
Higher rankings that come from backlinks also show people that you have a high level of authority and influence in your industry.
You can build tons of links that will last a lifetime if you follow these nine link-building tactics that will never go out of fashion.
1. Start with quality content
Before you start trying to gain backlinks to your site, you have to give people a reason to share your links in the first place.
That's why a good link-building strategy should always start with perfecting your content.
Create some high-quality blog posts (or articles) on an industry-related topic that will interest your customers on a consistent basis.
The organic backlinks should start coming in as your writing gains attention. If you write about something interesting and valuable, people will notice.
If you pay attention to details and add in enough context to fully elaborate on a topic, people will share your content on their own.
Try and make your pieces long, elaborate, and high-quality.
Don't throw in filler content or try to stuff keywords in where they don't make sense. People will notice and see you as less credible. Keep your focus on readability.
Try to make posts at least 1,142 words. According to Marketing Profs, that's the average length of a typical blog post in 2017.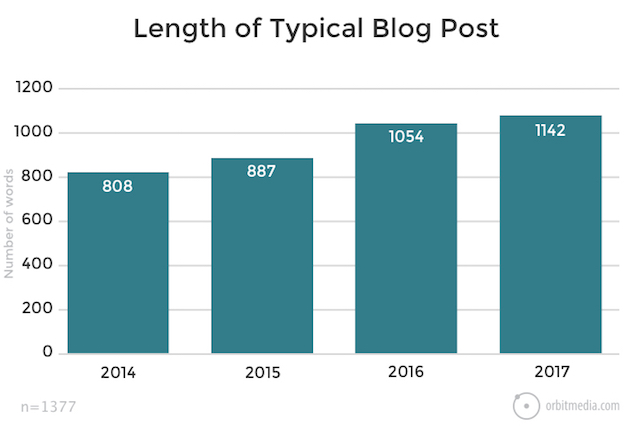 If you need original content ideas, try using a tool like AnswerThePublic.
You could even run a questionnaire on your website or create a Twitter poll asking your followers what kind of content they would be interested in seeing from you.
The more work you put into your content, the more traction it will gain. If it trends or becomes viral, high-quality links that will drive traffic to your site will fall into your lap as a result.
Then, you can repurpose it for maximum exposure.
2. Repurpose your content
Brainstorming for original, fresh content ideas can be difficult and time-consuming.
And it might take a while to know whether or not your audience is interested in a particular topic that you wrote about.
But the good news is that you can recycle a large portion of your content that you've already perfected by taking popular blog posts or articles and transforming them into a different medium.
For example, take a few related blog posts and turn them into a PDF or e-book that you can submit to a site like Scribd.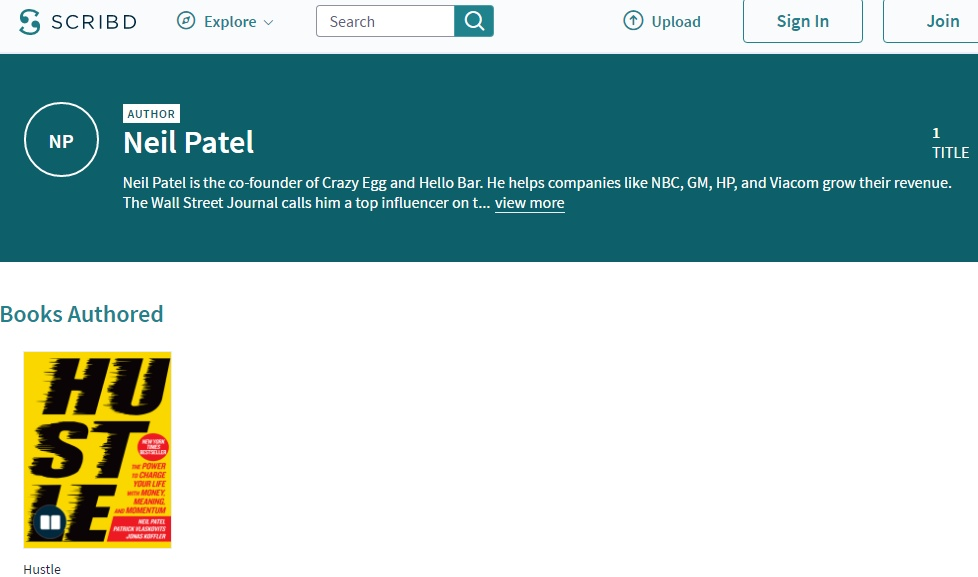 You can even create videos and base the content on information from your blog posts like I do. Then, post them on YouTube.
Organize and combine videos into playlists so that viewers can easily find your videos and navigate through your library.
You could even choose a different approach and turn your blog posts into iTunes podcasts, checklists, or large content roundups.
Then, link back to the original content that you sourced to repurpose fresh pieces into videos (or even a few e-books).
An extra perk of repurposing content is that it will save you money.
Producing content that is "linkable" is expensive. It costs time, resources, and hard work.
By repurposing content, you can create multiple pieces from one original article, driving up the reach and the total number of backlinks that you receive from it.
Broken link building is another tactic that will never go out of style.
3. Spend time on broken link building
A link-building technique that is sure to succeed is broken link building.
Broken links are links that are no longer available. When you navigate to a broken link, you might see something like this:
Or, you'll see a more traditional message like this "Error 404":
Webmasters are always searching for ways to identify and repair broken links because they don't work well for boosting UX.
No one wants to click on a link for more information only to have it redirect to a dead page.
That's why it can be helpful to find a website in your niche or industry, identify broken links on their pages, and reach out to the site's webmaster to notify them of dead links.
Then, ask them to link to your website in return for the help.
Only suggest replacement links that are similar to the content that the page originally linked to, though.
Suggesting a direct link to your sales page isn't a good idea.
You can find broken links on any website, including your own, by using a tool like Power Mapper.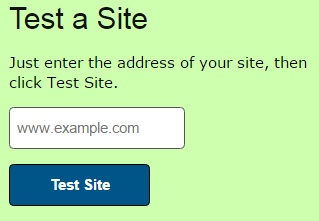 This technique will bring in links a lot faster than asking a website to try out your products or services and review them.
Think of it as an "I'll scratch your back if you scratch mine" approach.
Guest posting is another traditional link-building tactic that is here to stay.
4. Guest post for other sites
Good old-fashioned guest posts will likely never go out of fashion.
They're one of the most useful ways to generate traffic and get backlinks.
Guest post on websites that are related to your industry or niche. Ask the owner of the website you're guest posting for to write one for your site, too.
More people will come across your name, bio, and links, which means more traffic for the both of you. It's a win-win.
That's one of the reasons I write guest posts as often as I can. For example, here's one I wrote for Search Engine Journal.
Most websites that you write guest posts for will probably promote them on their social networks, too, which means even more engagement.
Plus, people will want to work with you even more once they know you've earned some backlinks already.
If you don't know how to approach someone to ask them if you can guest post on their site, then do some other kinds of outreach first.
5. Perform outreach
Influencers already have an audience and can drive traffic to your website, giving you a greater chance to earn backlinks.
A good place to start when performing outreach is collecting opinions or stories for an article.
Say you want to write a post about book recommendations from content marketers like Content Marketing Institute did.
Reach out to influential content marketers and ask for their opinions. Then, link to their website or social media pages in exchange for their short quote.
The common phrase, "when you give, you receive," is correct. Most people will be interested in responding if they know that they will get a link back to their own websites.
They'll probably share your article on social media with their audience to show off.
Be sure to email contributors to let them know when your article is live so that they know where to find it.
If you're not sure how to find influential people in your industry, try using a tool to help. Followerwonk is a great tool to start with.
You can search bios, compare users, analyze them, and more.
Better yet, you can search for influencers by location, name, or URL.
BuzzSumo is another great tool for identifying influencers.
Just enter the keywords that relate to your industry and search through bios or content shared to find the right one for you.
Don't forget about infographics and quality images, though. They're here to stay, too.
6. Create original infographics and quality images
You might think that infographics are overused, but they can add value to your blog posts or guest posts.
Plus, if you embed one in a guest post without being asked, whoever you're writing for will probably see it as an added bonus.
They're easy to understand and share on social media.
And they're pretty hard to ignore, too. Just check this one out.
The colors, illustrations, and graphics make it really stand out.
And here's the best part about infographics: you can add links to them that will direct users to other areas of your site.
As you might already know, original images are just as important to add to your content as infographics.
But they're also a hidden link-building tool.
That's one of the reasons I try to include tons of original images in all of my blog posts.
If your original images are valuable, other people will use them and link back to you in their own articles.
Communities on blogs and forums can boost links as well.
7. Provide forums
Providing your audience with a steady community is a link-building tactic that is tried and true.
It's a simple way to build referral traffic since people will flock to community blogs and forums to ask questions, post answers, and communicate with one another.
Plus, why wouldn't you want to give your loyal followers a place to connect with one another, share tips, and discuss what you have to say?
Create a few areas on your site that allow for active communities to flourish and be sure to link to related forums and popular blogs within each area.
Enable comments on all of your posts so that users can communicate with you as well.
Engage with your visitors so they won't forget your site and so they'll be more likely to share your links with friends.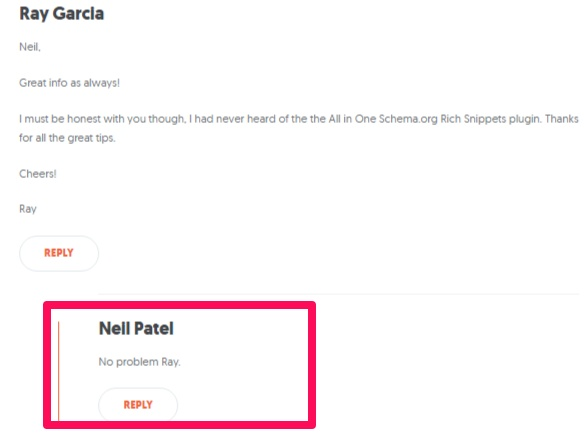 In your response, drop a link or two that relates to their question or comment in a conversational manner (if you can).
Moz has a great community forum to model your site after.
Community participation is low-hanging fruit that can help you build up a large number of connected and engaged followers who will build links for you.
Share your own links on social media to build them up, too.
8. Harness the power of social media
Social media impacts search rankings because the links generated from tweets or Facebook posts perform better on SERPs.
So the more tweets that a link gets, for example, the higher the position it will hold.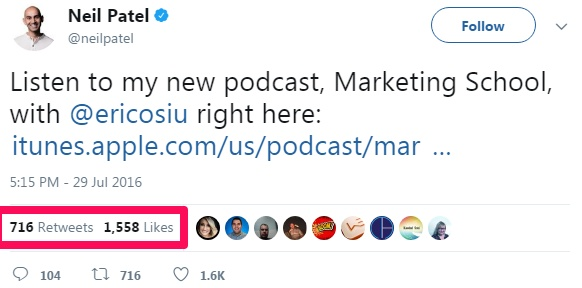 Don't just focus on the basics like Twitter or Facebook, either.
Try to gain some traction on a site like Reddit. According to Statista, it has over 1.5 billion mobile and desktop visitors each month.
If you reach a high-volume audience on a platform like Reddit with a post that links back to your website, users will amplify your site for you quickly.
That's exactly what happened to Jimmy Hickey, the founder of Findlay Hats, when he shared a post on Reddit about his business. It later went viral, and it now has over 33,000 upvotes.

Sharing content on social media sites is a great link-building tactic because Google directly uses social signals for rankings.
To drum up the most attention possible, try running a competition that will engage your audience and boost the number of links going back to your site.
Exchange a prize for a link or ask your followers to share your tweet (containing your link) in order to enter.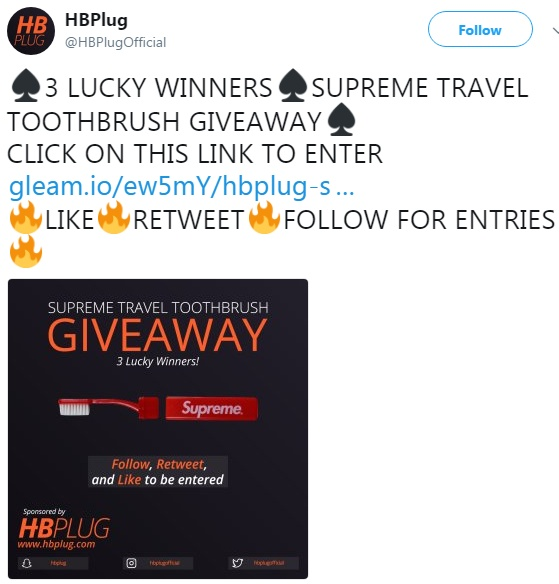 But don't stop promoting link building right after the contest ends.
Show who the winner is on your site so that the winners will link to it again to show off their accomplishment.
Finally, no matter which link-building tactics you use, you should always track your backlinks.
9. Track your backlinks
You are probably already tracking your keywords to see how they're performing so that you can optimize each one accordingly.
But did you know that you should do the same thing with backlinks?
With a tracking tool, you can see how many people click on your links and visit your site, calculate your ROI from those links, and more.
That way, you'll know exactly which links are performing well and which links could use some improvement or a boost.
Try out a tool like SEMrush to track links from one location.
Tracking backlinks can also help you determine which competitors are ranking high for the keywords you want.
Then, figure out who is giving your competitor backlinks and ask them to give you some, too. Like we discussed earlier, try finding broken links on their page in exchange for a link.
Monitoring your links and backlinks on mobile is a critical piece of your overall link-building strategy.
Use a tool like Ahref's Rank Tracker to view mobile rankings for your links (or your competitor's links).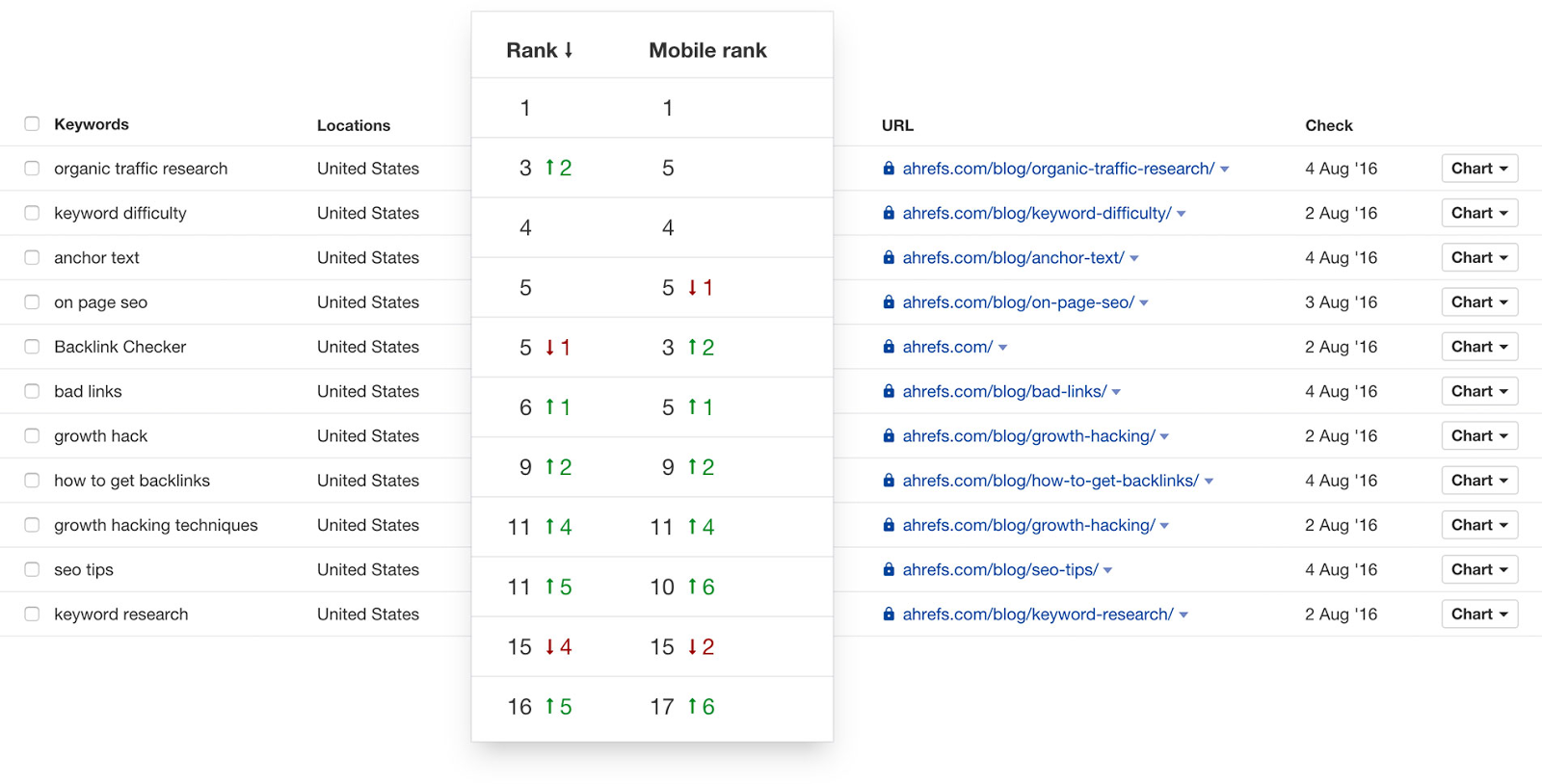 You can even see the mobile position history of your links (or your competitor's links) over time so that you know how they've changed in the past and how they might change in the future.
When you scout out a competitor's links, you'll be able to identify the opportunities they might have missed when link building and use them in your own strategy.
By tracking your own links, you'll know which ones to optimize and which ones are already performing well.
Conclusion
Backlinks are a surefire way to boost your rankings.
And link building is more important now than it's ever been, so you've got to come up with a gameplan that will last.
To perfect a link-building strategy that will never die, start out by making sure that your content is top-notch.
Lengthen your blog posts and make sure you don't use filler words or keyword stuffing.
Repurpose high-quality content into e-books, videos, podcasts, and more to optimize the number of links you can get out of one post.
Find broken links on other people's websites in your industry and point them out to the webmaster. Ask for a contextual link back to your site in return for each dead link you uncover.
Write guest posts on other people's sites and ask them to guest post on yours for maximum exposure.
Use original infographics and images in your blog posts. Other people will want to include them in their articles, so they'll link back to your photos with an image source.
Be sure to take advantage of the power of social media by sharing your links on all of your profiles. Run a contest that will allow for your followers to build up your links for you.
Finally, track all of your backlinks so that you know exactly what is going on with your link-building strategy and your competitors' strategies.
What's your go-to link building tactic?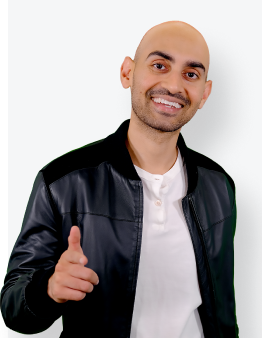 See How My Agency Can Drive More Traffic to Your Website
SEO - unlock more SEO traffic. See real results.
Content Marketing - our team creates epic content that will get shared, get links, and attract traffic.
Paid Media - effective paid strategies with clear ROI.
Are You Using Google Ads? Try Our FREE Ads Grader!
Stop wasting money and unlock the hidden potential of your advertising.
Discover the power of intentional advertising.
Reach your ideal target audience.
Maximize ad spend efficiency.