Here's what you don't want to happen.
You don't want to write a blog post, publish it, and receive little to no attention.
And you definitely don't want to receive negative attention.
After all, you put in a lot of work to create that blog post. You intended to build your audience, help your SEO, and increase your revenue.
Sadly, it didn't work.
But why? What gives?
Well, there are a lot of mistakes that bloggers make when creating content. And each one has the potential to hurt your readership, rankings, and revenue.
Fortunately, you're not alone. Many people make the same mistakes.
Partly, because blogging is so valuable for businesses. In fact, it's one of the least overrated tactics in the marketing world.
Of course, only if you're doing it right.
If you're making consistent and serious blogging mistakes, then you might be part of that 5%.
Interestingly, though, many businesses don't feel that their content is engaging enough, leading to 73% of content marketers whose goal is to create more engaging content.
Are you in the same boat?
Most likely, you are.
After all, you can never have content that is too engaging. Ideally, you probably even want to produce content that goes viral.
Because of that desire among marketers, blogging is one of the top content marketing tactics to use.
But that isn't necessarily a good thing. In fact, since so many people are blogging to increase readership, rankings, and revenue, you have a lot of competition.
Yes. Blogging works. But it's harder than ever to generate the needed attention.
Often, there are thousands of other online websites trying to steal your audience.
And you have to work hard to make sure that doesn't happen.
Plus, you not only want to make sure people don't steal your audience, you want to actually grow your audience and make money.
And to do that, you definitely can't afford to make silly mistakes.
That's exactly why you're here.
I'm going to show you five blog post blunders that can hurt your readership, rankings, and revenue.
Here they are.
1. You create great content, but you don't promote it
If you write an amazing blog post that takes you a ton of hours, you want people to share it, right?
Unfortunately, if you're like many other businesses, people don't share it.
Often, though, it's not because they don't want to, but because they don't have the chance to.
If you don't promote the blog post yourself, then no one is going to share it, and they definitely aren't going to talk about it.
To gain the attention you want from your blog post, you have to create a system for regularly and consistently sharing the blog posts you create.
In fact, lack of content distribution is one of the top reasons that content marketing fails.
It doesn't do you any good to write amazing blog posts and then not share those with your audience.
I post every piece of content I write on my social media channels.
And I do that intentionally.
I know that people will only interact with my blog posts if I give them the chance to do so. Otherwise, no one will.
You wrote your blog post to receive attention, but you won't get that attention unless you go and claim it.
And if you're worried about annoying people with your content sharing, don't.
A significant portion of people loves social media and blog content.
So don't hesitate to promote your content on your social media channels.
People can't interact with it if they don't see it. And they also don't mind.
Plus, if you use a service like Buffer or Hootsuite, you can largely automate your content promotion process.
Here's what that looks like on Buffer.
And here's what that looks like on Hootsuite.
Because, here's the thing.
A lot of marketers don't promote their content. But it's not that they are lazy. It's that content promotion can take a ton of time.
Fortunately, these two tools can streamline the process for you by allowing you to schedule your posts beforehand.
And that means you don't have to do it throughout the week, but you can dedicate a few hours one day a week to schedule all of your posts.
That way, content promotion simply becomes a part of your weekly schedule rather than a random nuisance that interrupts what you're currently working on.
You definitely need to promote your content if you're going to increase your readership, rankings, and revenue.
But you can only do that if you create a system around content promotion.
2. You're not doing keyword research
You don't want to create a blog post just for fun.
Ideally, you want to create it for a purpose.
And you don't want to just attract an audience. You want to attract the right audience.
Naturally, attracting your target market is far different than just attracting any ol' audience.
You want to attract the people who are going to buy from you, not just the people who are going to read your content, leave and never to come back.
However, there's no shortage of online blogs trying to attract your audience.
How can you create a blog that prevails?
The answer lies in keyword research.
Unfortunately, lots of blogs don't take the time to do keyword research. They simply create content and hope it reaches the right people.
I'm here to tell you: it doesn't.
The good news is that keyword research is quite simple and doesn't need to take a ton of extra time.
Go to Keywordtool.io.
Type in the keywords that you're thinking about targeting, select your country, and click the search button on the right.
Then, you'll see this list of searches come up.
From top to bottom, the tool will organize these search queries by the quantity of searches.
In other words, it tells you how many people are interested in a specific set of keywords.
Then, you can better understand which keywords to target.
And if you get the paid version of the tool, you can also determine how many queries each search actually receives to narrow down your choice even more.
You can use Moz's Keyword Explorer to do something similar.
Just type in your potential keywords to get a wealth of information.
Immediately and for free, you'll see the monthly search volume of those keywords, the competition involved with targeting them, the organic click-through rate and even a SERP analysis.
That's a lot of free valuable information for you to take in before choosing a set of keywords for your blog posts.
After all, the more targeted your keywords, the better chance you have of attracting the right audience.
You don't want to just write a blog post. You want to write a blog for the people who are most likely to buy from your audience.
But first, you need to know how to reach those people.
And keywords are your way of doing that.
3. You write for search engines instead of humans
I know. I know. It's tempting.
There are so many different ways to increase your rankings. And, like any good marketer, you want to do them all.
You want to target the right keywords, you want to include plenty of images, and you want to have a high word count.
But here's what you don't want to do accidentally.
You don't want to focus so much on the search engines that you forget about your actual audience.
Yes. SEO matters. But your audience matters more.
You heard me right. If your audience loves your content, then so will the search engines.
If only the search engines love your content, however, then that SEO juice will only last until the search engines realize that real people don't like your blog.
The more that people bounce from your blog posts, the worse your rankings will get.
And if you're anything like me, content like this is not that appealing.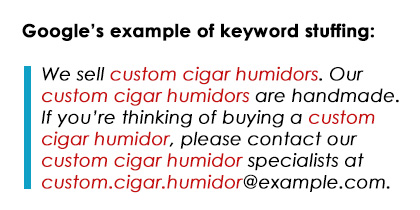 Of course, that's only one example of someone writing for search engines.
And it's called keyword stuffing.
But there are lots of other ways to make the mistake of focusing on the search engines instead of actual people.
Maybe, for instance, you try to increase the length of your blog posts, but you don't actually provide any valuable information.
And the whole thing ends up looking cluttered.
Remember, people aren't reading your blog post because they want to support your business. They're reading it to get genuinely valuable information.
If you provide that then it will not only help your rankings and readership, it will also help your revenue.
The more people trust you, the more they'll work with you.
Yes, length generally helps SEO.
But only to an extent. The content must also be valuable to your audience.
You want to write for people, not for analytical robots.
After all, you don't sell your products to the search engines. You sell them to the people that the search engines serve.
Best to write your content for them instead.
To do that, write like you talk and include plenty of images, examples, and data to back up your points.
As you write, ask yourself this: "What would I want to see here if I was reading this blog post?"
Then, include the answer to that question in your blog post.
Consider how Mike Blankenship from Booktrep writes his blog posts.
They are friendly, conversational, and valuable.
Ideally, you want to strike the same chord.
Because yes, there's a place for search engine optimization, but you should never optimize for the robots at the cost of hurting your relationship with your readers.
4. Your content isn't easily shareable
You want to place the fewest number of barriers between someone reading your blog posts and someone sharing your blog posts as possible.
If someone loves your blog post and decides that they want to share it, you want to make it as easy as possible.
You definitely don't want them to have to go searching for a way to share it.
If they have to, they will likely give up on sharing it.
And that means you just lost free access to a massive audience.
That's why I always include these buttons on the side of my blog posts.
I do my best to write great content, and then I do my best to make it easy for people to share that content.
Because the more people who share each blog post, the bigger audience I reach with each blog post.
Truthfully, it's not enough to promote your own content.
You also need to include easy tools or plugins so people can click a few buttons and repost the blog post to their own social media profiles.
Loads of people use social media, with 1.5 billion people on Facebook alone.
Naturally, you don't want to miss out on all of that sharing, reading, audience-building potential.
Instead, you want to leverage every ounce of it.
And lots of other businesses are working to do the same thing.
In fact, "brands with social sharing that create 15 blog posts per month average 1,200 new leads per month."
That's a lot of extra leads for a small amount of work.
But, of course, making a blog post shareable goes far beyond using simple sharing buttons on the side of your blog.
You can also craft incredible headlines or create infographics with embed codes like this one from Carrot.
In the end, people will only share your blog post if it meets two criteria.
It is valuable to them.
It is easy to share.
If people like your content and they don't have to jump through tons of hoops to post it on their own social media channels, then they'll likely share it.
Otherwise, while they might enjoy your blog, they aren't going to share it with their friends.
5. Your headlines are boring
Few things are worse than a boring headline in the blogging world.
The whole reason you're writing your blog in the first place is so people will read it, like it, and share it.
But here's the thing.
If they never click on it in the first place, then they definitely aren't going to do any of those other things.
Unfortunately, that's the end of the story for many online blogs.
They write tons of great content, but the headlines are unappealing and thus don't attract an audience.
Really, it would be easy to argue that the headline is actually the most important piece you write for a blog post.
If people don't click, then your writing was all for nothing.
Just consider most newspapers today.
They have remarkably boring headlines.
Titles like "Chinese turn to civic power as a new tool," or "Growing effort to influence U.S. policy."
This newspaper uses the title, "Pound shop is victim to thief."
Now, I know. You're not supposed to judge a book by its cover.
But people do.
Are those stories actually any good?
Well, for all we know, they might be amazing.
But no one is ever going to know if they are because no one is going to read them.
The titles are horrible, so the story gets little to no attention.
That's not a healthy formula for your readership, rankings, or revenue.
For that reason, spend a bit of extra time thinking about your titles and crafting a headline that really intrigues your readers.
Consider, for instance, "How to use transitional phrases to keep your readers sliding down the page."
Or, "How to write a bio that convinces readers you're their personal superhero."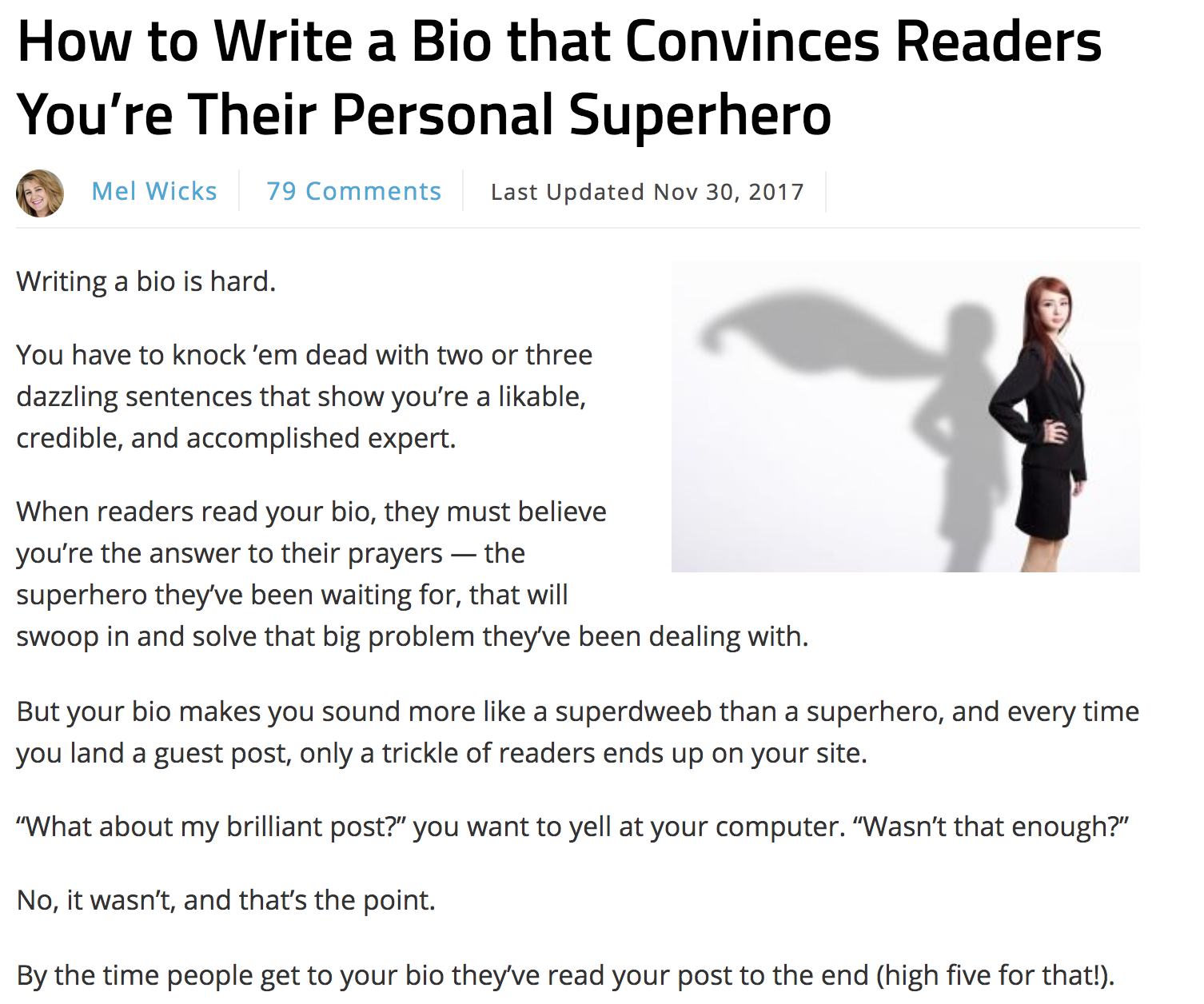 Now those are some click-worthy titles.
Ideally, you want to craft similar titles.
Use powerful words and lean on active voice.
Then, and only then, will your titles attract the audience you've always wanted.
Conclusion
Creating and maintaining a blog takes a lot of time.
If you're like most bloggers, you not only spend three to four hours writing each post, but you spend a near equal amount of time editing, curating, and promoting all of that content.
The last thing you want to do is create all of that wonderful content for no reason.
Because let's be honest, you didn't start a blog because you thought it'd be fun.
You started a blog because you want to rank in search engines, attract the right audience, and increase your business revenue.
But, of course, doing those things is harder than it's ever been before.
A massive amount of online competition threatens to steal that attention, SERP, and money away from you.
That means you definitely can't afford to be making silly blogging mistakes.
In particular, you don't want to lack a promotional strategy, ignore keyword research, write for search engines instead of humans, make it hard for people to share your content, or craft boring headlines.
Do the opposite of those things, though, and you'll stop sabotaging your potential and start leveraging it instead.
Who knew such bad habits could be turned good by a few simple tweaks?
What's the biggest blog post blunder you've seen content marketers make that sabotages their business?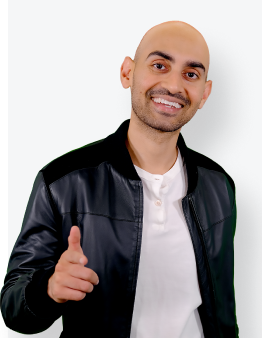 See How My Agency Can Drive More Traffic to Your Website
SEO - unlock more SEO traffic. See real results.
Content Marketing - our team creates epic content that will get shared, get links, and attract traffic.
Paid Media - effective paid strategies with clear ROI.