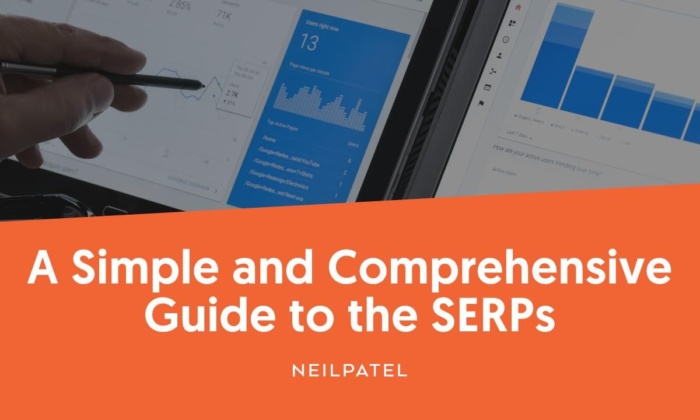 What is a SERP, and why do they matter?
It may sound like a simple question, but it means everything in the world of SEO.
The SERPs (search engine results pages) are the listings you see whenever you search online.
For most of us, the search engine of choice is Google, with Google managing 90 percent of searches, according to Oberlo.
Do you know what it means when your website reaches the top of the SERPs? More organic traffic and more conversions.
When it comes to digital marketing, organic traffic is something of a Holy Grail. Why? Because it's free and it's qualified. These searchers are actively looking for what you've got to offer.
However, in 2023, SERPs aren't as straightforward as they used to be, and different SERPs can influence the amount of organic traffic you get in different ways.
Does that sound confusing? It doesn't have to be. By the time you've read through my SERP guide, you'll understand the different SERP features and how to do a SERP analysis. You'll also discover how to get ahead in the SERPs.
Ready? Let's go!
What Types of SERP Results Are There?
When you look at a Google SERP or any other search engine results page, you see two types of results: organic and paid.
The click-through rates for each of the different Google SERP features vary.
For example, the first SERP snippet has a click-through rate of 42.9 percent. The top organic result gets 39.8 percent, while People Also Ask has 3.0 percent.
You can see paid listings in the red box, featured snippets highlighted in black, visual results in green, exploration features in orange, and organic results in blue. Each has its positives and negatives and its influence on the SERPs.
I'll look at the various types of SERPs next.
Paid SERPs
Google Ads allows websites to show up at the top of the SERP pages for their chosen keywords, and they pay Google every time someone clicks their ad.
These results display at the top and bottom of the SERP and have "Sponsored" written in bold letters above the URL.
As you can tell from their prominence at the top of the SERP, these ads can be crucial in getting targeted traffic to your website. You can run paid advertising campaigns alongside search engine optimization (SEO) if you want to.
Organic SERPs
My example search term "SEO" above shows how a site can earn organic traffic from a SERP page.
We're all used to the traditional organic listing of a meta title and description, but Google has added more SERP features in recent years. These features, such as the featured snippet, can significantly impact organic traffic.
Whereas paid ads are a quick way to the top of the results pages (the highest bidders will generally win), competition for organic results is fierce and more complicated.
However, if you learn how to feature your pages in the SERPs and understand how to earn people's clicks, you will see far more organic traffic.
Featured Snippets
These are the small blocks of information you see at the top of the SERP. They help searchers access the information they want quickly and easily without scrolling through multiple pages.
The SERP-featured snippets come in various formats, including text, tables, and videos.
Google uses automation to decide if a page makes a good featured snippet for specific search results. Typically, a featured snippet comes from one of the top-ranking results.
They effectively increase your visibility, drive extra traffic and boost brand awareness.
Creating high-quality content that answers common questions related to your niche/sector improves your chances of securing a featured snippet to enhance your SEO efforts.
Local Pack
This refers to the three local business listings you see close to the top of a SERP when looking for a local product or service. The Local Pack gets displayed alongside a map showing the location of the businesses.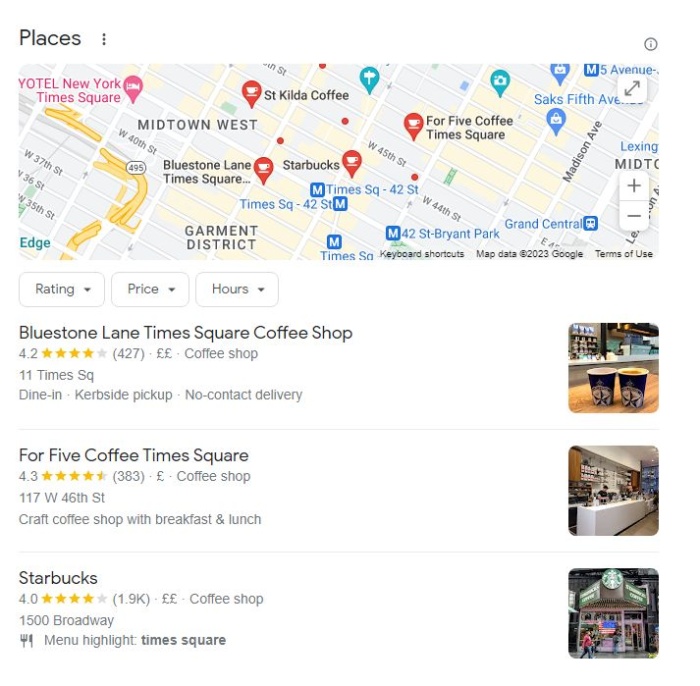 You might also hear it called the Snack Pack, Map Pack, or Google 3-Pack.
Just like featured snippets, the Local Pack helps websites get increased visibility and traffic.
The Local Pack is essential to brick-and-mortar local businesses if they're to stand out in SERPs and attract more potential leads from keen consumers.
According to Statista, 21 percent of consumers search the internet daily for a local business. Thirty-five percent say they search for local companies online several times a week.
Shopping Results
If you've ever entered a shopping query online like "best deals on iPhones," then you'll already be familiar with this type of SERP.
However, for store owners, these listings don't appear by magic. If a business wants to appear in the Shopping Results, it must create a product feed that details all the core information about a product, like its name, description, images, and pricing.
The ranking of these listings depends on relevance to the search terms.
Shopping results are a fantastic way to showcase your products and attract eager customers.
People Also Ask

This SERP feature displays when you search online, and it's great for gaining organic traffic. Google shows a list of three-four, sometimes more additional related questions and answers.
Each question offers a brief answer, which you can click on and expand. The results vary according to Google's algorithm, and the search engine frequently updates them with fresh questions and answers.
Creating content around the questions in People Also Ask is an excellent way to rank in the SERP.
Generative AI in SERPs
With AI seemingly taking over the world, it wasn't going to be long before search engines like Google and Bing caught on.
Generative AI uses machine learning algorithms to create and present unique and relevant content to users in response to their search queries.
What does that mean for users?
Well, it means search results are more conversational and personalized to a person's search. Results are also more contextual, improving the overall search experience.
If you want to understand what it's like, you can sign up for Google's Search Labs, which is in the experimental phase.
How Does SEO Fit In?
The SERPs and SEO are intrinsically linked.
SEO has a critical role in determining how a website or webpage ranks on the SERP. SEO is responsible for ensuring that a website appears as high up on the SERP as possible, increasing the chances of that website getting clicks and driving traffic to the site.
The steps you take in this area are the keys to building organic traffic and achieving your traffic goals.
Too often, people hear about SEO and think it's too complicated. However, it's a process; even some simple SEO steps can lead you to the top of the results.
You can reach the top positions in the SERPs and build a significant volume of organic traffic; you've just got to be consistent with your SEO and follow the right steps.
How To Do a SERP Analysis of Your Business
Doing a SERP analysis involves examining how your website performs on the search engine result pages so you can improve your SEO strategy and direct more traffic to your site.
Sound good? I thought so! Here's how to do it.
Begin by assessing keyword difficulty and traffic potential. You can use one of the SEO SERP tools like Ahrefs.
Find your keywords. You're looking for keywords related to your niche. You should also consider doing a competitive analysis to see which keywords they focus on and where they might fall short. You can use Ubersuggest for this part. Just enter your keyword and click "search." You'll then get a list of keyword suggestions and content ideas. You can also use AnswerThePublic in the same way.
Understand search intent. You must understand what users want and ensure your content answers their queries.
Analyze where you are in the SERPs. You need to know you're starting place if you want to improve. You can use Google Ads for this. Pay careful attention to trends like rankings, click-through rates, engagement, conversions, etc., and note any areas for improvement.
Assess your content. Aside from quality, optimize the article for your target keywords. Include them in your title tags, meta descriptions, headers, and content.
Site optimization. Did your keyword research or competitive analysis identify additional optimization opportunities? Then create a new article, optimize current content, or enhance your SEO strategy.
Ahrefs also advises looking for other opportunities to rank in the SERP, like video carousels, top stories, and image packs.
Small Changes in the SERP Results Make a Big Difference to Your Traffic
Google and the other search engines' primary objective is to provide the user with the perfect SERP results. To do this, Google uses algorithms that employ hundreds of different factors to determine each person's best possible search results.
This level of personalization means a SERP can vary greatly. Here are some of the key aspects of the SERPs that can largely impact your organic traffic.
Ranking on Page One of the SERP
Do you ever make it to page two when you get to a SERP page? Or do you skim the top few results to see which looks the most helpful?
On a rare occasion, we might click to the second page to see what's there, but most of us choose from the top results, which is why there's a massive drop off in traffic between page one and page two of the SERPs.
95.1 percent of all Google users stay on page one, leaving all the other pages to fight it out for the remaining 4.9 percent. This difference just goes to show the importance of ranking on page one — most people never reach page two.
Not All SERP Positions are Created the Same
I can guess what you're thinking, "That's great. If I make it to page one, I've got everything sorted."
Unfortunately, this isn't the case.
Although getting to page one of the SERP is a great start, it's only part of the challenge. There's a massive variance between the click-through rate (CTR = number of clicks divided by the number of times your listing is shown) for the top three results and the CTR for ones lower down. These positions influence your organic traffic.
Here's how the CTR works out for each position in the SERP:
You may have reached page one, but there's clearly a huge incentive to get to the top.
In the last section, we mentioned that 95.1 percent of all searchers stay on page one results, but this doesn't mean that 95.1 percent of all searches go to organic listings.
Only 45.1% of searches end up in an organic click.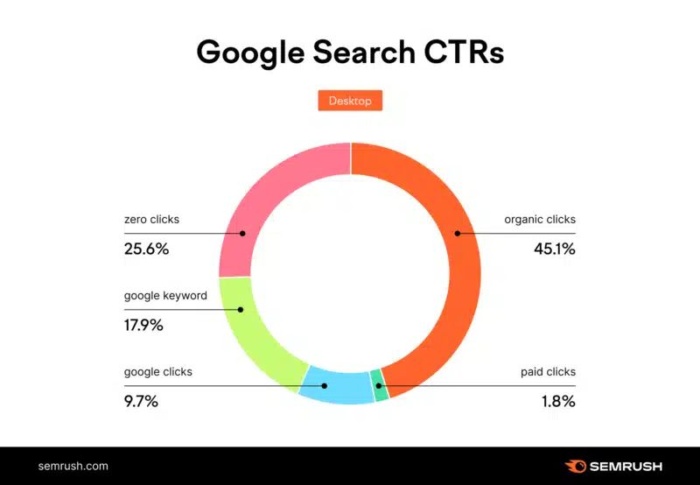 What are the major obstacles to getting more organic traffic?
Paid Traffic
Paid ads feature prominently in the SERPs, so it's no surprise that they attract plenty of clicks. As for click-through rates, according to LocalIQ/Wordstream paid search benchmarks survey, they stand at 6.30 percent.
Generally, there are three types of searches: informational, navigational, and transactional. Advertisers pay for every click and want a good return on their investment, so they tend to focus on transactional search terms with the highest buyer intent.
While it's still possible to get organic clicks for these transactional search terms, it's a good idea to use Ubersuggest to figure out which search terms are more likely to have a high share of paid clicks.
If you look at your keyword's cost per click (CPC), you can see which keywords are likely to be dominated by ads. As you can see in the results below, "CRM tools" has a high CPC, which means there are likely lots of people competing for it and a higher likelihood you will be competing with ads.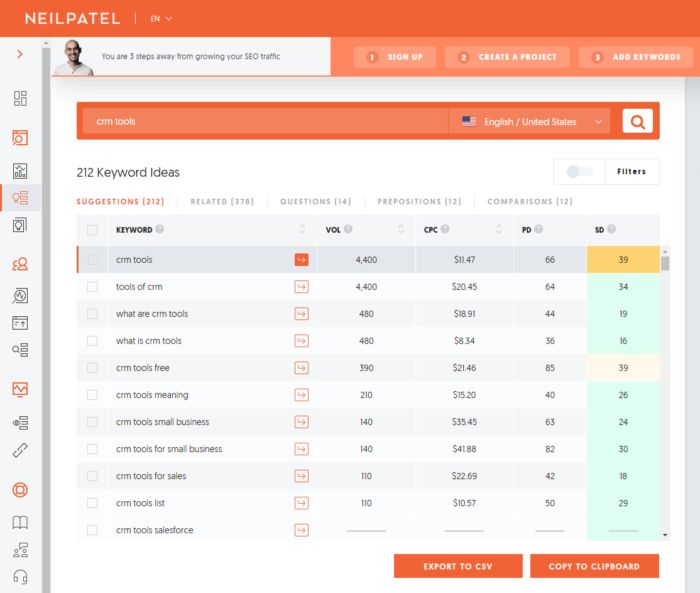 You can still gain organic clicks from these search terms, but you risk being pushed down the page by paid ads.
This search for "CRM software" is a prime example. There are no organic results before paid ads, site links, and People Also Ask, meaning you must scroll down before seeing even one traditional organic listing.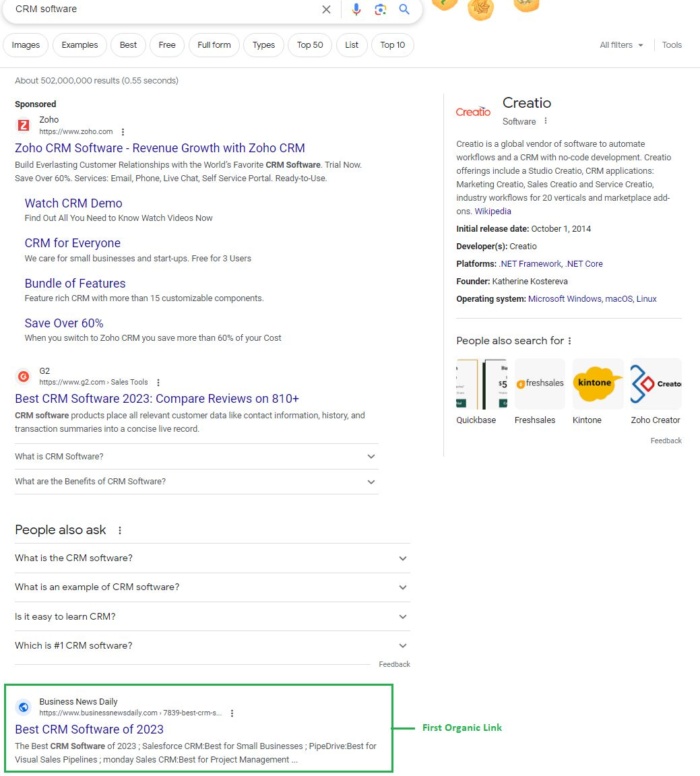 To do well in SERPs, you've got to be very focused on your keyword research to find the search terms with a realistic shot of gaining a prominent position in the SERP.
No-Click Searches
Google and other search engines are always working to create a better user search experience. One way they have done this is by introducing SERP features such as Featured Snippets and Knowledge Panels, which give people quick access to basic information.
In this search for "what is CRM software," we can see the power of the featured snippet.
With the featured snippet, Google gave the user a cursory answer without clicking a link. That means that even though Microsoft has won the snippet and Salesforce has the first traditional organic listing, neither got the click. It's a no-click search because the user can read the Snippet.
Even without a click driving traffic, appearing in these snippets increases visibility for your business and boosts brand awareness. Winning out in SERPs for no-click searches means more eyeballs on your brand and less on your competition.
Of course, many people are curious enough to click on Salesforce or SuperOffice to learn more. Still, some users' curiosity will be satisfied by the Featured Snippet. No-click searches account for 25.6% of all searches, according to Semrush.
How Can You Use the SERP to Get More Organic Traffic?
Despite the competition from paid ads and the number of no-click searches, there's still more than enough organic traffic. However, you've got to know how to use the SERPs to your advantage.
Every SERP has its leader of the pack, and these folks put a lot of work into maintaining that position, so you've got to work hard to unseat them.
How do you do that?
The great thing about SEO is you're in complete control of the content you put out and how you appear in the SERP. If you use this wisely, you can significantly boost your CTR and positively influence your organic traffic. Here's how.
Produce High-Quality, Relevant Content
Google wants to provide users with the most relevant answers to their search queries. To rank higher, your page has to accomplish two critical things. The first is relevance to the search query, and second, it has to include high-quality content.
If you're not achieving these two goals, Google has no incentive to put you on page one because you're not helping searchers achieve their goals.
This element is where your keyword research comes in handy to help you figure out precisely what your audience wants to see. When you know what your target audience is looking for, you can provide hyper-relevant content that attracts people to your website.
The more people who click on your site and engage with the content, the more the search engines reward you for helping them do their job.
Make Your Listing Stand Out
You have complete control over what your listing looks like in the SERP. You can edit your title, meta description, and use other aspects like structured data, so use this opportunity to stand out from the crowd.
If you're ranked number three for a search term, the top listing has an advantage over you. However, you can turn that around by crafting a more engaging, more relevant title and description. (Google usually uses the page's chosen title and description and occasionally modifies it.)
Your listing is out there competing for clicks, so treat it like an advert and work to entice users.
Get Those SERP Features
Google keeps using those "extra" SERP features, so you might as well embrace them and ensure your website gets featured.
The SERP features might lead to a higher percentage of no-click searches, but they can also lead to higher CTRs when you win them. HubSpot found that sites that land featured snippets have a dramatically higher click-through rate.
Featured Snippets, Knowledge Panels, Local Packs, and Shopping Results all stand out and draw in users. If you can snag those SERP features, you've got an excellent opportunity to boost your organic traffic.
If you're following good SEO practices, you have a solid chance to win those SERP features, but you can also take some specific steps to increase your chances of winning features, such as inclusion in a snippet.
SERP FAQs
What is a SERP in SEO?
If you want to get a website or content on the first page of the search engine result pages (SERP), that's where SEO comes in.
By optimizing your content with relevant keywords, implementing SEO, creating high-quality content, and addressing user intent, you can attract more organic traffic to your pages.
It's normal to wait to see results, as optimizing content for SERPs takes time and requires long-term work.
What is SERP tracking?
SERP tracking, or SERP monitoring, means analyzing how a website ranks in the search engine results pages over time.
Monitoring the SERP makes it possible to identify patterns, optimize online presence, and boost rankings over time.
What is a brand SERP?
A brand SERP is the results page for a brand name. For example, Coca-Cola or Levi's. 
For instance, if you search for Coca-Cola, you might get a SERP with a website link, its social media profiles, and other relevant information, such as news articles or reviews.
A brand SERP can be vital for businesses because they help shape people's perception of their brand online. 
How do I use SERPs?
Search engine result pages (SERPs) are the pages you see when you query a search engine. 
If you're targeting a keyword, start by doing a basic search. For instance, "digital marketing" or "how to do an SEO analysis."
You can view the top-performing content from there and see what others are getting right. For example, you can see which websites rank well for your target keywords. You can also see the type of content they're creating (blogs, long-form content, case studies, visual content, etc.).
Then you can identify content gaps that allow you to create something better. For instance, you could write a piece of content that matches search intent or optimize an existing article.
A SERP analysis can also help you find untapped keywords and phrases.
What are SERP features?
If you search online regularly, you'll notice that some results have additional information next to them, like a list or a map. These are SERP features.
Common types of SERP features include the Local Pack, People Always Ask, and featured snippets.
They are an effective way to gain website visibility on search engines, along with more click-throughs.
Conclusion
A SERP is simply the results page users see when they type a query into Google or any other search engine, but it can help you unlock your website's full potential.
The SERPs are constantly evolving, and there's a greater mix of results, including video content and generative AI. Other recent changes include zero-click content and a greater emphasis on search intent.
While they might seem complicated, there are tangible steps you can take to rank well in the SERPs and bring in the organic traffic you crave. While search engines are constantly changing the SERPs, SEO, and high-quality, relevant content can help you stay on top.
Once you've mastered the basics, you can establish a SERP strategy to increase your visibility and optimize conversions.
Now that you've got a good understanding of what the SERP is, it's time to start optimizing your SEO to help your website achieve its goals.
Did you find this SERP guide useful? Share your thoughts below.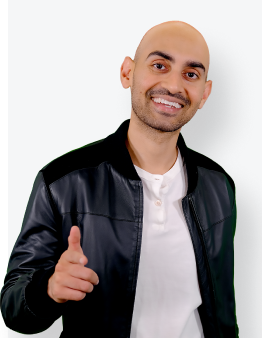 See How My Agency Can Drive More Traffic to Your Website
SEO - unlock more SEO traffic. See real results.
Content Marketing - our team creates epic content that will get shared, get links, and attract traffic.
Paid Media - effective paid strategies with clear ROI.
Are You Using Google Ads? Try Our FREE Ads Grader!
Stop wasting money and unlock the hidden potential of your advertising.
Discover the power of intentional advertising.
Reach your ideal target audience.
Maximize ad spend efficiency.