The Google ranking algorithm is constantly evolving, which can cause a few headaches when you're a marketer trying to retain the highest possible page ranking at all times.
However, there's good news: There are some tried and true Google search hacks we learn with every ranking algorithm update, so it's possible to adjust and retain your solid position. Let me show you how.
What Do We Know About Google Algorithm's Ranking Factors?
There's only so much we know about Google's ranking algorithm because Google won't reveal its top ranking factors. In other words, no one's entirely sure what boxes to tick to secure a first-page ranking. That said, here's a rundown of the ranking factors we do know about:
Page speed: Google search changes concerning page speed might affect you if your website is slow to load because slow websites offer a poor user experience.
Site design: Your website should be user-friendly and easy to navigate.
Link quality: If you want to rank on Google, then ensure you only link to informative, relevant content. Irrelevant links may be affected.
HTTPS status: Generally, Google prefers secure websites since they're more trustworthy. HTTPS is more secure than HTTP, so having an SSL certificate can help your ranking.
User engagement: Finally, Google search changes might negatively affect websites with high bounce rates and few return visitors because the pages may be low quality.
How Often Are Google Algorithm Changes Released?
Google makes minor changes to its ranking algorithm on a daily basis. They might even release multiple updates in 24 hours.
Google search changes are usually small, and you probably won't notice a drop in page rankings due to these updates alone.
However, the same can't be said for the "core" updates. Google makes these larger, more sweeping changes a few times per year, and they can directly impact your page performance.
Look out for a core update at least once or twice a year.
Important Google Algorithm Updates
To help you better understand the function of Google algorithm changes, here's a rundown of some key historical updates, and what impact they had on page-ranking strategies.
Google Panda
Released in 2011, this SEO algorithm update targeted bad practices such as keyword stuffing and duplicate content. It introduced a "quality score" that helped rank web pages based on how people would perceive the content, rather than how many keywords it included.
To "survive" Google Panda, marketers ensured they wrote educational, quality content, rewrote underperforming articles, and used keywords strategically.
Google Penguin
This update, introduced in 2012, directly combated "black hat" SEO tactics such as link directories and spammy backlinks. Like the Panda update, it also looked at keyword stuffing.
The goal was to move away from the emphasis on link volume to boost a page's search ranking and move instead towards high-quality content with only valuable, engaging links included.
Google Hummingbird
This 2013 ranking algorithm update was all about bridging the gap between what keywords people used and the type of content they actually wanted to find. In other words, it aimed to humanize the search engine experience and move the most informative and relevant content to the first page.
In response, marketers leveled up by including more keyword variations and relevant search phrases to improve their chances of meeting readers' expectations.
Google RankBrain
In 2015, Google released a Hummingbird extension, RankBrain. It ranks pages based on whether they appear to answer a user's search intent. In other words, it promotes the most relevant and informative content for a keyword or search phrase.
You can pass RankBrain's scrutiny by researching the user intent behind every keyword people search for, and writing rich, quality content to meet their expectations.
Product Review Update
The April 2023 Product Review Update has a focus on experience. It leans heavy into the Double E-E-A-T guidelines, aka Google's new level of content quality. It prioritizes review content that goes above and beyond much of the formulaic results you generally see. Google said it's ranking algorithm will reward these types of product reviews in search results.
So, if you're writing product reviews, make sure to put in the extra effort to make them informative and helpful. This means enhancing experience with:
Visual evidence: Original photo content and not stock images
Audio experience: Including original audio likely for accessibility
Evidence of experience: Link to evidence of use of the product
Quantitative measurements: Tracking performance of product
Helpful Content Update
Google's August 2022 Helpful Content Update is a new ranking algorithm that rewards websites that produce high-quality content written for visitors. Google wants to make sure that the top search results are filled with helpful and informative content that users will actually find useful. So, if you're creating content, make sure to focus on quality and user-friendliness.
How Do I Know When Google Releases a New Algorithm Update?
There's no need to track every single tweak Google makes to its ranking algorithm. However, it's crucial you track core updates, so you can adapt your SEO strategy accordingly.
First, set up a Google Alert for algorithm changes. With Google Alerts, you'll receive a notification straight to your inbox whenever SEO algorithm updates are mentioned online so you can start preparing for the changes as soon as possible.
Next, if you're on Twitter, follow Google SearchLiaison. It's an official account where you'll see notifications of core algorithm updates. Google Alerts don't work on social media, so following this account gives you another way to track any mentions of ranking algorithm changes:
From here, you can read the official announcements to learn more about how these SEO algorithm updates affect you. You can also learn more about planned improvements to Google, which may help you improve your SEO strategy more generally.
Thirdly, you can use Google Analytics to help you spot changes to the ranking algorithm. How can Google Analytics help? Well, it can help you identify unusual fluctuations in traffic and conversions, for one thing. You can then take a closer look at your performance to see if you've been "affected" in some way by a Google algorithm change.
Finally, try an algorithm analytics tool like MozCast or Grump by Accuranker. These tools track changes to the Google algorithm on a daily basis to help marketers as you stay ahead of any updates.
With Grump, for example, you can track algorithm changes by device, so if you've noticed a drop in mobile traffic or conversions, you can use this tool to see if Google's "grumpier" than usual, which suggests there's been a change to its ranking algorithm:
How to Determine Which Google Algorithm Update Hit Your Website
Have you noticed a steep decline in traffic recently? An SEO algorithm change could be responsible. Here are the two best ways to determine which update just hit your website and how to recover from the penalties:
First, check out Google Search Central (formerly Webmasters). This platform contains multiple resources to help you diagnose common performance problems and identify possible algorithm penalties.
Next, log on to Search Console, a free analytics tool from Google. Whether you want to identify mobile usability problems or monitor your site's performance, Search Console has the resources you need.
Combined, these tools can help you easily track changes to the Google algorithm.
Is Google's Algorithm Different From Other Search Engines?
Yes. For one thing, we don't know how often search engines like Bing or Yahoo update their algorithms, whereas we know that Google updates its algorithm very frequently.
On the other hand, there's a little more transparency around Bing's key ranking factors, which include:
Metadata
Page loading time
Quantity and quality of backlinks
In some ways, then, it's easier to understand the Bing SEO algorithm and tweak your strategy to match.
Since Yahoo is closely tied to Bing, the principles are very similar, but the difference is that they've published a transparent and useful guide to help marketers better understand their search engine algorithm and key ranking factors.
How to Succeed With Google's Algorithm
Ready to tackle Google's algorithm and boost your page rankings? Try these 13 Google search hacks.
1. Optimize for Mobile
Thanks to Google's mobile-first index, you must optimize your website for mobile if you want to boost your rankings.
To check how your website appears on mobile devices, visit Mobile-Friendly Test, input your URL, and analyze the results. For example, here's mine:
2. Audit Your Inbound Links
Next, check your inbound links. Do they all work properly, and do they link to relevant, up-to-date content? If not, fix the links and ensure they're redirecting to useful posts to improve the user experience on your website.
Good quality inbound links can improve your rankings.
3. Boost User Engagement
User engagement matters. After all, while it's great if you generate high volumes of traffic, it's less ideal if there's a high bounce rate or you're not seeing many return visitors.
Focus on doing quality keyword research, so you're always answering the right search intent, and ensure you fill your website with trustworthy content to keep users engaged for longer. This can help you hack the Google algorithm.
4. Decrease Site Load Time
A slow website with poor loading times can hinder the user experience, affecting your Google rankings. Check your page loading times using Google's PageSpeed Insights tool:

Once you run the analysis, Google offers some tips for improving page speed.
5. Avoid Duplicate Content
Whether it's only a few lines of text or substantive blocks of content, duplicate content on your website can attract penalties.
To identify duplicate content, try the Duplicate Page Finder. Input the URLs you want to compare, check the results, and make any relevant changes.
You can also see if someone else is using your content on their site by visiting Siteliner and checking your URL:
6. Create Informative Content
If someone clicks on your website and stays there, Google knows you probably answered the user's search query. In other words, you're creating useful, informative content.
The result? Higher page rankings than if your articles are superficial or don't target the right search intent.
7. Avoid Keyword Stuffing
Keyword stuffing means cramming the same keyword into your content multiple times just to boost your chances of ranking. This type of content is often distracting and difficult to read, and it falls foul of the Google algorithm.
Want to avoid keyword stuffing and stay on Google's good side? Just use a keyword naturally within the text.
8. Don't Over-Optimize
SEO matters, but don't go overboard. Don't include unrelated, irrelevant links in your content, don't buy links, and avoid over-optimizing your anchor texts.
It's hard to strike a balance between effective SEO and over-optimization, but as long as you steer clear of aggressive link-building practices and black hat tactics, you should be fine.
9. Improve Site Navigation
Prioritize the user experience at all times by:
Streamlining website menus and navigation
Creating a site map
Ensuring all your navigation links work
10. Increase Page Security
If you haven't moved from HTTP to HTTPS yet, do it now. HTTPS sites are securer, which means they're more trustworthy. Google rewards trustworthy websites with higher rankings, so from a marketing perspective, it's worth the move.
All you need to do is buy an SSL certificate, install it on your site's hosting account, and update your URLs to HTTPS rather than HTTP.
11. Update and Refresh Old Content
Google's ranking algorithm is constantly evolving, and it's important to make sure that your content is up-to-date. One way to do this is to regularly update and refresh your old content. This means adding new information, fixing any errors, and making sure that your content is still relevant to your audience.
Updating your old content can help you improve your search engine ranking, attract new visitors, and keep your existing visitors engaged. So, if you haven't updated your content in a while, now is the time to do it!
12. Monitor Your Website Metrics Frequently
One of the biggest indicators of an SEO algorithm update is a change in website metrics. Did your views drop suddenly? Are you seeing massive organic traffic out of nowhere? This can happen because the algorithm decided to reward or penalize your website based on its new rules.
13. Use External Google Algorithm Update Trackers
If you're having trouble tracking the latest Google search changes, try using external resources like blogs and websites that track such changes. Here are a few that may help:
Neil Patel Blog: I frequently discuss the latest updates in the Google algorithm, so feel free to check back in any time you suspect a recent update has happened.
Moz Update History: Moz maintains a quick, up-to-date list of ranking algorithm updates to help you look back and predict trends.
Semrush Sensor: This tool measures volatility in search results to track potential updates.
Frequently Asked Questions
What are some Google search hacks?
With a little practice, you'll be able to use Google search like a pro! Here are five Google search hacks that you can use to find the information you need more quickly and easily:
Use quotes to get an exact match: If you're looking for a specific phrase or word, put it in quotes. For example, "how to make a cake" will only show results that contain the exact phrase "how to make a cake."
Use the minus sign (-) to exclude results: If you don't want to see results that contain a certain word or phrase, add a minus sign (-) in front of it. For example, "how to make a cake -chocolate" will only show results for how to make a cake that don't contain the word "chocolate."
Use the asterisk (*) as a wildcard: If you're not sure how to spell something, or if you want to find results that contain a variety of different words, use an asterisk (*) as a wildcard. For example, "how to make * cake" will show results for how to make a cake, how to make a chocolate cake, how to make a carrot cake, and so on.
Use the date: Looking for results that were published or updated within a certain date range? For example, "date:2023 how to make a cake" will only show results for how to make a cake that were published or updated in 2023.
Use the language: Need results in a particular language? For example, "language:en how to make a cake" will only show results for how to make a cake in English.
What algorithm is used in Google Search?
There are a combination of factors that make up Google's algorithms. It's constantly being updated and improved to reflect changes in the web and in user behavior. Some of the factors that it takes into account include:
Relevance: This is done by looking at the keywords in the user's query, the content of the web page, and the links to the web page from other websites.
Quality: Meaning the author's expertise, accuracy of the information, and overall user experience.
Popularity: Number of links to the page, visitors to the page, and amount of time that people spend on the page.
Freshness: Latest date updated and the update frequency.
Location: Looking at the user's IP address or the location settings on their device to match them with relevant results.
Conclusion
The bottom line? Google's search engine algorithm changes frequently, and it can directly affect your SEO strategy. When Google announces its next core update, be sure to read up on how it might impact your page rankings, and check out my consulting services if you need any extra help.
Finally, to avoid algorithm penalties, focus on crafting rich, valuable content for users, fix any broken links, replace low-quality backlinks with fresh ones, and implement an SSL certificate if you don't have one.
How do you track Google algorithm changes?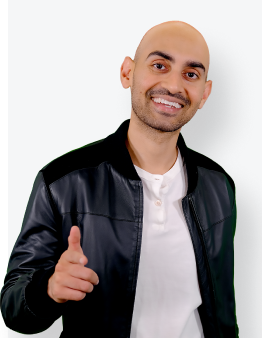 See How My Agency Can Drive More Traffic to Your Website
SEO - unlock more SEO traffic. See real results.
Content Marketing - our team creates epic content that will get shared, get links, and attract traffic.
Paid Media - effective paid strategies with clear ROI.
Are You Using Google Ads? Try Our FREE Ads Grader!
Stop wasting money and unlock the hidden potential of your advertising.
Discover the power of intentional advertising.
Reach your ideal target audience.
Maximize ad spend efficiency.