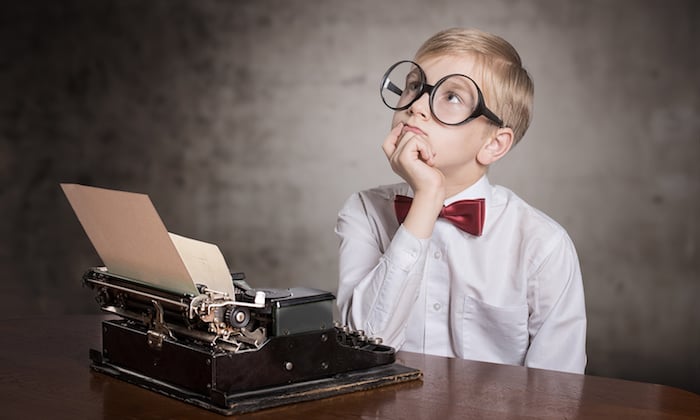 If you read any of my blogs, you'll know that I write a lot about writing
Why? What's the big deal? Why am I obsessed with this topic?
On the personal side, I write about writing because, well, I really enjoy the topic.
There's another reason. When it comes to sucking at writing, I'm right there with you!
I used to suck at writing, big time! So I understand the struggle. However, I had a lot of help to improve my writing and blogging skills and I want to pay it forward to help those who had the same struggles I did!
Writing isn't easy. Producing long-form, research-intensive, meaty articles day in and day out can be really tough.
I write about this stuff, because I know where you're coming from, and can lend some support.
Finally, I write about writing because writing is the focus of content marketing.
Content marketing is about written content — words, articles, blogs, etc.
Of course, there's more to content marketing than just blogs, whitepapers, and ebooks. You can achieve content marketing success with social media, infographics, videos, and live video.
But the biggest impact of content marketing happens through this channel — long form blog content.
Take a look at this. The Content Marketing Institute conducts a survey every year to find out the state of the content marketing industry.
In their 2017 B2B survey, CMI asked respondents, "Which content marketing tactics that your organization uses will be most critical to its overall content marketing success in 2017?"
In other words, "what's the most important content marketing tactic?"
The overwhelming response:  Blogs.
More than half of the respondents selected blogs as their top tactic for 2017.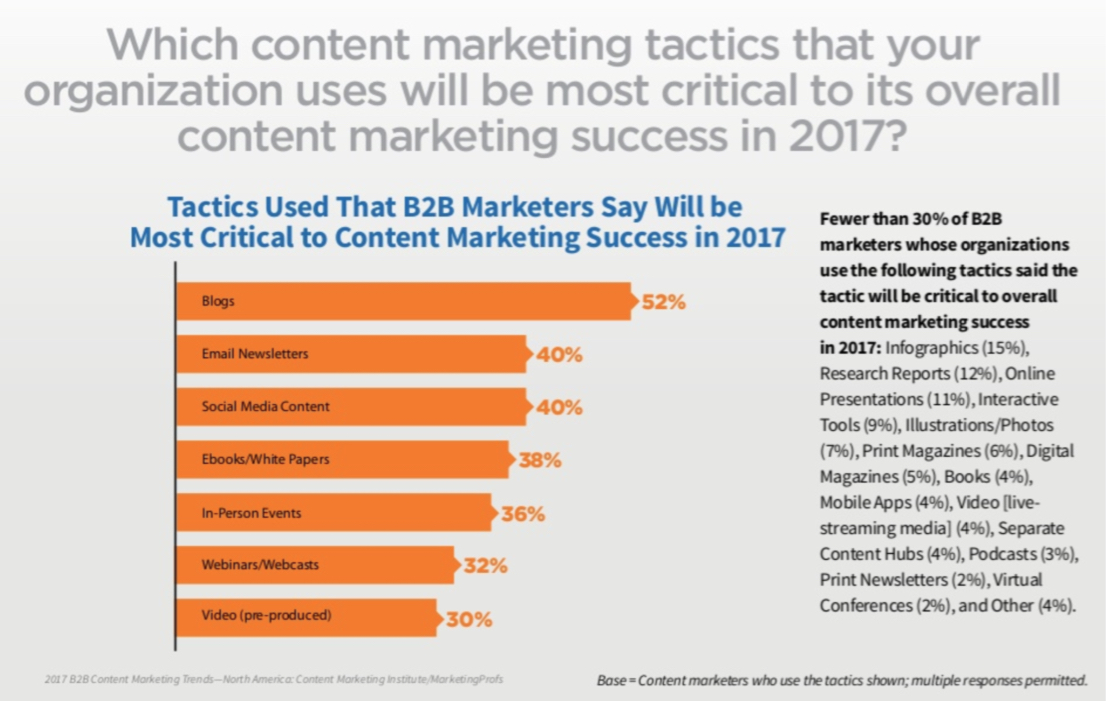 See why it's important?
That's why I spend a lot of time, effort, and resources telling people about writing — how to do it faster, better, and more successfully.
And that's why I wrote this article — to help you improve your writing.
The article is focused on a method of writing long form blog articles. I show you the exact process that I used to improve my own writing, and the process that you can use to do the same.
Regardless of how awful you are at blogging, how horrible of a writer you are, or how limited your knowledge of blogging, I'm determined to help you improve.
Learn how I generated 195,013 visitors a month by writing amazing articles.
Do you suck at writing?
I'm not accusing anyone of being a terrible writer! But I hear a common complaint when it comes to writing.
It goes like this:
I know there are benefits to blogging, but I suck at writing!
I totally understand this.
When I first started my blog, Quick Sprout, my writing sucked. Take a glance at this screenshot of this ten-year-old post on my blog!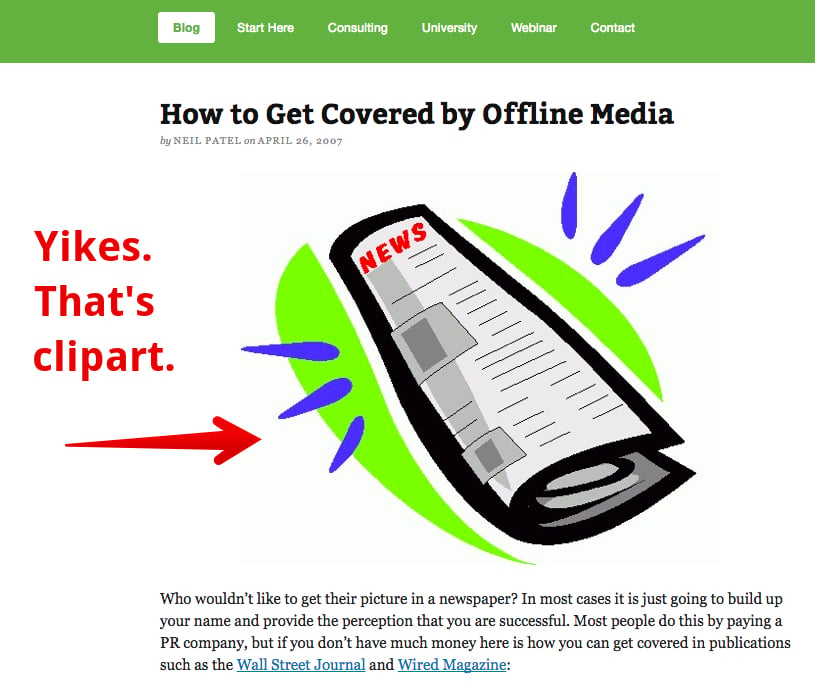 Bloggers fall into three main categories
Some people have an inferiority complex when it comes to writing. They think they're awful, but actually, they're not really that bad.
Some people have the opposite problem. They think they're writing is amazing, but there aren't many people who would agree with them.
Some people are in the middle. They know they're not the world's worst, but they sure aren't the world's best. They know they have room to improve.
Each group of writers can improve. But how?
The most common solution is to outsource the whole deal. One of CMI's content marketing surveys found that 68% of B2Bs chose to outsource their content development!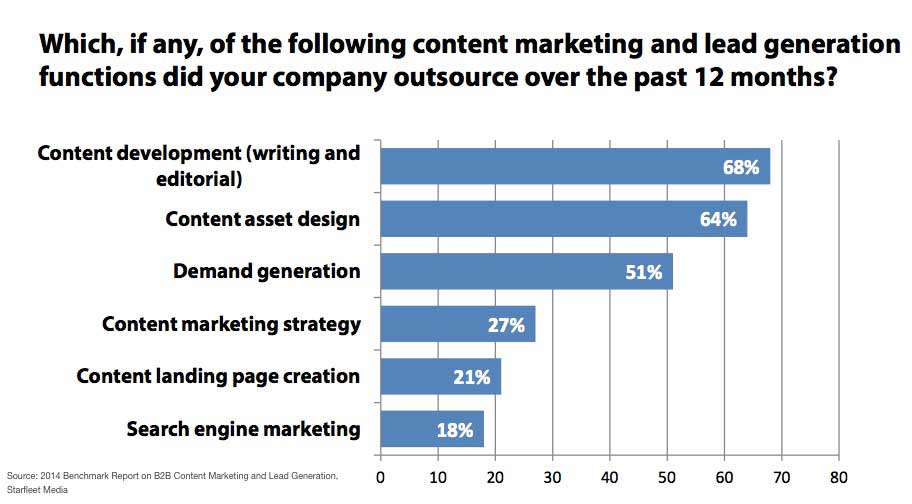 There is nothing wrong with outsourcing content development!
But what if you're a scrappy startup without marketing budget? Or you're a solopreneur who can't hire a writer? Or you just want to do it yourself?
Then you probably need to improve your writing.
No matter where you're at on the awesome-or-not scale of writing skill, you can and should improve.
This is how you do it.
Figure out exactly what your readers think is amazing
Let me break this down nice and easy. This is my argument.
You want to write amazing content.
The people whose opinion really counts are your readers.
Therefore, your readers should decide what amazing content is.
We tend to overthink what is required to create amazing content. Heck, I'm guilty of this!
I'm so obsessed with quality of content, optimization, reading ease, length of content, and all the other factors, that it's easy to overlook one really important thing:  the readers themselves!
A quick disclaimer here. Keep in mind that if your content is not search engine optimized, your readers aren't going to find it to begin with.
If you need to, do a little brushing up on SEO and overall content optimization. Make sure your awesome content is going to show up in the search engines.
If you want to make awesome content, find out what your readers think is awesome.
How do you do that?
I'm going to show you a three-step process:
Use Alexa to find out your basic numbers and demographics.
Use Google Analytics to discover your most-visited content.
Use Buzzsumo to find out your top-shared pages.
First up, Alexa.
If you have a decent blog following already, check out your demographics on Alexa. Here's how.
1. Go to Alexa.com/siteinfo to use the free version.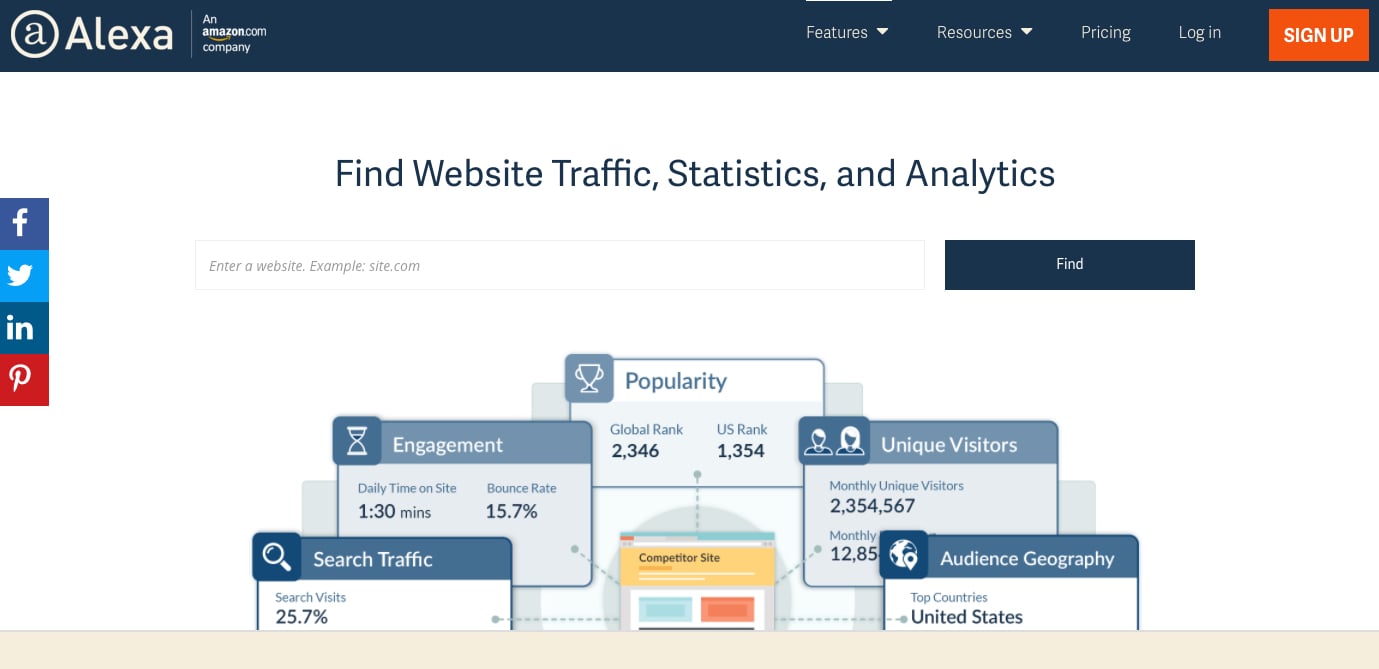 2. Type in your blog's URL.

3. Click "Find."
4. Scroll down on the page until you see the "Country" heading.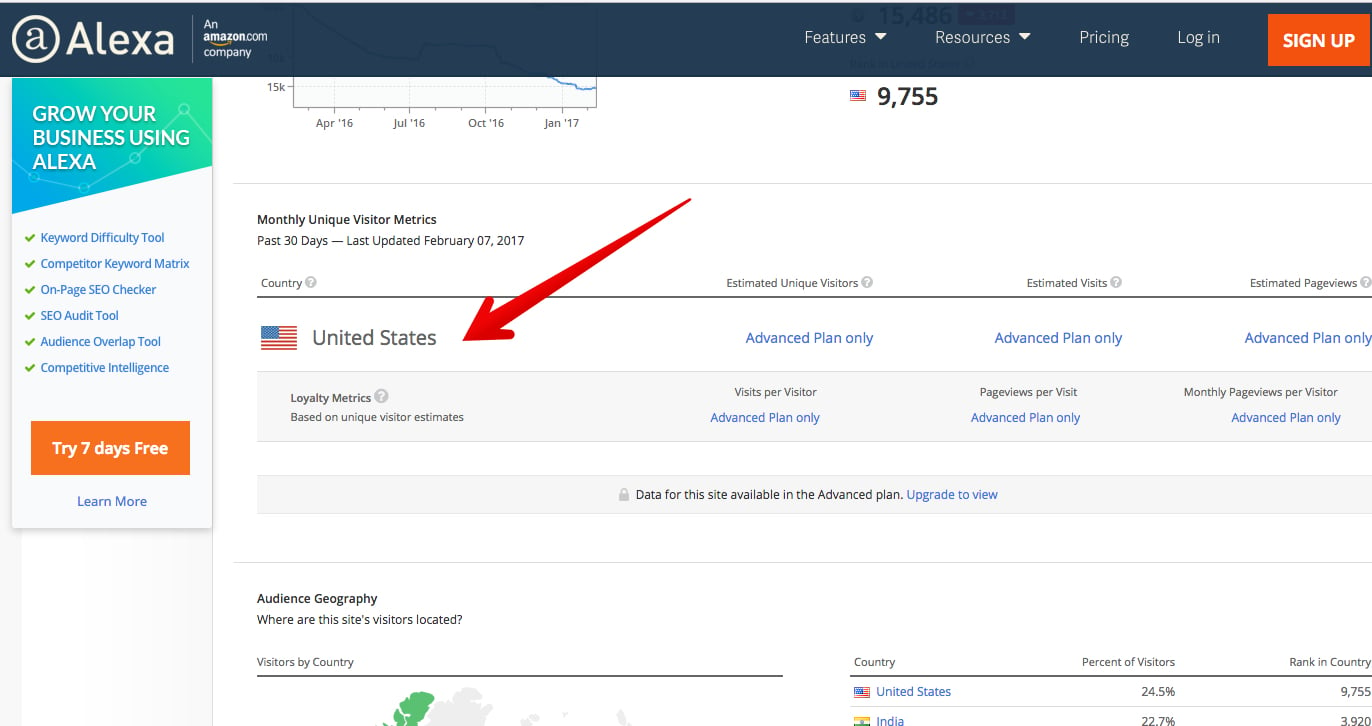 You won't be able to see any of the visitor or loyalty metrics without a paid subscription, but you can see where most of your visitors are coming from.
You should also take note of the other countries where your readers come from.
This is an important part of discovering what your readers think is awesome.
5. Analyze engagement metrics.
What are your readers doing on the site?  The engagement metrics tell a story.

Bounce Rate: A lot of readers on my blog are bouncing — i.e., not reading anything. Perhaps they get the answer they need, then leave.
Daily Pageviews:  The average user is going to visit my page 1.6 times a day. That means that they are moderately interested in my content — enough to check in one or two times a day.
Daily Time on Site:  Most users spend a couple minutes on the site. Since each blog article takes an average of 9 minutes and 26 seconds to read and 69% of my readers are bouncing, that's not a bad average daily time.
6. Consider your top keywords.
What keywords are driving people to your website?
In my case, Alexa is showing a lot of people coming from the query, "keyword planner."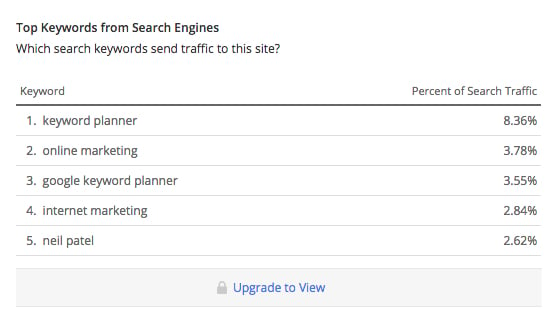 This number shows you what your readers are interested in. For example, if you are driving a lot of traffic from keyword planner topics, then you may want to write more of the same.
Focus on giving to your readers what you perceive that they want based on the data you see.
7. Take a look at your competitors.
It's important to see who your competitors are and what they are doing.
In the case of Quick Sprout, I'm facing competition from myself (fine with me), Backlinko, Kissmetrics, Moz, and Search Engine Journal.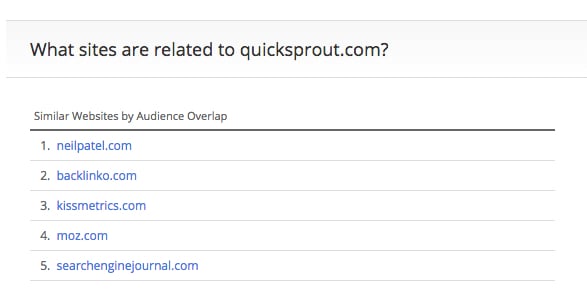 This is important, because these website are producing content that is similar to mine. However, they may be doing things differently that provide them with slightly different results.
I want to pay close attention to what they're doing in case it shows me an opportunity to improve.
We'll take a look at this point in depth a little later on.
8. Consider your demographic data.
The final section of Alexa to take a look at is the last one — audience demographics.

It helps to understand that most of your readers are male, that you have somewhat educated readers, and most are browsing your blog at work or home.
You can get all this information from other sources, of course. I use KISSMetrics and Google Analytics to do a lot of my data mining.
With Alexa, however, it's quick and easy to get a quick snapshot of your readers.
Is an Alexa survey going to tell you everything you need to know about what kind of content your readers think is awesome?
No, but it's a start.
To get even more advanced information, we need to go to Google Analytics.
1. Sign in to Google Analytics
2. Navigate to 1) Behavior → 2) Site Content → 3) All Pages.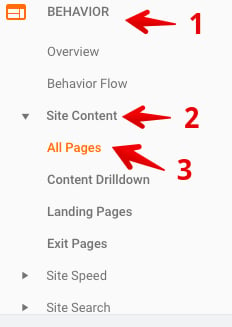 3. Look at your top ten most-visited pages.
This is a simple datapoint, but an important one.
What you're looking at on this page are the pages on your site that have the most pageviews.
In my case, most Quick Sprout visitors are visiting the homepage. It's normal for the homepage to receive two times to five times as many visitors as the next-closest page.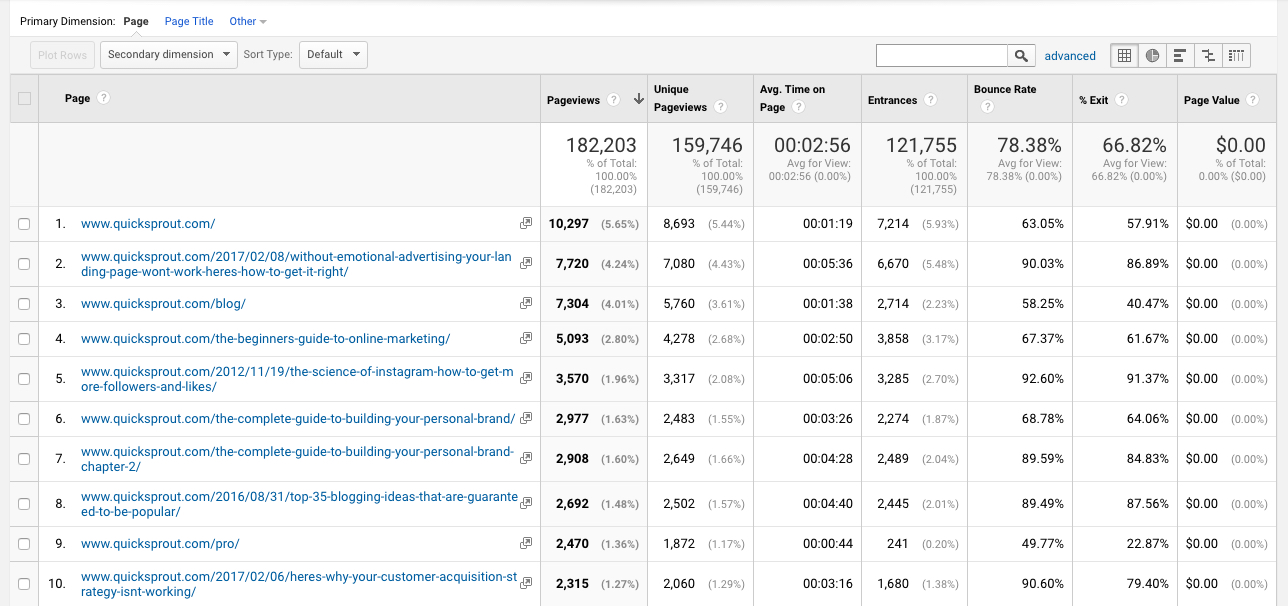 The important thing to look for in these numbers is what blog articles are getting a lot of traffic?
If there are blog articles in this list of top ten pages, it tells you something:
That particular blog article has good SEO and/or social sharing.
That particular blog article is appealing to your readers.
We're getting closer to intuiting what it is your readers love — the kind of content that they think is awesome.
You don't have to obsess over each number in this report, but it does help to take a look at each of the standard metrics.
Here's an overview of questions you can ask as you look at each number:
Pageviews:  How many times was the page visited? (This is kind of a throwaway number because it doesn't tell you how many different people visited the page.)
Unique pageviews:  This gives you a closer idea of how many different people visited the page.
Avg. Time on Page:  How long did each reader spend on the page?
Entrances:  Was this the first page on your site that they visited?
Bounce Rate:  How many people looked at this page only, then left?
% Exit:  For how many people was this the last page that they looked at on the site?
With this information in mind, it's now time to head over to Buzzsumo for the last look at metrics that will help us to answer the question — what do your readers think is awesome?
We've looked at demographics. We've looked at web analytics. Now, we're going to look at social analytics.
1. Go to Buzzsumo.com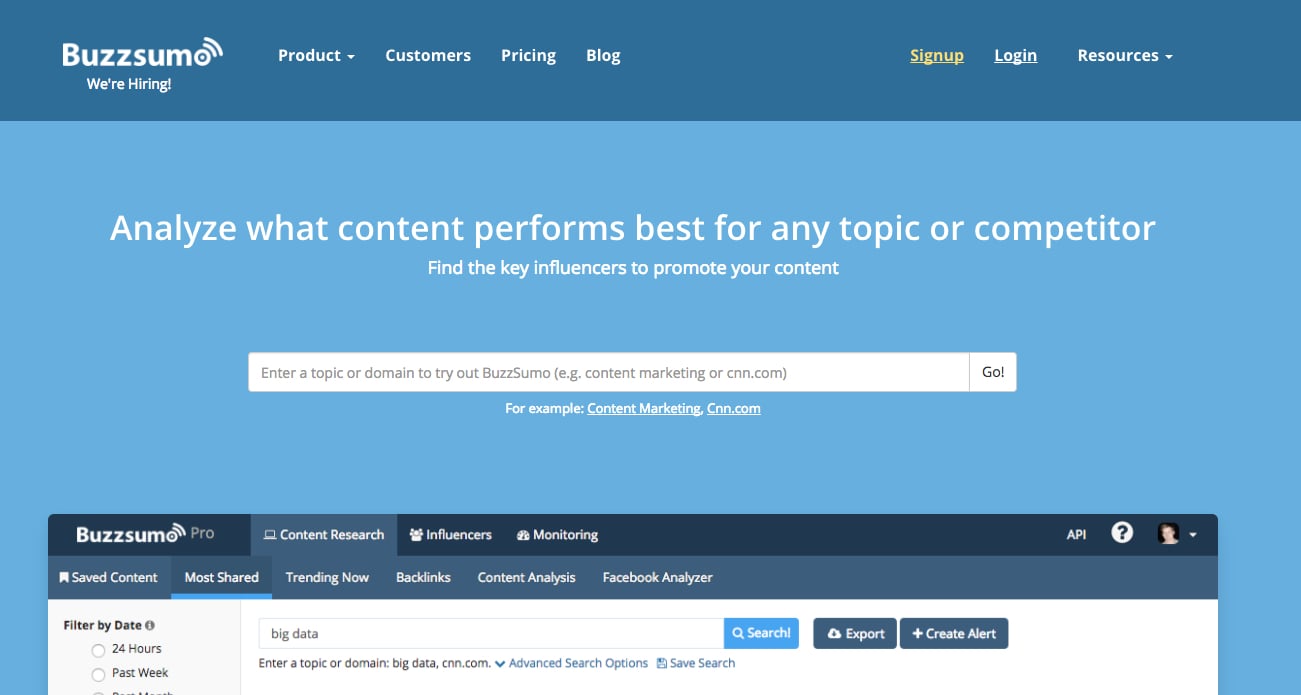 2. Type in your website name.
If your blog has its own subdomain, use it here. (For example, type in example.com/blog instead of just example.com.)

3. Click "Go!"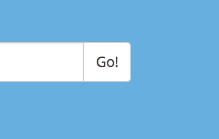 4. Take a look at which of the blog articles have the highest social shares.
Here's why this number is important.
If readers are sharing an article, it's a sign that the article is good. They like it. They promote it. They share it with others. They think it's amazing.
You have here an example of what kind of content you should create from now on.
Look at each of the articles and ask yourself these five questions. I'll use the most-shared article on Quicksprout.com as an example to walk you through each questions.
1.  What kind of title does the article have? Use this kind of title for future posts.
My title is numbers-driven. It was also slightly sensational ("you can't live without").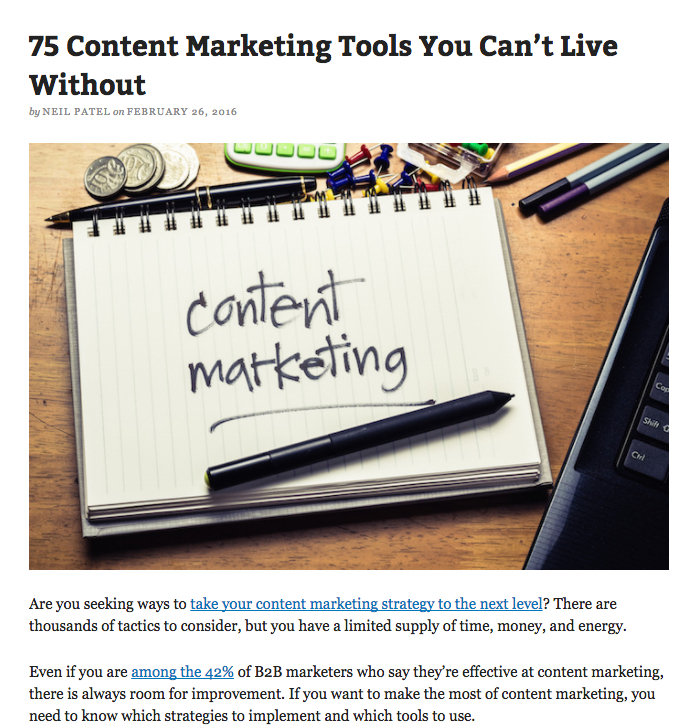 2. How long is the article? Make your future articles are this long or longer.
To find out how long my article is, I do the following:
Highlight the entire article (not the comments, just the article itself.)
Press CTRL + C to copy the article.
Go to WordCounter.net.
Paste in the text of your article.
Wordcounter automatically counts the words once you paste them in.

3. How many images does the article have? Use this number of images, style of images, or type of images in future posts.
You can go through the post and count the images one by one. (Or you can download the file as an HTML file, and count the number of saved images in the folder.)
My article has over 150 images, so that's a good number to target for future articles.
4. What subject matter does the blog article deal with? Focus on similar or related topics in future posts.
My article is about content marketing (no surprise there).
5. What kind of comments did people leave on the article?
Next, look through all the comments on the article. What are people saying? Are they complaining or praising you?
What are they praising? That's what you need to keep doing.
What are they complaining about? That's what you need to correct.
What questions do they have? Those are the questions that future content should answer.
There's a movement among some blogs to disable comments. I see why people do this (it can be a pain to manage hundreds of comments), but I think comments are really valuable.
Comments provide a source of conversation and let me stay in touch with people. I can help more people in more specific ways through the comment section.
Plus, it helps me know exactly what kind of content resonates with my readers, and how to produce more of it.
In my article, I read comments like this one: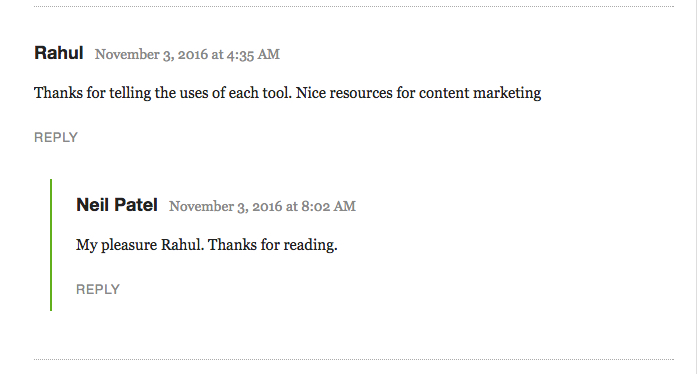 This reader liked the fact that I showed how to use each of the tools I mentioned.
I take note of this, because that's something I'd like to do more of in future articles.
Another reader said that my post was one of the "biggest" he'd seen.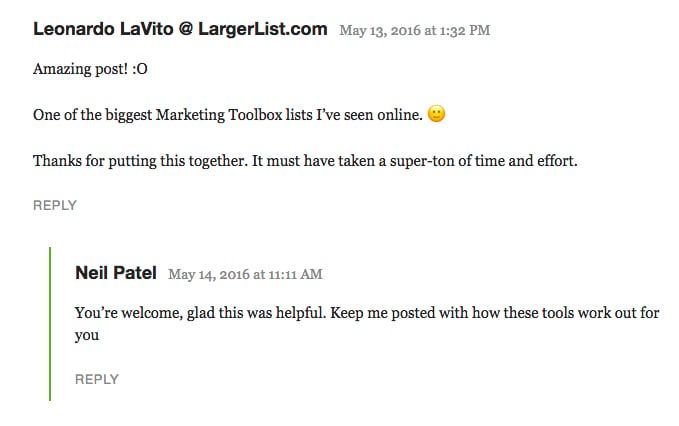 This helps me understand that this reader likes posts that have a long list of tools. I should keep it up!
As you can see, there's a process to understanding what your readers want, and how to give it to them. It takes some digging and some research, but the answers are there.
At the end of the day, it doesn't really matter if the masses think your blog is great or not.
You don't have to be a rockstar writer. You simply get to know your audience — what they like, what they don't like — and how to give them the type of content that they want.
If your readers think it's great, then you are accomplishing your purpose.
Copy exactly what the best writers in your niche are doing
When you were a baby, how did you learn how to walk? Talk? Eat food with utensils?
You watched others who were good at it. You copied them, and eventually, you did it yourself.
Why should learning to write better be any different from how babies learn?
You can learn by copying other people who are doing a great job. There are a lot of great writers out there.
It's more than likely that there are some writers in your niche who produce great content. They can teach you a thing or two.
Let me show you how to find these great blogs, and how to use them to improve your own writing.
1. Find your competitors using Alexa.
Good news. If you completed the process above, you should already have a list of your competitors.
If not, go back to http://www.alexa.com/siteinfo. Type in the name of your site, and click "Find." Scroll down until you find the section titled "Similar Websites by Audience Overlap."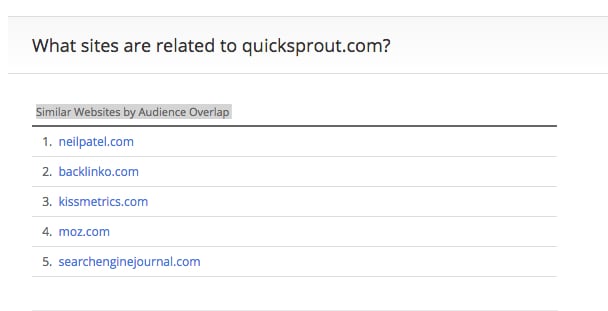 The people who are reading Quick Sprout are also reading websites like KISSmetrics.
The first thing you want to do with this information is check out those websites. Have you heard of them? What are they all about?
If I hadn't heard of KISSmetrics before, I'd go to the site and poke around a little. I would find out what kind of topics they cover, how much content they are producing, and other relevant information.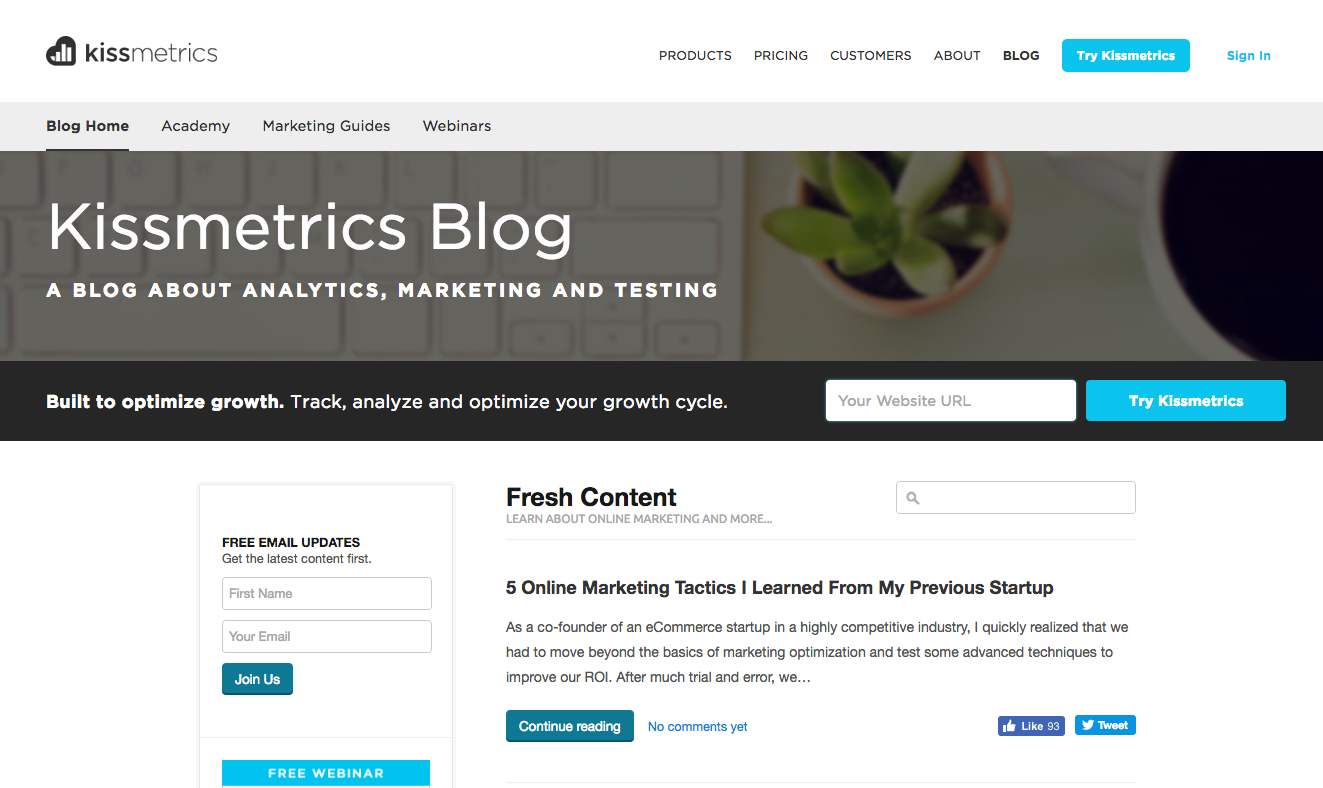 Next, I should put the power of my tools to work.
Again, we're going to use Buzzsumo to find out what articles on these websites the readers think are great.
I type the URL into Buzzsumo and click "Go!"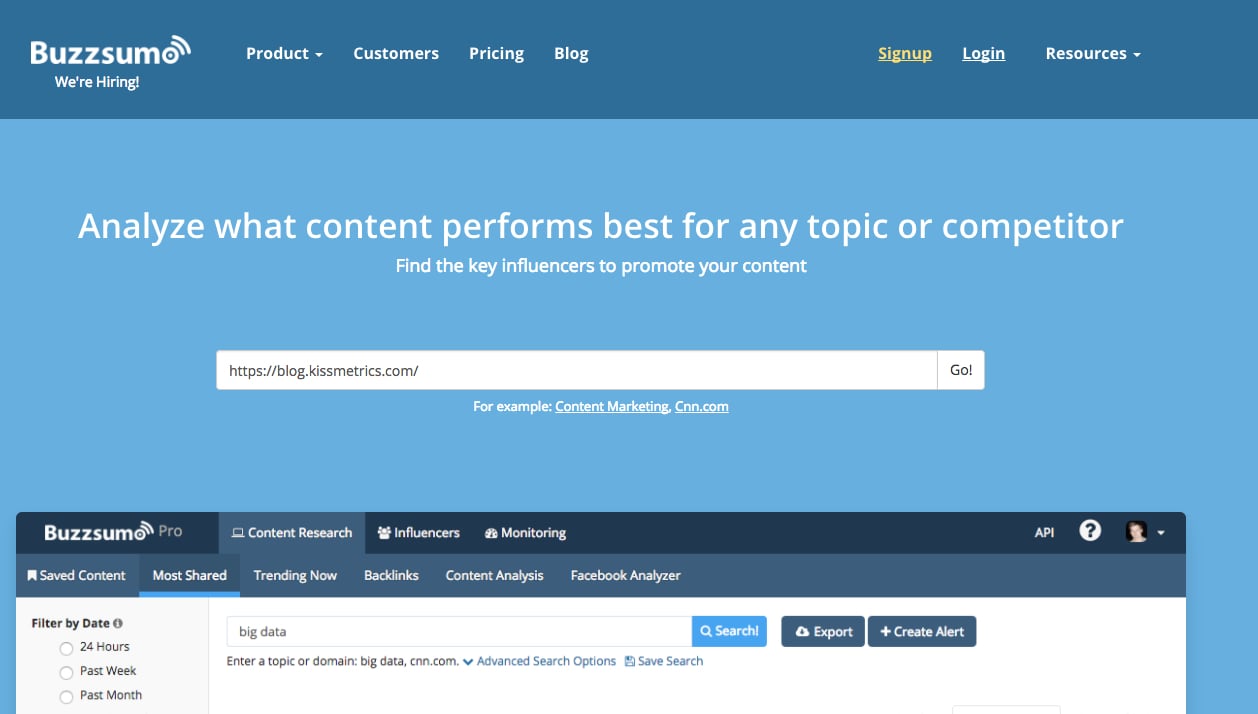 I take a look at the top five shared articles.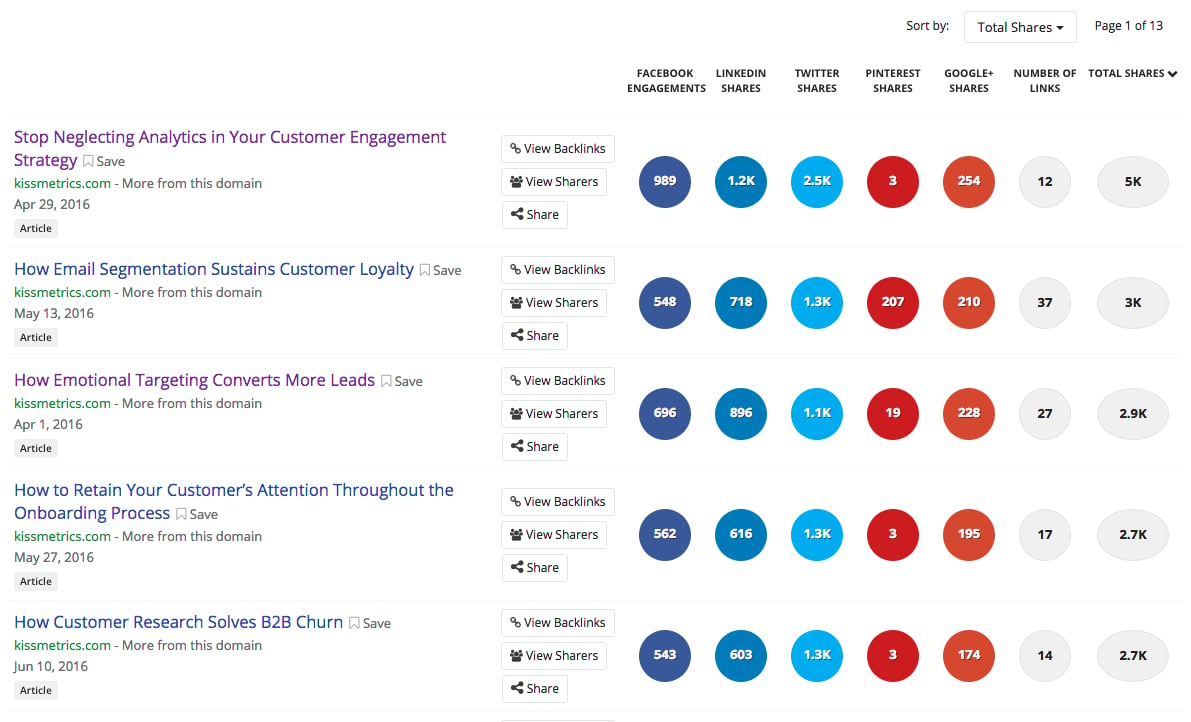 I then research each of these articles to find out the following information:
What is the topic?
What is the title?
How long is the article?
How many images does the article have?
It's helpful to read the article carefully and absorb as much of the style and approach as possible. That way, I can try to replicate that style in future articles.
You should follow this process with each of your top five competitors.
Run them through Buzzsumo.
Analyze the top five shared articles.
If your competitors are doing a great job, there's no reason you shouldn't find out what they're doing, and try it yourself.
Follow a formula
Now, we're at one of the most important sections in this entire article: Follow a formula.
What do I mean by "follow a formula?"
Many bloggers today take a haphazard approach to blogging. Sure, they know their basic subject matter. But the actual writing sort of takes care of itself — an intro, a few sections, write some more stuff, wrapt it up with a conclusion…and….
Done!
I don't recommend this. If you're constantly shifting your approach — trying one random thing, and then another — your results are going to be varied.
It's better to develop a formula and then follow that formula for each one of your blog articles.
Okay, so what does this formula look like?
A blogging formula is a set of strict guidelines that you follow every time you blog. Let me show you an example.
Blogging formula for Quicksprout.com. Follow this formula with every blog post.
Topic

Make it relevant
Tell readers how to solve a problem or achieve a goal
Explain exactly how to do it
Make it super useful

Introduction:  100-150 words

7-10 paragraphs.
Use several one-line paragraphs.
Talk directly to the reader.
Use several first-person references.

Use 3-50 main headings.

Make the headings easy to understand and follow — full sentences or phrases

Body

Keep the language simple
No big words
Use short paragraphs — no longer than three lines

Images

Use at least 10 images
Do not use clipart in the body of the blog
Use data-driven images such as charts, graphs, and screenshots

Conclusion

Close with 3-10 paragraphs
Last line should be an italicized question
This isn't the entire formula, but it gives you an idea of what a blogging formula looks like.
The purpose of a formula is to help you to keep a high standard when it comes to your content. Once you figure out what people want, give them more of it.
A formula doesn't destroy your inspiration or creativity. Instead, it provides an atmosphere where your creativity can flourish.
I have a strict set of guidelines that I adhere to for my blogs. I let myself break the rules if necessary. I also look for ways to improve.
But having that formula helps keep me focused and intent upon producing great content.
Again, you don't have to be some marvelous writer to make this happen. You simply create your formula, and follow it for every blog article you write.
Conclusion
In closing, don't be afraid to ask for feedback.
Ask your readers what about your writing needs to change in order to make your articles amazing. Ask for feedback from other smart and compassionate humans.
The great thing about writers who suck is that they can get better. I'm exhibit A of this truth.
I used to suck! Today, I might still suck. But at least I suck less.
Never stop improving. There's always room to grow.
What techniques or tips would you provide for writers who want to improve their game, and get better at blogging?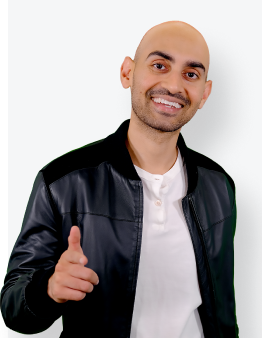 See How My Agency Can Drive More Traffic to Your Website
SEO - unlock more SEO traffic. See real results.
Content Marketing - our team creates epic content that will get shared, get links, and attract traffic.
Paid Media - effective paid strategies with clear ROI.
Are You Using Google Ads? Try Our FREE Ads Grader!
Stop wasting money and unlock the hidden potential of your advertising.
Discover the power of intentional advertising.
Reach your ideal target audience.
Maximize ad spend efficiency.