Creating quality content that resonates with your target audience is more important than ever.
But how do you do that?
Well, you need to understand your audience and their search behaviors.
That's where search listening can help.
In fact, over 500,000 marketers use AnswerThePublic every month for search listening. Not part of this group? You're missing out.
The simple truth is that search is evolving and will continue to evolve based on how people use it.
Search listening helps you stay ahead of the game by figuring out what your audience wants by analyzing search data and giving you helpful insight into topics they're interested in, questions they ask, and the language they use.
With this info, you can make better keyword choices, understand your audience, and increase the value of your brand. Sounds great, right?
What Is Search Listening?
Search listening is when marketers like you analyze online search behavior to find out about the audience's interests, intent, and behavior. The process starts with looking at questions people search online and the words they use in those queries.
Digital marketers monitor web analytics (like traffic sources, search volume, etc.) to figure out why people ask those questions. Typically, businesses pay the closest attention to conversations related to a particular topic or industry related to their lines of work.
Marketers can use analytical tools to get useful info from the data they collect.
Let's look at an example.
Say you work for an outdoor equipment company and want to identify gaps in your content strategy. Your brand's website has a low click-through rate (CTR), and you can't figure out why.
You can look at the phrasing people use in their searches to identify trends and create new strategies for marketing based on those patterns. You may notice people want "eco-friendly outdoor gear" or "sustainable outdoors equipment" based on search terms.
With this data to back it up, you can create website content showcasing the sustainable materials in the company's products or launch a social media campaign promoting the company's sustainability values and commitment.
Once you have the data from your search listening efforts, especially for keyword research, you can get creative to address whatever you find.
By analyzing and understanding search queries, you can more easily develop content that provides value or addresses your customers' pain points. Higher-value content leads to more targeted traffic and better user engagement.
Benefits of Search Listening for Digital Marketers
You want to know your audience's needs, interests, and preferences. You also need to understand how to create relevant and engaging content.
This is easier said than done.
The good news? Search listening makes it easy to get inside your target audience's mind. All you need are the right tools.
Search listening gives insight into what words and phrases people use when talking about relevant topics, products, or industries. This gives you a leg up on keyword research, as you'll know what people really search for when they have a specific intent.
A few of the other benefits that search listening offers include:
A viable advantage over competitors.
More relevant and effective search engine marketing (SEO) and search engine marketing (SEM) approaches.
Better return on investment (ROI) based on enhanced marketing campaigns.
Improved customer experience by offering useful, relevant content.
Increased brand loyalty by showing customers your value.
Access to new or expanded markets to increase product reach.
What Makes AnswerThePublic the Best Tool for Search Listening?
is a great search listening tool for gaining insights into the questions people ask online. The tool generates a list of questions related to set keywords or topics, which can help you optimize your content and marketing strategies.
Using a combination of search data and natural language processing (NLP), AnswerThePublic gives you a visual representation of questions categorized by type.
My tool, AnswerThePublic, also gives related searches and questions sorted by preposition, which help to identify even more keyword options and topics to target in campaigns. That way, you can easily pull the information necessary to better understand the audience you want to target over time.
Here's an example using the phrase "digital marketing":
This tool is easy to use and navigate, with a user-friendly interface for accessing and analyzing data. No matter how big your business is, it's an incredibly valuable tool. AnswerThePublic has free or paid versions for you to choose from, depending on how many features you want.
How to Use AnswerThePublic for Search Listening
One of the best things about AnswerThePublic is that it's super easy to use (and I'm not just saying that because I own it).
To get started, just enter a keyword or short phrase into the search bar and hit "search." Then, AnswerThePublic generates a list of related keywords, questions, subjects, and phrases that people use when they search for that topic.
This is the data you'll use to find trends, understand search intent, and create relevant content.
Here's an example of how you can use it for search listening.
Let's say you sell beauty or hygiene products online. You want to find out what people search for when they want to buy or learn about deodorant.
AnswerThePublic will tell you the search volume, search difficulty, cost per click (CPC), and paid difficulty of the word "deodorant."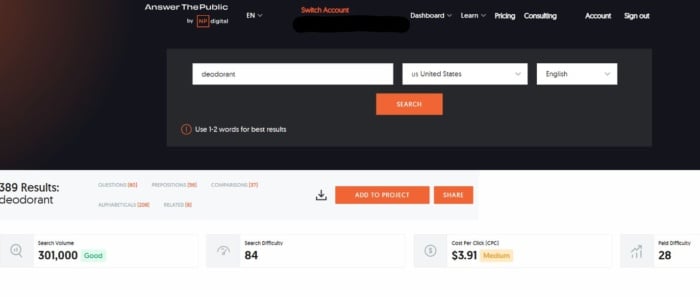 Here are the results:
It'll even give you preposition-based phrases and comparisons that people use when searching. You'll get ideas on how you can use those phrases in your own content.
Let's consider the example above. You can see one of the questions stemming from "deodorant" is, "What deodorant is best for sensitive skin?"
From this, you could create content on your blog about common ingredients in deodorant, why some ingredients irritate sensitive skin, and what to look for when shopping for a sensitive deodorant. You can also use this as a chance to plug any sensitive or irritated skin products in your line on social media or link these options in your website copy.
All this will show consumers you not only "listen" to them but have the types of products they want.
Search listening makes you better at meeting your customers' needs, which is essential for brand loyalty and customer satisfaction.
You never know when you might find a great source of content inspiration based on other people's search queries, making this an extremely beneficial tool for digital marketing strategy.
Other Search Listening Tools
While AnswerThePublic is a great option for search listening, it's not the only one out there. Other search listening tools you may find helpful include:
The best tool for you will depend on your needs and budget. You might also use different tools together to gain more insight into your findings.
For example, you could use AnswerThePublic for the search listening data and then plug your content ideas into a tool like Ubersuggest to find keywords, track keyword performance, or identify more search trends.
Ubersuggest and AnswerThePublic complement each other to generate a more well-rounded picture of your content's performance.
In short, search listening helps you create better content by giving you data you may not have otherwise.
For instance, you can learn about keyword trends, brand sentiments, or even target audience demographics when you use search listening tools. Paired with other marketing tools, the information you gather through search listening is even more powerful, allowing you to reach your target audience in a more meaningful way.
FAQs
What is search listening?
Search listening is the act of monitoring and analyzing what people search for online. You can identify trends, understand the audience's wants or needs, and create related content using this information.
What are some search listening tools? 
There are a few popular search listening tools out there, including Google Trends, BuzzSumo, Moz, and Semrush. But AnswerThePublic is an excellent option for users looking for a quick, easy-to-use tool that provides a lot of detail. The best search listening tool for you will depend on what information you want to gain from it and your budget.
How can search listening help my SEO efforts?
Search listening is incredibly useful for SEO because it gives insight into how and why your target audience searches for specific words and phrases. When you analyze search queries, you'll learn about high-volume keywords, user intent, and related topics or questions. Use this data to better optimize content and metadata to match the expectations of your audience.
Are social listening and search listening the same?
While they have similarities, social listening and search listening aren't the same. Social listening refers to monitoring social media conversations or brand, product, or competitor mentions. Search listening involves analyzing search data to understand how people search for information related to your brand, products, or services. 
Tools for social listening, like Sprout Social or Hootsuite, won't give you search listening data. Even though both types of listening give you indispensable insights into your target audience, they focus on distinct types of internet data.
Conclusion
Search listening is a powerful tool. It'll help you understand why people search for different keywords or phrases and how you can create content or learn about trends related to your target audience.
Whether you're updating old content or creating content from scratch, search listening can be your best friend. It'll give you the secrets that other friends (aka marketing tools) simply can't.
But if you use it in conjunction with other SEO tools? You'll end up with content that people find valuable, relevant, and engaging—the ultimate trifecta.
In digital marketing, search listening is essential to a content marketing strategy. You can stay up to date with what your audience cares about and create content that resonates with their wants and needs.
Have you tried search listening to create better content? How did it go?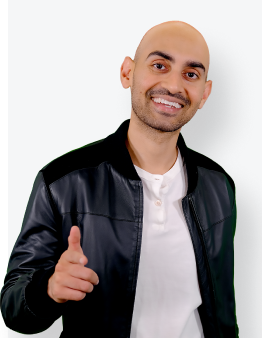 See How My Agency Can Drive More Traffic to Your Website
SEO - unlock more SEO traffic. See real results.
Content Marketing - our team creates epic content that will get shared, get links, and attract traffic.
Paid Media - effective paid strategies with clear ROI.
Are You Using Google Ads? Try Our FREE Ads Grader!
Stop wasting money and unlock the hidden potential of your advertising.
Discover the power of intentional advertising.
Reach your ideal target audience.
Maximize ad spend efficiency.