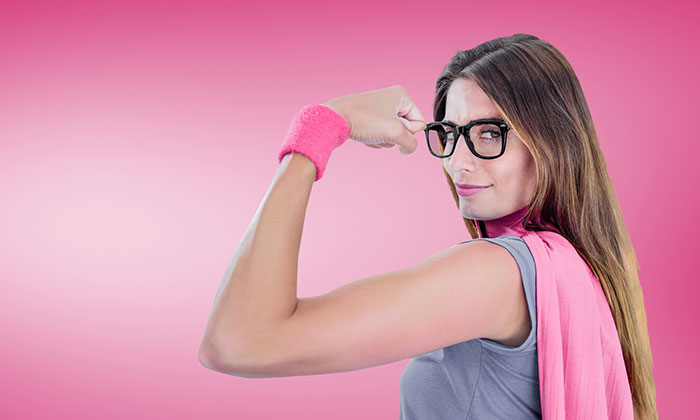 PPC advertising is a marketer's dream.
Back in the olden days, marketers would spend thousands of dollars on TV, radio and print advertisements and cross their fingers.
Today, however, marketers can carefully customize and target their ads to achieve incredible results.
And according to Google, businesses make an average of $2 in income for every $1 they spend in AdWords.
If you're not already using PPC ads to market your offers, you should seriously reconsider your stance.
Because 64.6% of people click on Google ads when they are looking to buy an item online.
But there's a problem.
According to consumer research firm Yankelovich, back in the 1970's consumers were exposed to about 500 ads a day. But today we're exposed to as many as 5,000.
That's a lot of noise you need to stand out from.
This development makes sense. As technology and new media have progressed, so have the ways in which marketers can reach consumers.
Consequently, we're now inundated with ads everywhere we turn.
To make matters worse, a study by Microsoft found that we now have a shorter attention span than goldfish.
Seriously. The average attention span has fallen to 8 seconds, compared to the 12 seconds it was in the year 2000.
What does this mean for marketers?
The overwhelming exposure to ads combined with an extremely short attention span means people are paying less attention to ads.
Still, PPC advertising's potential is vast—if you're fully utilizing its potential.
And that's why I'm going to show you three easy tactics to take your PPC game to the next level.
Follow these steps, and you should see an increase in your PPC's conversion rate and ultimately, ROI.
1. Use ad extensions
PPC is highly competitive.
Even if you manage to rank your ad for your targeted keywords it still has to compete with other ads vying for searcher's attention.
So you need to find a way to stand out.
Additionally, consumers want their buying experiences to be easy, fluid and personalized.
According to a report from Accenture, "75% of consumers are more likely to buy from a retailer that recognizes them by name, recommends options based on past purchases, or knows their purchase history."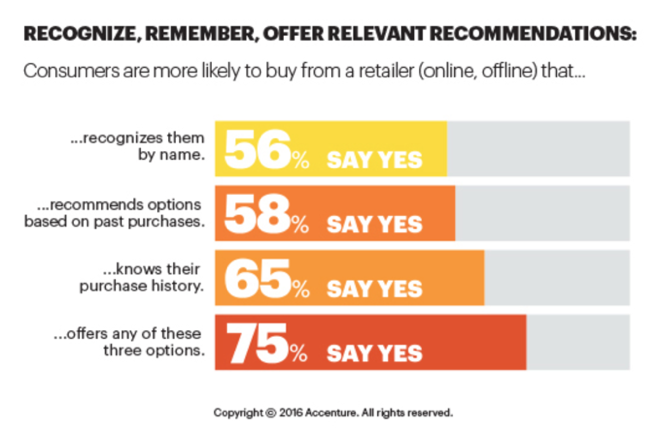 So how can you stand out from the noise of PPC ads while also making consumers' experiences easy and fluid?
Use ad extensions.
An ad extension is an additional component you bolt onto your PPC ad to make it stand out, while also improving the customer experience.
Here's an example of an ad without any ad extensions:
And here's an example of another ad using three add extensions:
Which are you more likely to click on?
Extensions literally extend the ad, and you can choose from a number of different extension options.
Perhaps you'd like to add your location, a click-to-call phone number, links to other pages on your website, or your review rating from a site like Yelp.
Ad extensions are contingent upon ad position. This means only those ads in the top spots will be able to use ad extensions.
So if you go to the trouble of getting your ad to reach the top spots in AdWords, and you don't also implement ad extensions on your ads, you're missing out.
By using them, you'll provide searchers with more information about your business and more ways to interact with your ad.
This will increase your ad's visibility and improve your click-through rate.
But there's more.
If a user clicks on your click-to-call extension or clicks straight through to your product page, you're still only charged the same amount as if they clicked on your headline.
Bottom-line: Users get a better experience, and it doesn't cost you any more money.
So how exactly do you do this?
First, I'm going to show you how to add the 'Sitelinks' extension.
The Sitelinks extension allows you to add links to other pages on your website.
In this example, Zappos has used the Sitelink extension to add 4 Sitelinks to their PPC ad:

After creating your ad campaign, click the 'Ad extensions' tab at the top of the AdWords window.
Next, you need to select the type of ad extension you want to include.
Click the drop-down menu and select 'Sitelinks extensions.'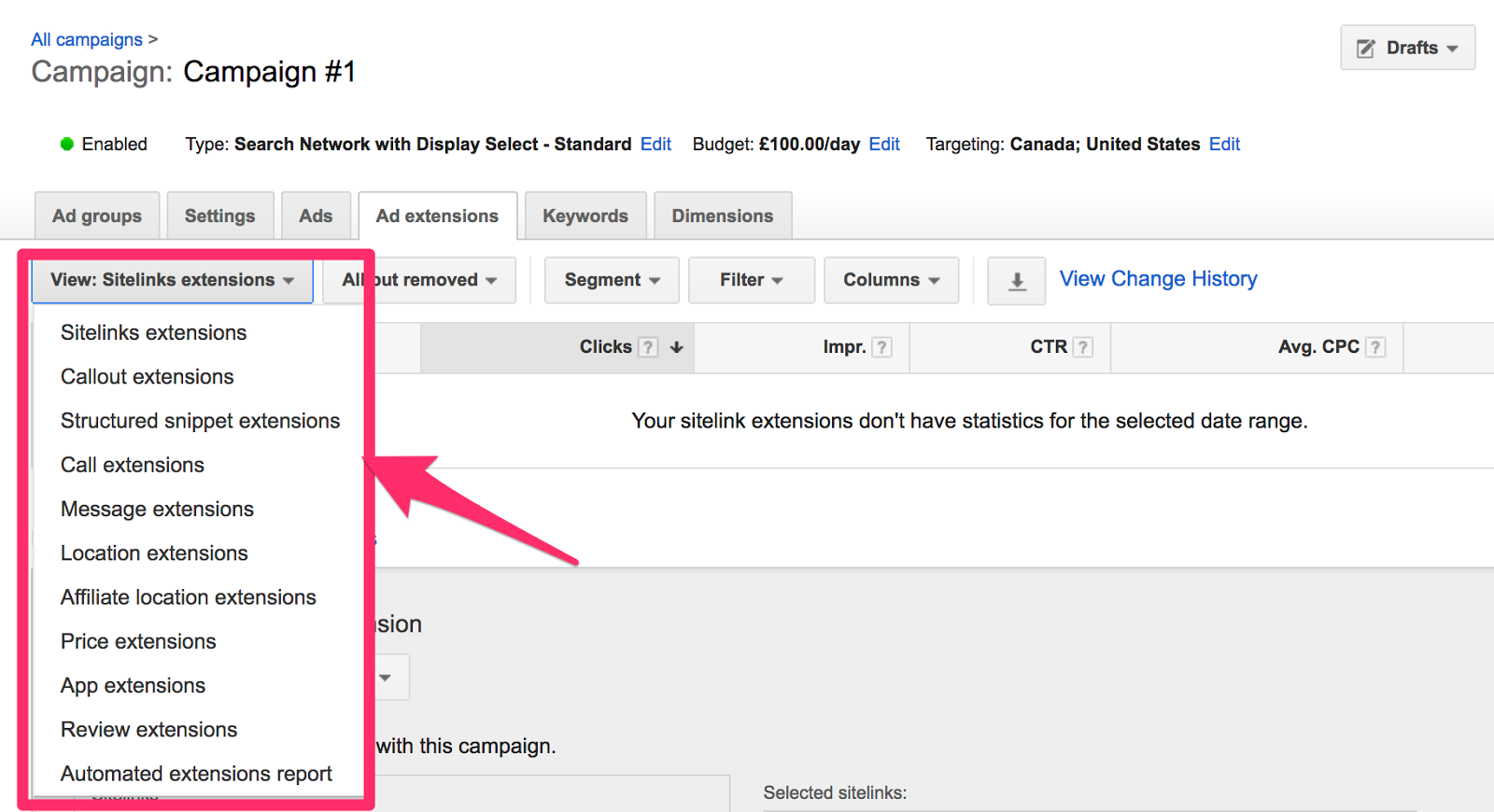 Once selected, click the '+ Extension' button.
AdWords will now show you a window in which you can add your extra site links. Click on '+ New site link.'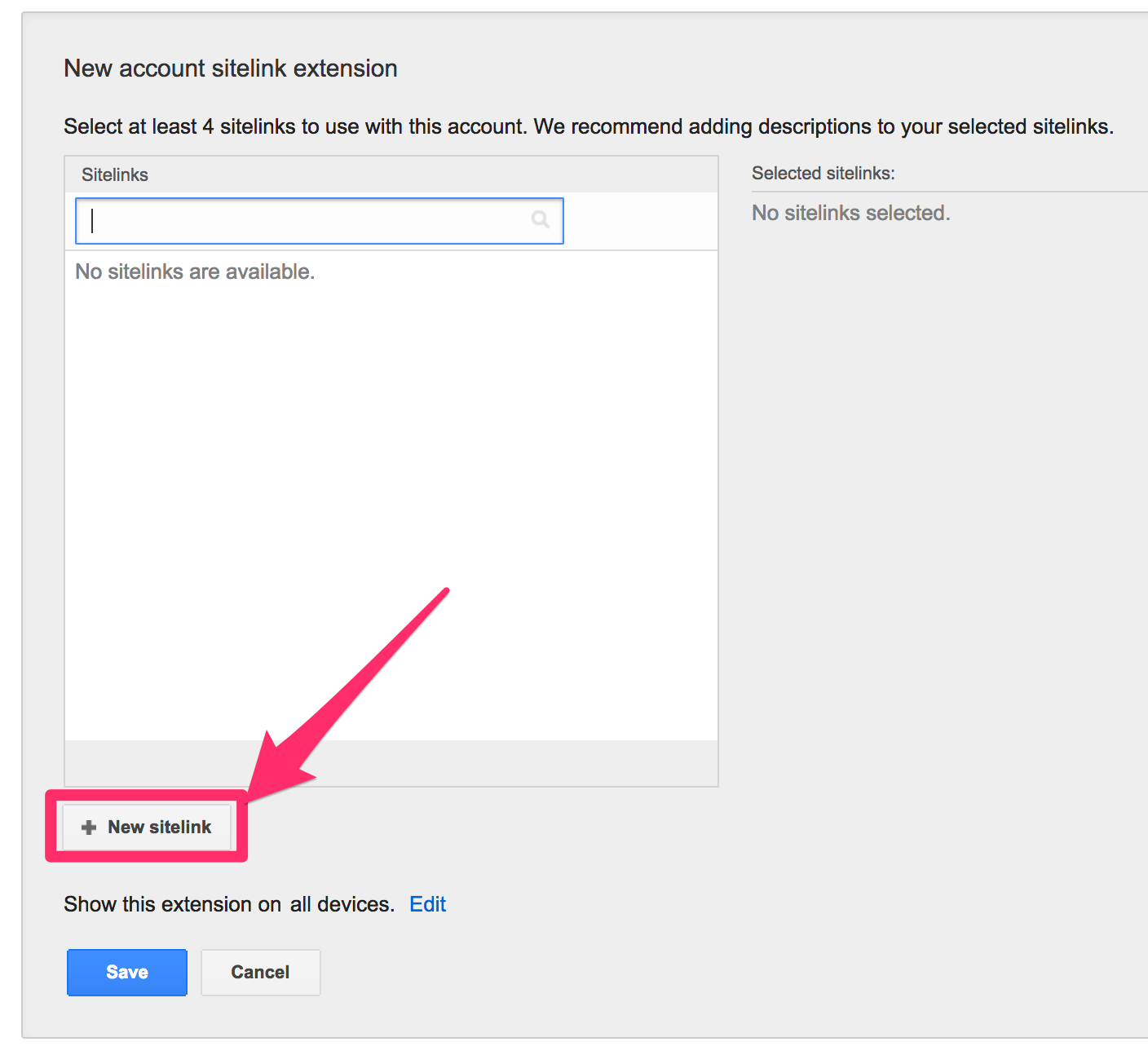 Then, input your link information and click 'Save.'
Now, let's add a 'Callout' extension.
The Callout extension allows you to add additional information about your offer to the searcher.
In this example, The Vitamin Shoppe has used the Callout extension to highlight some of the key features of their offer:
First, select 'Callout extensions' in the drop-down menu, then click '+ Extension.'
AdWords will bring up a window which allows you to add Callouts. Click '+ New callout.'
In this next window, add the text you want to 'call out' in your ad. You also have the option to assign the callout to mobile.
Don't miss out on giving searchers additional options to engage with your ad.
Especially when ad extensions give your ad a much-needed boost to stand out in the search results.
Start using ad extensions on your PPC ads now to capitalize on this low-hanging fruit and convert more searchers.
2. Use retargeting
Imagine a world in which prospects would buy after seeing your advertisement just once.
That would make a marketer's jobs much easier!
But unfortunately, the world doesn't work that way.
We have to market, market and market again if we're to see the results we're looking for.
This is the philosophy behind 'The Rule of 7.'
'The Rule of 7' is an old marketing adage that means your prospects need to encounter your offer at least seven times before they start to take notice or take action.
The old marketing principle usually refers to the minimum number of times you might need to expose your offer to prospects—in reality, you might need them to encounter it far more than seven times.
'The Rule of 7' has its roots in psychology. Its effectiveness has been observed in what is usually referred to as the "mere-exposure effect" or the "familiarity principle."
Basically, the more people that are exposed to something, the more likely they are to notice and develop a preference for it.
And we're all susceptible to it.
By adhering to this principle, you'll increase your chances of getting prospects to notice you amidst the noise of marketing and information-overwhelm that they're exposed to every day.
So how do you take advantage of 'The Rule of 7' today?
One word: Retargeting.
Retargeting is where you target your ads to people who've already come into contact with your offer.
These people may have already bought from you, signed up to your mailing list or visited your website.
Because they've already expressed interest in your business, you can assume there's a good chance they'll convert if they see one of your PPC ads.
Think of it as a reminder.
And retargeting that personalizes the experience can boost conversion rates as much as 30-50%.
According to research by AdRoll, one company even increased their PPC ROI by 2.5 times with Facebook remarketing.
Thankfully, you can retarget ads with AdWords also.
In 2015 Google announced 'Customer Match.' This feature allows PPC marketers to use AdWords to target prospects using their email addresses.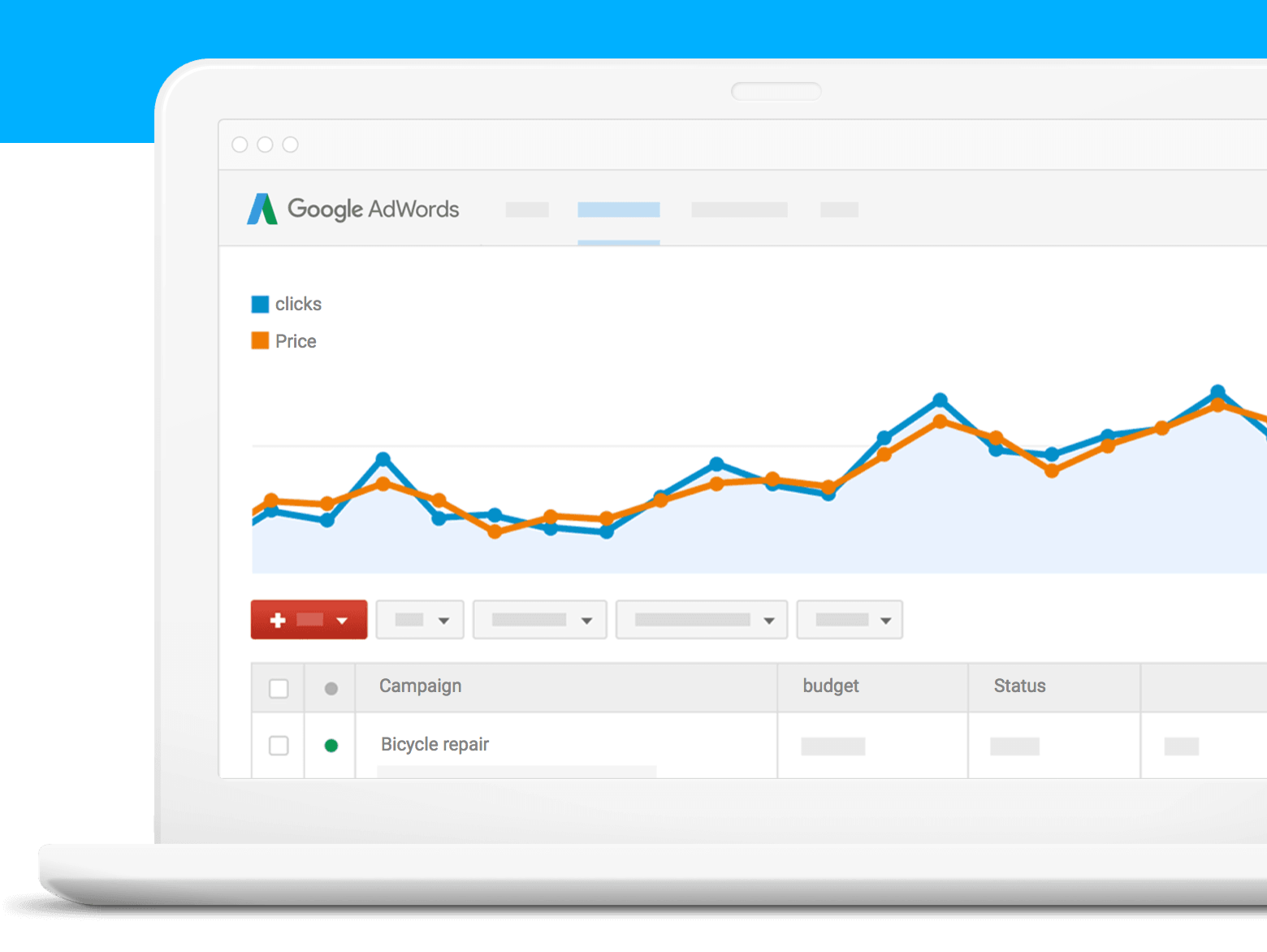 Here's what this might look like in action:
Step 1: A spa collects email addresses when potential customers opt-in to their mailing list.
Step 2: The spa sends out their email newsletter and tracks which people open the email and which don't.
Step 3: The spa takes all of the email addresses of the people who didn't open the email and uploads them to AdWords. (I'll show you how to do this in a second.)
Step 4: The spa creates search display ads in AdWords that will show only to those email subscribers.
Step 5: When each of those email subscribers searches a keyword the spa is targeting, Google will display the spa's ad to that subscriber.
Step 6: The subscriber recognizes the spa's name or brand, clicks the PPC ad, and hopefully books a service!
Cool, huh?
Finding new leads can be difficult.
So use this double-punch approach to convert more of the leads you already have.
Let's run through how to create these retargeting audiences on Facebook and AdWords.
First, I'll show you how to re-target people on Facebook Ads using their email addresses:
Once you've clicked on 'Campaign,' click 'Conversions' under the conversions tab.
Next, navigate to the 'Audience' tab under 'Advert Set' and then click 'Create a Custom Audience.'
This will bring up a window giving you four options to create your custom audience. Click on 'Customer file.'
If you use MailChimp, you can import your email addresses directly. Otherwise, click on 'Add customers from your file or copy and paste data.'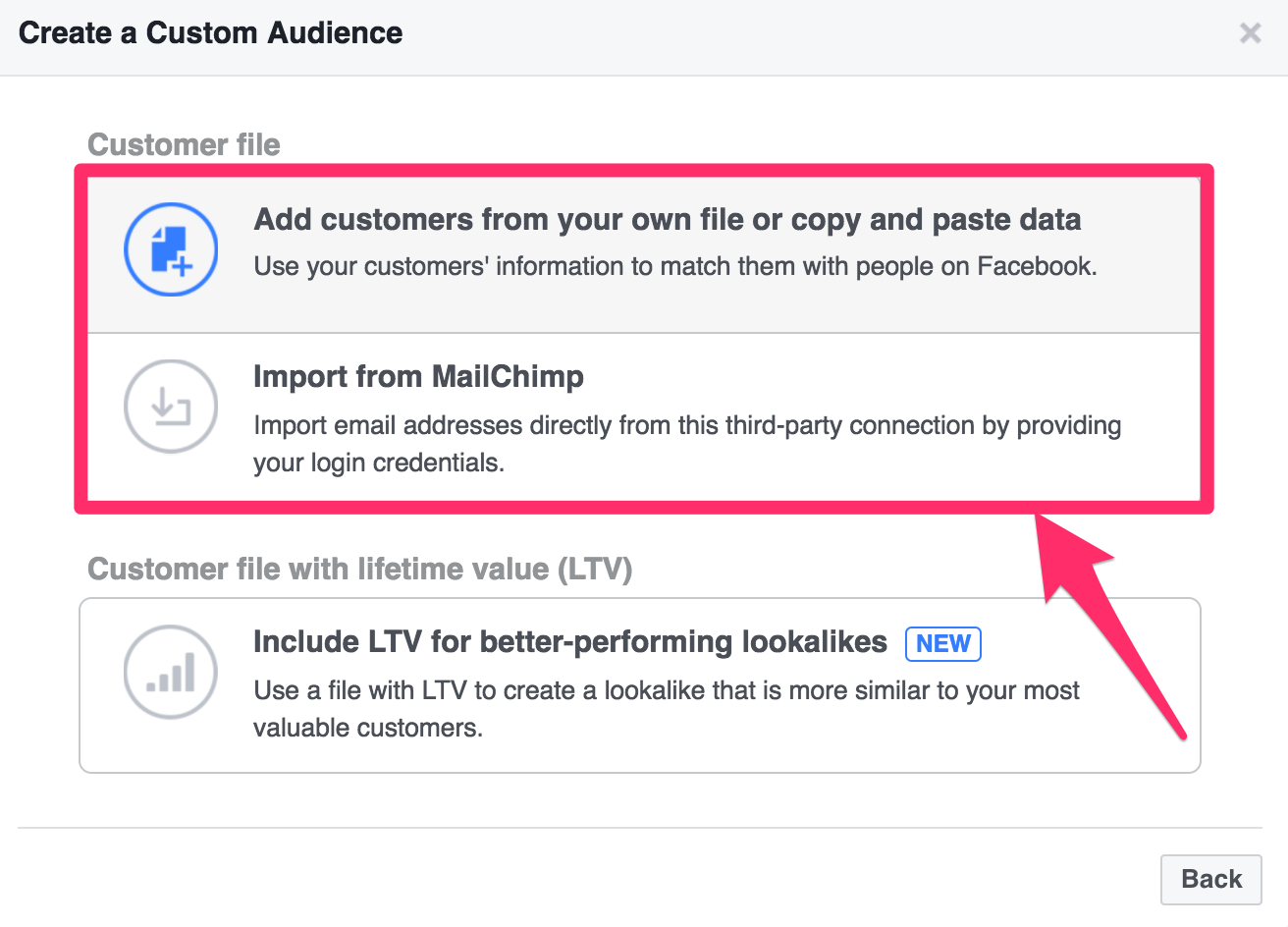 This will bring up a window that allows you to upload your email addresses as a CSV or TXT file.
Click upload and attach your CSV or TXT file. Then name your audience and then click 'Save.'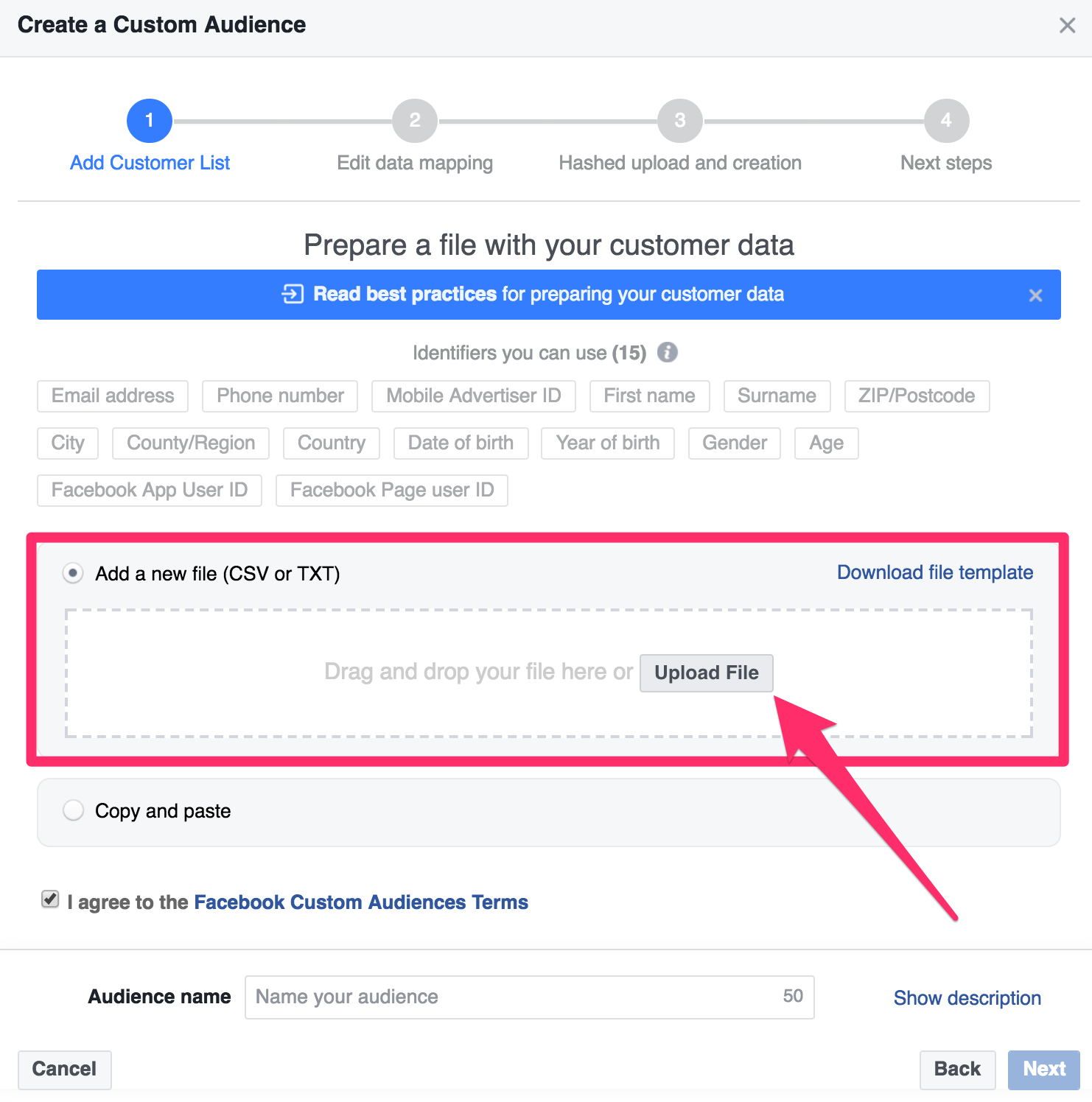 Now you have a separate audience you can use Facebook Ads to remarket too.
The process is similar on AdWords.
You'll also be glad to know that these email addresses do not have to be Gmail-only.
Google does their best to match non-Gmail addresses to users, and although they might not match every address, they do a pretty good job.
First, click on 'Campaigns' and navigate to the 'Shared Library.' Then choose your business type and click 'Set up remarketing.'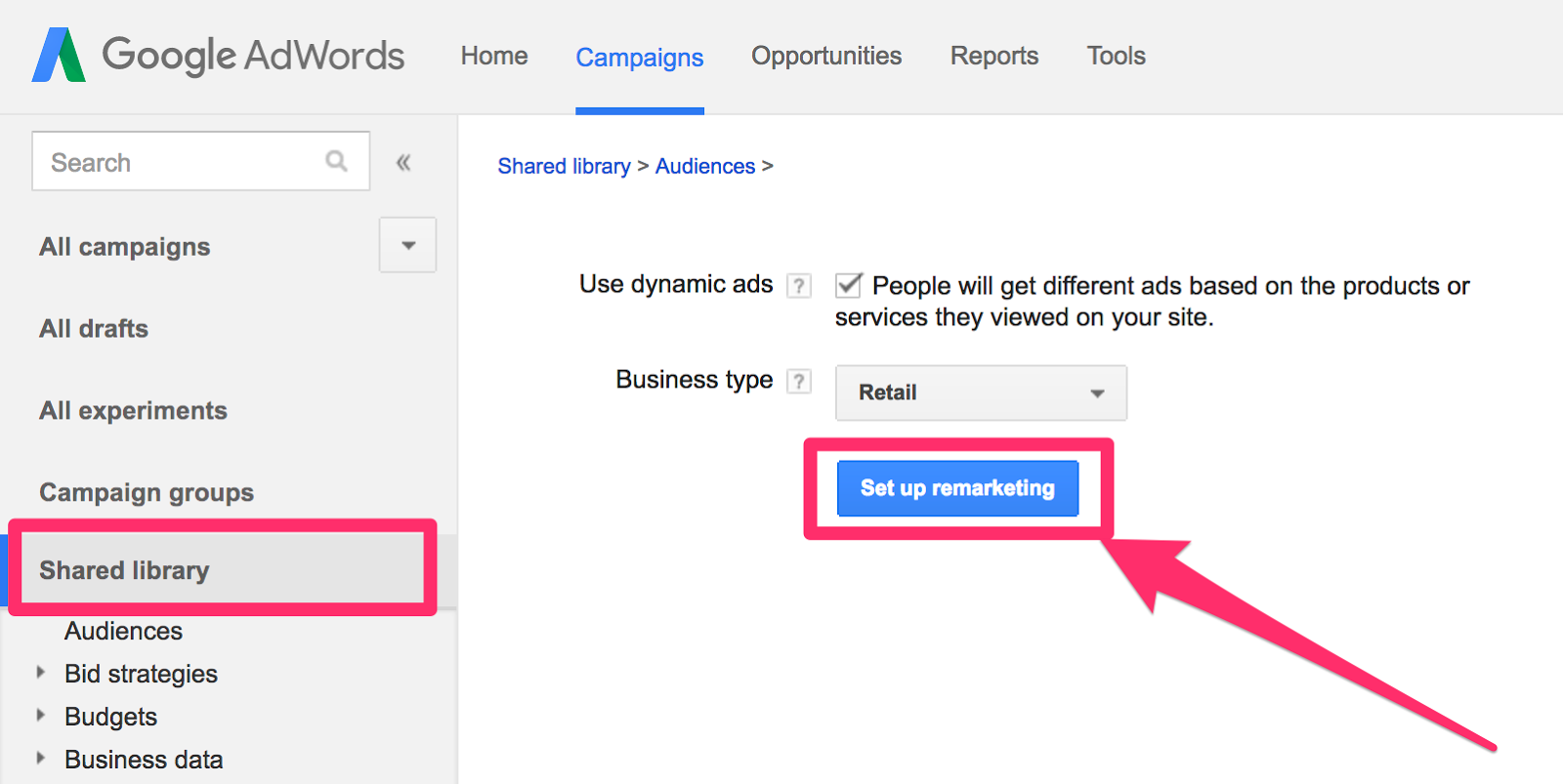 Next, Google will give you a window with four different audience options. Click on 'Customer emails.'
You'll be taken to a window where you can upload your email list as a CSV file. Note that you can only upload files of up to 5GB at one time.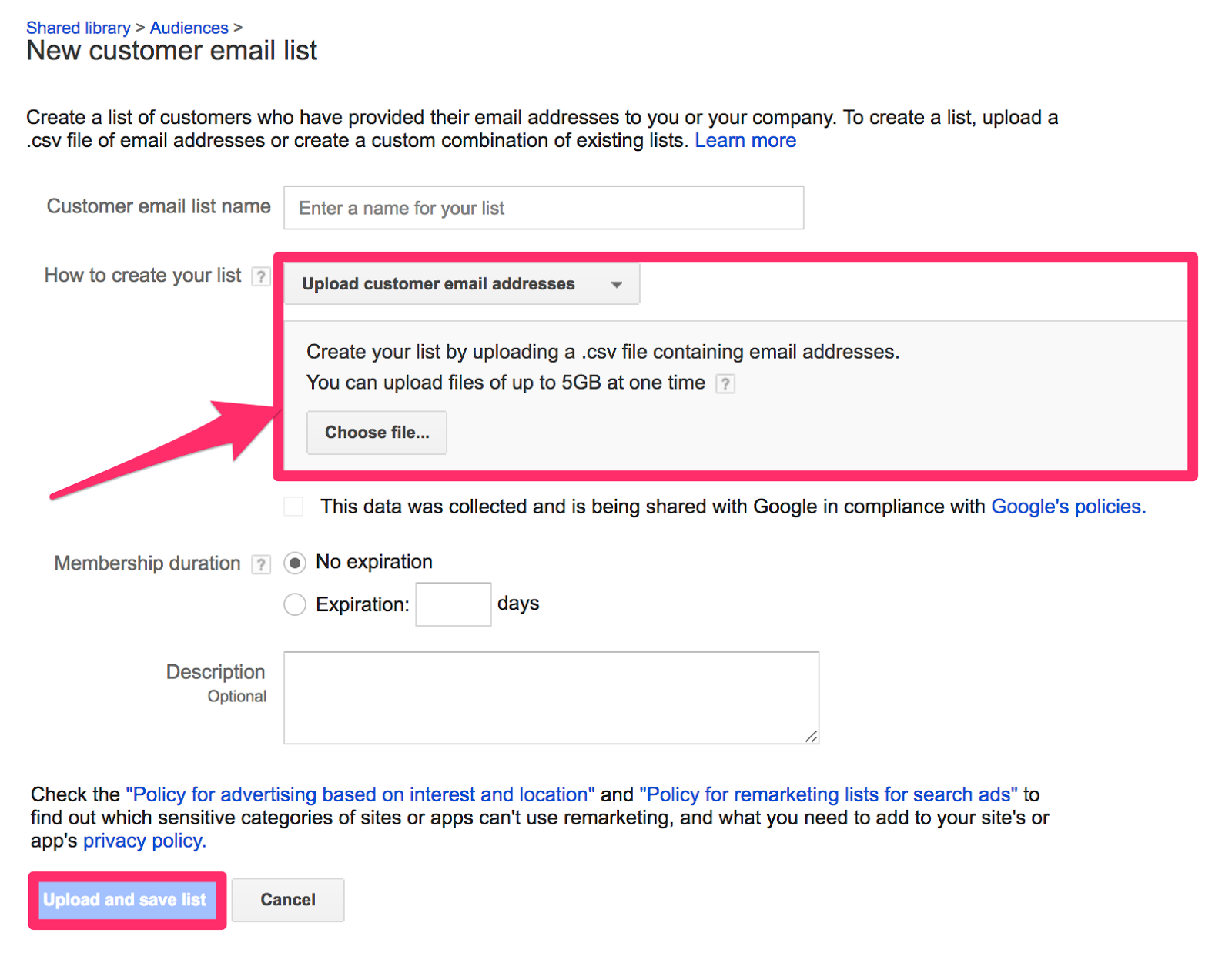 Once you've selected your list, give it a description and click 'Upload and save list.'
Since Customer Match ads only appear to these qualified leads, most advertisers are willing to pay more per click for them.
Why? 'The Rule of 7.'
These prospects have already been exposed to your offer before, so they're far more likely to convert than prospects who have never encountered your offer.
By retargeting prospects who have already come into contact with your offer, you'll increase the chance of them converting.
Use retargeting to capitalize on 'The Rule of 7' so you can close more leads. (hint: you can also edit PPC ads as well.)
3. Optimize for mobile
Running PPC ads on desktop alone won't cut it anymore.
Why?
Because more and more people are using their mobile devices to access the Internet.
According to official Google statements, more than 50% of the globe's search queries come from mobile devices.
A report from Hitwise argues that US mobile search accounts for roughly 58% of overall search volume.
And it's not just the majority of search that now comes from mobile devices.
A 2017 report from comScore shows the number of minutes spent online using mobile devices in different countries around the world:
Notably, Indonesia's mobile usage passes 90% of the minutes spent online!
Ecommerce is being dominated by mobile too.
53% of all orders on last year's Thanksgiving Day came from mobile devices, overtaking desktop for the first time ever.
And according to Mobify, this trend is set to continue, with mobile revenue overtaking desktop just in time for Black Friday 2017.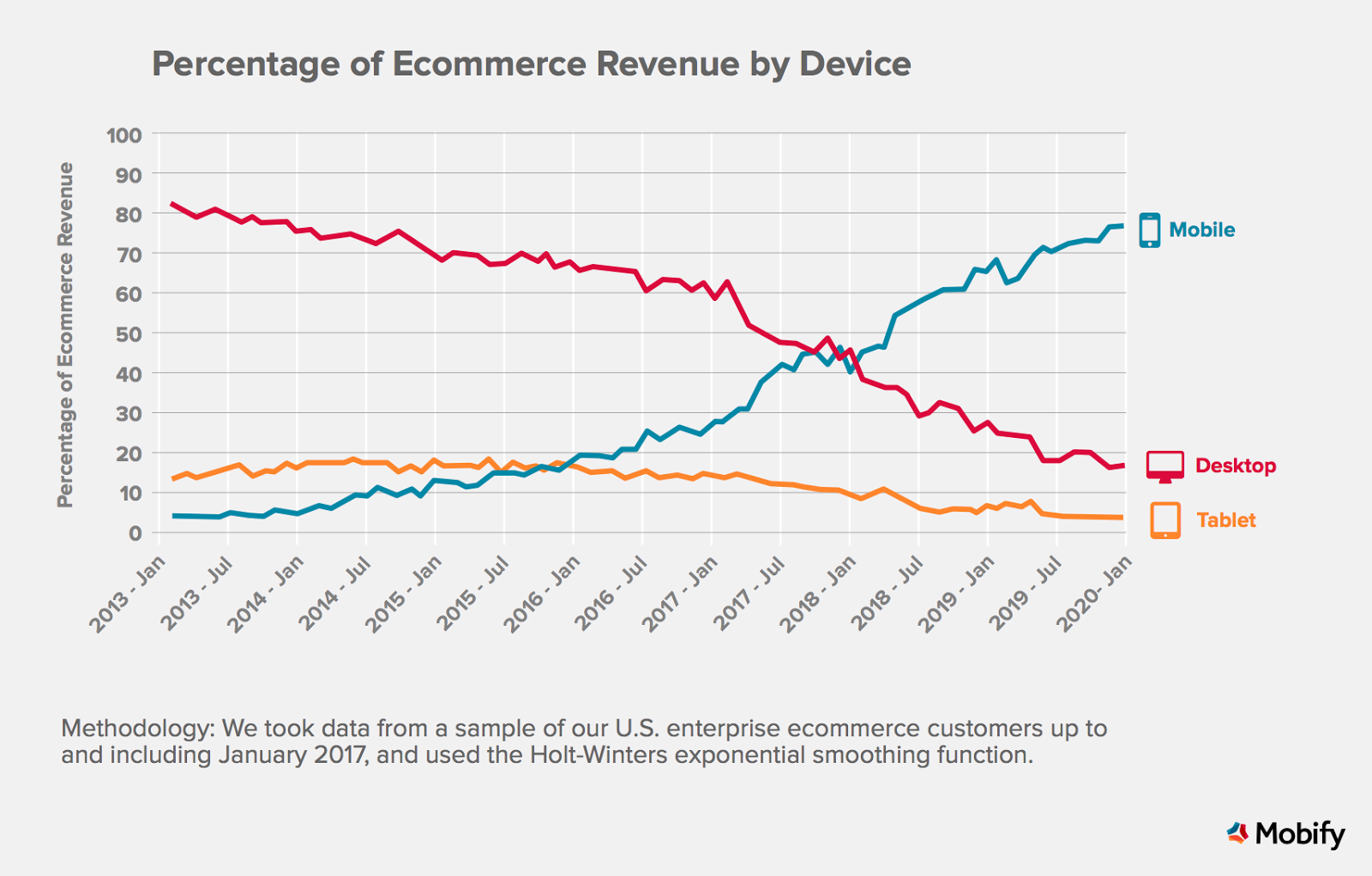 Mobify also goes on to predict that mobile ecommerce traffic will reach 70% by the end of 2018.
The world has gone mobile, and marketers are chasing the wave.
According to IAB's 2016 revenue report, mobile drove the nearly $6 billion year-over-year increase in search spend and surpassed desktop for the first time.
In other words, mobile device usage is almost the sole driver of growth in PPC advertising.
What does this all mean for marketers?
If your PPC ads aren't optimized for mobile users, you're missing out on a huge opportunity.
And according to Econsultancy, for every $92 spent acquiring customers, only $1 is spent converting them.
This is crazy.
You know I'm big on maximizing conversions.
So what can marketers do to capitalize on the tidal wave of mobile users?
Two things:
Optimize your PPC ads for mobile users.
Optimize your mobile landing pages to increase conversions.
By doing these two things, you'll put your business in a better position to capitalize on the surge of mobile users.
First, make sure you're taking advantage of 'Click-to-call' on your mobile ads.
This feature lets searchers click your number to immediately connect with you on the phone.
This is vital when you remember that the average attention span has fallen to 8 seconds.
Here's how you add a click-to-call extension to your ads in Google AdWords:
First, select "Call extensions" in the drop-down menu of different extensions and then click on '+ Extension.'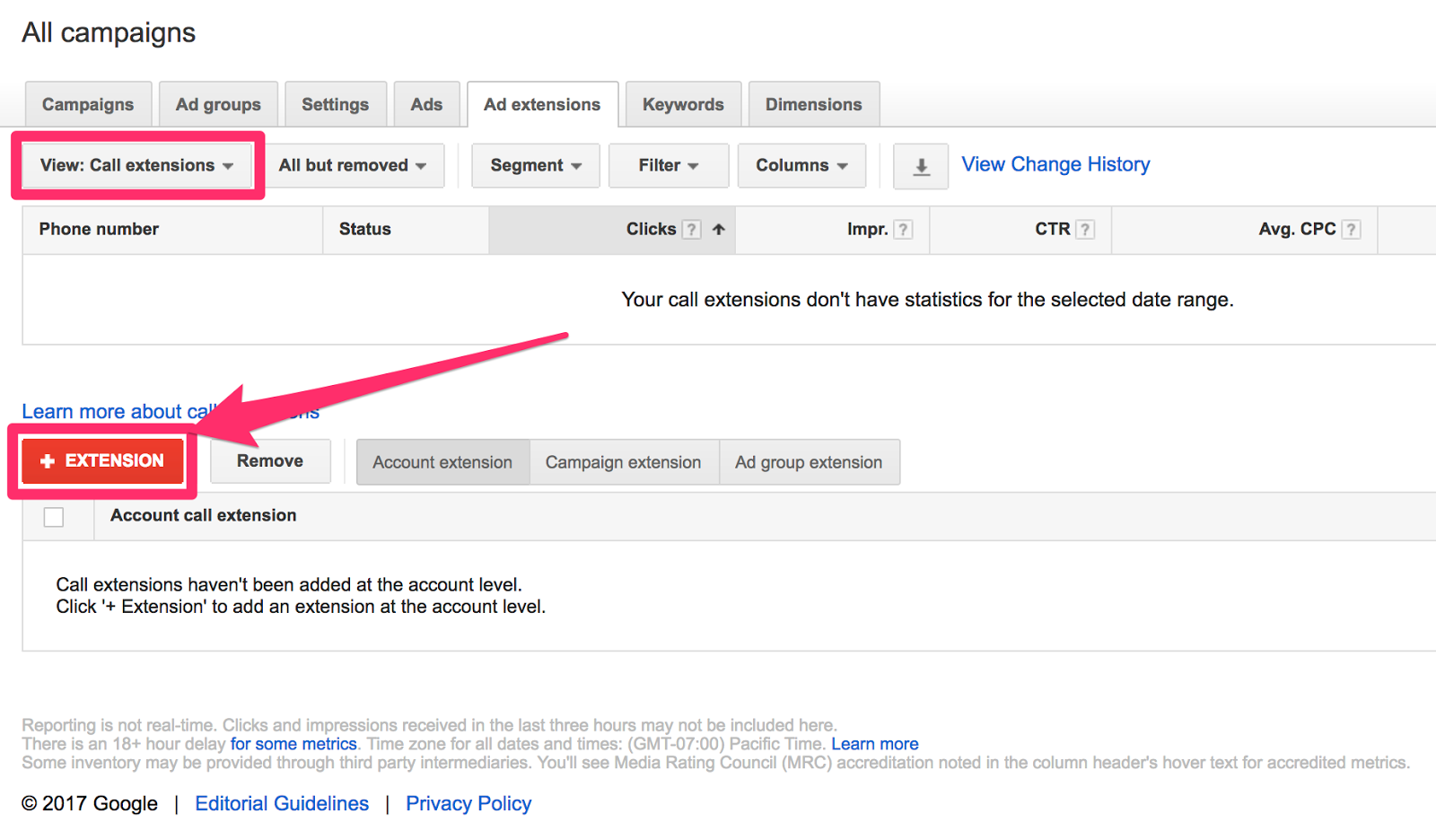 Next, you need to add the phone you want people to call when they click the ad's CTA.
Go ahead and click '+ New phone number.'
This will bring up a smaller window which allows you to add your phone number.
Once you've entered your phone number, be sure to check the 'Device preference' for mobile and then click 'Save.'
The end result will look like this:
By adding a click-to-call extension to your Google PPC ads, you'll give searchers the option to reach out immediately to connect with your business—and in turn, you should see an increase in conversions.
Next, you'll want to optimize your mobile-landing page.
According to Econsultancy, only about 22% of businesses are satisfied with their conversion rates.
But there's no point paying a ton of money on PPC ads to get people to land on your site if they're not converting.
Still, companies that structure their approach to conversion optimization are twice as likely to see a large increase in sales.
So you need to make sure you're maximizing your mobile-conversion rate to boost ROI.
Let's run through some tips to optimize your mobile landing pages now.
Of course, all of your landing pages should be responsive and load extremely fast.
Here's Squarespace's responsive landing page on desktop:
On mobile devices, you don't have as much space. So notice how their mobile landing page is simpler and more concise: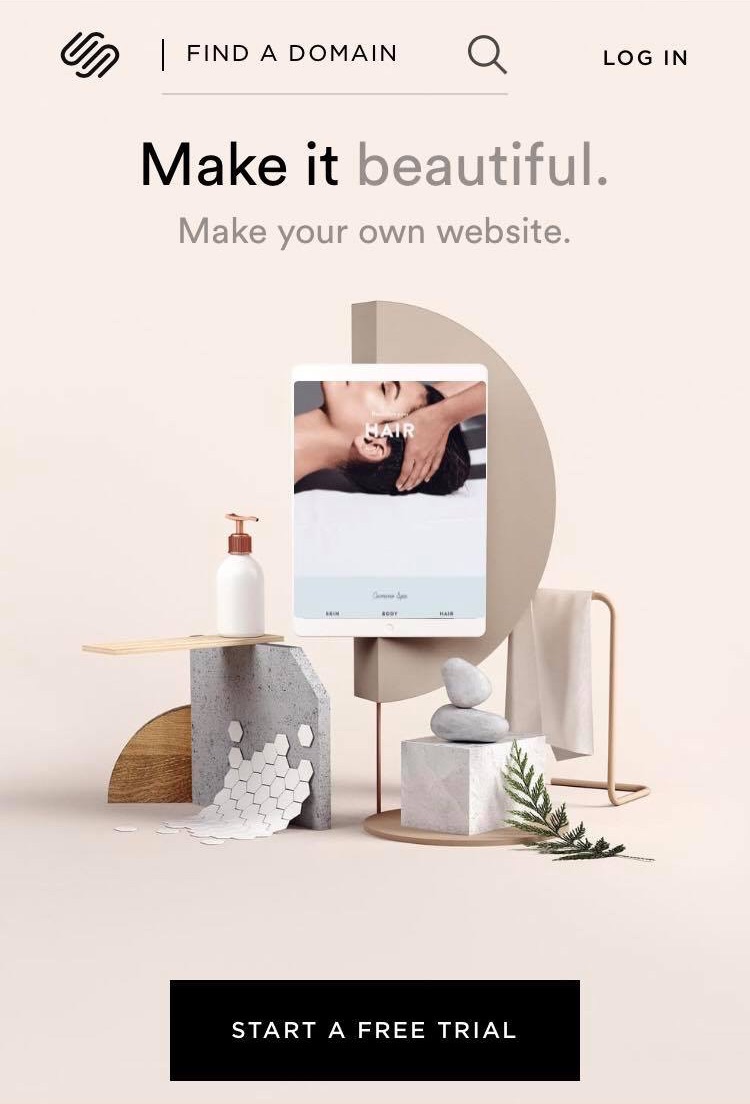 The most important part of a landing page is the call-to-action.
The CTA is how you get visitors to take action and lead them to become your customers.
Don't confuse visitors with more than one CTA.
Your single CTA should be clear and concise.
And if you're collecting information from customers, make sure there's only one field available.
This makes it easier for the visitor to complete the action you want them to take.
Remember, the more difficult you make it for the visitor to take action, the less likely they are to do so.
Lastly, make your CTA button the whole width of the screen on smartphones.
This makes it easy to see and click, increasing the chance the visitor will convert.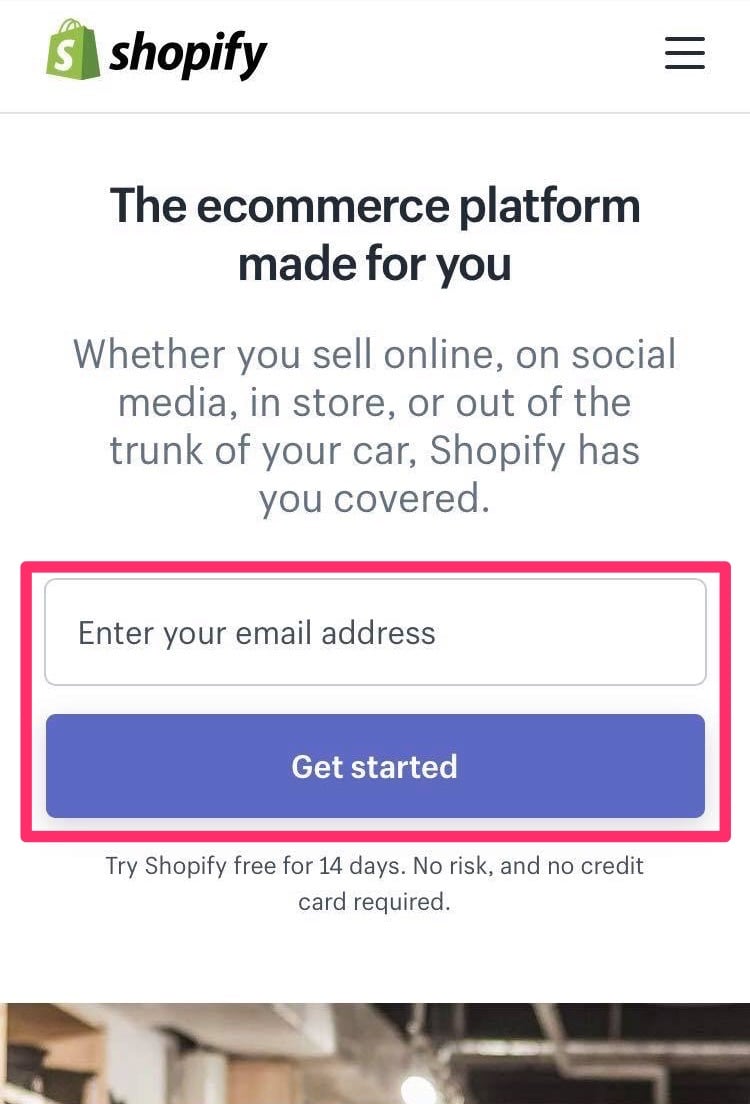 Anyone who neglects to optimize their PPC ad campaigns for mobile devices will quickly find themselves left behind.
Make sure you capitalize on the surge of mobile use by implementing these tactics.
Conclusion
Consumers are bombarded with thousands of ads a day. While at the same time our attention spans are shrinking rapidly.
So marketers need to fight hard to stand out and capture the consumer's interest.
PPC advertising is an incredibly effective way to land new customers—if used to its full potential.
So take your PPC game to the next level by adding extensions, optimizing your PPC campaigns for mobile, and retargeting to people who've already shown interest in your offer.
These improvements to your ads will help you stand out among your competitors, improve the customer's experience and increase your conversion rate.
PPC isn't a marketer's dream. It's a reality. You just have to seize it.
What are some other PPC tactics that have worked well for you?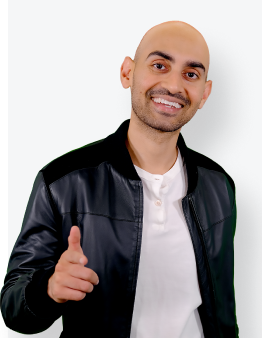 See How My Agency Can Drive More Traffic to Your Website
SEO - unlock more SEO traffic. See real results.
Content Marketing - our team creates epic content that will get shared, get links, and attract traffic.
Paid Media - effective paid strategies with clear ROI.