The first rule of blogging is "Know your audience."
After all, if you don't know who your ideal customer is, there's no way you can appeal to them. Knowledge of your target audience is a step towards creating custom blog posts for them.
These days, custom content is what your customers prefer.
But knowing your audience is not enough. You also must get acquainted with their behavior. According to Tony Zambito,
Understanding how buyers interact with people and businesses has become essential to modern marketing success.
So, assuming you already know your audience, how do you then create the right content for them? How do you go about writing blog content that will knock the socks off of your readers and rank highly in Google, without surveying each and every one of those readers?
If you're tired of the old system that relies on sending surveys to your target audience in order to know what blog topics they'd like to learn more about, then this guide is for you. You'll learn first-hand how I've been creating top-notch content that generates 100+ valuable comments several times a week.
The future of marketing is human-centered. Without this focus, you're just contributing to the noise. But, those who approach research, writing, marketing and sales from the user's perspective will always thrive.
The human-centered content approach relies heavily on 3 important factors: people, business and technology. When you integrate each of these factors into content marketing, you attract more leads and sales than you can imagine.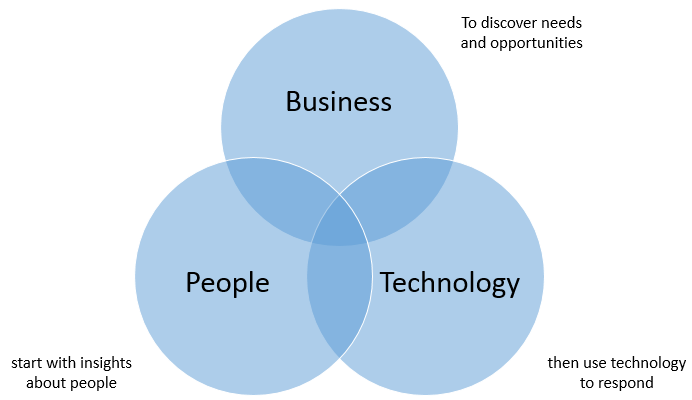 When it comes to writing blog posts that will truly help people, you've got to gain insights about the people that you're speaking to.
If you're ready to create human-centered blog content that'll engage people and rank well in search results, the 6 tactics below will help. 
Tactic #1:  Collect User Behavior Data With Google Analytics
If you want to create better content that users will find helpful and relevant, you need to collect user behavior data from Google Analytics. Since Google has made its Google Analytics tool-free, there's no reason to ignore it in your content campaigns.
Companies that have been using Google Analytics to track website visitors, set up goals and conduct experiments have seen tremendous results in organic traffic, search rankings and sales.
For example, Learning Care Group, a North American child care organization, used Google Analytics to analyze three major aspects of user behavior:
Conversion rates from specific parts of the website

Conversion funnels using particular content

Bail-out rates for different types of visitors
Google Analytics allowed Learning Care Group to determine specific traffic proportions, conversion rates and the cost per conversion (CPC) from different marketing channels.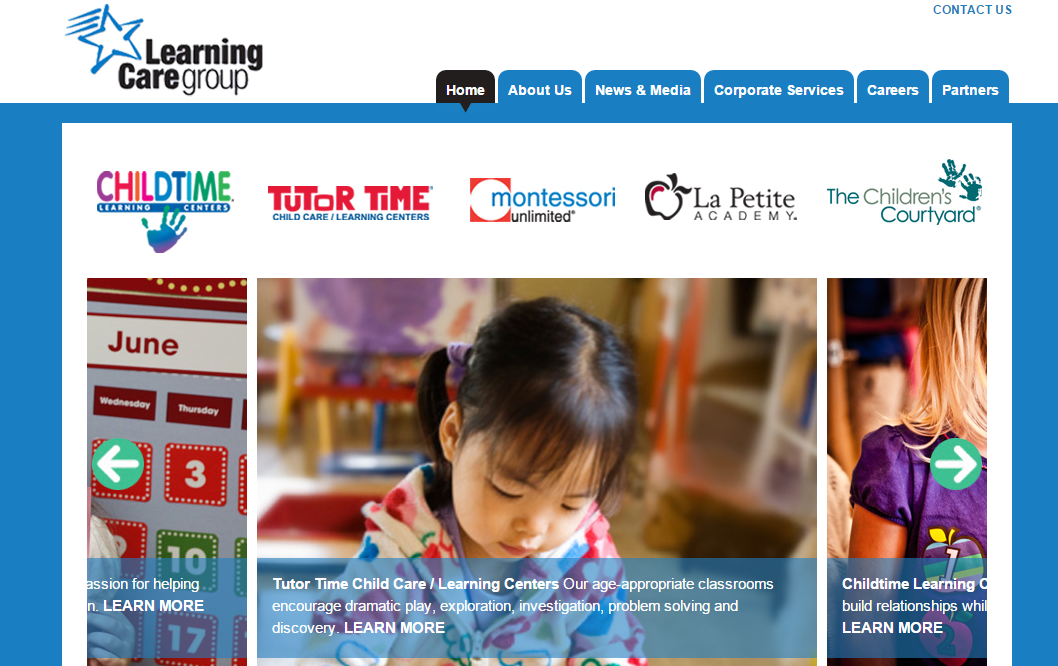 One powerful benefit of analytics that I see is that it shows you where your site visitors are coming from. When you know this, you'll be able to target your audience with the right content.
Google Analytics also reveals how your visitors found your site. You'll be able to see whether people are coming mostly from search engines, like Google, or from social media networks. More importantly, you get to see active visitors on your site in real-time.
To generate better leads and increase your revenue through content marketing, you've got to know what your audience wants. You can't just create any piece of content you like and expect people to read it. That content must be something they're interested in or have asked for.
If you're ready to produce relevant and useful content that will engage potential customers to buy your product, then you're not alone.
To gain a better understanding of effective content, let's collect some user behavior data from Google Analytics:
Landing pages: This is a report in Google Analytics that shows you where visitors are entering your site from. Knowing which content is attracting the most visitors is critical, because it tells you what those people are interested in.
To locate your landing pages after you've logged onto your Google Analytics account, follow this path:
Behavior  >  Site Content  >  Landing Pages: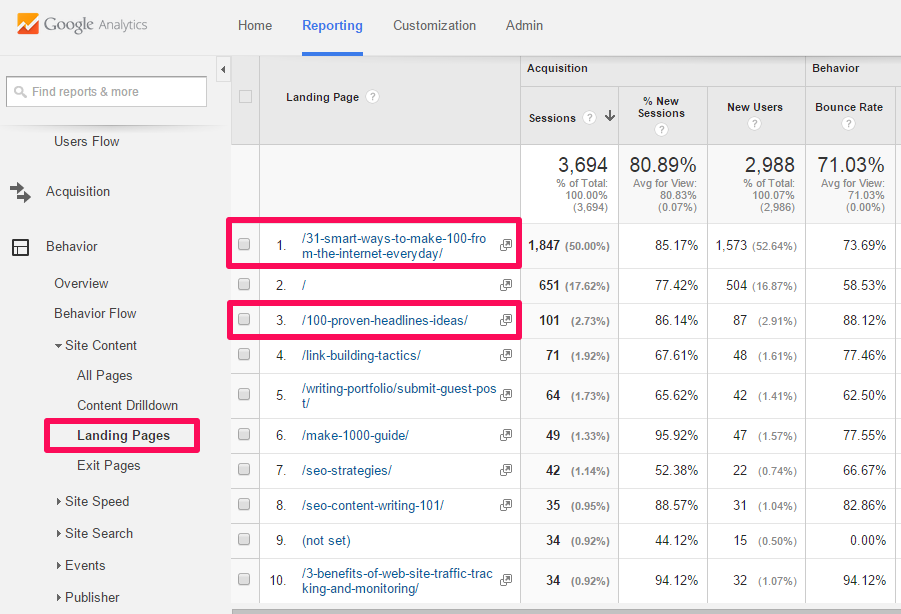 Why is the landing pages section so important to writing content that appeals to humans, not search engine robots?
For example: Let's say that you write about internet marketing and related topics like email marketing, list building, SEO, outsourcing and conversion rate optimization. And, when you check your Google Analytics for the best performing content, you discover that a majority of your visitors enter the site through the "list building" content pages.
This tells you that you might want to produce more useful content pertaining to list building.
Remember that people who enter your site from any landing page are human beings whose needs are defined when they visit your site. They've got questions and they want answers from you.
A vital step to take is to optimize your landing pages for conversions. Make it easy for your site visitors to navigate from the landing pages to the rest of your site.
In the landing page screenshot above, you'll notice that two URLs outperformed the others, based on the number of sessions. In other words, the number of people who view these pages is greater than those who view the other pages.
The first web page is for an article that talks about "smart ways to make money online," while the other one contains a swipe file of 100 clickable headlines.
From these two landing pages, it's easy to see what the target audience wants: content that'll help them make more money from their business. They also need help creating headlines that will attract and retain customers.
However, a particular piece of content may appear in the landing page report, not because it's significantly more useful, but because of the promotion that went into it.
For example, if you optimize a particular page of content with long-tail keywords and build authority links to it, it'll eventually rank higher than other pages on your site. Consequently, it'll generate the most organic traffic.
To be certain that your landing pages aren't just channels through which people enter your site, but are actually providing useful content, you need to monitor your bounce rate.
Bounce rate: Another way to collect user behavior data is to study your bounce rate, especially the bounce rate of your landing pages. A high bounce rate is an indication that your visitors aren't satisfied with your content.
There's no one rule that's applicable to all sites as to what your bounce rate should be. But, every industry has a standard. Your task is to work consistently at reducing your bounce rate.
In a nutshell, if your landing pages' bounce rates are too high, then it means that you have an opportunity to improve and optimize the content. Maybe you should update outdated information on the page, or simply format the content to  better suit your audience.
Still using the Google Analytics landing pages screenshot above, let's see what the bounce rates are, keeping in mind that they fall into the "content websites" industry – where we expect a standard bounce rate of 40 – 60%.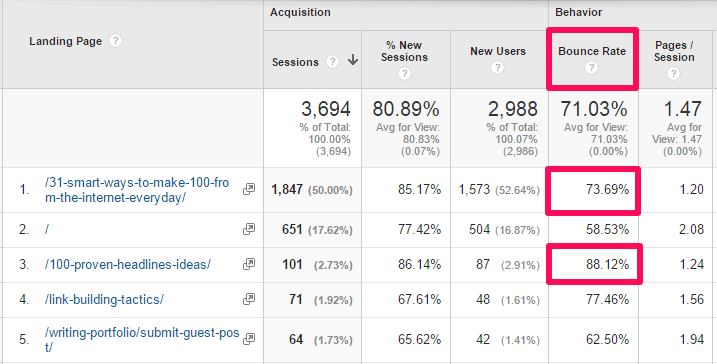 Looking at the analytics above, you can see that the bounce rate for the best performing landing pages are too high – 73.69% and 88.12%, respectively.
So, how can this help you create the right human-centered content that Google will also love? Pinpoint the exact keywords (search terms) that people are using to find your web pages in organic search, then use them to research your competitors.
iii).   Search terms: It's very difficult to know a customer's intentions just by looking at them. Even if you survey them, a lot of them will be biased in their responses. But, through the keywords they type into a search engine, you can tell exactly what they want.
When you identify the keywords that people use to find information like yours in the search engines, you can piggyback on that data to produce a variety of engaging content, something the majority of B2B marketers struggle to create.
If you discover that the Total Unique Searches for a group of keywords (search terms) are significant – say, up to 1000+ each per month – you may want to integrate those keywords into your content. Better yet, research the long-tail keyword variations and use them in your content.
For example, let's find long-tail keyword variations for "golf cart rentals."
Log in to your Google Ads Keyword Planner account. Then, plug the seed keyword into the research box.
Scroll down and click the "Get ideas" button:
Next, click the "Keyword ideas" tab to reveal the search terms: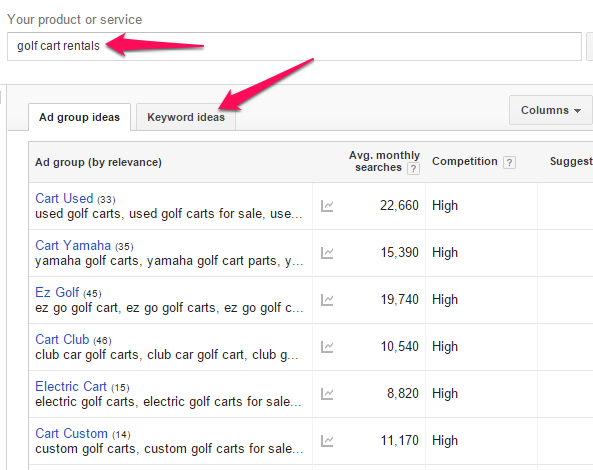 Finally, you'll see the long-tail keywords that you can target in your content, which will help you improve your organic traffic.
Note: It's important to include a long-tail keyword when creating your titles, because you may not have the opportunity to do so in the body – at least, not in a way that flows naturally with the rest of the content. Trying to force them into the content could result in a Google penalty for your site.
Google still uses keywords as one of its ranking factors, but over-optimization and keyword stuffing will put your site at risk. To be on the safe side, add the keyword in the title of your content and focus on the user intent in the body.
With that being said, let's use some of the long-tail keywords from our example, so we can craft irresistible headlines:
Yamaha Golf Carts: The Ultimate Buyer's Guide

The Top 10 Gas-Powered Golf Carts That'll Make You Scream

Where to Find Reliable Yamaha Golf Cart Dealers in the U.S.
Note that in the titles above, the search terms are bolded.
These titles will appeal to the target audience and also draw search spiders in because they're well-optimized with relevant keywords.
Additionally, the titles are consistent with the user intent, because those who searched for "Yamaha Golf Cart Prices" are definitely ready to buy. They're just looking to compare prices and deals. Hence, a definitive buyer's guide will do the trick.
Collecting user behavior data from click-throughs, bounce rates, landing pages and search terms is a sure way to create a human-centered blog post that'll grow your customer base.
Rooms to Go, a home furnishing retailer, collected user behavior data by monitoring the click-through rate, search terms, bounce rates, and other user behavior metrics in the premium version of Google Analytics.
The company also extracted raw, visitor-level data about items purchased online. And, they performed statistical data mining to find products often purchased together.
The result was a radical simplification of the consumer shopping experience where they offered completely-designed room packages. The company was able to produce actionable insights quickly.
They also saw the opportunity for an expanded functionality to increase sales of accessories and coordinating products, which also improved the user's experience.
Whether you're a B2B or B2C marketer, get familiar with your Google Analytics. It gives you access to metrics and user behavior data that'll help you create content your users will appreciate.
Further study guides:
Tactic #2:  Leverage Human-Centered Design to Meet User's Needs
Frustrating, isn't it?
You spend hours writing another blog post and you're not sure anybody will read it. You don't know whether it'll attract traffic or just collect dust on your blog.
And, the angst doesn't stop there.   Let's say that your content attracts people – will it then engage and convert them into customers? After all, at the end of the day, increasing your revenue is what you're after, not some vanity metric like page views or social shares.
If you want to ensure that your content isn't a digital dust-collector, embrace human-centered design.
So what's human-centered design all about?
According to IDEO.org, user-centered design is a creative approach to solving problems for your users.
This approach is powerful, because it starts with the target audience (people you're designing for) and ends with solutions that'll appeal to their specific needs.
The big question to ask if you want your content to revolve around your users' needs is, "What is my ideal customer's persona?"
Buyer personas embrace the big picture – how people behave, how they talk, what they need and how they make decisions.
To identify the needs of your ideal customer, fill in the blanks about their qualities, characteristics and goals. For example, here's a typical blank buyer persona for a busy mom:
An understanding of the buyer persona will give you a significant advantage over your competition. It allows you to tailor your blog content to suit the customer's needs – and they'll thank you for that.
Start by knowing your audience demographics.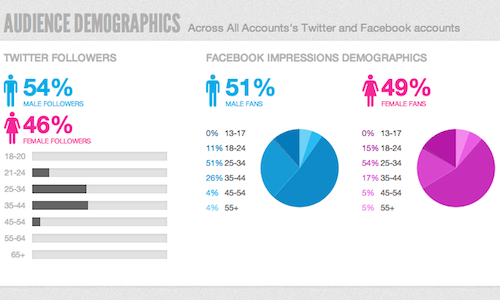 Are your users predominantly male or female? Have they graduated from college? Do they have advanced degrees or a high school diploma?  How old are they? Are they married or single? All of these factors are important when developing a reliable buyer persona.
To be certain about your audience demographics, follow these simple steps:
Step one: Go to Alexa.com. On the homepage, plug your blog URL into the search box. Click the orange "Find" button:
Step two: Analyze your audience demographics. After you've clicked the "Find" button, you'll be presented with a page containing your site statistics. Scroll all the way down and you'll find your audience demographics:
Alexa pulls data based on the site's history, so  you can trust the results. From the above screenshot, you can see that "thesaleslion.com" has a targeted audience consisting mainly of college graduates. These people visit the site from work and home; only a tiny percentage visits the site from school.
Interestingly, the audience is made up of more females than males. If Marcus Sheridan, the blog's founder, can speak more effectively to his female users and address their specific concerns, he can more easily create engaging content that will drive more purchases.
Here's the breakdown of the buyer persona:
Audience:

female

Academic level:

university or college graduate

Browsing location:

work, home

Audience geography

: India, United States
However, when creating content based on human-centered design, you've got to also consider the things we can learn from Kraft's content marketing cycle.
This cycle is divided into two equal parts. The first part focuses on understanding the customer, while the other part is concerned with engaging the customer.
If you want to understand your customers, here's what you've got to do:
Collect data: Just by knowing your audience demographics, you get a large amount of data that you can use to create engaging, high-ranking content that will rank highly in Google. That's because the data answers the question, "Who is my audience?"
You can also collect useful audience data by researching the keywords that they search for on Google and by studying the questions and comments they post on discussion boards. And, don't forget to collect data from surveys, polls, contests and blog comments.
Here's an example of forum threads with viable blog post ideas that also contain data you can analyze and use in producing your content:
Analyze the data for insights: Data analysis in this context simply means evaluating the data that you have for relevancy and accuracy.
There are many benefits to data analysis. Analysis essentially provides a filter by which you can more tightly focus your efforts.
For example, one of the threads above has a subject of "calisthenics vs. weight lifting." If you're in the fitness and health niche, your question then becomes "Which of these topics will resonate with my customers more and why?"
At the end of the analysis, you should come up with more precise insights that'll help you create an insanely useful blog post that both your readers and Google will love.
Extract what is useful: This is where it gets interesting. After you've analyzed the data, you'll be left with ideas about your customers – who they are, what they want, what they need and what motivates them. This is exactly what you need in order to craft clickable headlines and blog post outlines.
Here's what comes next, after you've boiled down your data to actionable insights about your ideal customers:
Plan content around insights: If you discover during the data analysis that your target audience cares about advanced topics like email segmentation more than basics such as list-building, then you should focus on giving them what they want – regardless of whether it's what you want.
Create content for the customer: Don't try to impress the customer. Instead, focus on expressing your worldview with passion. Everybody has a worldview. As long as you can address a specific problem clearly, your blog content will make an impact.
Distribute and promote: You already know how to do this. You can promote your blog content in social media networks (Facebook Groups, Twitter, LinkedIn, Quora, etc.), to your audience.
To make the maximum impact, you've got to develop a content strategy that revolves around human beings. Don't try to game the search ranking algorithm in any way. Write solely to address your users' needs.
Tactic #3:  Tease the Target Audience with Hints on What's to Come
The power of expectation is a key element in manifesting your desires. If this is true, then it means that giving your audience hints on what's to come can actually get them excited.
Expectation can work in your favor or against you. For example, the thought of visiting a dentist could induce anxiety.  You can almost hear the drill making contact with a tooth.
In that example, the expectation is negative. But, what about the positive expectation that makes your audience eager for your next blog post?
You can get more people on your list just by showing people a sneak peek of what's to come.
How can you ensure that your blog post evokes an honest emotional response and persuades readers to take new action?
I use the power of expectation in my blog posts. I've found it's the easiest way to build awareness and anticipation, keeping my readers waiting for my next post.
In my update on the $100,000 Challenge, I concluded the post by building up the reader's expectation:
Expectation and anticipation can increase the desire to read your blog posts, even if your readers originally planned to skim.
As simple as it may seem, warming your readers up to a future event, product launch, blog post or email can put you on the path to content marketing success.
Tactic #4:  Use Power Words to Influence Reader's Emotion
Skilled copywriters use power words to evoke a greater emotional response in readers. Skim through any piece of sales copy and you'll find a lot of power words included to keep you engaged.
People connect with brands that have engaging content. According to Business 2 Community, "68% of people spend their time reading about brands that interest them."
So what's the secret to engaging content? There are lots of effective techniques, but one of the most powerful is leveraging power words to captivate readers.
The reverse is also true. Titles with weak words will not compel people to click.
For example, when you visit authority news sites such as Mashable, Buzzfeed, Inc, Forbes, Upworthy and others, it's not just the article titles that made you click, but the power words in those titles.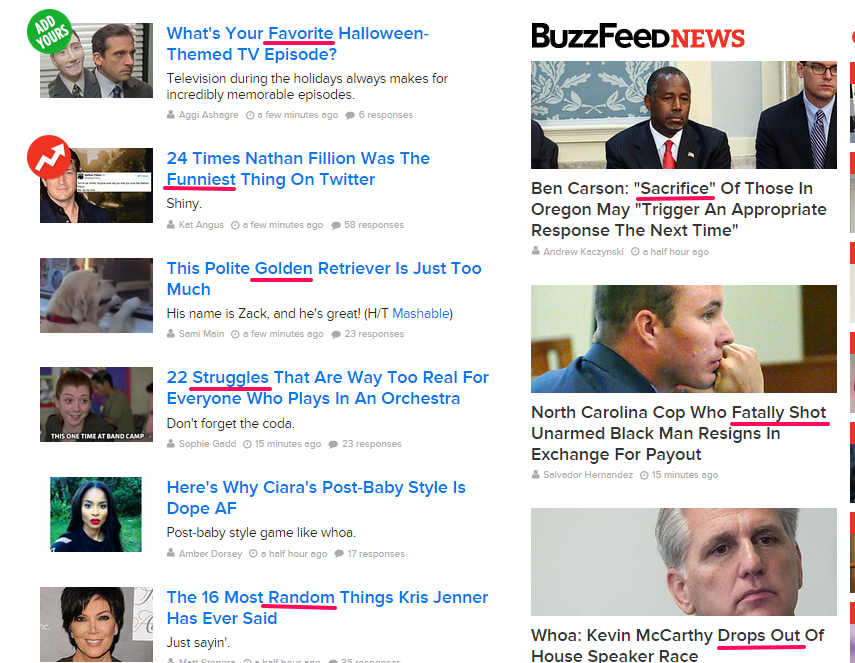 There are so many distractions online. The average human attention span is now 8 seconds.  If you want to grab their attention, you have to draw them in with power words, like these:
Bloody

Bomb

Crazy

Cripple

Crisis

Destroy

Gullible

Hack

Powerful

Smart

Magnetic

Sure-fire
Do power words actually boost conversions?
Let's consider a case study from our friends at Visual Website Optimizer. One of their clients, Scandinavian Outdoor Store, ran a split test to determine if little tweaks to their copy would increase conversions.
The test focused on the most important element in a copy: the headline, which simply read (in Finnish) "Men's Clothing."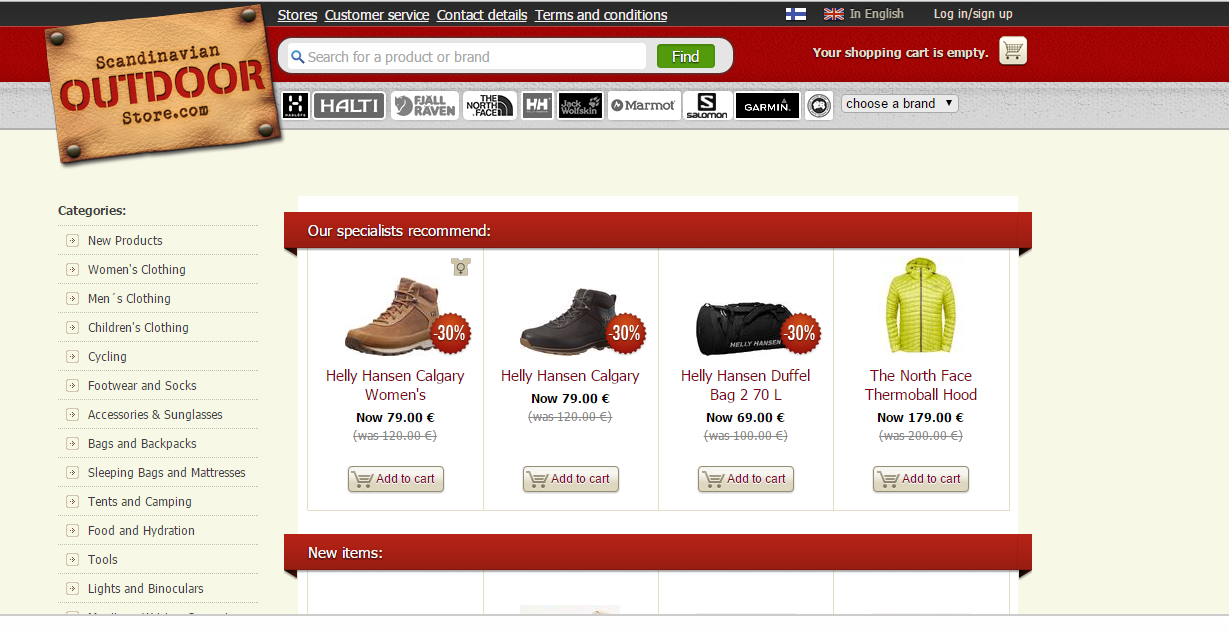 Just by integrating power words such as "easily," "bargain," and others, the company saw a boost in conversion rate of 127%.  
When you're writing blog posts or sending marketing messages to potential buyers and customers alike, you've got to choose your words wisely.
You can't afford to write your next blog post without integrating power words in the title, subheadings, paragraphs, and conclusion. And, depending on your industry, the power words you choose to use may differ.
For example, ecommerce writers/bloggers should include trigger words such as bargain, discount, savings, order, 50% OFF, guarantee, etc.
If you want to know more about increasing the clickability of your blog post titles, see the resources below:
Tactic #5:  Eliminate Unnecessary and Unrelated Details
You've got to learn to write clean. Because we're trained to write longer and more in-depth content, most bloggers add a lot of filler to their posts, instead of focusing on the meat.
The right content will drive sales for your business. One recent study found that content marketing costs 62% less than traditional marketing and generates about 3X as many leads.
Trust me, it's not an easy task to write in-depth content without adding fluff. But, when unnecessary or irrelevant details get in the way, the objective of the post gets lost. Don't let that happen to you.
Yes, I believe in the power of storytelling. But when your story has no connection with your topic, you've got to ditch the story.
At the end of the day, what makes a piece of content useful, practical and easy to read is good writing that solves a specific problem.
Write with clarity. Avoid using jargon or unfamiliar words that might scare the reader away. There's no need to repeat your keywords over and over. This could even get you into trouble. Instead, focus on what made the user search for a particular keyword.
For example, if you want to target "burn excess fat" in your blog post, you don't have to stuff this keyword just because you want to rank highly in Google. It doesn't work that way:
Blog post titles:
5 Simple Home Exercises to Help You Burn Excess Fat

Burn Excess Fat: 7 Foods You Should Run Away From
Don't introduce your blog post like this:
Are you looking for the best home exercises that will help you burn excess fat? If so, this post was written with you in mind. Many people struggle to burn excess fat, not because they've not been following the right diet, but because they're not disciplined. Discipline is all that you'll need, if your want to get rid of excess fat and stay fit.
The above introduction isn't useful to the customer or to Google. The writer was too focused on keyword repetition and not enough on providing the needed solution.
The version below is much better – it'll engage your target audience and convert visitors into customers:
You're here because you want to see a difference in your body. You're probably overweight and urgently need the right solution that can help you burn excess fat. If that's true, then you're not alone. Back in 2014, before my wedding anniversary, I had sleepless nights as a result of my weight. Fortunately, I discovered a simple home workout that works.
As you can see, the second version above still mentions the keyword – but only once. The writing flows smoothly and naturally.  And, storytelling is used to draw the reader into the rest of the article. It's that simple.
Blog content that's written in this manner will ultimately become an organic search magnet. People will love it, read it and show their appreciation to you by sharing the content on social media networks.
Tactic #6:  Paint the Big Picture Using Visuals
If you want people to spend more time on your content, add visuals. A study by HubSpot found that 90% of the information sent to the brain is visual. Images and photos are the most important way to optimize social media posts and drive engagement.
Visual marketing will be even more desirable in the coming years. As the human attention span for text-based content continues to dwindle, YouTube, Slideshare, Canva, Visual.ly and other platforms that produce and distribute visual content will increasingly dominate the market.
It's high time you begin to harness visual marketing. It has the capacity to bring new leads to your business.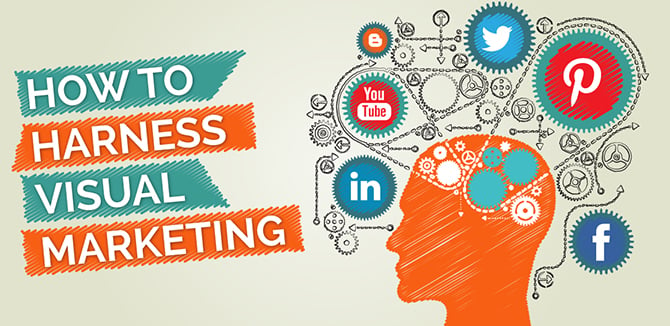 No matter what industry your business is in, using visuals to project the brand and core message of the business is highly effective. In fact, infographics have become a leading tool for getting authority links.
When using visuals – images, screenshots or pictures – for your blog content, you should endeavor to optimize images for search. That way, your images will gain high visibility in Google's image search.
Personally, I've seen the tremendous power of visual marketing. I create data-driven blog posts almost every day, and one that thing I do is find complementary charts, statistics, videos, and images and captured screenshots, that will drive the topic home and make it digestible.
Conclusion
Creating videos and valuable visual content is hard. But, with the help of modern tools such as Canva, Powtoon and the like, it can also be fun.
In all, human-centered content creation can help you get ahead of the competition. Most marketers are too busy tracking vanity metrics that won't help them grow their business.
People are naturally more attracted to content that speaks their language. Smart writers create content that will help others not only today but also in the future (evergreen).
The reality is that articles, blog posts, videos, podcasts, and ebooks are not necessarily what drives potential clients to your business.  These are content formats aimed at building trust and improving your brand recognition.
Even though I invested $30,000 to create my advanced guides, I still gave them away for free. And, trust me, I've made back my investment 20x since I published my advanced guides.
Similarly, you should endeavor to give away tremendous value in your blog content. There's no other way to prove your expertise and build your personal brand online.
Which of these tactics do you currently use to create user-focused content that your audience finds useful?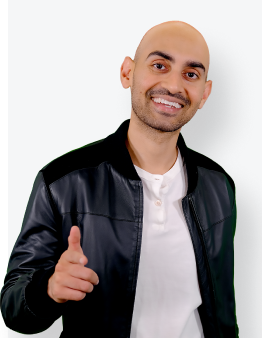 See How My Agency Can Drive More Traffic to Your Website
SEO - unlock more SEO traffic. See real results.
Content Marketing - our team creates epic content that will get shared, get links, and attract traffic.
Paid Media - effective paid strategies with clear ROI.
Are You Using Google Ads? Try Our FREE Ads Grader!
Stop wasting money and unlock the hidden potential of your advertising.
Discover the power of intentional advertising.
Reach your ideal target audience.
Maximize ad spend efficiency.