In April of 2019, Quicksprout updated a post with a great infographic on the state of SEO that illustrates how the field has evolved over the past few years in response to Google's game-changing algorithm updates and the steady rise of content as king.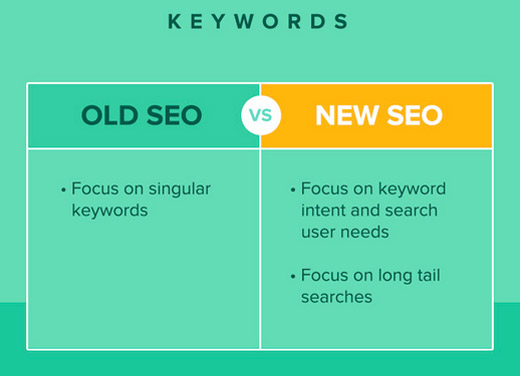 While looking over the infographic one thing, in particular, caught my eye: the importance that companies and agencies alike place on social media when thinking about their SEO strategy.
Back in 2014, Google's Matt Cutts (now with the US Digital Service) released a video saying that social signals––metrics such as Facebook likes and Twitter followers, which indicate a profile's authority and influence––do not affect search rankings.
This statement threw marketers for a loop; they had been operating under the assumption (understandably so––more on that below) that social signals were factored into Google's search algorithm as an indication of trustworthiness and quality.
Yet the results seem to show that while social might not be a direct factor, it certainly influences your SEO rank.
A 2018 study by Hootsuite tested the SEO results of articles with and without social promotion. Their results? Pieces with top social shares received an average 22% boost during the duration of the experiment.
For this article we'll dive deeper into what these conflicting views mean for the relationship between social and SEO. Plus, we'll learn how SEO-focused marketers are thinking about social media now that social signals are out of the picture, at least for now.
Let's start with some more background information on the dialogue around social and SEO over the past few years.
A Bit of History
As I mentioned above, Cutts' statement that Google does not look at social signals when determining the rank of a web page came as a big surprise to the online marketing industry. After all, in a video published in December 2010, Cutts himself said that social signals were a factor in ranking.
So you can understand why marketers were dismayed and a little annoyed when, three years later, Google told them nope, sorry guys, we actually don't look at that stuff right now.
Yet now, years later, does the evidence show that Google is once again using social media signals for rankings?
I dove into researching this subject and identified 5 key things every marketer should know about how social media impacts SEO in 2019 and beyond.
My research also left me with a few questions, which I mention throughout the post; I'd love to hear your thoughts in the comments below!
5 Things to Think About When Considering The Impact of Social on SEO
1. Social Links May or May Not Boost Your Search Rank
OK, social signals pertaining to a profile's authority are out, but does Google consider links published on social accounts to be credible backlinks? When a blog post goes viral on Twitter, do those new links boost the post's search ranking?
While Cutts' 2014 video is crystal-clear about the absence of social signals from the search algorithm. But he does say that Google crawls social websites for data in the same way that it would any other site:
Facebook and Twitter pages are treated like any other pages in our web index, and so if something occurs on Twitter or occurs on Facebook and we're able to crawl it then we can return that in our search results.
In the years since, Google hasn't said much else on the matter.
Yet research seems to show that social helps SEO rank. Research published by Optinmonster in 2019 concurs with the 2018 Hootsuite study—social popularity helps rankings on Google.
This leads me to think that while the authority of a social account doesn't impact search rank, links published on social media could be marked as credible back-links and thus influence a page's rank.
To better understand the social reach of specific pages of your website, here's what you should do:
Step #1: Visit Ubersuggest, Enter Your URL and Click "Search"

Step #2: Click "Top Pages" in the Left Sidebar

Step #3: Review the Results

For the sake of this article, we're most interested in the final two columns. It's here that you'll see the number of social shares on Facebook and Pinterest. And as you can see, my top traffic pages all have strong social reach on these platforms.
For example, "Affiliate Marketing Made Simple" gets approximately 366,000 visitors from Google each month. While the number of backlinks to the page is extremely important, could it also have something to do with the number of social shares?
If there are any SEO experts reading this, I'd love for you to chime in below in the comments, sharing your thoughts on the impact of social shares on search rankings.
2. Social Media Profiles Rank in Search Engines
While social shares may or may not affect a web page's position in search listings, your social profiles definitely influence the content of your search results. In fact, social media profiles are often amongst the top results in search listings for brand names.
When I searched "General Electric" in Google, the company's Instagram and Pinterest profiles appeared as the 5th and 6th listings, respectively, and Twitter was the 8th result.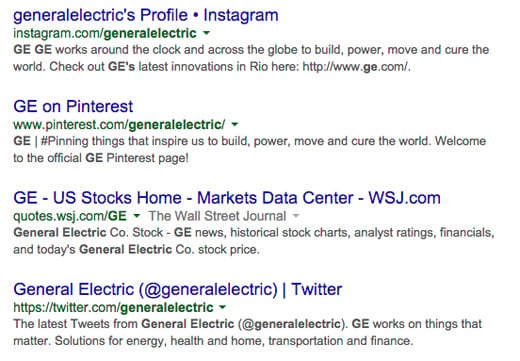 Social channels can feel more personal than web pages, and they're a great way to get a sense of a company's personality off the bat. When I'm researching a company I don't know much about I typically go straight to their Twitter or Facebook page.
So if a social account shows up at the top of the search results, I'm just as likely to click on it as I would be to click on their website.
Takeaway: There's no doubt that your social profiles matter to Google and especially to people who are looking for you online. A few active social channels can make the experience of getting to know your brand online more fun, engaging and personal. As such, it pays to have profiles with up-to-date info and engaging content.
3. Social Media Channels Are Search Engines, Too
Nowadays, people don't just go to Google and Bing to look stuff up; they also use social media channels to find what they're looking for. Patel makes this point in his article on why social is the new SEO: "We need to understand that search engine optimization includes the search that happens on social media search engines."
This works in a couple of ways: First, if you're active on Twitter, it's entirely possible that people will discover your company's new content distribution app after searching for content marketing-related tweets with Twitter's search engine.
Likewise, brands that lend themselves to beautiful visual content can benefit from making their content visible in Pinterest and Instagram by using hashtags and properly categorizing their pins.
Moreover, as mentioned in point #1, if someone wants to check out your company, they're likely to open Twitter and Facebook and do a quick search to see what kind of presence you have on each channel. YouTube is also a search engine.
Takeaways: Companies should expand their concept of SEO to include not just the traditional search engines––Google and Bing––but also social search engines.
When searching for a brand on Facebook or Twitter it's not uncommon to see several different profiles pop up, and it's not always clear which one is the real deal. Marketers need to ensure that it's super easy for users to identify their official social profiles.
This may mean deleting duplicate accounts and/or clearly labeling each social account so that users understand what purpose they serve (for example, accounts for HR or press versus general brand pages).
4. Not Now Doesn't Mean Not Ever
Just because Google says that social signals don't currently impact search rank doesn't mean they never will. Social media shows no sign of becoming a less important part of a brand or person's online presence anytime soon.
Moreover, recent research, like the study conducted by Hootsuite, shows that search engines at least take it into account as they look for signals of authority and value.
Takeaways: There's no reason why social signals won't begin to affect search rankings in the future, so smart brands will continue to build their authority in key social channels and think about social when designing their SEO strategy.
5. Don't Forget Bing
Google may have back-tracked and changed its stance on social signals, but Bing has always been open about using social media signals.
In their very own webmaster guidelines, Bing states:
Social media plays a role in today's effort to rank well in search results… [t]hese positive signals can have an impact on how you rank organically in the long run.
Takeaways: Bing, which was responsible for over 33% of US searches in 2018, has been crystal clear about how their algorithm incorporates social signals into their search results. Unlike Google, they haven't flip-flopped on the issue. With its market share steadily growing, companies would be wise to include Bing in their SEO strategies.
Wrapping Up
Google has gone back and forth about using social media, but Cutts' outdated 2014 claim that Google's search algorithm ignores social signals should not be seen as the final word on the subject.
Instead, marketers should broaden their concept of search and SEO to take into account the myriad ways that people find content on the web. They also need to think about the positive effects that increased traffic from social can potentially have on their search rankings as well as the prominence of social profiles on first-page search results.
Ultimately, the web is all about building relationships, fostering audiences, expressing identity and sharing ideas––it's inherently social, and there's no reason that SEO best practices would go against the grain, especially since the rules that govern SEO are ultimately meant to make the web a more enjoyable and useful place.
OK, your turn: How else do you think social affects SEO?
About the Author: Chloe Mason Gray specializes in digital marketing and growth strategy for small businesses and solopreneurs. Be sure to say hi to her on Twitter.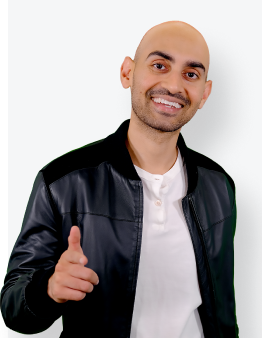 See How My Agency Can Drive More Traffic to Your Website
SEO - unlock more SEO traffic. See real results.
Content Marketing - our team creates epic content that will get shared, get links, and attract traffic.
Paid Media - effective paid strategies with clear ROI.
Are You Using Google Ads? Try Our FREE Ads Grader!
Stop wasting money and unlock the hidden potential of your advertising.
Discover the power of intentional advertising.
Reach your ideal target audience.
Maximize ad spend efficiency.