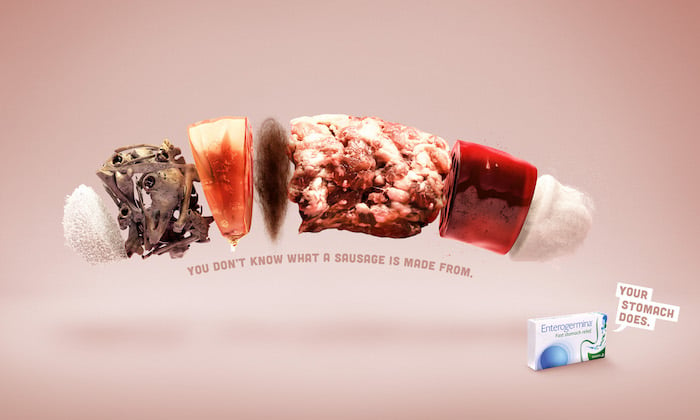 Facebook Ads can seem pretty intimidating if you're new to the world of social media marketing.
And it's no surprise why, honestly.
The potential for growth on Facebook is massive, but that also means that the wrong approach could cost you the attention of a massive number of people.
Just take a look at how many people use Facebook on a monthly basis according to the official Facebook business page.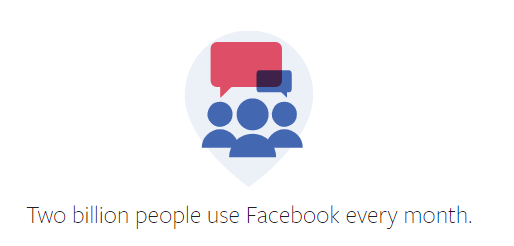 Facebook tries to give you a basic understanding of how the advertising process works, but more often than not, people just end up confused about what they should do next.
Pictured below, you can see the guide that Facebook provides to potential users.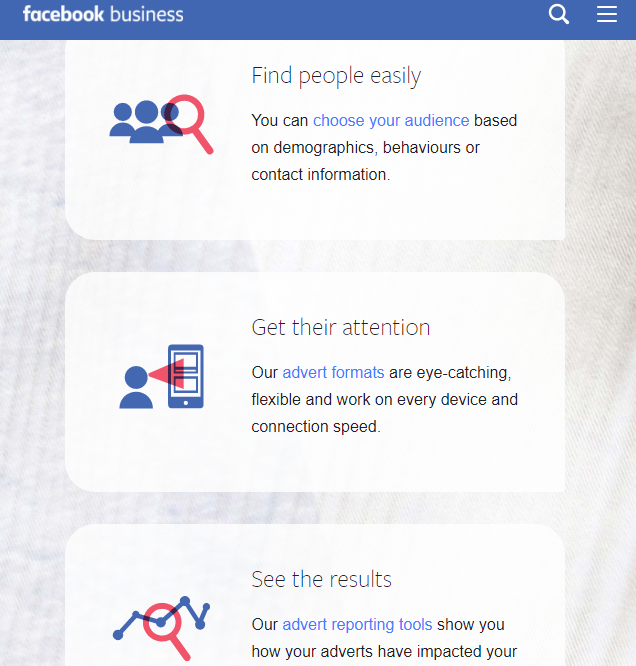 In the spirit of looking out for the underdog, I'm going to walk you through the 4-step process of picking the right Facebook Ad type.
But that's not all. Once we've covered that, I'm going to take you through some of the most popular Facebook Ad types and help you understand how they fit into your marketing strategy.
Don't worry, I know this is a lot to unpack, so I'll be taking this one nice and slow.
Let's jump in!
Define your goals
Before we start with this section, it's important to understand that this shouldn't be discounted as some generic advice that doesn't relate to the article.
I'm not a fan of fluff, and I don't benefit from wasting anyone's time.
With that in mind, please take this into consideration.
If you start an ad campaign without clearly defining your goals, you're setting yourself up for disaster.
Should you be evolving and changing your marketing strategies as time goes on? Absolutely.
But diving into the deep end with no defined plan is going to do much more harm than good in the long run.
Create realistic, tangible goals that you can measure over time. Creating goals should be the beginning of the Facebook Ads planning stage.
If you're struggling with the concept of goal creation, CoSchedule actually came up with a visual aid to help guide you through the process.
Of course, those are just general goals. If you're looking to make serious progress in the world of social media marketing, you'll need to be more specific.
Instead of just 'increasing traffic,' aim to 'increase traffic by 10% in 2 months.'
Or instead of focusing on 'brand awareness,' try to 'produce 3 new pieces of original content every week for the next 3 months.'
See what I mean? Simple, actionable, and trackable.
The idea behind setting goals is simple. Put yourself in a win-win situation.
If you achieve the goals, then you've done a great job and hit the nail on the head.
If you don't achieve those goals, you now know what doesn't work, and you have data that tells you exactly why it didn't work.
Armed with that data, you'll be able to create a stronger marketing strategy next time and steadily develop a plan for long-term growth.
Choose the type of ads you want
Now that you've determined what your goals are, it's time to start thinking about what kind of ads you'll need.
Facebook has a variety of different ad types, and there's something for just about every type of marketing goal.
Determining which type of ad to go with might seem confusing at first, but the reality of choosing ads is that you're choosing types that match up with the goals you established earlier.
The great thing about Facebook Ads is that there's no one-size-fits-all nonsense.You can accomplish the same goal with a variety of different ad types.
To keep things as simple as possible think of ads as falling into one of three categories.
Awareness
Consideration
Conversion
Here's a visual to make things even easier, courtesy of Facebook itself.
If you're worried about actually choosing an ad type, here's something that should help you out quite a bit.
Imagine that you're running a Facebook Ad campaign where your only goal is to increase downloads with regard to something valuable, like a blueprint you created for startups.
Instead of being locked into one specific ad type, you'll have the freedom to experiment with a variety of different ad types.
Why is this so valuable?
Simply put, it gives you the freedom to experiment with different approaches, which will give you more information about what works and what doesn't.
More data means that you can make more data-driven decisions.
And more data-driven decisions means more consistent, long-term growth over time.
Create custom-tailored ads
Once you've determined which kinds of ads you should actually be using, your next step is going to be to tweak those ads and make them look and function exactly how you want them to.
Enter Facebook's Adverts Manager tool.
With its extensive catalog of presentation options, you'll have plenty of freedom when it comes to how your ads actually work.
One of my favorite features here is that, with Facebook Adverts Manager, you can customize your ads for mobile and desktop audiences.
Why does that matter so much?
Well, the digital media marketing industry has changed quite a bit over the last decade.
I'm sure I don't have to tell you just how important it is to appeal to mobile consumers.
Desktop is still an important piece of the puzzle, but you'll never be able to maximize your social media marketing potential if you're not creating ads for mobile.
But there's more to Facebook's Adverts Manager than just a distinction between mobile and desktop.
For starters, it makes advertisement creation simple, and the level of customization available is impressive, as shown by this image provided by Facebook.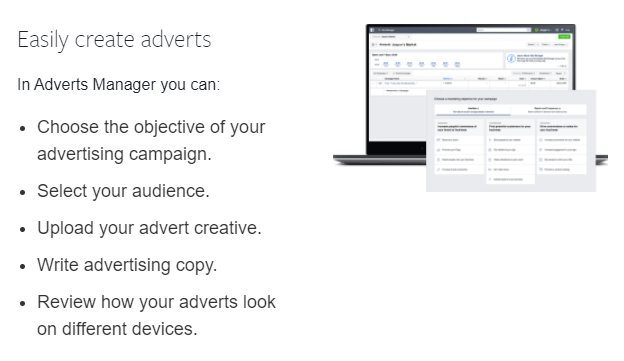 With this tool, you'll have control over the specifics of the ad presentation.
Not only can you control the layout of the visuals, from image to video to photo grid, but you can also decide which calls to action work best for you.
Heck, you can use no calls to action if you want!
I wouldn't recommend that, but I just want you to understand the level of customization that's available here.
Experiment and make sure your ads are data-driven
If creating goals is the beginning of the Facebook Ads planning stage, experimentation is the beginning of the Facebook Ads implementation stage.
Or to put it bluntly, this is where all the fun stuff happens.
Honestly, it's important to view goal creation and experimentation as two sides of the same coin.
The best Facebook Ads marketing strategies rely on your ability to set actionable goals, attempt to execute them, and tweak them accordingly after the dust has settled.
At the very beginning of your ad campaign, you likely won't have much data to work with.
But as you experiment more, you'll develop a better understanding of what actually works and what doesn't.
Why does this matter so much?
If you expect to survive and thrive in the world of social media marketing, you're going to have to trust the data.
I can't tell you the number of times I've seen business owners completely discount a marketing strategy because they didn't understand the appeal.
We're not here to question whether or not something is 'cool' or not.
We're here for the data.
That mentality is vital if you want to thrive in the social media marketing industry, and more so when it comes to Facebook.
I know what people are saying.
That Facebook hasn't been cool since people's parents started using it.
Honestly? I couldn't care less.
Facebook is still just as powerful as ever.
The data doesn't lie, and that's what I choose to focus on.
I bring this up to draw attention to the reality that data-driven marketing strategies will always be the foundation for long-term, consistent growth.
Types of ads
You can't pick the right type of ad if you don't know what your options are.
Which is why I've put together this list. For the sake of brevity, I won't be diving insanely deep into each type.
If I did that, we'd be here all day.
But by the end of this list, you'll have both a solid understanding of each type of Facebook Ad, and you'll know how to properly use them.
Sound good?
Great. Let's dive in.
Lead generation
Lead generation ads, like the ones pictured above, are exactly what they sound like.
These ads revolve around getting people to claim offers, typically for something like an off-site download or sign-up offers.
The best thing about the lead generation ad is that it lets you customize your ads with CTAs that are offer-specific.
These ads are usually a great option for business owners with physical locations who are trying to encourage people to visit their stores.
Of course, it's important to keep in mind that brick-and-mortar stores aren't the only ones that can take advantage of this.
Online businesses can use this and offer a discount code to users who click on the ad and redeem the offer via email.
Engagements
This particular type of ad is a great fit for businesses and brands that already post plenty of content on their Facebook pages.
The idea behind Facebook engagement ads is that you'll be able to increase the engagement on individual posts and help increase its reach.
Why does this matter?
Well, this process helps you generate more likes, comments, and shares on your posts while helping you increase your follower count at the same time.
If you're a bit confused about this, let me shed some light on the situation.
The post offers users the chance to engage with your content via likes, comments, and shares.
But beyond that, the ad is promoted as an update that your business has made on your Facebook profile.
This is the option for people who are looking to boost their posts instead of trying to convert someone instantly.
Page likes
Page like ads are the ads that you use to increase your page likes.
Seriously, that it.
The only reason worth covering this type of ad is to warn you about volume versus quality.
It's easy to advertise using page like ads and see your page likes rise quickly.
While this might feel like a victory at first, eventually you'll notice that your engagement and conversions haven't kept pace — or worse, they've actually dropped!
How did this happen? You've got more followers now than ever before.
You stumbled onto the dirty little secret that social media platforms don't warn you about.
Not all likes are created equal.
Not all of your followers care about your business equally.
You may have more followers now, but the overall quality of your followers has likely dropped.
So, how do you avoid falling into this trap in the first place?
Easy. Don't try to get the cheapest likes.
Those are typically the least-qualified leads you can get, and you're better off having 5 targeted followers than 10 flimsy leads.
Store Visits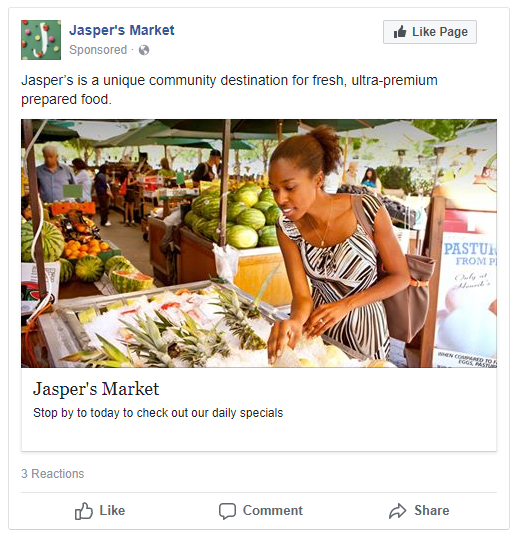 If you're trying to turn online traffic into physical, in-store traffic, store visits ads like the one pictured above are going to be your best bet.
This is another great option for brick-and-mortar stores that want to drive more visitors to their physical locations.
Store visits ads work best when they're paired with Facebook's location-based targeting.
This helps you not only reach people who are interested in your industry, but also any of those people who happen to be near your store.
When it comes to CTAs, the sky's the limit.
If you're trying to get people to the store, it's best to start encouraging users to contact you from the very beginning. You can go with anything from 'Call Now' to 'Send Message' prompts.
App installs
The app install ads are a great choice for startups and well-established brands alike.
If your goal is to simply drive more installs of your mobile app, then you'd be hard pressed to find anything more appropriate than this type of ad.
Once users click the 'Install Now' button, the App Store instantly fires up.
This simple reduction in friction can do wonders for your overall conversion rate.
An important thing to keep in mind while using this type of ad is that you'll be given a variety of targeting options, so you can custom-tailor your ad for your audience.
And when I say custom-tailor, I mean it. You'll be able to do everything from targeting only users that are connected to WiFi to targeting mobile device users while excluding tablets.
Clicks to website
If you're running a campaign that revolves around increasing traffic, then clicks to website ads are going to be your bread and butter.
Every ad in on this list aims to tackle a specific issue, and clicks to website ads are no exception.
These ads let you send users to your website — that much is obvious.
But what's important to remember is that you can choose where you're sending the user. Just make sure that the destination page pairs well with the ad itself.
You'd never send a user to a landing page for a product if they clicked on your ad hoping to read an interesting article, would you?
Using this ad type, you can send users to landing pages, product offers, and even specific blog posts.
Lead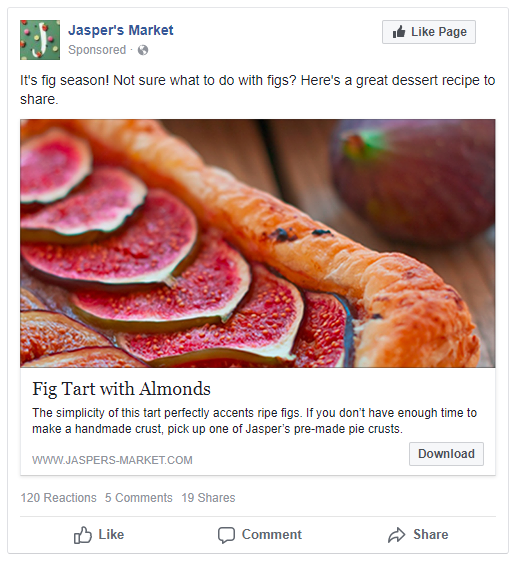 There's no surprise here: lead ads are the perfect tool for businesses to use when they're going after new leads.
This particular ad type actually allows people to download content that you've put up for them by clicking the 'Download' button.
What makes this so special?
Well, the fact that people can sign up for your offers and download your content without having to leave Facebook is certainly a plus.
If you're wondering how you should be using these lead ads, my advice would be to use them as a way to build up your email list.
The key here is to make sure that what you're offering is actually something valuable.
If your content is hidden behind an email list, it'd better be worth it.
By doing this, you'll be able to build a qualified email list using these ads.
Event
The Facebook event ad is a powerful tool, especially if you've got a major event right around the corner and you're looking to increase awareness.
For those of you who are hoping to boost your event's reach, this ad type can have a massive impact as long as you're smart about how you choose your targeting options.
No two events are the same, but I've found that you're better off limiting your reach to people who live in the same city as the event.
Not only are they more likely to be interested, but they'll also be in a better position to make the decision to attend.
Conclusion
Facebook Ads can be a confusing tool, especially when you first start using them.
Truth be told, you can always go deeper into Facebook Ads and identify some new tactic or uncover some data that will fundamentally change the way you advertise.
As you get more familiar with each type of ad, you'll collect more and more data and develop smarter marketing campaigns.
But you need to walk before you can run.
And understanding the basics of the most popular Facebook Ad types is a crucial building block when it comes to successfully executing your Facebook marketing strategy.
But what do you think about Facebook Ads? Which type of ad has given you the best ROI?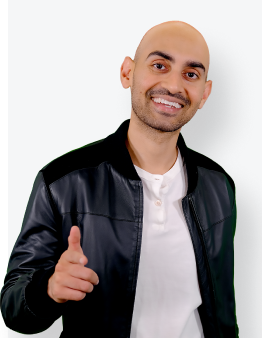 See How My Agency Can Drive More Traffic to Your Website
SEO - unlock more SEO traffic. See real results.
Content Marketing - our team creates epic content that will get shared, get links, and attract traffic.
Paid Media - effective paid strategies with clear ROI.
Are You Using Google Ads? Try Our FREE Ads Grader!
Stop wasting money and unlock the hidden potential of your advertising.
Discover the power of intentional advertising.
Reach your ideal target audience.
Maximize ad spend efficiency.