Many businesses struggle with attracting high-quality leads.
Even if you have a large email list, how do you know if your leads are qualified or where they fall in the sales funnel?
A lead-generation form on a landing page can help you collect email addresses. However, more targeted forms of lead generation — such as content upgrades — can help you attract not only more leads, but also win over better-quality prospects.
An email list populated with people who will never buy from you doesn't have any value at all.
You probably already know that you should target your blog content to specific buyer personas and to prospects at particular parts of the sales funnel.
You might also know that free downloads, such as lead magnets, can help you build your email list.

But what if you combine the two to create a highly targeted, expertly qualified list of leads?
Combining lead generation with content upgrades can save you time, money, and headaches. But how does the process work?
What are content upgrades?
A content upgrade is a piece of content that you offer as a bonus to your readers in exchange for their email addresses. In that way, it's a lot like a lead magnet.
It's just far more specific.
Your lead-gen strategy might encompass lots of different marketing angles, from PPC to cold calls.
Using your content to generate leads can become an integral part of that strategy.
Imagine this:
You write a long-form blog post with lots of meaty content.
Instead of publishing the entire thing on your blog like usual, though, you add an opt-in form on the post and invite readers to provide their email addresses so they can "unlock" the rest of the content.
It's kind of like a paywall. The only difference is that readers don't have to part with their hard-earned cash. They just hand over their contact information.
You can see a prime example of this type of expandable content on the Media Shower blog:
This CTA comes after a long, value-rich blog post. If readers want to get a worksheet to help them maximize their content marketing campaigns, they have to fork over their email addresses.
If you'll notice, there's some blurred text just below the opt-in form. It visually represents the content upgrade.
Vertical Response uses a similar strategy on an article about email list building:
It's a slightly different format, but it can work just as well.
In this case, Vertical Response put the CTA in the middle of the blog post. There's an introduction, the CTA, and the bulk of the actual article.
MarketingProfs does something similar. Instead of using a generic opt-in form, the company asks readers to become members — for free.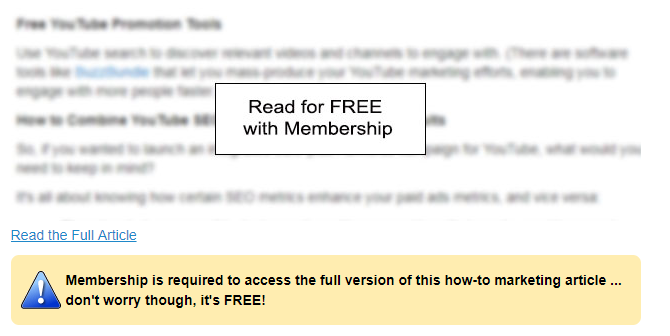 Membership suggests something exclusive and valuable by itself. The fact that readers don't have to pay for membership removes some of the objections that prospects might have about signing up.
Again, you can see the blurred-out text underneath the CTA. This is strategic. It suggests that valuable, juicy content awaits the reader.
Another option is to create a standard listicle. Provide the first few steps or items in your post just like normal but use an opt-in form to allow readers to unlock the content upgrade.
Why are content upgrades better than standard lead-gen forms?
So far, content upgrades sound pretty similar to lead magnets, right? And they are.
There's a catch, though. A lead magnet is usually pretty generic. You create it for your entire audience.
For instance, if you visit the Butcher Box website and try to click away, you get presented with a popup:
The lead magnet consists of recipes, special offers, and other attractive incentives. But you'll notice that it isn't very specific.
The same goes for the popup at Digital Photography School.
You get free weekly tips and tutorials when you sign up. However, the subjects of those tutorials aren't clear.
There's also a more traditional lead magnet, in the form of a downloadable e-book, at Give Good UX. It's called "The 10 Commandments of UI Design."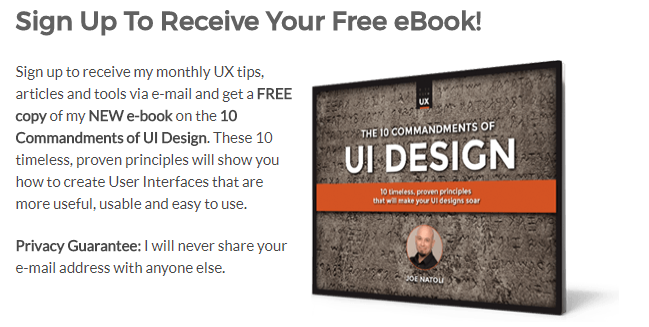 That's more specific, right? It's tailored to a large segment of the company's target audience.
However, you can get even more specific with content upgrades on specific blog posts. Best of all, you can use the same content upgrade for multiple posts as long as they share intended audiences.
Let's say that I wanted to add a content upgrade or expandable content to my article on increasing social media fans through user-generated content.
I'd want to get very specific about the type of content upgrade I include:
Scripts or templates for soliciting user-generated content
A case study on a trusted brand's use of UGC
An audio recording of the post itself
You'll notice that all of these proposed content upgrades deal specifically with the topic of the blog post. I'd stick to content about social media and UGC.
Later, if I write a follow-up post on either one of these topics, I can use the same content upgrade. However, if I want to offer expandable content on a post about PPC, I'll need to create new material.
If you think content upgrades aren't worth the effort, consider some of the latest data points. Content Upgrade Pro aggregated a few telling statistics about content upgrade performance.
Conversion rates between 20 and 60 percent are incredible. Even if you experience slightly less impressive conversion rates, you'll still get a chance to beat the competition.
What content upgrades should you create?
There are lots of different types of content upgrades you might use. Before you settle on the type, though, consider the answers to these three questions:
Where is your reader in the sales funnel?
What pain point or problem is the reader experiencing?
What information does the post or article cover?
Let's look at an example.
Maybe you're targeting buyers at the bottom of the sales funnel. They're ready to take action.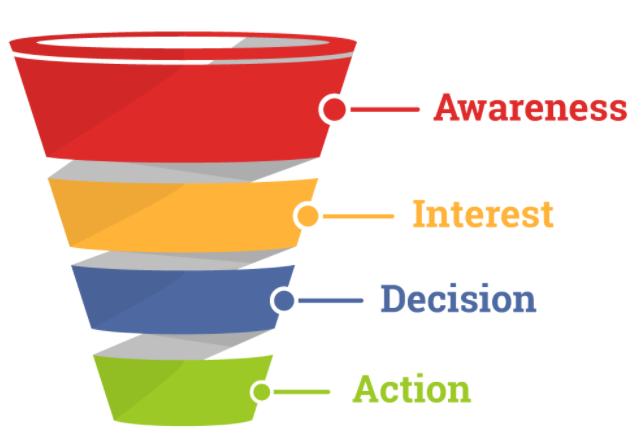 You could create a content upgrade that helps them use your product or service more effectively. Usher them toward the purchase through content.
Similarly, if the buyer is at the top of the sales funnel, you might want to use an informational content upgrade, while buyers in the middle of the funnel might appreciate a comparison worksheet or something similar.
Following are some of the most common — and useful — content upgrades.
Continued content
Earlier, I mentioned listicles. They're great for content upgrades because they allow you to simply continue the article.
I recently wrote an article on overlooked content marketing strategies. Specifically, I named 12 of them.
I could create a content upgrade that included 12 more examples for my audience. Readers could get those 12 extras by providing their email addresses.
After posting the upgrade, I could add a teaser to the title, such as "12 Overlooked Content Marketing Strategies That'll Skyrocket Your Growth [+ Bonus]"
That way, my audience would know there was something special about the post.
Checklists
People love checklists. They make life simpler and more organized.
Maybe you've written a detailed tutorial on your blog. Include a checklist as a content upgrade so your readers don't skip any steps while replicating your process.
Checkli is a great tool for creating a free (and attractive!) checklist as a download. Just visit the website and click on the "Make a free checklist" button.
On the next screen, add a title and description.
You'll also find other personalization options in the right-hand navigation bar. For instance, you can decide between one column and two columns.
Select fonts, colors, and other details, as well.
Below your title and description, you can add as many checklists as you want. You can also change the style of the checklists.
Cheat sheets
A cheat sheet can work just as well as a checklist. MikeMonday, for instance, offers a cheat sheet for people who want to finish their music tracks more efficiently.
You can make a cheat sheet about anything you want. It should include plenty of value, though.
Let's say that you're writing an article about how to create the perfect headline.
You could create a content upgrade that includes headline formulas your readers can repurpose for their needs. That's a valuable cheat sheet.
Video or audio transcripts
Some people prefer to read content than to listen or watch. If you've created a blog post with a video or audio component, offer the transcript as a content upgrade.
It sounds opposite of what we're always told, right? We keep hearing that video and audio are preferable to text — especially among younger consumers.
However, Pew Research Center conducted a study in 2016. It revealed that younger people actually prefer to read the news than to listen or watch.
That could easily apply to other content, as well. Giving your audience the option helps expand your readership.
Printables
Yes, people do still print out documents, whether they're at home or the office. We haven't gone totally digital yet.
Some types of content work better as printables than others.
For instance, over at Tasty Kitchen, each recipe comes with a free printable.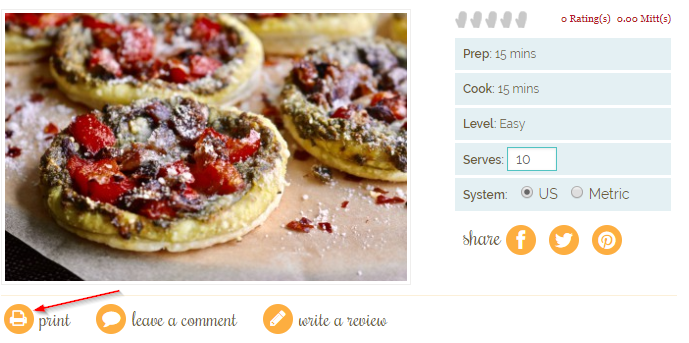 You could also offer printable quotes, reminders, or other documents that might help your audience.
Worksheets
If you base your brand on education — regardless of the topic — worksheets can become extremely valuable to your audience. Readers can test their knowledge.
Maybe you run a web development company, so you teach your audience how to use small snippets of code. You could create a worksheet that invites users to create their own code based on your instructions.
Then, in addition to the worksheet, you could provide the answers in a separate document — or link to the answers from the worksheet itself.
Teach your prospects how to do something, then test their retention. Don't worry about teaching them how to do the service you provide.
When you're generous with your knowledge, people will pay attention — and remember you later.
Case studies
People love a good case study. It validates a theory and shows how it worked for a person or brand.
Use a case study to profile something you've done or to talk about another brand. In the latter case, you'll need access to that brand's data and results.
Proof created a case study about conversion secrets.
It's available as a free download for anyone who's willing to provide a first name and email address.
If you're going to use a case study as expandable content, though, you need a hook. In most cases, that means a shocking number.
Proof promises to show, in detail, how it boosted its conversion rate by 338% in 3 days. That's pretty impressive!
The number could be a percentage increase or decrease in something, a short time frame, or an amount of money saved or earned.
Whatever the case, people won't download your content upgrade unless it promises incredible results.
Formulas
I'm not talking about algebra here (though you can use mathematical formulas if they're relevant to your content). Instead, I'm talking about a step-by-step guide to success.
Let's say, for instance, that you're writing a blog post on how to keep a lawn healthy. You could create a content upgrade that delves into details like the best brands of fertilizer, the best times to cut the grass, and the ideal watering schedule.
You could even create an infographic as a content upgrade. Use the formula model to drive the story behind the infographic, like Bob Vila did on his blog.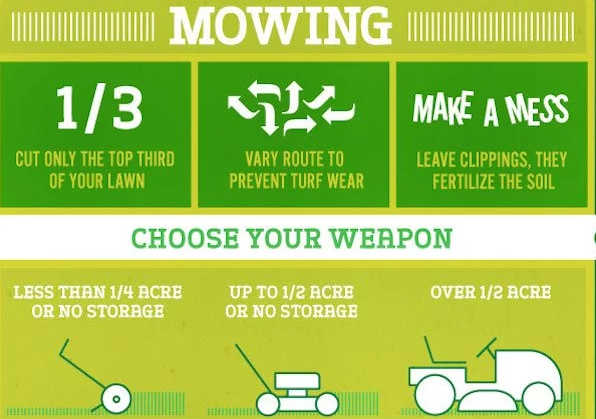 It could work just as well as expandable content.
Scripts or templates
A script or template tells your reader exactly what to say or write when accomplishing a specific task.
For instance, I often provide script suggestions for sending outreach emails. You could do the same for conducting a sales call or soliciting donations for a nonprofit.
Whatever the case, provide several variations of the script so your reader has options.
A template works well when your reader needs to create a document for prospects, clients, or vendors. After they download the template, they can fill in the blanks themselves.
PDFs
You might have noticed that I write really long content. Some of my posts come in it at 10,000+ words.
I like long-form content because it allows me to dig deep into subjects my readers care about. I give as much detail as possible, and I break down processes into easy-to-understand steps.
However, some of my readers don't have time to read an entire post in one sitting. They can bookmark those posts, of course, but content upgrades offer another option.
Create a PDF of your blog post as expandable content. Users can download the PDF and read it at their leisure — even if they're offline.
If you don't have the premium version of Adobe Acrobat, you can use a free PDF creator, such as PDF Forge.
Course or Challenge
Another option for your content upgrade is to create a free course or challenge.
Maybe you've written a blog post on losing weight. You could challenge your readers to lose 10 pounds together over the next month.
They get your free guide to healthy weight loss. You could also provide them with access to a private forum where participants can help each other.
How can you set up a content upgrade?
It's easy to create your own content upgrade with Hello Bar. The tool allows you to offer your upgrade on any page on your website.
Start by creating your upgrade. Figure out your intended audience.
Next, head to HelloBar.com. Sign up for an account if you haven't already.

Once you're in your dashboard, click on the Content Upgrades tab in the left-hand navigation bar. It's the one with a rocket icon.
At the top of the screen, you'll see a plus sign and the words "Add New Content Upgrade." Click that.

You can then fill out the information on the left to create your content-upgrade form however you want.
You're done! Once you've installed the scripts on your own websites, your content upgrade will appear in the blog post of your choice.
Conclusion
Your lead-generation strategy doesn't have to revolve around a single landing page with an opt-in form. In fact, it shouldn't.
Using content upgrades to convert qualified, interested leads can boost your conversion rates while increasing your chances of making the sale.
Why? Because content upgrades are more specific and targeted than generic lead magnets.
Content upgrades are bonus content added to a blog post or article. Readers can access the content for free by providing their contact information.
Every upgrade, however, should serve a very specific purpose. Keep your buyer personas in mind, and make sure you know where the intended audience falls in the sales funnel.
You have lots of options for creating targeted content upgrades. Some of the best options include:
Continued content
Checklists
Cheat sheets
Video or audio transcripts
Printables
Worksheets
Case studies
Formulas
Scripts
PDFs
Try several different content upgrades using Hello Bar. A/B test each creation to learn what headlines, CTAs, and offers work best.
Have you tried using content upgrades to maximize your own conversions?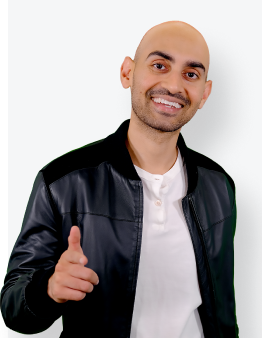 See How My Agency Can Drive More Traffic to Your Website
SEO - unlock more SEO traffic. See real results.
Content Marketing - our team creates epic content that will get shared, get links, and attract traffic.
Paid Media - effective paid strategies with clear ROI.
Are You Using Google Ads? Try Our FREE Ads Grader!
Stop wasting money and unlock the hidden potential of your advertising.
Discover the power of intentional advertising.
Reach your ideal target audience.
Maximize ad spend efficiency.