Every online business wants to increase sales, revenue and customer loyalty. In an effort to do so, companies will offer promotions, create social media contests, and advertise their brand. All of these campaigns are good, but there's one less common way that not many people think about that can help reach this goal: building a trustworthy website.
Building a trustworthy website consists of two components: reputation and security.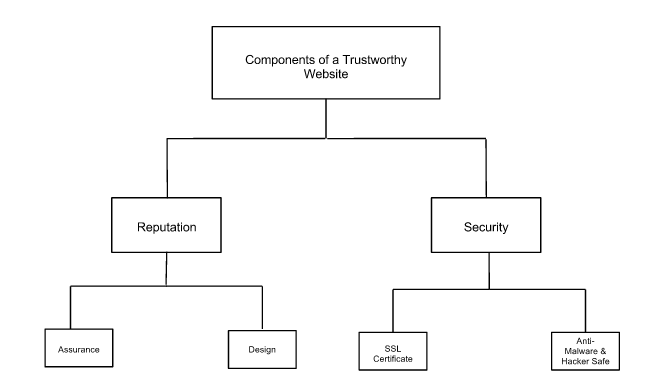 Reputation means providing visitors with assurance that your business is a reputable brand, that your customers will get their orders on time, and that you stand behind your products. We'll get into how you can instill assurance and confidence in your visitors and customers.
Security means providing users with a guarantee that your website is secure. You may know your site is secure, but don't assume visitors do. Additionally, the recent wave of website security breaches, hacks and lost data means the issue of security is more important than ever to your visitors.
We'll go through some techniques that you can implement to ensure visitor security. We'll run through examples from other companies and give you resources to build your own trustworthy website.
Let's first look at the elements of reputation.
Reputation
Different people are affected by different things. For example, baby boomers may be influenced by a brand's years of experience and the number of customers they've served. Generation Y may get a strong impression of a brand if they have a big Twitter or Facebook following. Everyone may be awed by the awards you've received. This is one of the reasons it's important to have a strong understanding of your customers. Know what impresses your demographic, check to see if you have any of these assets, and let prospective customers know about it. You should not be afraid to show off what people cannot take away from you.
If you have 50 years of experience, make that a selling point, and put it on your homepage. If you have 100,000 Twitter followers, let people know that.
While discussing reputation, we'll go through different features that make up a brand's reputation. As we focus on each one, ask yourself these questions: Could this be a selling point for my brand? Will my customers be impressed by this?
Customers Served
Many websites, right from the homepage, aim to provide users a little comfort by telling how many customers they have. This lets visitors know that the company has already served many people before you.
Braintree lists a few of their customers, highlighting the most notable ones. Showing that they have big name companies as customers assures visitors that they are a legitimate business.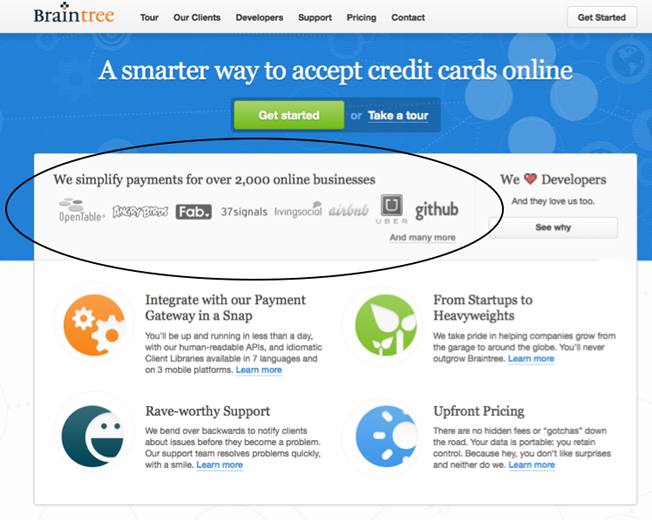 Here is their competitor, Stripe, using a similar message.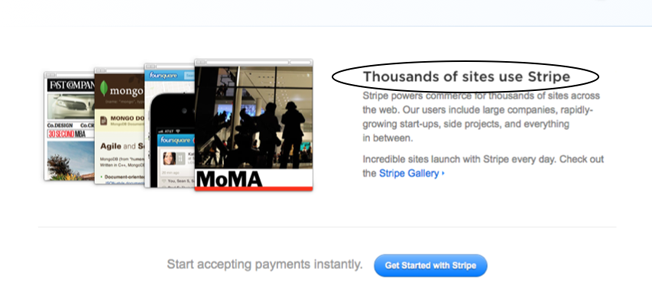 Similar to Braintree, Brightcove shows their customers' logos. Their wording is also something to take note of. They use words like "powering" and "websites" rather than customers. Instead of saying "Our business serves x number of customers," what could you say to add impact while explaining your value?
Sendgrid has a counter that indicates the number of emails that have been delivered.
The interesting takeaway is that these businesses don't just say "We've served x number of customers." They use more powerful language. They explain their core business function and how others have benefited from it. How can you implement this in your website copy?
If you sell shoes, your copy could say "Saving x number of people over $x on shoes." I'm sure you can think of something more clever, but the point here is to explain the fundamental idea.
Mentions in Press
In an effort to establish a strong reputation, many companies will exhibit their mentions in the press. This demonstrates that they are recognized and have received attention from journalists. As we will see, some companies will show only the media logos, while others include the featured excerpt as well as the logo.
Fancy Hands displays the publications that covered them along with the quotes. Adding the quotes gives Fancy Hands more credibility than if they used just the logo. It means a lot more when, in addition to showing the Time Magazine logo, you proclaim that Time called you "One of 10 Startups to Watch."
Similar to Fancy Hands, Nest presents their media mentions.
Carsabi stages logos of the press outlets they've been featured in.
Testimonials
Companies frequently post testimonials from happy customers. Testimonials build trust by showing that other people have used and recommended the company's product.
Sprout Social places the testimonials near the bottom of their homepage. The placement doesn't matter very much because they are still in a prominent position. These testimonials serve as another "building block" to build Sprout Social's reputation.
Walker Corporate Law features testimonials and attaches a face to the testimonial. This can add a personal touch knowing who the testimonial came from.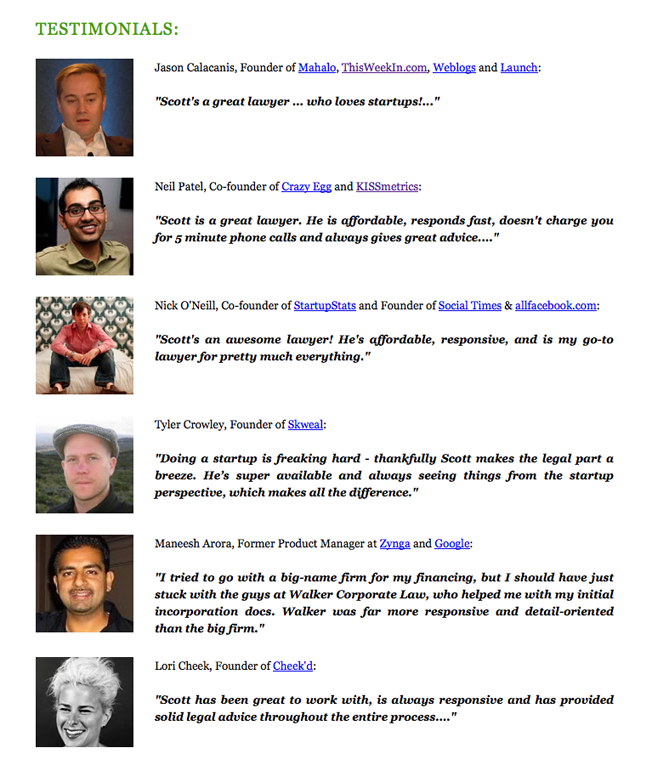 Everlane features rotating testimonials on their product page. If the user clicks the link in the quote, it takes them to the tweet containing that testimonial.

Years of Experience
Companies that show years of experience instill trust in visitors by asserting that they are experts in their field. It signals that they've been trusted by thousands of customers and have a leg up on the competition because they have knowledge that is attainable only through years of experience.
Eddie Bauer's slogan features their years of experience.
Kemps' own title tag is a mention of their years in business.
Lower My Bills mentions their 10 year anniversary.
Go to Assist tells visitors that they are the "pioneers" in remote support.

Awards
Companies like to post any customer service or Better Business Bureau awards they have earned. Depending on the business, some may choose to put it at the center of their homepage, while others may opt for a less prominent position. If you're a young company that is not well known but has received awards, you may want to make those awards prominent. This will help give the visitor some assurance that you are a good company to do business with.
Let's look at examples of companies that show their awards (and where they place them on the page).
Vitacost has a bar across their homepage. They use it as a selling point to convince shoppers that they offer superior service.
HubSpot offers their awards at the end of their homepage.
At the end of the Zappos homepage, visitors see their awards for customer service.

Good Practice Seals
You've probably seen these awards plastered around the web. If you would like to apply for one for your business, follow the links below.
Better Business Bureau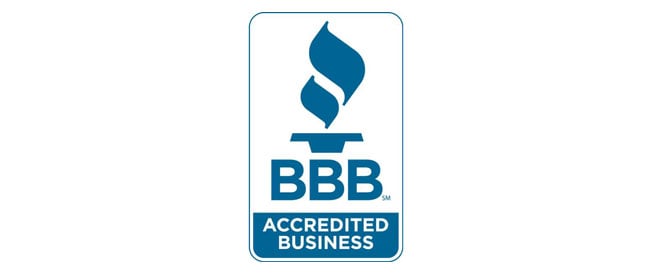 If you want a Better Business Bureau seal, go to this page.
STELLAService

Social Media Following
Many brands put a Facebook or Twitter widget on their homepage to showcase how many fans and followers they have. To the visitor, this lends the business some credibility because it shows that other people like and trust them.
The Hill presents their Facebook Likes right next to the logo. This tells visitors that many people trust them to deliver the latest DC news and view them as a reputable outlet.
This local restaurant has a widget showing the number of Facebook Likes they've received. A first time visitor may be more inclined to visit the restaurant due to the number of people who like it and recommend it.
To add a Facebook widget to your site, click here.
To add a Twitter widget to your site, click here.
To add a Google+ widget to your site, click here.
Free Trials
Similar to grocery stores offering samples, online businesses offer trials. Trials eliminate risk for visitors, who then have one less reason not to try a product. Some visitors may be hesitant to give a credit card number right away without even trying the product first. It may cost the business a little to run a trial, but the ROI can be positive due to an increased number of signups. It also indicates that the business has confidence in its product. The business is counting on the fact that once users try it, they will want to continue using it.
Sprout Social offers a 30 day trial.

Netflix is well known for offering free trials to new members.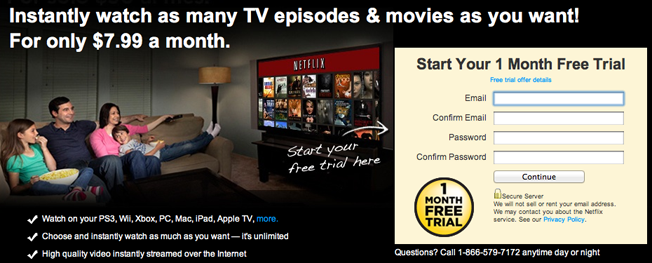 Spotify is a freemium product. The premium version is available with a 30 day trial.
Professional Website
Often, the website is what forms the first impression of a company. This is why design is essential. It can make or break a sale, and possibly even your company. With design, it's about the details. Everything matters, and nothing should be overlooked. If you are not technically inclined, hire a good web design firm.
For information on what to avoid, check out our article on what repels website visitors.
Privacy Policy
Go to any website, scroll near the bottom, and you'll likely find a link to their privacy policy. It is critical for your website privacy policy to be visible. If you have a newsletter, you may want to put your privacy policy next to the signup form. Here's an example of what yours can look like.
Correct Spelling
Your website is a reflection of your company. Any downtime, any errors, and any design flaws reflect that your company cuts corners and is not thorough in its work. This is why it's important to prevent any possible errors. Misspellings signal to prospective users that your brand is careless. There is no reason to misspell words.
Beyond spelling, it's also important to have solid grammar. If you're not grammatically inclined, you may want to hire a freelance proofreader to check your work.
Detailed Transaction Reporting
Have you ever bought something from a business and never heard from them again? You have no idea if your product was shipped. In fact, you don't even have confirmation that your order was received. And you cannot get in touch with anyone in the company. It's almost as if there's a brick wall between you and the company. Two weeks later, the product lands on your doorstep.
I have bought from companies that do business like this, and I didn't buy from them again. I'm sure you've done the same if you have dealt with a similar company.
If you're in the ecommerce business, a typical transaction should go as follows.
Customer buys product and immediately receives a receipt for the order in an email. Expected ship date is included on receipt.
Once product ships, customer receives an email with details of the order and the tracking number from the shipping carrier.
Two weeks after delivery, customer receives an email from CEO or customer service manager following up on the order and asking for feedback about the experience. Email and phone number from sender are included.
Security
The other key to building a trustworthy website is about letting visitors know that your website is secure. If you're curious as to where you should put your security message, the answer is that it varies from business to business. Some popular ecommerce sites (such as Amazon) don't need to have a security message on their homepage because they already have a great reputation. SaaS companies may need to mention their security on the homepage due to the nature of their business.
Let's look at a few examples for both ecommerce and SaaS sites.
Ecommerce
Nutritional supplement retailer Bodybuilding.com posts this on its checkout page.
Blue Nile shows its badges at the end of every page.

Good Rock displays the security logo prominently on each page. Here's their homepage.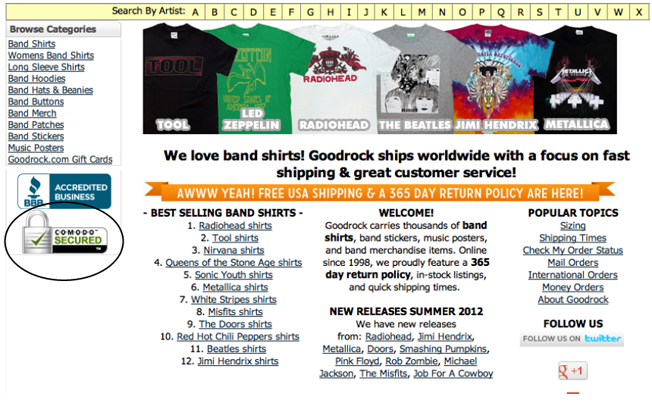 This is how it appears if I look at a particular category of products.
This is what a product page looks like.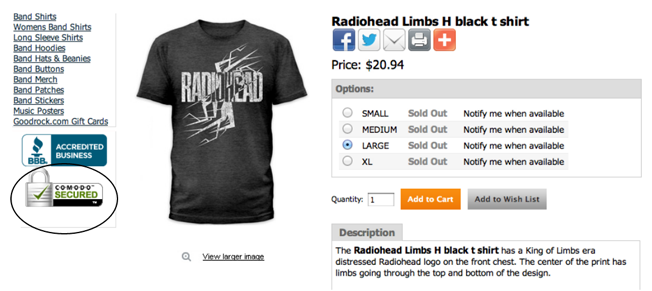 As you can see, Good Rock places a security logo on every page of their website, not just on the cart page. It helps reinforce the fact that an order will be secure.
Let's take a look at one more.
SaaS (Software as a Service)
Box tells of their security on the homepage.
Mint explains its security process right underneath the call-to-action.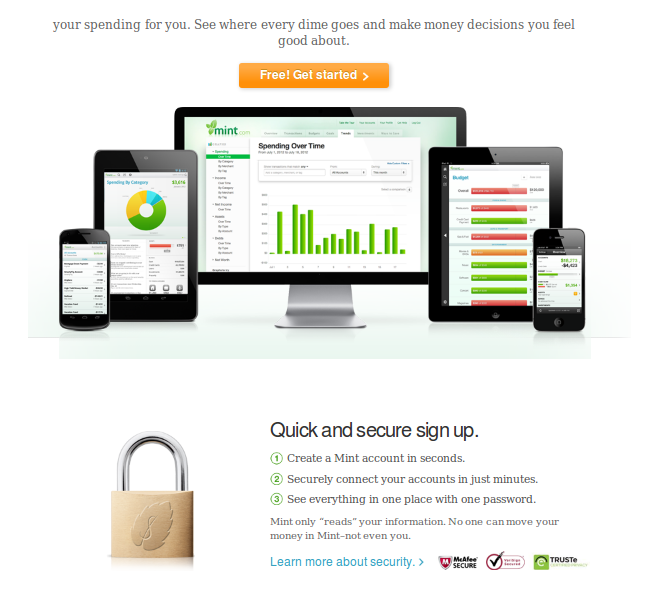 Near the end of their homepage, FreshBooks posts this security box.
Now we'll get into how you can get your own website security seal.
Getting your Security Seal
If you want a seal for your website, you'll need to get an SSL certificate. We'll get into the various certificate providers below.
Once you get a certificate, it will appear in your visitor's browser. Let's take a look at how Google (which has SSL on their homepage) appears on browsers.
Under Chrome, part of the address bar becomes green.
Here is how it appears with Firefox. Notice the "s" at the end of HTTP and the padlock logo.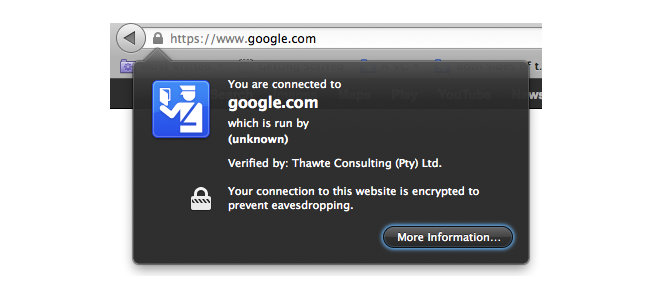 Opera and Safari both appear the same, with or without SSL.
Once you purchase the certificate, you get the seal. When users click on these seals, it takes them to the company seals website. It is strongly advised that you do not simply copy a seals logo as it is not authenticated and likely could bring a lawsuit from the company.
If you'd like to get a security certificate and seal for your website, follow these links.
DigiCert
DigiCert is one of the lesser used issuers but still a solid company.
If you'd like to get your SSL certificate from them, check out this page.
GeoTrust
The GeoTrust Seal is less-used, but still trusted.
If you'd like to get their SSL certificate and security seal, you can go here.
GoDaddy

GoDaddy offers a malware and identity theft protection program as well as SSL certificates.
To get the anti-malware/website protection seal, check out their product page.
To get GoDaddy's SSL certificate, check out this page.
RapidSSL
RapidSSL is a company that is owned by GeoTrust. RapidSSL offers one of the cheapest certificates. They are popular and used by many startups, including 37signals and Wistia.
If you'd like to get your certificate from them, go to their page.
Secured by Thawte

If you'd like a Thawte security certificate, go to their page.
Trustwave
If you want to get your SSL certificate from Trustwave, check out their page.
Want To Add To The Conversation?
Please share your thoughts and comments below!
About the Author: Zach Bulygo is a blogger, you can follow him on Twitter @zachcb1.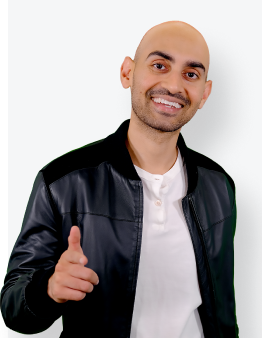 See How My Agency Can Drive More Traffic to Your Website
SEO - unlock more SEO traffic. See real results.
Content Marketing - our team creates epic content that will get shared, get links, and attract traffic.
Paid Media - effective paid strategies with clear ROI.
Are You Using Google Ads? Try Our FREE Ads Grader!
Stop wasting money and unlock the hidden potential of your advertising.
Discover the power of intentional advertising.
Reach your ideal target audience.
Maximize ad spend efficiency.