Writing great posts doesn't guarantee you a successful blog.
It's obviously important to continue improving your writing.
But truly successful blogging means you also need to dedicate time to things like:
Keyword research
Sourcing images
Creating graphics
Optimizing your website
Creating email campaigns
Getting active on social media
That's a long list!
Thankfully, there are a ton of great tools out there waiting to help you do all these things.
But choosing the right tools to use can be challenging. There are so many options available that it can get overwhelming.
And if you choose the wrong tools, not only will you waste time and money, but your blog won't grow as fast as it could.
That's why I've put together a list of some of my favorite blogging tools for you to consider.
I've grouped them into related categories so you can find those most relevant to you right now. Just start by picking one that catches your eye and trying it out.
These tools will help you save time and grow your blog traffic.
Platform
1. WordPress
The first tool you need to start blogging is a platform for your blog. Since WordPress powers over 74 million websites, it's the ideal place to start.
WordPress has free plugins and themes, too. So you can design the website you need no matter how good or bad your coding skills are.
Reading
2. Feedly
Organize the content you want to use for research, marketing, and sales.
After Google shuttered their Reader a few years back, Feedly became the de-facto solution for helping bloggers and Internet marketers keep up with information in their fields.
Ideation
3.HubSpot Blog Topic Generator
Just input three nouns you want to write about, and HubSpot's generator will give you "a week's worth of relevant blog titles in a matter of seconds!"
This is one of those 'unsung heroes' of blogging. Coming up with new topic ideas can take forever.
However, you can just punch some basic ideas into a tool like this and it will instantly give you amazing ideas to use.
4. Portent
Simply type in the subject you want to write about and refresh the title to come up with new blog ideas.
Portent even gives you contextual suggestions in the blue annotation bubbles to help you develop the idea further.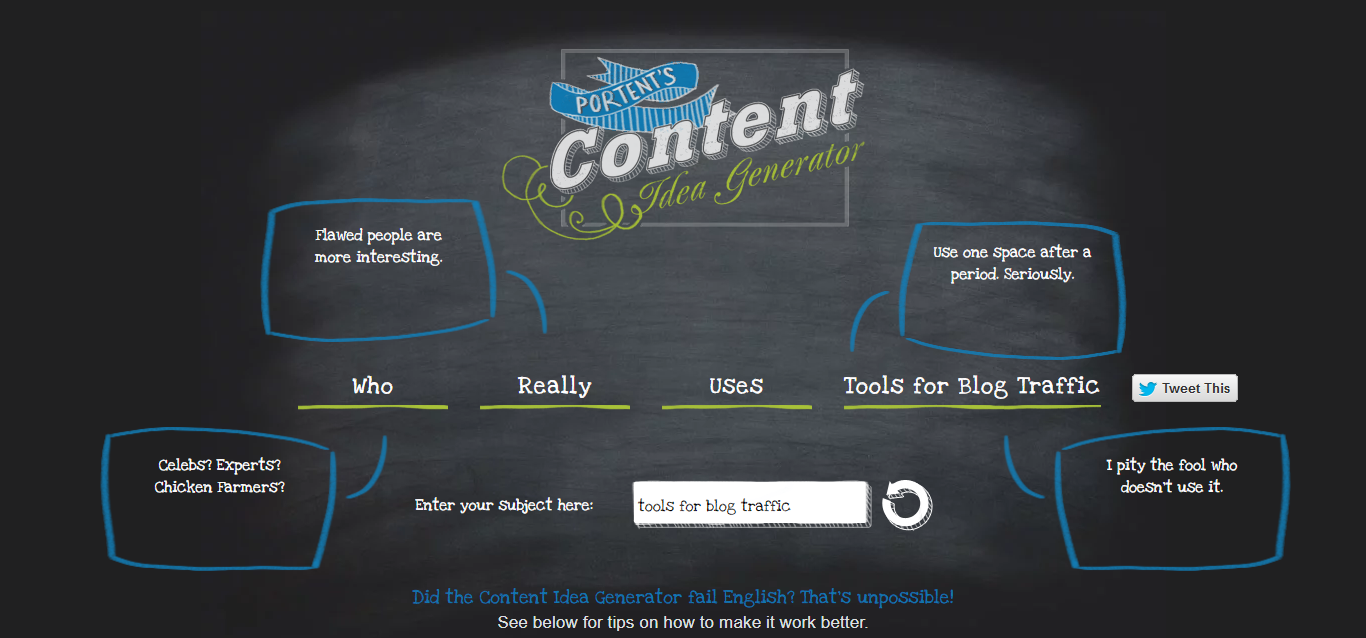 5. BuzzSumo
When you want to know which blog topics are generating the most shares and backlinks, check BuzzSumo.
You can then put these topics into the generators mentioned above to find new angles to write about. You can also use it as a blogger outreach tool.
Keyword research
6. Keyword Tool
Get 750+ Google keyword suggestions for free. You can also find the best keywords on YouTube, Bing, Amazon, eBay, and the App Store.
This tool lets you discover and prioritize the best keywords to target based on their difficulty, opportunity, and priority.
You can also do a SERP analysis from Keyword Explorer. That way, you can check out the competition to find out if you have a shot at outranking them soon.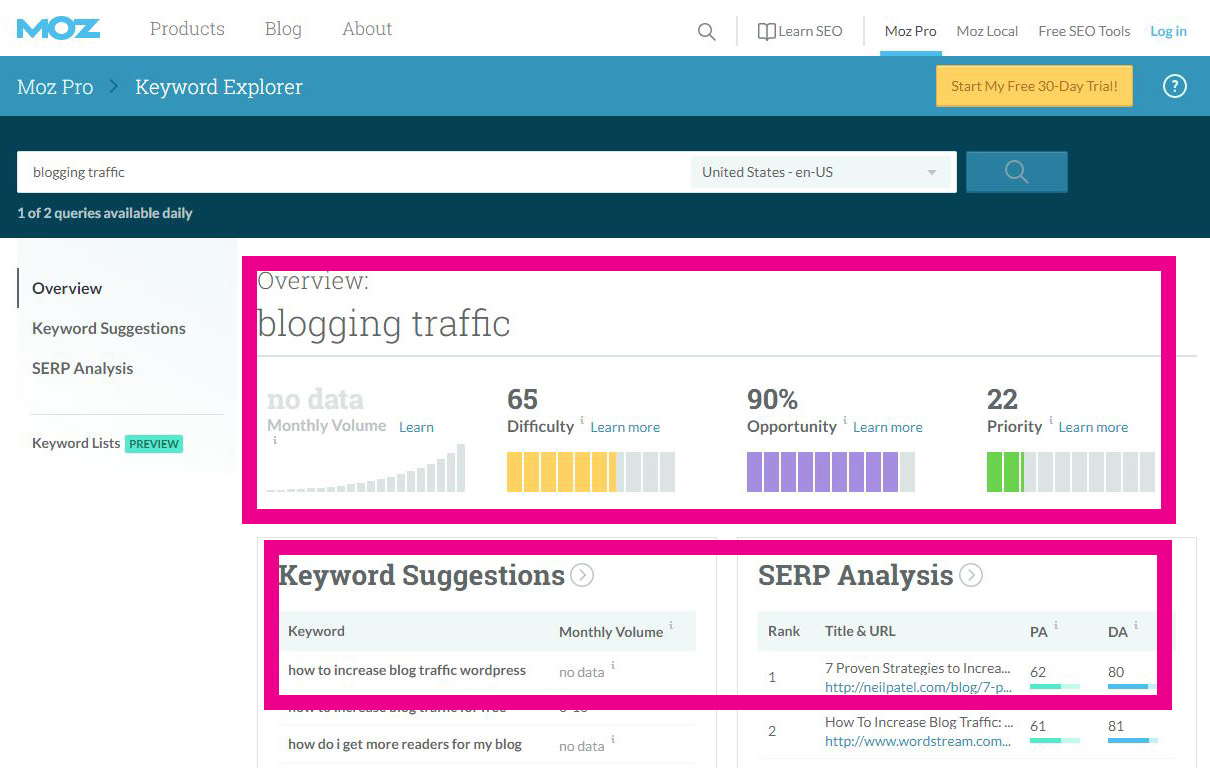 8. Google AdWords Keyword Planner
Get keyword ideas to help build your campaigns. The AdWords Keyword Planner lets you see the average monthly searches and level of competition for individual keywords.
You can also use it to give your posts a quick boost of both traffic and SERP click-through rates.
9. Ubersuggest
Expand your keyword search with Ubersuggest. This free tool provides additional ideas for search, paid, and content-marketing campaigns.
It's also great for finding niche keywords you might have missed.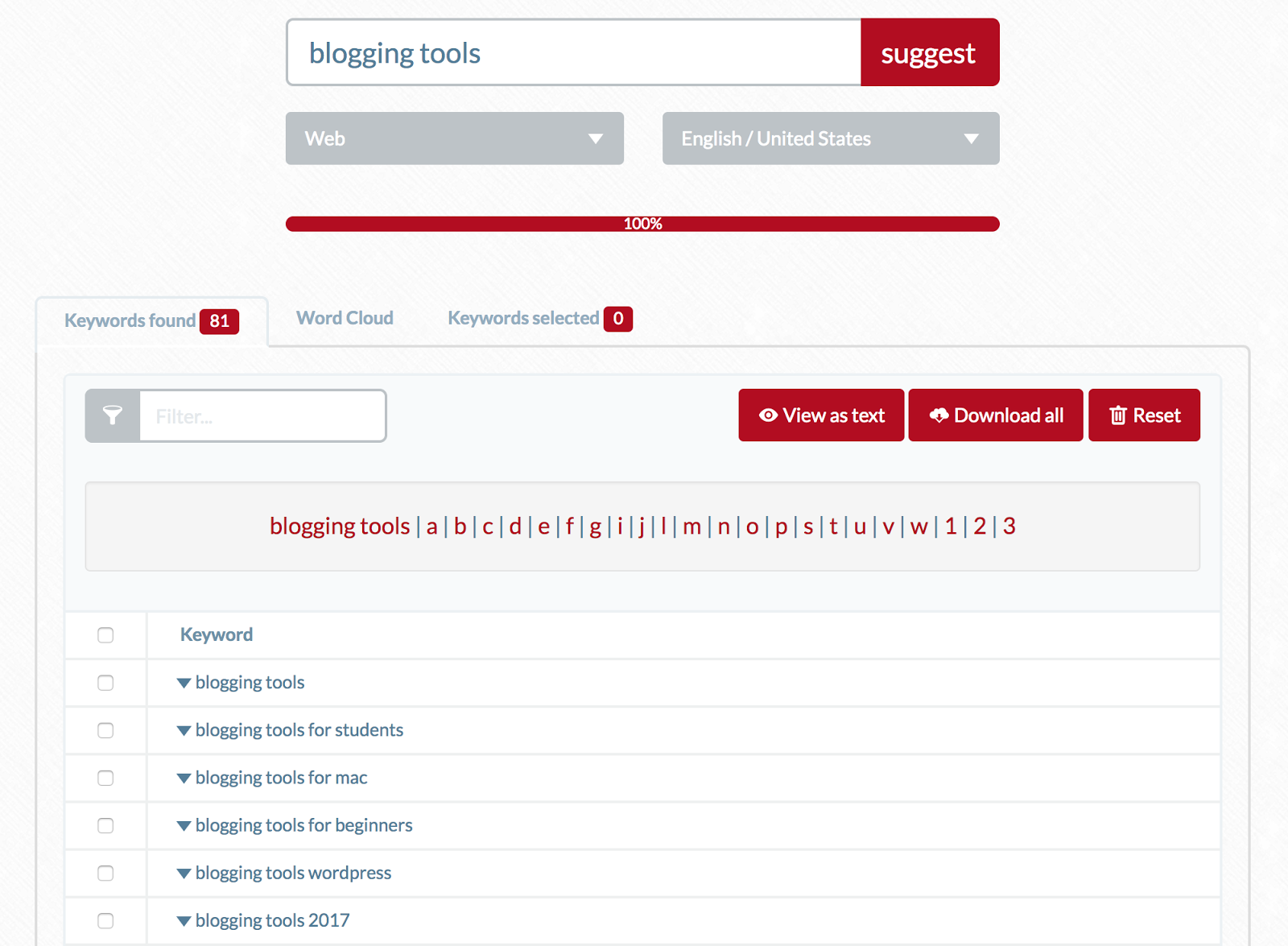 Outreach
10. InkyBee
Determine the best sources for outreach for your topic. InkyBee provides detailed search filters, allowing you to then contact, track, measure, and optimize your outreach performance.
Writing tools
11. Hemingway
This word editor tightens up your writing by highlighting areas for improvement.
For example, it will tell you when your sentences are becoming too complex for easy reading. And it'll highlight common writing or formatting mistakes to avoid, like passive voice and unnecessary adverbs.
12. Grammarly
This free Chrome extension ensures that your grammar is correct whenever you write on the web.
It highlights mistakes and gives you suggestions to improve your work in a simple drop-down box. You can also upgrade to the premium plan for additional features.
13. Edit Page
The right headline can make your article shine. The wrong one can sink your article into obscurity.
This WordPress plugin is a great way to make sure you select the best headline for your blog post.
And best of all, it's free!
14. FocusMe
Creating quality content regularly is the foundation of every successful blog.
FocusMe blocks distracting websites and applications while you write. It's also a great way to set goals and track your work habits.
Then you can use what you learn to improve your writing process.
15. 750 Words
This is another tool to help you write more. 750 Words provides you with goal-setting and tracking tools to motivate and inspire you and hold you accountable.
Similar to Grammarly, this tool tests the readability of your article.
By identifying the weaker areas in your post, you're able to improve readability — and, ultimately, capture your reader's attention!
Ideally, you want blog posts to be no higher than an eighth-grade reading level.
Images and graphics
17. Pixabay
Articles with images get 94% more total views.
Head to Pixabay for free, high-quality, commercially-licensed stock images. Just find an image you like and then check the sidebar to make sure it's free for commercial use.
18. Unsplash
This site is like Pixabay, but on Unsplash, every image is free for commercial use.
You don't even have to link to the photographer or source, although Unsplash says it's appreciated when possible.
19. Canva
Whether you want to create feature images, banners, infographics, or other visuals, Canva is the tool to use.
It's browser-based and free, and the templates make it easy to mock up a great-looking image in minutes.
SEO
20. Yoast SEO
This WordPress plugin helps you improve the SEO of your blogs posts. It sits inside each of your post drafts on WordPress.
By inputting your targeted keyword, it'll offer suggestions to help you optimize your meta titles, descriptions, sitemaps, and posts' readability.
Project management
21. CoSchedule
This calendar lets you organize all of your marketing efforts in one place. You can plan your editorial schedule and then create it with the built-in editor.
You can also sync it with your WordPress blog and schedule your social media promotion. Plans cost between $30 and $1,600 per month depending on your needs.
22. Trello
This tool is fantastic for those who create large amounts of content or who work in teams.
Projects exist on cards that can be dragged-and-dropped to different boards as the project progresses.
You can create tasks, set due dates, and assign projects to team members.
The basic version is free, but you can upgrade to unlock additional features. Here's a blogging editorial calendar template you can use to get started.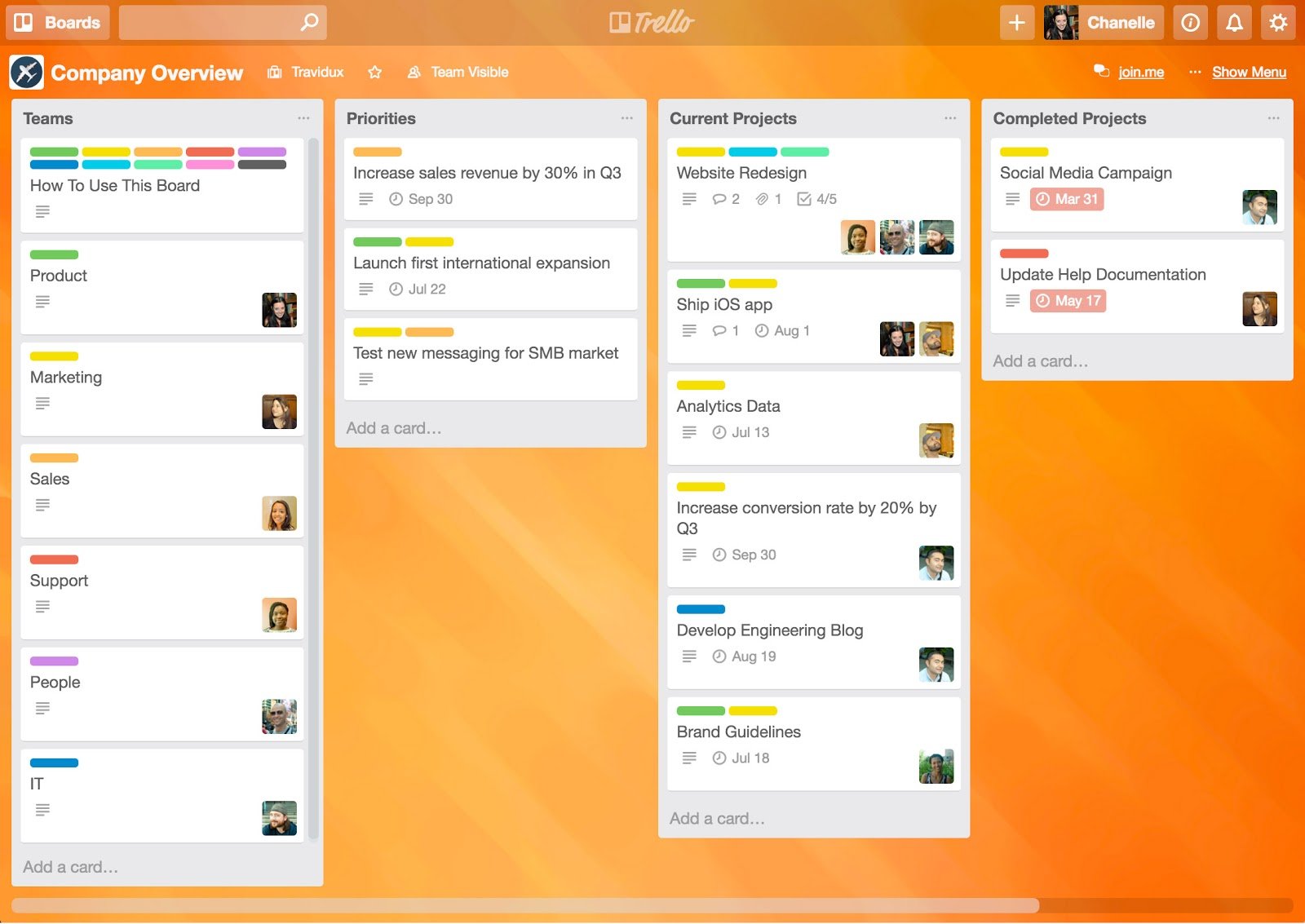 23. Pipefy
Like Trello, Pipefy allows you to create 'pipes' for each step of your blogging process.
Then you can create cards for each blog post and move them through the pipes to completion. It's free for teams of up to 5 people and then increases in price as your team grows.
24. Google Sheets
Google's version of Excel works within your browser. Unlike Excel, it saves automatically, and sheets can be edited simultaneously by team members.
Google Sheets comes with tons of useful templates, too, and it's completely free!
Email marketing
25. MailChimp
I've talked before about how email is one of my top sources of traffic. With MailChimp, you can create beautiful emails in minutes and set up automated campaigns.
It also lets you track campaign analytics and place sign-up forms on your blog. It's free for up to 2,000 subscribers and increases in price from there.
26. ConvertKit
This is another email marketing platform, but with more features (and a higher price tag) than MailChimp.
The main benefit for bloggers is the ease of setting up multiple sign-up incentives like courses and downloads. You can also create dedicated landing pages for your offers.
Let's say that you've organized your blog categories by topics. You can provide topic-related offers for each of them now.
For example, you can assign an SEO e-book to the SEO topic or category, and so on.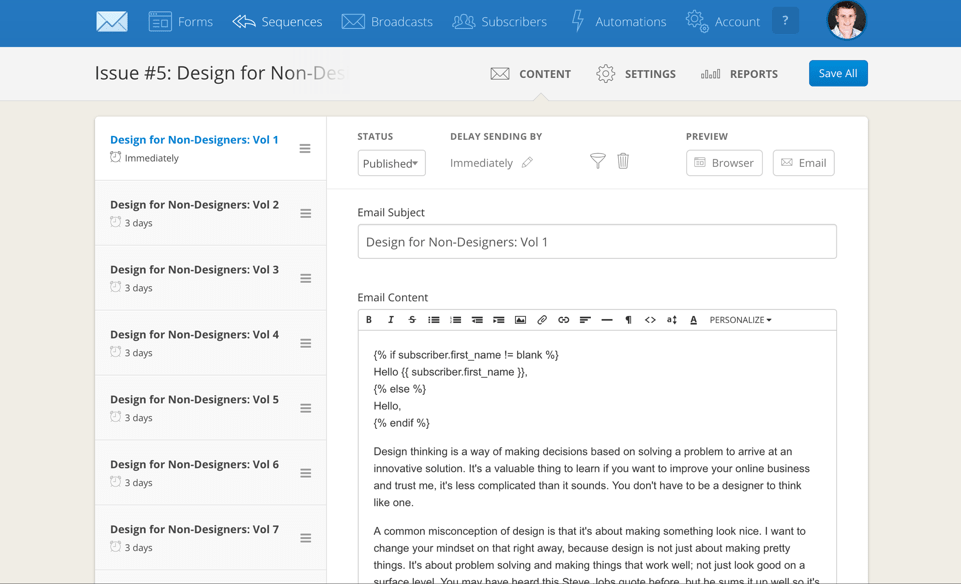 27. ActiveCampaign
Similar to ConvertKit, this tool can take you one step further if you also need a sales and CRM platform.
Its drag-and-drop interface lets you create great-looking emails easily. It also provides four styles of sign-up forms for you to add to your blog.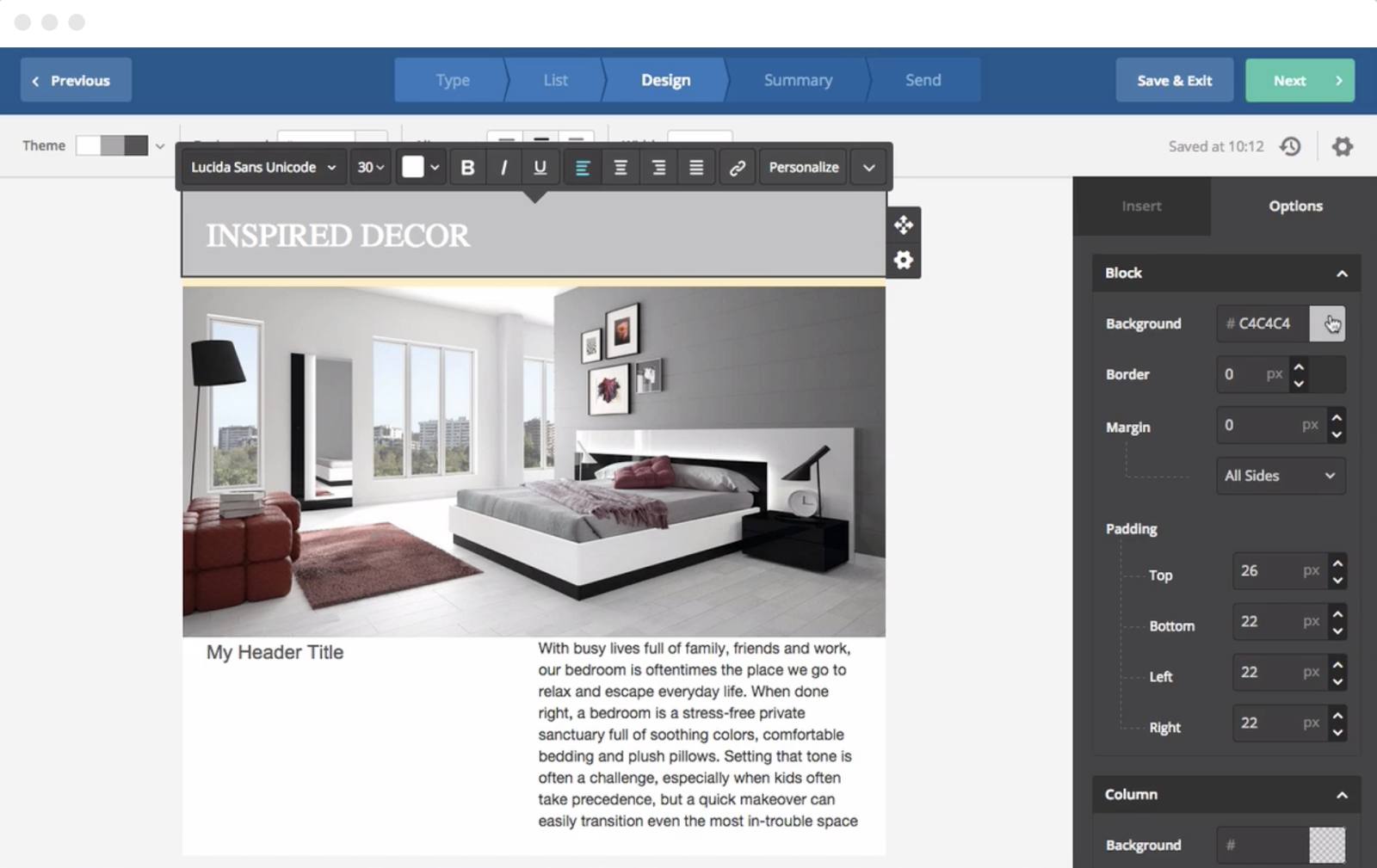 Social media marketing
28. PostPlanner
Boost engagement on your social media accounts with PostPlanner.
PostPlanner lets you find the best-performing content for your readers and then schedule it to be posted across your social channels.
Plans range from $3–$49 depending on how many profiles and posts you want to share.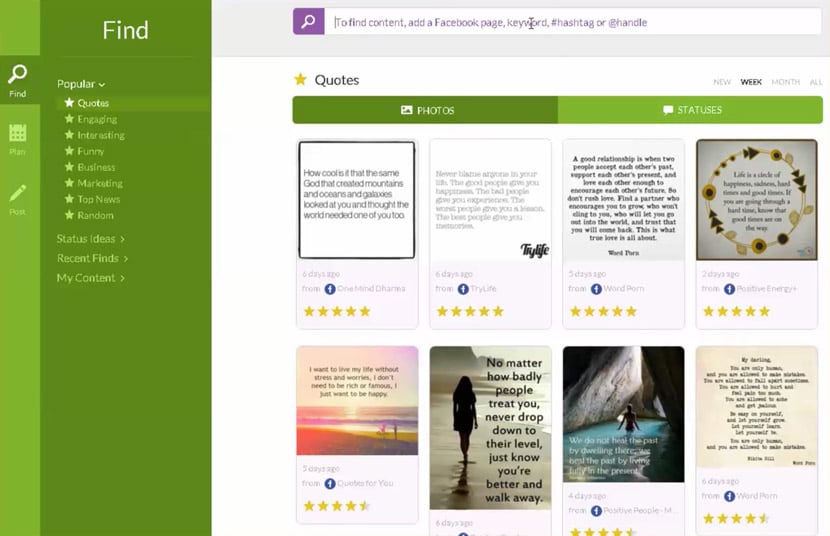 29. SocialFave
Optimize and manage your Twitter account with SocialFave.
SocialFave will help you analyze your posts, engagement levels, and community to gain insight on how to improve. It also lets you find new accounts to follow to help grow your community.
Their starter plan is free, but the cost increases if you need more features or accounts.
30. SocialQuant
Automate your Twitter growth with SocialQuant.
This tool follows accounts in your niche with the goal that they'll follow you back. And if they don't, it automatically unfollows them.
It lets you target accounts to follow by inputting hashtags, keywords, and Twitter handles.
SocialQuant claims the average 14-day trial user experiences a 93% growth in that time. It costs $50 per month or $300 per year.
31. Social Warfare
Get your content shared the way you want it shared.
Social Warfare lets you add 'Click to Tweet' quotes to your text, Pinterest pins on images, and more.
You can also customize the look and placement of your social-sharing buttons. The basic version is free, while a premium license costs $29 per year.
32. Buffer
Queue up social media posts to be shared across your channels at set times.
Buffer will even calculate the optimum time to share posts on each social network for you. Just set up your account and install the Chrome extension.
Then click the icon whenever you want to share a web page, and Buffer will add it to your queue.
Buffer will then take care of the rest. Your posts will go out at 'peak engagement times' to maximize the shares on each.
It all happens automatically without you needing to interfere!
33. Triberr
Join tribes of other bloggers in your niche to share each other's content.
Triberr works because of generosity, reciprocity, and the knowledge that we're stronger together. The tool is free to use, but you can unlock extra features for $10/month.
34. Sprout Social
Manage all of your social media efforts in one place with Sprout Social. It even gives you a single-stream inbox that your whole team can interact with.
It also gives you valuable social-media management insights with its analytics. It costs between $99 and $249 per month depending on the number of team members.

Website optimization
35. Akismet
This anti-spam WordPress plugin is a must-have for bloggers. It helps filter out the dreaded comment spam that litters so many blog posts online.
The plugin is free for personal sites, $5 per month for commercial sites, and $50 per month for larger enterprises.
36. Crazy Egg
This tool gives you different user-behavior features to see exactly what people are doing on your website.
Heat maps, for example, will show you exactly where people are interacting on your site.
Confetti shows you where people are clicking (or not clicking) on your site and where those people came from.
And the Scrollmap shows how far down the page people are scrolling and helps determine where visitors abandon the page.
This suite of tools allows people with limited coding skills to run detailed tests.
Among other things, it'll let you run A/B, multivariate and split-URL tests, while also tracking conversions.
It costs between $49 and $999 per month depending on the number of visitors your site receives.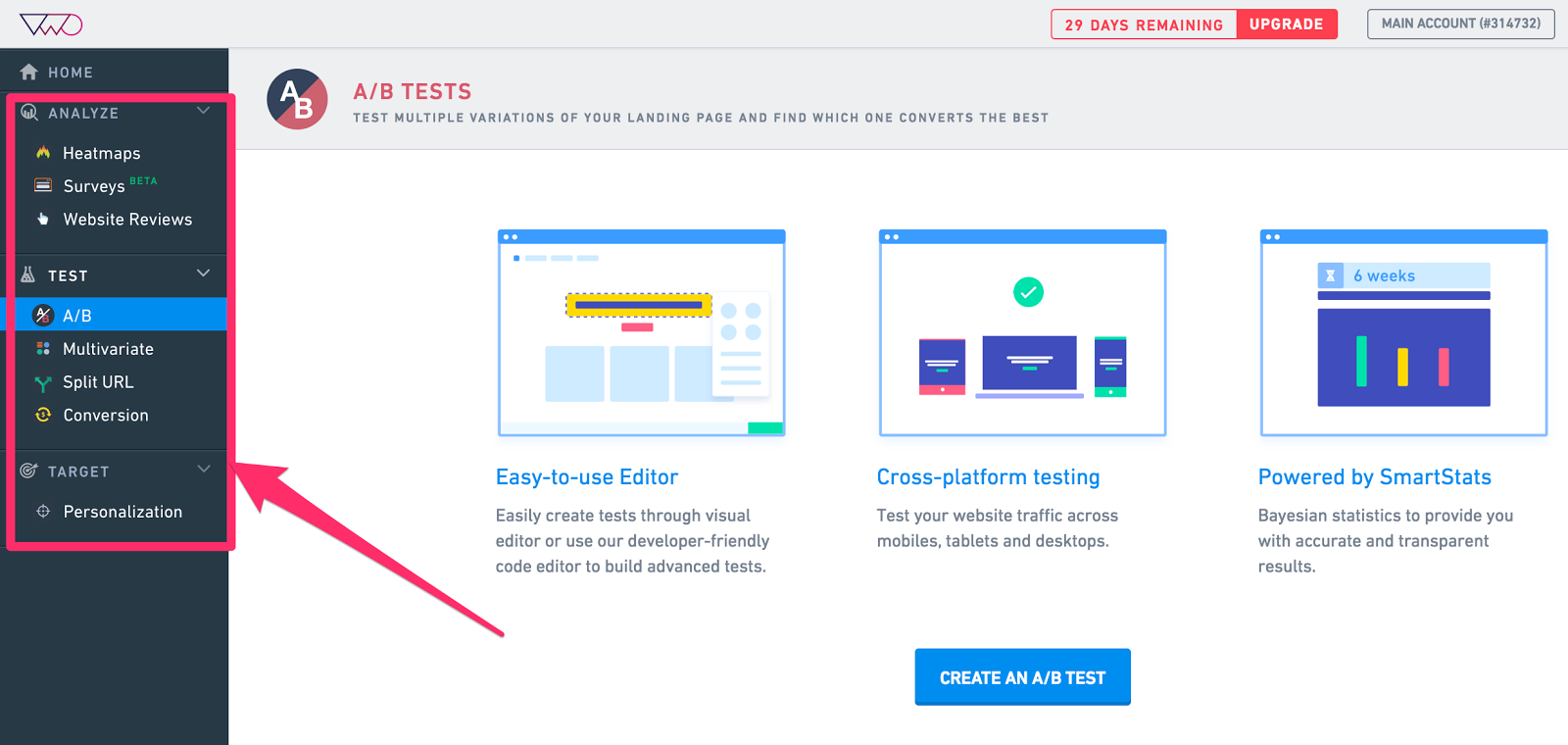 38. Quick Sprout
Analyze your website and get suggestions on how to optimize your pages.
Quick Sprout is an easy-to-use tool. Just input your website URL, click 'Analyze,' and then work through the suggestions to improve your page.
Similar to Quick Sprout, this tool allows you to optimize your website for desktop and mobile devices.
40. JetPack
This WordPress plugin delivers a suite of tools to keep your site secure, increase traffic, and engage your readers.
It includes site analytics, automatic social sharing, SEO tools, and a host of security and backup tools. Many features are free, but you can upgrade to paid plans to access additional features.
41. WP Super Cache
Speed up your website by creating static HTML files for each of your pages.
Instead of the page loading from scratch each time someone visits it, 99% of your visitors will be served these faster-loading static HTML files.
Analytics
42. KISSmetrics
This advanced growth tool lets you analyze and optimize your digital marketing performance.
Get actionable insights, set up automated email campaigns, and track your main growth segments to lead people from prospect to advocate. Pricing starts at $500 per month.
43. SEMrush
This premium group of marketing tools allows you to optimize the SEO, ads, content, social media marketing, and e-commerce on your blog.
It costs between $79 and $400 per month depending on usage and access to the additional features.
However, you can quickly make that money back by using its data to spot better keyword opportunities.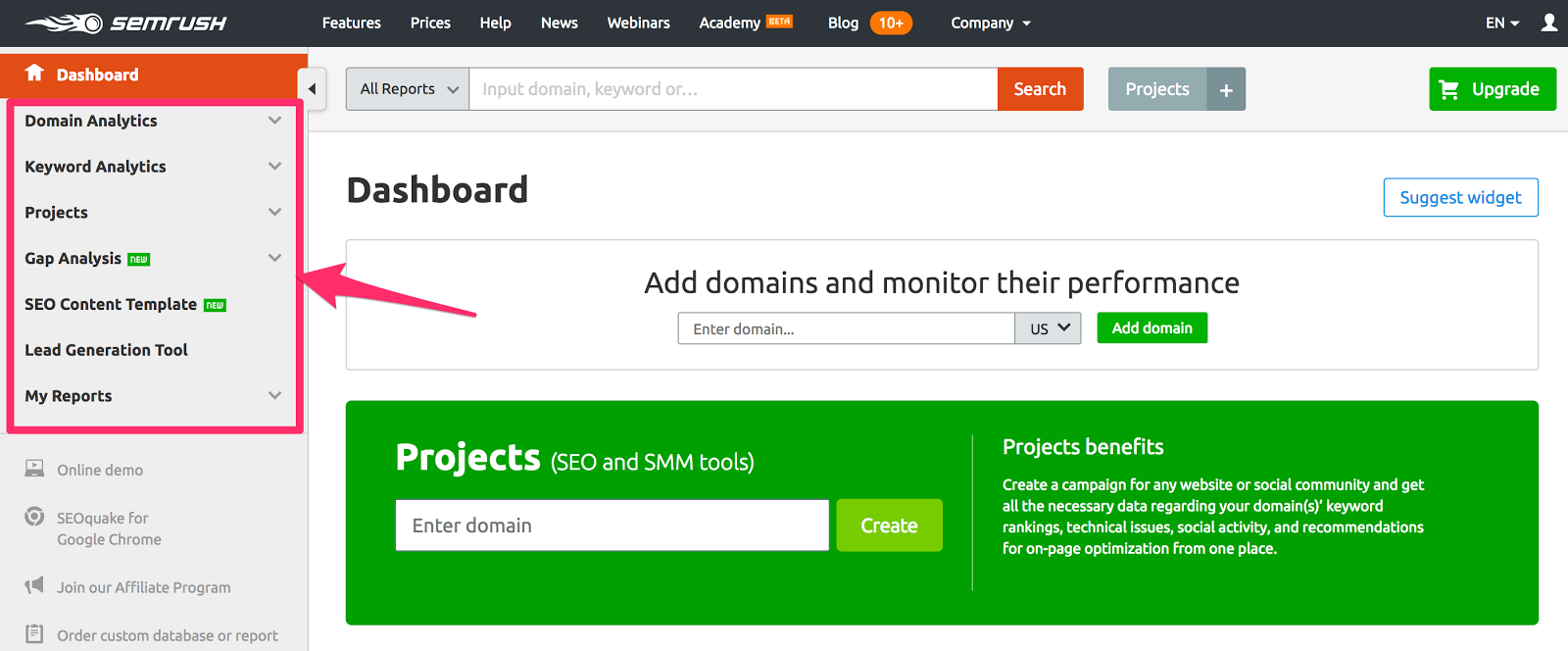 44. Google Search Console (Previously Webmaster Tools)
Monitor and maintain your site's presence in Google's search results.
With Search Console, you can find and fix website errors in things like the crawl, indexing, fetching, and data structuring of your site.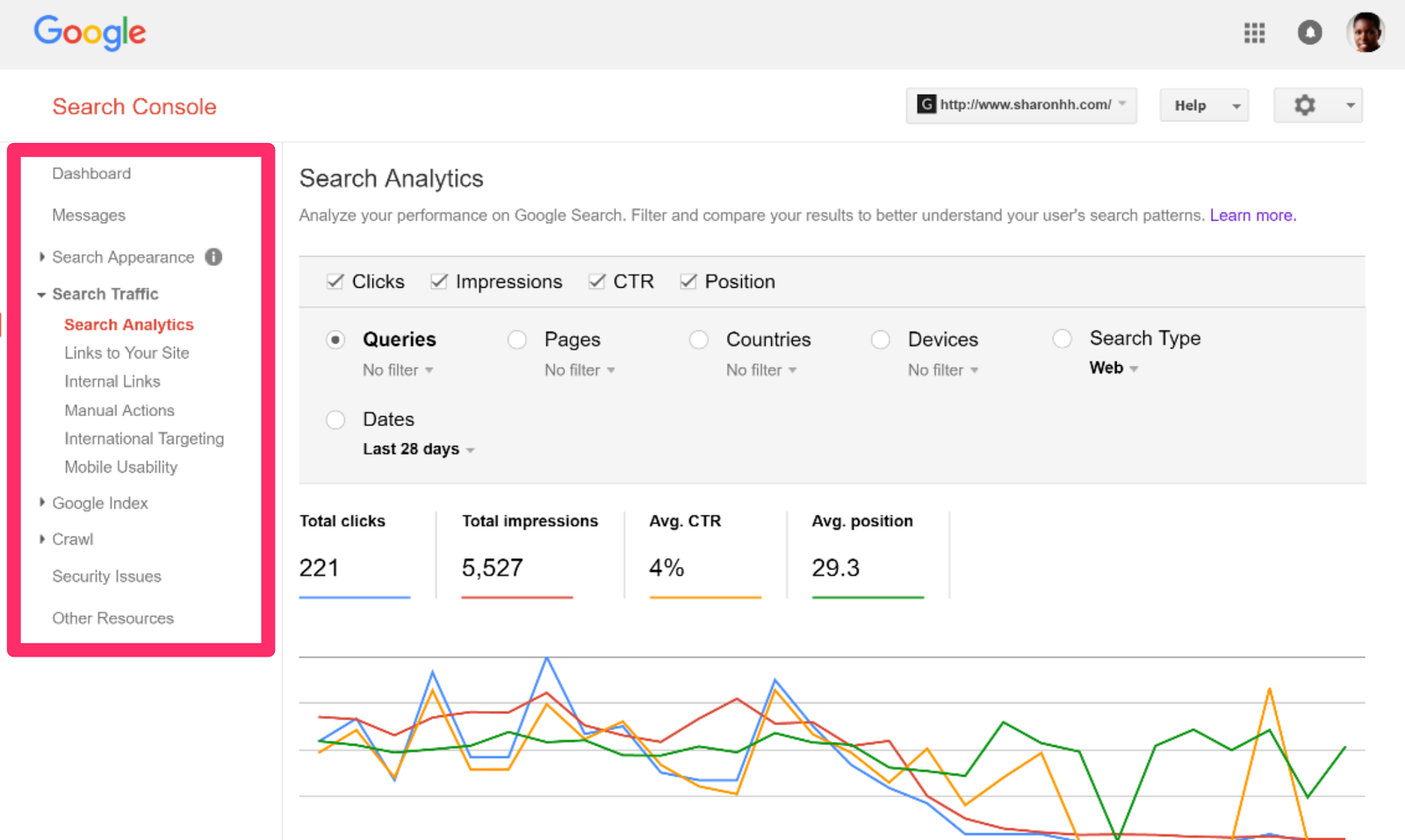 45. Google Analytics
No list of blogging tools would be complete without Google Analytics. Obviously, it allows you to track and report on all kinds of traffic metrics.
Find out how people are finding your blog, who's visiting it, and what people are doing on it. Although Google analytics can get very complex, the basic features are extremely useful.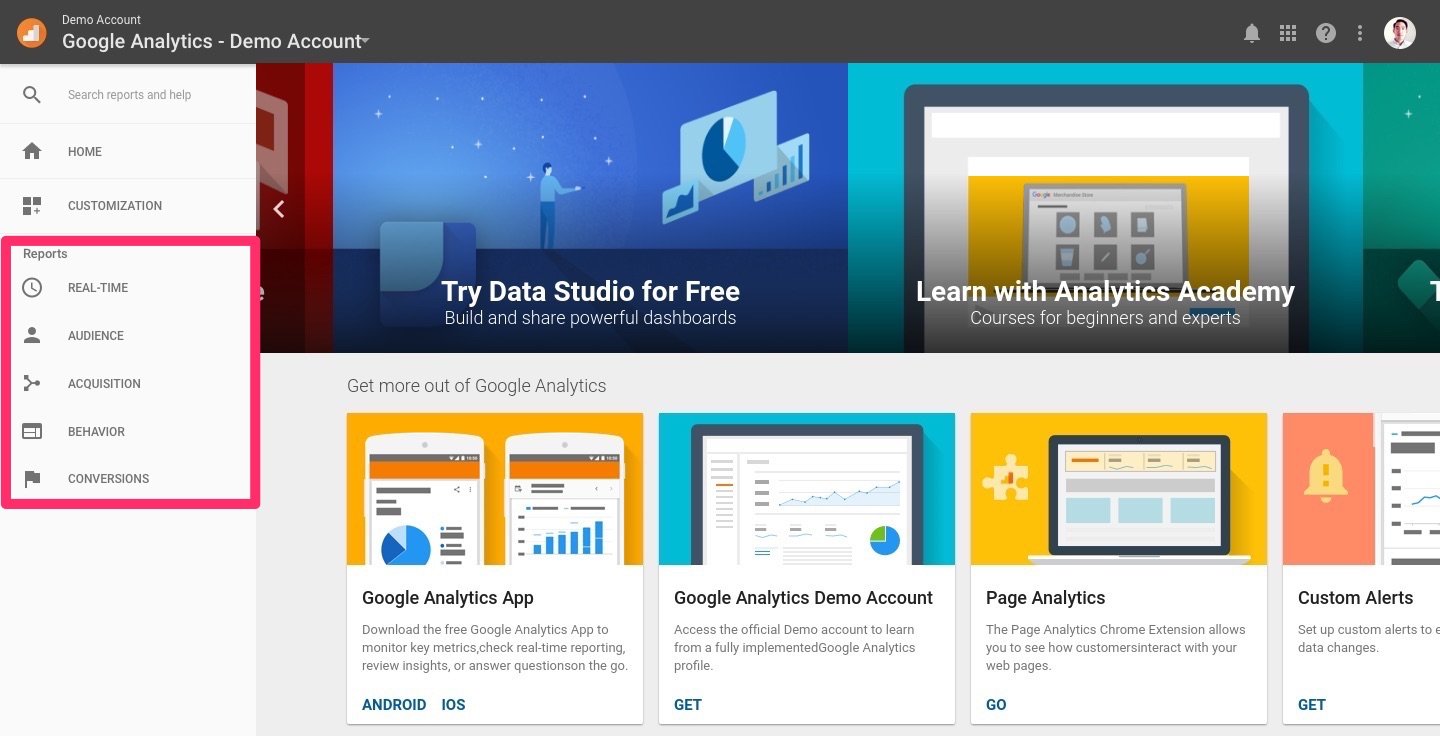 Conclusion
Lots of people have built sustainable blogs over the years. That doesn't mean that you can't get ahead of the pack.
You need an edge to put your content in front of your competitors' content. Blogging tools can help you do just that.
With more and more people adding to the noise, it's more important than ever to use these tools to increase your chances of blogging success.
Especially since blogging doesn't just mean writing anymore.
Now you have to research keywords, find amazing images, and optimize each post before it goes live. Then you have to promote it, of course!
That's where this giant list of 45 tools comes into play. They can help you shave time off each of those activities.
They'll help you speed up, streamline, automate, and delegate activities to generate more traffic, improve click-through rates, drive conversions, and reduce bounce rates.
But remember, it's not the number of snazzy blogging tools you use that counts, but how well you use them.
What is your favorite blogging tool you use to skyrocket traffic?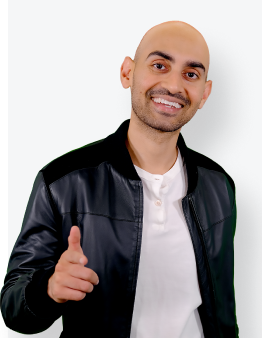 See How My Agency Can Drive More Traffic to Your Website
SEO - unlock more SEO traffic. See real results.
Content Marketing - our team creates epic content that will get shared, get links, and attract traffic.
Paid Media - effective paid strategies with clear ROI.