If you're unsure about how to scale your business, you'll be happy to know it's easier than you think.
That's a good thing to hear, because knowing how to scale your business online will prepare you for the continued growth of e-commerce (especially on a global scale).
Did you know the value of e-commerce retail sales is expected to reach $8.5 trillion by 2025? You need to get ahead of your competition now.
Scaling your business will help you not just gain new customers but understand the buyer's journey, helping you forecast sales growth.
We surveyed 1,000 business owners who successfully scaled their businesses in the last five years. I'll tell you all about their success stories, what they did, and how you should scale for growth.
Let's get down to business.
Why We Need to Scale Our Businesses
You've got to meet and keep up with demand as you grow.
When the time is right, you need to know how to scale your business.
It'll take time, resources, planning, and execution. The good thing is that you can use data insights to guide you.
Leveraging data you're actively collecting and managing will help scale future outlooks. Use that data to identify how to scale your business online and stay up on what's trending in your industry.
Leveraging external data is also helpful. If you're an e-commerce retail brand, eMarketer is a great source to follow for industry news and projections.
Source: eMarketer
As you watch your numbers and compare them with your industry forecast, you'll be able to start growth hacking to scale your company.
What exactly is growth hacking? It's using innovative methods to exponentially grow your business.
Say you're growing a startup. After you hit your breakeven point, what's next?
This is when you'll want to learn how to scale your business.
Scaling up is all about sizing up. To change the size (or scale), you have to know what drives that change.
The data will tell you when it's time to make the move.
How you scale is driven by how you:
Set milestones: Outline exactly what will set you on the path to success.
Identify risks: Think about the factors that could make or break your business. Do you have resources in place if you have production problems or experience staffing issues?
Manage your sales: Do you have key performance indicators (KPIs) set to let you know how your business is performing? If your sales are increasing, you need to scale quickly to match demand.
What Our Data Showed Us About Attitudes on Business Scaling
We surveyed 1,000 business owners to get a pulse on how they've scaled their businesses in the last five years.
We found:
Over 45% of participants said the main reason for scaling their business was because they were surpassing previous goals.
Since they were ready to scale, surprisingly, 26% also remarked that the pandemic increased the demand for their products or services.
Everyone wanted to grow their business.
Which made sense when almost 60% of participants took to market penetration strategies like offering new products or services and winning customers from competitors.
To stay organized and forward-thinking, they took on additional accounting tools and conducted growth forecasting to help manage business growth.
While learning how to scale a business came with growing pains for them, over 50% of respondents sought out professionals for support to close their learning gap.
Operational effectiveness will help you scale through your hypergrowth.
So, develop your employees, don't be afraid to call in extra help to close your learning gap, and watch the forecast of your industry to break into new markets to scale your business.
Online Business Scaling Success Stories
Everyone starts somewhere.
Sometimes you start with a great product or idea, and the decision to scale comes later.
But the risk can come with a big reward.
Once you get past the "what I wish I'd knowns," you'll be proud of your smart scaling.
The following three brands' stories are great examples of how to scale a business.
Crumbl
From opening their first store back in 2017 to winning millions of TikTok fans with their cookie boxes, Crumbl is a brand that learned how to scale a business online and is seeing great success.
So, how'd they do it?
Crumbl scaled up by expanding its product offerings.
They added a pink sugar cookie to their classic flavors and started a rotating menu.
That's how their iconic four-flavor weekly rotation was born.
Crumbl now has over 600 bakeries in 47 states nationwide.
According to Ahrefs, the Crumbl website started in November 2017 with 217 visitors on average per month. This grew to over 6 million in average organic traffic by December 2022.
In November 2017, the site was bringing in about $5 in estimated average organic traffic value. In December 2022, their average organic traffic value topped $55,000.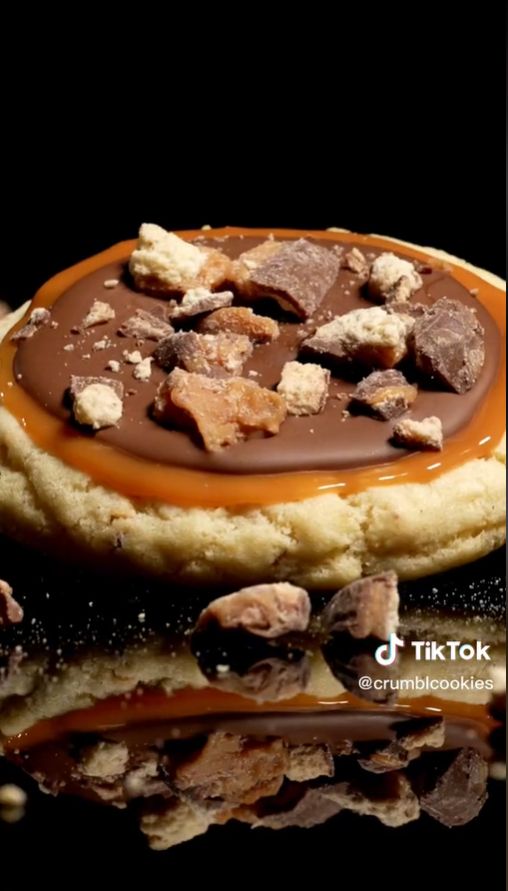 Source: TikTok
If that's not enough evidence for you, just check out their fandom on TikTok.
Videos dedicated to reviewing the cookies of the week are always highly anticipated and bring in millions of views.
They've garnered a strong fan base that keeps coming back for more, feeding their weekly demand.
Happy Box
I have great respect for side hustle businesses, and these sisters took their business full time back in 2020—in the middle of the global pandemic.
Fun fact: The idea for Happy Box started with a "Break Up Box" one sister created for the other.
They then expanded their product offerings to personalized gift boxes for any occasion.
The site started bringing in traffic around November 2016 while they were still in their side hustle phase.
By October 2020, Happy Box was becoming a full-time job for Hannah and Ariel, seeing an estimated average traffic of over 10,000 based on Ahrefs data.
By December 2022, Happy Box was seeing close to 10,000 visitors regularly.
Back in November 2016, the site was bringing in only about $8. They peaked at over $13,000 in October 2020, and in December 2022, the site brought in more than $8,000.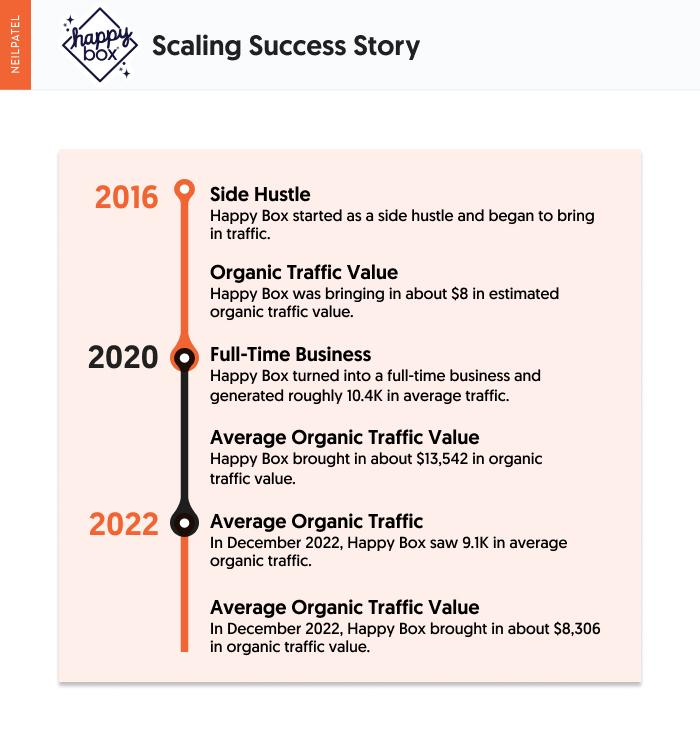 Skylight Frame
This company started off as a Kickstarter campaign, raising about $55,000.
The Skylight Frame was their first product, and business has been on the rise ever since.
In November 2016, their site saw two organic visitors and made about $1, according to Ahrefs data. A few years later, they were noticed by the likes of CNN and Buzzfeed, garnering notable features.
Today, they're seeing average organic traffic of over 55,000 visitors and $70,000 in average organic traffic value.
How Should You Scale Your Business?
So, what should your scaling plan look like?
Five tips you should be following for how to scale your business are:
Have a flow: Fulfill your business in every way it needs to get a flow going. Keep ironing out your standard procedures to unify how to mitigate errors and communicate with your customers.
Pinpoint customers' needs: Your visitor experience is important to increase engagement and commitment to your brand. Your website and social media presence will drive how you scale your business online. By looking at logs from your website's chatbot customer service or your social media, you can potentially find ideas for key improvements for your brand.
Develop your employees: Give your employees opportunities for career development. Even if your team isn't trained in an area, call in a specialist until your team learns what's needed.
Maximize your resources (especially local partners): Keeping things local or in-house will help company costs, and networking with other companies will allow for new partnerships.
Continue to improve the business: You can measure your success through KPIs to manage your performance and determine if your workflow is best for the brand.
Frequently Asked Questions
What are some ways I can scale my business?
Take a hard look at your business. Start by analyzing your process and modifying any holes that aren't efficient. Develop your employees and hire strategically to help with your process flows. Even outsourcing to get the job done contributes to your process flow, adding a layer of expertise. All these levels should start running in an automated fashion so you can then focus on making the business better, like by adding a new product or improving the quality of your existing offerings.
How can I grow my business fast?
Start smart scaling by knowing how your business can grow, what consumers need, and researching your competitors. This way, you can get customers into your sales funnel and increase customer retention. Once you nail this down, you'll be ready to extend into new markets and scale.
Conclusion
When you're facing the consequences of a recession or expanding into a new market and gaining a high influx of customers, you need to know how to scale your business.
Steady and strategic wins the race of scalability.
Get out from behind manual processes and get your business running on its own.
If you want to increase customer lifetime value as your business grows, pay attention to the signs that you're ready to invest and scale your business.
Establish a winning strategy to scale and see successful results.
Think of the status of your business and where you see your company going. Are you ready to scale your business?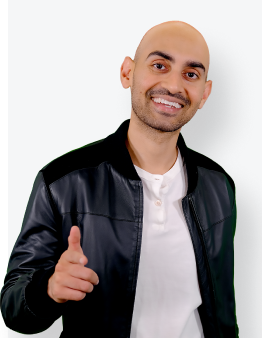 See How My Agency Can Drive More Traffic to Your Website
SEO - unlock more SEO traffic. See real results.
Content Marketing - our team creates epic content that will get shared, get links, and attract traffic.
Paid Media - effective paid strategies with clear ROI.
Are You Using Google Ads? Try Our FREE Ads Grader!
Stop wasting money and unlock the hidden potential of your advertising.
Discover the power of intentional advertising.
Reach your ideal target audience.
Maximize ad spend efficiency.