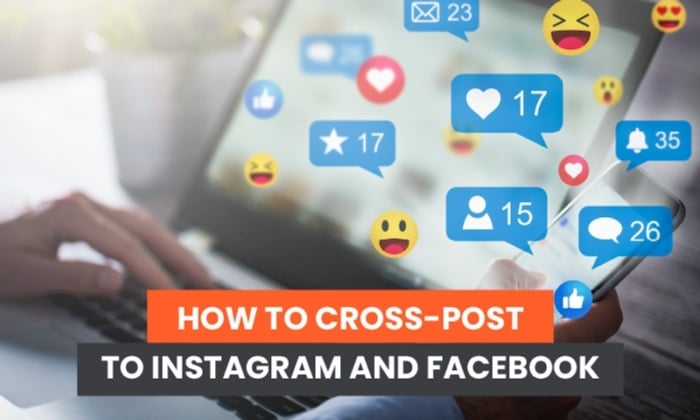 The Facebook/Instagram relationship provides businesses with an opportunity to leverage the audiences and tools of both simultaneously.

Have you ever thought about cross-posting on the platforms as part of your social media marketing strategy?

It's a step that could save your time and ensure campaigns go out simultaneously and consistently. Doing it well, however, requires taking the time to set the systems up right. You'll also need to decide what kind of content you want to push out simultaneously and when.
Here's how to use cross-posting to make the most of both accounts.
How to Link Your Instagram and Facebook Accounts
Before cross-post to Facebook and Instagram, you'll have to connect the two accounts. Once they are connected, the two accounts can talk to each other and ensure content is posted in both places.
Note, you will need to link your Instagram account on Facebook, if you want to push from Facebook to Instagram. Alternatively, you will need to link your Facebook account to your Instagram account, if you want to push from Instagram to Facebook.
In other words, if you want to be able to cross-post content from one to the other and vice versa, you need to link both accounts both ways.
Keep in mind that you need to think about whether you are using personal accounts or professional pages before linking things. If you choose to link to Instagram from your Facebook page, rather than a personal account, Instagram will make your account a professional, public account by default.
Think about where you want to cross-post to and from before linking to ensure you take the correct steps.
To link your Facebook account to Instagram, go to your settings and look for "Instagram." Choose to connect an account and type in the login credentials of the Instagram account you want to connect.
You can go back and choose "Disconnect" at a later time, if you need to.
To link your Instagram account to Facebook, you'll need to use the Instagram app. Go to the Account Center and choose to add a Facebook Account.
Just as before, you'll need to enter your login credentials. To disconnect later, you can go through the Account Center again and choose to remove the correct account.
How to Cross-Post Photos and Videos on Instagram and Facebook
Once you link your Instagram and Facebook accounts, you can choose to post from Facebook to Instagram or Instagram to Facebook when you share photos, videos, or other standard posts.

The steps are similar whether you are posting from Facebook to Instagram or the other way around, and whether you are on desktop or mobile.
In all cases, you'll prepare your content and then check the settings as you go to post. In the sharing options, you will have the opportunity to cross-post to the other accounts connected to your account.
To give yourself more options, such as posting to multiple accounts, you can choose a third-party solution such as Zapier. With these integrations, your posting will trigger a notification and the third-party software will post on the other platform.
The pros of this option include being able to overcome Facebook Instagram limitations within the platforms. However, because it's not native, you could come up against some obstacles, so you'll need to check to make sure the cross-posted content looks right.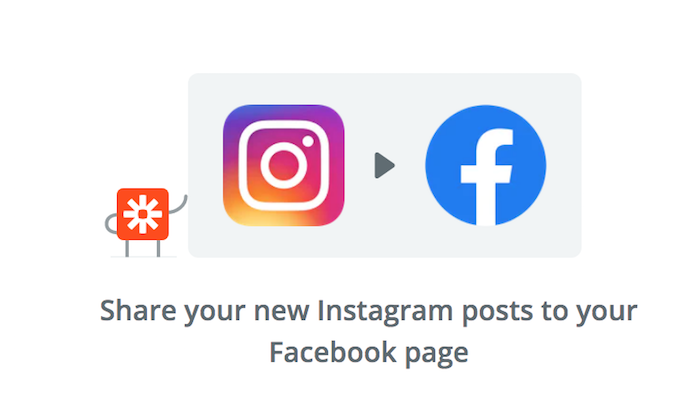 How to Cross-Post Stories on Instagram and Facebook
Stories can also be cross-posted across platforms. Facebook and Instagram stories are short-lived posts in the Story section of either Facebook or Instagram. They can be a great way to share live updates or quick looks into your brand. You can also use these to push people to your Instagram shop or Facebook page.
When you share a story from Facebook to Instagram or Instagram to Facebook, you can choose to cross-post to the other platform, with each post or automatically with every post.
You'll want to do the automatic option if you create a lot of stories you want to be pushed to the platform, to maximize your audience reach. However, if you want to be more particular about which posts are shared across the board, choose the manual option.

To cross-post your stories, create your story on the platform of your choice. Before you post, you'll see the sharing setting options. You can choose to share to the other platform, once or automatically every time.
Here's a tip: You can choose once this time if you are still experimenting. If you end up cross-posting a lot, you can choose "every time" down the line.
How to Livestream on Instagram and Facebook Simultaneously
One of the most popular media opportunities available on Instagram and Facebook is live streaming. Whether you are hosting an event or just want to hop on live and speak with your audience, you probably want to post simultaneously so you can reach your full audience.

The problem is there isn't a cross-posting, or in this case cross-streaming, button available to easily push the livestream from one platform to another.

However, there are many workarounds and third-party software to help you do this seamlessly.

The first option is to just have two devices and turn one on to Instagram and one onto Facebook. If you are just starting to get into live streaming, it may not make sense to take the time to set up a third-party software. If that's the case, just use two devices.

As you get into this though, you'll start to see the problems. It's not the exact same video stream, since two devices have to be in two different places. Even if they are close, the video perspective is slightly different.
You'll also have to remember to start and stop the stream on two different devices and manage comments on two different platforms—which can be a lot to handle.
To overcome these obstacles, here are some software integrations to help you cross-post your live streams.
OneStream
OneStream Live does just as the name promises. It allows you to create one stream to go out to multiple places, including Facebook, Instagram, Vimeo, YouTube, and more. The platform comes with other features, including pre-scheduled and live streaming, analytics, storage, and embeddable video options.
There's a free option, but to get the cross-posting features, you will need to choose at least the $39 per month option.
StreamYard
StreamYard promises not only cross-posting opportunities but also adds a touch of professionalism to your videos. You can brand them with your logos, colors, and more. You can also add guests to your live streams.

Socialive
Socialive allows even beginner livecasters to create professional and high-quality casting opportunities. Like the others shared here, you can cross-post your live streaming to Facebook and Instagram.
There are also various viewer engagement options, as well as pre-recorded broadcasting and recordings.
How to Cross-Post Old Posts on Instagram and Facebook
What if you want to go back and share old posts from Instagram or Facebook? If you are new to one platform, this can be a good way to fill the new platform with content your customers care about.
You might also want to do this if you're trying to build up engagement on one of the platforms and have one type of content that is particularly popular.

In general, the best way to go is to go to the post you want to share and click on the settings of that post. Then choose to share to the other platform.

For instance, if you want to share an old Instagram post, you can click on your post from your desktop and then click on the three dots on the upper right corner.

Then click on "Share to…"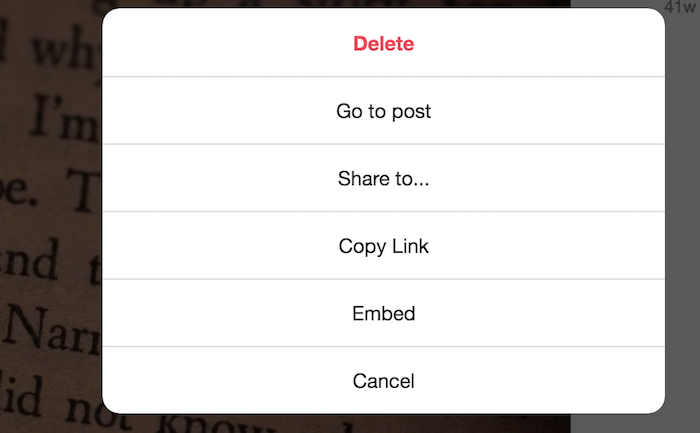 Then click "Share to Facebook."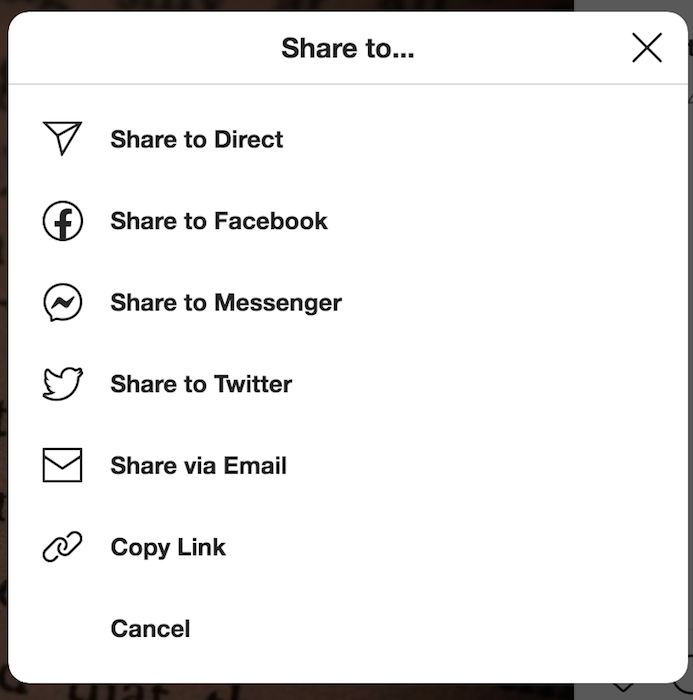 ​​Should You Cross-Post on Facebook and Instagram?
Simultaneous Facebook Instagram posting may seem like an easy way to streamline your social media strategy, but there are disadvantages as well.
Just like any marketing technology, there are situations where you may want to employ this in your overall strategy. In other cases, it may make more sense to post manually and separately.
Saving time is the biggest reason to use this method. If you're trying to get a lot of content out quickly, or if you don't want to choose one platform over the others, cross-posting can take an extra step off your plate.
Especially if you are posting great content, consistently, you don't want anyone to miss what you're sharing. Sharing content on both platforms can help to increase your exposure and ensure maximum reach.
However, there's sometimes when this isn't the right strategy.
For instance, if you have followers on both platforms, they may get tired of seeing the same content posted in both places. It can also lower engagement. If users hop on Facebook and see your message, even if they like it and interact with it, they're less likely to engage with the same content a second time on Instagram.

If you are trying to build up your social media following, and likely have the same loyal followers on both platforms, show them some love by posting unique content on each platform.
Furthermore, people tend to consume and interact with content differently on different social media platforms. Some types of content perform better on various platforms.
Posting the same content on Instagram and Facebook indiscriminately misses the opportunity to leverage the most popular types of content on each platform.
Cross-Posting to Instagram and Facebook Frequently Asked Questions
Can I post to Facebook and Instagram at the same time?
Yes. You can link your Facebook and Instagram accounts and cross-post your content across both platforms at once.
How do I share an Instagram post on Facebook after posting?
If your Instagram and Facebook accounts are linked, you can click on the three dots next to your post and choose to share content on Facebook.
Can I cross-post a video from Facebook to Instagram?
Yes. Before you can cross-post a video, you will need to connect your Instagram account to Facebook. Once they are connected, you can create a video post on Facebook and choose to share it on Instagram before posting.
Why can't I cross-post from Facebook to Instagram?
The top reason cross-posting doesn't work between Facebook and Instagram is you haven't connected your accounts yet. You need to go to your Facebook settings and add your Instagram account by inputting your login credentials.
Cross-Posting to Instagram and Facebook Conclusion
Cross-posting content can help improve your social media marketing strategy and save you time—if you do it right. It can help you get the word out to your target audience on more platforms and drive traffic to your carefully crafted content.
However, it's important to know your target audience well. Shouting into the proverbial wind may not produce the results you expect. Know where your audience is and what kind of media they want to consume. Then you can move forward with confidence.
Will you be cross-posting across both platforms?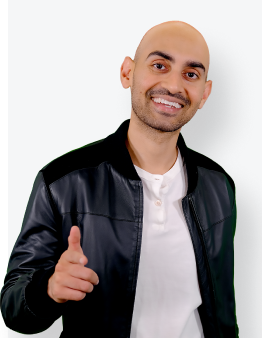 See How My Agency Can Drive More Traffic to Your Website
SEO - unlock more SEO traffic. See real results.
Content Marketing - our team creates epic content that will get shared, get links, and attract traffic.
Paid Media - effective paid strategies with clear ROI.
Are You Using Google Ads? Try Our FREE Ads Grader!
Stop wasting money and unlock the hidden potential of your advertising.
Discover the power of intentional advertising.
Reach your ideal target audience.
Maximize ad spend efficiency.