Today's marketers know that Facebook is key to their success.
In 2018, there were 80 million active Facebook business pages, and that number only keeps growing.
But despite so many marketers using Facebook—or perhaps because of it—it's harder and harder than ever before to get the attention of our fans.
Even worse, many marketers don't even know what type of content performs best on the platform.
Well, all of that ends today. We'll uncover exactly what types of content get the most shares on Facebook, which types are most likely to go viral, and where your best opportunities are.
By the end of this article, you'll know exactly how to craft a Facebook post that's all but guaranteed to be popular across the social network and attract new fans and followers.
Let's get started!
What do different engagement types mean?
Before we cover the specific types of posts you can use for more engagement on Facebook, let's look at what the different types of engagement mean.
The easiest type of engagement to get with a post is a like or other reaction. This simply indicates that someone supports your posts, finds it funny, or agrees with your point of view.
The next type of engagement for a post is a comment. This is more difficult to get since it requires more effort than a simple click.
Importantly, a comment also indicates that the user is willing and able to contribute to the conversation. Typically, posts with a more controversial nature get more comments.
Finally, the most difficult type of engagement to earn is a share. With a share, the user indicates not only that they enjoy the post, but that they're willing to be associated with it.
They're okay with their friends on Facebook seeing that they've shared the piece.
Because of this extra exposure, shares are also most important for marketers looking to grow brand awareness on social media.
So what can we do to get more likes, comments, and shares on our posts?
Understand your audience
The first step to any marketing campaign is to understand your audience, learn what they want to hear, and start exploring different types of content that can appeal to them.
While you may already know the answers to many of these questions from previous marketing insights, it's a good idea to make a habit of asking these questions so you can keep engaging with your audience.
What are they interested in?
Hopefully, you already know what your audience likes, but the more detail you can get about their interests and needs, the better.
It's been estimated that Facebook is accessed an average of eight times per day. In order for your fans to keep logging in, what new content are they hoping to find?
It's your job as a marketer to understand what they're looking for and provide that type of content.
And remember, this is often not directly associated with your brand. Red Bull has built a loyal following on Facebook not by talking about energy drinks, but by featuring impressive stunt videos.
The audience that drinks Red Bull is interested in an exciting lifestyle that requires lots of energy, not necessarily energy drinks themselves.
What are they frustrated with?
You don't want to build a brand around negativity, but if you learn what frustrations your customers have, you can engage them even more effectively.
By mentioning common frustrations, you can increase engagement with comments and build trust for your brand.
What do they want to hear?
Finally, what are they hoping to learn? What type of content will keep customers returning for more, again and again?
You'll want a good idea of the types of information your fans already know and solutions they've already tried. Your goal is to present new solutions and content that's different to keep visitors interacting with your brand.
Follow what's popular
One of the fastest ways to create a great campaign? Tag along with something that's already doing well.
Here are some of the more popular types of posts you can include in your posting schedule to keep fans engaged.
Memes
Memes are always popular on social networks, and you can use them to boost recognition of your brand.
Create a meme using the insights you've learned about your audience. Oftentimes, memes can generate a huge amount of shares that other content types simply can't beat.
Don't overuse memes unless it fits your brand, but if the best way to express an idea is with Philosoraptor, then it's worth an experiment.
Current events
Whatever the latest news is, it's sure to generate opinions. And depending on the voice of your brand, touching on a current event might be a surefire way to generate engagement.
If you decide to mention current events, follow a few tips.
First, don't get too political. Unless you have a political brand or your industry is directly affected by a policy decision, it's a good idea not to get too involved with politics.
If you do, you could end up offending half your fans no matter what you say.
And second, be sensitive. Turning a tragedy into a pitch for your company is a mistake far too many brands have made over the years. Learn from their lessons.
Like and share if you…
Asking your fans to self-identify as a type of person and share a post can be powerful. If you've asked fans to identify as ideal customers, such as foodies or people who love luxury products, you'll be automatically targeting potential customers.
Based on the science behind why people share on social media, people tend to share things they associate with their social groups.
By asking people to select their social group, you're more likely to get a share.
Inspirational quotes and images
Inspirational quotes and images on Facebook might sound cliche, but they're perennially popular for a reason.
People like to feel motivated and empowered, and they want others to know about it.
By posting an occasional inspirational post or image, you can inspire people to share the post with their friends and further spread your brand.
Bucket list
You've seen the types of images that get the most shares on Instagram—beautiful vistas, luxurious meals, and exotic adventures.
These types of posts are what I call "bucket list" posts because they represent experiences people want to have some time in their life.
These types of posts are popular because they invoke awe and excitement, and you can bring people to feel those emotions through posts you share as your brand.
Even better, these types of posts can be used for nearly any industry. If you sell gardening supplies, it could be an image of a world-famous botanical garden. If you're a mechanic, a beautifully restored antique car could be enough to get your prospects drooling.
To make this work, just look for great visual examples of something in your line of work and share them. It's a great way to get people dreaming of their own bucket list.
Causes and solutions
I've combined these two because they often go together—a solution or product that helps us believe in a cause that's important, like a biodegradable drinking straw or vegan protein substitute.
These are typically in the form of videos that explain the problem and demonstrate a solution.
If you're involved with a cause through your industry, consider creating an engaging and informative piece of media to explain the problem and how your product or brand solves it.
Experiment with something new
So far, we've covered the more common types of Facebook posts. But there are a host of other ways to engage with fans.
These strategies might be a little riskier, but they can provide outsized benefits that outweigh the risks. Here are some strategies you can experiment with to boost Facebook engagement.
Video
Video can be more expensive than other types of content since it requires a bit more effort and media to pull off.
But today there are also a variety of low-cost and easy-to-use video tools that can help you create a great-looking clip in minutes.
Check out platforms like Moovly, Wideo, Vyond, or Animoto to get started.
Live videos
When Facebook first launched Live Videos in April 2016, many marketers noticed that the algorithm started favoring live videos over other types of content.
Today, live videos don't get an automatic ticket to the top of the news feed, but they can still do very well if you're getting enough engagement.
To experiment with this video type, make sure your fans and followers know about it beforehand, then make it an engaging experience that people will want to comment on and share.
Humor
Not every brand (or marketer) can pull off a great sense of humor online, but if you can then it can be a great way to stand apart from the crowd.
First, you'll want to decide the type of humorous touch is appropriate for your brand. The sarcastic tone of Wendy's social media campaigns probably isn't appropriate for a law firm.
But by looking at other players in your industry, you can develop a unique brand voice that works well to increase your engagement on Facebook.
Track and improve
As you get started with your social media strategy, the most important factor is to make sure you're testing everything and only moving forward with what works best.
If you neglect to test, you'll end up with a laundry list of strategies, but not have any idea which actually works for your brand.
Instead, you want to adjust each thing you try to make sure it's a good strategy that will increase engagement rates.
First, you'll want to follow engagement rates for recent posts. This is very easy with the built-in Facebook Insights tool, which displays the rates for your most recent posts.
As you analyze what's most popular on Facebook, you'll come to learn the strategies that are working best and the ones you want to keep replicating in your marketing strategy.
And second, you'll want to track what does well for your competitors. You can add other accounts to track on Facebook Insights and keep an eye on what they're posting.
As you keep measuring and improving, you'll bring up your engagement rates and start to see real results.
Conclusion
If you're on Facebook, you know that it's a good idea to post content that gets as many shares as possible. The goal with Facebook is to generate likes, comments, and engagement.
Every person who engages with your content on Facebook is that much more likely to sign up or buy what you're selling.
So how can you get people engaged on Facebook?
To start, understand your audience. Get a great feel for what they care about and tie your content back to their needs and wants as much as possible.
Next, pay careful attention to trends and popular content types. Study what people are engaging with, and work to incorporate those methods into your current marketing strategy.
And finally, keep testing and improving to make sure you're reaching people who are most likely to engage and to make sure you're reaching them on the right channels.
Now that you know how to generate Facebook shares, what are you going to do with that knowledge?
How will you post content that gets more shares on Facebook?
About the Author: Sherice Jacob helps business owners improve website design and increase conversion rates through compelling copywriting, user-friendly design and smart analytics analysis. Learn more at iElectrify.com and download your free web copy tune-up and conversion checklist today!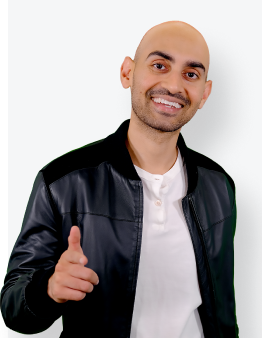 See How My Agency Can Drive More Traffic to Your Website
SEO - unlock more SEO traffic. See real results.
Content Marketing - our team creates epic content that will get shared, get links, and attract traffic.
Paid Media - effective paid strategies with clear ROI.
Are You Using Google Ads? Try Our FREE Ads Grader!
Stop wasting money and unlock the hidden potential of your advertising.
Discover the power of intentional advertising.
Reach your ideal target audience.
Maximize ad spend efficiency.