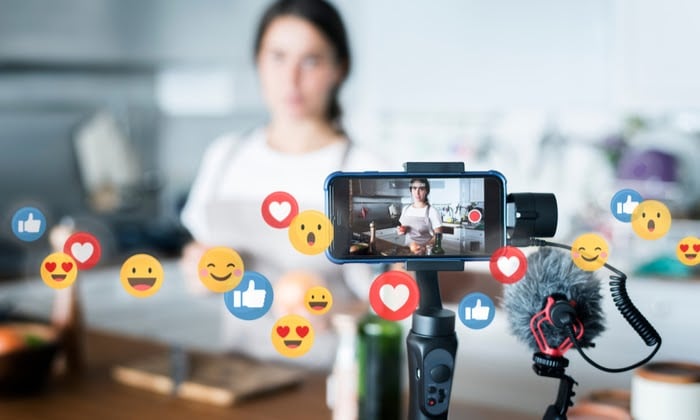 Are you missing out on a huge section of your target audience? If you're not using live streaming to engage with your followers, then you might be.
The numbers behind live streaming are impressive, and if you're not already, you should be incorporating this medium into your marketing strategy.
Here's how to leverage live streaming to create crazy levels of engagement with your audience.
What Is Live Streaming?
Live streaming is a powerful way to connect with your target audience and personalize your message in a unique way. It's a simple process that can have big results.
By utilizing your social media reach, you can stream live footage to a huge audience and give your followers a unique glimpse into your company.
The growth of live streaming has been exponential, with the market increasing from $30 billion in 2016 to an expected value of $70 billion in 2021 and $184 billion by 2027.
That's a huge amount of growth, and it's something that's forcing marketers to sit up and take notice, with 28% starting to invest more in live streaming.
Why Your Company Should Be Using Live Streams
Live streaming is a great way to connect with your audience in a genuine, personalized way. It allows your audience to see the faces and voice behind the brand in an unfiltered medium that drives brand association and loyalty.
When it comes to the reasons your company should be using live streams, the numbers speak for themselves:
Live streaming topped 1.1 billion hours in 2019 (Livestream)
80% of audiences prefer to watch live video than read a blog (Livestream)
Enjoyment of video increased brand association by 139% (Livestream)
Consumers are 39% more likely to share video content (99 Firms)
82% of audiences prefer to watch a live video over standard social media posts (Hubspot)
Live broadcasts account for one in five Facebook videos (Facebook)
Live broadcasts get 24X as many comments on LinkedIn (LinkedIn)
People use live streaming to create a deeper connection with your brand, and through your social media presence, it's likely you already have a platform to leverage it.
Which Social Media Platforms Have Live Streaming?
One of the good things for businesses that aren't already utilizing live streaming is that it doesn't take a lot to get set up. For the most part, you can live stream from platforms you're most likely already using, such as Facebook, Instagram, YouTube, Twitter, LinkedIn, and many others.
Each platform offers slightly different features and the opportunity to reach a different audience.
If you've already got a big presence on these platforms, then you can immediately reach a large audience through live streaming. If you don't have a huge audience, live streaming can help build your presence.
Facebook Live Streaming
99Firms states that 52% of live streams happen on social media, and with 2.7 billion monthly active users, Facebook is the most popular. Facebook Live has been around since 2016, and in those years, has made a big impact on the platform.
Live videos get 10x more comments than regular videos and 3x longer watch time. This shows the power of live streaming on Facebook and is why 42.7% of businesses use live streaming on this platform.
Instagram Live Streaming
Instagram (1.15 billion active users) might not be as big as Facebook in terms of monthly users, but it does allow your business to reach a different demographic. Popular with people aged 18-34, Instagram Live allows you to make use of one of Instagram's biggest benefits – being a very visual platform.
Although you're limited to live streaming from a mobile device, this allows you to offer a very personal glimpse into your brand and tailor your content to your audience.
YouTube Live Streaming
In many ways, YouTube was the original video-based platform, and today it plays a big role in live streaming for marketers. With an active audience of 2 billion monthly users, it's second only to Facebook as a social media platform and is widely considered to be the second biggest search engine in the world behind Google.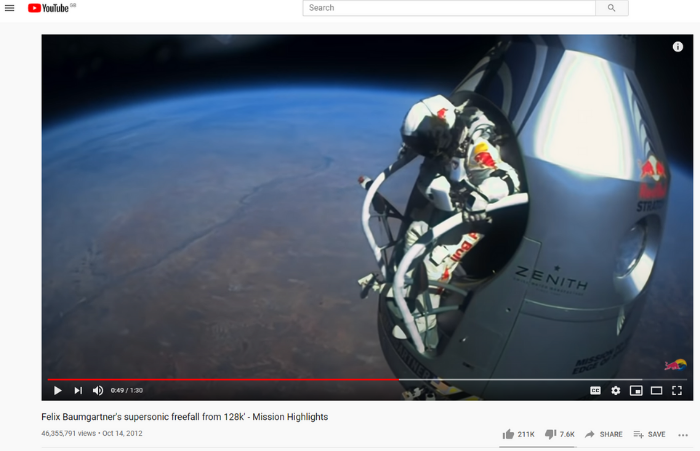 This offers huge potential for marketers, and as you might expect, live streaming performs particularly well on this platform. To put the numbers in perspective, Red Bull's live stream, "Stratos Jump," had 2.3 million concurrent views. When you realize that the average NBA game in the 2017-18 season attracted 1.93 million viewers, it's easy to see the potential of live streaming.
On YouTube as with Facebook, your live videos are saved after you stream. Here's an example of a live stream that was then automatically saved to this sport channel's YouTube:
Periscope Live Streaming
Periscope is a live streaming app that allows users to broadcast live events to Twitter. We often think of Twitter as being a more text-based platform, but this certainly isn't the case anymore, and video (live video in particular) creates a huge amount of engagement.
Video has seen huge growth on Twitter in recent months and attracts 10x more engagement than regular tweets, making it a great way to boost your Twitter profile.
LinkedIn Live
LinkedIn is a powerhouse for marketing and networking. With more than 766 million users across the globe, it's an ideal way to reach audiences, especially for users in sales or B2B.
LinkedIn Live is available for both members and pages and earns an impressive seven times more reactions and 24 times as many comments than native video posts.
Just make sure your videos are appropriate for LinkedIn's more professional audience.
Tips and Tools to Optimize Engagement with Your Live Streams
As with anything in marketing, there are lots of tools to help you optimize your live streaming. What's important with these tools is not going crazy and signing up for lots of subscriptions, but doing your homework and finding the package that best suits your business.
To help you with this, here are some of my favorite live streaming tools.
Restream.io
If you were reading along thinking, "It's great there are so many platforms to live stream on, but what if I want to use them all simultaneously?" then restream.io is your answer.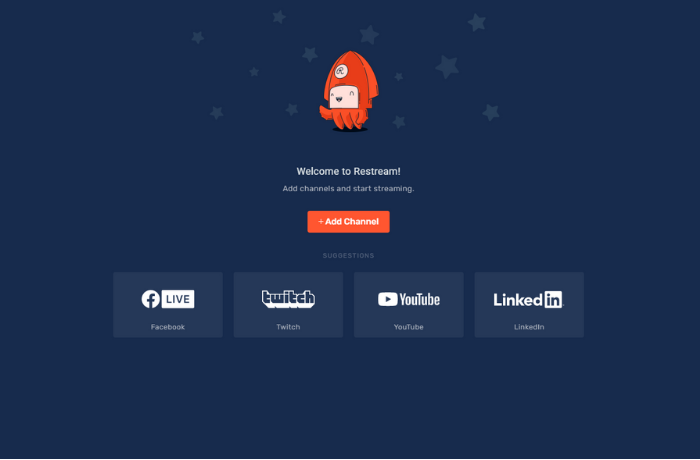 When it comes to live streaming, Restream does pretty much everything. It allows you to stream to over 30 social media platforms at the same time, schedule your live streams and pre-recorded videos, engage your viewers through chat, and bring all your analytics together in one place.
With a free forever starter plan and packages ranging up to a professional plan for a very reasonable $41/month, Restream gives your live streaming the ability to take off and engage a huge audience.
One of the best things about Restream is just how easy it is to get set up and start streaming.
With Restream Studio, you can open a single tab in your browser and start streaming to all your selected platforms in just two clicks. It automatically connects to your webcam and microphone, so you don't have to worry about any third-party applications.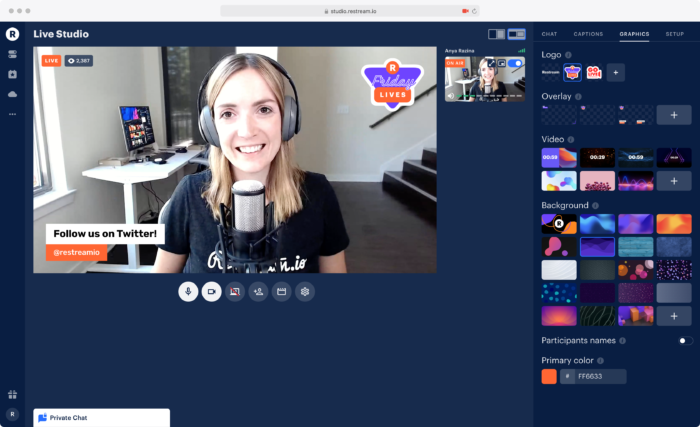 Restream Studio allows you to broadcast in Full HD (1080p) and invite guests directly to your stream and host live interviews, Q&As, and AMAs. All you need to do is to share a special link with your guests and wait until they show up.
You can also live stream webinars, behind-the-scenes, workshops, promo sales, etc. And if you need to respond to the chats, Restream has got you covered as well. It puts together the chats from different platforms into one place and allows you to not only read but also respond to your viewers.
Once you've made an account, you will arrive at your dashboard, where you will be prompted to add your channels. From here, you will be able to choose from a list of different platforms and connect your accounts in just a few clicks.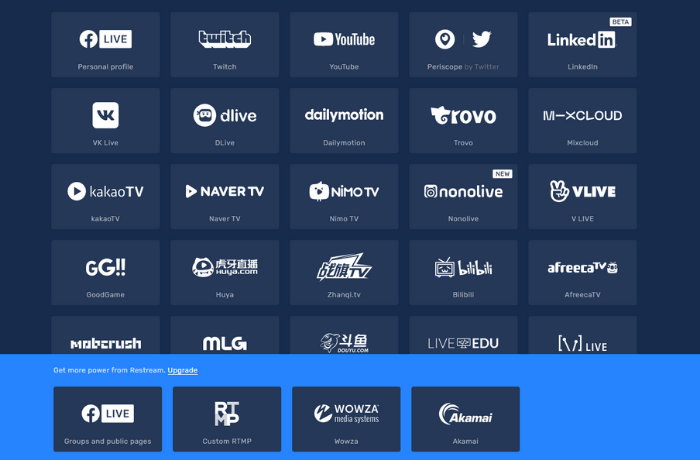 When you've synced all your accounts, then you'll see the option to go live in your dashboard. You can easily connect all your accounts and broadcast live to your followers in just a handful of minutes.

Another great tool that Restream offers is the ability to schedule an event so you can let your followers know you're going live. This gives you a chance to make sure your followers are online when you go live so they don't miss out.
However, it's not just live video where Restream can help. It's also useful for scheduling pre-recorded videos. This allows you to plan your posts, rather than logging in each day.
Undoubtedly, one of the biggest benefits is having all your analytics in one place. You don't have to flick between Facebook, YouTube, and Twitter to understand how your streams are performing because Restream gives you all the in-depth insights you need.
Social Media Scheduling Tools for Promotion
To get the most out of your live streams, you want to reach as big an audience as possible. To do this, you've got to build your following and make sure you promote your live videos.
You also need to be consistent with your social media. Social media marketing depends on producing consistently engaging content, and the easiest way to do this is by utilizing scheduling tools. You've still got to come up with great content, but at least with these tools, you can schedule your posts without having to log in to each social media platform.
While Restream has you covered for videos, tools such as Hootsuite, SocialPilot, and Buffer can help make sure you're staying consistent with your other social media posts. A lot like Restream, all you have to do is sync your accounts and then you can immediately post to each platform and schedule all your content.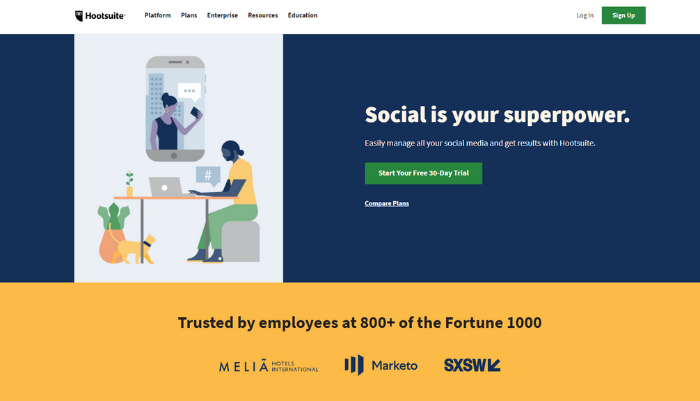 This can help you create a large, engaged audience who are eager to interact with you, which is perfect for your live streams.
Image Creation Tools
Images are going to play a big part in how you promote your live streams, and you'll see in Restream you have the option to add a thumbnail to the reminders you send out.
It's important to remember the images you use have to reflect the quality of your live streams. There's no point putting all this effort into creating a great live stream if you're going to use low-quality posts to promote it. You've got to look at it as a package and invest in your marketing as well as the execution of your live stream.
Posts with relevant visual content get 94% more views than content strategies without it, and this is where your custom images come in.
Tools such as Pablo and Canva allow you to create amazing visuals and edit them so they are perfectly optimized for your audience. Add text, filters, and other design elements that grab your target audience's attention and make them aware of your future live streams.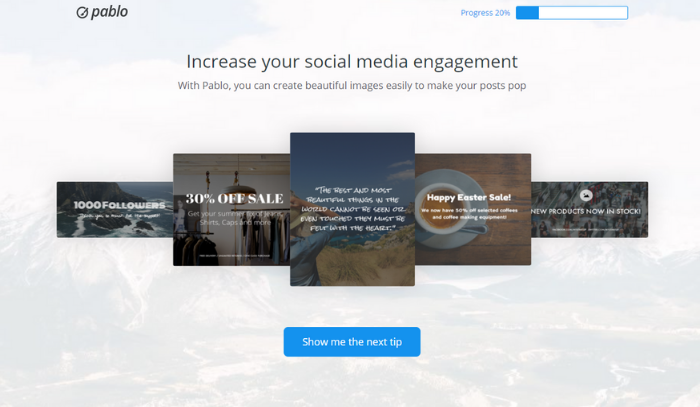 Both of these tools offer free accounts that allow you to make awesome custom images to promote your live streams.
Video Editing Tools
Although the whole point of a live stream is that it's live, you still want to save it for future use. Once you've saved a live stream, it can be used like any other video and incorporated into your marketing strategy.
You might find that once you've saved your video, there are some small edits you wish to make. You're no longer live, so you're in complete control of how you present your video, and with video editing tools such as Lumen5 and WeVideo, you can add helpful extras such as graphics to make points clearer, and format your video to suit your needs.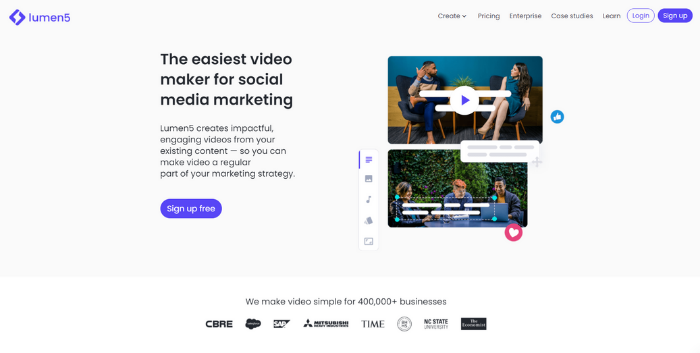 This allows you to repurpose your live streams and make sure you're getting added value from them.
Equipment You'll Need for Great Live Streaming
You don't need fancy equipment to create a great live stream. If you're streaming to channels like Facebook and YouTube, then all you need is a phone to create engaging content.
If you are planning on producing something on a bigger scale though, you will need to look at getting the right equipment. Important things to consider are the quality of your laptop, lighting, camera, and microphones.
Audio is a key component of any live stream, so you want to make sure you've got microphones that can offer clear, crisp sound. Microphones like the Shure MV88+ Video Microphone Kit that work with your smartphone are easy to use and can add the extra level of professionalism that can help your live streams stand out.
How to Make Engaging Content for Your Live Stream Videos
As with any marketing strategy, your success is going to be dependent on the quality of your content.
To drive engagement, you first have to understand your audience, the questions they have, and the pain points they might be facing. Once you have a good understanding of your target audience, then you can create a rough plan for what you want to achieve with your live stream.
Remember these important points:
Live streaming is an inclusive medium: Engage with your audience before you go live and ask them what they would like to see you address. This can guide the theme of your stream, and help make sure you're answering people's questions.
You should have a rough plan: You need to be prepared enough so that you feel comfortable; however, this is an opportunity to improvise and show your character. People like live video because it's not staged, and it hasn't been perfectly optimized and edited. It's a raw look at you, your brand, and your company, so you need to be flexible.
Be responsive to your audience: This is an opportunity for your followers to feel truly connected to your brand, and one of the ways you can achieve this is by allowing them to drive the discussion. Be responsive to comments and feedback, and allow them to guide you.
Remember your goals: The goal of live streaming generally isn't to push your product; it's about building valuable relationships. Always be aware of the value you offer the viewer and look to maximize this wherever possible.
Conclusion
Live streams are growing in popularity, and it's not by chance; this is a technology with an amazing ability to engage targeted audiences and boost your marketing. Businesses around the world are eager to make the most of it.
Thanks to tools like Restream, getting started with live streaming couldn't be easier, and you've got lots of ways to engage a large audience. It's important to remember it's not just the live stream itself that matters though. To make the most of this tool, you've got to be focused on growing your following, and this requires good social media marketing.
Live streaming is a powerful tool to work into your social media marketing plan, and it can help expand your brand's profile, so it's time to embrace it.
Does live streaming play a big part in your brand's marketing strategy?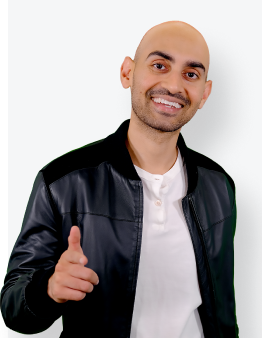 See How My Agency Can Drive More Traffic to Your Website
SEO - unlock more SEO traffic. See real results.
Content Marketing - our team creates epic content that will get shared, get links, and attract traffic.
Paid Media - effective paid strategies with clear ROI.
Are You Using Google Ads? Try Our FREE Ads Grader!
Stop wasting money and unlock the hidden potential of your advertising.
Discover the power of intentional advertising.
Reach your ideal target audience.
Maximize ad spend efficiency.