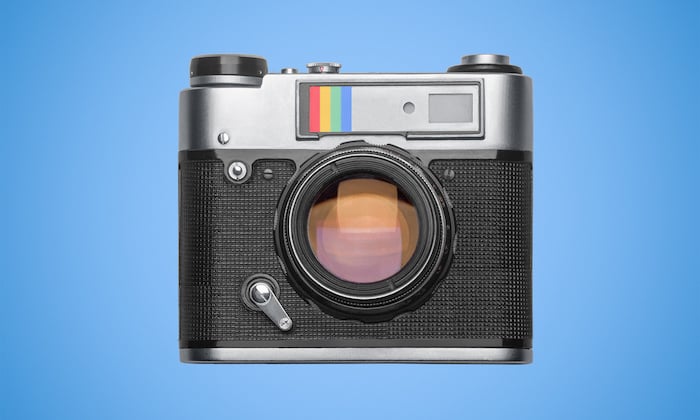 With over 2.8 billion active users in 2017 worldwide, social media has become a terrific channel for businesses to connect with their customers, build brand awareness, and improve their marketing strategy.
And, if your target audience loves visuals, then you cannot afford to ignore the platform that sees 80 million photo updates every day…
Instagram.
In particular, businesses belonging to the fashion, travel, or food industry have a terrific opportunity to engage with their audience on the app you can download for free -Instagram.
Yet, only 30% of businesses are active on social media have an Instagram account. You might think that low business adoption rate will mean that you'll face lower competition and see higher social engagement and more free Instagram followers.
Instagram has seen user growth skyrocket to over 700 million users in 2017 from nothing in just the last seven years.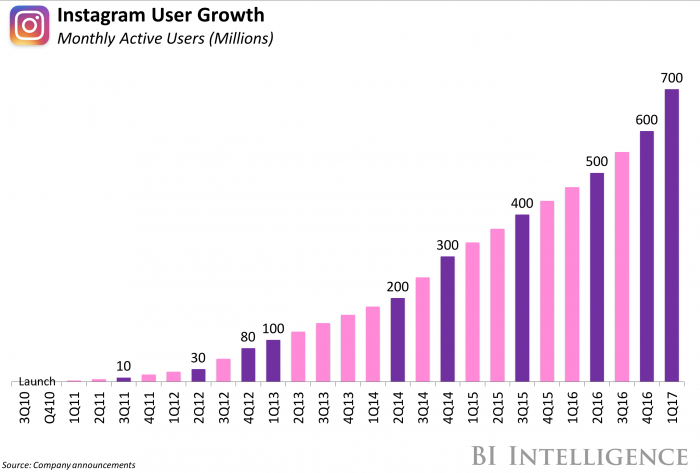 That's not even the best part, though. This next part is.
Brands are seeing an average of four times the engagement than on Facebook. While media companies, in particular, are seeing up to 10-12 times more engagement!
The danger, though, is that more and more businesses posting more and more content could lead to fewer eyeballs for everyone else.
For example, with the increase in the frequency of updates on the Instagram feed, a free Instagram follower misses 70% of posts from the accounts they follow.
To solve the issue, Instagram recently announced that they'll use an algorithm to show users the posts that interest them. They'll also use your "relationship with the person and the timeliness of the post" for filling your free Instagram feed.
Deja vu?
Yep, Instagram is following Facebook's suite.
This means that you can't simply rely on real-time industry updates or increase your Instagram photo or posting frequency to get real estate in more of your follower feeds. You've got to focus more on your free Instagram followers preferences and use innovative techniques to engage with them.
I've put together 11 tips to help you gain more free followers on Instagram, increase your engagement rate with your target audience, and drive sales via better brand awareness.
Let's begin.
1. Create an Instagram Strategy
Years ago, Facebook introduced their 'EdgeRank' algorithm. The purpose was to automatically filter and decide which content gets through to people who follow you vs. which content would be restricted.
They used a number of different criteria, like the type of post (video vs. text) and recency (new vs. old) to determine who sees what. The 'higher' your post performed, the more people it would eventually be exposed to.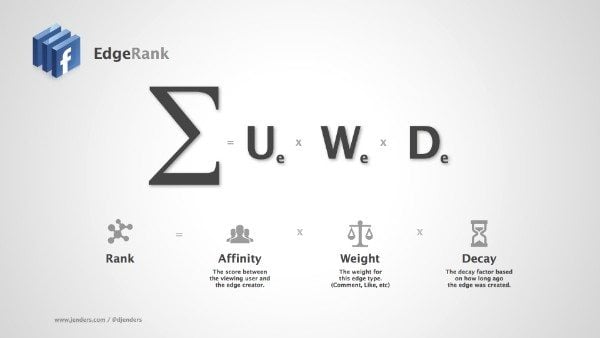 'EdgeRank' has moved on to greener pastures since then. But Facebook still uses algorithms to increasingly filter out the noise for its users.
There are so many people, so many businesses, posting so many things. And so your 'organic' reach (or the ability of your page fans to see what you're posting without advertising) continues to fall as a result.
There's no beating around the bush, here. There's just too much stuff to go around and not enough people to view it all.
Don't look now, but the same thing is happening on Instagram.
Today there are already over 700 million users and counting. And they've racked those up in a fraction of the time it took Facebook originally.
So today, good enough isn't good enough. 'Average' stuff doesn't have a chance at breaking through.
Instead, you've got to stand out. You've got to push the bar and raise the game in order to be head and shoulders above everyone else.
That's not easy, though.
Not when you're competing against other style mavens and professional photographers. We're talking about professional content creators in most cases who consistently churn out a steady stream of beautiful photos for Instagram.
So their audiences have become spoiled. People log in to Instagram expecting to see greatness.
Here's why that matters.
Today there are over two million blog posts published daily. That means any given topic you're about to write a blog post about has already been covered hundreds (if not thousands) of times.
So what's the solution? (And what does this have to do with Instagram?!)
Somehow, someway, you're going to have to raise the bar. Here's where to start.
Start by carving out a unique point of view. A strategy for what's going to be posted and why.
This gives you a foundation to tell stories that extend your view. It will illustrate the 'mission' you're on and give people a compelling reason why they should ultimately care.
The reason this same strategy works so well on Instagram is that people don't care about you! (Harsh, but true.)
Let's be honest with each other for a reason:
People don't want to follow brands.
Why would you?
Do you seriously care about the latest updates from a dog food company? Of course not. Especially if all they did was post dumb updates about themselves.
But if they could talk about why they do what they do, instead, they would suddenly become a lot more interesting.
Take Petsmart. Instead of just bombarding their users with update after update on their products, they promote the mission. They partner with shelters. They raise money and awareness to donate in order to improve the lives of pets around the world. And that's why people love them on Instagram.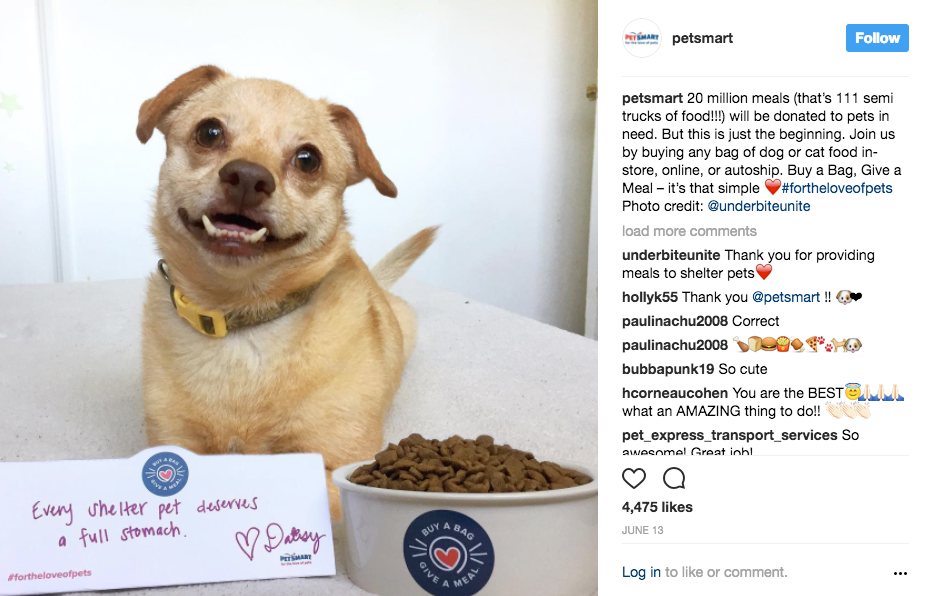 Obviously, Instagram is going to be best suited for B2C products, lifestyle brands, and ecommerce companies who are able to show off their personality.
The demographic still skews younger (think: millennials). So driving sales for high-priced B2B services isn't likely. But that doesn't mean it's impossible, either.
For example, MailChimp has been able to create a warm-and-fuzzy brand online with their little mascot, Freddie the Chimp. And they've been able to carry that lovable branding through to what they're posting on Instagram, too.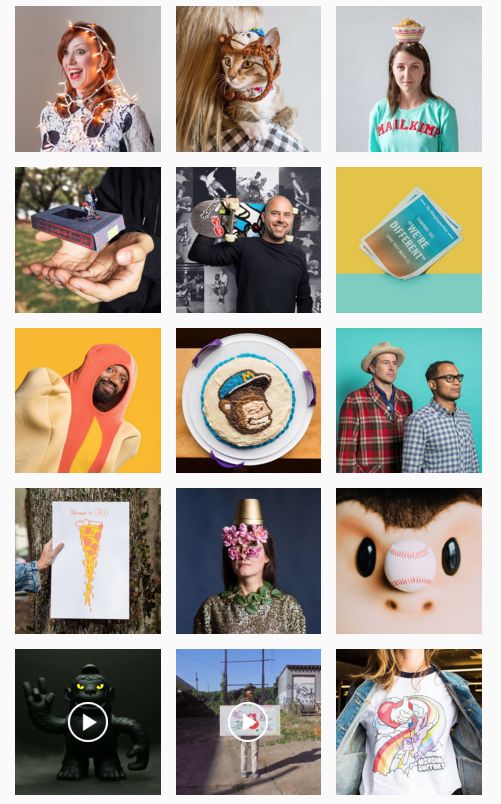 Now let's also compare that to what the Stone Brewing Company is doing.
Admittedly, alcohol brands have it easy. Their product is light-hearted and fun (for the most part). It's easy to associate what they do with why people like them.
Except Stone doesn't rest on their laurels. Instead, they continue their brand's brash, snarky, whimsical tone through to each and every Instagram post.
For example, this picture really does say a thousand words: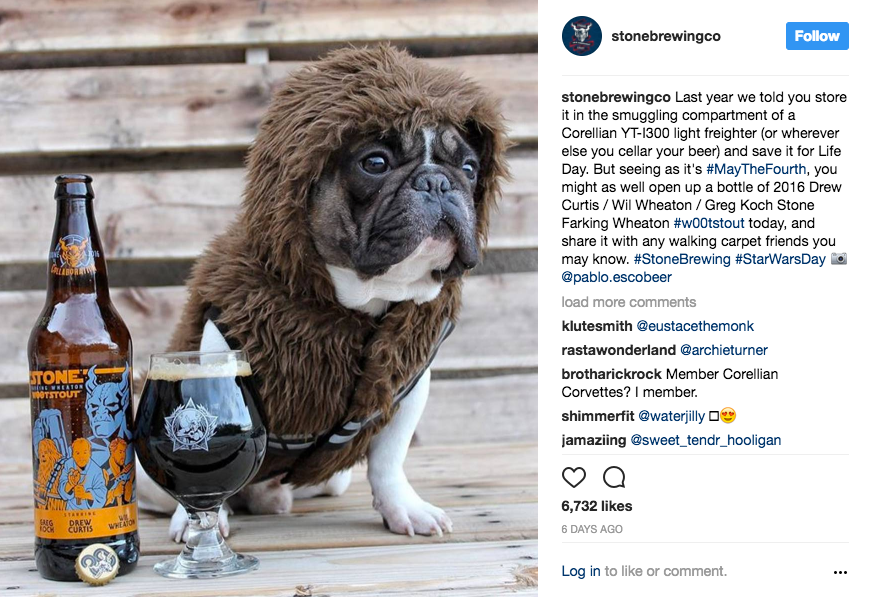 There are so many things going on here.
The professionally-staged photo of a dog in an Ewok costume is funny by itself. But then it works even better because they've also gone to great lengths of creating a limited-time only beer with the same theme.
The result? Over 6,700+ likes within just a few days of it being posted. That's A TON!
This wasn't a trick or gimmick, either. If you scroll through their Instagram feed, you'll see lots more of the same.
Their brand's voice and point of view come through loud and clear. And that's why people love them.
Especially when you compare them to their competitors.
Look:
You may have never even heard of Stone Brewing before.
They're one of the largest craft breweries in the US. They're based in San Diego and perhaps best known for their Arrogant Bastard Ale or Stone IPA.
They've been growing like a weed over the past decade or so. But they're still relatively small and unknown.
Especially when you compare them with other well-known beer companies like Budweiser, Miller, or Coors. These companies are behemoths in comparison.
Everyone's heard of those companies. They're massive. We might not all be able to agree on how tasty their goods are, but you undoubtedly know who they are.
And yet… Budweiser's Instagram account only has 242k people following them (compared with Stone's 311k+).
Following counts aren't everything, of course. But the fact that Stone has more, despite a fraction of the market share, brand awareness, and marketing budget, shows you the power of Instagram.
Budweiser's trying to get better. They are posting 'hip' photos of staged events like the one below: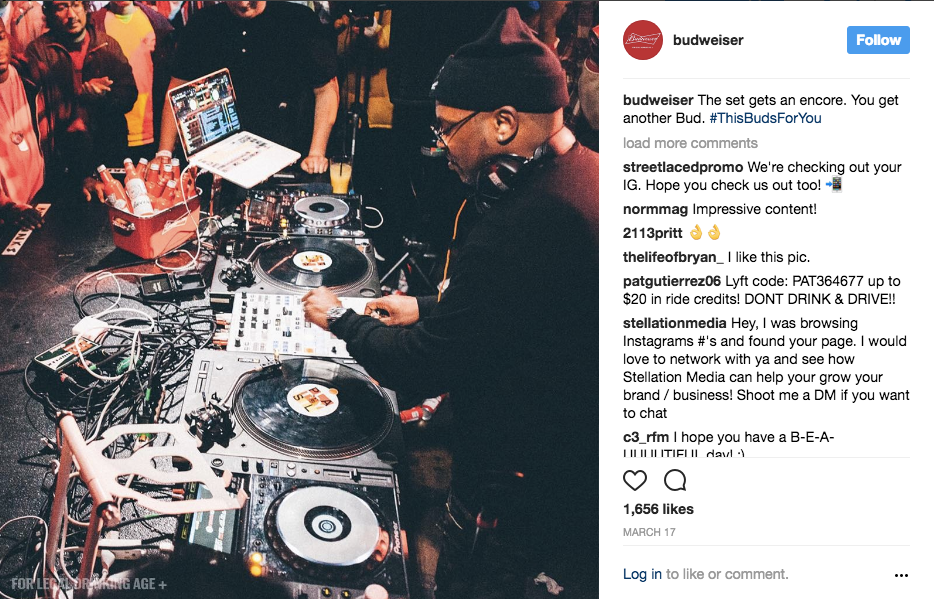 But again, the engagement (compared with Stone's) is abysmal.
Only 1,600+ likes on something over three months old. (Compared with 6,700+ on Stone's six-day-old one). And then half of the comments on Budweiser's are fake or spammy.
So even if you know zero about Instagram before reading this guide, a few things should already stick out.
Marketing budgets don't equal Instagram success.
For example, check out this beautiful, Apple-esque product shot: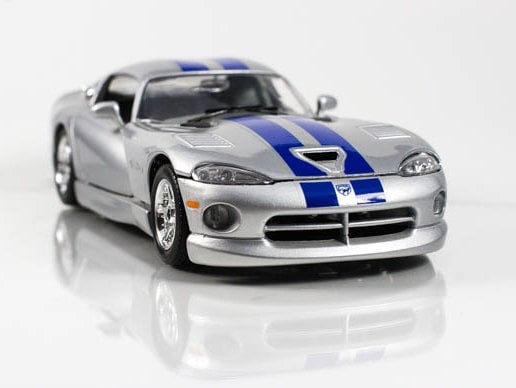 Nice, right?
Would you believe that this came from a $50 ecommerce photography studio rigged up by BigCommerce?!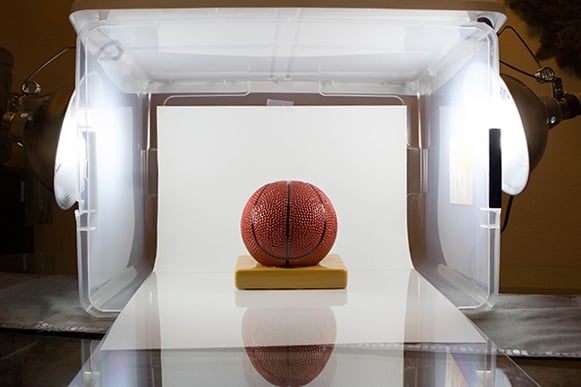 See?
You can still produce excellent results with a little ingenuity and a strong strategy.
You don't need to be a huge, well-known brand (as Stone vs. Budweiser has shown). And you also don't need big bucks, either (like this last photography examples shows).
Big brands often miss the mark with overly produced, 'staged' photos. They're trying to do too much, 'forcing' it instead of just acting natural and showcasing personality.
Whereas younger, hipper upstarts can often dominate with realism, humor, and a clear point of view that resonates with a core audience.
Stone posts more frequently sticks to a singular point of view and interacts with followers more. So it should be no surprise why they have more followers and significantly more engagement on each post.
Engagement, alone, isn't the only goal of course. It's a good start. And engagement is often overlooked because you can't define it with a hard goal or conversion inside Google Analytics.
But Instagram is excellent at generating both top of the funnel brand awareness and building loyalty with those already drinking the Kool-Aid (so to speak).
Defining a goal helps give you a clear direction. For example, you could use Instagram for various reasons:
Build brand awareness faster than other methods (like billboards)
You can reduce the high costs that would have gone over to customer service and advertising
Or you can increase profitability by using this engagement to lead to more repurchases of your products or services.
All of those are fine. The point is to pick one and change your daily tactics (like what you're posting, how frequently, etc.) to serve one (not all) of those.
For example, if brand awareness is your goal, you can monitor the number of new website visits generated over the past week, month, or longer. So you'd start by linking to your site directly in the Instagram bio section. Like Stone does here:

You'll also notice that this link is to a specific, campaign landing page (as opposed to their homepage).
At first, the "Enjoy By Chicken" link doesn't make any sense. But it does when you read one of their latest posts: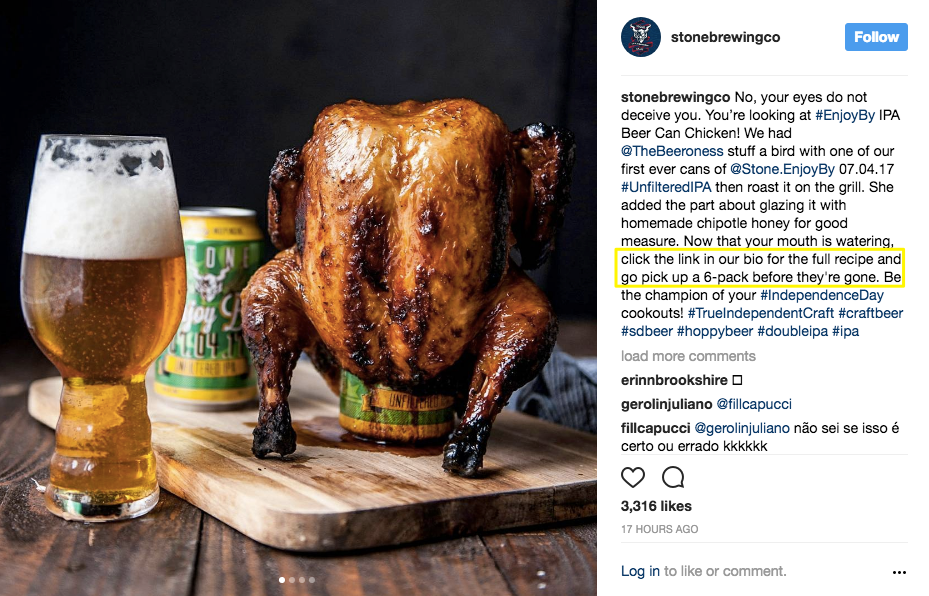 Once again, the image is high-quality. The chicken looks delicious (and the beer, refreshing). It's a serious post, but comes off funny because you're not expecting the beer-can chicken.
And you'll notice that it fits perfectly into their goal.
Reading the caption shows you that this is one of their first canned-versions of this limited time only beer. So the seemingly random beer can chicken now makes perfect sense.
It's funny and random. While being relevant to the launch of this new product line at the same time.
You'll also notice that they call out the link in their bio so that you can get the same exact recipe. This is expert-level content marketing stuff.
They're not selling their beer (directly). Instead, they're trying to 'bait' you with a delicious chicken recipe, first.
Contrary to popular belief, though, this tactic is anything but new.
For example, when Jell-O was first introduced, nobody knew what to do with it. You had this weird, gelatinous mix. People weren't quite sure what to make with it or why they even needed it in the first place.
So Jell-O turned to content marketing to fix the problem.
Keep in mind this was 1904.
Way before content marketing was a thing. And yet they created a recipe book — almost exactly like Stone is doing today on Instagram — to help people understand how to better enjoy their product.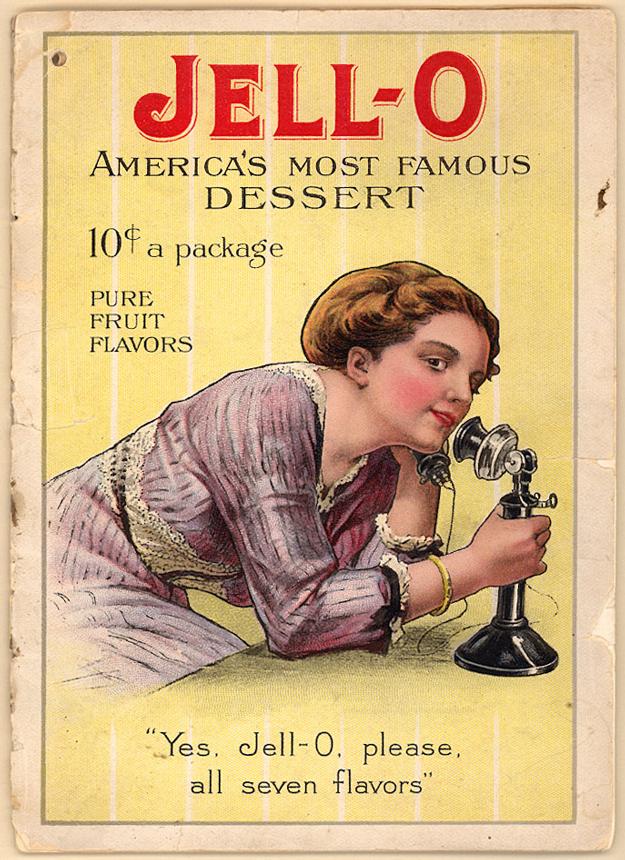 There's one more important thing to note about that Stone post that makes is such an awesome example. Here, I'll zoom in on it:

Hashtags. Tons of them!
Everything from their products ("#IPA") to different local communities ("#SDbeer") and the upcoming event they're celebrating ("#IndependenceDay").
Hashtags are a key ingredient to how other people are going to find out about your Instagram page. Here's why.
2. Load up your updates with relevant hashtags
You might already know the effectiveness of popular hashtags in reaching a targeted audience on Twitter.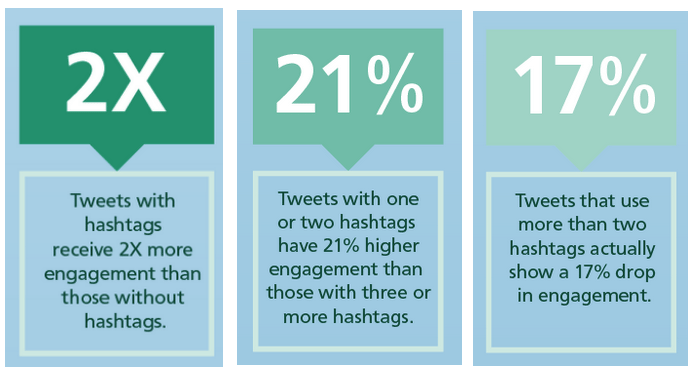 But, how important are they on the Instagram website?
I would say they are more important than all other social media accounts and platforms. Popular hashtags are the language in which free Instagram followers speak. A power user can be found loading even up to 30 hashtags in their update – the hashtag limit per post.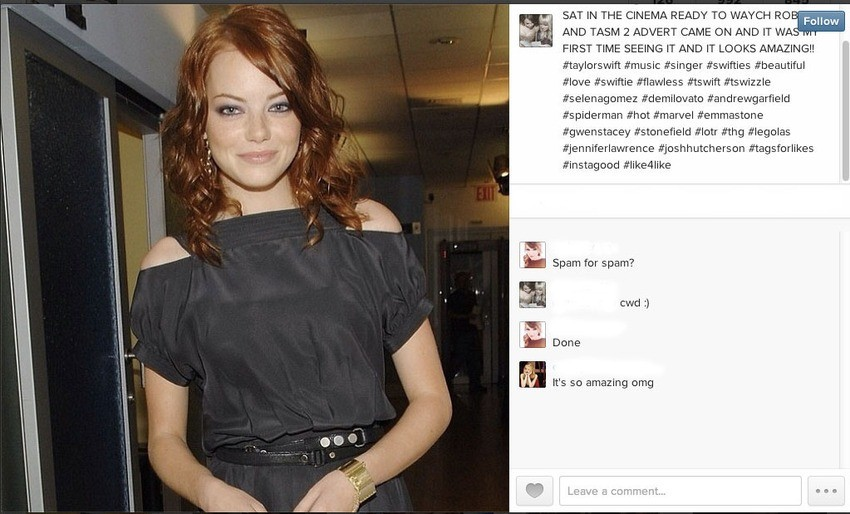 You won't need to worry about hashtag fatigue on Instagram. Rather, more popular hashtags equate to more likes on your Instagram photos.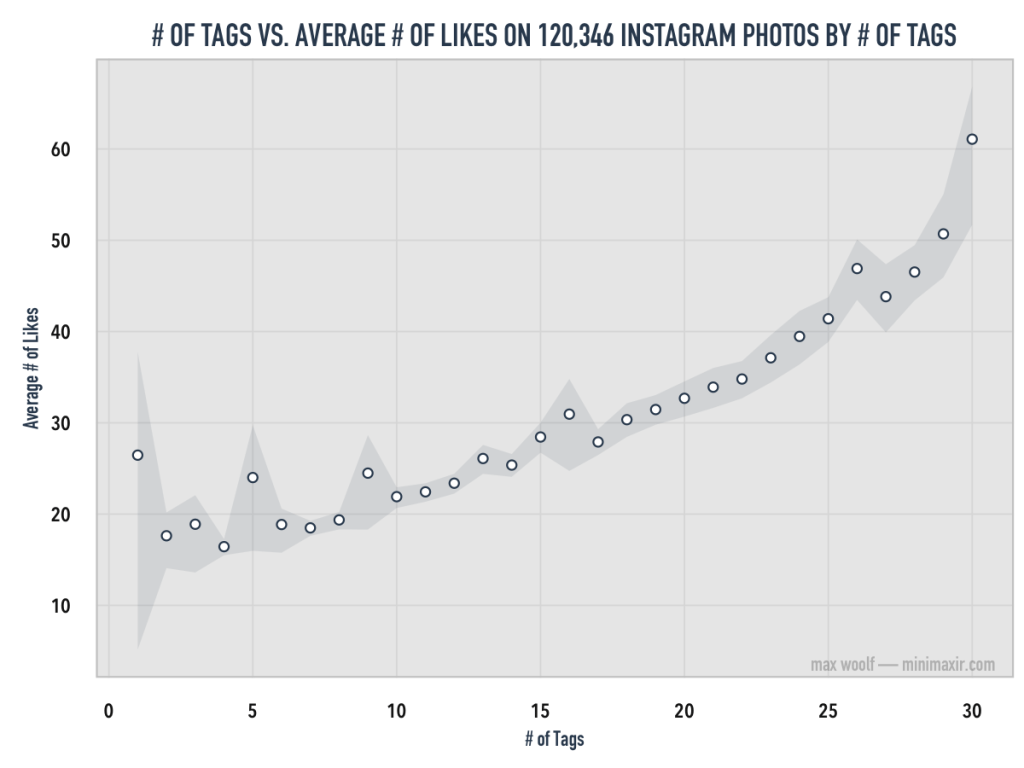 TrackMaven found that posts with 11+ hashtags get the maximum engagement from a free Instagram follower.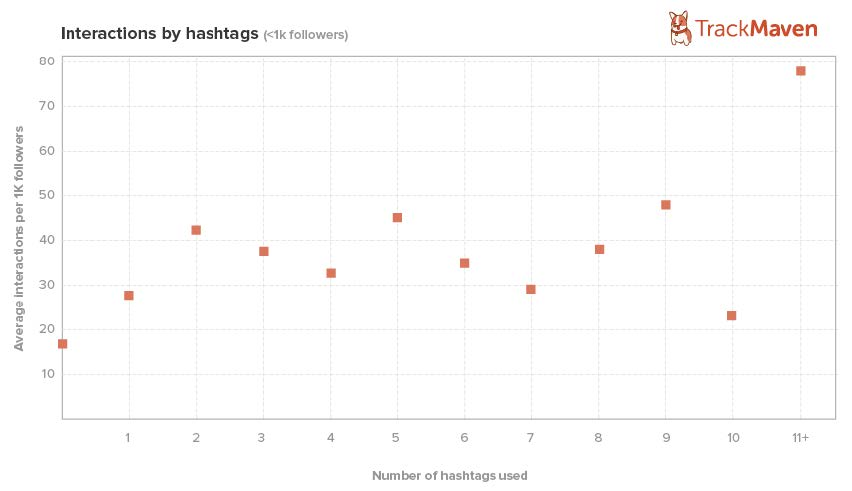 So, how do you find relevant and popular hashtags to add to every Instagram photo?
The process is similar to performing keyword research. Record relevant hashtags that your competitors and brand advocates are using in their updates and use this knowledge to gain followers.
You can also scroll through the 100 most popular hashtags compiled by HuffPost here. I've included the top 20 in the screenshot below.

Adding popular hashtags will expand your post's reach, but make sure that you use only the ones that are relevant to your products and suit your brand personality.
Otherwise, you'll only see a short-term increase in your engagement, but your new free Instagram followers won't convert into additional sales.
Moreover, if you integrate less popular hashtags in your posts, then you'll appear at the top of the search feeds for them. Scout low-competition Instagram hashtags (much like targeting long-tail keywords in your blog posts).
Insellycom uses a variety of Instagram hashtags in their updates, including popular ones (like #fashion), moderately popular ones (like #fashiondaily) and less popular ones (like #fashiontrend).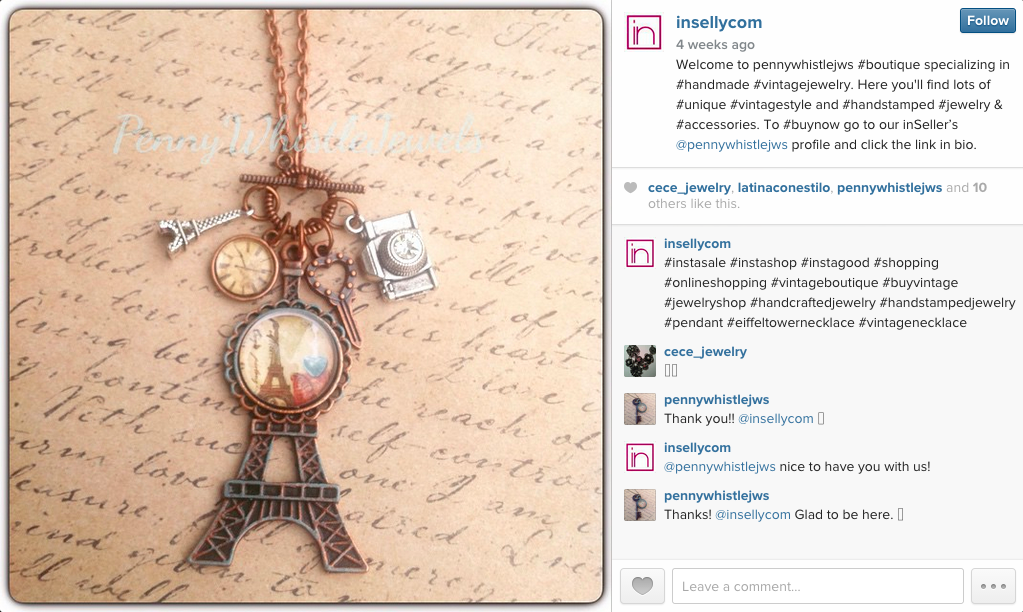 You can also scout for relevant popular hashtags by your product and brand categories and then group them in Evernote. Richard runs an ecommerce business, and he uses this technique to efficiently obtain more engagement from the free Instagram platform.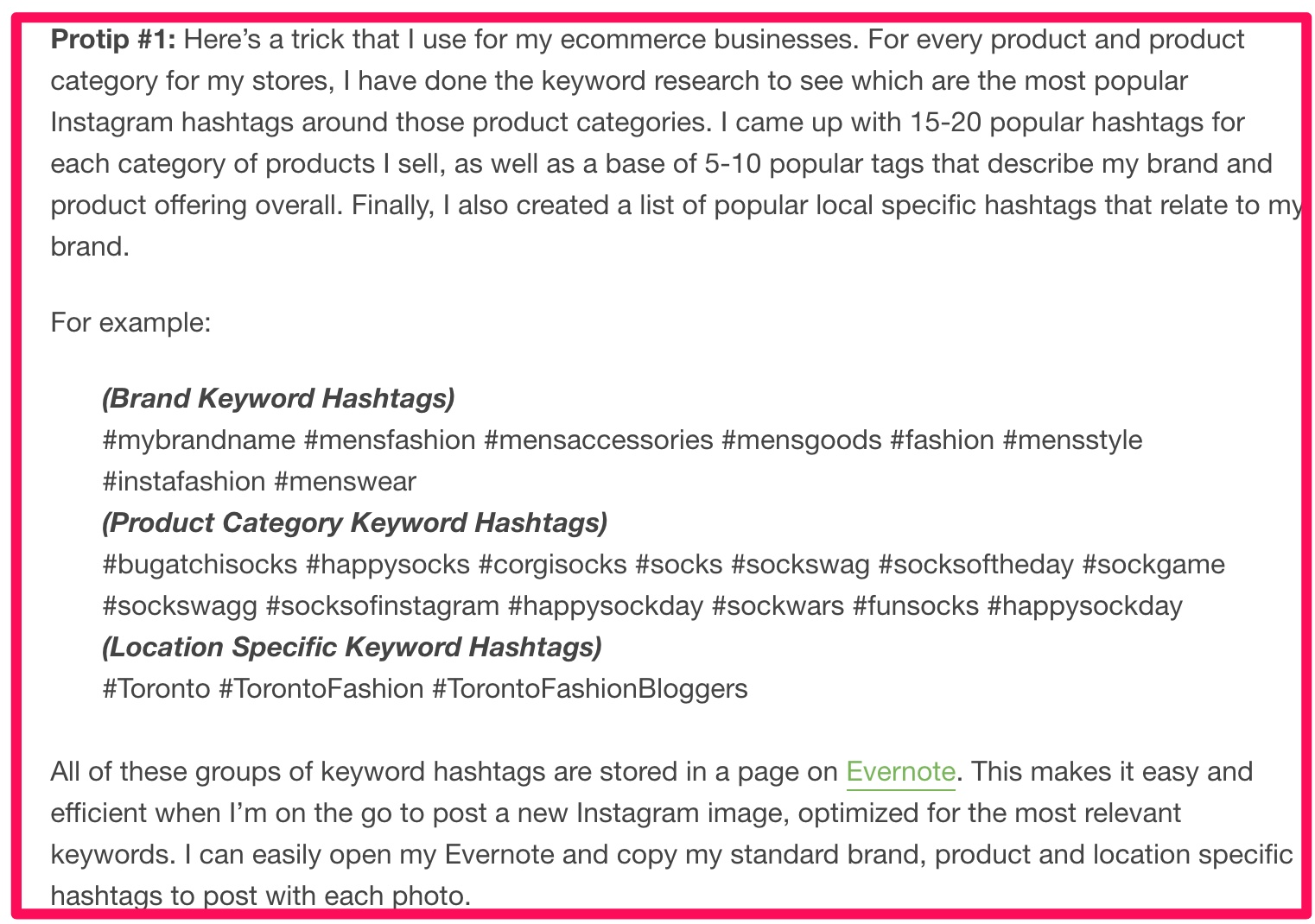 Pro Tip: Have you not been previously using relevant Instagram hashtags in your posts?
No worries.
Revisit your older updates and add relevant hashtags in the comments. Your post will start showing up in the Instagram feed for your added hashtags. You'll see a bump in your engagement as well as plenty more free Instagram followers rolling in.
Searching on Instagram isn't as easy as Twitter or Facebook (especially on mobile devices). That's why hashtags are critical. They help people discover you more easily by following relevant threads and seeing which new content pops up that day.
The same thing happens with location tagging.
Let's take a look at another example from Stone Brewing to see how this works. Look at the top of the post below (right under their name).
You should see: "Horseshoe Bend."
So now people that follow or love a particular location (in this case, Horseshoe Bend), can now discover your brand, too. Location tagging will make sure that you show up in this location's stream.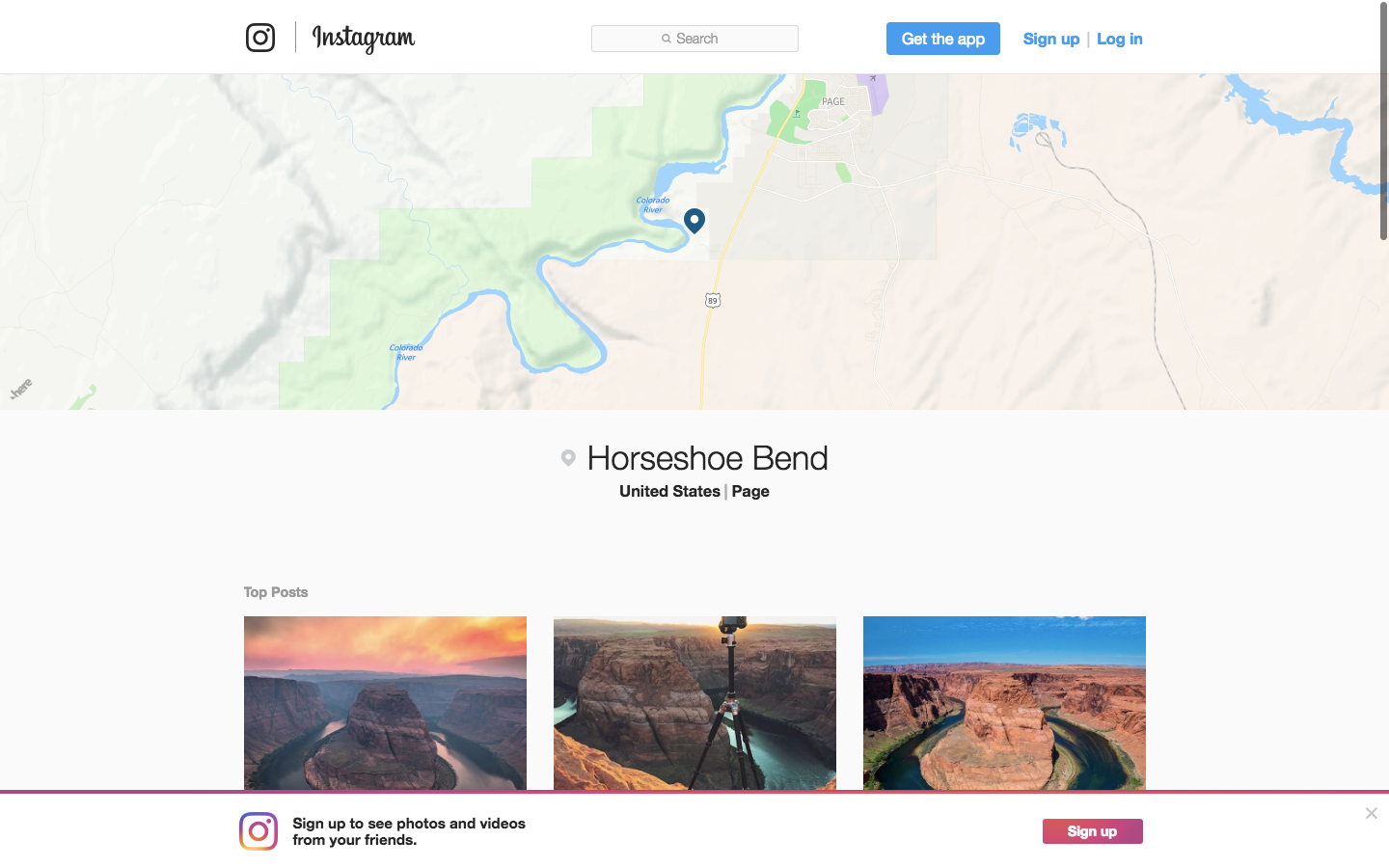 This especially useful if you have a physical storefront, too. For example, brick-and-mortar locations can piggyback off the interest in your city, neighborhood, or retail center.
Here's Stone tagging their location at Liberty Station in San Diego: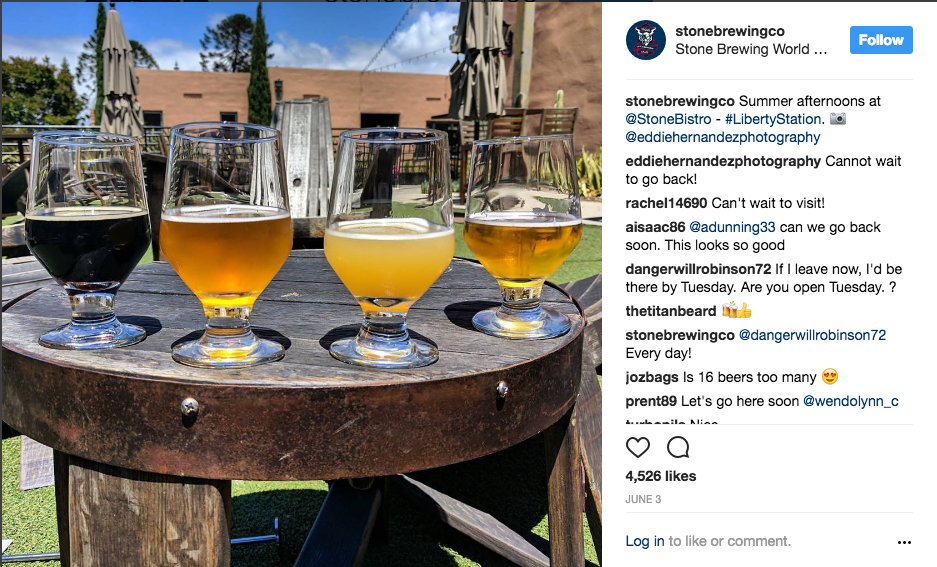 Liberty Station is in Point Loma, just minutes away from popular tourist destinations like Downtown, Mission Beach, the San Diego Zoo, and Seaworld.
So by tagging this location, they're hoping to pick up on all of the new visitors surrounding them.
Here's the full stream for Liberty Station. You can tell it's already a popular location with over 38,000 posts.
So now Stone has used location tagging in order generate brand awareness (and follows) from people who're at Liberty Station, located just outside, or thinking about going to Liberty Station in the near future.
The last trick in the book is reposting and tagging.
This time, you're encouraging others to do the promotion for you with an awesome incentive. That means giving your followers a chance to win something (discount coupon, product giveaway, etc.) if they repost your own message and tag your brand.
This is viral marketing at its finest.
You're leveraging the 'network effects' on Instagram so that new fans of your own fans are finding you for the first time. And the best part of all is that you barely have to lift a finger!
Here's a perfect example from kids retailer Little Baberham: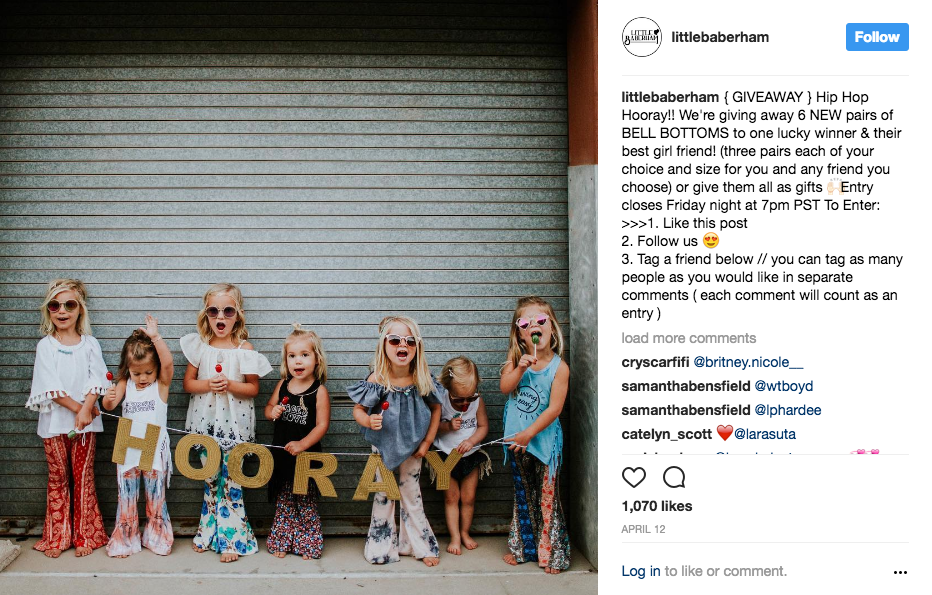 In this case, they're giving away six new pairs of kids bell bottoms to ONE person. That last part's important.
Why would one person want six versions of the same pants?!
So that the people following will help recruit friends who they can share the 'prize' with!
Clever, right?
In order to win, they not only have to be following this brand, but they also have to "tag as many people as they want in separate comments." And then each comment is counted as a separate entry!
So the more people each follower brings to the party, the better their odds of success are. And the more followers Little Baberham is sure to gain in the process.
Once again, this is extremely easy to pull off. It's 'low-tech,' so you don't necessarily need anything else (like another application or piece of software) to help you organize it. Which means there are no excuses for running your own ASAP.
You can even up the ante by partnering with other similar brands and offering one big prize. For example, you can create packages with companies that provide complementary products and who target the same customers.
That way you can not only increase your reach of new friends of your fans but also the friends of fans that follow other brands, too.
We talk in more detail about running contests in another section below (because they're one of the best ways to quickly grow your follower count).
But first, you need to understand how to react fast when things start taking off. Here's how to respond (or search out) top content.
3. Find & Engage with Top Content
Everyone talks about 'engagement' on social media.
But no one bothers to ever define it.
Why is that?
I'm not going to introduce a new concept like that and then fail to give you the answer. So let's walk through why engagement is so critical (and then later, what to do with it).
Engagement is critical on social media because it expands your potential reach.
There are two major metrics that go back decades in advertising:
Frequency: The number of times you message the same person.
Reach: The number of new people who see your messages.
Frequency is important. But reach is critical if you ever want to build a big business because you need to consistently expose your brand to the most people possible. The only thing standing between you and success is eyeballs. And reach is how you get there.
We talked earlier about how competition is at an all-time high on big social media networks (and showing no signs of slowing down). As a result, these social media platforms are using carefully tailored algorithms to help filter out what gets through (and what doesn't).
One of the primary things they look for is whether or not your posts are relevant to each person it's shown to. And many times, that's based on whether or not they're engaging with your content (or have engaged in the past).
For example, look up your most popular posts recently on almost any social network, and you'll see something that looks like this:
There's a clear correlation between the number of engagements a post sees, and subsequently how far it can reach.
In other words, get more engagement, and you'll be 'rewarded' by being exposed to more people (because it's now seen as 'top content').
But don't wait for others to start engaging with your content. You can (and should) lead the charge. So get started by engaging with your content to (hopefully) transform it into 'top content.'
That starts with the basics, like responding to other people's likes and comments.
For example, we just saw the kids clothing company, Little Baberham, running a giveaway. Here they are again, in the same exact post, responding and engaging with people who're asking questions.

That back-and-forth engagement not only makes people feel like they're being heard, but it also drives up the comment count and engagement ratio (comments per post).
Commenting on your own content also gives you a secondary benefit, too.
A 'half-life' is used to explain how much time it takes for a social media post to reach at least half of the people who will eventually see it. So a half-life can help tell you how long your post will be relevant for.
And on today's social platforms, the short answer is: Not very long. For example, an Instagram post is only relevant for about one hour: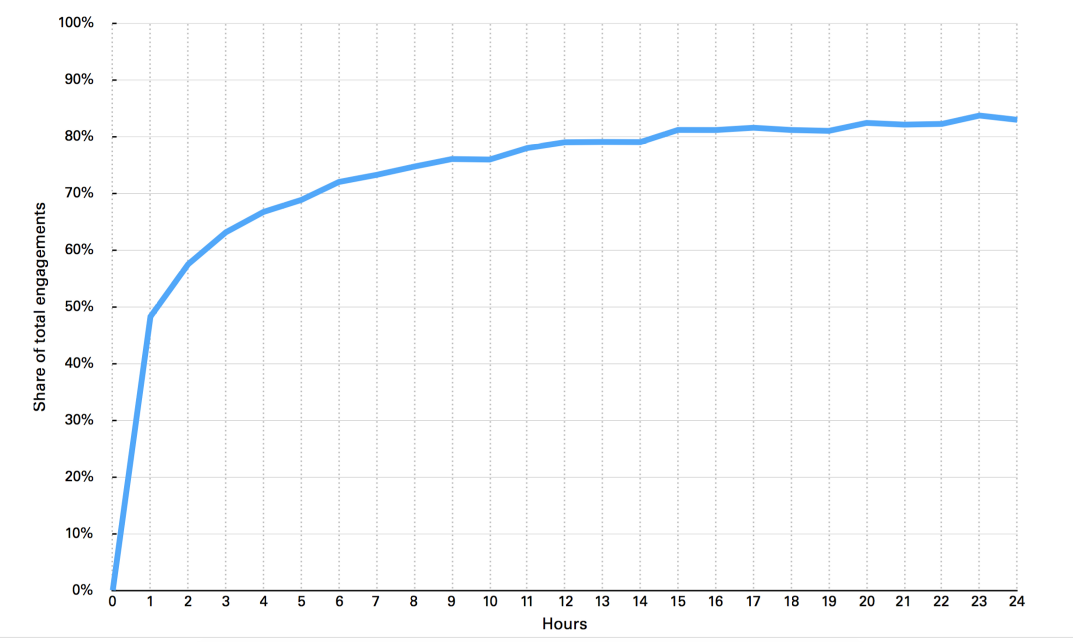 In other words, more than half of all the people who will ever see (and engage) with your post have done so within just a single hour!
Crazy, right? That's nothing in internet time.
Continuing to post and update older content, though, will help keep it relevant. You'll be able to extend the usefulness of that post in order to maximize the amount of people who end up seeing it.
You can (and should) also do this strategy on other people's top posts in order to bring back attention (and followers) to your own page.
For example, let's zoom back to the very top of the original Little Baberham giveaway update.
The first comment is from St. Eve Jewelry, who's raising the roof emoji-style.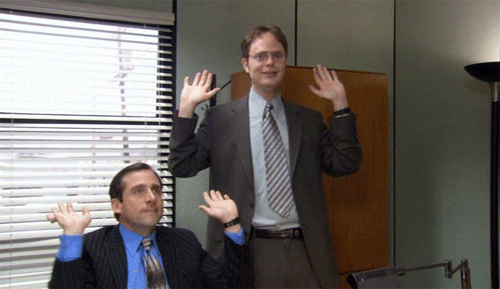 Let's click on their profile, though, to check out who they are and what they do.
When we do that, it quickly becomes obvious that this is another relevant shop that features many of the same style wares.
So what's happening here?
St. Eve Jewelry has successfully 'piggybacked' on the other brand. They're capitalizing on someone else's top content as a way to expose people to who they are and what they do.
It also works perfectly in this case because they're complementary products that are virtually the same style. So if people like one brand, they're going to probably like the other one, too.
Win-win.
As a bonus, while you're taking the time to engage with your competitor's followings, go to their follower's profiles and like some of their photos. You can also give them a follow. This gives them another incentive to come check out your page and is a tried-and-true method to getting more followers.
4. Find & Share User Generated Content
Creating your own professional-looking photography doesn't have to be overly expensive (as we saw earlier).
But it's still incredibly time-consuming. Especially when you consider how many photos you'll have to produce to keep up with several posts per day (due to the short half-life of each one on Instagram).
So share the workload.
Find bloggers and customers who are willing to take photos of your products or services in action, and then re-promote their content for your own fans.
This cuts down on your own workload. But it also has the power to deliver better results, too. For example, Buffer's used an Instagram UGC strategy to gain 60% more followers in less than three months.
Wall decal store Walls Need Love will partner with bloggers, giving them products or signing them up for a revenue-sharing agreement, in order to use their awesome product shots.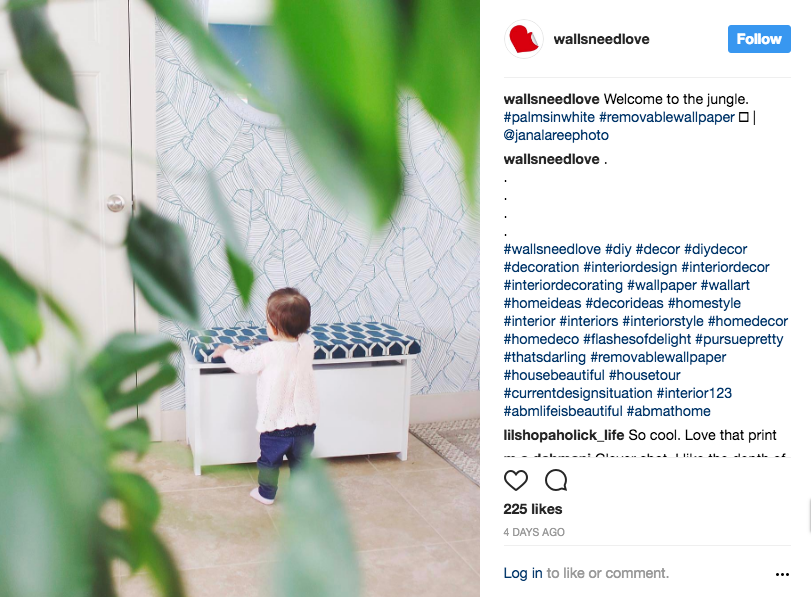 Not only are they using a ton of relevant hashtags, but they're also creating their own here, too. That way they're able to give credit where credit's due while increasing their reach at the same time.
Here's another perfect example of the original poster listed in the first comment.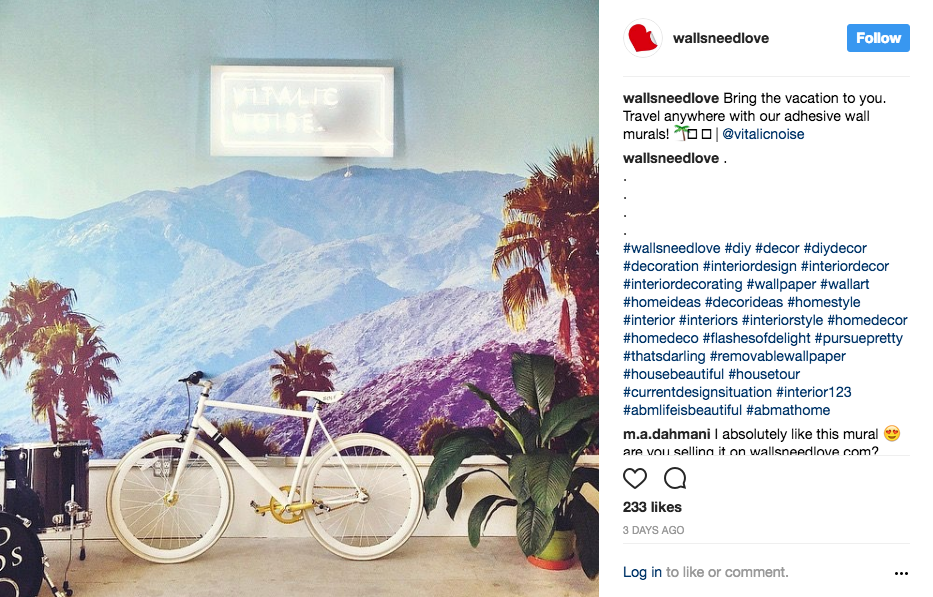 In a few minutes, we'll talk about how to find the right types of bloggers or influencers to partner with to grow your brand.
Because everybody wins once again.
You get (1) access to their audience and (2) professional, best-in-class content in exchange for heavily discounted or 'swapped' services that you can absorb at cost.
So you have almost every reason to do it.
But first, let's talk about properly hosting a contest that engages your followers. Because then you can use bloggers after the fact to help get the word out about your contest.
5. Host a photo contest to engage your followers and expand your brand's reach
Broadly there are 3 kinds of Instagram contests. "Like to win" and "email-gated" are less participative. I recommend that you launch the third type, a hashtag UGC (user-generated content) contest.
Inviting your Instagram community and encouraging them to create visual user-generated content will deepen your relationship with them, besides significantly increase your brand visibility and gain more followers in the long run.
Deftones conducted a photo contest that resulted in 20,000 new Instagram followers and 1,300 new Instagram posts tagged #deftones within 3 months. People love adding profile pics as it ups their engagement with their own Instagram community – so give them a reason to do this.
So, how do you launch your first contest?
Pick a goal and define the metrics for evaluation of your contest's performance. It can read like "increasing my free Instagram follower count by 25%" or "create 300 posts with @YourInstagramHandle".
You can conveniently collect relevant posts around a theme, by requesting submissions with a contest-specific hashtag. Esprit launched this type of photo and profile pic contest, asking their customers to upload their submissions with #everydayamazing.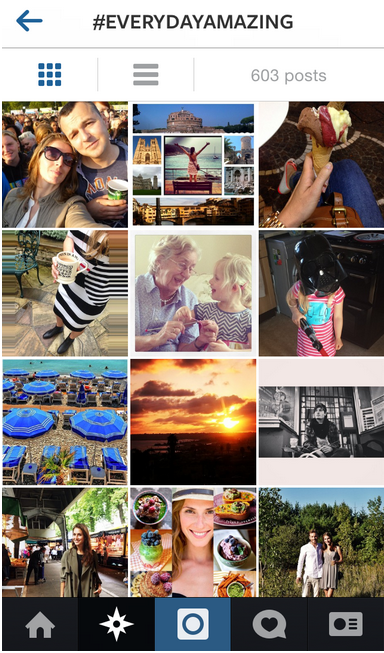 Next, pick a subject that will indulge your audience and create a shareable experience for them. For instance, Franworks Restaurants launched the 'Movember' Mustache campaign for their Instagram account.
They provided mustache coasters and asked each and every free Instagram follower to share their mustache pic with the restaurant's tags (#statestache, #joesmos, #castlestache). They offered trips and restaurant gift cards as prizes, which is a great incentive to increase participation across the Instagram community.
It's fun to participate in the contest for the Instagram follower, and it promotes Franworks in an authentic way.
If you want, you can check out the previous contests launched by your competitors at Iconosquare. Search for popular hashtags like #contest and #photocontest.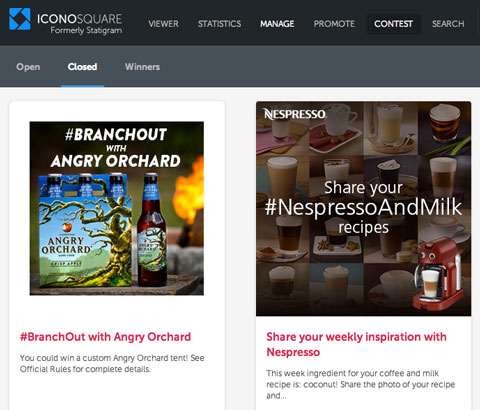 Once you've finalized the contest details, take ample time to promote it on your social networks. Start with a Facebook event like Buffalo Wings does below.
You can also pitch guest posts, send email announcements, and use Facebook Ads to create a buzz. Then you can even change your Facebook profile pic to the contest ad to garner more interest.
Once the contest ends, you should announce the winners across your social networks like your Facebook page or in a blog post.
If you're launching a contest on a large scale, then apps like Wishpond can help you with easy contest management.
6. Express yourself with the fastest growing language in UK history…
This language can help you in humanizing your communications, thereby increasing your email open rates, social network engagement and conversions, and to gain followers. And, it has seen an unprecedented adoption in the UK.
I am talking about emoticons.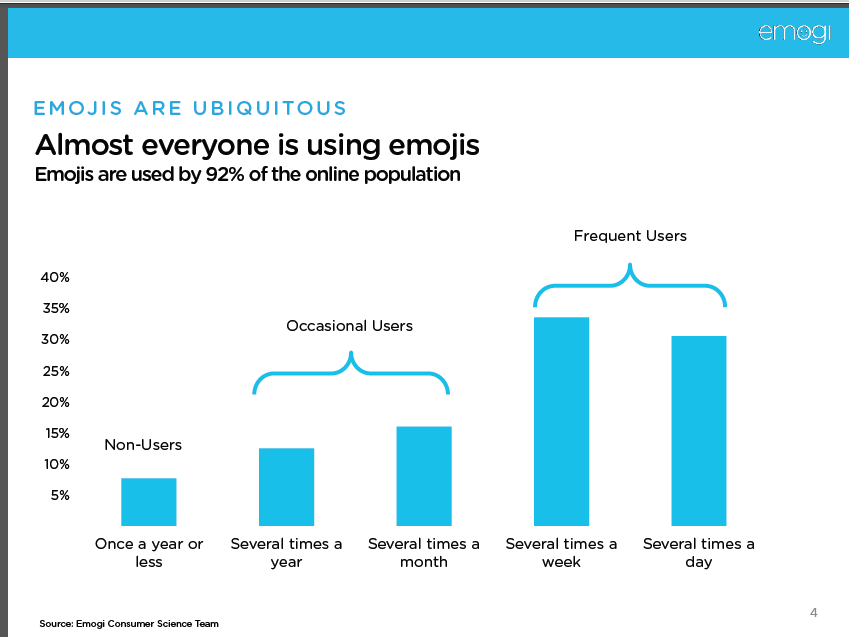 Emojis have gone from a funny little millennial thing to marketing staple in just the past few years. For starters, almost everyone is using them.
The most common reason why?
84% of women and 75% of men "believe emojis express their feelings more accurately than words."
They also provide us with a mental shortcut. We can process images 60,000 times faster than text. So emojis are thousands of times faster at communicating those feelings, too.
And then there's some performance data which suggests they can no improve your ability to cut through the clutter, too.
WordStream founder, Larry Kim, ran a simple test years ago. One tweet with an emoji vs. the exact same tweet without any emojis. Guess which one performed better?
The emoji-based tweet unsurprisingly had a much higher engagement score (11.06% vs. 8.82%).
Why does that matter?
Because Twitter's platform — like many other social ones — rewards engagement. In other words, better engagement leads to lower costs.
That's an important lesson because it holds true for Instagram, too.
Social media analytics company, Quintly, just finished up analyzing "20,000 profiles with 6.2 million posts during the whole year of 2016." And guess what they found?
Basically the exact same thing Larry did years ago. Emoji-filled tweets beat emoji-less ones, leading to higher engagement and potentially lower advertising costs (which we'll explore in a later section).

Nearly 50% of all captions and comments on Instagram have at least one emoji. So, it's a no-brainer to integrate them in your updates to express yourself.
So, what are the emojis that free Instagram followers like the most?
Simply Measured, in its analysis of 2,500 Instagram posts, found that "love hearts" receive the maximum engagement per post. "Sparkles" and "artist palette" are the next two most engaging emojis on the list.
Here is the graph with analysis of the top 10 emojis vs. the engagement they get. If you want more followers, then turn to emojis and other growing social network trends.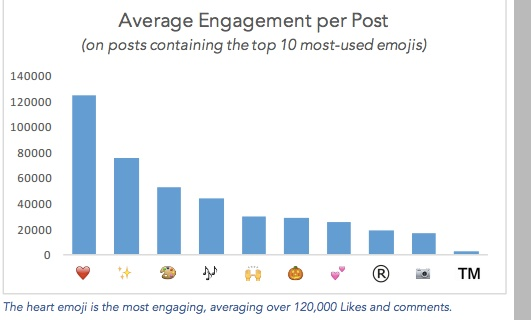 While these emojis should be in your Instagram vocabulary, you should first understand how your audience communicates with them. Even different colored hearts have different meanings.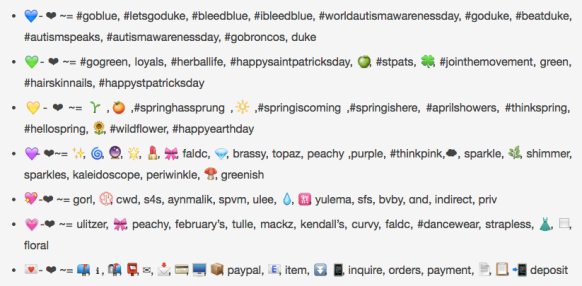 If you're a newbie to emoticons, HubSpot's Emoji Guide is a good place to start so you can implement them in your Instagram business without standing out for the wrong reasons.
Once you're familiar, here are 3 tips to extract maximum value from emojis and increase your free Instagram follower numbers.
1. Sue Zimmerman has used emoticons to increase her retail sales by 40%. She suggests using emoticons in 3 locations on your Instagram account, for getting a massive boost in your engagement.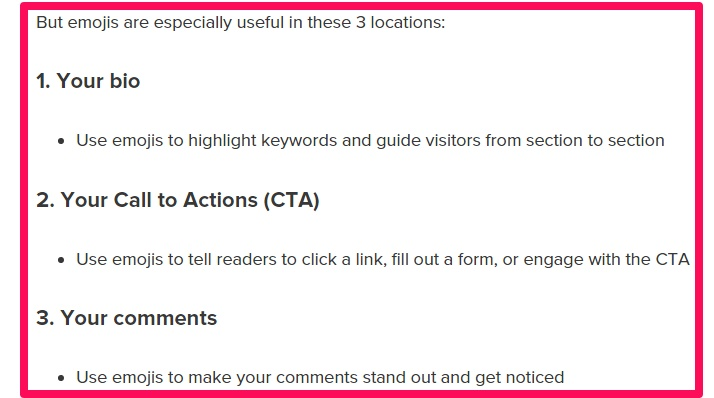 Here is a video tutorial she has created to help you in strategically using emojis on Instagram to help your media marketing.
2. Years ago, Instagram began allowing its users to hashtag emojis. This means that you can now search for emoticons on the explore page and tap them in your photo captions.

And, do free Instagram followers like this feature?
You bet.
Research by Curalate found that single-use emojis were hashtagged 6.4 million times within a month of their launch.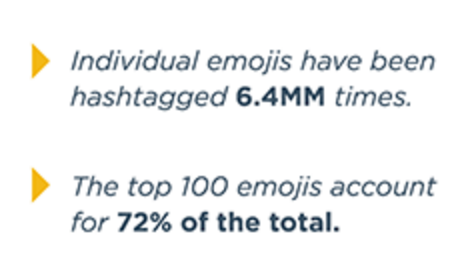 Further, half of the top 20 most hashtagged emojis are smileys. This brings us to the inherent trait of all social networking- positive emotion is more contagious than negative. Here are the top 10 emoticons, as per Curalate.
Using emojis in your messages and even your Instagram bio will help you express yourself without many words. You can leverage this universal language to connect deeper with your fans.
3. You can always post a normal comment or caption to appreciate cute pictures and profile pics – "A really cute baby".
But, if you want to grab attention, entertain your audience and keep them coming back for more, then you'll need to get creative. And, emojis are a terrific visual way of doing that.
You can follow the lead of ps.ny, in Sue's post below. Her comment reads "How ador:)ble and aw:)some!!!"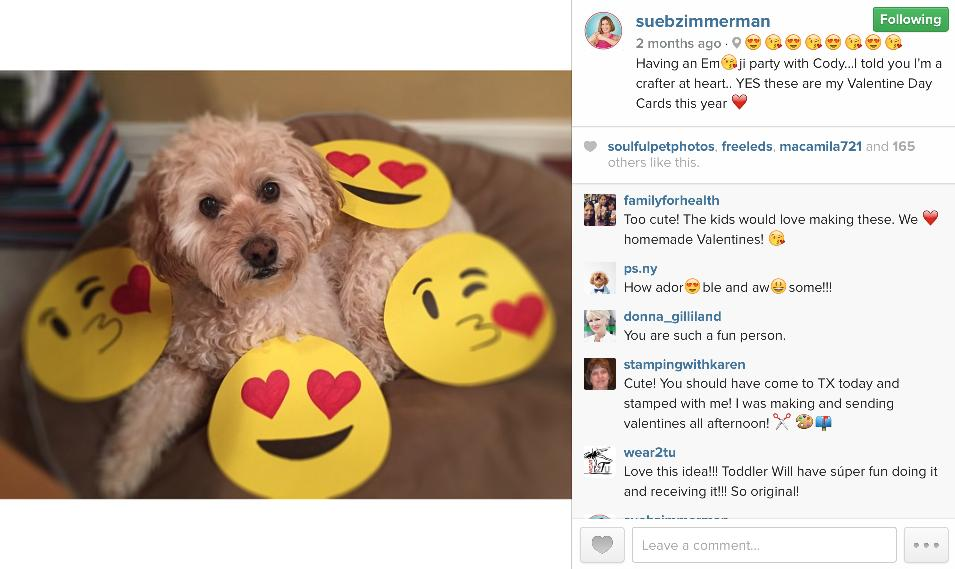 Similarly, ArnoldGrape used emoji creatively, in a comment on the crushsocial post below. Instead of the vanilla "awesome", his comment reads "keep [emoji]'n in the [emoji] [emoji]".
You can get more tips from Anthony Thompson for tripling your Instagram engagement and getting more followers with emoji Instagram comments here.
7. Use the right filters and post high-quality content regularly
With algorithmic changes hitting Instagram feeds, posting quality images and profile pics has become even more important. Indeed, Instagram accounts that post superior graphics have been found to get away with higher frequency.
Moreover, Instagram web users respond favorably to a select few filters. As per research that was done at Georgia Tech and Yahoo Labs, filtered photos are 21% more likely to get viewed and 45% more likely to get comments.
So, which filters work the best?
Track Maven found that using "no filter" and "Inkwell" in your photos will drive the most interaction.
While the above filters are good starting points for experimentation, your audience might have a different favorite filter. You need to dig into your own account's performance, using a tool like Iconosquare.
Once you get your own graphs correlating engagement with filters, you'll be able to judge your audience preferences. If you are just starting out with Instagram and don't have a large following, study your competitors to see what's working for them.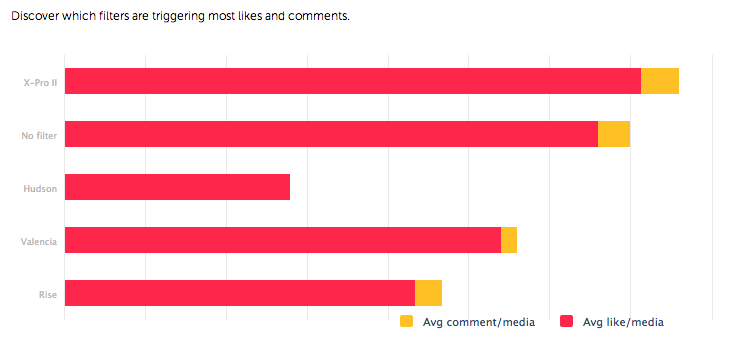 Pro Tip: Do you know that Instagram also allows users to post up to 15 seconds of video content? But, as per research by Locowise, only 10.81% of Instagram posts are in video format. Yet, they get 17.51% of all comments.
This means you should be focusing more on creating videos for both your posts and your stories.
Head over to InVideo today and check out their amazing and seamless video editing platform that can help you make professional videos that will wow your followers.
InVideo makes it easy, even for beginners, to create stunning videos without needing to have experience in video editing or production beforehand.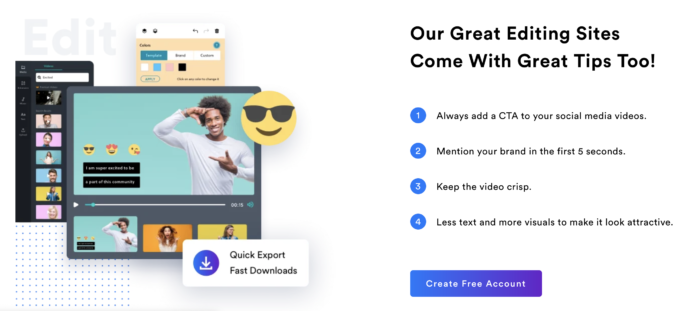 This is an untapped opportunity for you to increase engagement by using your Instagram account well. Get started with Instagram video here.
8. Shell out some dollars on Instagram celebrities for getting sponsored placements
Traditional advertising on Instagram is lucrative, but it will have a learning curve. That's why I want to introduce you to an unconventional Instagram marketing strategy that has helped me generate $332,640 in 3 months.
The method involves reaching out to free Instagram users with a large following (20k – 200k) and requesting that they promote your product.
There are two strategies for doing this.
1. You pay them upwards of $20 per sponsored post (cost is dependent on the influencer's size of following). Look at how Maxim model Ashley Sky promotes Your Tea in the post below, and it gets incredible engagement from her followers.
2. The more natural (non-salesy) way is sending your product to the user and asking them to review it. Remember authenticity helps in increasing engagement and is more likely to render a positive result when it comes to your follow and unfollow numbers.
I managed to get 2,570 email optins by spending $75,000 on such Instagram placements.

Men's fashion startup, Bachelr paid $50 per image to tastefully promote their products through large men's fashion Instagram accounts.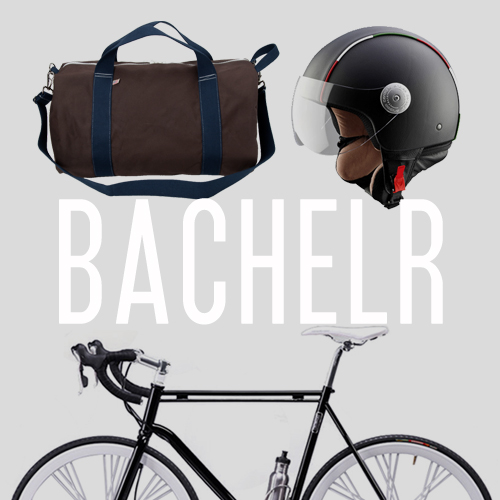 The result?
A flood of traffic that crashed their servers.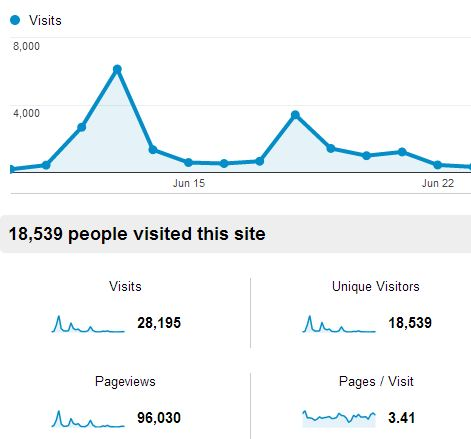 So, how do you get started finding Instagram celebrities with a massive following?
You could start by taking out your list of popular industry hashtags (that you created in strategy 1) and search for them in Webstagram. You'll find the top Instagram users that feature these keywords.
This strategy is not dependent on a big budget. You can look lower on the celebrity list and find the ones that might have a smaller following but are still within your budget to help you gain followers.
But… why else work with these people instead of splashing the cash on ads, instead?
Here's why.
The vast majority (86%) of people are 'banner blind' today. That means anything remotely resembling an ad (especially those professionally designed banner ads on your site) will be ignored.
That's also why overly produced, 'staged' Instagram shots (like the ones we saw from Budweiser earlier), generally see lower engagement. They're not real. And today that translates to lower performance.
But if people aren't looking at ads… how are they discovering new products or brands?
From other people!
For example, we've already shown this with earlier examples of location tagging and more.
Closer to 75% of people look to family, friends, and acquaintances for recommendations. And almost all of those (92%), according to a Nielsen study, trust these third-party recommendations over ads from brands.
Family and friends are great. They're among the most powerful influence in our life. But you also can't do much to scale their word of mouth to build a huge business.
Internet-famous influencers are the next best thing.
"Influencer marketing content delivers 11x higher ROI than traditional forms of digital marketing," according to another Nielsen study.
11x!
Before getting started with influencer marketing, it's helpful to understand the landscape. Once you know what you're dealing with, and all of the different types of influencers you can work with, it will become a lot easier to pick the best for your brand.
Many times they fall into two camps:
Expert Content Creators: Exactly what they sound like; professional content creators for large publications.
Peer Influencers: Savvy enthusiasts who're considered the 'tastemakers' of a particular niche.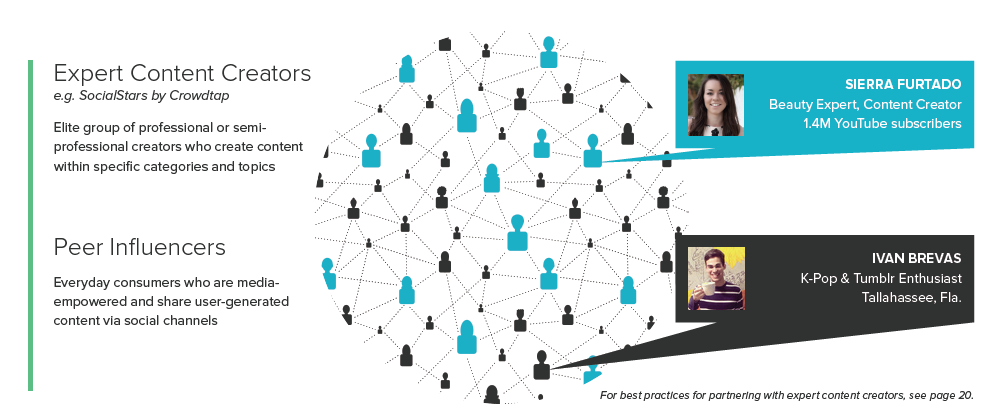 You then also have to consider their size and stature (relative to your own). For example, celebrities with millions of followers won't promote your message for $50 bucks.
But some up-and-coming, 'micro-influencer' who has around 10,000 followers might.
On the downside, you definitely won't hit a huge, mass audience with these people. However, that's OK, because on the plus side (and if done correctly) you can pinpoint a tight-knit, devoted following.
Working with influencers doesn't have to be a difficult, mysterious process either. For example, if they're big enough (in their own right), they'll typically make it easy to get in touch.
Here are a few examples.
Head over to the About page of men's lifestyle magazine, Primer, and you'll see a link in the lower-right hand corner.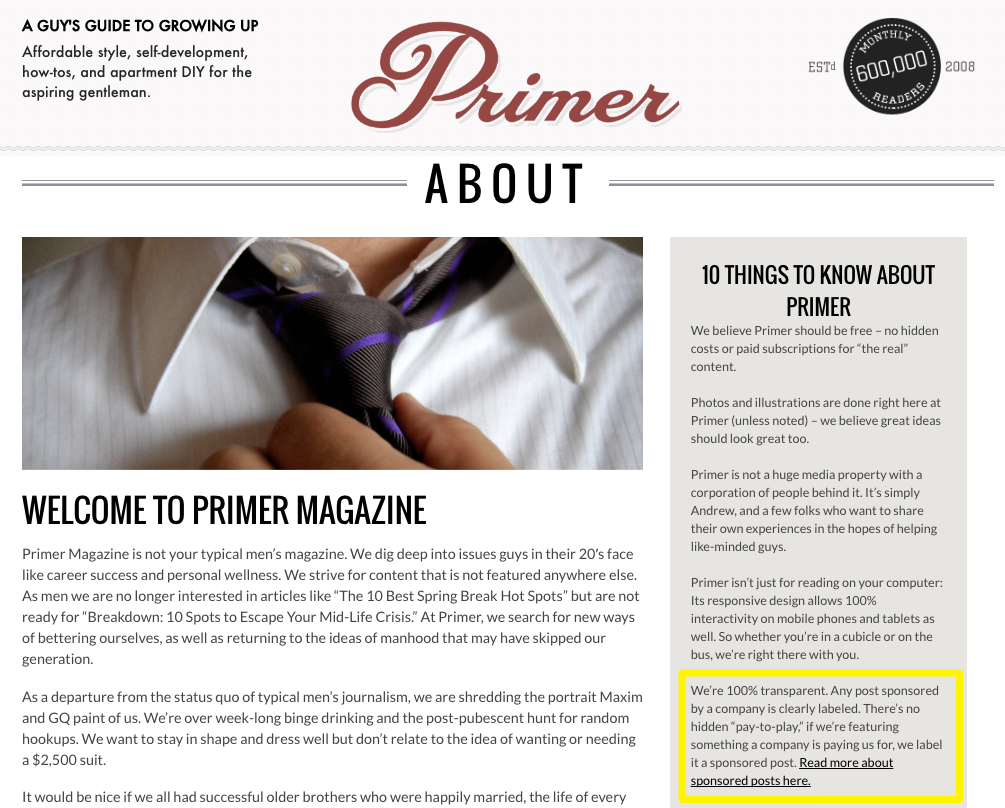 Easy. That took about two seconds, and you've already found out one way to work with them in order to get sponsored messages up-and-running.
Many times, just browsing someone's Instagram profile will quickly give you all the evidence you need to determine if they work with brands. For example, you can see stylist Emily Henderson repping Target in this one: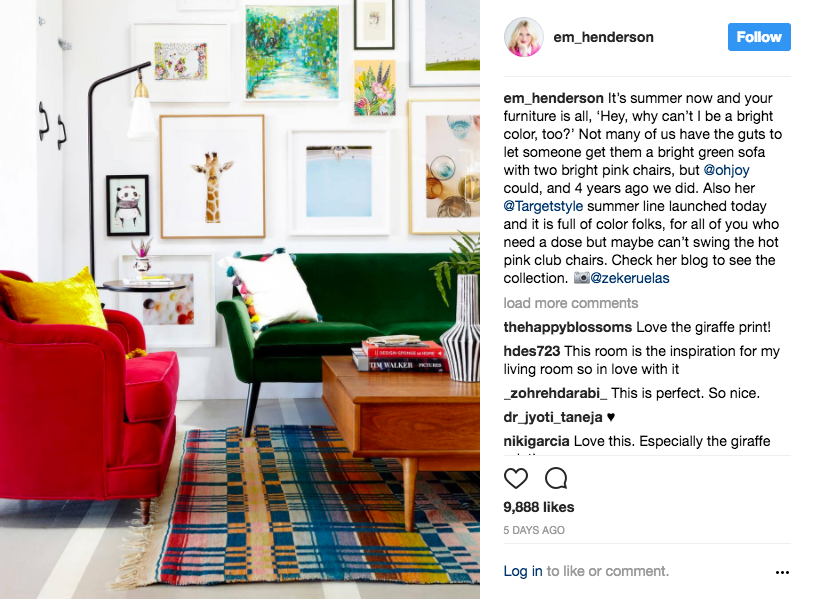 The lines between brands and influencers continue to blur, which is actually good news because it's also resulting in more Instagram sales.
There's almost no better example of a brand working with influencers than Victoria's Secret. They've been working with 'Angel' supermodels for years as brand spokespeople.
So it should be no surprise that their Instagram account with 56 million+ followers is filled mostly with lifestyle shots directly from their Angels that appear in all of their campaigns.

Fortunately, you don't need Victoria's Secret's big ad budget to find your own influencers.
Several websites are popping up left and right to help you discover the next spokesperson to start working with. They're marketplaces that not only help you find Instagram influencers but also easily figure out pricing and fire up new campaigns.
For example, the Tribe Group lets you submit information about who you are and what you do. So you can rattle off some basic information about a specific campaign, or which audiences you're trying to reach, and then their network of influencers can see if you'd be a good fit.
The Tribe Group uses a pay per post model, similar to the performance-based marketing on something like AdWords. So if there's no post or performance, you don't pay a single cent.
The Tribe Group makes it really easy to start working with over 3,000 influencers if this is your first rodeo in the space. There's zero payment required just to sign up and look around if you're curious. But they're not the only option at your disposal, either.
For example, Whalar is a similar marketplace that tends to work with 'bigger names' (as opposed to the more niche-style influencers in Tribe).
Whaler's primary objective is to bring both parties together in a safe, vetted environment. So they'll screen both the influencers and brands in order to find the best 'matches' for each other.
They'll then provide you with a shortlist of influencers who would be a perfect fit, so you can rule them out yourself or pick the best one to get started with.
One final tool for smaller influencers is BrandSnob, who works with 2,000 influencers that reach 350 million Instagram followers.
BrandSnob is both easy and affordable. So each of their influencers will list what their 'packages' are and how much they'll cost. For example, someone might do a single, sponsored post for $500.
Then you can simply scroll through your options to decide which person and pricing match your campaign. That makes it easy to test if you're new to working with influencers, while keeping the out of pocket cost down initially for small budgets, too.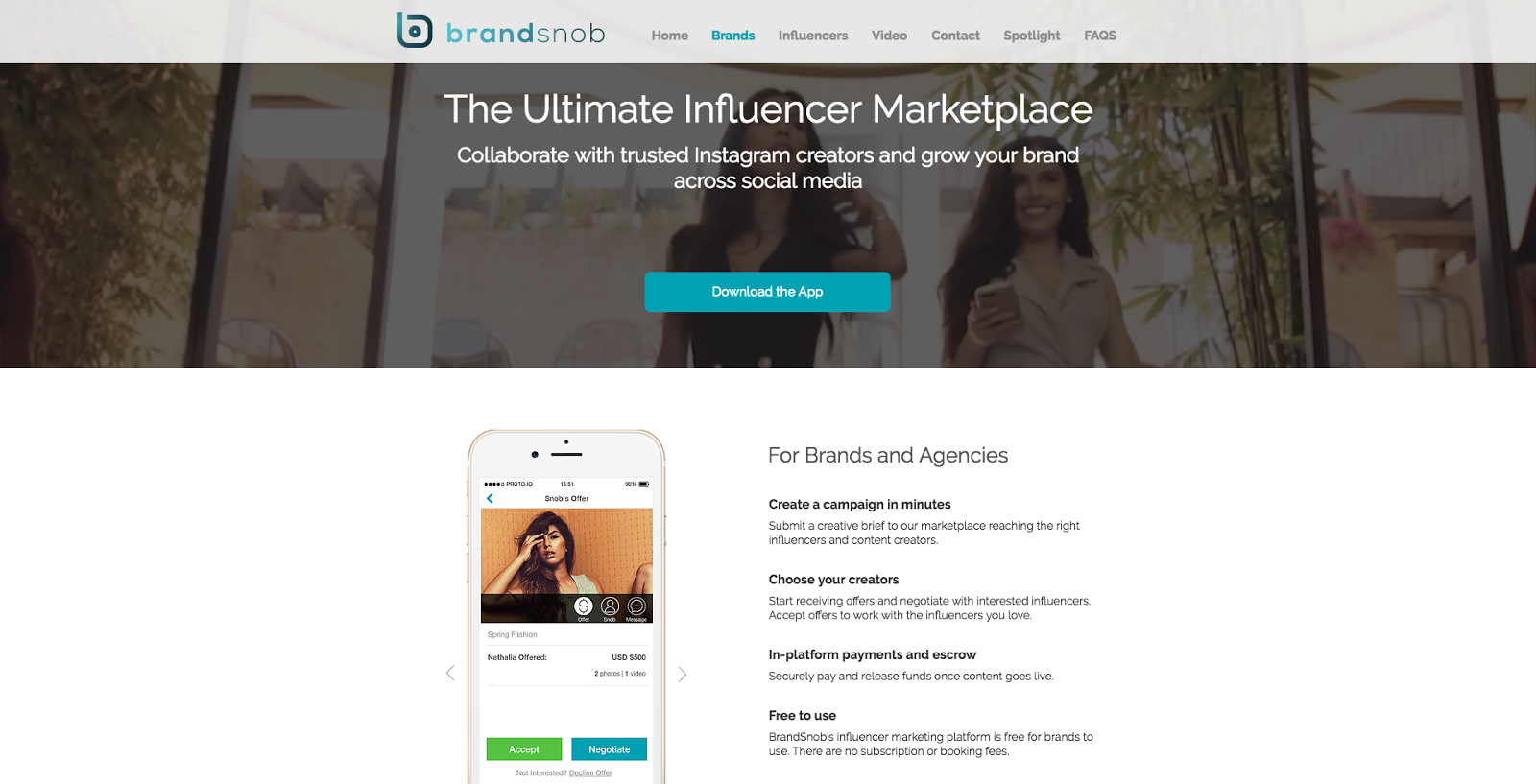 9. Cross-Promote Instagram on Other Channels
'Discovery' is always one of the biggest problems you'll face when trying to build more followers.
That applies to any network or platform, but especially social ones like Instagram. Simply sticking out and getting found through the other hundreds of millions of users isn't easy.
So that's why we've spent so much time talking about nerdy stuff (like hashtags) and fun stuff (like working with influencers).
One final low hanging fruit tip (before we dive head first into advertising) is cross-promotion. Specifically, cross-promoting your Instagram account on all of the other channels you own.
Your website is a perfect example. Most people forget about how many visitors they're already currently receiving every day. You probably already received hundreds (if not thousands) each and every day. And yet many only include a tiny, nearly invisible icon to their Instagram account in the bottom of the site.
LA-based Fashion blogger, Sincerely Jules, starts cross-promoting on her site with a simple widget that runs along the bottom of the homepage (above the footer).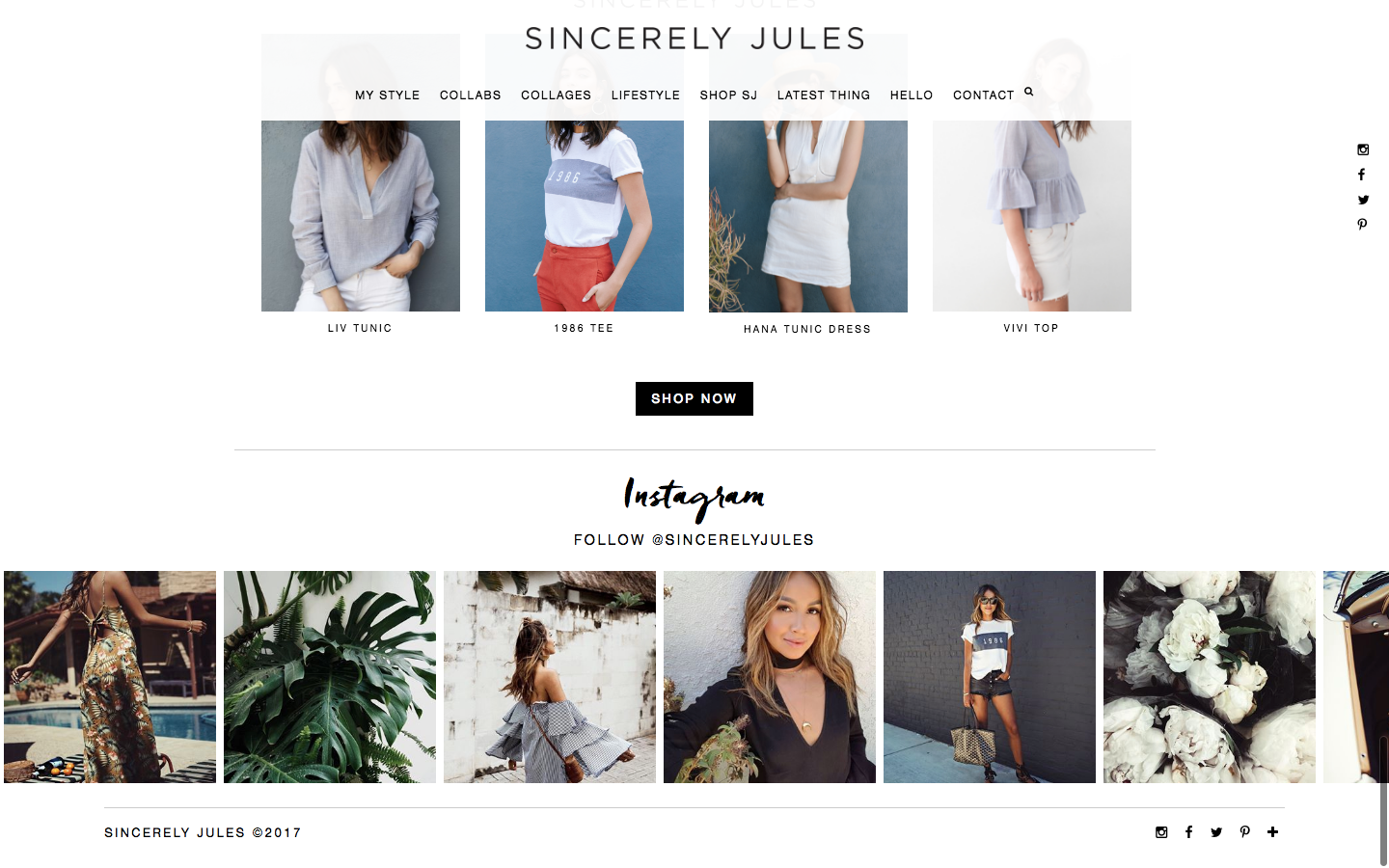 That way people will easily see it when they're done looking at individual clothes from her line. And best of all, because her Instagram posts fit perfectly within her style and point of view, her Instagram feed looks perfectly in line with the rest of the content on her website.
Instead of standing out awkwardly, it fits in beautifully.
Your website will almost always be the most popular 'platform' at your disposal. So even a simple widget like this can go a long way to consistently driving people over to discover your Instagram account for the first time.
That's good news for another reason, too.
The vast majority of website visitors won't buy from you on their first visit. That's why conversion rates hover around single-digits. Everyone else is still at the beginning or stuck in the middle of their customer journey. They're not quite ready to buy just yet.
So making your Instagram account easier to find on your site gives you a helpful 'Plan B' that new visitors can use to follow and continue interacting until the time is right to buy.
The next obvious cross-promo is Facebook. (It does own Instagram, after all.) You can start with adding the Instagram feed to your page, like Walls Need Love does in the lower sidebar.
But even more powerful is when you can post Instagram updates on Facebook to leverage its massive audience.
For example, "images posted via Instagram (to Facebook) get 23% more engagement," according to a study of one billion Facebook posts. And as we've learned, more engagement means more reach which means lower costs for better results.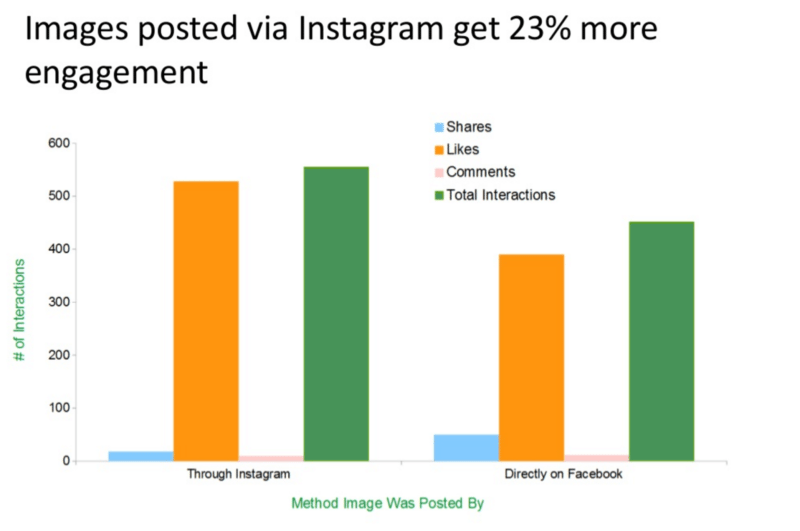 This same exact strategy can be applied to Twitter, too. Here's Walls Need Love again, taking a nice testimonial that someone left over on Instagram and cross-promoting it to Twitter.
The best part about this example is how easy it is. You're just taking top performing content and re-posting it to other channels. That way, you know it'll work there, too. And you'll drive more people over in the process.
These are all fairly small, minor examples, though.
You can kick this up a notch by running a single, dedicated Instagram campaign (like the one you just saw in the contest section). To enter, people have to follow and/or access the link on Instagram. Then you can push out messaging across all of the channels we've discussed here so far, driving people back to Instagram to enter.
The same can apply to exclusive content, as well. For example, a luxury brand like Mercedes-Benz wouldn't offer a discount or BOGO (buy one get one). Instead, though, they entice people to check out their Instagram account by posting exclusive photos you can't find anywhere else.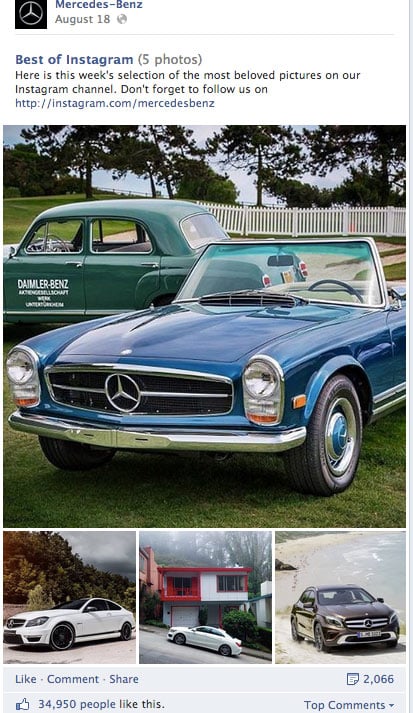 Then you can use a 'teaser' like Mercedes-Benz does here to get people excited. It builds anticipation that can only be relieved if people follow you over on Instagram, too.
Easy, right? None of those strategies are earth-shattering or difficult to pull off. They're all pretty basic. But they each help extend the amount of potential places that someone can 'discover' your Instagram account for the first time.
These cross-posting options should be the 'low hanging fruit' that you act on ASAP.
Because next up, we're going to dive into some more advanced strategies that will consistently build up your Instagram following. And best of all, when you do it right, it will be profitable and put dollars back into your pocket as a side benefit, too.
Let's talk Instagram advertising to pour fuel on the fire you've got smoldering.
10. How to Dominate Instagram Advertising
Instagram boasts one of the most engaged audiences, sure. But it's more than that. They also have one of the most lucrative audiences, too.
For example, average users spend $65 bucks on a sale, compared to $55 on Facebook and $46.26 on Twitter, according to a Shopify study.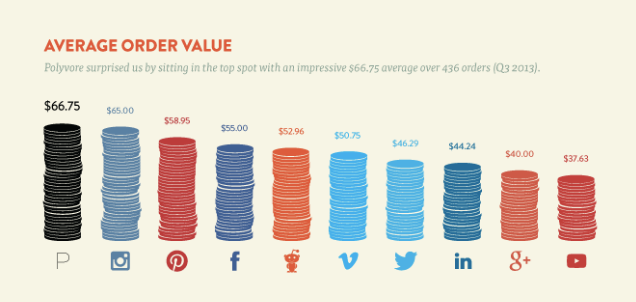 It should be no surprise, then, that their mobile ad sales have almost doubled each year over the past three.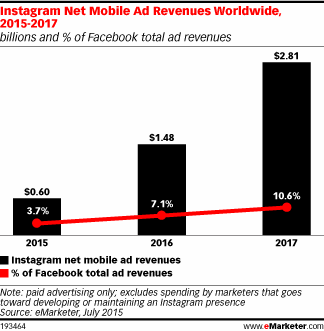 That's no small feat.
Almost every single company and social network are scratching their heads, trying to figure out how to make mobile advertising profitable. And here comes Instagram — a mobile-first network — keeping pace with the bigger, more established competition like Twitter and Google that have been around for a lot longer.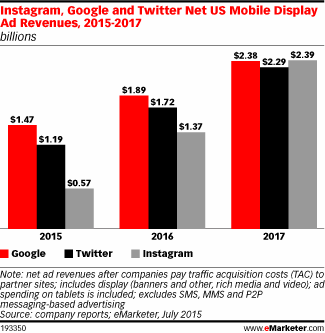 But wait, because there's more good news!
Instagram ads are relatively straightforward when you compare them to these other alternatives. (Especially its big brother, Facebook.)
On Instagram, ads look pretty much like any other normal post. There are a few ad options (which I'll explain in a second), but there's not a massive difference. Here's why that's good news when you compare it to the complexity of other channels.
Facebook, by comparison, has:
Three different placements
That change depending on the device
With ~12 different campaign objectives, and
Another ~7-10 individual ad formats
Oh, I almost forgot. Audience targeting is also complex, too. You can do a lot of awesome stuff with custom audiences, but you almost need to be an expert to get started.
Instagram, on the other hand, keeps it simple. You get access to many of the same benefits, without all of the complexity to fire up a single campaign.
There are a few variations, like square vs. landscape vs. vertical image options depending on the dimensions of your ad creative. (But I think we can all agree that this is a pretty tiny hurdle to jump through.)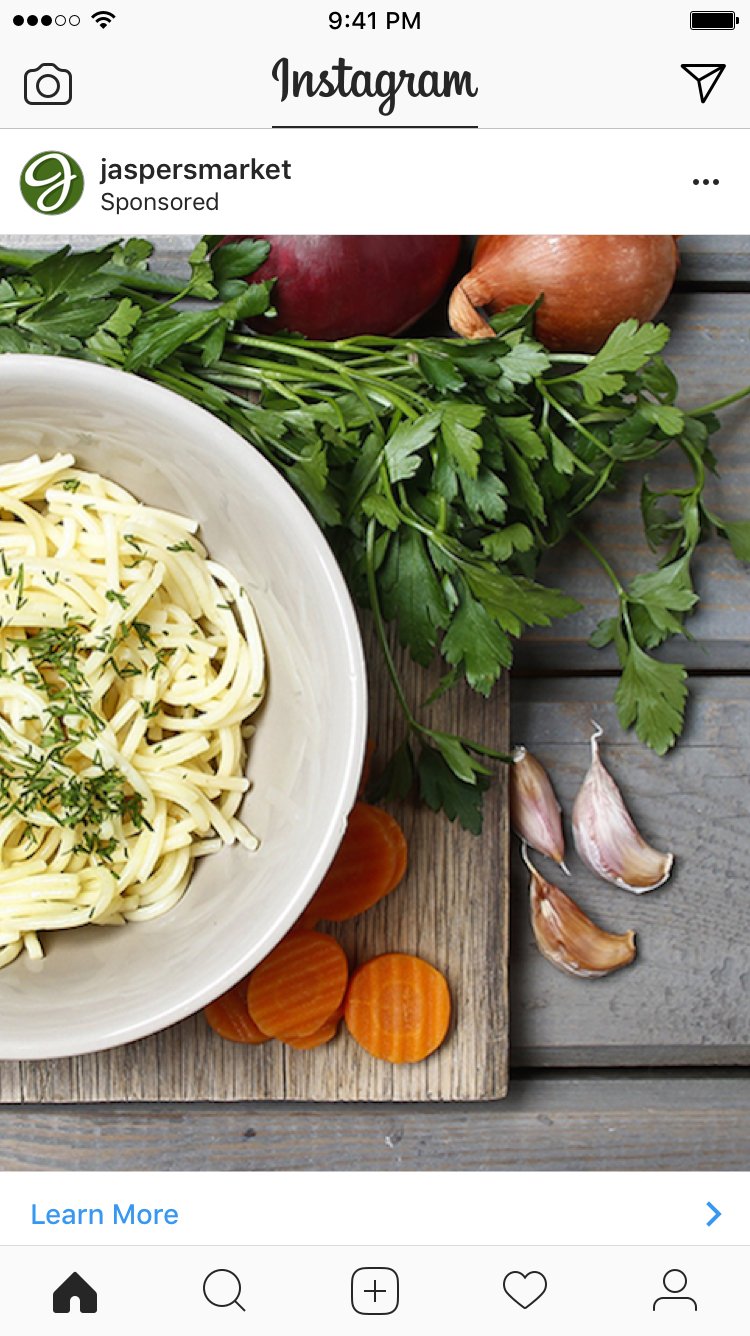 For example, depending on your goal (of driving awareness, traffic, or sales), you're dealing with pretty much the same exact ad format otherwise.
The first step is to make sure you've already integrated your Instagram account with your Facebook page. The best part about that? You're not even required to have an Instagram account!
Instead, you can get by with using your Facebook one to run ads over on Instagram without the extra hassle and setup involved.
Keep in mind that Instagram is a mobile-first platform. That means people will use it differently than on their desktop at home or the office.
Many (if not the majority) of people will be using it to simply browse around. Screen sizes are limited and processing power is even more so.
So you can still try to drive product sales. But just keep these limitations in mind when choosing your ad objectives. For example, you might be better off using Instagram ads for more 'top of the funnel' campaigns like branding, video views, clicks to your site, or even mobile app installs (that only require a single click to download).

In addition to the standard photo ad option, Instagram has three other ones currently available:
Video: Exactly what it sounds like. Show off a short video to draw in new followers.
Carousel: Show off several different photos in the same ad. This option is perfect for highlighting different options, benefits, or examples to get the most people to click.
Stories: Your final Stories option replicates a Snapchat-like experience of multiple videos cut together in order to entertain and inform with quick, digestible bites.
Here's how to use Instagram Stories to promote your business:
Instagram ads do resemble Facebook ones in a few ways, though. Starting with the ad creative requirements.
For example, you should always limit words as much as possible on these ads. Remember the old 20% rule on Facebook?
Today it's not policed as strictly as it once was. However, it's still a good rule of thumb to keep in mind when creating new Instagram ads because generally speaking, ads with more text receive less reach.
Your Instagram ads will also feature a CTA (like they do on Facebook).
That might be obvious if you're just going to drive traffic, generate mobile app downloads, or drive sales. But it can (and should) even apply to brick-and-mortar stores; providing helpful details at the push of a button that will better help them find your location.
That includes things like a map with your address (which will automatically pull up directions on a mobile device).
And you can even add your phone number so people can click-to-call on their mobile devices. Invoca analyzed over 30 million phone calls and found out that, "70% of phone calls come from digital marketing channels."
Otherwise, what should an Instagram ad look like? Easy — any other good Instagram post!
Take this one from Stone: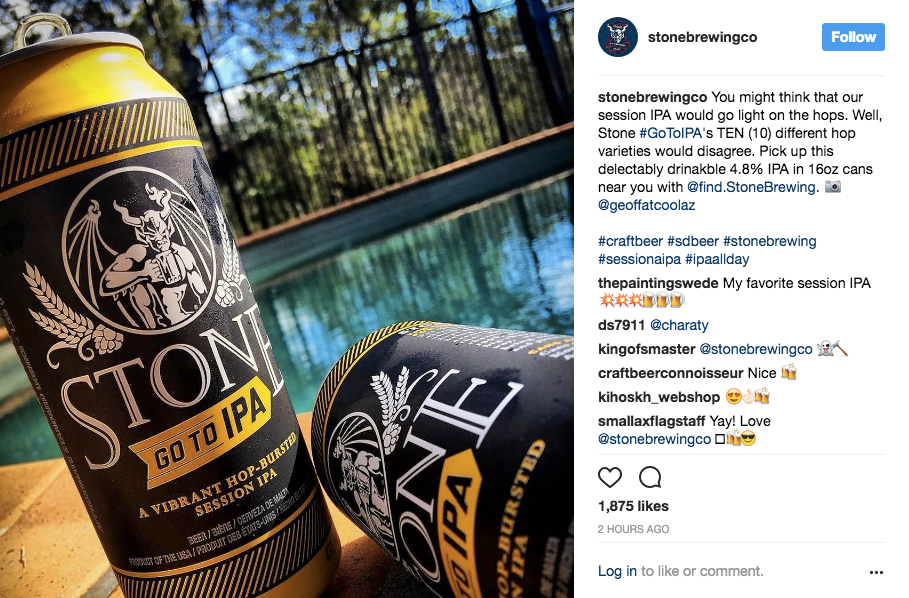 Here you've got natural light, the 'focus' in the foreground with easy-to-see separation from the background, bold colors, and even a touch of realism.
The most powerful visuals online are authentic, according to Getty Images. They've seen this trend first hand based on the product sales of different images.
For example, back in 2007 people preferred more staged, 'professional' looking photos. While in 2012, that switched over to more candid, natural ones.
The image example below clearly shows the difference between the two. The woman on the left is posting with a serious face and artificial lighting. While the woman on the right just seems more natural. Her expression is more realistic and subtle. And there's natural light surrounding her.

Advanced 'power users' will also love the fact that you can tap into Facebook's same audience targeting.
So if you're already a Facebook advertising pro, you can use interest-based targeting for top of the funnel audiences when you're trying to reach new people. Or you can run ads against custom audiences made up of previous website visitors, email newsletter subscribers, and even past customers.
But wait a sec…
Because the last thing you want to do is just start throwing money around.
How do you know which campaigns are going to work? How do you know which ad creative will work best?
The honest truth? You don't. Nobody does. So there's only logical thing to do: Run a test!
But not just any test. You need to know, beyond the shadow of a doubt, what's going to work before you put big bucks behind it.
And that's why you should try posting your potential ads or offers to your organic audience — first.
Here's what I mean.
All of the tips listed here so far should help you start building up a nice (unpaid) following. People who are into what you've got and discovering you through hashtags, location tagging, or even friends-of-friends.
So before running an ad campaign for the first time, you should try to see what works best with these people. They'll tell you, through comments, likes, and shares, which ideas are the winners.
Then you can further refine the feedback you're getting through Instagram's Insights (which we'll cover in the next section below).
For example, wall decal store Walls Need Love uses this exact 'organic to paid' strategy to test the market before running ads. And digging deep into data uncovered that, "light and airy pictures get the most likes on Instagram."
Guess which kind of pictures they prioritize then?
Big surprise, right?!
Marketing, at the end of the day, isn't as complex or difficult as it might seem. Simply find out what people like best, and then figure out how you can give it to them; better and more frequently than every before.
Now you can take the 'best performers' with the most likes and build your ad campaigns off of these proven winners.
Using paid media like this also allows you to more easily track concrete results (like traffic, opt-ins, or purchases) back to these social channels (which often get neglected or underappreciated otherwise).
You can use Facebook's built-in custom audiences and other ad formats like Dynamic Product Ads to help drive sales. But you can also turn your Instagram profile itself into its own ecommerce platform.
The first option from Curalate is the popular Like2Buy feature.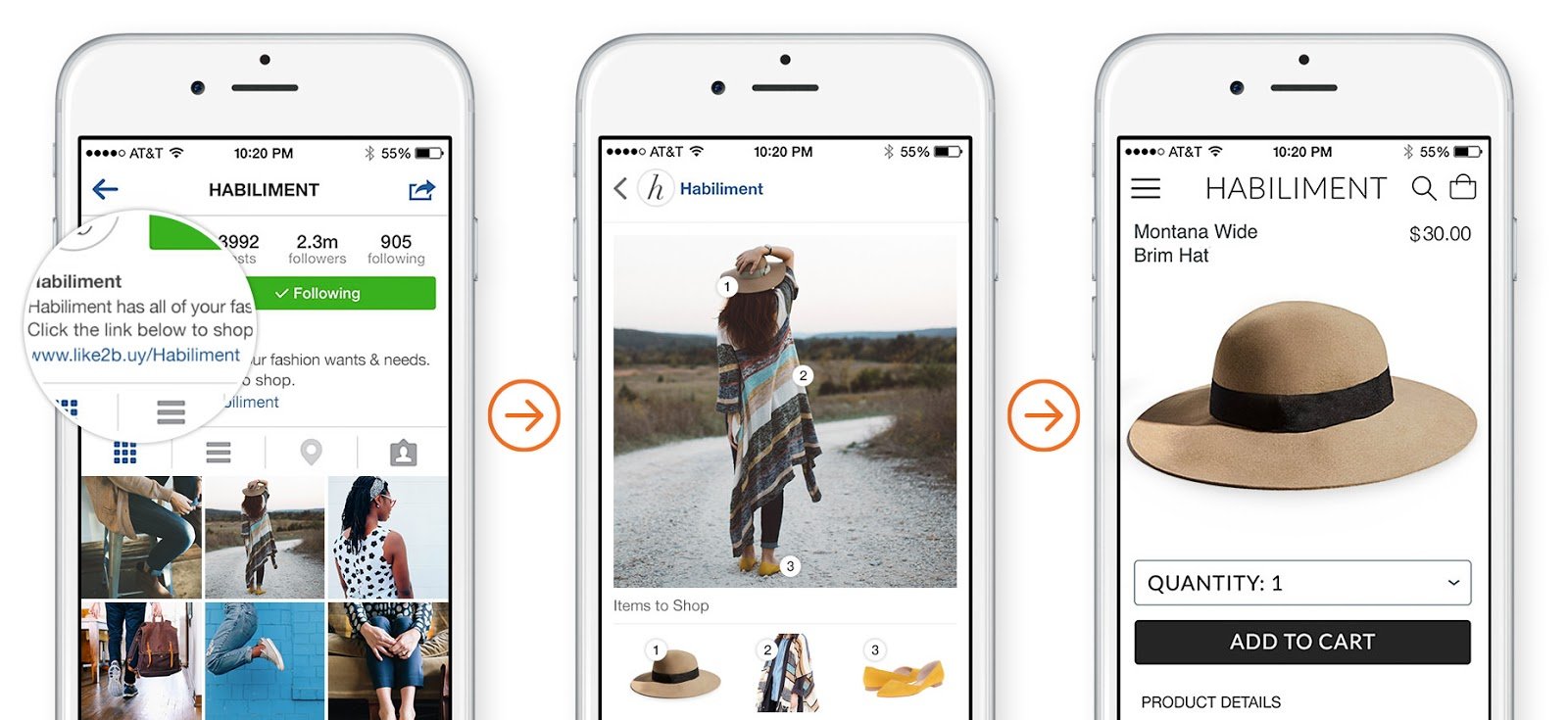 Here's how it works.
You can add a link in your bio that will help showcase the specific products featured in your images. Then when someone clicks, they can pull up the direct product links to those products within seconds.
It's a small feature, but a powerful one. They've partnered with some of the biggest retailers and driven some impressive results, including:
Forever21: 24% increase in time on site
Fossil: 278% increase in Instagram traffic
It's so powerful, that many similar apps are popping up for platforms like Shopify. For example, Shop by Instagram helps you connect your existing Shopify products to Instagram posts so people can buy direct. A few simple clicks is all it takes to add this feature instantly.
This is just scratching the surface, though.
Spanish fashion brand, Zara, will post the product reference code directly on Instagram posts so people can bring this up while on their website or even in stores.

And some ecommerce companies are even trying to bypass the online store entirely. For example, Smack Store includes a Whatsapp number in their profile that you can use to message directly to order new products.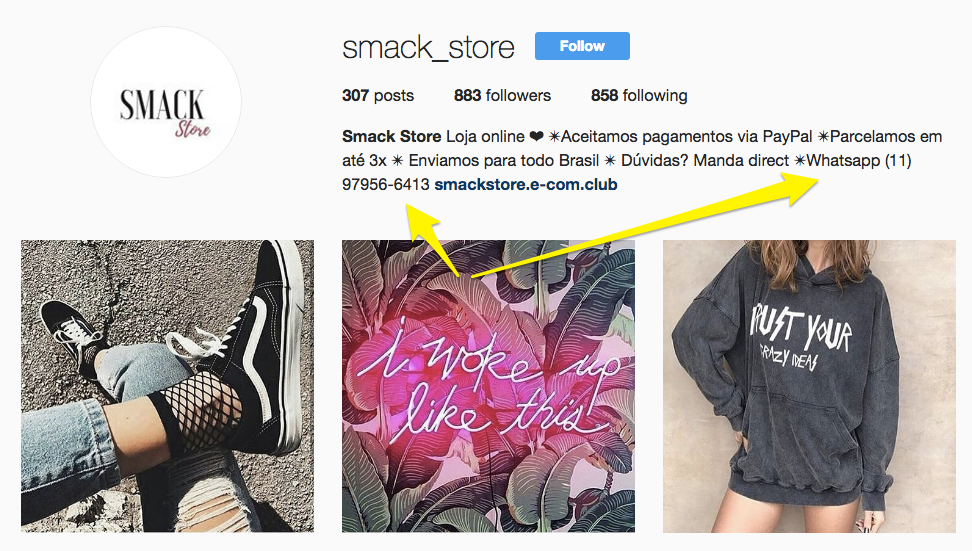 That means people don't even have to visit their website to buy. Instead, all they have to do is text the product information to that number to get the checkout process rolling.
Many small and medium-sized businesses believe advertising is a waste of money. That's a huge mistake, though.
Because when done right, it's a profitable investment.
You spend $100 bucks and make $200 bucks back. Only, however, if you know what you're doing. If you follow the steps listed here, test ads or offers on your 'organic' following to see what works best, and then double down to make it easier for people to buy.
None of that is overly complicated or confusing. It's common sense (with a little bit of elbow grease, too).
And it gets substantially easier when you understand how to find all of the answers that Instagram is already providing you with their Insight analytics.
Here's how to do it.
11. Using Instagram Insights to Find the Answers
The first step to accessing increased Insights is through making your Instagram account a business one. Simply start by going into your settings and then looking for the Switch to Business Profile link under your account.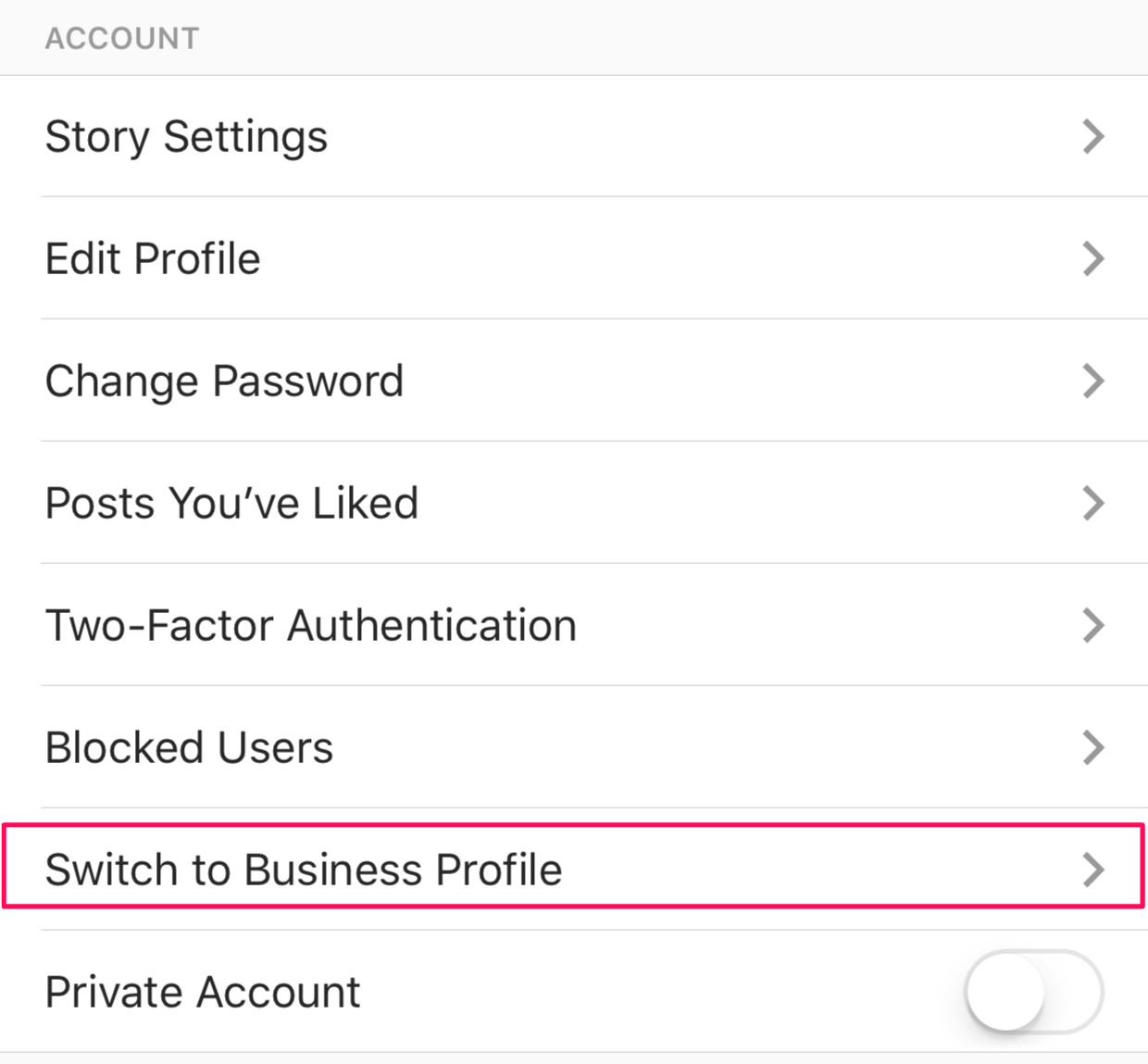 Unfortunately, once you make the switch, your data won't be retroactive. That means when you decide to transform your personal account to a business one, you're going to lose all of your old data. So keep that in mind before hitting the button.
Once you are ready to switch, go into your profile and look for the little graph icon that looks something like this:

Clicking this will bring you to your Instagram Insights. Here, you'll unlock key demographic data like gender, age, and location. And you'll also get increased visibility into which posts are performing the best (in both views and engagements). Here are some of the additional metrics included:
Impressions: The number of times your story or post has been viewed (in aggregate)
Reach: The unique number of people who saw your post or story
Website Clicks: The number of times your website link was clicked (counting both unique and repeat)
Follower Activity: The number of times your followers login to Instagram on a daily basis
Video Views: The number of 'quality' views (over three seconds) of your videos
Saves: The unique number of different accounts who saved your post
A key difference to highlight involves those first two: Impressions vs. Reach.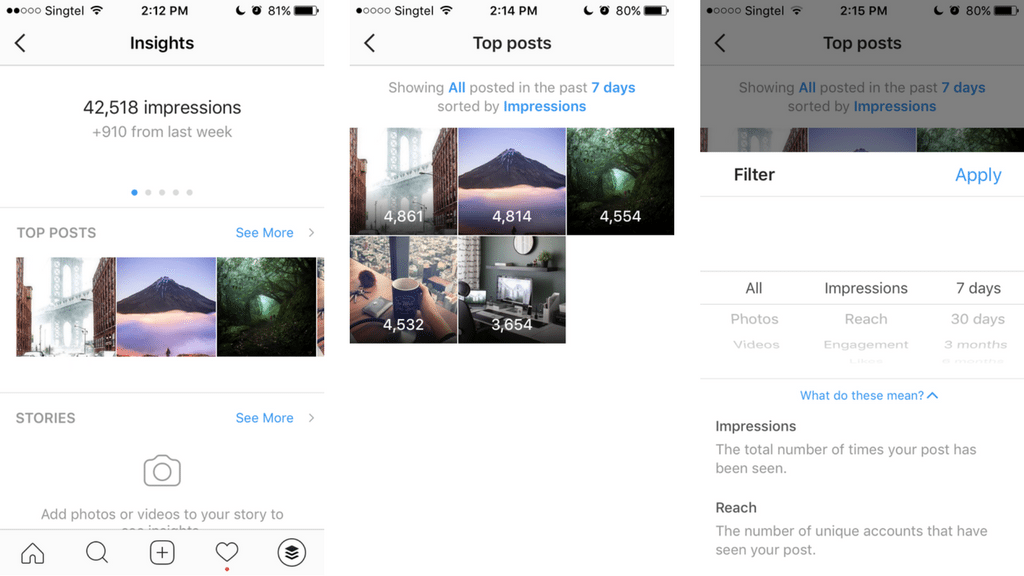 Impressions are an aggregate or total number. For example, if the same person views a post ten times, it's counted as ten impressions. Whereas the reach would only show one for the single individual.
Another tricky aspect is that these metrics will be counted as if there's only one photo or video per post (even if there's multiple in each one).
So let's say you have five different photos in a single post. If someone views just one of them, it will count as a view (even if they don't then view the rest). Keep in mind, then, that your effective data might be a little off.
You'll also be able to see the difference here between 'organic' and promoted (or paid) results, too. So you can see the 'free' views each post generated (which will be called the "Original" post), split out from any additional promotion you run on top of it.
Another little image (below) will immediately tell you if that post has been promoted or not.

The same applies to Stories, which will be displayed from over the past 14 days by when you've published them. (The only downside is that you won't be able to view insights for past stories that obviously expire within 24 hours.)
Stories also have their own unique metrics, including:
Replies: The number of message reply you get for each story
Exits: The number of times someone leaves your story to view a different one.
(Currently, there are no Insights shared for live content, unfortunately.)
Let's take a step back and see what the Follower section looks like in total now: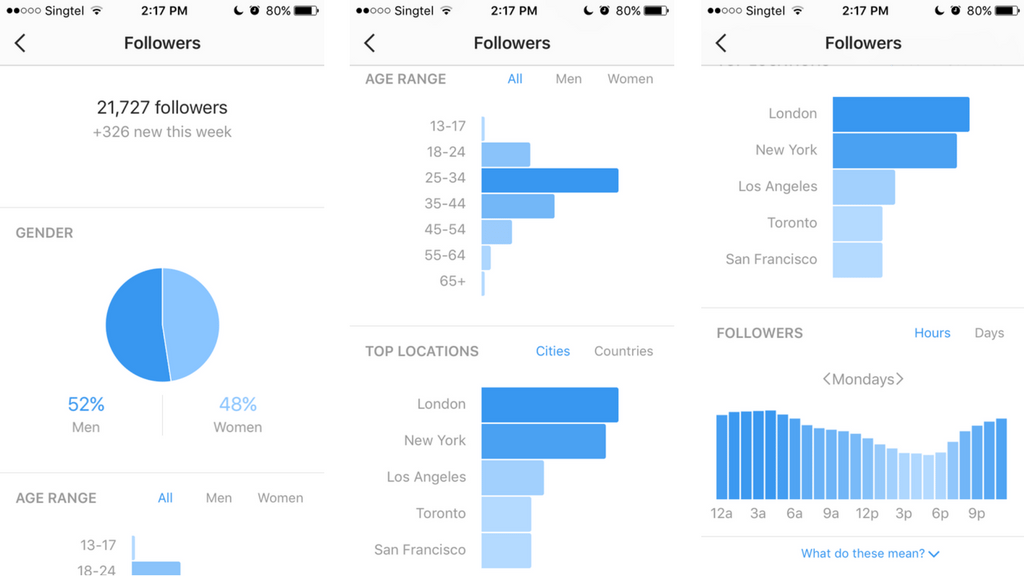 Marketing doesn't have to be difficult. It's a two-part formula that looks something like this:
Understand who your customers are: Are they young, urban millennials or middle-aged people in rural areas? This actually tells you a lot. It gives you hints at what they're interested in, what styles or other preferences they have, and what tone you should use. The Followers view gives you that info.
Find out what content performs best: The content with the most engagement will also give you the most reach. So reverse-engineer what's working (and why). For example, do funny posts work best? Or are contests a big hit? Whatever the case — find it and give them more of it!
You can, of course, get more granular with this information. There are additional Instagram analytics tools for even deeper dives into what's working and what's not.
But let's be real with each other:
You already know.
You know if something's working or not. You can see with just this limited data if a post or idea resonates (or not). And you can tell, based on people's reactions, whether they're interested or not.
Do your posts (and customer reactions) resemble Stone's from the beginning? Tons of comments and engagements within just a few days.
Or do they resemble Budweisers? Slow to grow and full of low value (borderline spammy) comments?
You need to be able to see it for yourself because chances are, your customers and followers already do too. They already know. And that's why they're engaging on Instagram (or not).
Selling on Instagram Frequently Asked Questions
Does Instagram have a way to sell products?
Yes, you can set up a shop and sell products within the Instagram platform.
Does it cost money to run an Instagram shop?
No, it is free to set up an Instagram shop.
Do I need a lot of followers to set up an Instagram shop?
No, you can set up an Instagram shop no matter how many followers you have.
Is it easy to set up an Instagram shop?
Selling on Instagram Conclusion
Among all social media platforms, Instagram still generates the highest user engagement for brands. It is fertile for building deep relationships with your customers and generating sales.
The twelve strategies I shared in the article are proven to increase your engagement and help you gain followers.
Are there any other strategies you've used to get more Instagram followers?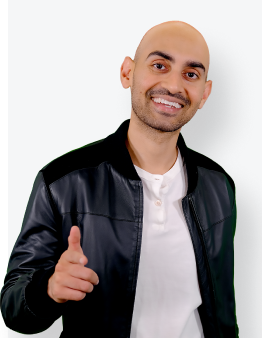 See How My Agency Can Drive More Traffic to Your Website
SEO - unlock more SEO traffic. See real results.
Content Marketing - our team creates epic content that will get shared, get links, and attract traffic.
Paid Media - effective paid strategies with clear ROI.
Are You Using Google Ads? Try Our FREE Ads Grader!
Stop wasting money and unlock the hidden potential of your advertising.
Discover the power of intentional advertising.
Reach your ideal target audience.
Maximize ad spend efficiency.