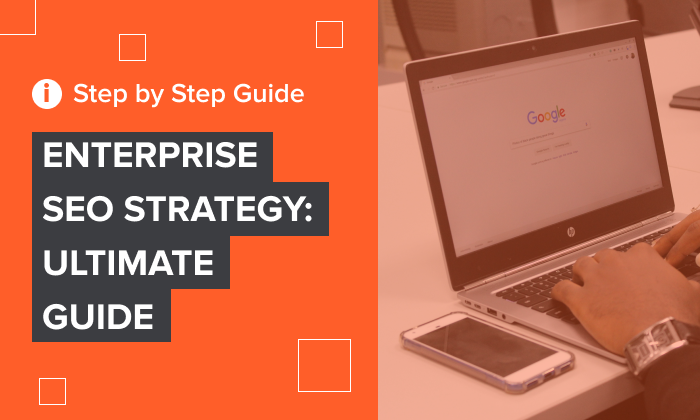 In a rapidly growing and increasingly competitive digital landscape, it's more important than ever for large businesses to have a comprehensive and effective enterprise SEO strategy.
However, no two businesses are the same; what works for one company won't always work for another. Therefore, you must tailor your enterprise SEO solutions to your organization's specific business goals and challenges.
That said, there are some common elements that all successful strategies share, including:
In this piece, I discuss some of the steps you need to make an enterprise SEO strategy work for you or your agency. Before I do, though, let's start with a definition of enterprise SEO.
What Is Enterprise SEO?
Enterprise SEO is a strategy for larger businesses. Now, I don't mean their turnover when I say 'larger' businesses. Instead, I'm talking about their website's vast number of pages. These pages can run into hundreds or thousands and need a lot of work. One example of enterprise SEO at work is Hubspot. The site has over 10,000 pages and ranks in the top spot for 4.7 million keywords.
Some techniques used are the same as regular SEO: creating a content strategy, researching keywords, and optimizing content. However, the approach needs to be scalable, and sometimes different methods, like implementing subdomains.
Now, let's take a moment to look at how regular SEO and enterprise SEO differs.
What Makes Enterprise SEO Different From Other Strategies?
As I detailed above, your enterprise SEO strategy needs to be different from regular SEO because the techniques you use for small-scale SEO won't always work for websites with hundreds of pages.
For example, you wouldn't want to use the same SEO strategy for a small, local business selling software as you would for a huge corporation like Adobe, which can get millions of organic visitors for one product.
This means using short-tail keywords instead of long-tail keywords and other core differences as illustrated below:
An effective enterprise SEO strategy also requires a specialist or dedicated team with the knowledge to track and understand analytics if they're to maintain your website's performance.
Another requirement is website maintenance and ensuring your content is up-to-date, along with:
automation tools to manage keyword research
competitive analysis
conducting regular audits
Other differences are:
1. Enterprise SEO is more complex
Enterprise businesses are usually much larger than small businesses, so their websites are generally much more complex. This means more pages and meta descriptions to optimize, a myriad of data to analyze, and plenty of content to refresh.
2. Enterprise SEO takes longer to see results
Again, because enterprise websites are typically much larger and more complex, it can take longer to see results from an enterprise SEO strategy. As a result, it can sometimes take months or even years to see significant results from enterprise SEO.
Depending on the company and the complexity of the enterprise SEO strategy, there are plenty of other variables that can influence how long it takes to get results, like:
Your niche and the keywords you're targeting
Your existing content
Length of time it takes to implement changes
Existing competition
3. Enterprise SEO requires a more strategic approach
Enterprise SEO demands a more strategic approach to keyword research, website architecture, and content development. This is due to the scale of such projects, technical SEO and related tech issues, and content volume.
Brands that use an enterprise SEO strategy include Adobe, Hubspot, and Microsoft. Each of these companies has a substantial online presence and attracts millions of viewers every month.
As an example, take a look at Adobe's stats:
Best Practices for Enterprise SEO
To increase effectiveness, it's vital to implement some best practices into your enterprise SEO strategy. I've detailed some of them below. However, remember each business is unique, and some of these may not be relevant to your company.
First and foremost, draw up a clear and concise enterprise SEO strategy. You should design your enterprise SEO strategy to meet the business's unique needs and regularly review and update as needed.
Additionally:
Create high-quality content that is both relevant and engaging. Don't just focus on the written word. Instead, draw in your audience with video, images, and even some audio.
Optimize your content for the various search engines by including keywords, meta descriptions, blogs, website content, titles, and URLs.
Refresh and expand your existing content by including the latest research, trends, and newly researched keywords.
Keep doing competitive analysis. Are your competitors changing track? How is their new approach performing for them?
Post content regularly. Ensure your content addresses user intent and write useful, actionable articles that readers can put into action.
Finally, tracking your results and making adjustments to improve your enterprise SEO efforts further is vital for success.
These are the best practices for creating an SEO strategy, but what if you're an agency wanting to work with corporate clients?
How Agencies Can Scale Up Their SEO for Enterprises
As SEO has become more complex and technical, enterprises have had to dedicate more resources to keep up with the latest trends and best practices. However, providing enterprise-level SEO services can be challenging as many agencies may need more expertise or tools to serve these clients well.
That doesn't make it impossible, though. Here are some tips on how to scale up your SEO offerings for enterprise clients:
1. Understand the client's business inside and out
Before you can start scaling up your enterprise SEO strategy, you need to have a deep understanding of your client's business. What are their goals? Who is their target audience? Who are their main competitors? The more you know about your client's business, the better equipped you are to develop an effective enterprise SEO strategy.
2. Keep up with the latest trends & best practices
One of the most important things an agency can do when scaling up its enterprise SEO solution is to keep up with the latest trends and best practices. This includes everything from keeping abreast of algorithm changes to understanding current consumer behaviors. By staying on top of industry trends, agencies can ensure that their clients' campaigns are always at the cutting edge.
3. Create customized solutions
Another key to success when scaling up enterprise SEO is to create customized solutions for each client. For instance, some clients may benefit from content optimization and ongoing content. In other situations, others may need to create a fresh content strategy, focus on new keywords, and write articles around buyer intent.
4. Get specialists on board
If you haven't already, get an SEO specialist dedicated solely to optimizing, monitoring, and strategizing for large corporate clients' websites. If this is an area where you'd like some help, my team at Neil Patel Digital would love to offer a lending hand.
5. Ensure you have additional staff to take on the extra work
Remember, you won't be optimizing a handful of pages. An enterprise SEO strategy spans hundreds or thousands of pages that require monitoring, reporting, and keeping up-to-date.
6. Invest in tools
Enterprise subscriptions for tools like Ahrefs and Semrush may seem expensive, but they're necessary. An affordable option is Ubersuggest, which starts at $99/month at the enterprise level. I will dive into the tools that will help you be successful a bit later on in this article.
7. Assess your experience levels
It's safe to say that enterprise SEO isn't for smaller start-ups or new agencies. It's important to evaluate how experienced you or your team is to take on a challenge like this.
8. Don't give away free services you can legitimately charge for
It's important that you don't miss out on profitable business, so be okay with charging your clients for services that will help grow their reach. Introduce scalable sales strategies like charging for premium customer service that includes training, designing custom enterprise packages, and price reviews.
Now that we've covered some steps on how to scale up your SEO enterprise solution, let's talk about which tools and services you'll need to support these strategies.
Tools and Services To Support Enterprise SEO Strategies
Creating an enterprise SEO strategy can seem overwhelming, especially if you're an agency scaling up and preparing to take on huge corporate clients. Fortunately, there are all-in-one suites that allow you to manage and automate elements, like:
Keyword research
Competitive analysis
Site audits
Content optimization
The information this data gives you informs your strategies and allows you to monitor your performance to ensure you're on track.
Here are a few tools to consider:
Moz Pro
Moz Pro is a comprehensive suite of SEO tools that includes keyword research, link building, site audits, and tracking rankings.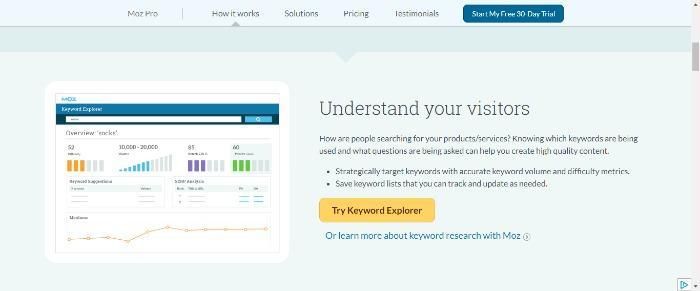 It's great for enterprises that want to track their progress and optimize their website for better search engine visibility.
TechnologyAdvice rates Moz Pro as the best tool for on-site optimization.
Ahrefs
Ahrefs is another all-in-one SEO toolkit. It offers similar features to Moz Pro. However, one of its main selling points is its extensive database of backlinks, which can be helpful for link-building and competitive analysis.
The software allows you to:
Identify broken links
Analyze websites
Track social media
Explore content and keywords
Subscriptions start from $79 a month, and TechnologyAdvice rates Ahrefs as the best at generating quality backlinks, making it a valuable addition to creating scalable backlinking strategies.
Google Analytics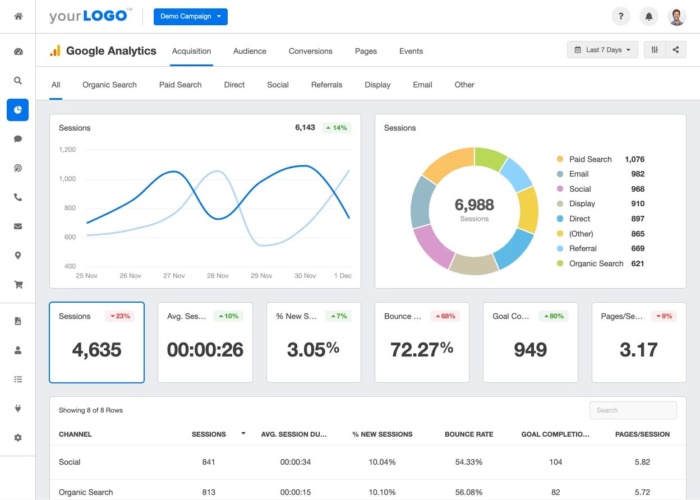 If you're testing the waters and not ready for a paid subscription, then Google Analytics is a free tool that can help track a website's traffic and performance.
It provides an extensive set of reports, including:
Audience overview reports
Advanced analytics
Create goals
Analyze demographics
While Google Analytics has many advantages, as Hubspot explains, you need the time and ability to analyze results. For example, there are five primary reports, including audience and lifetime value. All of this can seem like information overload and requires patience and expertise.
HubSpot's Website Grader
This free tool analyzes your website and provides recommendations on how to improve its SEO. HubSpot introduced its Website Grader in 2020, but has since updated the system and foundational technology for more accurate scores.
The tool helps to:
Enhance your website's performance
Optimize for mobile
Develop personalized experiences
Implement SEO best practices
If you're new to the Website Grader and want to get the most from it, Hubspot offers a free course.
FAQs
What Is Enterprise SEO?
It's a type of search engine optimization that helps big name businesses increase online visibility. It's done by improving the ranking of their website on search engines such as Google and Bing. Enterprise SEO strategies vary from organization to organization, but they all share one common goal: improving the website's visibility and thus increasing traffic and sales.
How Is Enterprise SEO Different Than Other SEO Strategies?
Enterprise SEO is a strategy used by large corporations. Typically, they have hundreds, or sometimes thousands, of pages to optimize. Therefore it requires a different, more scalable approach than regular SEO. 
How Do I Scale My SEO Strategy for Enterprise Business?
Ensure you have the financial and staffing resources, invest in tools, tailor your services to your client's needs, and have a specialist team dedicated to creating enterprise SEO strategies. You also need to be careful in choosing the right technical SEO agency to get the best results.
Conclusion
An enterprise SEO strategy can help large corporations rank higher on search engines and acquire more organic traffic.
However, getting results from this approach takes time, effort, and expert guidance. Therefore, any company considering adopting an enterprise SEO strategy should consider working with an agency with the expertise and resources to execute a plan successfully.
By understanding what search engines are looking for and how users interact with search results, businesses can create a comprehensive and effective SEO strategy combined with regular tracking, reporting, and analysis.
If you're an agency, scaling up to deliver enterprise SEO services takes considerable investment in both resources and time, and it's not a project to consider unless you have the resources to get results.
Do you use enterprise SEO strategies in your business? How does it enhance your website performance? Let me know in the comments below.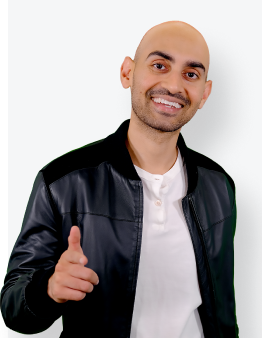 See How My Agency Can Drive More Traffic to Your Website
SEO - unlock more SEO traffic. See real results.
Content Marketing - our team creates epic content that will get shared, get links, and attract traffic.
Paid Media - effective paid strategies with clear ROI.
Are You Using Google Ads? Try Our FREE Ads Grader!
Stop wasting money and unlock the hidden potential of your advertising.
Discover the power of intentional advertising.
Reach your ideal target audience.
Maximize ad spend efficiency.