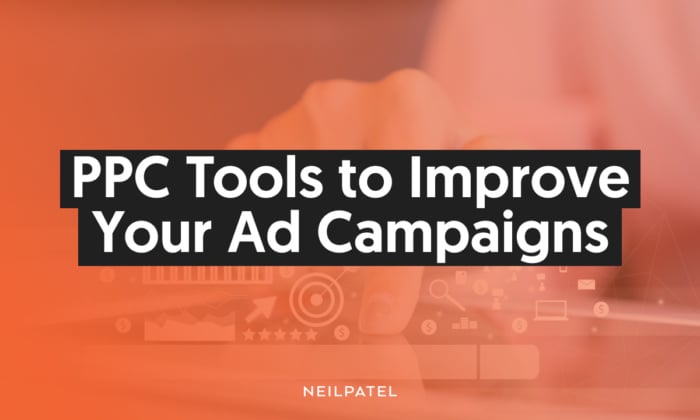 Are you tired of spending hours trying to optimize your PPC marketing strategy only to see lackluster results? Do you constantly need help identifying the right keywords, targeting the right audience, and reporting on your success?
Sinking hours into a PPC campaign without a huge amount to show for it can be frustrating. That's why you need pay-per-click software to automate and improve your processes.
In today's ultra-competitive landscape, PPC tools are vital to improve the performance of your campaigns, increase your click-through rates, and, ultimately, beat your competitors.
These tools range from comprehensive software suites to analysis tools and competitor research platforms, all designed to help you achieve your advertising goals more easily and efficiently.
In this blog post, we will explore the top PPC software to help you automate your ad campaigns and take them to the next level. With these tools, you can finally bid farewell to the agony of underperforming ads and embrace increased conversions and ROI.
But before we dive into my top picks for pay-per-click software, let's first take a look at what PPC automation is and how these tools help.
What Is PPC Automation?
PPC automation uses software to automatically optimize the PPC management of your campaigns. It allows marketers to control their Google ad campaigns through robotic process automation and computer algorithms, without spending hours tediously updating scope, timing, and targeting. By automating some of the systems and steps, you can leverage third-party applications to do the hard work for you.
There are plenty of benefits to using paid search tools to automate parts of your campaign:
Improve efficiency: PPC automation tools can save you time by automating routine tasks such as bid adjustments and ad scheduling. Now, you have more time to focus on more important parts of your ad campaigns, generating leads, and growing your business.
Eliminate error: PPC automation tools can help eliminate the risk of human error. Automated systems can also process vast amounts of data with greater accuracy than humans, resulting in better campaign performance.
Enhance performance: PPC automation tools can help improve the performance of your ad campaigns by continually optimizing your bids, targeting, and ad copy to ensure that you squeeze as much revenue as possible from your campaign.
Scale campaigns: As your ad campaigns grow, it can be challenging to manage them manually. PPC automation tools can help you scale your campaigns efficiently and effectively, without sacrificing performance.
Types of PPC Automation and Suggested Tools
There is no shortage of tasks that you can automate in PPC. From research to optimization to reporting, there's a tool for almost every stage of a campaign.
These tools range in cost and complexity. Some pay-per-click software solves specific problems, while others provide a complete solution to PPC campaign automation and optimization. In some cases, one tool may be enough. In others, you may want to combine three or more tools to get the job done.
In either case, you should find the perfect solution in my list below. To make things even easier, I've created five automation categories (integrations and reporting, scripts, custom builds, comprehensive software, and competitive research) so you can skip ahead to find the solution you need.
Integrations and Reporting
Reporting is undoubtedly one of the most frustrating parts of a PPC manager's life. Think of all the hours spent compiling data, creating spreadsheets, and importing sources to create custom reports.
Automating your reporting systems through integrations can help make this process more efficient. No more manually exporting spreadsheets and no more comparing data.
Integration refers to the different apps and platforms you may want to pull data from when preparing reports. These could be platforms such as Google Ads or Instagram. When choosing an automated reporting software, be sure to check that it offers the integrations you will need.
Here are a few easy-to-use PPC reporting tools to help make your reporting easier:
1. Swydo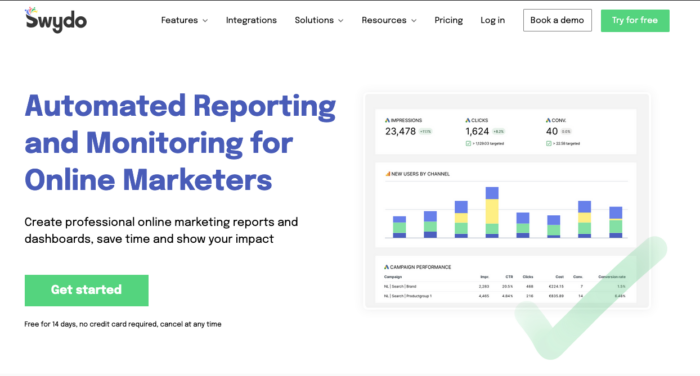 Swydo is an automated reporting and monitoring platform that was built for PPC managers. It offers a simple way to automatically integrate data sets from various sources like Facebook Insights or Bing Ads.
Swydo can also help you automatically monitor your clients' campaign performances and translate them easily into reports. Swydo also lets you schedule your reports so they can be automatically sent to your team or clients, saving you an end-of-the-month scramble. It basically automates the entire PPC reporting process.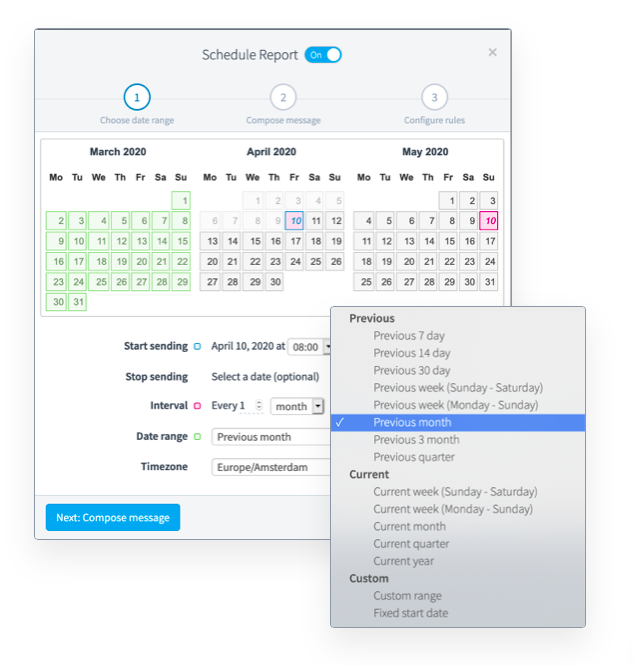 Other Swydo features include custom branding, unlimited users and dashboards, SEO and social media reporting, and multi-language reports.
Swydo integrates with Google Ads, Google Analytics, Facebook Insights, Microsoft Ads, LinkedIn ads, Klayvio, and dozens of other platforms.
Swydo plans start at $39 per month. There is a 14-day free trial, no credit card required.
2. Reporting Ninja
Reporting Ninja is an Adwords, PPC, and social media reporting tool that boasts more than 20 different integrations and a range of reporting templates. Its goal is to help you spend less time creating reports and more time analyzing data.
To that end, it includes cross-platform comparisons so you can combine data from multiple platforms into a single chart or graph. This PPC software also has scheduling functionality so reports can be created automatically every month.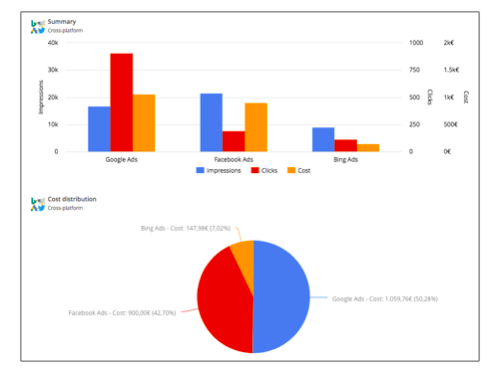 Other Reporting Ninja features include a white-label client portal, a rich widget library, brandable reports, and customizable dashboards.
Reporting Ninja integrates with Google Ads, Google Analytics, Bing Ads, Facebook Ads, YouTube, Amazon Ads, and a dozen more ad networks and platforms.
Reporting Ninja plans start at $20 per month. There is a 15-day free trial, no credit card required.
3. Report Garden

Report Garden is pay-per-click software that focuses on report creation and automation for digital marketing agencies. The platform can help you create client reports, monitor budgets, and add new PPC campaigns, all in one app.
Their creative visual reports will help you look great in front of your clients or company leadership. It also has a client management portal that makes it easy to track and report on KPIs. They also have a range of interactive dashboards so your clients can see their reports in real-time.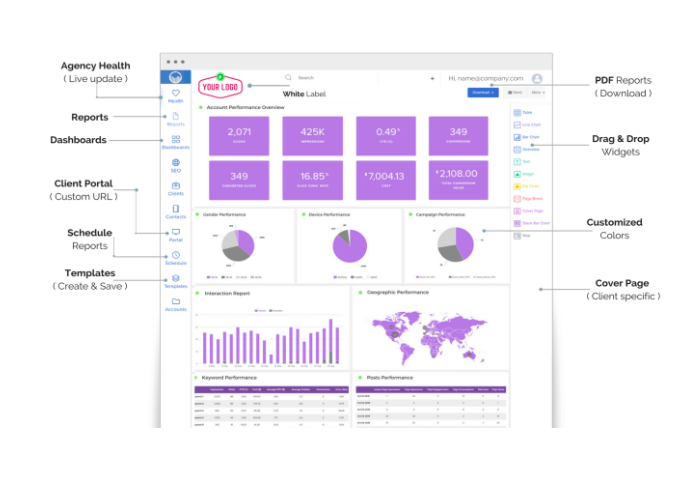 Other Report Garden features include an SEO suite, proposal creation, and budgeting tools.
Report Garden integrates with over 50 ad networks and platforms, including Google Ads, Google Analytics, Microsoft Ads, Facebook Insights, YouTube Analytics, and Spotify Ads.
Report Garden plans start at $89 per month. There is a 14-day free trial, no credit card required.
Scripts
Scripts are Javascript code pieces that tell your ads to perform certain functions based on the performance data that you input. Scripts can help you customize specific parts of your campaign to automate and let you pick what data points to use and when.
For example, if you want to add ad schedules for a campaign, you might use a script that looks like this.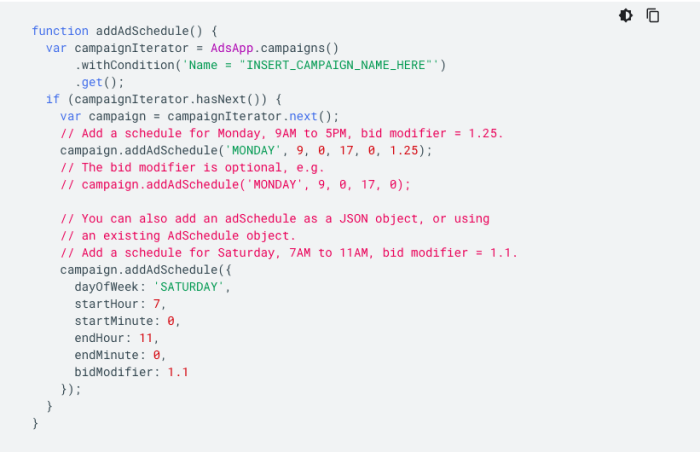 You don't have to be a coder to use these scripts. Google has a whole library of code scripts you can use if you're new to this method.
Scripts are a great way to do split testing, big management, and reporting. They can be used to automate internal or external functions and save you a lot of time in PPC account maintenance.
Custom Builds
Custom builds are certainly the most complicated options for PPC automation. These builds require some expertise, so you might need a developer to help you get started.
Custom builds are coded automations that allow you to customize almost anything in your ads. These builds will enable you to focus on unique metrics and create columns that can segment account data down to its finest points.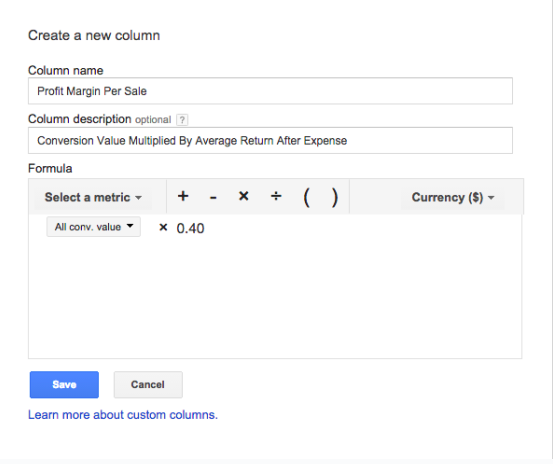 Google describes customization like this:
"For example, to see the percentage of clicks you get from mobile devices, create a custom column that divides mobile clicks by total clicks. Or let's say you're a shoe retailer and enjoy a 40% profit margin for each pair of shoes you sell. To understand your total profit for each sale, ensure your conversion value column tracks revenue. Then, create a custom column that multiplies conversion value by 40% and call it 'Estimated Profit.'"
Comprehensive Pay-Per-Click Software
Comprehensive PPC software platforms allow you to customize, automate, and manage your ad campaigns in a more user-friendly fashion than custom builds. A comprehensive software solution enables you to do everything we discussed above and more from one simple platform.
Here are a few of the best PPC automation software tools out there, so you can get the most out of your paid ad strategy.
1. WordStream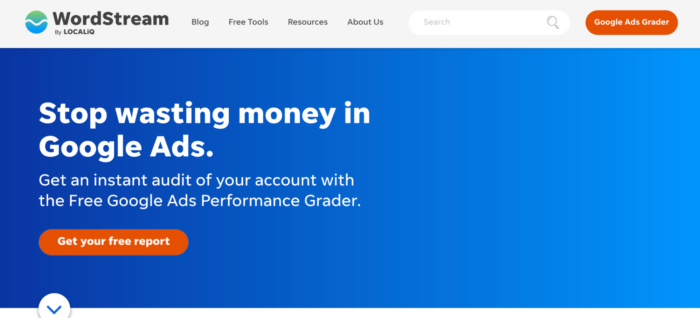 WordStream provides a suite of pay-per-click software that is great for small businesses ready to jump into PPC campaigns, but that don't have large budgets or big staff rosters to support them. The platform comes with a range of free tools that make it easy to improve your paid ad performance, including a Google Ads performance grader and a keyword research tool.
If that weren't enough, WordStream also has a bunch of free educational resources, including a PPC University.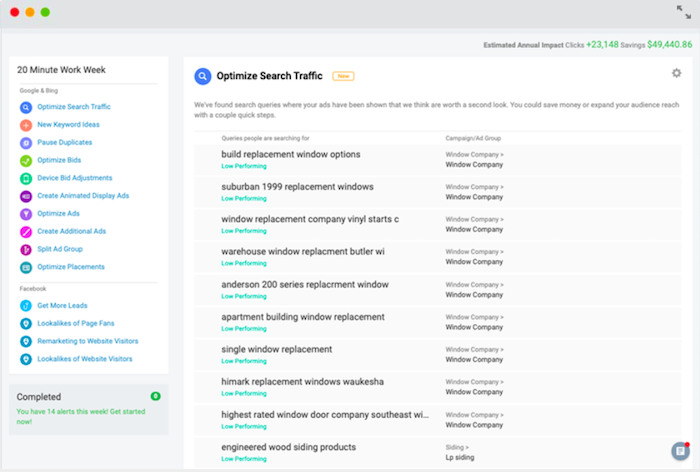 Other WordStream features include a Facebook Ads grader, a business listings grader, and a website grader.
2. Optmyzr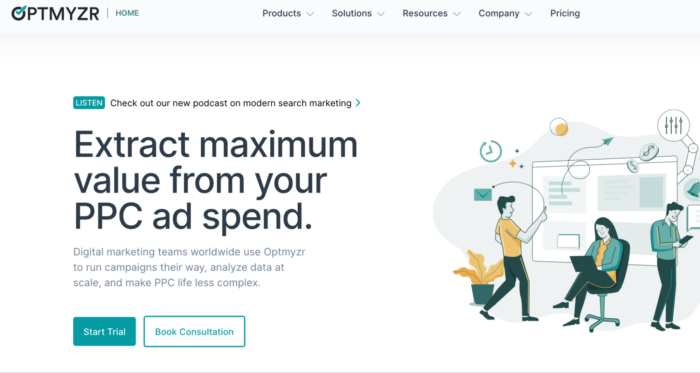 Optmyzr is a good choice if you're running multiple PPC campaigns and are looking for a range of automation features to handle the entire process.
With Optmyzr Core, you can create, track, and report on your PPC campaigns. You can also automate scripts and alerts directly from the platform. Customers spend up to 56% less time managing their campaigns with Optmyzr Core and find it easy to showcase their wins to clients.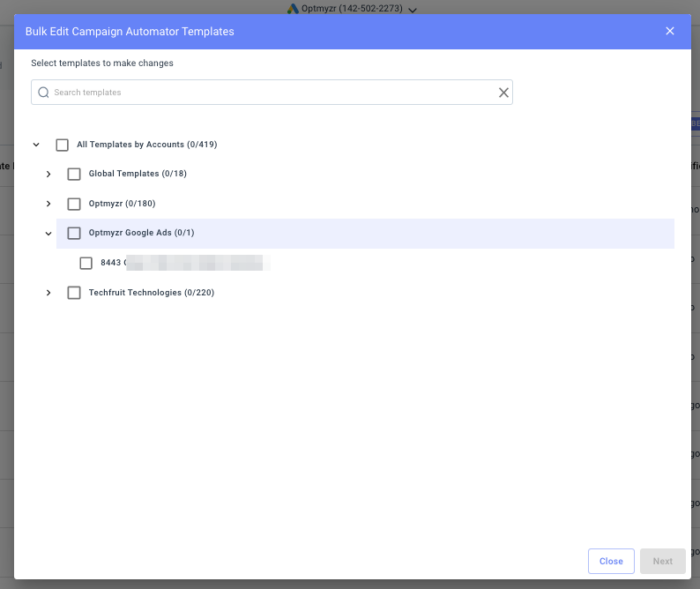 Other Optmyzr features include bulk campaign creation, monitoring and alerts, quality score tracker, Geo Heat map, and Shopping analysis.
Optmyzr integrates with Google Ads, Yahoo Ads, and Bing Ads. There is also a custom data integration tool.
Plans start at $228 per month. There is a 14-day free trial, no credit card required.
3. Google Ads Editor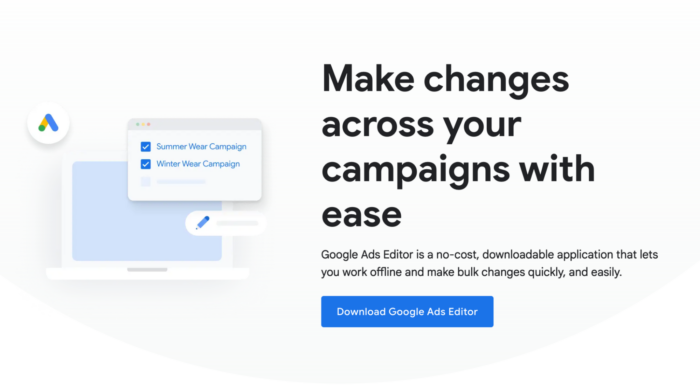 Google Ads Editor is a free downloadable application that makes it easy to manage your campaigns offline and make edits in bulk.
You can create, track, and edit your ads directly from the software. You can even partner with a Google Ads expert to get help setting up your first campaign.
Although Google Ads Editor is great for managing your Google Ads, it doesn't offer many integrations. If you're running ads on multiple search engines or platforms, then you might find this software limited.

Other Google Ads Editor features include file import and export, ad reviews, and the ability to make changes across multiple campaigns at once.
Google Ads Editor is free to use.
4. Semrush PPC Toolkit
The PPC management software toolkit offered through Semrush is a great asset to campaign planning, keyword research, and competitor research. Semrush allows you to quickly find your advertising competitors based on the keywords you plan to target. Then you can click on your competitors to see what other keywords they target their ads toward and the ad copy they use. In short, this tool lets you easily see how you rank against your competitors and how you can modify your ads to out-perform them.
It also offers a range of SEO features like the Keyword Magic Tool, which can show you search volume data alongside suggestions for stronger keywords. (You can also pull keyword data from my tool, Ubersuggest.)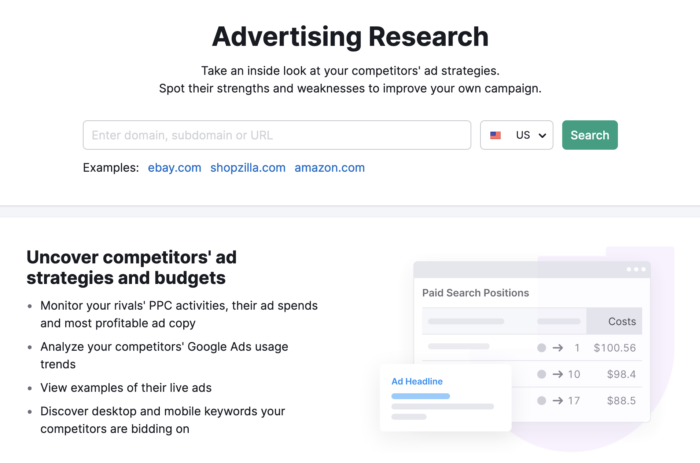 Other Semrush PPC Toolkit features include advertising research, keyword gap analysis, position tracking, and social media ad analysis.

Semrush integrates with Google Analytics, Google Search Console, Google Ads, every major social platform, SurferSEO, WordPress, Zapier and many more tools.
Plans start at $119.95 per month. A freemium option is available.
5. Microsoft Advertising Editor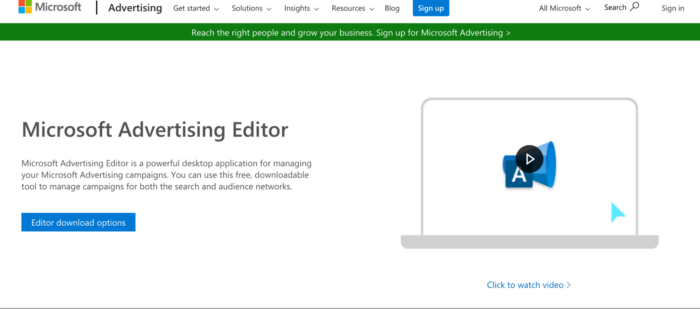 The Microsoft Advertising Editor is a free desktop application to manage your Microsoft Ads campaigns. Like the Google Ads Editor above, you can use this tool to make offline changes to your campaigns and manage them in bulk.
Better still, you can import your existing Google Ads campaigns using the Google Import tool to get started even faster.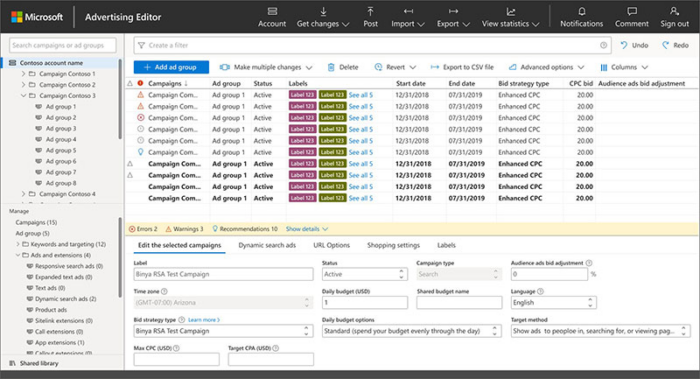 The Microsoft Advertising Editor is available for Windows and macOS. It is free to use.
6. AdNabu
AdNabu is an AI feed management tool for Shopify stores. It allows brands to optimize their product data feeds for every major search and social platform, including Google Shopping, Bing, Facebook, Instagram, TikTok, Snapchat, and Pinterest.
That means no more creating product titles or descriptions for your Google Shopping campaigns — AdNabu does it for you.
Other AdNabu features include bulk editing, multi-language and multi-currency support, customizable metafields, and product rating app integration.
Ad Nabu integrates with Google Ads, Google Shopping, Bing Ads, and every major social platform.
Plans start from $29.99 per month. There is a 14-day free trial, no credit card required.
7. Acquisio
Acquisio is an AI-powered PPC software that makes it easy to launch, optimize and report on your campaigns. You can set up a new campaign in minutes using a predefined template and easily clone exciting Google Ad and Bing campaigns.
Acquisio also provides a range of tools like their search query keyword expansion tool and Ad Extension Manager to squeeze as much performance as possible out of campaigns.

Other Acquisio features include budget optimization, self-improving AI, customizable report templates, and a sales toolkit for agencies.
Acquisio integrates with Google Ads and Bing Ads, and has its own API.
Custom pricing is available when you contact Acquisio.
8. Adalysis
Adalysis is one of the best PPC tools for automating Bing and Google Ad campaigns. The software has tools to help with every part of the PPC campaign process, from analyzing keywords and optimizing campaigns to monitoring your results.
Adalysis will even tell you what to do with your campaigns in the form of daily automated recommendations on how you can improve.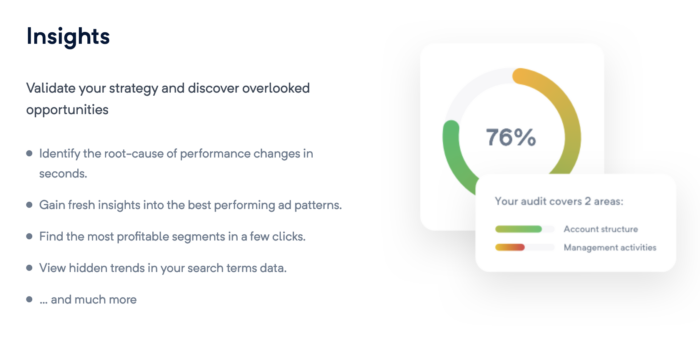 Other Adalysis features include bid suggestion and tracking, budget projection, quality score analysis, ad testing, and data visualization reports.
Adalysis integrates with Google Ads and Bing Ads.
Plans start from $99 per month. A 14-day free trial is available, no credit card required.
9. AdEspresso

AdEspresso is a comprehensive suite of paid ad management tools. It has everything you need to create, manage, analyze, and automate PPC campaigns. You can create campaigns for Facebook, Instagram, and Google all in one place — and manage them all in AdEspresso, too.
Reporting is made easy with customizable dashboards that pull in data in real time. You can then turn those dashboards into PDF and Excel reports and send them to clients by email or publish them online.
Other AdEspresso features include CRM synchronization, actionable daily in-app tips, an Optimization Rules tool, and the AdEspresso University.
AdEspresso integrates with most social platforms, Google Ads, Google Shopping, and YouTube.
Plans start at $49 per month. There is a 14-day free trial.
Competitive Research Tools For PPC
If you are just getting started with paid search marketing, there is one great strategy you can use to get insight into keywords, ad copy, and even which AdWords extensions to use: competitor research.
Chances are your competitors have been paying for ads a while, which means they have been learning what works and what doesn't. So, instead of reinventing the wheel, you can learn from their successes and failures to get more out of your own campaigns right away.
When researching your competitors' paid search marketing strategy, you can use free Google research or one of the premium pay-per-click tools below.
1. Google
The easiest way to find out who your competitors are in the search marketing landscape is to do a Google search for the keywords you want to target. This will allow you to do all three of the following:
Determine if the keywords you have in mind have commercial intent
Get some alternative keyword ideas
View ad formats, copy, and landing pages your competitors are using
Let's look at how to use Google to determine if the keywords you have in mind have commercial intent first.
People use keywords for two reasons. Either they are searching for products or services to buy (commercial intent) or they are searching to learn about a particular topic (informational intent). For example, people who search for web analytics may be looking for information about website analytics, whereas people who search for web analytics software may be researching a future purchase.
As you can see, web analytics software has a lot of competition in paid search, making it a great keyword to target if your business sells it.
Now let's look at how to use Google to find alternative keyword ideas.
When you scroll to the bottom of the search results page, you will find up to eight additional keyword phrases you can target.
Again, you'll want to check each of them for commercial intent. They can help you find more specialized keywords to target, which would lower the number of competitors but increase the likelihood that people who click on your ad would convert.
Finally, let's look at how to use search results to see the ad formats, copy, and landing pages your competitors are using.
Take a look at the ads that appear for your keyword. Do they have phone numbers? Do the ads have links to internal pages on their website? What text do the ads use? What landing page do the ads go to? Do the ads include additional contact information?
All of these questions can be quickly answered by analyzing the ads your competitors are using in Google search results. Things like phone numbers, internal page links, and other elements beyond the title, description, and link can alert you to your competitors' usage of various Google Ad features, like call extensions, site links, social annotations, ratings, and more.
The text your competitors use in their ad copy can be particularly crucial. Some competitors may quote their starting prices to show affordability, or offer free quotes and information to capture leads, or note the year they began the business to show experience. These may be items you want to include in your ad to draw attention and clicks to your website.
In the example above, for instance, Adobe shows its authority by linking to its 2022 Adobe Trust report.
Ad copy and format are not all there is to paid search marketing. Landing pages are essential when it comes to converting your clicks into customers. You may want to visit your competitors' landing pages to see the copy they use to describe their products or services, the special offers they give paid search visitors, and the ways they allow people to contact them. Something as simple as adding a phone number to your landing page could make the difference between whether a person who clicks becomes a customer of yours or a customer of one of your competitors.
2. iSpionage
iSpionage allows you to gain insight into competitors' effective keywords, ad copy, and ad budget. It's a real secret weapon for the savvy PPC marketer. The ability to go in and find out exactly what your competition is up to gives you an almost unfair advantage.
Whether you're an agency or running your PPC/organic campaign at home on a small budget, iSpionage will give your business the tools to enhance your ROI and steal your competitors' traffic.
Other iSpionage features include an AdWords competitor keywords finder, an Ad Effectiveness Index algorithm, and SEM performance tracking.
iSpionage integrates with Google and Bing.
Plans start at $59 per month. There is a 30-day money-back guarantee.
3. SpyFu
SpyFu is a market-leading competitor research tool. It allows you to see every place your competitor has shown up on Google, including all of the keywords they have bought and the ad variations they have used.
What makes SpyFu particularly powerful is that you can see historical records of your competitors' most profitable keywords. That means you don't just get the keywords they are using right now, but the ones they've been using for years to drive traffic.
Other SpyFU features include Google Ads templates, Google Ads Advisor, domain comparisons, and white-label reporting.
Plans start at $39 per month. There is a 30-day money-back guarantee.
4. AdBeat
Adbeat is a competitive intelligence tool designed primarily for display advertisers. This pay-per-click software allows you to spy on your competitors' ad copy split testing and all their unique creatives.
AdBeat makes finding the best ads easy. You can browse by top overall ads and by format (text, flash, video, etc.).
Other AdBeat features include advanced reporting functionality, advertiser comparisons, extensive country and device data from over 90+ networks, and publisher data.
Plans start at $249 per month.
5. The Search Monitor
The Search Monitor is a brand compliance and ads insight tool for enterprise-level ad monitoring. It allows you to have full visibility into the paid search activity of competitors, affiliates, and industry leaders across 1,200 verticals. Pricing for this tool starts at $599 per month.
This is a fantastic tool for search and affiliate marketing. Get insights about advertising in your industry as a whole or drill down into paid search insights to find out how to write better ad copy and grow your page share.
Other features from The Search Monitor include product ad analysis, organic search analysis, affiliate compliance, and automated alerts.
Pricing is available on request.
6. Adthena (formerly Adgooroo)
Adthena, formerly AdGooroo, is an all-in-one search intelligence platform. It has several features that allow you to access knowledge about your competitors' PPC strategies, including keywords, ad copy, landing pages, spend, impressions, and much more.
Adthena's search intelligence tools also help you go beyond Google's automated strategy to drive maximum value from your campaigns.
Other Adthena features include smart monitoring, whole market analysis, Brand Activator, and keyword identification.
Custom pricing is available when you request a demo.
Why Is PPC Automation a Popular Method?
There are plenty of reasons new and experienced marketers use PPC automation in their campaigns.
If you're an inexperienced PPC marketer, automation helps you create a new campaign fast. You can simply enter your campaign goals, choose your smart bidding strategies, and let the software do the rest.
If you're an expert PPC marketer, the tools listed above can help you optimize your campaigns in ways you would never be able to achieve on your own. They can also automate many of the manual tasks, freeing you up to focus on the overarching strategy.
Heck, even Google suggests using PPC automation and smart ad bidding, as it saves you time and increases the performance of your ads.
Pros and Cons of PPC Automation Software
Still not sure whether PPC automation is right for you? Let's take a more in-depth look at the pros and cons of PPC automation tools.
Pros of PPC Automation Software
PPC automation makes setting up, running, and optimizing PPC campaigns easy, regardless of whether you're a beginner or expert. These PPC tools also help inexperienced marketers optimize their campaigns in ways they wouldn't be able to achieve on their own.
Pay-per-click software also reduces mistakes. Humans often make errors that machines don't. It's not that we aren't as good as they are, but we are more prone to making simple mistakes. The benefit of automated bidding and ad management is you don't have to worry about those small, silly mistakes, like mis-typing a keyword or bidding target.
Finally, PPC automation tools can save you a lot of time and money when maintaining and monitoring your PPC campaigns. If a machine can do it just as well as we can, why not let it?
Cons of PPC Automation Software
PPC automation isn't a silver bullet. There are some downsides you need to consider.
For starters, it may not be sensible to automate brand-new campaigns. This is because to create a detailed automated system, you need to have relevant data to feed into it. If you've just started a new campaign with a new client and you don't have any reference data to turn to, it might not be the best time to jump into automation.
There's still a lot of work to do when automating PPC campaigns, too. Even though it might seem like a set-and-forget system, there are many details that go into the initial setup of automated PPC campaigns.
For example, you still need to determine which bidding strategies fit your business or what kind of results you want to target.
Also, even an automated campaign can have hiccups. It's essential to continue monitoring your campaigns even if you choose to use automated PPC tools. The work involved in an automated PPC campaign could be less intense than a manual campaign, but don't let this make you become a lazy marketer just because you think the computer is handling it.
If you'd rather someone else handle your PPC campaigns, my agency is accepting new PPC clients.
FAQs
What is a PPC tool?
A PPC tool is a software application that helps businesses manage and optimize their pay-per-click (PPC) advertising campaigns. These tools can be used to automate various aspects of a campaign, such as keyword research, ad creation, bid management, and performance tracking.
What tools are used for PPC?
Pay-per-click tools help marketers to streamline the creation and management of their campaigns, as well as increase their effectiveness.
The best PPC tools can be used in a number of ways, including:
Keyword research: Identify profitable keywords.
Competitor research: See what your competitors are doing well.
Ad creation: Create compelling copy and visual content.
Bid management: Optimize and adjust real-time PPC bidding.
Performance tracking: Automate the creation of reports.
What are the types of paid search?
There are several different types of paid search. These include:
Google Search ads
Google Shopping
Social media ads
Retargeting ads
Display ads
Conclusion
Ready to launch a high-conversion PPC campaign? Interested in using PPC to diversify your web traffic and boost your business?
You can achieve all this and more with the right PPC software. Choose the part of the processes you want to automate, find a tool, and let it ride.
What are some of the ways you've found success with PPC automation?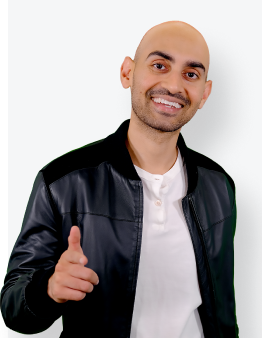 See How My Agency Can Drive More Traffic to Your Website
SEO - unlock more SEO traffic. See real results.
Content Marketing - our team creates epic content that will get shared, get links, and attract traffic.
Paid Media - effective paid strategies with clear ROI.
Are You Using Google Ads? Try Our FREE Ads Grader!
Stop wasting money and unlock the hidden potential of your advertising.
Discover the power of intentional advertising.
Reach your ideal target audience.
Maximize ad spend efficiency.