Twitter is one of the most important social media platforms online, with over 330 million monthly active users.
In fact, Pew Research shows 24 percent of U.S. adults use Twitter. The highest concentration is 18- to 29-year-olds, at 40 percent. This is a demographic every marketer wants to reach.
The number one reason people use Twitter is to discover something new, according to the company's own research.
With this information in mind, we're going to review how to set up an engaging Twitter account to give that audience what they want.
A lot has changed since its humble beginnings in 2006. This guide will explain everything you need to know to get started marketing your brand on Twitter.
Creating a Twitter Profile
The first step to using Twitter is to create a profile. Here's the Kissmetrics Twitter account.
There's a lot going on here in such a simple layout. We have a profile name, username, bio, location, website, profile pic, and header.
Information and images you use here define your Twitter profile. They're the first things people see, whether finding your account through Twitter or Internet searches.
Here's what the Kissmetrics Twitter account looks like in Google.
Google's schema markup shows our latest three tweets with an option to see two more. Other than that, our username and profile name are the only things showing.
Bing uses the same schema, whereas DuckDuckGo shows your bio.
This makes your profile information vital to fill out. Here are the basic elements.
1. Username – This is the @username people will type to mention you in a tweet or respond to you. For the sake of simplicity, it's best to use your name or business name, although a nickname can be used here.
2. Name – This is the name that will show in search results. If you use a nickname for your username, this is your opportunity to clarify who you are. Lil Wayne, for example, uses the username @LilTunechi, but he clarifies in the name field that he is, indeed, Lil Wayne.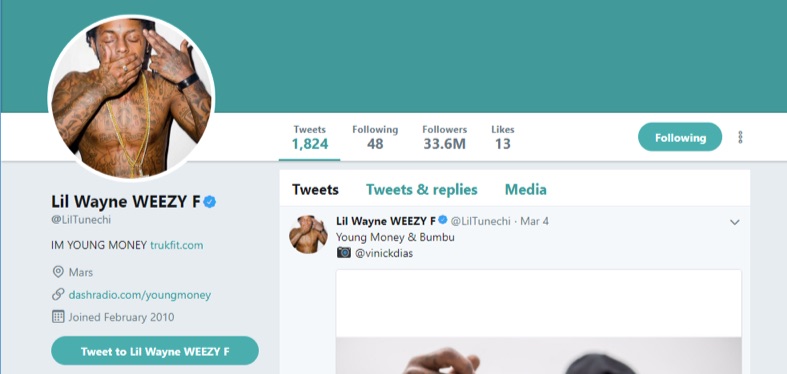 3. Bio – You have 160 characters to describe yourself in a Twitter bio. Use this space to explain who you are and what you do. Keywords won't do much for SEO purposes, but it's still searchable within Twitter and explains who you are to followers.
When hovering over a profile pic or username within the Twitter timeline, you'll see the bio like this.
The Kissmetrics bio is "Get, keep and grow more customers with Customer Engagement Automation by Kissmetrics. Get a demo at https://neilpatel.com."
Any links, @usernames, or #hashtags used in your bio will appear as live links, making this a great place to promote branded hashtags, other business accounts, or your website.
4. Location – Don't forget to add your location. It's great for localized SEO and will make you more searchable for customers looking for local businesses in their area.
5. Website – Twitter lets you add your website to your profile. We use the same website link as in our bio, but if you have more than one website, feel free to promote both (as Lil Wayne does above).
6. Profile Pic – Your Twitter profile pic displays at 200×200 pixels, but the site recommends a 400×400 image. When clicking a profile pic, the larger image is displayed. Twitter profile pics are automatically cropped to be circular. Also file sizes are limited to 100 KB.
Keep this in mind when selecting a photo.
Your profile pic should ideally be a headshot for your personal page and your company's logo for a business page. This is part of your branding efforts and should remain consistent across all social media platforms.
7. Header Image – Your header image should be 1500×500 pixels (with a maximum file size of 10 MB), but it's important to know that the image will be cropped at the top and bottom.
The section with the Twitter navigation buttons and your follower information is included in the 500 pixels. The viewable image will only be approximately 421 pixels, and you'll also lose space at the bottom left where your profile pic sits.
Exactly where your profile pic sits on your header image depends on the screen resolution of the device viewing it. But it's always on the bottom left.
Here's what the actual viewable area of a Twitter header pic looks like.
Be sure to choose an image that represents your branding and doesn't have important information in these blacked-out sections.
Now that you have your Twitter profile set up, you're ready to start tweeting.
Interacting and Engaging on Twitter
In November 2017, Twitter doubled the tweet character limit from 140 to 280. It's also focused more on video content. According to Twitter's stats, video views grew 220x since this time last year, and 93 percent of those video views happen on mobile devices.
Despite the longer character limit, Twitter is known for shorthand messages and abbreviations. Here are a few abbreviations you'll see used in tweets.
CC – Like in email, CC means "carbon copy." It typically appears at the end of tweets, followed by an @username (or several). It's used to tag people in a tweet and ensure it shows up on their timeline.
DM – Direct messages are private messages between two users. It's especially useful in Twitter customer service. Like when a customer has an issue, ask them to DM their personal information so as not to compromise their account.
FF, TBT, and WCW – Twitter has a lot of daily traditions. Thursdays are "Throwback Thursdays", where people post old photos of themselves and vintage content with #TBT. Fridays are "Follow Fridays" and typically denoted with an #FF. #WCW is "Woman Crush Wednesdays" in which people post photos of women they admire.
HT – A hat tip is used to give someone credit for content you post. This is what you would use to ensure the originator of a link, quote, pic, or other content gets recognized for their effort.
RT – When you see a tweet you like from someone else, you can click the RT button to retweet it to your followers. The original text is included in the tweet, and you're able to add your own comments to the tweet too.
# – Pound signs are used for hashtags and become clickable links. Branded hashtags are great for tracking engagement
$ – Dollar signs are used when discussing a financial stock, such as $GOOG (Google). When used on Twitter, these become clickable links. Clicking the link shows all uses of that particular stock ticker on Twitter.
Subtweet – A subtweet is a subliminal mention of someone without actually mentioning his or her name. While it looks cryptic to the passive observer, a subtweet is often obvious to the person it's about.
Tweep/Twitterati – A tweep is a Twitter user, while the Twitterati are the users with high follower counts, particularly anyone over 100k followers.
Twitter began rolling out a new feature in late 2017 called "threads," which is an answer to the tweetstorm. Back when Twitter had a 140-character limit, people would tell long-format stories over the course of dozens of tweets. This became known as a tweetstorm.
Now there's a plus button in the tweet composition window next to the "Tweet" button. After composing a tweet, you'll have the option to add another tweet to the thread.
When you create a thread, each tweet is grouped together to make it easier to connect the conversation and read the long-form tweet.
Now that you have an understanding of what Twitter is and the basics of how to use it, it's time to determine what your Twitter business account will be used for.
Using Twitter for Business
Business and personal Twitter accounts have different functions. A personal account is typically focused on getting more followers. Businesses need to do more, however.
There are three basic ways businesses use Twitter.
1. Grow brand awareness – Interacting on Twittter, using hashtags, replying to people, and retweeting content attracts followers. These are great ways to grow your audience and raise awareness for your brand.
Wendy's excels at this and is known for humorous tweet replies.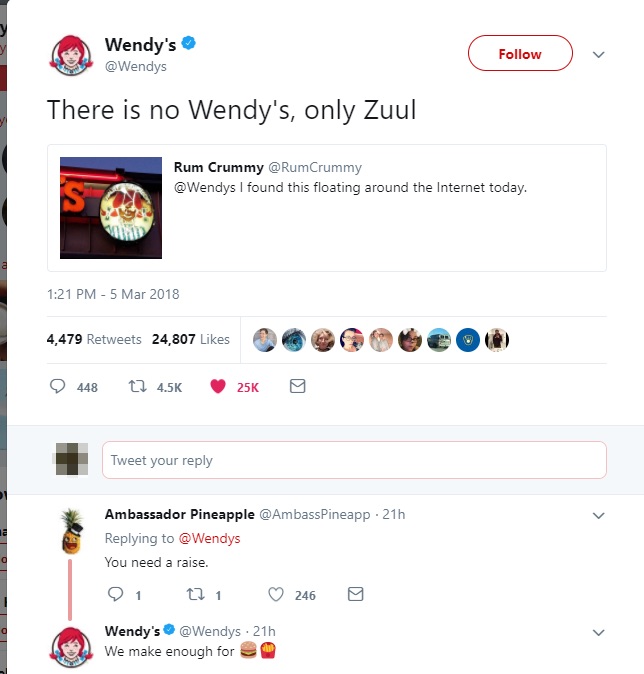 2. Provide customer service – Most businesses provide direct customer service on Twitter, and many have a dedicated account just for that. Bank of America, for example, has a dedicated Twitter customer service team.
These professionals can assist with any account-related questions and treat Twitter like a phone call, email, or web chat. A recent survey found 85 percent of Twitter users expect businesses to have customer service on Twitter.
3. Connect with influencers – Twitter lets you discover new content and people. The best way to grow your audience is to connect with influencers who share your content with their circles.
Don't be afraid to network and connect with business partners, customers, and other industry experts to help grow your brand.
Of course, data is key to any successful marketing initiative. Over $36 billion was spent on social media advertising in 2017, and an ROI needs to be tracked to justify this ad spend.
Twitter Ads have two ways to track this – transaction values and key conversion tags.
Twitter Analytics offer in-depth insights into your Twitter audience, much like Google AdSense.
You can see demographics like gender, marital status, and household income, along with interests, buying styles, and even the wireless carrier being used to access mobile Twitter.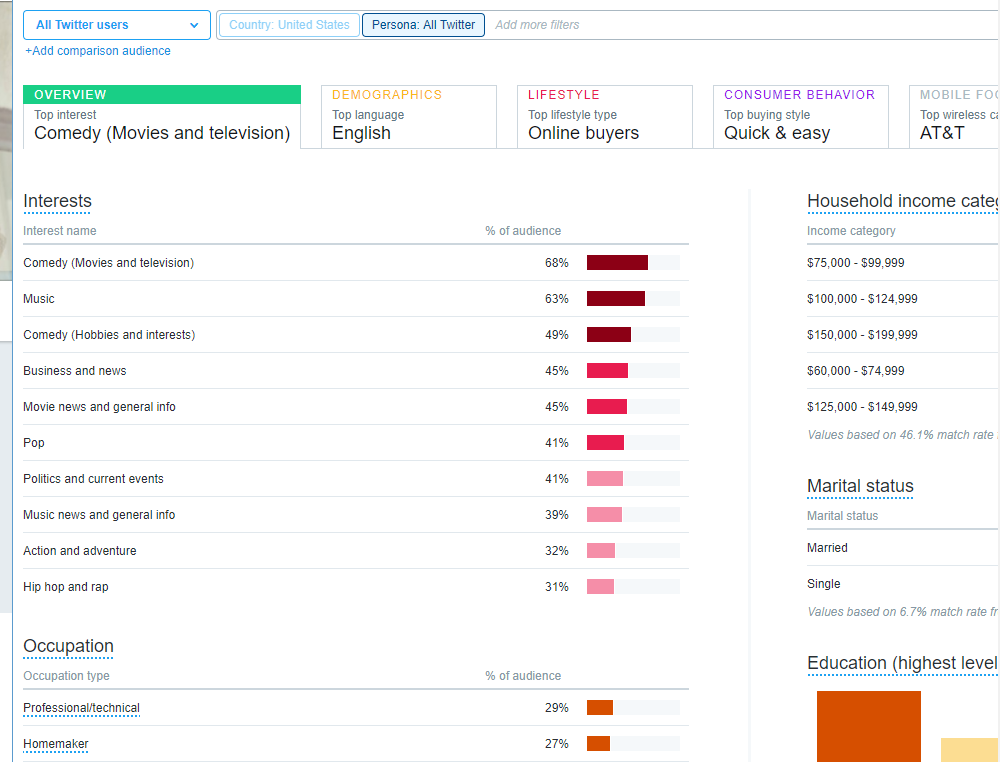 Using transaction values and key conversion tags on your website, whenever a Twitter user clicks a link within a tweet to make a purchase on your website, the transaction is imported into Twitter analytics.
Other interactions to track on Twitter include impressions, likes, retweets, replies, followers, URL clicks, and profile views.
When tracked over time, these metrics provide an overview of how your brand is performing on Twitter.
And as shown above, your five most recent tweets will show up in search engines and be the most prominent things shown on your Twitter profile within the platform too.
When scheduling tweets and creating a content calendar, it's important to ensure your five most recent tweets showcase exactly who your brand is and the value you provide.
Twitter engagement increased 99 percent from 2016 to 2017, and that trend is expected to continue through 2018.
Visual content (especially videos) is driving that engagement. Tweets with videos are six times more likely to be retweeted than tweets with photos and five times more people discover new video content through Twitter than other sources.
In fact, Twitter ranks as the number one platform for discovering new video content.
This makes video content crucial to share with your followers.
If your content isn't being engaged with enough, you can pay for Twitter ads, which lets you promote your tweets, account, and branded hashtags to targeted audiences.
Promoted Tweets – Spread the reach of your messages on Twitter by promoting your tweets. Promoted tweets show up for targeted users in a variety of places, including the top of their tweet streams, above Twitter search results, and even in Twitter management tools like HootSuite. Also, Promoted Tweets are moved to the top of tweets on your profile. And any media elements you share, such as videos, are expanded automatically.
Promoted Accounts – Grow your followers with Promoted Accounts. Promoted Accounts show up in the left sidebar on Twitter under suggested follows to your targeted users as well as in the suggestions Twitter offers when you follow a similar account.
Promoted Trends – For brands with large budgets, Promoted Trends allows you to put a branded hashtag trend at the top of Trending Topics. This option is rumored to cost as much as $100K per day.
Now that you understand how to use Twitter for business, there's one last topic to discuss – tools to make using Twitter easier.
Essential Twitter Tools
The first thing you should do is to integrate Twitter with your website. Twitter has options to integrate a lot with your website, including:
You can also embed your timeline on your website to show a livestream of current tweets in real time.
Several third-party apps also enable tweet scheduling and more in-depth analytics. Here are the best Twitter tools for 2018.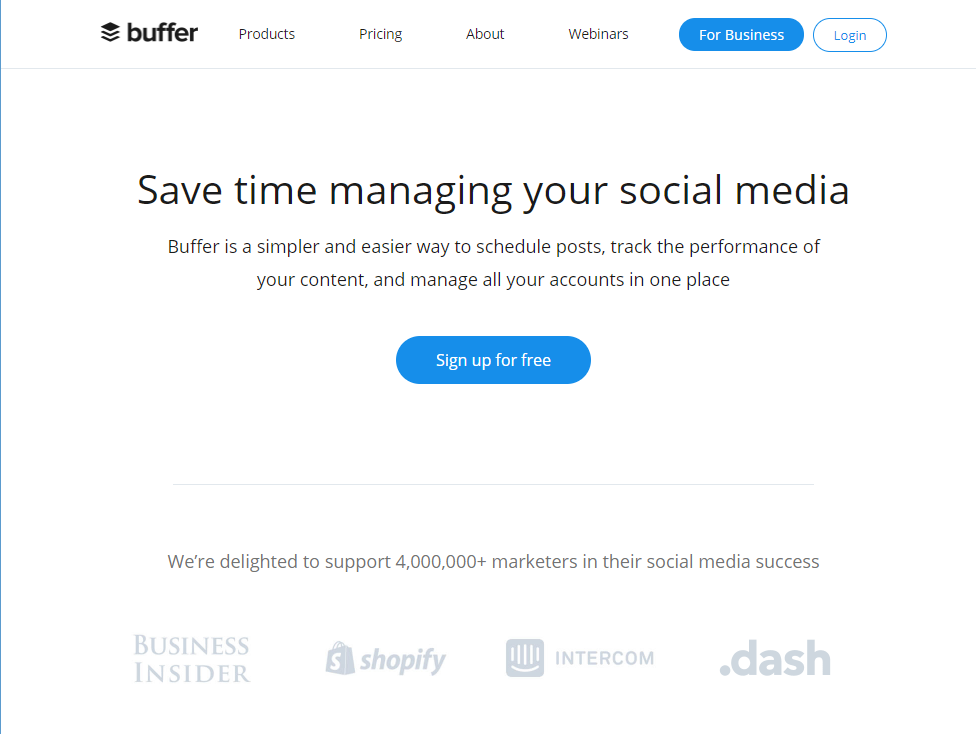 Buffer is used by many professional to schedule tweets (and posts for other social networks) throughout the month. Tweets perform best from 9am-3pm, with 12pm and 5pm being the most optimal times for engagement. Rather than sitting by your computer at these times, use Buffer to schedule tweets for maximum impact.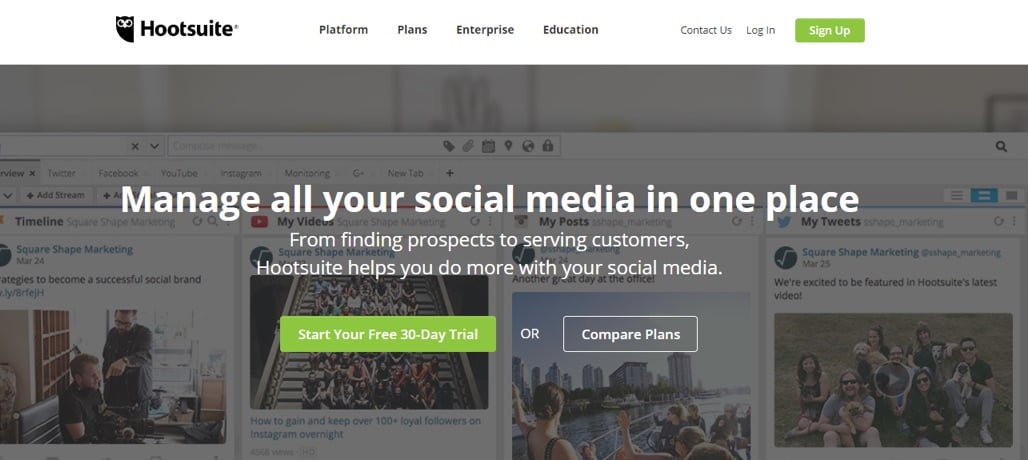 Whereas Buffer is a comprehensive social media scheduling tool, Hootsuite was designed as a one-stop-shop for social media management. Not only can you schedule posts, but you can also track in-depth analytics for all social networks in one place.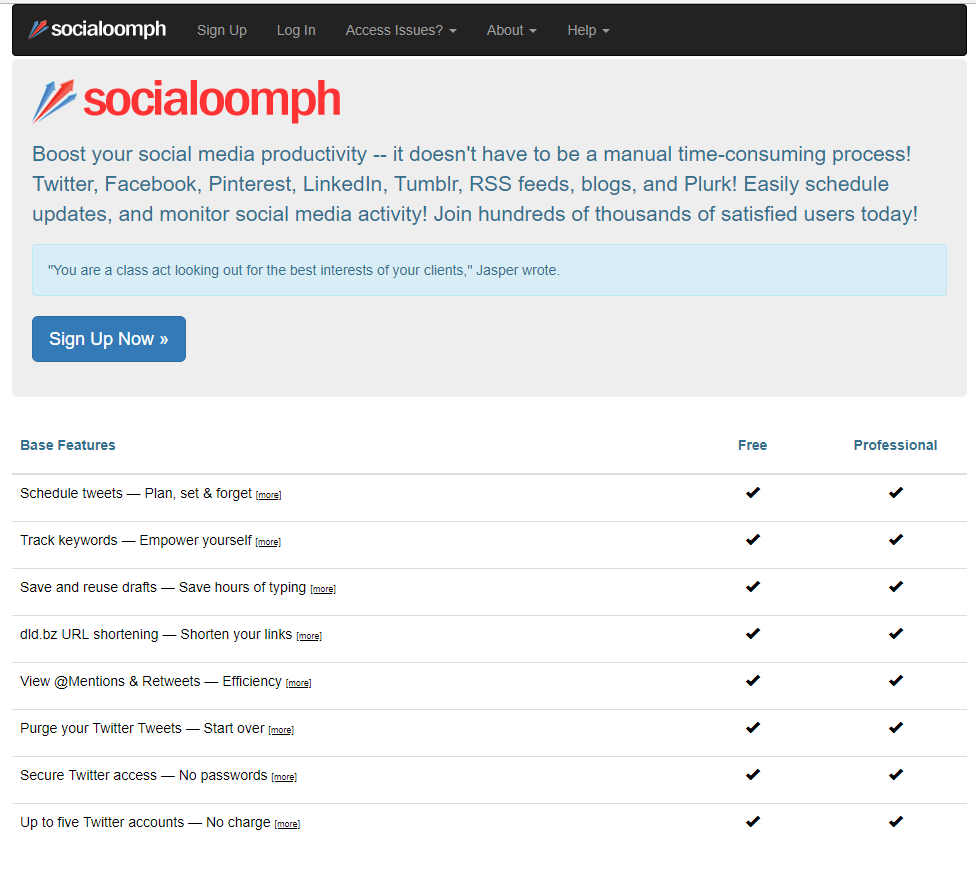 SocialOomph is a popular freemium service that lets you schedule tweets, track keywords, extend your profiles, and more. You can also tweet via email, manage DMs, purge tweets, and more for up to five Twitter accounts.

Paper.li is a unique application that lets you curate tweets and other social media posts into a newspaper-like format. It's a great way to keep followers updated on content or feature follower's content for even more engagement.
TweetDeck is a desktop Twitter manager owned by Twitter itself. It has a customizable UI that pulls all your information into columns and makes tracking hashtags, DMs, and other information much easier. This is the power user's view of Twitter.
Conclusion
Congratulations – if you made it to the end of this guide and applied all the included tips, you're now a power Twitter user.
But that's just the beginning. With great power comes great responsibility, and it's now time to use your power for good.
Get on Twitter and start engaging with your followers.
Otherwise, feel free to leave a comment below to let us know how you feel about this guide.
Now that you have a solid Twitter account set up for 2018, I must ask – what's your most successful tweet so far and why?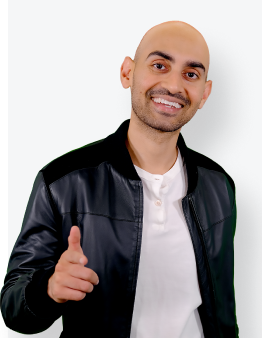 See How My Agency Can Drive More Traffic to Your Website
SEO - unlock more SEO traffic. See real results.
Content Marketing - our team creates epic content that will get shared, get links, and attract traffic.
Paid Media - effective paid strategies with clear ROI.