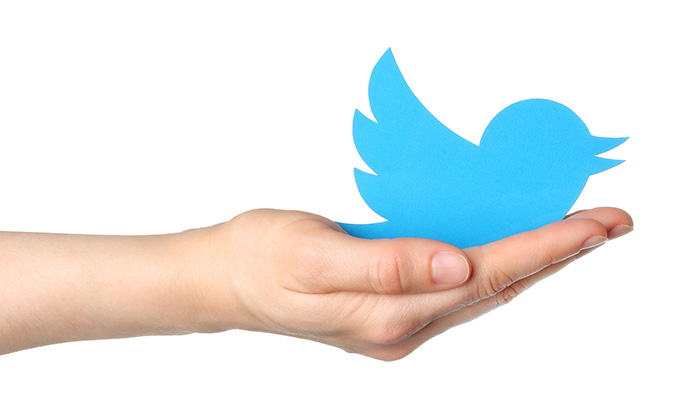 Twitter is has a massive audience, making it a great platform for advertising products and services, or sharing your content.
If you aren't using Twitter to boost your brand, you're seriously missing out.
According to Statista, Twitter has amassed more than 330 million active monthly users.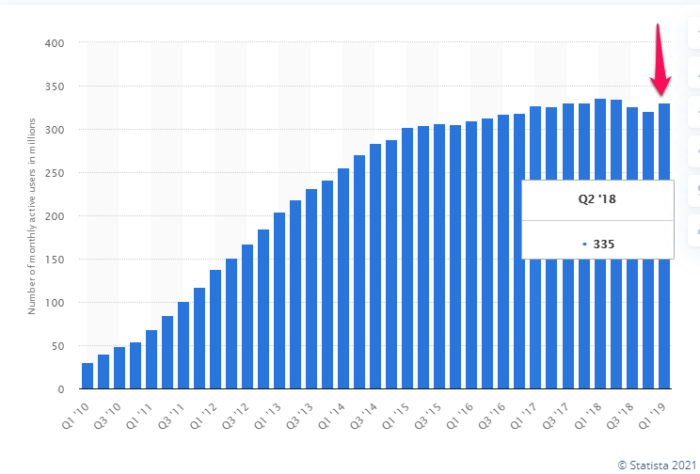 But there's a better reason to build your brand on Twitter, besides the capability to reach the large, diverse audiences it provides.
Search engines actually use social signals from social media to rank your website. Likes, shares, and comments can have a massive impact on SEO.
According to cognitive SEO, the higher the average number of shares, comments, and likes a brand has, the higher their website rank actually is.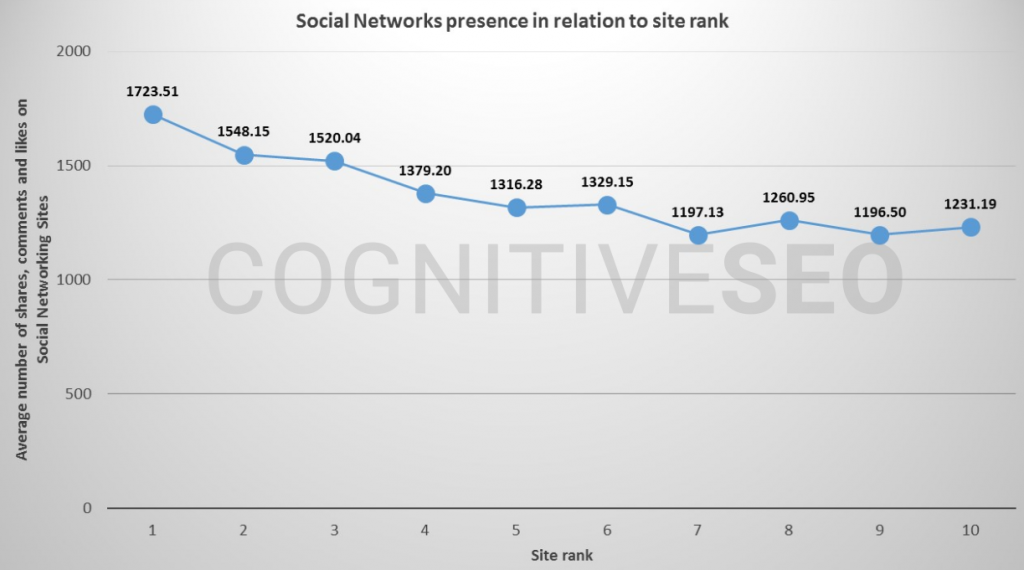 That's crazy, right?
If you use Twitter correctly, you can boost your brand's search engine rankings just by posting on the platform.
That's because Twitter lets you build a large following and gain the attention you need to boost brand awareness.
More brand awareness = more searches about your company.
You might be wondering, "Where do I start?"
Exposure is key. For starters, you need to promote Twitter trends, your tweets, and your account to get your name out there to as many people as possible.
Twitter for SEO Tip #1: Promote, Promote, Promote
Twitter ads are a surefire way to gain tons of visibility, generate leads, and grow your audience. Therefore, promoting content on Twitter can help you rank higher.
The best part is that you can target specific, custom audiences.
One brand that is currently using an effective Twitter strategy is Rothy's, a sustainable shoe company. Their Twitter content is on-brand, impactful, and engaging.
Rothy's shoes are not only made from recycled materials, but they're also machine washable. And the brand doesn't let their Twitter followers forget it.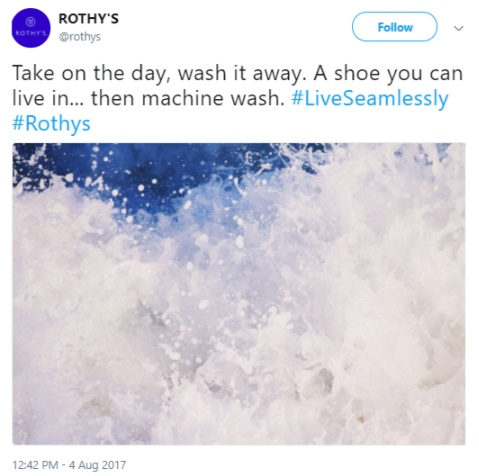 One way to enjoy the same success as Rothy's is to promote your own trends or "tags."
Promote Twitter Trends
On Twitter, trending or "viral" topics appear on the Discover tab, within the Twitter app, and on the left side of the page.
When you promote a trend, it will appear in those locations.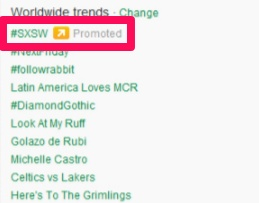 The more people that use the tag, the more exposure you'll gain.
Promote Tweets
Promoted tweets are just regular tweets that appear for users who don't follow you on Twitter.
The only difference is that Twitter will add a tag to these tweets that read, "Promoted by (your brand's name.)"

Users can like or retweet them like any other tweet, but you have to pay to have them show up in a targeted audience's timeline.
Promote Accounts
Promoted accounts put your entire Twitter account in front of users you've targeted to help grow your audience.
As many as 85% of people say that they find new businesses on Twitter through promoted accounts.
Promoted accounts appear within people's timelines in the "Who to follow" section and search results.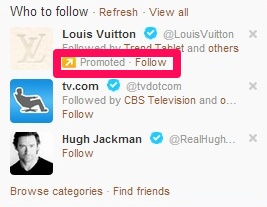 A small tag will appear under your account name that says, "Promoted."
You shouldn't just be promoting your account, tweets, and tags to targeted audiences, though. Be sure to add targeted keywords so Google is more likely to recognize your tweets.
Twitter for SEO Tip #2: Use Targeted Keywords
You optimize your website for the keywords you want to rank for.
Why not do the same with your Twitter account? Add keywords right in your Twitter bio, for example, so that Google associates your account with relevant keywords.
Use these same keywords within your tweets or as a caption alongside images you post.
Users who are searching for these terms on Twitter will then find your page. Your tweets will get more exposure, which will boost your SEO.
The best part is that keyword searches on Twitter account for misspelling, synonyms, slang, and more, just like on Google.
If a user searches for "love pizza," broad match results might include, "loving pizza" or, "I love pizza."
You know which tweets, tags, accounts, and keywords you want to promote. But which audiences should you promote them to?
Twitter for SEO Tip #3: Select Your Twitter Audience
You can target Twitter ads to certain audiences so they appear in search and in their timeline.
You can select additional audience features and add keywords to any ad campaign. You can even import multiple keywords.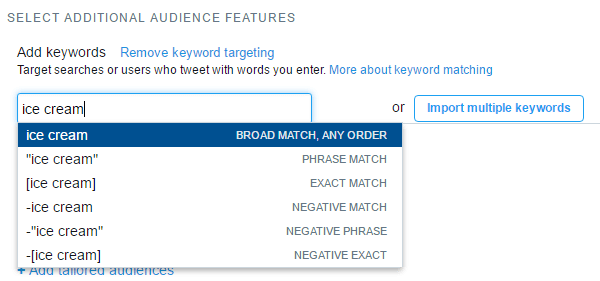 Campaigns will show up in both search and timeline by default.
You can customize where tweets appear if you prefer one over the other, though.
And adding tailored audiences only takes a few clicks.
You can upload your own list or you can put a code on your website to collect visitors, purchasers, or downloaders.
It's important to note that uploading your own list can take up to three hours.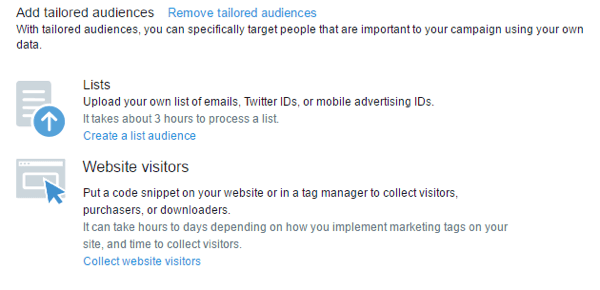 In addition to promoting your content, using targeted audiences, and selecting a custom audience, you should also use relevant hashtags.
Twitter for SEO Tip #4: Use Relevant Hashtags
There are several ways to use relevant hashtags.
You can be on the lookout for trending Twitter topics you can use to generate more attention.
With this one, make sure that you research and understand what a tag means before you use it.
For instance, you might not want to use the tag "#WhyIStayed" to promote your pizza, since that tag originated as a way for people to share stories about domestic violence.
You can also create a branded hashtag (that you can later promote) as Toyota has done with the tag "#LetsGoPlaces."
It's right in the company's Twitter bio.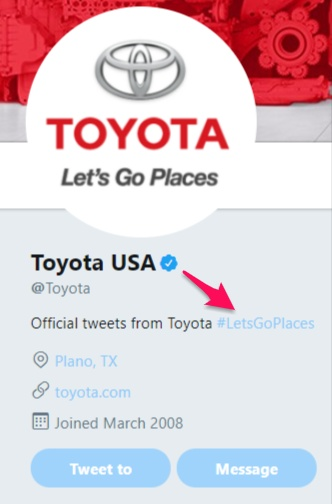 By creating a branded tag, you'll encourage other Twitter users to use the same hashtag on posts that they share featuring your brand.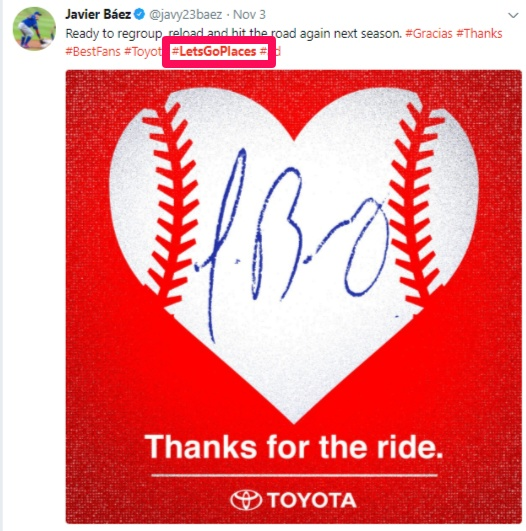 Rothy's has accomplished the same kind of brand awareness with the tag "#LiveSeamlessly."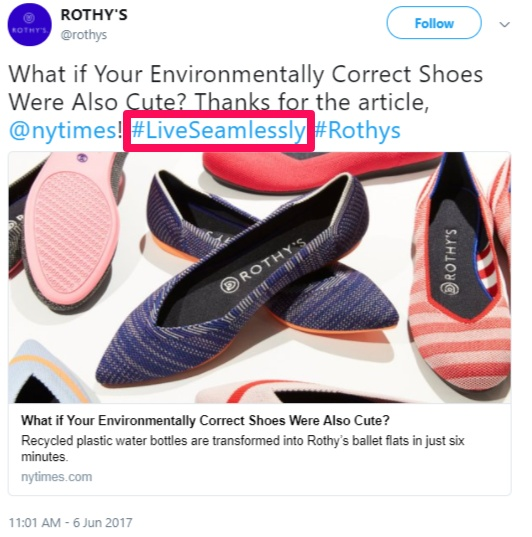 You can even find out which hashtags influencers are using with the help of a few tools.
Like Twitonomy, which will show you a list of the top ten hashtags for the industry influencers you search for.

Finding trending hashtags in your industry at any given time is important, too.
Hashtagify is a great tool to try out since it will reveal the top 10 hashtags related to the keyword you search for.
For example, if you want to see the most popular tags related to the word "SEO," type it into the search bar.
The site will show you the tag's recent popularity and trend information.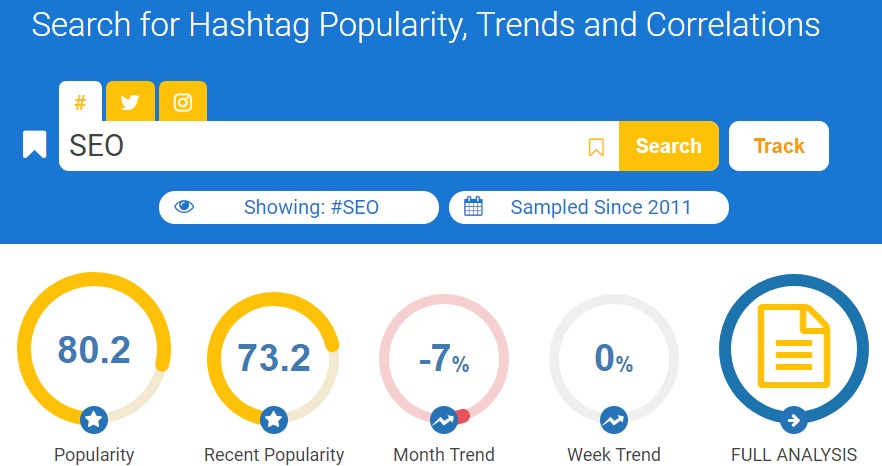 From there, you can see a full list of related hashtags.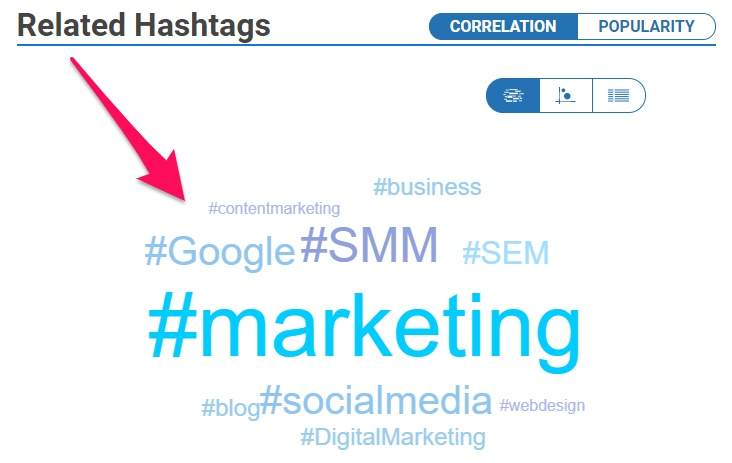 You can even view a list of top influencers related to that specific tag.
If that isn't enough, look at Twitter's tailored trends for more ideas.
Twitter for SEO Tip #5: Check Out Twitter Trending Topics
Tailored trends, which Twitter introduced in 2012, give you a list of topics based on your location and the users you follow.
Twitter trending topics can help you stay current on topics that are important to your audience. Keep an eye on these lists and make sure that your selections are as close to the audiences you're targeting.
To change your location, just click on the "Change" button.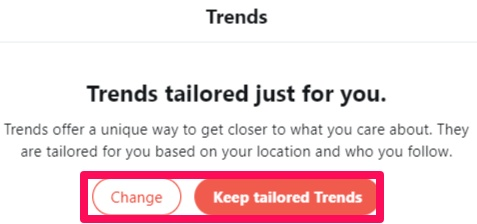 Then, enter the region/country and city that you want to see.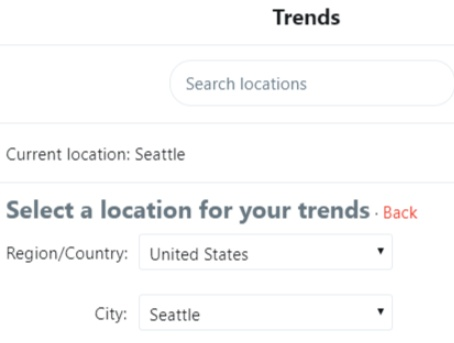 That's all there is to following Twitter trends!
Now, if you aren't already adding images and video to your tweets, you should. They will give you more exposure than tweets without them, which is great for SEO.
Twitter for SEO Tip #6: Add Images and Video
According to WordStream, tweets with images receive 18% more clicks than tweets without them.
More clicks = better rankings.
Make sure that you only include images that are relevant, engaging, and high-quality.
Mr. Peanut's account using this image is a great example: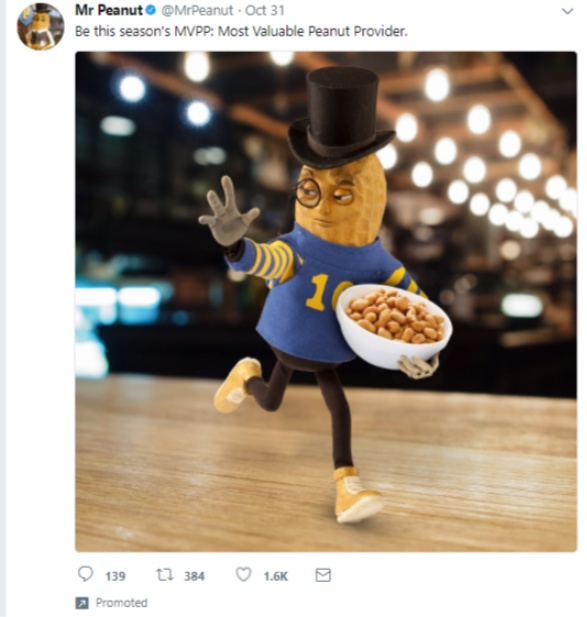 Video views can have the same effect as images.
According to Insivia, 82% of Twitter users watch video content on the platform.
Add a short video to your next tweet to promote your product, brand, or service, like this one from SMILF.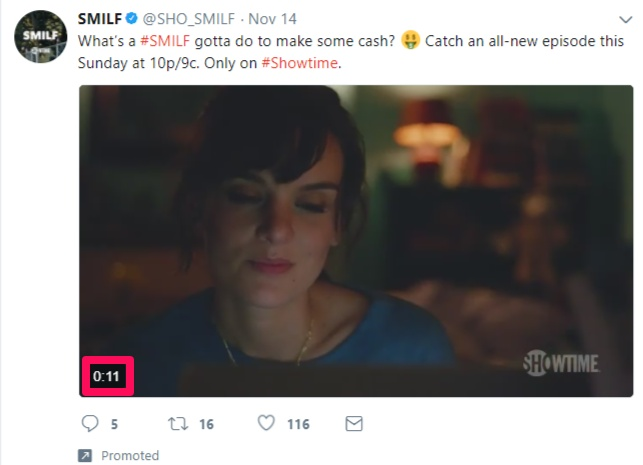 Giveaways and polls are another great way to interact with followers, find new followers, and most important of all, gain attention.
Twitter for SEO Tip #7: Run Giveaways and Polls
One simple way to leverage Twitter to boost your search engine rankings is to run a giveaway based on retweets.
To enter, people complete an action, like retweeting one of your tweets.
You can include a link to your website or your most recent blog post in the tweet to boost that page's rankings.
Or, just add a branded hashtag like the Pittsburgh Steelers did in a Twitter giveaway.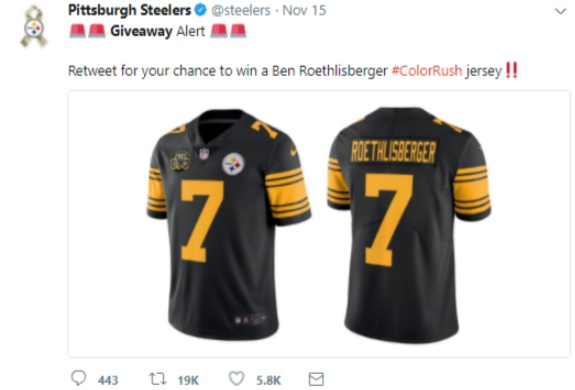 Be sure to offer the winner a prize and announce to your audience the date that you will be choosing the winner.
Running polls is just as easy as running a giveaway, if not easier.
BuzzFeed has even created an entire Twitter account dedicated to polls, which currently has 119,000 followers.
You can use polls to settle a debate or interact with your followers by asking questions, like Airbnb.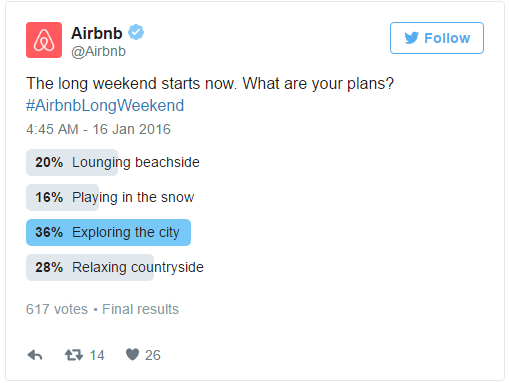 The engagement you'll gain from giveaways and polls will boost likes and retweets, improving your overall search rankings.
Remember how I said to include a link to your website when running giveaways? You should add those to regular tweets too, especially if you post blog content regularly.
Twitter for SEO Tip #8: Share Links
The power of links on Twitter is huge. Sharing them can maximize the reach of your content and web pages.
Since Google recognizes links, tweeting URLs is a quick way to use the power of Twitter to boost your rankings.
That's one of the reasons I share links regularly to promote my new blog posts.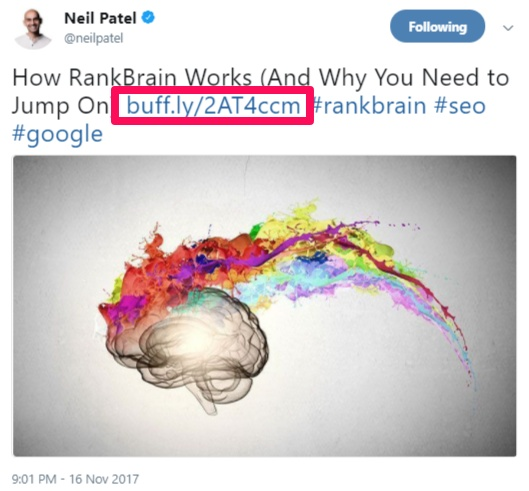 By sharing links, you'll direct and drive traffic right to your site, which Google will love.
I like to use a URL shortener like Bitly to optimize my links before I share them so that my links don't take up too much of my character count.
If you don't have a blog, tweet out links to your products or web pages on a regular basis, like Free Radicals does.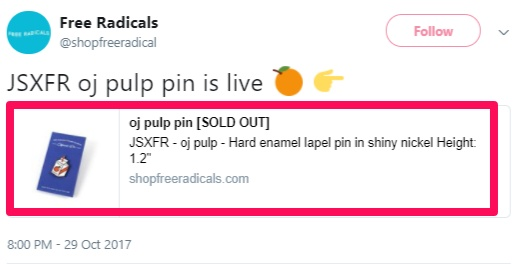 Just be sure to share relevant and helpful information regularly, not just links to your products.
Twitter for SEO Tip #9: Tweet Consistently
You may think that more is better when it comes to tweeting.
But Google might actually see that approach as spam.
Plus, you don't want to post too many tweets in a row to your followers, or you might annoy them into clicking that "unfollow" button.
Stagger tweets throughout the day and during times when your followers are the most active.
One tool that makes scheduling tweets easy and efficient is TweetDeck.
To schedule tweets, just write them out and select the date and time you want them to go live.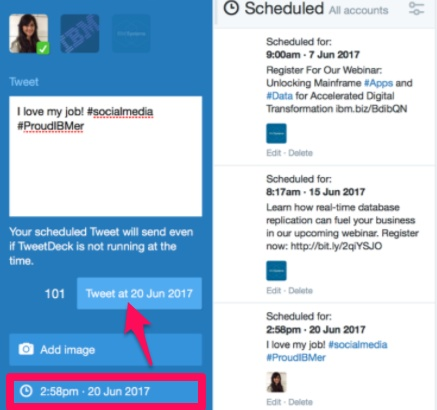 Another great Twitter management tool is Hootsuite. You can integrate other social media accounts with this tool, too.
You should also use a tool like Tweriod to determine when most of your followers are online. Buffer does this in their platform as well.

Those are the best times for you to tweet because your tweets will get maximum exposure and attention.
Aside from following all the rules I've already named for boosting your rankings through Twitter, the most important one is to actually interact with your audience and reply to them.
Twitter for SEO Tip #10: Interact with Followers
This tip might seem obvious, but people often overlook it.
Imagine if Wendy's hadn't replied to Carter Wilkerson? #NuggsForCarter would never have become a trending topic that brought Wendy's tons of publicity.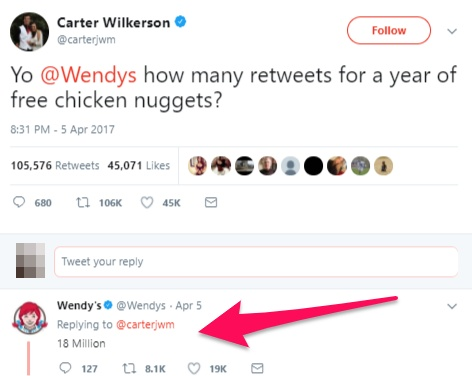 It can be hard to gain interactions on Twitter. Considering that users send over 350,000 tweets every minute, your tweets can easily get lost in the crowd.
That's why you should engage with the people who are already talking to you to gain the attention of users who aren't yet.
By creating personalized replies that relate to your specific industry and audience, you'll build up tons of engagement for a boost on Google.
Encourage users to interact with you by posting relevant tweets, talking to industry-specific followers, mentioning other Twitter users, and responding to mentions quickly.
By interacting with followers, you'll gain more retweets, mentions, and likes. And that means better rankings.
You should also reach out to influencers who can share your tweets, brand, and account with their audience.
Twitter for SEO Tip #11: Do Influencer Outreach
Since exposure on Twitter is the key to gaining likes and retweets, look for influencers who can give you exposure to their Twitter audience.
Twitter influencers can boost your credibility quickly because they're already credible within your industry.
When an influencer talks about your brand, products, or services with their Twitter audience, their trusted followers will head to your page to check you out.
When trying to reach out to influencers, it can be helpful to:
Create meaningful content that is shareable and valuable to your industry
Develop long-term relationships with influencers rather than viewing them as people who can give you a quick, short-term boost
Retweet tweets from influencers with whom you want to engage
Collaborate with influencers by writing guest blog posts for them or allowing them to write guest posts on your blog
Several tools help find influencers in your industry if you aren't sure who to reach out to.
One of them is Klear.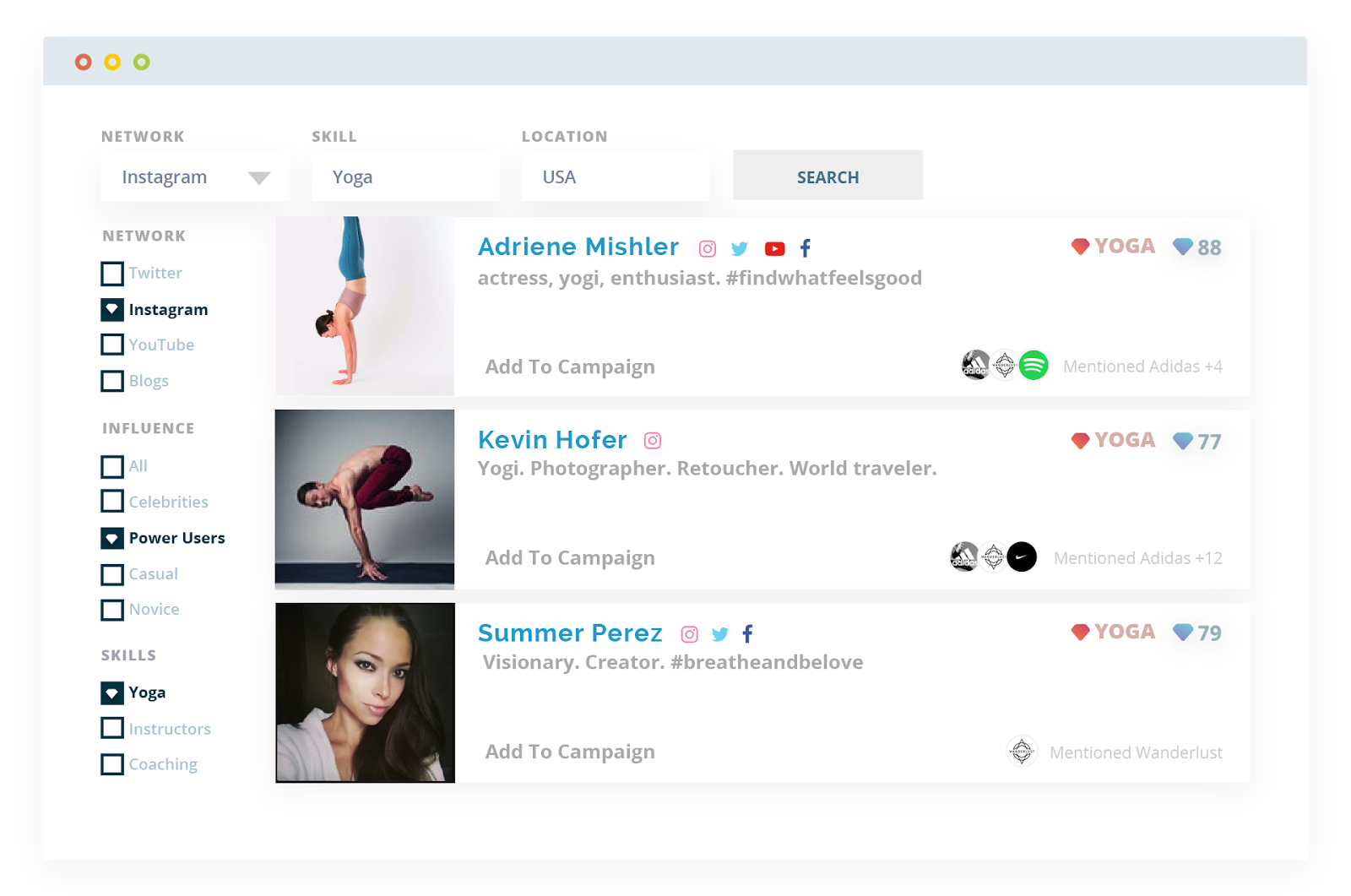 Just select the social network you want to search through, the skill or keyword you're interested in, and your location.
That's it!
Another great tool for finding influencers in your industry is BuzzSumo.
Just search for a keyword, and you'll find influencers that relate to that topic.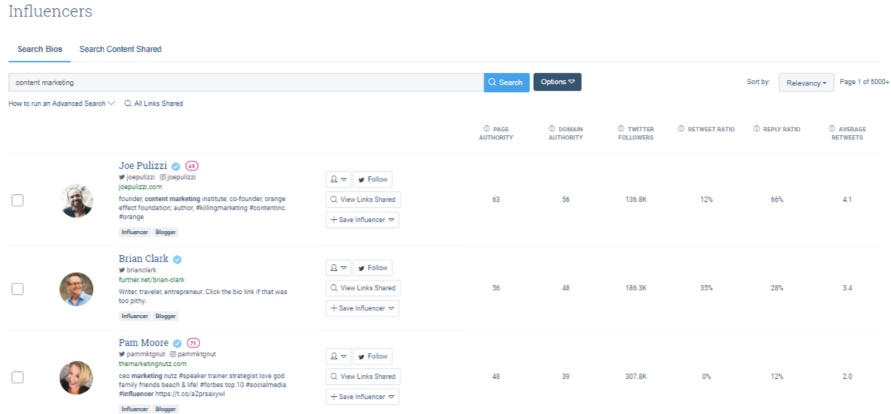 The tool will even show you the page authority, domain authority, number of followers, retweet ratio, reply ratio, and the average number of retweets for each influencer within the results.
Conclusion
Twitter is an absolutely massive social network.
But you should never think of social networks as being isolated from search engines. It's actually quite the opposite.
Google pulls tons of information from social sites like Facebook, Twitter, and LinkedIn.
The more exposure your posts get (such as likes, comments, mentions, and retweets), the higher your search engine rankings will be.
That's because Google uses social signs to recognize certain web pages and brands.
But you have to use Twitter in the right way.
It's all about gaining exposure and attention. Start by promoting your account, your tweets, and your tags (sometimes known as trends).
Use targeted keywords on Twitter just like you do on your web pages and blog content. Google will recognize the keywords associated with your brand on Twitter, too.
Be sure to use relevant hashtags and research a trending tag before you tweet something that contains it.
Add images and video to your tweets to increase engagement, and be sure to share links back to your website to direct and drive traffic.
Tweet consistently and schedule out your tweets in advance to maintain a regular posting schedule. Post during times when your followers are most active.
Finally, don't forget to engage with followers as often as possible and do some influencer outreach to get your name out there.
How do you use Twitter to boost your search engine rankings?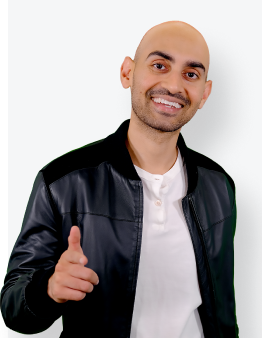 See How My Agency Can Drive More Traffic to Your Website
SEO - unlock more SEO traffic. See real results.
Content Marketing - our team creates epic content that will get shared, get links, and attract traffic.
Paid Media - effective paid strategies with clear ROI.
Are You Using Google Ads? Try Our FREE Ads Grader!
Stop wasting money and unlock the hidden potential of your advertising.
Discover the power of intentional advertising.
Reach your ideal target audience.
Maximize ad spend efficiency.