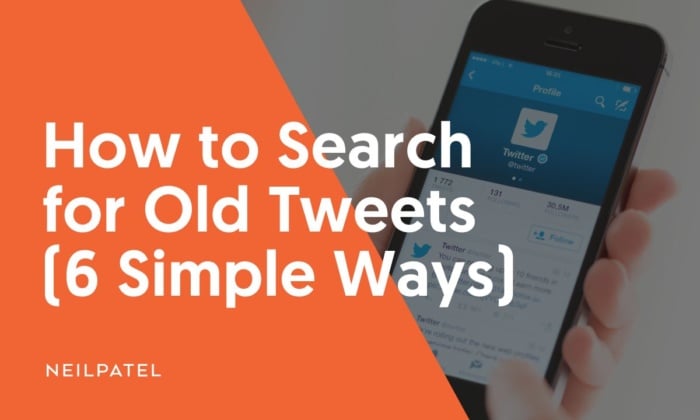 Twitter is a powerful tool for businesses and individuals alike. It's a platform to share news, connect with customers, and communicate ideas.
For those of us who tweet a lot, like me, what's the easiest way to find old tweets?
Maybe you tweeted a brilliant business idea last year, but you can't remember what it was. Or perhaps you remember making a particularly witty comment and want to see how many retweets it got.
It could be that you want to find and delete old tweets. Maybe you tweeted something inappropriate, or you just want to start fresh. Or even to highlight how things have changed over time.
In this article, we'll share six ways to search for old tweets and tell you how to delete them. We'll also answer some of the most common questions people have about this process. Let's dive in!
Why Finding Old Tweets Matters
Before we get into the specific ways to search for old tweets, let's talk about why it matters.
For starters, many employers and potential clients conduct background checks on social media before hiring or working with someone. If you have embarrassing or outdated tweets that could be seen as offensive, they may not want to work with you.
In addition, if you want to start a new account or delete your existing one and start over, deleting your old tweets is the best way to do it. This will ensure that no one can find them later on.
Finding old tweets could be a case of saving face or saving your reputation. We've all said things we're not proud of in the past. The permanency of the internet means off-hand comments can be hard to escape. We've all seen stories of 5-year-old tweets coming back to bite people and ruin their careers.
Better to find those tweets and delete them for good, no matter how innocuous they may seem.
How Do I Search for Old Tweets?
The most obvious way to search Twitter for old tweets is to scroll back through your timeline. However, this could take a long time, depending on how much you tweet. Even if you only tweeted once a day for three years, that's over 1,000 tweets you've got to scroll through.
Fear not—there are several ways to locate and delete older tweets quickly and easily.
1. Use Twitter's Advanced Search
Twitter's advanced search feature is the easiest and most comprehensive way to search Twitter for old tweets on your or anyone else's profile.
You can search Twitter using multiple filters, including date, keyword, places, and accounts. That means you can pinpoint an exact tweet or find multiple tweets that all meet the same criteria. You can even find users who are talking about your company without tagging (or @ing) you.
Chances are, you have already used Twitter's search panel on the right-hand side of your desktop screen or the magnifying glass icon at the bottom of your mobile screen to search for basic things like hashtags and users. Well, the advanced search page is a bit different.
Let's look closer at how to use Twitter's advanced search.
Next, choose what you want to search Twitter for. Let's say we want to see what I said about link building in 2016.
We start by typing "link building" into the exact phrase search bar.
Then add my account to the accounts section.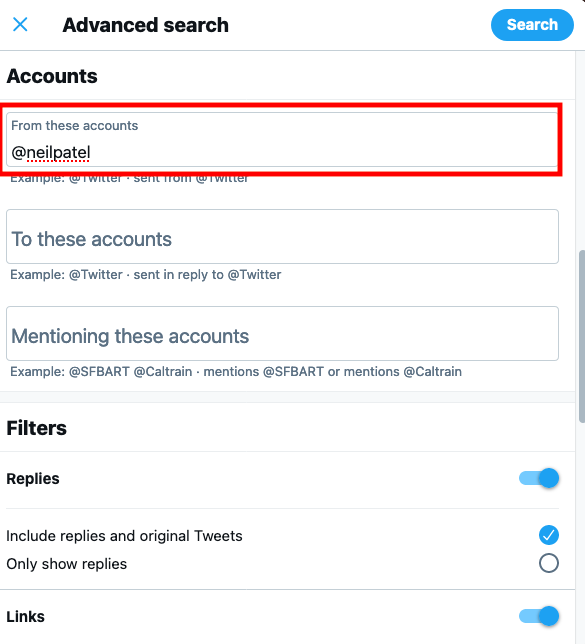 Then select the date range. In this case, we're looking for tweets between the start and end of 2016.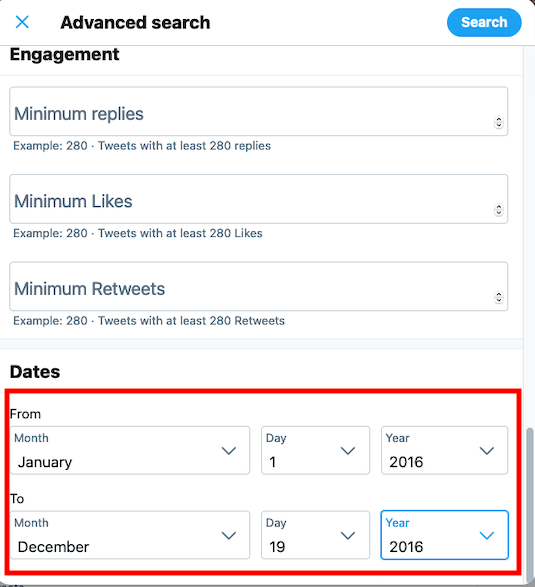 Voila. Our Twitter search gives us a list of every time I mentioned "link building" in a tweet in 2016.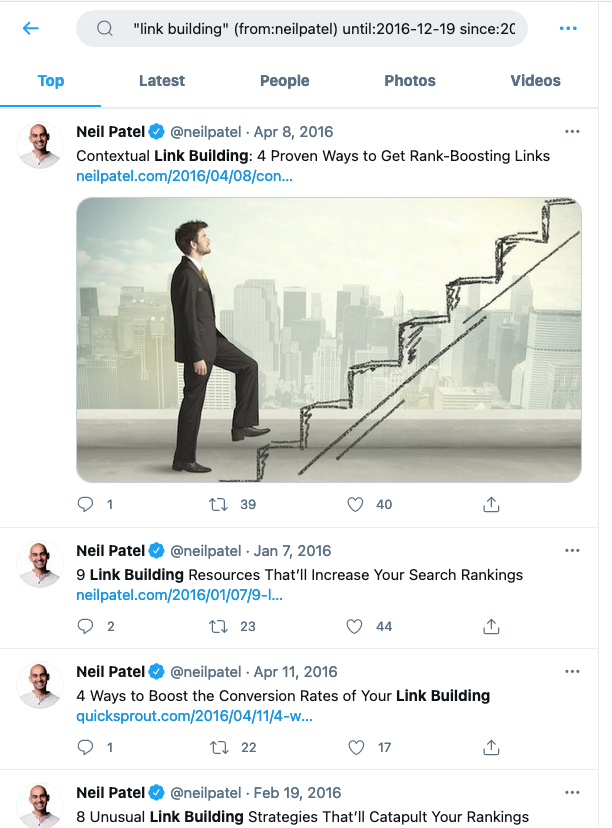 You can use the advanced Twitter search filter's criteria to find just about any tweet you want. You can use the date range to pinpoint what someone tweeted on a specific day. You can also use it to find your first tweet ever.
In my case, I joined Twitter pretty early on, in March 2007.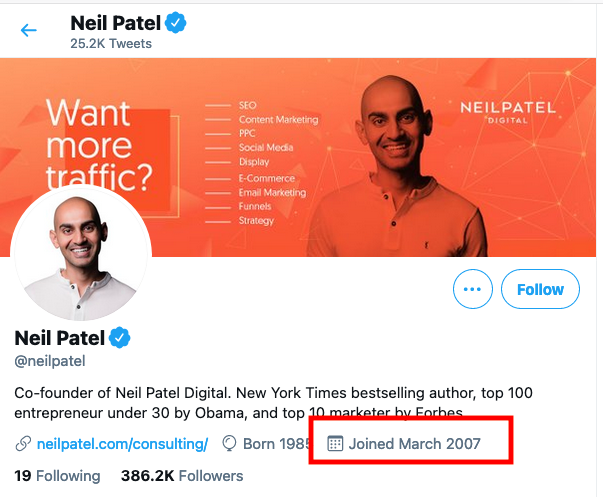 Finding my first tweet is as simple as going back to the advanced search feature and applying the following filters:
My account (@neilpatel)
The date range (March 1, 2007 – March 31, 2007)
Twitter's search doesn't list the tweets in chronological order, but it is easy to see what my first tweet was.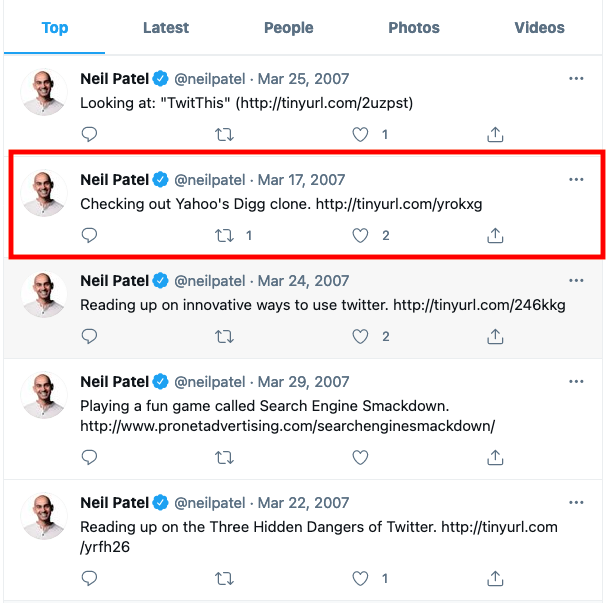 The best thing about Twitter's advanced search feature is how easy it is to change the parameters and run a new search without going back to the main search page.
In the example above, we can quickly edit the Twitter search to find out what I tweeted about in March 2020.

If your original parameters weren't narrow enough, you can easily add more to the existing Twitter search. For instance, we can add "coronavirus" to the start of the search to only include tweets related to the pandemic.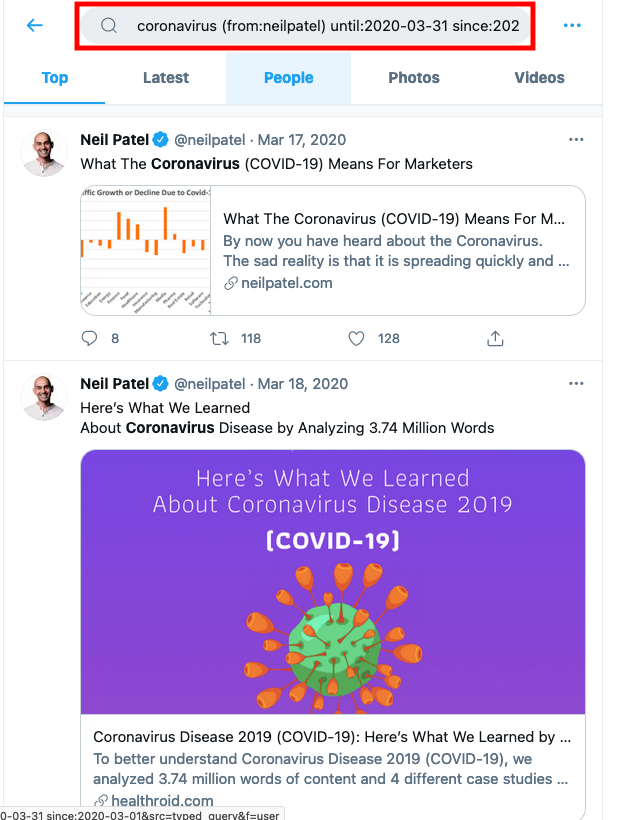 We can also search for another person's tweets during the same timeframe by adding "OR from:[Twitter handle]" after my name.
Let's use this to see what my good friend Eric Siu had to say.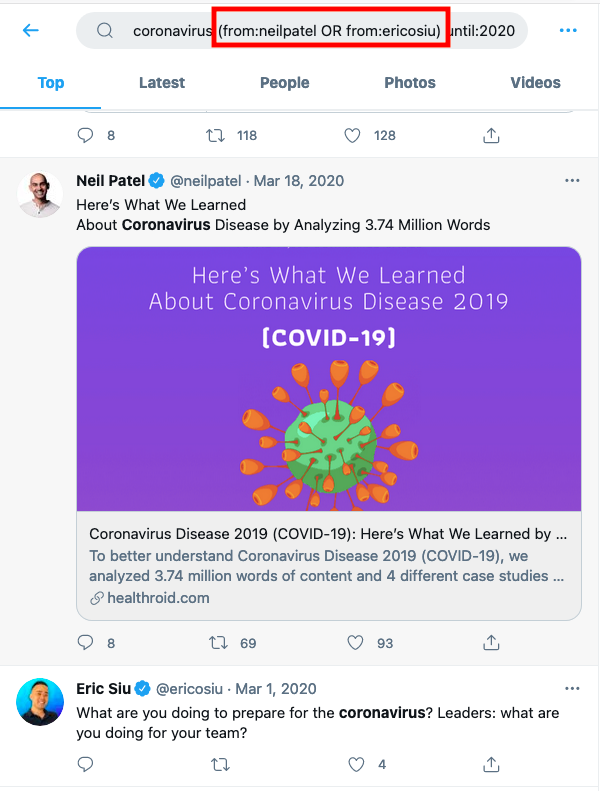 Other Uses for Twitter Advanced Search
There are a multitude of uses for the advanced search functions in Twitter. How you approach your Twitter search depends on the information you're seeking.
Search Twitter by Sentiment
Sentiment searches can help you understand what keywords people use and why they use them via a basic form of natural language processing (NLP). Such searches are generally categorized as positive, negative, and neutral.
For brands, knowing both what and why people search can help you figure out what your potential customers need.
In the example below, I searched for the word "iphone?" to find people asking questions about iPhones. You can filter results to see top tweets, latest tweets, people, photos, or videos. There are more options on the app, though they sometimes change based on current events.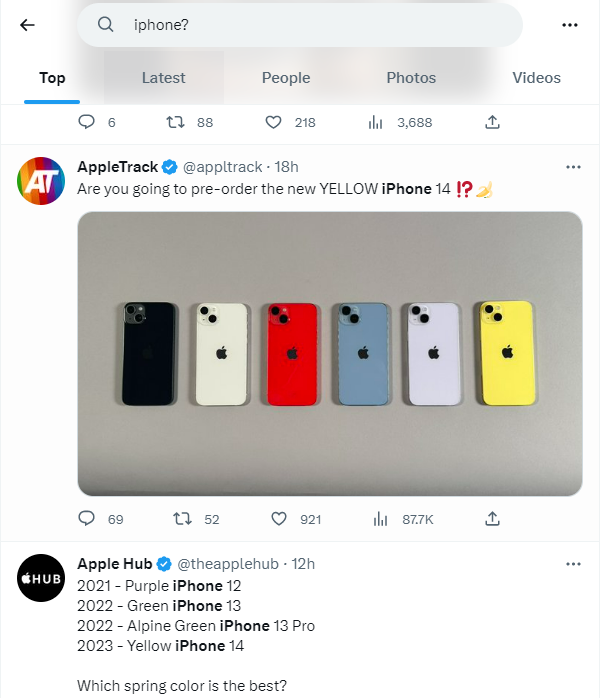 Use Location Filters
Find tweets in any country or city with geolocation filters.
That way, you'll be able to weed out the tweets from faraway places. This is important if you're a small local business because you can target leads right in your area.
Just add "near:(city/country)" and "within:(X mi)" to find tweets from any specific location worldwide.
The "near:" addition filters out exactly where you want to see tweets from. The "within:" addition lets you pick the distance from the location you want to see tweets from.
For instance, if you own a restaurant in a particular location, you could find anyone looking for a place to eat and send them to your business.
Your search might look something like this: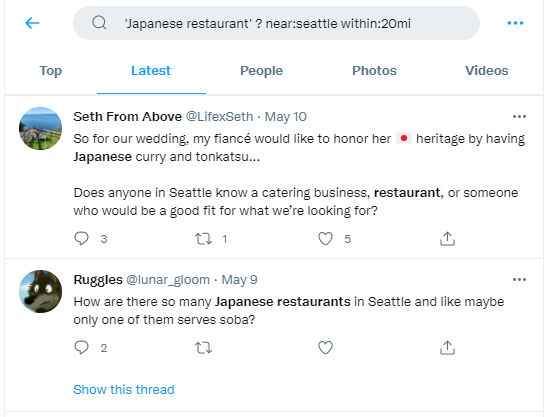 Track Twitter Mentions by Searching for Usernames
Say you're in search of new leads. A username search is a great way to track mentions.
All you've got to do is add "to:" or "from:" before a username.
The "to:" search reveals tweets sent to that user. For example, if you search for "to:NeilPatel," you'll see tweets that other Twitter accounts sent to me, whether in response to my tweets or independently.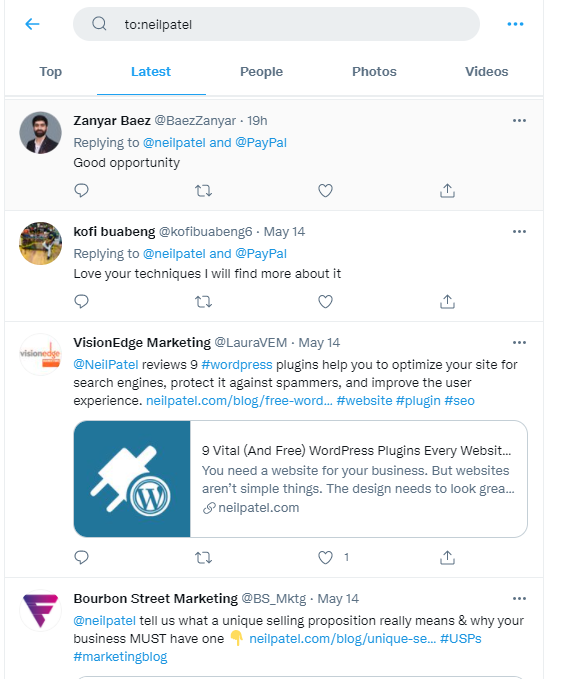 If you enter "from:" before my name, you'll instead see tweets I've sent out: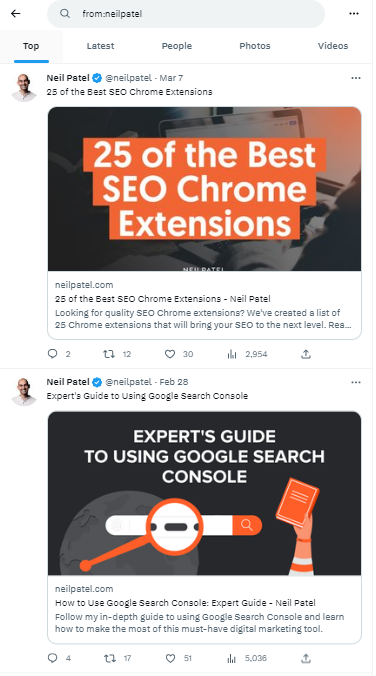 You probably would use this option more to search for tweets from competitors, not yours.
Use Twitter Advanced Search to Exclude Irrelevant Results
Cut out the Twitter search results you don't want using the exclusion filter.
All you've got to do is add the "-" symbol before a keyword, filter, or Twitter user.
For example, if you want to find Twitter users talking about smartphones, but you don't want to see tweets from a competitor (let's say Samsung), just search for "smartphone" -samsung.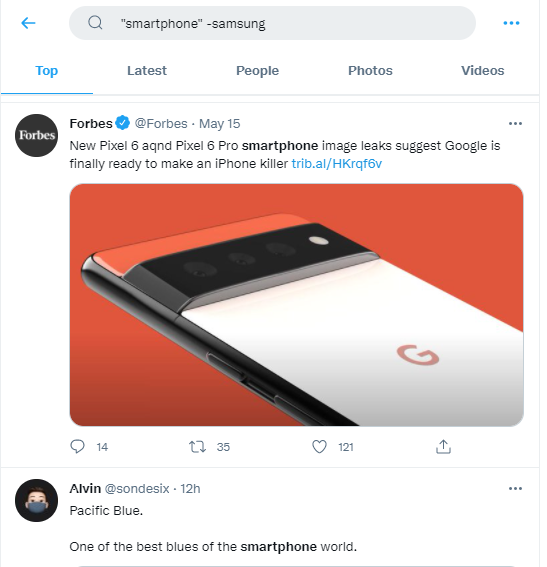 Getting refined results really can be that easy.
2. Ask Twitter for Your Records
Twitter also enables you to request a copy of your records. This includes all tweets, likes, follows, and other data associated with your account.
To do this, go to the "Settings and Privacy" tab in your Twitter settings and click "Request Your Data." You'll then enter some personal information before Twitter sends you a link to download your records.
Go to "Settings and privacy."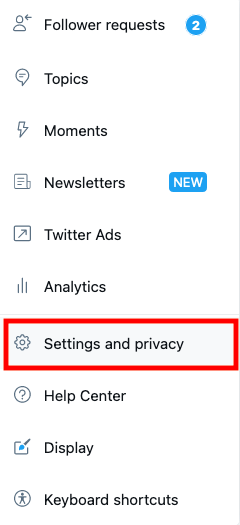 Then click "Your account."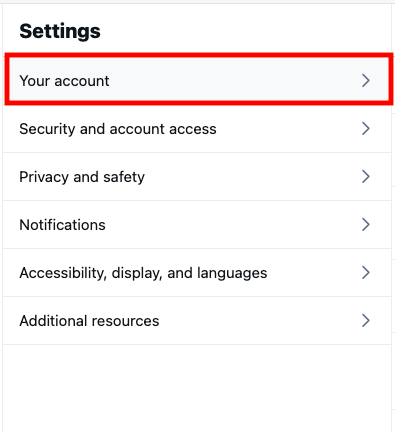 Then "Download an archive of your data."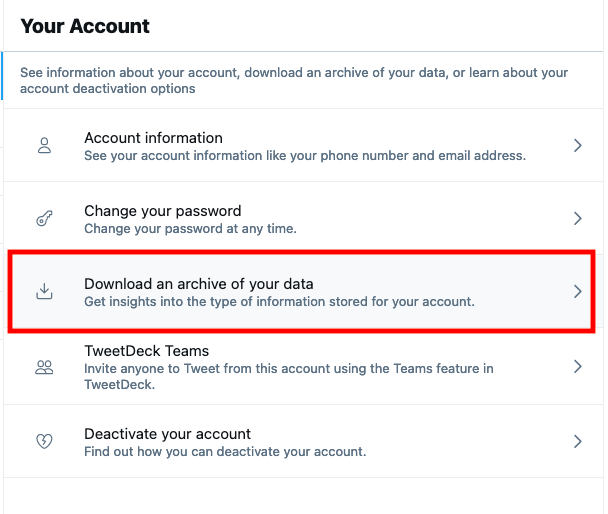 Enter your password, then click "Request archive." You'll get a notification when your .ZIP file is ready to download.
3. Try Wayback Machine
Wayback Machine is a web archiving service you can use to search old tweets. All you have to do is enter the URL of the Twitter profile you want to search, and the Wayback Machine will show you all of its archived data.

This is particularly useful if you're looking for deleted tweets, as they may still be archived on the Wayback Machine. The only catch here is you need to know roughly when the tweet was made. The reason for this is that you won't get shown images until you choose a day or time for the snapshot. So without an idea of the timeframe it will be hard to find stuff.
Use a Third-Party Website to Delete Your Old Tweets
If you don't want to go through the hassle of searching for old tweets, there are a few third-party websites that can help.
4. All My Tweets
All My Tweets allows you to search your entire Twitter history in one place. You can also delete tweets, retweet them, or add them to lists. You can log in using your Twitter account.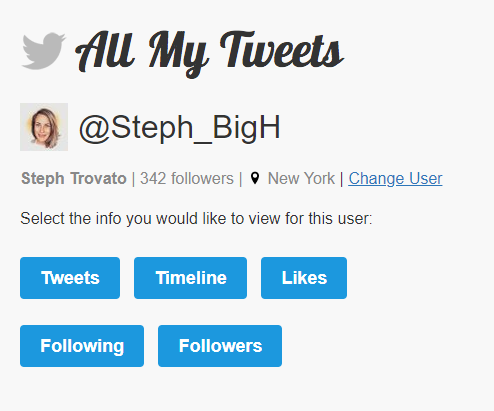 5. Tweet Binder
Tweet Binder is another useful site for searching and deleting old tweets. It's a great tool to get rid of offensive or outdated tweets quickly. You can easily search old tweets and delete them in bulk with just a few clicks.
You can also use Tweet Binder to get a full report on any Twitter account, not just your own. This is great if you want to find out what someone else was tweeting about in the past or see how their activity on the platform has changed over time.

6. TweetDeleter
TweetDeleter allows you to delete all your old tweets in one go. It's fast and easy to use—all you have to do is log in with your Twitter account and select the tweets you want to delete. TweetDeleter even offers a free plan.
This is a great solution for people who tweet an awful lot and may find their archive a little overwhelming when they download it.
Should I Delete My Old Tweets?
The decision to delete your old tweets is entirely up to you. If they contain information that could be embarrassing or damaging, it's probably a good idea to remove them.
However, if your tweets don't contain anything too controversial or outdated, then it might be best just to leave them be. After all, Twitter can be a great way to show off your personality and share your thoughts with the world!
As you can see, you can make a good case in favor of preserving all your old tweets, but there's an equally good case in favor of deleting them (or at least deleting the worst of them).
Let's look at both sides of the coin below to see if we can come to a decision.
How to Delete Old Tweets in Bulk
If you want to delete your old tweets in bulk, there are a few different ways to do it.
TweetEraser
TweetEraser allows you to delete your old tweets in bulk. Simply log in with your Twitter account, select the tweets you want to delete, and click the "Delete" button.
TweetDeleter
As mentioned above, TweetDeleter lets you delete your old tweets quickly and easily. You can select which tweets to delete manually or use their advanced filters to narrow down the search. Best of all, TweetDeleter lets you keep your deleted tweets on their app. You may not want other users to see them anymore, but you can re-read them whenever you want.
TwitWipe
TwitWipe allows you to delete all your old tweets in one go. All you have to do is log in with your Twitter account and click the "Delete" button.
Pros of Deleting Your Old Tweets
Deleting old tweets gives you a chance at a fresh start and can help avoid any unwanted and negative publicity as your audience grows. Here are some of the best reasons for deleting old tweets:
You've changed opinions on a particular topic. Changing your opinion is a great trait, but you may not want anyone calling you a hypocrite.
You want to start over. You can avoid embarrassment or consequences from outdated or offensive tweets.
You want to convey your professionalism. It can help you maintain a professional and credible presence on Twitter.
You've switched industries. If you used to work in e-commerce but now work for non-profits, it might be worth deleting old tweets unrelated to your current field.
You don't want a new employer spying on your history. Some employers check social media accounts before making a hire. Don't let them find anything they won't like.
If you want the advice of a social media expert, Katie Linendoll believes that if you have to think twice about a tweet, then just delete it. "If you're hesitant on a tweet and you think it might be dicey, then in what capacity do you think it's a good idea to keep it up there?" she asks. "It's mind-boggling to me, it's just not worth it."
Cons of Deleting Your Old Tweets
Deleting your old tweets isn't necessarily the best move. Deleting your tweets has some pretty significant drawbacks, especially if you plan to delete a large number.
People may notice. For those with a big following, mass deleting all your old tweets can be as bad as not deleting them. Doing so may cause people to speculate on what you said in the past, even if you didn't say anything bad at all.
Deleted tweets are gone for good. There's no getting a tweet back once you delete it, so carefully consider whether you're willing to let it go.
You don't want to miss out. You may miss out on important conversations related to topics you've discussed in the past.
It can be a big time commitment. It can be time-consuming to delete your old tweets.
Mass deleting tweets may mean losing sentimental posts. Old images or messages to a now-departed friend may hold tremendous sentimental value. I'd advise against deleting these kinds of messages wherever possible. Even if you don't think you'll miss the tweet now, you may change your mind in the future.
FAQs
How do you find a specific tweet from a specific date?
You can use the Wayback Machine to search old tweets from a specific date. Simply enter the tweet's URL into the Wayback Machine, and you should be able to find it. You can also use Twitter's advanced search feature to find tweets from a specific date.
How can I see my old tweets without scrolling?
You can use a third-party website like TweetDeleter or TwitWipe to view your old tweets without having to scroll. These websites allow you to search through your old tweets and delete them in bulk.
Can I delete all my old tweets at once?
Yes, you can delete all of your old tweets at once using a third-party website like TweetEraser, TweetDeleter, or TwitWipe. These websites allow you to delete all your old tweets in one go.
Can I undelete a tweet?
Unfortunately, once you delete a tweet it cannot be recovered. However, you can use the Wayback Machine to search old tweets from a specific date. This allows you to view deleted tweets that were posted before they were deleted.
Conclusion
It's not always easy to find what you or someone else tweeted in the past, especially if you're a prolific tweeter. Tweeting regularly is a great way to grow your personal brand and your business, but it can also make it hard to keep track of what you said.
Now you know how to search for old tweets.
Whether you use Twitter's advanced search feature, request all of your activity from the platform, or use a third-party tool, finding old tweets can let you identify which ones you want to keep and which you want to delete.
Deleting old tweets can be a great way to maintain a professional and up-to-date presence on Twitter. Whether you choose to delete all of your old tweets or just some of them, it's important to think carefully about what kind of message you're sending with your tweets.
By being mindful of the content you post, you can ensure that your Twitter profile reflects who you really are and what you stand for.
Whose old tweets are you going to look at first? What embarrassing things did you tweet about in the past?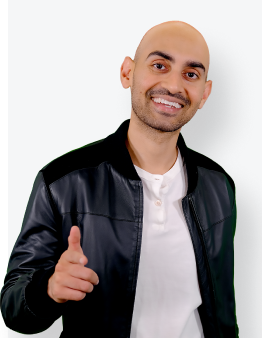 See How My Agency Can Drive More Traffic to Your Website
SEO - unlock more SEO traffic. See real results.
Content Marketing - our team creates epic content that will get shared, get links, and attract traffic.
Paid Media - effective paid strategies with clear ROI.
Are You Using Google Ads? Try Our FREE Ads Grader!
Stop wasting money and unlock the hidden potential of your advertising.
Discover the power of intentional advertising.
Reach your ideal target audience.
Maximize ad spend efficiency.