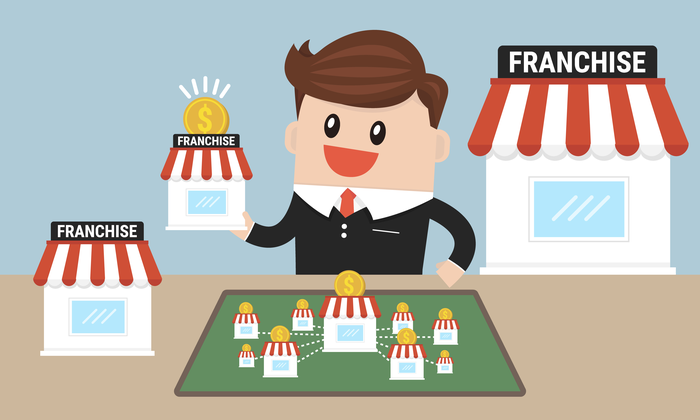 If you're a new entrepreneur looking for profitable business ideas with minimal risks, a franchise business can be a great place to start.
A franchise business carries the success, credibility, and popular associations of established brands, reducing the need for extensive marketing and brand building for you as a franchise owner. This can save you much time and money as you focus on making your business more profitable.
A franchise business model can also help you scale rapidly because you inherit the operation processes and framework from the licensing company.
Think about it this way: What would be easier?
Starting a company from scratch, working on branding, operations, funding, and marketing—or buying a license for a pre-established company?
In most cases, it's the latter. That's why entrepreneurs are so eager to buy into franchise businesses.
What Is a Franchise Business?
A franchise business is a licensing model of business where a successful company allows you to run a version of its business using its logo, processes, and in-house resources.
Think of the many fast-food stores you see worldwide.
These "franchise" businesses exist in multiple locations, selling the same products under the same branding, which helps build loyal customers and instant brand recognition. Some examples of worldwide franchises include McDonald's, Domino's Pizza, and Subway.
Option #1: Start a "Home Services" Franchise Business
Home service franchises offer services related to moving and housing. These work best for regional companies as most people prefer using local home repair and renovation services to save time and money.
Painting Franchise Business
As more and more houses are built every year, the demand for painters keeps growing. You can cash in on this growth by launching a painting franchise business.
Companies like CertaPro Painters let you start your own business under their name, so you can begin offering painting services using the CertaPro branding.

Repair Services
No matter where you live, there is always a need for repairing services.
If you're looking for a steady business with minimal market shocks, start a repair service franchise. This model is fairly stable because houses need recurring repairs—meaning you have the opportunity to develop long-term customers.
Some popular options include Paul Davis Restoration, Mr. Handyman, and 911 Restoration.
Moving Services
Another popular home service franchise business opportunity lies in the moving industry. Beyond moving series, these franchises offer temporary storage and junk removal services. You can find franchise business opportunities with companies like UNITS Moving & Portable Storage.
Although, it's important to keep in mind that managing a moving business can be incredibly tricky because there's a greater degree of responsibility involved.
House Cleaning Services
As the average citizen moves towards continuously busier lifestyles, the need for house cleaning services has grown significantly over the past few years. You can benefit from this booming trend by launching a housecleaning franchise business with companies like Chem-Dry and Merry Maids.
Option #2: Start a "Retail Franchise" Business
When people think about shopping, retail is one of the first industries that come to mind.
Retail franchise businesses come in many shapes and sizes. This way you can focus on an industry that truly matches your interests and skillset.
Fitness Franchise
The fitness industry, and especially sportswear, is thriving.

It's one of the few sectors that saw huge growth throughout the pandemic, with people paying more attention to their health than ever before. From training shoes to yoga accessories, people have an ongoing need for fitness products.
Starting a fitness franchise business with companies like Anytime Fitness and Planet Fitness can help you target these customers and scale your business.
Real Estate Franchise

Real estate is a tricky but lucrative market for aspiring entrepreneurs. It has a steep learning curve but can help you build a profitable business with a generous cash flow—if done right.
Companies like HomeVestors of America are a great place to start a real estate franchise business.
Car Wash Franchise

Car wash franchises with strong branding can benefit from repeat-purchase loyalty, helping you attract new customers and build long-term relationships—keeping your business profitable.
Some great car wash franchise options include Prime Car Wash, Tommy's Express, and Mr. Clean.
Sports Franchise
If you have a passion for sports, consider investing in a sporting business. Companies like Soccer Shots offer great franchise opportunities with a mission-driven business model.
You can also focus on companies selling sporting goods, offering training spaces, sports club memberships, and other sport-adjacent activities.
Furniture Franchise
Similar to the growing popularity of housing services, furniture stores are seeing a surge in demand. From selling individual furniture pieces to offering rental packages, franchises in the furniture industry offer a wide range of scaling opportunities.
You can work with franchises like Bloomin' Minds and Slumberland Furniture.
Option #3: Start a "Food Franchise" Business
People love food, especially fast food. So if you're looking for a hot-selling, customer-favorite franchise business, start a food franchise. These are super popular, tend to do well economically, and carry great brand recognition across a wide geographic region.
Pizza Franchise Business
Popular food items like pizza have the potential to sell well, offering you a chance to build a profitable franchise business. This is one of those categories where there's tight competition, but great growth potential.
You have many options to choose from including Domino's Pizza, Pizza Hut, and Papa John's.
Coffee Franchise Business
Coffee is another hot-selling item, literally.
If you're a fan of the beverage and have a desire to manage a consistent business, starting a coffee franchise can be a great option for you. Consider working with companies like Dunkin', Aroma Joe's Coffee, and Scooter's Coffee.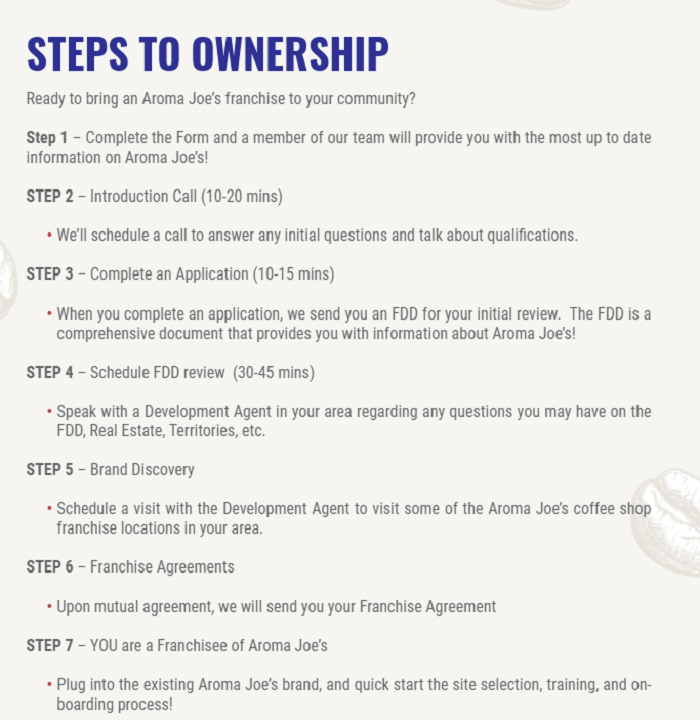 Ice Cream Franchise Business
If you're looking to target the frozen foods market, consider starting an ice cream franchise business. Brands like Baskin-Robbins have a huge customer base that you can leverage with a franchise business model.
You can also consider companies like Kona Ice which are smaller than the top industry names but offer great variety and opportunities for reaching new customers.
Burger Franchise

When we talk about franchise businesses, we often picture McDonald's, which is still popular decades after its launch. If you're looking for that kind of growth, consistency, and brand power, choose a burger franchise.
You can also choose other companies like Wendy's, Burger King or Carl's Jr.
Noodle Franchise

Starting a noodle franchise business can offer a great breakfast and snacking option for local residents. You, as a business owner, can build relationships, expand locations, and still remain consistent in your offerings.
You can work with companies like Nothing But Noodles and Noodles & Company to launch noodle franchise businesses.

Option #4: Start a "Professional Services" Franchise Business
If none of the options so far appeal to you and you want to take a more personalized approach, consider launching a professional services franchise business. These offer the greatest potential for customization, adaption, and variation compared to other franchise business models.
With a professional service franchise business, you have a multitude of customer retention opportunities that can be quite profitable in the long run.
Shipping and Mailing Franchise
Nearly every company and residential community needs a shipping and mailing service today. This rising demand offers promising potential for franchise owners.
Established brands like The UPS Store can help you find your customers faster and retain them for decades to come.
Such franchise business models also offer a huge expansion potential as shipping and mailing companies continue to expand the geographical areas they serve.
Printing Franchise
Just like shipping and mailing companies are a cornerstone of work-life across several industries, printing businesses are also a key component of modern living.
The best part of starting a printing franchise business is that it's easier to set up and manage. It's relatively low-maintenance, carries low risk, and has much potential to grow, making it an ideal option for new entrepreneurs.
Look for companies like Minuteman Press for launching a successful printing franchise.
Staffing Franchise
Another popular corporate franchise option is a staffing franchise business. Companies like Spherion and Express Employment Professionals help other companies fill their staff positions by connecting them to people looking for jobs.
These franchise business models can help you build positive relationships with major companies in your industry while making a decent profit.
Training Franchise
Along with staffing agencies, companies also need training providers to help upskill their staff. Whether it's quarterly seminars or yearly upskilling boot camps, working with companies like Sandler Training and Dale Carnegie can help you establish an impactful thought leadership and corporate training franchise business model.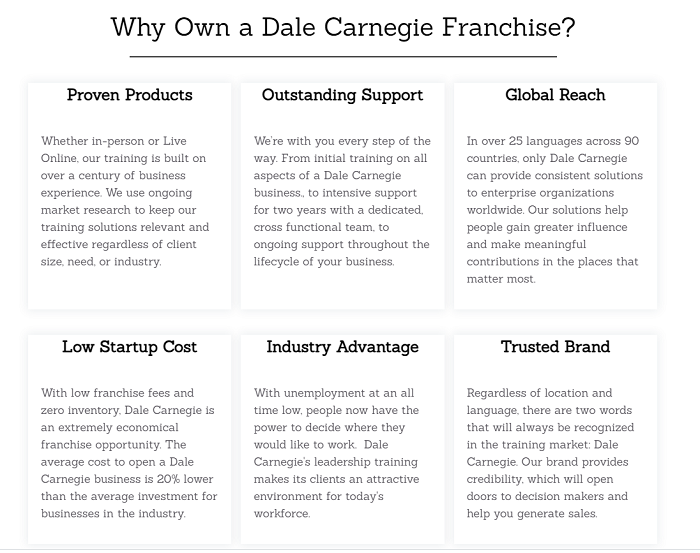 Design Franchise

From rebranding to interior decor, design teams are a key player in most major industries.
If you're passionate about art, decoration and understand the fundamentals of marketing design, you can work with companies like Closets by Design and Decorating Den Interiors to launch a design franchise business.
Frequently Asked Questions About Starting Franchise Businesses
Here are some common questions new entrepreneurs ask when they're planning to launch a franchise business.
Do I own the rights to a franchise business name?
When you buy a franchise business, you're only buying the license to use the company's resources and not the rights to own or manage the company itself. This means, you can own and control the franchise but the original company still remains an independent entity.
Do I have to pay a royalty when I sell through the franchise?
The payment structure for each franchise business depends on the agreement you have with the owning company. For instance, a company may choose to accept royalties for every purchase in addition to a licensing fee. Companies can also work with a fixed-fee payment structure for each franchise location.
What is the difference between a franchise fee and a royalty fee?
While both the franchise fee and royalty fee are necessary to own a franchise, the two are not the same. The franchise fee is the cost of buying a license to use the owning company's branding and resources. A royalty fee, on the other hand, is a revenue-based fee you pay based on your sales and profits.

An easy way to remember this is to keep in mind that franchise fees are one-time payments for buying the trading license, while royalties are ongoing payments based on your revenue.
Can I sell a franchise?
If you're not happy with your franchise business, you always have the option to sell it. Franchise exits are pretty common, especially in larger cities where multiple businesses are vying for consumer attention.

However, it's important to check your agreement before making any selling decisions. Your owning company may not allow you the rights to sell their franchise outside of their organization.
Franchise Businesses Conclusion
Starting a franchise business has many benefits to offer entrepreneurs at all levels. New business owners may find it easier to run a pre-established business than starting a new brand from scratch.
Mid-level entrepreneurs can also use a franchise to pivot their career, especially if it's an industry change.
Finally, senior entrepreneurs can hugely benefit from the brand recognition the owning company has built.
Most franchise brands have thousands of loyal customers who become a source of recurring revenue for the business. If you're able to leverage this reach for further growth, it can be easier to scale your franchise business rapidly.
Which franchise business idea best suits your needs? Which idea would you like to try first?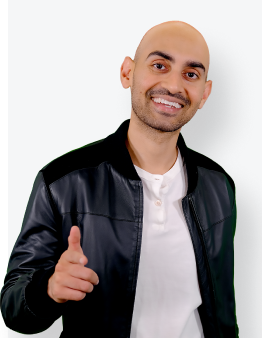 See How My Agency Can Drive More Traffic to Your Website
SEO - unlock more SEO traffic. See real results.
Content Marketing - our team creates epic content that will get shared, get links, and attract traffic.
Paid Media - effective paid strategies with clear ROI.
Are You Using Google Ads? Try Our FREE Ads Grader!
Stop wasting money and unlock the hidden potential of your advertising.
Discover the power of intentional advertising.
Reach your ideal target audience.
Maximize ad spend efficiency.